Yves here. Bringing you the very best in disaster porn! I don't mean to sound cheery, but it isn't pleasant knowing that citizens at large are interested in natural disasters, whether out of awe of nature, knowing people personally who might be at risk, trying to get a sense of how extensive and severe the damage and human costs were, or prurient interest. But I am not even sure that the word disaster will remain appropriate. More extreme weather means more extreme outcomes, like the tail-end-of-Ida flooding. Will we need new nomenclature as this sort of thing becomes normal, or at least not rare?
By Bob Henson and Jeff Masters. Originally published at Yale Climate Connections
Some of the worst urban flash flooding in U.S. history struck the New York City area on Wednesday night, as the remnants of once-category 4 Hurricane Ida teamed up with a frontal zone, upper-level energy, and an influx of tropical moisture to dump historic rains across the Northeast. Countless homes and businesses were flooded, some severely, and the nation's largest city was brought to a virtual standstill, with scenes that seemed drawn from an apocalyptic future.
As of midday Thursday, at least 18 storm-related fatalities had been reported across the mid-Atlantic and Northeast, following at least five deaths in Louisiana and Alabama. Wednesday's deaths and injuries and the day's immense damage will seal Ida's place in the pantheon of catastrophic U.S. hurricanes, including Camille of 1969 and Ivan of 2004, that made disastrous Gulf Coast landfalls followed by massive flooding or tornado outbreaks east of the Appalachians.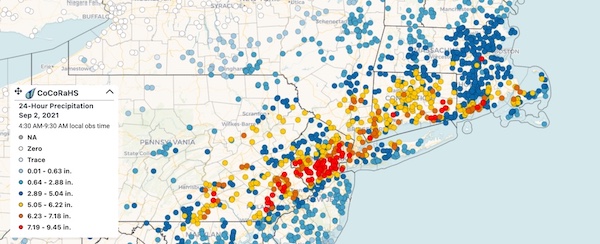 Millions Thrown into a Sudden Nightmare of Flooding
Ex-Ida saved its parting shot for one of the most densely populated corridors along the U.S. East Coast. By late Wednesday night, the largest series of flash flood emergencies ever issued by the National Weather Service had played out from south central Pennsylvania to southern New England.
Knickerbocker Avenue in Brooklyn
New York City #Ida
pic.twitter.com/zAQ8kIIDi4

— David Begnaud (@DavidBegnaud) September 2, 2021

At the peak of the deluge, rainfall rates were astonishingly high. Radar estimates show widespread peak rates of 3-4 inches per hour from eastern Pennsylvania to southwest Connecticut. A New York State Mesonet site in Staten Island recorded 1.6 inches of rain in just 15 minutes, the second highest 15-minute total on record for any NYS Mesonet station. The New York State Mesonet, established in 2014, is a network of more than 100 weather stations across the state.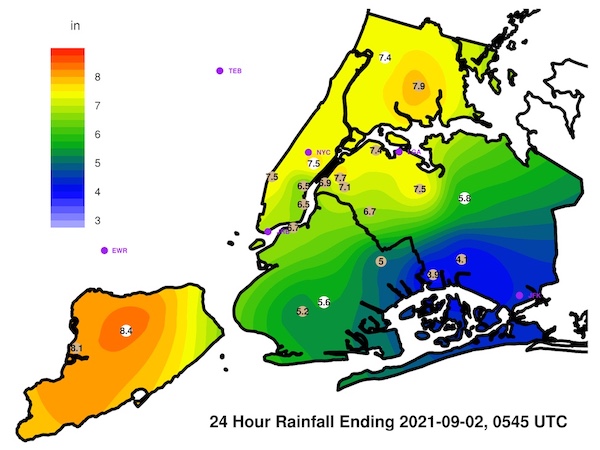 Wednesday's rainfall total of 8.41 inches at Newark, New Jersey, was the highest for any calendar day in Newark records dating all the way back to 1843, according to weather historian Christopher Burt. It also ranks as the highest calendar-day total for any of the major NYC-area reporting sites, topping 6.69 inches at LaGuardia Airport (Apr. 15, 2007), 7.8 inches at Kennedy International Airport (Aug. 14, 2011), and 8.28 inches at New York City's Central Park (Sept. 23, 1882).
At Central Park, the 3.15 inhces recorded between 8:51 and 9:51 p.m. EDT Wednesday is the largest one-hour rainfall total known to have occurred in the site's 153-year weather history, which was scrutinized by multiple parties after the recent deluge from Hurricane Henri. The runner-up is 3.05 inches between 11 a.m. and noon on Sept. 4, 1913. Over the past two weeks, from Aug. 21 to Sept. 3, Central Park recorded 15.90 inches, which tops 15.24 inches (Sept. 11-24, 1882) as the city's wettest fortnight on record, according to New York weather watcher Donald Sutherland.
UPDATE: Here are the 1-, 2-, 3-, and 6-hour recurrence intervals for Central Park. While 3.15″ in 1-hour is the most headline worthy, the 2-, 3-, and 6-hour values are even rarer events (500-years; 0.2% chance per year). pic.twitter.com/rgj5Tn8TDF

— Brian Brettschneider (@Climatologist49) September 2, 2021
just a little side by side comparison of the schuylkill river this morning compared to normal #philadelphia #IdaAftermath pic.twitter.com/uhXlwwbtXk

— megan | מיה (@kehillahjewess) September 2, 2021

On Thursday morning, the Schuylkill River in central Philadelphia reached 16.35 feet, its highest level observed since the famed Saxby Gale storm of 1869. The East Branch of Brandywine Creek below Downington, Pennsylvania, crested an astonishing 29% higher (relative to a zero stage) than its previous record, set during Hurricane Floyd in 1999.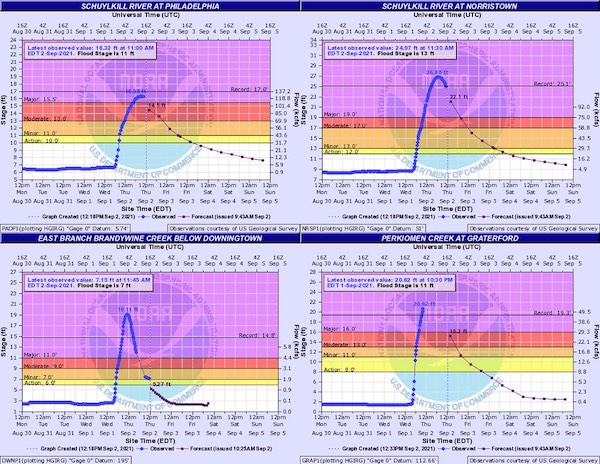 The New York Flood Threat Was Well Predicted
New York's new governor, Kathy Hochul – forced to deal with every political leader's nightmare, a weather disaster, after just one week in office – called the rain "far more than anyone expected." In fact, despite many residents getting caught unaware, the potential for high-end flooding was amply predicted by the National Weather Service. A flash flood watch for the New York City area for Wednesday afternoon was issued by the local National Weather Service office an amazing 48 hours in advance: at 3 p.m. Monday. The watch warned that "widespread 3 to 5 inches of rain is forecast with locally higher amounts possible."
By Tuesday afternoon, the NWS Weather Prediction Center had enclosed the New York area in a top-end high-risk area for flood-producing rains for Day 2, Wednesday. The Weather Prediction Center also noted that some locations had a 95% chance of seeing rainfall amounts that would be expected once a century or less.
This looks more like a subway car wash than a subway station. This flooding has to be doing an incredible amount of damage to the NYC subway system. pic.twitter.com/bgtMbjiHvM

— Mike Saccone (@mikesacconetv) September 2, 2021
It's possible that distractions from other major news events pulled the focus away, or that users who rely mainly on icon-based depictions or brief messages from apps rather than narrative detail may not have grasped the extreme nature of the flood threat. Moreover, if residents of New York had heard only that "remnants of Ida" were approaching, they might not have seen the situation as being especially worrisome, especially after multiple flood events already this summer. Perhaps it's time to reconsider how top-end flood threats are depicted and disseminated to an audience that may be inured to them.
Damage from Wednesday's Flooding: Sure to be Monumental
It was painfully clear even on Wednesday night that floodwaters affected a vast part of New York and its infrastructure: cascading through subway tunnels, flooding countless streets and garden-level apartments, and covering the ground floor of Terminal B at the Newark Airport.
"It's going to take a long while to count the cost for all of the damage to property, infrastructure, vehicles, and other facilities," said Steve Bowen, head of catastrophe insight at Aon. "Ida's impact across the South was already going to run deep into the billions, but there is no question that the flood and convective storm damage in the Northeast is going to add direct financial loss costs with many zeroes to the final total."
He added, "This will go down as one of the greatest forecasting success stories for several branches of NOAA: the National Hurricane Center, National Weather Service, Weather Prediction Center, and Storm Prediction Center. Given the impacts to life and property, I wish they'd been wrong."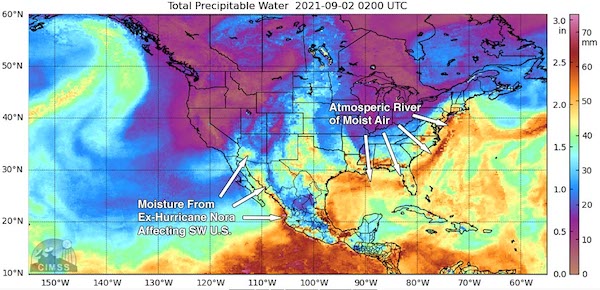 The Unmissable Fingerprints of Climate Change
The phrase "climate crisis" feels ominously apt when staring at an event like Wednesday's titanic flood. For more than 20 years, a steadily growing body of research has found that the most intense U.S. downpours are getting more intense, particularly in the Northeast, as a result of human-produced greenhouse gases. This trend is only projected to get even worse.
Air "holds" about 4% more moisture for every 1 degree Fahrenheit (0.55 Celsius) increase in temperature. Air above the oceans has about 10% more moisture compared to 1970 because of the increase in global temperatures. This extra moisture leads to about a 10% increase in heavy rain as storms gather the excess moisture.
Ten percent may not sound like much, but when that extra moisture condenses inside the storms, it releases additional heat energy known as latent heat, which is the energy that was required to change the phase of water from liquid to gas during the evaporation process. That extra heat energy enlivens the updrafts and makes the storms more intense, allowing them to gather in moisture from a wider area and last longer. This phenomenon can lead to a 30% increase in rainfall, as has been documented in several cases of major flooding (e.g., this case in Colorado in 2013).
Our infrastructure is not ready for climate change, a thread from tonight. 28th St. subway station pic.twitter.com/uYemJKB8yg

— Brian Kahn (@blkahn) September 2, 2021

Our nation's increasingly wobbly infrastructure is in a precarious position to handle the storms being delivered today, never mind tomorrow. Although the post-Katrina bolstering of the New Orleans levees helped keep the city from flooding during Ida's landfall, many other parts of southeast Louisiana fared far worse. What's more, a huge regional power outage is causing immense suffering, forcing many thousands to leave town or to avoid coming back for days that could turn into weeks.
The IPCC's Sixth Assessment Report, released in August, sounds a clarion call to pay more attention to compound threats, such as the juxtaposition of heat and drought or river and storm-surge flooding that will likely be worsened by climate change. For a sense of how an entirely plausible series of climate-fueled disasters could escalate into a full-on global food crisis, see the op-ed by Jeff Masters published on Wednesday in The Hill.
Something I never thought I would have to see in my lifetime living in the Northeast, A multi vortex wedge tornado. Burlington Township NJ from earlier today.

(credit: Geo Jimenez via Facebook) pic.twitter.com/izlTbPS5g9

— Mike Stanislaw (RT Front Quadrant survivor) (@mikestanislaw) September 2, 2021
A Cluster of Spectacular, Scary Tornadoes Prowls the Mid-Atlantic
The juxtaposition of warm, moist tropical air, upper-level energy, and substantial wind shear enhanced by ex-Ida led to an outbreak of highly visible and damaging tornadoes on Wednesday afternoon. Several supercells behaved more like Great Plains storms, rotating like mad and dropping twister after twister. One tornado left considerable damage in Annapolis, Maryland, and several others pockmarked the landscape of the outer Philadelphia suburbs.
As of Thursday morning, the Storm Prediction Center had identified five tornadoes associated with Ida on Wednesday and 11 others on Sunday and Monday. This ranks far below the record 120-tornado outbreak triggered by Hurricane Ivan on Sept. 15-18, 2004. Still, the visibility and apparent intensity of Wednesday's tornadoes were startling.
Some of the damage this morning from the tornado in Mullica Hill, NJ #ida pic.twitter.com/Yb75vnEXUg

— Jen Carfagno (@JenCarfagno) September 2, 2021

Some of the most severe damage was reported in Mullica Hill, New Jersey, about 20 miles south of Philadelphia, where an unusually visible tornado was widely videotaped. In one neighborhood, large homes were partially or completely destroyed over several blocks.
"That storm was a classic supercell, and the tornado had inflow vortices that I've only seen associated with strong and violent tornadoes. I've never seen that kind of behavior documented in the northeast U.S." said James LaDue (NWS Warning Decision Training Division), who is co-chairing a committee to update the Enhanced Fujita Scale.
As the tornadic storms streamed into the frontal zone east of ex-Ida where the most intense rainfall was occurring, forecasters confronted a classic dilemma: the need to issue flash flood warnings and tornado warnings for the same area. This combination happens more often than one might think. A 2015 study led by Erik Nielsen, now at Texas A&M University, examined overlapping tornado and flash flood warnings, defined as tornado and flash flood warnings within 30 minutes of each other at the same locations. They found 2,800 overlaps in the period from 2008 to 2014.
"This number is higher than the authors expected and highlights the nonnegligible frequency of these dangerous situations in public dissemination," Nielsen and colleagues wrote.
In Bucks County, Pennsylvania, Wednesday's events produced a rare juxtaposition of a flash flood emergency and a tornado emergency. Only a handful of cases have seen these emergency-level warnings issued for the same county at the same time. The "emergency" designation, first used for tornadoes in 1999, highlights when catastrophic damage and/or a severe threat to human life is imminent or ongoing.
Larry Becomes a Hurricane
The fifth hurricane of this extremely active 2021 Atlantic hurricane season is Hurricane Larry. At 11 a.m. EDT Thursday, Larry was located in the eastern tropical Atlantic, far from any land area. Larry was headed west at 17 mph and had top sustained winds of 80 mph. Satellite images showed that Larry was a large hurricane with impressive low-level spiral banding and improving upper-level outflow.
Larry will be in a favorable environment for strengthening over the next three days, and the National Hurricane Center and most of the top intensity models are predicting that Larry will become a major hurricane by Saturday. Early next week, Larry may encounter higher wind shear and some dry air, which may preclude further intensification.
Larry will be steered to the west to west-northwest by the Azores-Bermuda High through Friday but is predicted to angle more to the northwest this weekend, when the hurricane feels the pull of a trough of low pressure passing to the north. For the time being, the long-range Euro and GFS ensembles are emphatic on an overall recurvature to the north and northeast away from North America, as a strong upper-level trough is likely to set up on the U.S. East Coast next week. However, it is possible that Larry will angle far enough northwest to affect Bermuda on Thursday, September 9, and/or Newfoundland, Canada on Friday, September 10.
If nothing else, we can expect Larry to churn for days as a strong hurricane in the open Atlantic, generating large swells that will bring high surf and the risk of rip currents to the U.S. East Coast, Canadian Maritime Provinces, and north-facing shores of the Caribbean islands next week. Larry's expected longevity will also bulk up this season's total accumulated cyclone energy.
Disturbance 91L Brings Heavy Rains to Central America
In the southwest Caribbean, an area of disturbed weather designated 91L has moved inland over northern Nicaragua and was bringing heavy rains to northeast Nicaragua and northeast Honduras on Thursday afternoon, as seen on satellite imagery.
91L was moving west-northwest to northwest at about 5-10 mph, and close proximity to land will inhibit development over the next few days. The disturbance is predicted to cross the Yucatan Peninsula and enter the southwestern Gulf of Mexico by Sunday. Though waters are warm there, 91L is expected to experience high wind shear, making development difficult. In its 8 a.m. EDT Thursday Tropical Weather Outlook, the NHC gave the system 2-day and 5-day odds of development of 10% and 20%, respectively.
New Disturbance Off the Coast of Africa May Develop
An area of low pressure that developed off the coast of Africa about 300 miles east-southeast of the Cabo Verde Islands (see lower right of Figure 5 above) was moving west at 15 mph. Satellite imagery indicated that the disturbance was showing signs of organization, with a modest-sized region of heavy thunderstorms that were beginning to rotate. By Friday, however, the disturbance is predicted to move into a region with higher wind shear caused by the upper-level outflow from Hurricane Larry. The disturbance will also be over cooler waters, and this will make further development slow. This system has low model support for development. In a special 11 a.m. EDT Thursday Tropical Weather Outlook, the National Hurricane Center gave the system 2-day and 5-day odds of development of 30%. The next name on the Atlantic list of storms is Mindy.
How To Help Hurricane Recovery Efforts
The Partnership for Inclusive Disaster Strategies (formerly portlight.org), co-founded by members of the Weather Underground community, is responding to the Hurricane Ida disaster. Also, the Weather Channel has put together a list of many excellent charities that will be active in Hurricane Ida recovery.