By Lambert Strether of Corrente.
Bird Song of the Day
Quite the symphony!
* * *
#COVID19
At reader request, I've added this daily chart from 91-DIVOC. The data is the Johns Hopkins CSSE data. Here is the site. I feel I'm engaging in a macabre form of tape-watching….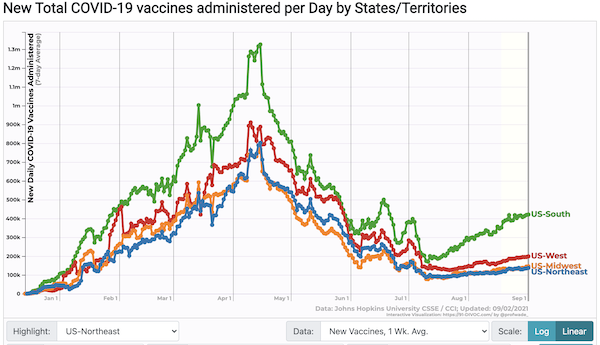 I guess it's really not fair to say that the South is fiddling and diddling any more. There's a mild upward trend.
52.6% of the US is fully vaccinated, a big moment, bursting through the psychological 52% barrier. Every day, a tenth of a percentage point upward. However, as readers point out, every day those vaccinated become less protected, especially the earliest. So we are trying to outrun the virus… (I have also not said, because it's too obvious, that if by Bubba we mean The South, then Bubba has done pretty well.)
Case count by United States regions: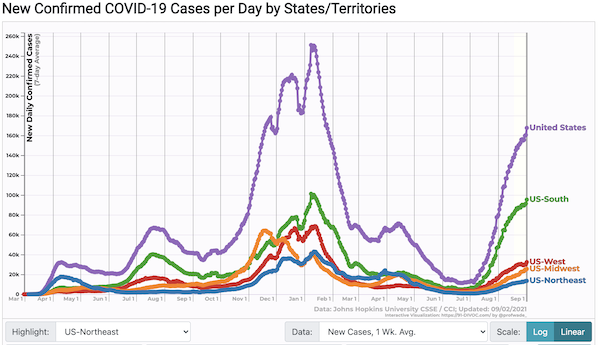 Quite a bump.
Covid cases top ten states for the last four weeks: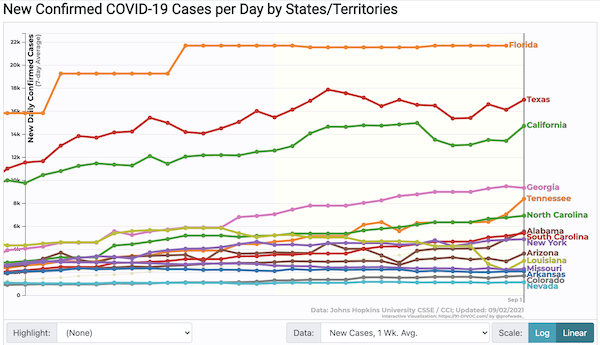 Fresh-squeezed numbers from Florida. Texas and California back in tandem. Tennesse breaking away from the pack.
FL: "Florida changed its COVID-19 data, creating an 'artificial decline' in recent deaths" [Miami Herald]. Although this is deaths, not cases, I'm filing since there's Florida data. "As cases ballooned in August, however, the Florida Department of Health changed the way it reported death data to the CDC, giving the appearance of a pandemic in decline, an analysis of Florida data by the Miami Herald and el Nuevo Herald found. On Monday, Florida death data would have shown an average of 262 daily deaths reported to the CDC over the previous week had the health department used its former reporting system, the Herald analysis showed. Instead, the Monday update from Florida showed just 46 "new deaths" per day over the previous seven days. The dramatic difference is due to a small change in the fine print. Until three weeks ago, data collected by DOH and published on the CDC website counted deaths by the date they were recorded — a common method for producing daily stats used by most states. On Aug. 10, Florida switched its methodology and, along with just a handful of other states, began to tally new deaths by the date the person died." • Let it never be said that Republicans are stupid. They're not.
From CDC: "Community Profile Report August 31, 2021" (PDF), "Rapid Riser" counties, this release: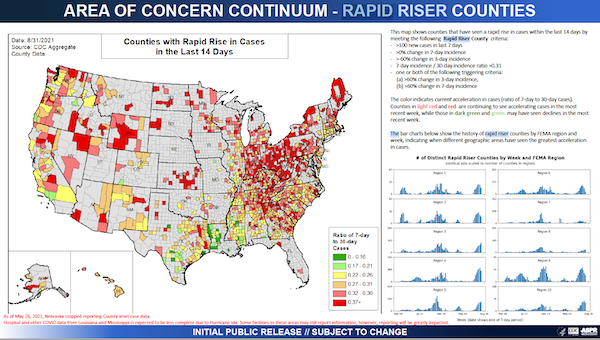 Less red in the Midwest. hate to be optimistic, but it looks like this fever has broken (thought the back to school bump, IMSHO, has yet to really take hold.) Remember, however, that this chart is about acceleration, not absolute numbers, so the case chart still has momentum. This map, too, blows the "Blame Bubba" narrative out of the water. Not a (Deliverance-style) banjo to be heard. Previous release: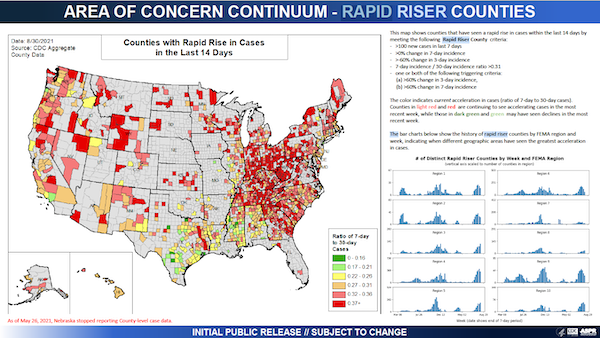 (Red means getting worse, green means bad but getting better. This chart updates Tuesdays and Fridays, presumbly by end-of-day.)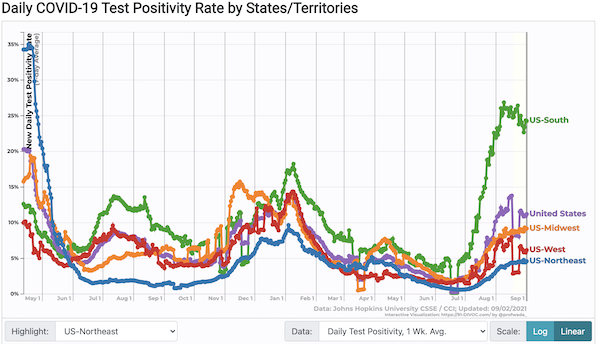 The South and the West seem back on form.
Hospitalization (CDC): This is where CDC moved its hospital data (and who the heck at Microsoft decided no header for a chart is a good idea):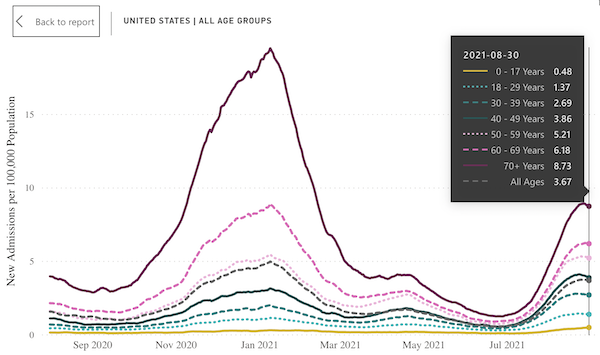 A dip. Good news, and long may it last. Here the CDC's hospitalization visualization, from the source above: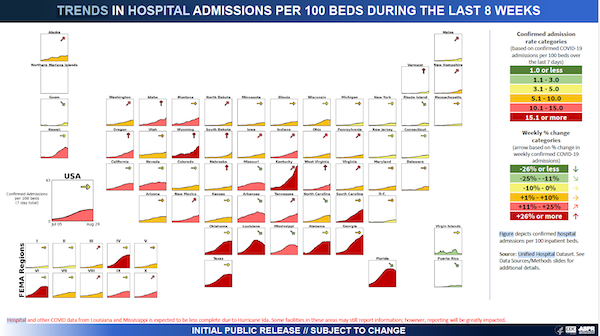 The Gulf Coast is red, but moderating. Look at Kentucky go! And I wonder if Alabama is flat because it's at capacity. Several states in the West are pink and increasing, except for Wyoming, which is red.
Deaths (Our World in Data):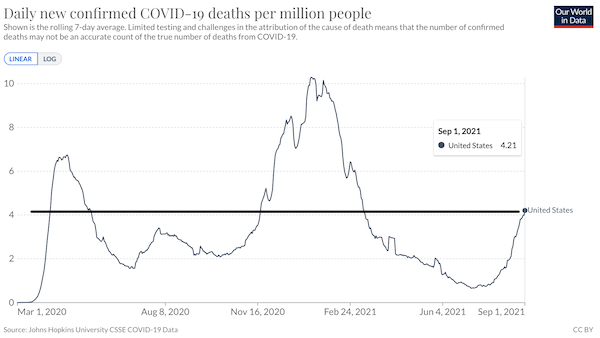 I have added an anti-trumphalist black line, since we are now well past the peak of last year. Which I am finding more than a little disturbing. (Adding: I know the data is bad. This is the United States. But according to The Narrative, deaths shouldn't have been going up at all. Directionally, this is quite concerning. Needless to see, this is a public health debacle. It's the public health establishment to take care of public health, not the health of certain favored political factions.)
MS: "Mississippi Passes NY's COVID Death Rate As Gov. Reeves Says Mississippians 'A Little Less Scared'" [Mississippi Free Press]. "Mississippi has now surpassed the state of New York, the nation's original pandemic hotspot, in total COVID-19 deaths per capita. The only state where the pandemic has proven deadlier than the Magnolia State is New Jersey. Mississippi displaced New York with a report of 65 additional deaths on Friday—a day after Gov. Tate Reeves told a Tennessee audience that southerners are 'a little less scared' of COVID-19 due to their religious faith."
Covid cases worldwide: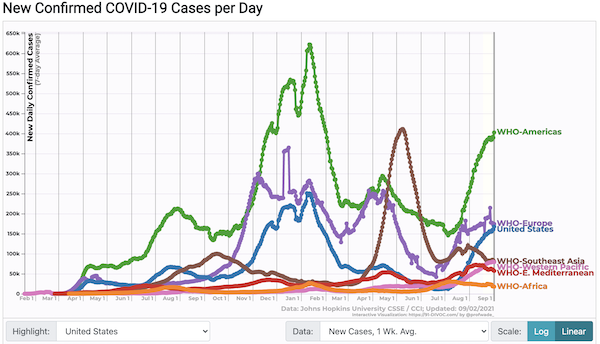 A little dip in the US. Southeast Asia doing better, I presume because little-covered Indonesia is past a peak. US sphere of influence under the Monroe Doctrine not doing so well.
* * *
Politics
"But what is government itself, but the greatest of all reflections on human nature?" –James Madison, Federalist 51
"They had one weapon left and both knew it: treachery." –Frank Herbert, Dune
"They had learned nothing, and forgotten nothing." –Charles Maurice de Talleyrand-Périgord
Biden Administration
"With Afghan Retreat, Biden Bucks Foreign Policy Elite" [New York Times]. "But it is precisely the longstanding, deep-rooted nature of the beliefs that Mr. Biden is challenging, analysts said, that has made the backlash against him so ferocious. Since the terrorist attacks of 9/11, the doctrine of an aggressive, expeditionary foreign policy — in which all options, including military force, are invariably on the table — has become a bipartisan article of faith in Washington. The news media, which covered those wars, played a significant role in amplifying these ideas…. While Mr. Biden may have antagonized foreign policy elites, his determination to extricate the United States from costly entanglements overseas plays better with average Americans." • Biden-as-peacenik was not on my Bingo card, that's for sure.

"Biden's top-down booster plan sparks anger at FDA" [Politico]. "The Biden administration's decisions over when to administer coronavirus vaccine boosters are triggering turmoil within the Food and Drug Administration, frustrating regulators and sparking fear that political pressures will once again override the agency's expertise. FDA officials are scrambling to collect and analyze data that clearly demonstrate the boosters' benefits before the administration's Sept. 20 deadline for rolling them out to most adults. Many outside experts, and some within the agency, see uncomfortable similarities between the Biden team's top-down booster plan and former President Donald Trump's attempts to goad FDA into accelerating its initial authorization process for Covid-19 vaccines and push through unproven virus treatments." • Similarities vs. differences….

"Biden pledged to 'follow the science.' But experts say he's sometimes fallen short" [STAT]. "As president, though, Biden has sometimes struggled to follow through on his science-first pledges. Over the winter, the White House press secretary publicly undercut the director of the Centers for Disease Control and Prevention after she suggested teachers didn't necessarily need to be vaccinated for schools to be reopened safely. Then came the administration's sudden U-turn on mask guidance in May, which was criticized for effectively assuming that unvaccinated Americans would still wear face coverings. Most recently, and perhaps most striking, was the administration's endorsement of 'booster' vaccine doses, which numerous scientists say was based on scant evidence and undercuts the authority of scientific agencies. Given that Biden campaigned against a president who often downplayed Covid-19 and derided government scientists, many health experts hoped his election would mark the dawn of a more science-focused pandemic response. While the new president has made good on most of his scientific pledges, though, some of his apparent scientific stumbles have led some health experts to question whether he's been true to his vow to follow the science — and whether politics have played a role in many of his administration's most critical Covid-19 decisions."

"In climate reversal, Biden okays new oil and gas mega auction" [Agence France Presse]. "US President Joe Biden's administration on Tuesday announced plans to open more than 80 million acres in the Gulf of Mexico for oil and gas exploration after a court ruled against the administration's pause in leasing." • Leave it in the ground.

"The Emerging American Industrial Policy" [American Affairs]. "This emerging American industrial policy is characterized by its focus on capabilities critical to national security, supported by resili­ent supply chains, and achieved through political consensus. Understanding its features will sharpen what has been, until now, a rather nebulous debate. Congress, in particular, has a significant role to play, but only if it is willing to take advantage of its window of opportunity." Focusing on the first: "The best explanation for the emerging American industrial policy is the realization among policymakers that the nation has lost critical capabilities that create good jobs, spur innovation, and offer a com­parative advantage. This important concept warrants some explanation. A capability refers to collective know-how—the competence to perform a certain task that cannot be performed by an individual acting alone. Collective know-how is embodied in a manufactured good. In a 1958 essay, Leonard Read described a pencil as a simple object that, perhaps surprisingly, no single person knows how to make.10 Its existence reflects multiple competencies found along a global value chain and brought together by firms acting in their self-interest. The more complex the product, the more competencies are required to produce it, and the more important it is to economic growth and national wealth. For example, a passenger jet is more complex than a pencil—reflecting the involvement of a much larger number of competencies in its value chain and providing greater economic rewards. More than a decade ago, Cesar Hidalgo and Ricardo Hausmann used export data to operationalize this concept, which they refer to as economic complexity. To simplify their work, Hausmann offered an analogy. In the game of Scrabble, players choose random letters and take turns creating words on a playing board using the letters they possess. Longer words are awarded more points than shorter words. Now consider that each player represents a nation, each letter repre­sents a capability, each word represents a unique manufactured product, and longer words represent more complex products. The challenge to a nation (player) is to obtain a diverse array of capabilities (letters) to produce new products (words) that generate greater wealth (longer words and higher scores)." • "Collective know-how" sounds closely related to hysteresis.
Democrats en Deshabille
"Episode 103 – California Schemin'" (podcast) [Briahna Joy Gray, Bad Faith]. " Brie spoke to a panel of three leading left candidates: Green Party candidate & criminal defense attorney Dan Kapelovitz, Socialist Equality Party candidate David Moore, and California National Party candidate and political science lecturer at San Francisco State, Michael Loebs. This conversation is as much about their individual candidacies as is is about their respective parties' theories of change. Everyone here may agree on the need for Medicare for All, but a non-Marxist professor of Marxism cum successionist, a Trotskyite, and a Green Party member each have very different theories of how to get there." • Helpful information on how California's one-party state really works.
Realignment and Legitimacy
"Alarmism":

This has been true about nearly every major issue of my lifetime. Environmental catastrophe, endless war, dismantled civil rights, the consequences of eroding the social welfare system. Verdict: The alarmists were right. Everyone who said stop being hysterical were wrong. https://t.co/Ew6dHIibHF

— Mike Duncan (@mikeduncan) September 2, 2021

* * *

""Breaking Points": On Afghanistan, the Revolving Door, and Media Failure to Disclose Contracting Ties of Guests" [Matt Taibbi, TK News]. "[T]he fact that both the government and the national commentariat remain essentially captured by contractor money remains as big a problem as ever, as this episode shows. We haven't even reached the stage of being able to identify the financial connections of the people occupying center stage on the national televised debate over military policy. It's a terrible look that the people willing to point things like this out mostly all work for independent media outlets, while the New York Times and Washington Post have to be harassed to do the ethical minimum on that score. If we properly identified the sponsors of the people with the biggest voices in media and politics, a lot more of what America does at home and around the world would make sense."

"The Washington Blob On Video" [The American Conservative]. Due to Covid, the author viewed many, many think tank videos: "'ve come away from the last year almost in awe at the near unanimity of members of what Barack Obama's deputy national security adviser Ben Rhodes called the "blob"—largely about developing and implementing U.S. foreign policy. This agreement, which sometimes resembles a Red Guards convention circa 1967, did not surprise me. But the forums dramatically demonstrated the uniformity in sentiment and style. A number of consistent realities have shown through…. The absence of debate runs far deeper than individual policies. Virtually every foreign policy organization believes in the imperative of action. Such groups exist to urge the country forward to fulfill what earlier Americans called "manifest destiny" and more modern sorts with finer sensibilities call "leadership." Other than a few outliers—the Cato and Quincy Institutes, some leftish groups, and a handful of foreign think tanks—the overwhelming, unrelenting demand is to "do something!" Special credit goes for those who come up with new wars to keep the U.S. military busy. While there are degrees of involvement, action is always required, and usually the more, and bloodier, the better. Another unvarying principle is that whatever is must forever be, and perhaps should even be a bit stronger. Never is there an organization, alliance, treaty, commitment, discussion, agreement, concordat, accord, or anything else that can be discarded. Never. Rather, everything must be strengthened, improved, expanded, refurbished, and more. NATO is sacred." • Unlike Taibbi, funding goes unmentioned.

"Mobs and justice" [Ryan Avent, The Bellows]. " generally speaking, we don't affirm the value of self-restraint on behalf of others in this country. We don't value the dignity of every individual as well as the liberty. What capacity we had for that we seem to be losing. And so we have no cultural mechanism through which to encourage people to wear masks or get vaccines for the sake of others. We have no way, outside of the coercive power of the state, to encourage companies to pay their workers a decent wage, or get them to cut their emissions, or simply not design their massive automobiles in ways that make them more likely to kill pedestrians. The idea that the very clever and talented should worry less about their own scramble up the career ladder and more about expanding opportunity for everyone has no cultural legitimacy in this country. I think it's really important to have that social capacity, and I worry terribly about the fact that we seem to be losing it, because it looks to me like a very difficult thing to reestablish once it's gone. Building it back up again is the mother of all collective action problems; in a society in which power rules everything, it demands that people not exercise what power they have to the fullest." • Well, we're a society that makes people fight with insurance companies over billing when they're on their deathbeds, so restoring dignity as a, well, "norm," will take some work.
Stats Watch
Employment Situation: "United States Initial Jobless Claims" [Trading Economics]. "The number of Americans filing new claims for unemployment benefits declined to 340 thousand in the week ending August 28th, its lowest level since March 2020 and below market consensus of 345 thousand, as the labor market consolidated its recovery following business reopenings in the US and despite lingering concerns over the ongoing COVID-19 resurgence. At the same time, labor supply shortages continued to have a strong impact on the economy as employers struggle to find enough qualified workers to fill vacancies."
Employment Situation: "United States Challenger Job Cuts" [Trading Economics]. "US-based employers announced 15,723 job cuts in August of 2021, the lowest since June 1997, led by companies in the Health Care/Products sector, which announced 2,259 cuts. Hospitals have struggled with costs since the beginning of the pandemic as revenue-generating elective procedures get cancelled. Others are closing down skilled nursing units due to a shortage of talent."
Exports: "United States Exports" [Trading Economics]. "Exports from the US were up 1.3% mom to $212.9 billion in July of 2021, the highest since May of 2019, led by sales of capital goods ($1 billion), gem diamonds ($0.6 billion), autos ($0.6 billion), trucks, buses, and special purpose vehicles ($0.4 billion), auto parts ($0.3 billion), other business services ($0.2 billion) and charges for intellectual property products ($0.1 billion)."
Imports: "United States Imports" [Trading Economics]. "US imports edged down 0.2% mom to $282.9 billion in July of 2021, after touching a record high of $283.3 billion in June. Main decreases were seen for toys, games, and sporting goods ($-1.1 billion), cell phones and other household goods ($-0.5 billion), nonmonetary gold ($-0.8 billion) and lumber ($-0.7 billion)."
Manufacturing: "United States Factory Orders" [Trading Economics]. "New orders for US manufactured goods edged up 0.4% mom in July of 2021, slowing from a 1.5% jump in the previous month but less than market forecasts of 0.3%. Orders rose for machinery (2.9%), namely mining, oil field, and gas field machinery (21.1%) and industrial machinery (8.1%); and primary metals (3%), namely ferrous metal foundries (7%). In contrast, orders for transport equipment fell 2.1%; computers and electronic products went down 0.4%; and those of electrical equipment, appliances and components dropped 1.7%. Excluding transportation equipment, new orders rose 0.8%."
* * *
Apparel: "Some clothing retailers are finding that keeping fewer goods on hand can improve their profit margins. The low-inventory strategy runs counter to customary apparel-sector practices that seek to maximize sales by having a full array of choices available at stores. [But] companies including Gap, Abercrombie & Fitch and Guess are offering fewer end-of-season markdowns as they keep inventory levels low" [Wall Street Journal]. "Those late-season sales have long troubled retailers, but the financial hit was especially tough last year when many merchants had to slash prices after lockdown orders and a sharp shift in consumer spending left them holding excess stock. Now, measures of operating margins for the newly-lean apparel sellers are up this year. Retailers risk running low on stock, but Abercrombie finance chief Scott Lipesky says losing a sale is less significant in the long run than having too much inventory."
The Bezzle: "More regulatory clouds are gathering over the electric-truck sector. Financial regulators have opened an investigation into Workhorse Group….targeting an Ohio-based firm that was an early investor in now-struggling startup Lordstown Motors" [Wall Street Journal]. "The SEC's probe into Workhorse, which was founded to make battery-powered delivery vans and trucks, is . Upstarts targeting transportation emerged as hot investments last year, driven in large part by investors trying to replicate Tesla's big returns. Workhorse in July suspended earlier guidance that it aimed to deliver 1,000 vehicles in 2021." • Hmm.
Tech: Complaints about Google's crapified search increasing, a thread:
Something I don't think millennial teachers fully appreciate about GenZ is that googling has gotten a lot harder in the last decade

— Bill Black (@williamrblack) August 24, 2021
It's not just us…
Real Estate: "China's Ghost Cities Are Finally Stirring to Life After Years of Empty Streets" [Bloomberg]. "It's hard to say how China's reputed ghost cities are faring collectively: Government data aren't publicly available, and independent research is spotty. What is clear is that local governments can throw money at these projects for many years. In the short term, not all of the cities are meeting the same fate, Bloomberg Businessweek discovered on recent visits to three of them. When it comes to urbanization, though, China is playing a very long game."
Tech: "The Silent Partner Cleaning Up Facebook for $500 Million a Year" [New York Times (dk)]. "Facebook and Accenture have rarely talked about their arrangement or even acknowledged that they work with each other. But their secretive relationship lies at the heart of an effort by the world's largest social media company to distance itself from the most toxic part of its business…. Accenture has taken on the work — and given it a veneer of respectability — because Facebook has signed contracts with it for content moderation and other services worth at least $500 million a year, according to The Times's examination. Accenture employs more than a third of the 15,000 people whom Facebook has said it has hired to inspect its posts. And while the agreements provide only a small fraction of Accenture's annual revenue, they give it an important lifeline into Silicon Valley. Within Accenture, Facebook is known as a 'diamond client.' Their contracts, which have not previously been reported, have redefined the traditional boundaries of an outsourcing relationship. Accenture has absorbed the worst facets of moderating content and made Facebook's content issues its own. As a cost of doing business, it has dealt with workers' mental health issues from reviewing the posts. It has grappled with labor activism when those workers pushed for more pay and benefits. And it has silently borne public scrutiny when they have spoken out against the work."
Concentration: "Lawsuit targets HCA's hospital monopoly in Western North Carolina" [Facing South]. "But since going for-profit following its 2019 purchase by Nashville, Tennessee-based HCA Healthcare — a publicly traded hospital operator that's among the most profitable U.S. health care companies — Mission has faced accusations from patients, employees, and public officials that it has sacrificed quality and value of care in pursuit of profits. Some of the complaints have been documented on Mountain Maladies, a private Facebook group of over 12,000 patients, health care workers, and Western North Carolina residents started last year. They include a patient being told to defecate in the bed because there was not enough staff to help them to the toilet, dramatic jumps in prescription prices, and warnings about unsafe COVID-19 protocols, including a failure to sanitize rooms after infected patients have been intubated. The growing concerns have led six Western North Carolina residents to sign on to a class-action lawsuit filed against HCA in August for "restraint of trade and unlawful monopolization" in violation of the state constitution and laws. In seven of the 18 counties it serves — Buncombe, Macon, Madison, McDowell, Mitchell, Transylvania, and Yancey — Mission controls between 75% and 91% of the local health care market. The lawsuit says HCA used its dominance in the region to drive up prices while cutting costs in ways that compromise patient and employee health and safety."
Supply Chain: "Factories across Asia are sending warning signals of further supply-chain strains. Manufacturing activity in several countries is faltering as Covid-19 cases are rising… adding to global supply-chain disruptions and confirming fears of a slowdown in the region's economic recovery" [Wall Street Journal]. "Gauges of manufacturing activity plummeted across major Asian economies, in large part because virus lockdowns, port congestion and higher input costs hampered production. There were also signs that global demand for some Asian goods has been leveling off, as consumers rein in spending in the West. The struggles could signal more problems ahead for buyers of Asian products that remain in high demand, such as toys and semiconductors. As more factories struggle to keep operations staffed and fully operational, it is harder for buyers to source the products they need, potentially adding to inflationary pressures world-wide.
* * *
Today's Fear & Greed Index: 57 Neutral (previous close: 57 Greed) [CNN]. One week ago: 39 (Fear). (0 is Extreme Fear; 100 is Extreme Greed). Last updated Sep 2 at 12:56pm.
The Biosphere
"'Unprecedented' outbreak of armyworms are destroying lawns across the US, often overnight" [USA Today]. • Monocultures are vulnerable to pests, who knew. And USA Today says "destroying lawns" like that's a bad thing.
Games
Defense in depth, a thread:
Maybe this D&D analogy will resonate with nerds like me. It's the Swiss cheese model of (the brilliant follow) @MackayIM in a slightly different form. Numbers aren't necessarily up to date — but with COVID, there's a lot of uncertainty. There is a lot we do know, though. 1/6

— Christian Turner (@christor) September 1, 2021
Health Care
Chicago, 1918, the Spanish flu:
..who understood airborne disease & spread in buildings

'the most important factor in prevention is the air that we breath'

'buildings merit earnest study & attention in a program of real & effective work in preventing the spread of disease' 7/ pic.twitter.com/yQQRFFwp7K

— Orla Hegarty (@Orla_Hegarty) March 20, 2021
We've regressed. I would like to earnestly thank today's public health establishment for this.
"More Hospitals Sued Over Right to Try Ivermectin" [MedPage Today]. "As hospitals continue to admit COVID-19 patients, some are contending with demands from family members to attempt to treat their loved ones with ivermectin. Just last week, the CDC warned healthcare professionals to steer patients away from the drug. But that hasn't stopped the pressure on hospitals, and the outcomes of new legal cases to force hospitals to provide the drug to struggling, ventilated patients have been mixed…. The CDC reiterated in its warning to healthcare professionals last week that ivermectin is not authorized or approved by the FDA for the prevention or treatment of COVID. The agency added that the NIH has also determined there are currently insufficient data to recommend ivermectin for the treatment of COVID. The CDC did say that there are ongoing clinical trials that might provide more information about these 'hypothesized uses.'"
Good question:
Why is basically the entire media lying about what Ivermectin is and calling it a horse drug?

— Zaid Jilani (@ZaidJilani) September 2, 2021
Again, we're not the only ones.
"When school isn't safe: 'You feel like you are sending your child into a lion's den'" [CNN]. • As NC readers know, this study butchers ventilation issues, and CNN simply replicates CDC's error (though I grant its nice to see seating diagrams make it through to the mainstream).
"Rogue antibodies involved in almost one-fifth of COVID deaths" [Nature] (original). "Antibodies that turn against elements of our own immune defences are a key driver of severe illness and death following SARS-CoV-2 infection in some people, according to a large international study. These rogue antibodies, known as autoantibodies, are also present in a small proportion of healthy, uninfected individuals — and their prevalence increases with age, which may help to explain why elderly people are at higher risk of severe COVID-19…. The international research team focused on detecting autoantibodies that could neutralize lower, more physiologically relevant concentrations of interferons. They studied 3,595 patients from 38 countries with critical COVID-19, meaning that the individuals were ill enough to be admitted to an intensive-care unit. Overall, 13.6% of these patients possessed autoantibodies, with the proportion ranging from 9.6% of those below the age of 40, up to 21% of those over 80. Autoantibodies were also present in 18% of people who had died of the disease. [Immunologist Jean-Laurent Casanova at the Rockefeller University] and his colleagues suspected that these devious antibodies were a cause, rather than a consequence, of critical COVID-19. … To examine this link further, the researchers hunted for autoantibodies in a massive collection of blood samples taken from almost 35,000 healthy people before the pandemic. They found that 0.18% of those between 18 and 69 had existing autoantibodies against type 1 interferon, and that this proportion increased with age: autoantibodies were present in around 1.1% of 70- to 79-year-olds, and 3.4% of those over the age of 80. 'There is a massive increase in prevalence" with age, Casanova says. "This largely explains the high risk of severe COVID in people in the elderly population."" • Hmm.
"FAA Wants Airport Bars to Stop Selling Alcohol to Go" [Food & Wine]. "Last week, the administrator of the Federal Aviation Administration wrote a letter to the leaders of airports throughout the United States, asking them to stop allowing airport bars to serve alcoholic beverages to go, in an attempt to prevent passengers from becoming unruly, noncompliant, or straight-up violent after they board a plane."
"Worried About Breakthrough Infections? Here's How to Navigate This Phase of the Pandemic" [New York Times]. • This headline is not fully-compliant with today's argot. It should read "… .This Phase of Your Pandemic Journey."
I know this is a right-wing talking point, but seriously, wouldn't a yellow star be simpler and cheaper?
Noam Chomsky says the "right response" to The Unvaccinated is "to insist that they be isolated" from society https://t.co/T34V7anDGI pic.twitter.com/1bBzURPeEi

— Max Blumenthal (@MaxBlumenthal) September 2, 2021
Zeitgeist Watch
"Government Self-Support Scheme Posters (1971-)" [Scarfolk Council]. • Helpful!
Class Warfare
Here it is, plain as day:
One of the most blatant signs of Covid inequality: The richer you are, the more likely you're able to telework instead of putting yourself at risk in a frontline job.

This is 1 of our 10 charts about the state of US workers for #LaborDay: https://t.co/VGxda93PZZ pic.twitter.com/EDYETeXOZT

— Inequality.org (@inequalityorg) September 2, 2021
Anybody who can work from home is not "essential."
News of the Wired
"Go ahead, have that third cup of coffee. You just might live longer, new research suggests" [USA Today]. "This new study involved 468,629 participants of the UK BioBank database; none had signs of heart disease at the start of the study. Participants' average age was 56.2 years and more than half, 55.8%, were women. Compared to non-coffee drinkers, drinking up to three cups of coffee daily was associated with 21% lower risk of stroke, 17% lower risk of death from cardiovascular disease, and 12% lower risk of all cause death, the researchers said. A comparison of heart MRIs revealed coffee drinkers 'had healthier sized and better functioning hearts," Simon said. "This was consistent with reversing the detrimental effects of aging on the heart.' Further studies are needed to explain the health benefit, she said, but "this is the largest study to systematically assess the cardiovascular effects of regular coffee consumption in a population without diagnosed heart disease.'" • Guess I'll have to crank up the input!
* * *
Readers, feel free to contact me at lambert [UNDERSCORE] strether [DOT] corrente [AT] yahoo [DOT] com, with (a) links, and even better (b) sources I should curate regularly, (c) how to send me a check if you are allergic to PayPal, and (d) to find out how to send me images of plants. Vegetables are fine! Fungi and coral are deemed to be honorary plants! If you want your handle to appear as a credit, please place it at the start of your mail in parentheses: (thus). Otherwise, I will anonymize by using your initials. See the previous Water Cooler (with plant) here. Today's plant (JW):
JW writes: "Here's a photo of my most spectacular peony this year in case you could ever use it. The white fluff is cotton from the nearby cottonwood tree."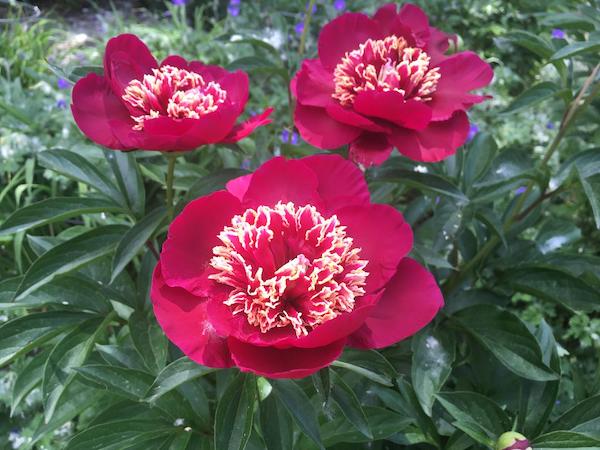 * * *
Readers: Water Cooler is a standalone entity not covered by the recently concluded and — thank you! — successful annual NC fundraiser. So if you see a link you especially like, or an item you wouldn't see anywhere else, please do not hesitate to express your appreciation in tangible form. Remember, a tip jar is for tipping! Regular positive feedback both makes me feel good and lets me know I'm on the right track with coverage. When I get no donations for five or ten days I get worried. More tangibly, a constant trickle of donations helps me with expenses, and I factor in that trickle when setting fundraising goals:
Here is the screen that will appear, which I have helpfully annotated.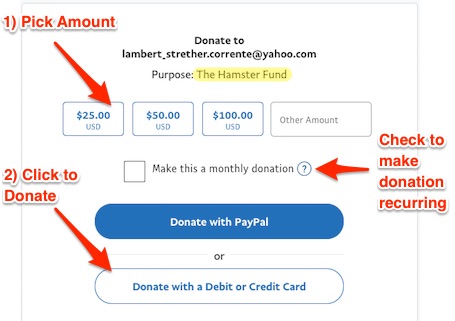 If you hate PayPal, you can email me at lambert [UNDERSCORE] strether [DOT] corrente [AT] yahoo [DOT] com, and I will give you directions on how to send a check. Thank you!2:00PM Water Cooler 6/8/2021