By Lambert Strether of Corrente
Let's start with the press. In olden times, newspapers used to have a labor beat. Somewhere near the beginning of the neoliberal dispensation, labor coverage got folded into the Business Section and then more or less vanished. Today, there's not an awful lot of labor reporting going on: Kim Kelly (@GrimKim), late of Teen Vogue, Jonah Furman (@JonahFurman) of Labor Notes and Who Gets the Bird, Michael Sainato (@msainat1) at the Guardian, and Mike Elk (@MikeElk) of PayDay Report seem to be about it. (Whether accidentally or on purpose, the Americans seem to have divved up the coverage: Kelly was the goto for Warrior Met, Elk for IATSSE, and Furman for John Deere, which is the topic of this post.
Most of the coverage of the John Deere strike replicates this story from Associated Press (AP): "Deere & Co. workers go on strike after rejecting contract," which begins:
More than 10,000 Deere & Co. workers went on strike Thursday, the first major walkout at the agricultural machinery giant in more than three decades.
I don't blame TV station after TV station, and newspaper after newspaper, for using a wire service for coverage; but I do blame the brain geniuses at Google for treating the same wire service story as a separate hit, time after time after time. Couldn't they figure out a way to collapse the dupes, so I could actually find stuff? Be that as it may, AP has now set up a topic page or "hub" for strikes: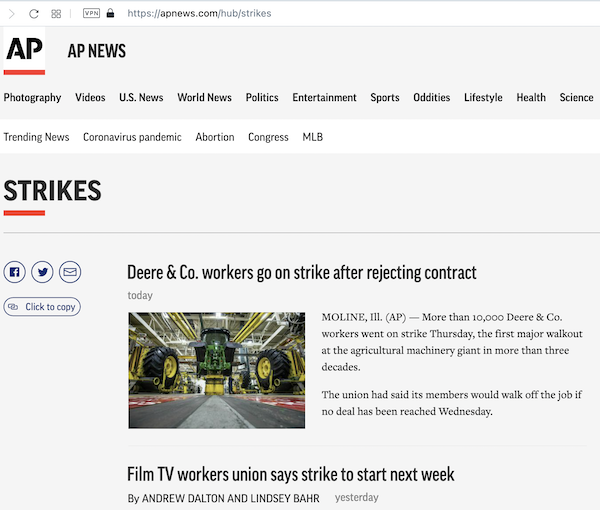 (The first entry is from July 22, 2021.) So, I would say a clear indication that there are more strikes to come, since AP is gearing up to cover them. However, the strike before us today is the UAW's John Deer strike. First, I'll look at John Deere as a business, insofar as that's relevant to the strike. Then, I'll look at the contract dispute that led to the strike. Next, I'll look at the correlation of forces between labor and management, in the context of "StrikeTober," a phrase our silly media has made up. I'll conclude with a few mutterings on the zeitgeist.
John Deere the Business
First, we may think of Deere's yellow and green tractors as made exclusively in the heartland, but that's not correct. From Machine Finder:
Below is a list of factories that produce American-made John Deere tractors:

Augusta, Georgia, United States: Compact utility and utility tractors

Waterloo, Iowa, United States: Ag tractors

Greeneville, Tennessee, United States: Lawn and garden tractors

Horicon, Wisconsin, United States: Lawn and garden tractors
Deere also does significant international manufacturing. So far as I know, Deere has not been able to replicate Boeing's success in wrecking its union operation by shifting production to a non-union state, but management shifting production — and probably more importantly in the short term, parts and repairs — is at least worth speculating about.
Second, while Deere is not exactly a financial services operation with a factory attached, it does make a lot of its money that way. From Investopedia:
The company's three major segments are agriculture and turf; construction and forestry; and the unexpected wildcard, financial services. Really? Indeed. Deere & Co. discovered that it could make almost as much money financing its products as selling them. It isn't the first vehicle company to figure this out, either. General Motors Co. (GM) created GMAC, the General Motors Acceptance Corp. (now Ally Financial [ALLY]) for similar reasons.
A chart from Deere's most recent annual report makes this clear:

So, I would guess that a strike will fail to affect about a third of Deere's profits. (I mean, even if Deere can't repair tractors in the field, that won't stop it from collecting rent on the tractor, whether it works or not.) I don't know if this will affect Deere's ability to hold out longer, or not.
The Contract Dispute
As with Warrior Met, Deere workers have built uo a head of justified resentment against the last constract, and saw the Tentative Agreement as more of the same. From the Guardian:
David Schmelzer, a quality control inspector at John Deere in Milan, Illinois for 24 years and former chairman of UAW Local 79, said that in 1997 workers took several concessions from John Deere in contract negotiations at the time, which included creating a two-tier system of employees, with workers hired after 1997 receiving fewer benefits.

"We sacrificed, and we want that back now," said Schmelzer. During the pandemic, Schmelzer said workers have been forced to work overtime consistently, with 10- to 12-hour days through the week and Saturdays.

Through that time, John Deere has reported record profits in 2021, with a $4.7bn profit in the first three quarters of this year, compared to their previous record profit year of $3.5bn in 2013. The company spent over $1.7bn on stock buybacks in the first nine months and paid out $761m in dividends to shareholders.

"A lot of what's been going on in the country over the last couple of years has definitely made people more aware of the disparity between corporate and income inequality. Just massive amounts of corporate greed," added Schmelzer. "The majority of people want a bigger share of the success of this company, the success that we've been a major part of."
And here we are. From Modern Farmer:
So, what exactly are they fighting for?

Aaron Gregg at the Washington Post reports that the workers are seeking increased wages, improved retirement plans and better benefits. Deere's profits spiked during the pandemic; the company's third-quarter profits in 2021 were nearly double that of the quarter a year prior. The company offered raises of around five to six percent, but it seems that it's the retirement and other benefit packages that are the real sticking points.
This point on the (evil) two-tier pension system is important:
Labor reporter Jonah Furman reports that one major issue is Deere's proposed two-tiered pension system, in which workers hired prior to 1997 receive three times the pension of more recent hires, and those hired after November 1 of this year would receive no pension at all. Workers in these plants are often multi-generational, and they see their own benefits becoming drastically lower than those of their parents, all while Deere shows record profits.
The Daily Mail brings in the class warfare aspect most American newspapers are too genteel to mention. First, remember "essential workers"?
Some employees have told the Des Moines Register that they felt the company owed them better wages after they worked through the height of the COVID-19 pandemic.
Second, CEO pay:
Workers are angry that Deere CEO John May, who earned nearly $16 million in his first year in the role last year, makes 220 times more than the median company salary of $70,743. [May's salary was] up from $6 million the year before, based on the company's financial performance.
Finally, it sounds like the shop floor at Deere is extremely unpleasant. The Guardian once more:
"This goes beyond numbers. It's just as much about how people are treated," said a John Deere employee in Illinois who requested to remain anonymous for fear of retaliation. "Respect from management no longer exists. You can feel the tension in the air. Everybody has been on edge for quite some time. Nearly every day, I would lift my weld hood up to hear employees and managers screaming at each other. They have put highly paid managers on certain operators to watch them and just bird dog them all day."
The Correlation of Forces
Let's look at labor's leverage, management's leverage, and the equivocal role played by the UAW. First, labor. From the New York Times:
"We've never had the deck stacked in our advantage the way it is now," said Chris Laursen[1], a worker at a John Deere plant in Ottumwa, Iowa, who was president of his local there until recently.
As I read it, most of labor's advantage comes from timing, on multiple levels.
1) Labor market timing[2]. From AP:
Creighton University economist Ernie Goss said workers have a lot of leverage to bargain with right now because of the ongoing worker shortages.

"Right now across the US, labor is in a very good strong position to bargain, so now is a good time to strike," Goss said.

Earlier this year, another group of UAW-represented workers went on strike at a Volvo Trucks plant in Virginia and wound up with better pay and lower-cost health benefits after rejecting three tentative contract offers.
Next, and particular to Deere:
2) Harvesting timing. From Bloomberg:
The timing of the strike is also significant. It's coming in the middle of the North American harvest. While that is a period of weaker production for Deere, it could disrupt the harvest if farmers experience equipment breakdowns and Deere is unable to respond speedily. A work stoppage beyond a few days may make it tougher to get hold of replacement parts if equipment breaks during the harvest, according to Brian Strasser, a manager at Sinclair Tractor in Kalona, Iowa.
(Note that John Deere viciously engineers its machines so that "owners" have no right to repair, so the farmer can't repair the tractor themselves. Only Deere can.)
3) Manufacturing timing.
"…and managers who have never held a wrench in their lives will be trying to weld assemblies. I'll be trying to find out which serial number ranges are built in that time, so I can tell farmers I know which machines to avoid."

— Jonah Furman (@JonahFurman) October 14, 2021
Of course, Deere can always try to hire scabs, but it sounds, again, like Boeing is far ahead of Deere in deskilling its workforce.)
4) Supply chain timing. From AP:
[Iowa State University economist Dave Swenson] said the impact of the strike could spread further if companies that supply Deere factories have to begin laying off workers. So Deere will face pressure from suppliers and from customers who need parts for their Deere equipment to settle the strike quickly. And Swenson said Deere will be worried about losing market share if farmers decide to buy from other companies this fall.

"There is going to be a lot of pressure on Deere to move closer to the union's demands," Swenson said.
Turning to management, they seem to hope to keep the lights on with the salaried employees. Dubious:
Yet another salaried Deere employee has reached out. Here's his comment on the idea of white collar and other employees keeping the plants running through the strike, working under "new titles." pic.twitter.com/GrFS8FdlEt

— Jonah Furman (@JonahFurman) October 14, 2021
Fascinating to see reporters working sources in real time on the Twitter; that's one thing Twitter really is good for. Another example:
I wouldn't buy a tractor made from October until 2 months after we come back to work. Lol

— Douglas Davies (@dadscad) October 13, 2021
Getting manufacturing up and running with a retrained white collar workforce seems like a hare-brained scheme to me. It's hard for me to believe that Deere's hand is that weak….
Now let's take a quick look at the UAW, with whom the workers have trust issues, and rightly:
A Deere worker asked me to share this statement anonymously.

It really gets to the frustration the membership have been feeling, towards both Deere and the UAW bargaining committee, and how this has built up to this point. pic.twitter.com/bl3SFS2fL9

— Jonah Furman (@JonahFurman) October 14, 2021
At this point we recall that the UAW bargaining committee came up with a Tentative Agreement that 90% of the workers rejected, so they must be completely out of touch. We also recall headlines like Second UAW president sentenced to 28 months in prison in union corruption probe. [3]
"StrikeTober"
It seems that there are rather a lot of strikes just now. Here some labor maves try to make a list:
So what is #Striketober?

We now have strike authorizations at John Deere (strike deadline tonight), IATSE/Hollywood (deadline Oct. 18) and Kaiser Permanente (deadline TBD).

That's around *90,000 workers* right there. Those are the kind of numbers you don't see anymore.

— Dave Jamieson (@jamieson) October 13, 2021
But wait! There's more!
And @CWAUnion @CWADistrict1 2000 nurses on strike and @CWAUnion @CWADistrict9 has 2000 telecom workers in California with a 93% strike authorization.

— Thomas H (@ltsPara) October 13, 2021
And more!
1400 Kellogg's, 1,000 miners, 700 MA nurses, 700 already out at Kaiser, 400 some steelworkers in West Virginia, 400 whiskey makers in KY, 200 Reno bus driver Teamsters… more I'm forgetting!

— Jonah Furman (@JonahFurman) October 13, 2021
Robert Reich asks Is America experiencing an unofficial general strike?
The media failed to report the big story, which is actually a very good one: American workers are now flexing their muscles for the first time in decades.

You might say workers have declared a national general strike until they get better pay and improved working conditions.

No one calls it a general strike. But in its own disorganized way it's related to the organized strikes breaking out across the land – Hollywood TV and film crews, John Deere workers, Alabama coal miners, Nabisco workers, Kellogg workers, nurses in California, healthcare workers in Buffalo.
Good to see the Democrat national leadership stepping up to the plate and showing solidarity. Oh[4], wait…
Profits at John Deere have skyrocketed by some 61% in recent years, while its CEO's salary has exploded by 160% since the start of the pandemic. Please do not tell me they cannot afford to pay their workers fairly. I am proud to stand in solidarity with @UAW members on strike.

— Bernie Sanders (@BernieSanders) October 14, 2021
Conclusion
Ottumwa painter Laursen, from the Des Moines Register:
"The whole nation's going to be watching us," Laursen, the Ottumwa plant employee, told the Register on Monday. "If we take a stand here for ourselves, our families, for basic human prosperity, it's going to make a difference for the whole manufacturing industry. Let's do it. Let's not be intimidated."
I agree, especially if by "the whole manufacturing industry" we mean "the world's manufacturing industry." This is, after all, the belly of the beast, and everybody knows it. Readers, any labor action where you are?
NOTES
[1] Laursen is an interesting figure; see this story in the Des Moines Register. I believe Gramsci would have called him an "organic intellectual." A painter from Ottumwa who's managed to get himself into a lot of reporters' contact lists.
[2] Properly labor power market, since labor is not alienable, but what of that.
[3] That level of betrayal is why Big Labor feels so comfortable with the Democrat Party, I suppose.
[4] Here is a reply to Sanders:
Bernie, a new union (@PaizoWorkers) was formed today at one of the nation's most famous tabletop gaming companies. They're working with the @CWAUnion to gain recognition from management. A shout-out would be much appreciated I'm sure! #UnionizePaizo

— Jeremy (@11JustBreathe11) October 14, 2021
Interesting!