By Lambert Strether of Corrente.
Patient readers, this Water Cooler is a bit light because I'm feeling a little bit under the weather. Hopefully tomorrow I will be back in form. –lambert
Bird Song of the Day
Another duet!
* * *
#COVID19
At reader request, I've added these daily charts from 91-DIVOC. The data is the Johns Hopkins CSSE data. Here is the site. I feel I'm engaging in a macabre form of tape-watching. I think it's time to do some tinkering with the charts. I want to improve the vaccination area, if I can, to distinguish between first, second, and ideally booster shots, and give a total. The original purpose of the chart was to see if the advent of the "adults in the room" boosted the vaccination rate at all, and it did not. (Hence, kudos to the heroic efforts of people on the ground.)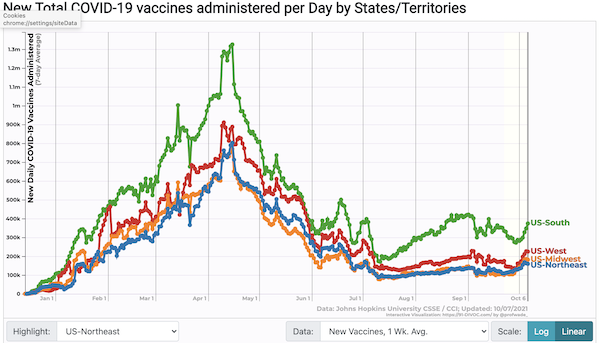 Coercion works? As exhortation, Biden's speech had no impact at all.
"Covid-19 booster shots have outpaced the US rate of new vaccinations. And the millions still unvaccinated could trigger 'future waves,' expert warns" [CNN]. "[W]ith the number of Americans getting booster shots surpassing those who are initiating vaccination, experts warn more is needed to continue the progress…. An average of 384,963 booster vaccine doses are being given daily, while roughly 281,303 people are getting their first dose every day and about 292,927 people are becoming fully vaccinated each day, according to Wednesday's CDC data." • So IM Doc was, unsurprisingly, correct to draw attention to how mixed this data is. I looked at the CDC page with this data, and there's no time element which is what I want. Perhaps I can use this tool, which allows different visualizations to be created. I wish there were a FRED for Covid data…
56.1% of the US is fully vaccinated (mediocre by world standards, being just below Czech Republic, and just above Saudi Arabia). We are back to the stately 0.1% rise per day. I would bet that the stately rise = word of mouth from actual cases. However, as readers point out, every day those vaccinated become less protected, especially the earliest. So we are trying to outrun the virus… (I have also not said, because it's too obvious, that if by Bubba we mean The South, then Bubba has done pretty well.)
White House on vaccine requirements generally:
Vaccination requirements work. They drive up vaccination rates, which makes our communities and schools safer, along with strengthening our economic recovery. Vaccine requirements are widely supported, proven successful, and quickly becoming the standard across the country. pic.twitter.com/qo1swxjbYg

— The White House (@WhiteHouse) October 7, 2021
And for all the examples in that list, I'm pro-vax and pro-requirement (assuming the requirements already exist, and the Biden administration hasn't pulled a fast one by slipping in a requirement they wish existed).
Case count by United States regions: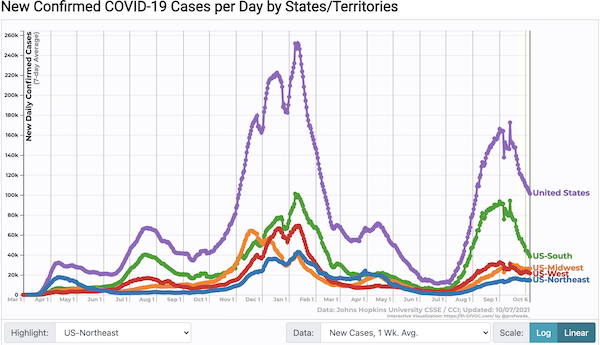 Simply tape-watching, this descent is as steep as any of the three peaks in November–January. It's also longer than the descent from any previous peak. The question is whether we will ascend to a second (or third) peak, as in last December-January, or not, as in last August. Note also that the regions diverge: The South, which drove the peak, is finally dropping. The West was choppy too, and is now falling. Ditto the Midwest. And now the Northeast is falling as well.
We could get lucky, as we did with the steep drop after the second week in January, which nobody knows the reasons for, then or now. Today's populations are different, though. This population is more vaccinated, and I would bet — I've never seen a study — that many small habits developed over the last year (not just masking). Speculating freely: There is the possibility that natural immunity is much, much greater than we have thought, although because this is America, our data is so bad we don't know. Also, if the dosage from aerosols drops off by something like the inverse square law, not linearly, even an extra foot of distance could be significant if adopted habitually by a large number of people. And if you believe in fomites, there's a lot more hand-washing being done. On the other hand, Delta is much more transmissible. And although readers will recall that I have cautioned against cross-country comparisons, I'm still not understanding why we're not seeing the same aggregates in schools that we've see in Canada and especially the UK, despite anecdotes. Nothing I've read suggests that the schools, nation-wide, have handled Covid restrictions with any consistency at all.
NEW From CDC: "Community Profile Report October 1, 2021" (PDF), "Rapid Riser" counties, this release: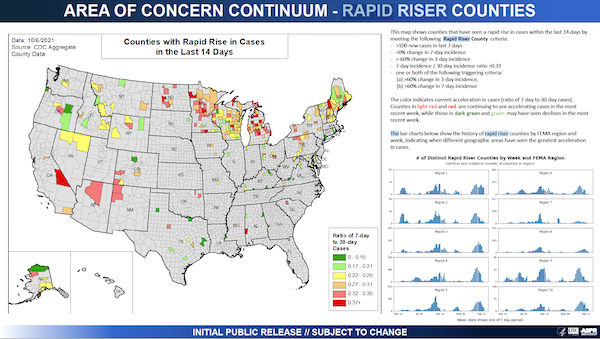 Finally Maine (and New Hampshire) improving, also Minnesota. Speculating freely: One thing the consider is where the red is. If air travel hubs like New York City or Los Angeles (or Houston or Miami) go red that could mean (a) international travel and (b) the rest of the country goes red, as in April 2020 and following. But — for example — Minnesota is not a hub. If Minnesota goes red, who else does? Well, Wisconsin. As we see. Remember, however, that this chart is about acceleration, not absolute numbers. This map, too, blows the "Blame Bubba" narrative out of the water. Not a (Deliverance-style) banjo to be heard. Previous release: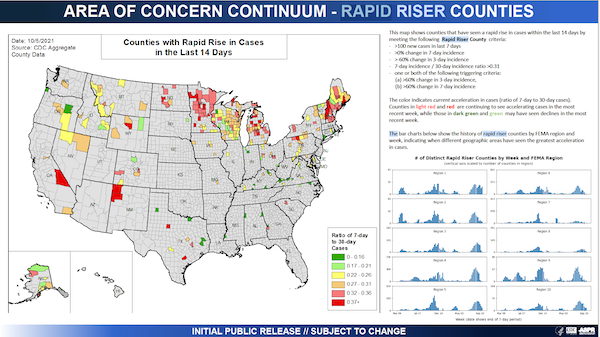 (Red means getting worse, green means bad but getting better.)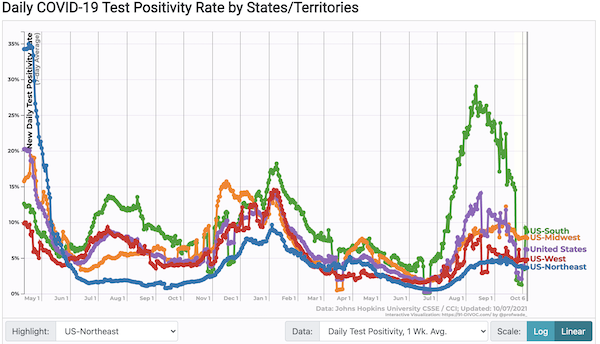 Looks like the missing data rebound in the South has begun. But what happens when test kits from Walgreens and CVS become dominant, and no reporting is done? We're already partway there.
Hospitalization (CDC). Everything works today: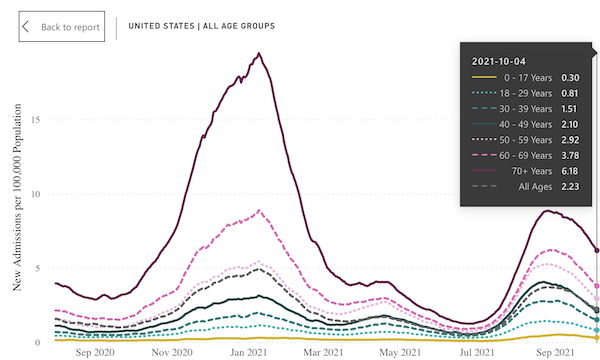 From this chart, pediatric hospitalization, in the aggregate, is down.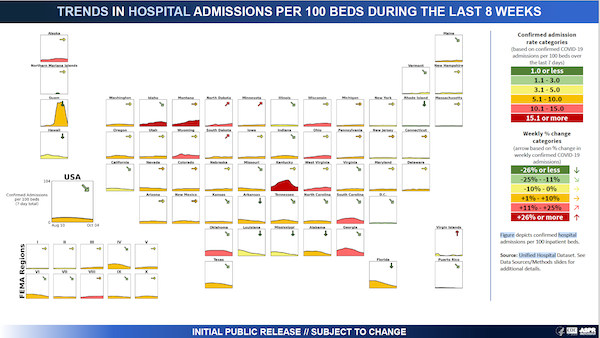 Mountain states still stubbornly high. Tennessee's long ordeal seems to be ending.
Death rate (Our World in Data):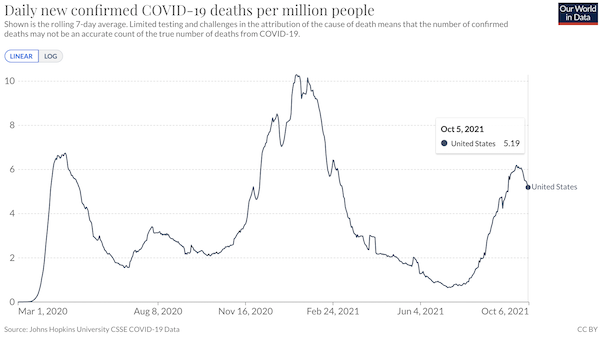 Total: 727,826 724,838. A definite downward trend, mercifully. We approached the same death rate as our first peak last year. Which I found more than a little disturbing. (Adding: I know the data is bad. This is the United States. But according to The Narrative, deaths shouldn't have been going up at all. Directionally, this is quite concerning. Needless to see, this is a public health debacle. It's the public health establishment to take care of public health, not the health of certain favored political factions.) (Also adding: I like a death rate because it gives me a rough indication of my risk should I, heaven forfend, end up in a hospital. I should dig out the absolute numbers, too, now roughly 660,000, which is rather a lot.)
Covid cases worldwide: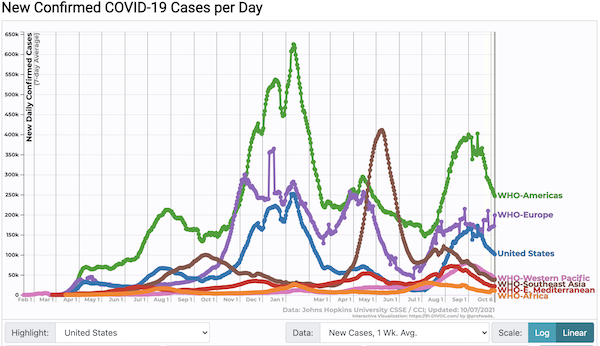 European exceptionalism?
* * *
Politics
"But what is government itself, but the greatest of all reflections on human nature?" –James Madison, Federalist 51
"They had one weapon left and both knew it: treachery." –Frank Herbert, Dune
"They had learned nothing, and forgotten nothing." –Charles Maurice de Talleyrand-Périgord
Biden Administration
"The foul-mouthed farmer sticking his neck out for Democrats' agenda" [Politico]. "Despite hailing from a state that Biden lost by 16 points, Tester isn't among the Democrats getting cursed out for obstruction by liberal activists…. In fact, the burly farmer from Big Sandy, Mont., has become a reliable advocate of much of Biden's agenda, even as he eyes a potentially perilous reelection campaign in 2024 in a state where being a Democrat is hard enough. And as for whether Tester's alignment with Biden and relatively liberal voting record is a clue about whether he'll retire rather than run again … well, throw another quarter in the swear jar: 'Oh, no, fuck that. That's not my style.'"

"Scoop: Manchin demands progressives prioritize" [Axios]. Scoop? Like Manchin's comms guy planted a story? Come on. That said: "Sen. Joe Manchin (D-W.Va.) is telling colleagues that progressives need to pick just one of President Biden's three signature policies for helping working families and discard the other two, people familiar with the matter tell Axios." No. Let Manchin pick. He's the one who wants the cuts. More strategically: "Why it matters: By forcing progressives to choose among an expanded child tax credit, paid family medical leave or subsidies for child care, Manchin is complicating any potential deal— but also signaling his willingness to negotiate. He's also aligning himself with Democratic centrists in the House, who want to trim the number of programs in any final package but fund them for longer. Progressives are hopeful they can retain all of their cherished programs in a final bill by funding many of them for shorter durations and therefore lower the bill's ultimate price tag." • So what the centrists want is a bad deal that lasts a long time. Sounds legit. Sanders responds:

The time is long overdue for Sen. Manchin to say with specificity – we're beyond generalities – what he wants, and what he does not want, and to explain that to the people of West Virginia and America. pic.twitter.com/iznJu0a0cc

— Bernie Sanders (@SenSanders) October 7, 2021

"1 big thing: Scoop – Sanders' Sinema spat" [Axios]. Too many scoops! Cory Booker courageously organized a letter condemning the protesters who followed Sinema into a bathroom. "Senate Majority Leader Chuck Schumer (D-N.Y.) and Sens. Dick Durbin (D-Ill.), Mark Warner (D-Va.), Elizabeth Warren (D-Mass.), Joe Manchin (D-W.Va.), Amy Klobuchar (D-Minn.) and Catherine Cortez-Masto (D-Nev.) all signed onto the statement in addition to Booker….. Sanders' communications director Mike Casca asked that the statement be edited to include the preface, 'While we hope Senator Sinema will change her position on prescription drug reform and support a major [budget] reconciliation bill, …" An aide to Sen. Cory Booker (D-N.J.), who organized the statement, said Booker would not accept the edits. Casca later replied: "Sanders will not be signing, so please cut 'Senate Democratic Leadership Team' from headline." • Ouch. It's not clear that the letter will be sent.

"Biden moves to ramp up at-home Covid-19 testing" [STAT]. "he White House announced on Wednesday a $1 billion purchase of at-home rapid tests for Covid-19, a move aimed at scaling up test production in the U.S. and quadrupling the availability of the tests by December. 'In the past few months, testing has increased — particularly at-home testing, a convenient option that came to market earlier this year. To meet this increased demand, the president's plan ramps up both the availability of tests and access to free testing,' said Jeff Zients, the White House coronavirus response coordinator, at a briefing with reporters. Demand for fully at-home rapid tests has surged in recent weeks, due in part to the Biden administration's announced mandate of weekly testing for unvaccinated employees at workplaces of over 100 people. At-home testing suppliers have struggled to meet this demand in a way not experienced elsewhere: In Europe, for instance, regulators have approved a wider variety of tests and have subsidized their cost to consumers…. When asked whether the administration's recent investments in at-home rapid testing should have occurred sooner, Zients said at-home testing only came to market earlier this year. He added that by December, half of the testing market will comprise at-home tests, 'a product that didn't exist when the president came into office.'" • Translating Zients, there should have been an Operation Warp Speed for testing, but the molasses-brained Biden Administration didn't think of it.
Democrats en Deshabille
"Jayapal plays her cards right" [Seattle Times]. "Chances are that, in this current intraparty squabble, Sinema's recalcitrance will force a steep reduction from the $3.5 trillion that progressives want and Jayapal will be forced to convince her colleagues on the left that it is better to accept less than they desire rather than end up with nothing. If that happens, it may be a small victory for Sinema's maverick moderation, but the political future looks far brighter for Jayapal than Sinema. The Arizona senator has infuriated her fellow Democrats with her shenanigans, and she is likely to face opposition in the Democratic primary when she is up for reelection in 2024. Even if she beats back a challenge from within her party, she will be weakened when she faces a Republican opponent in a state that still leans conservative. Jayapal, on the other hand, represents a district that is so heavily Democratic that she can probably stay in office as long as she wishes." And the final sentence: "And, given her popularity with House progressives and the respect she commands from House moderates, it is not hard to imagine her as a future Speaker of the House." • As I said yesterday, the Democrats are facing a succession crisis, along with everything else. I would imagine there are plenty of Representatives who have feelings about Jayapal as Speaker (or Minority Leader). It's hard to imagine that, say, Clyburn would be happy. Proverbs 16:18.

AOC on concentration:

𝙧𝙥 @AOC ‼️‼️‼️‼️‼️‼️‼️ pic.twitter.com/omESfY92SB

— PUBLIC ENEMY (@PublicEnemyFTP) October 5, 2021

Good, but let's see follow-through (and more than YouTubes, though. That worked well for Warren, temporarily, but… Warren ended up where she did, didn't she?)
Republican Funhouse
"Department of Education: Florida missed deadline for $2.3B in federal aid" [The Hill]. "After failing to submit a plan to the U.S. Department of Education (DOE) for how Florida would use federal funding for its schools, the state will forgo $2.3 billion in COVID-19 relief money. On Monday, the DOE sent a letter informing Florida Education Commissioner Richard Corcoran that he had missed the deadline to submit a plan and obtain American Rescue Plan Elementary and Secondary School Emergency Relief (ARP ESSER) money…. Florida Gov. Ron DeSantis's (R) office responded to the letter, saying that Florida school districts still have money from the first round of aid to use." • So we have a sclerotic system, at the very best. More: "[Jared] Ochs [of the Florida Department of Education] said that Florida the state "communicated well in advance" of the June deadline that it would require additional time to create a plan. He added that his department plans to submit its plans for how to use the third batch of funding in October 2021." • Sheesh.
Trump Post Mortem
I am probably being derelict in not getting excited about this:

Senate Judiciary releases 394-page staff report entitled: "Subverting Justice: How the Former President and his Allies Pressured DOJ to Overturn the 2020 Election.": https://t.co/zASBtOCu5w Durbin's office says these are the key findings pic.twitter.com/zWgiVbEp8N

— Manu Raju (@mkraju) October 7, 2021

My profound sense of ennui derives from (a) the fact that Democrats have form, and their form is that they lie all the time (RussiaGate), and (b) the lack of moral standing Democrats have to complain about election theft (which any Sanders supporter would share).
Realignment and Legitimacy
"What Democrats Need to Understand About the Changing Electorate" [The Atlantic]. "The study, from the group Way to Win, provided exclusively to The Atlantic, argues that to solidify their position in Congress and the Electoral College, Democrats must increase their investment and focus on Sun Belt states that have become more politically competitive over recent years as they have grown more urbanized and racially diverse. 'The majority of new, likely Democratic voters live in the South and Southwest, places the Democratic establishment have long ignored or are just waking up to now,' the group argues in the report. The study, focusing on 11 battleground states, is as much a warning as an exhortation. It contends that although the key to contesting Sun Belt states such as North Carolina, Georgia, Texas, and Arizona is to sustain engagement among the largely nonwhite infrequent voters who turned out in huge numbers in 2018 and 2020, it also warns that Republicans could consolidate Donald Trump's gains last year among some minority voters, particularly Latino men. 'These trends across our multiracial coalition demonstrate the urgent need for campaigns and independent groups to stop assuming voters of color will vote Democrat," the report asserts."
Stats Watch
Employment Situation: "United States Challenger Job Cuts" [Trading Economics]. "US-based employers announced 17,895 job cuts in September of 2021, slightly above a 24-year low of 15,723 in August. Still, September's total is 85% lower than in the same month last year. Like in August, the most cuts were announced by companies in the Health Care/Products (2,673). Considering Q3, employers announced 52,560 job cuts, the lowest quarterly total since the second quarter of 1997. So far this year, employers have announced 265,221layoffs, down 87% from last year and the lowest January-September total on record. "Companies are in hiring and retention mode, and to make demands at the moment. We know there are millions of open positions, but many employers are having trouble keeping up with their applicants, taking too long to reach out, not making offers fast enough, or losing out to more attractive offers" said Andrew Challenger, Senior Vice President of Challenger, Gray & Christmas, Inc." • "At the moment."
Employment Situation: "United States Initial Jobless Claims" [Trading Economics]. "The number of Americans filing new claims for unemployment benefits fell to 326 thousand in the week ending October 2nd, from a seven-week high of 364 thousand in the previous period and below market expectations of 348 thousand. The number of claims moved towards a pandemic low of 312 thousand reached in early September, as the job market continued to show signs of recovery and as impacts related to Hurricane Ida and the Delta variant's summer spike started to fade. On a non-seasonally adjusted basis, notable decreases in claims levels were recorded in California (down 10.5 thousand), District of Columbia (down 4.0 thousand), Michigan (down 3.2 thousand), and Texas (down 3.1 thousand)."
* * *
The Bezzle: "Anyone Seen Tether's Billions?" [Bloomberg]. The reporter hasn't either. Out of many astounding paragraphs, this is perhaps the most intriguing: "After I returned to the U.S., I obtained a document showing a detailed account of Tether Holdings' reserves. It said they include billions of dollars of short-term loans to large Chinese companies—something money-market funds avoid. And that was before one of the country's largest property developers, China Evergrande Group, started to collapse. I also learned that Tether had lent billions of dollars more to other crypto companies, with Bitcoin as collateral. One of them is Celsius Network Ltd., a giant quasi-bank for cryptocurrency investors, its founder Alex Mashinsky told me. He said he pays an interest rate of 5% to 6% on $1 billion in loans from Tether. Tether has denied holding any Evergrande debt, but Hoegner, Tether's lawyer, declined to say whether Tether had other Chinese commercial paper. He said the vast majority of its commercial paper has high grades from credit ratings firms, and that its secured loans are low-risk, because borrowers have to put up Bitcoin that's worth more than what they borrow. "All Tether tokens are fully backed," he said." • If you are holding any crypto, I would read this carefully (if it's not too late).
The Bezzle:
Enq has a giant phone bank that places floods the IRS help-line with simultaneous calls, so no one else can get through. Then they sell the right to take over a mature on-hold call – one that is near to being answered by a human being – to busy tax professionals.

8/

— Cory Doctorow (@doctorow) October 7, 2021
Ventures like this are what we have rocket scientists doing now. Doctorow comments:
The fact that people raised on neoclassical econ can't tell the difference between "addressing a distributional problem" and "making it worse but also letting rich people buy their way out of it" is basically the core problem with the world today.

13/

— Cory Doctorow (@doctorow) October 7, 2021
Tech: Kill it with fire:
WATCH: Researchers in California unveiled a bipedal robot that combines walking with flying to create a new type of locomotion, allowing it to jump, skateboard and walk on a slackline pic.twitter.com/Y8VgnjHRsW

— Reuters Asia (@ReutersIndia) October 7, 2021
Ideal for union-busting, demonstrations, and quelling disorders of all kinds. The Tatmadaw has already expressed keen interest. And of course the scaled-down "Semi-Pro" edition is ideal for domestic disputes!
Tech: Justine Haupt makes perhaps the most amateur YouTube ever (I love the lights reflecting off her glasses):
But the content is terrific. "I feel like I'm living in a bad drream. The world is weird." With soldering tips! (Oh, she trolls "smart phones" for getting only 4-bar reception, because her phone gets ten. (It's not a matter of turning the knobs up to eleven, it's because the external antenna gets better reception.) I would think that would be a big selling point for mountaineers and hikers, as well as people out in the boonies generally.
* * *
Today's Fear & Greed Index: 34 Fear (previous close: 27 Fear) [CNN]. One week ago: 25 (Extreme Fear). (0 is Extreme Fear; 100 is Extreme Greed). Last updated Oct 5 at 2:00pm.
The Biosphere
UPDATE "Melting 'glue' may have sent the world's largest iceberg to its doom, new study finds" [Live Science (original)]. "The split of A68, an iceberg approximately 2,240 square miles (5,800 square kilometers) in area, reduced the size of Larsen C by 12%, Live Science previously reported. Larsen C is the third ice shelf on Antarctica's western peninsula to undergo massive ice loss in the past two decades. The prevailing theory was that these splits were happening due to a process known as hydrofracturing, in which pools of melted ice on the surface of ice shelves seep through the cracks and expand once they freeze again, co-author Eric Rignot, a professor of Earth system science at the University of California, Irving, said in a statement. 'But that theory fails to explain how iceberg A68 could break from the Larsen C ice shelf in the dead of the Antarctic winter when no melt pools were present.'… [The scientists] focused on the role of 'melange,' a mix of windblown snow, frozen seawater and ice shelf fragments that exists inside and around rifts and typically works to seal the fractures [in the ice floe]…. Just like sea ice, melange is vulnerable to the effects of warming oceans and rising air temperatures. "The melange is thinner than ice to begin with," lead author Eric Larour, NASA Jet Propulsion Laboratory research scientist said in the statement. Just 32 to 66 feet (10 to 20 m) of melange thinning is enough to reactivate a rift, or start to unzip it and trigger a major calving event… Reactivating a rift can trigger ice shelves to retreat decades before water ponding would cause hydrofractures on the ice sheet surface." • Whoops, new parameters for the models…
"Exxon Parts With Lobbyist Recorded Detailing Anti-Climate Plans" [Bloomberg]. "Keith McCoy, the Exxon Mobil Corp. lobbyist who was secretly recorded detailing what he said were the oil giant's efforts to undercut efforts to fight climate change, is no longer with the company. 'I can confirm that Keith McCoy no longer works for the company,' spokesman Casey Norton said in an email. 'It is a private personnel matter, and we will decline to provide further comment.' McCoy didn't respond to phone messages and emails seeking comment. McCoy, who had been a senior lobbyist with the Irving, Texas-based oil and gas company, was recorded by the environmental group Greenpeace UK in May indicating the company had fought early efforts to fight climate change by joining 'shadow groups.' McCoy also said he was working to undercut key climate measures in President Joe Biden's infrastructure proposal and that the oil giant only voiced support for a carbon tax because it knew such a policy would be almost impossible to implement.
'Did we aggressively fight against some of the science? Yes. Did we hide our science? Absolutely not,' McCoy said in the recording, excerpts of which were aired in June by the British network Channel 4. 'Did we join some of these shadow groups to work against some of the early efforts? Yes, that's true.' The company's chief executive officer, Darren Woods, later apologized, saying the comments 'in no way represent the company's position' and reiterated support for a carbon tax." • [nods vigorously].
Health Care
UPDATE "Is faulty injection technique behind rare clot disorder reported post Covid vaccination?" [India Today (Objective Ace)]. "'If the tip of the needle doesn't reach deep enough in the muscle or if it hits a blood vessel, the vaccine can be directly injected into the bloodstream. This is an extremely rare possibility. It can happen when the skin is pinched up by an inadequately trained health worker. Intra-muscular injections are supposed to be given without pinching up the skin, so that the needle tip reaches the muscle. When the skin is pinched up, the needle tip reaches only the subcutaneous tissue,' said Dr Rajeev Jayadevan, a member of the Indian Medical Association's national Covid taskforce in Kochi, Kerala…. He explained that if the needle tip enters a tiny blood vessel in this way, which happens only in the rarest of rare cases, the vaccine will directly enter the bloodstream and can potentially cause an acute reaction." • See the end of the story for "Correct Technique For Intra-Muscular Injection," which includes "aspirating" the syringe to make sure a blood vessel has not been hit, as the Denmark's Statens Serum Institut recommends. The story is basically quotes from Jayadevan and a mouse study, but the possibility is still interesting. Does anybody know what standard United States practice is? Assuming there is a standard? Aspiration seems like the sort of thing an MBA would leave off the checklist.
MMT
I cannot get the Bloomberg article to display no matter what I do, but here is Weisenthal's tweet:
HOW THE PLATINUM COIN WOULD FINALLY KILL THE GOLD STANDARD

In today's @markets newsletter, I wrote about why the fight for #MintTheCoin is so important. It would finally kill the gold standard that exists vestigially in our fiscal politics.

Sub here: https://t.co/Pl5nZqsNJq pic.twitter.com/NkHjBKhrci

— Joe Weisenthal (@TheStalwart) October 7, 2021
"Kill it with fire," I suppose, is what the Platinum Coin does to the gold standard, and gold standard thinking. And high time, too.
Sports Desk
"Just Buy the Damn Championship Already" [New York Magazine]. "It's time for the Yankees to start acting like the richest team in the history of the sport and stop caring, even a little bit, about the luxury tax… Major League Baseball's labor war with the MLBPA is looming, and it's possible the luxury tax will look very different next year. The league's first proposal for a new collective bargaining agreement included a dramatically lower threshold — one the players union will surely fight. But anything short of a hard salary cap should free the Yankees to use the unparalleled resources they have, and do what they'll forever be accused of attempting to do anyway: buy a damn World Series trophy."
News of the Wired
I loathe Christmas in October:
It's ALREADY looking a lot like Christmas: Couple decorate home with hundreds of festive lights for charity https://t.co/Tzg6xoCfoL

— Daily Mail U.K. (@DailyMailUK) October 7, 2021
On the other hand, I love outsider art and popular religious displays of all kinds (except for evangelicals, sorry, no Touchdown Jesus for me, I can't even). So perhaps I should not be mocking, here.
* * *
Readers, feel free to contact me at lambert [UNDERSCORE] strether [DOT] corrente [AT] yahoo [DOT] com, with (a) links, and even better (b) sources I should curate regularly, (c) how to send me a check if you are allergic to PayPal, and (d) to find out how to send me images of plants. Vegetables are fine! Fungi and coral are deemed to be honorary plants! If you want your handle to appear as a credit, please place it at the start of your mail in parentheses: (thus). Otherwise, I will anonymize by using your initials. See the previous Water Cooler (with plant) here. Today's plant (Carla):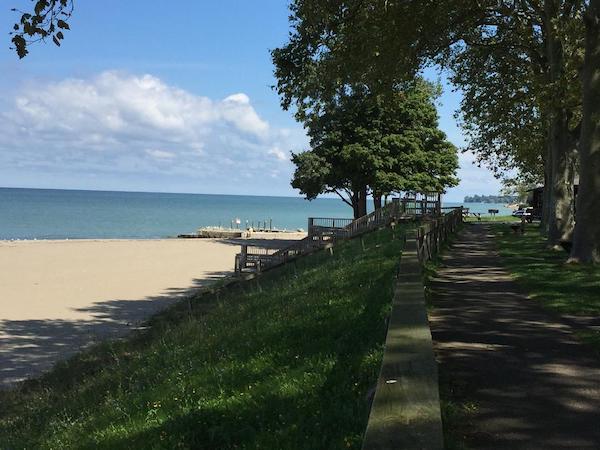 Carla writes: "Madison Township Park, on the Ohio shore of beautiful Lake Erie, Sept.3, 2021." Lovely portrait.
* * *
Readers: Water Cooler is a standalone entity not covered by the recently concluded and — thank you! — successful annual NC fundraiser. So if you see a link you especially like, or an item you wouldn't see anywhere else, please do not hesitate to express your appreciation in tangible form. Remember, a tip jar is for tipping! Regular positive feedback both makes me feel good and lets me know I'm on the right track with coverage. When I get no donations for five or ten days I get worried. More tangibly, a constant trickle of donations helps me with expenses, and I factor in that trickle when setting fundraising goals:
Here is the screen that will appear, which I have helpfully annotated.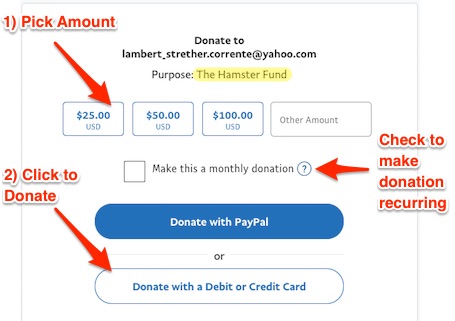 If you hate PayPal, you can email me at lambert [UNDERSCORE] strether [DOT] corrente [AT] yahoo [DOT] com, and I will give you directions on how to send a check. Thank you!2:00PM Water Cooler 6/8/2021