Yves here. Jerri thanks readers for their kind messages of concern. She is on the mend and as you can see is back to posting!
New Zealand to cast out its official wizard Bangkok Post (furzy). Hate to say but he didn't prevent or foresee that earthquake.
Fish and Overfishing Our World in Data (resilc)
Dental Discoveries: Study of Ancient Teeth Debunks Belief First Americans Came From Japan Sputnik (Kevin W)
This Pristine Beach Is One of Japan's Last. Soon It Will Be Filled With Concrete. New York Times (David L) :-(
Defend the deep aeon
La Palma volcano: Lava 'tsunami' as earthquake intensifies eruption Euronews (David L)
Spinoza's God: Einstein believed in it, but what was it? Prospect Magazine. Anthony L: "One for jr."
#COVID-19
Buckle up for the mass health-care firings National Post (resilc)
Science/Medicine
FDA advisory panel votes 19-0 to endorse booster dose of J&J vaccine STAT

From mna:

Long thread on endemicity.

I've been observing the discussion about endemicity for a while now, as I think it is an intriguing one in the context of this pandemic. I have the impression the term has been used quite colloquially by many. (1/N)

— Diego Bassani, PhD ?? ? ? (@DGBassani) July 27, 2021

Oh, and major reasons to oppose the "natural immunity" enthusiasm:

Allowing infections fosters the emergence of mutations, or, in other words, as @oatila very directly says below:

"Betting on natural immunity kills and generates more transmissible variants." (15/N)https://t.co/BOdq1F5lLJ

— Diego Bassani, PhD ?? ? ? (@DGBassani) July 27, 2021

Characterizing menstrual bleeding changes occurring after SARS-CoV-2 vaccination MedRxIv. Write-up: Study finds menstrual bleeding changes after SARS-CoV-2 vaccination News-Medical.net (Kevin W). Study:
Eight months later: Researchers compare immune responses elicited by three COVID-19 vaccines MedicalXPress (fa). Study: Differential Kinetics of Immune Responses Elicited by Covid-19 Vaccines New England Journal of Medicine
US
Finance/Economy
Out-of-Practice Airline Pilots Are Making Errors Back in the Air Bloomberg (Robert M)
China?
When the West was itchin' to go to China Asia Times (Kevin W)

China tests new space capability with hypersonic missile Financial Times
A very unhappy junta response to the ASEAN decision to bar coup leader Min Aung Hlaing from this month's summit. 'Extremely disappointed' and 'strongly objected' are not terms we see at ASEAN meetings. https://t.co/4nI2ylvlFM

— Jonathan Head (@pakhead) October 16, 2021
Brexit
EU states are weary of NI Protocol, Brexit and UK bad faith Tony Connelly, RTE (guurst)

The UK approach to Northern Ireland is one of casual political vandalism Financial Times (Kevin W)

Brexit: why does Northern Ireland matter so much? Social Europe
Old Blighty
Sir David Amess killing was terrorist incident, Met Police say BBC
Fighting returns to Beirut's streets in an echo of the civil war Economist. David has been reading the French press and does not like what he sees.
New Drug in the Democratic Republic of Congo: The Zombies of Kinshasa Der Spiegel (resilc). I hate to sound cynical, but how long before you see this used in the US? It's not even yet a Schedule 1 drug!
Imperial Collapse Watch
US elites' imperial corruption compares to Opium War Asia Times

Military judge blasts Marine Corps's handling of officer who criticized Afghanistan withdrawal The Hill (David L)
Biden
Police State Watch
Overtime Police Pay in NYC Blows NYPD's Runaway Budget Bloomberg
The case for more energy Matthew Yglesias. UserFriendly: "Ugh"
Report: For 20 Top-Selling Drugs, Big Pharma Made Far More From U.S. Sales Than From the Rest of the World Combined Public Citizen
The Framework Laptop Could Revolutionize Repairability. We Hope It Does. New York Times (Robert M)
Former chief test pilot for Boeing charged with lying about flight controls on 737 Max Independent (resilc)
Bezos' Blue Origin is at odds with everything Star Trek represents Guardian
Dispensing Doctors: Should Physicians Sell Drugs to Patients? Undark
Academics cast harsh light on composition of S&P index Financial Times
Guillotine Watch
Salesforce CEO Marc Benioff wants companies to promote social change NPR
Class Warfare
Should you ask for a pay rise? Not according to the former Pepsi CEO Guardian (resilc)

Goldman Sachs CEO Says Wage Inflation Is Spreading Through Economy Bloomberg. Kevin W:

Excuse me for stepping on their moment but what Goldman Sachs bemoans as wage inflation I suspect translates as workers being able to pay their bills and increased consumer demand for the economy.

From mna, be sure to read the entire tweetstorm:

So. Labor shortage discourse time!

I work for a food manufacturing company (specifically bottling/canning various beverages)

We are desperately under staffed.

The wages are competitive, but they can't keep anyone on after they hire them.

Why? Because since we're short

— The Violet Wanderers (Spooky Ghost edition) (@VioletWanderers) October 14, 2021

California hospitals brace for massive strikes as workers protest staff shortages CalMatters

John Siman: "FUCK YOU WORKING CLASS YT's"

Jen Psaki Defends Rising Prices: 'Good Thing' Because it Means 'More People are Buying Goods' pic.twitter.com/IaKVYVSCbR

— Jason Rantz on KTTH Radio (@jasonrantz) October 15, 2021

The problem with America's semi-rich Vox (Matthew C). Important.

Economists to Cattle Ranchers: Stop Being So Emotional About the Monopolies Devouring Your Family Businesses Matt Stoller (Kevin W)

Elite Capture and Epistemic Deference The Philosopher (Anthony L). Important.
Antidote du jour. LvH: "My cats looking at a bird outside."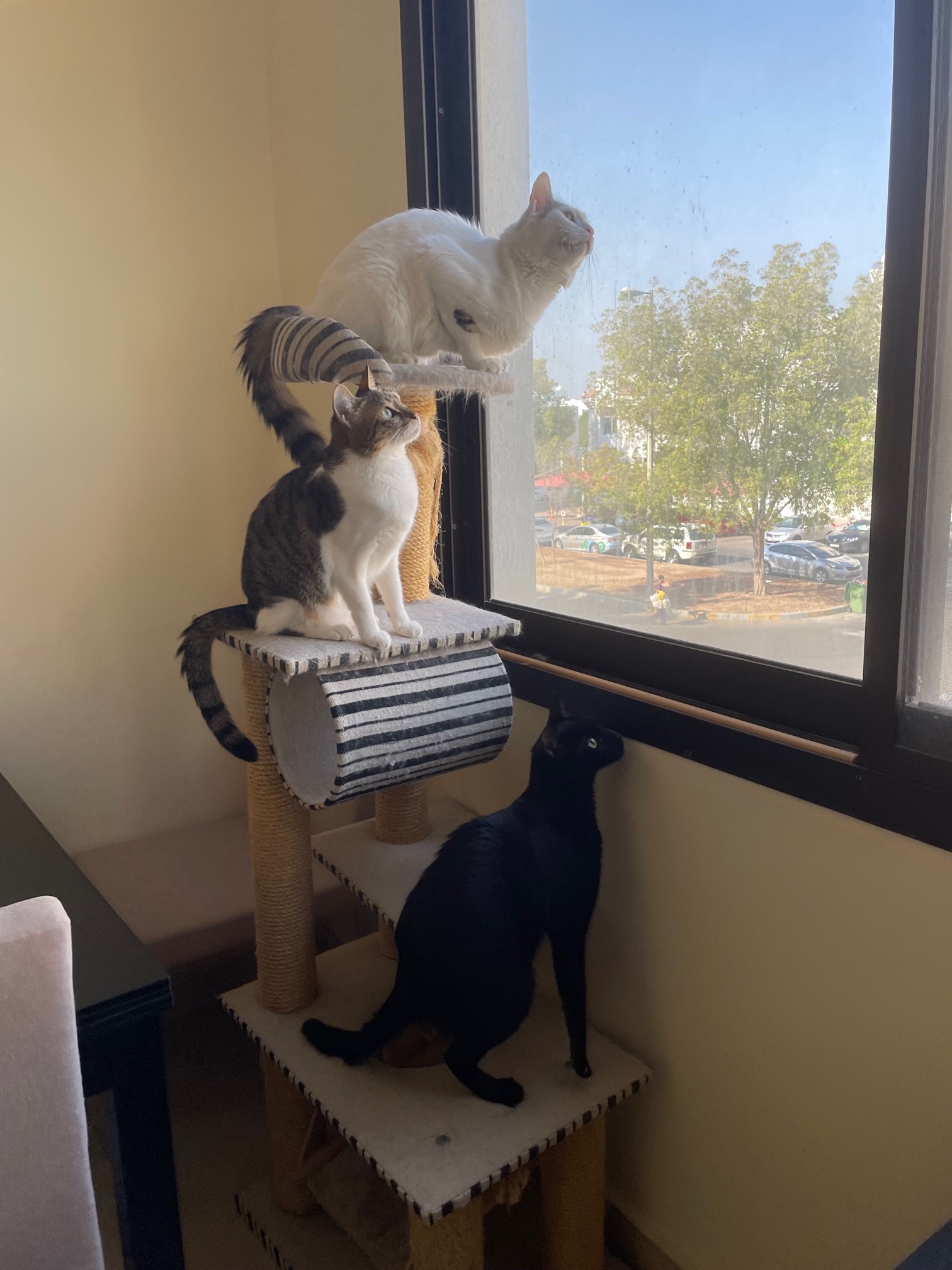 And a bonus (guurst):
Three little bears cause triple trouble playing on a hammock ???#viralhog #bearcub #hammock pic.twitter.com/D2Kbn8JC7S

— ViralHog (@ViralHog) October 11, 2021
See yesterday's Links and Antidote du Jour here.