By Lambert Strether of Corrente.
"If you get a little higher, you'll get a better view." — Liet Kynes (Sharon Duncan-Brewster), Villeneuve's Dune
I went to see Denis Villeneuve's Dune (PG-13; 2h 35m) over the weekend, on the big screen, way down front (my eyes are bad), where you have to move your head from (say) the gaping maw of enormous sandworm on the left to small figures on the right running from it across the sand. This is a film where, I think, the viewing experience is important. Villeneuve comments in an interview on Maine Public Radio:
[W]e made this movie right at the beginning, before the pandemic. It was designed to be a love letter to the big screen experience, the theatrical experience. And there's something important also about the idea of the communal experience. People love to go to a rock concert in a group. They love to go to theater. They love to go to dance in a bar. It's not the same thing when you dance alone at home or when you're in a bar. And it's the same thing with cinema.

And I think that when you receive all together and you feel as one in the audience receiving an emotion, there's nothing more beautiful than that. Human beings are meant to be together. And there's something about the commitment. Watching a movie is akin – it's almost like a kind of hypnotic experience. You will embrace a different rhythm. You will enter a new world with different codes. And for that, you need to be engaged. And I don't think you have the same engagement when you are looking at the movie on your computer at home or on a TV screen, where the dog is barking or you're talking to someone on the phone at the same time.
My theatre was not that full, and in any case masks and social distancing make a "communal experience" harder to achieve (though the enormous, padded seats, completely with cupholders for fattening soda, apparently current these days, enforce a degree of social distancing). But "THIS MOVIE IS MEANT TO BE SEEN BIG" (as the Rolling Stones did not quite say on the record sleeve to "Let It Bleed"). Of course, these days there are many digital alternatives[1] with smaller screens:
watching Dune as the filmmakers intended pic.twitter.com/dJUlaMhqZI

— Janel Comeau (@VeryBadLlama) October 24, 2021
So you pays your money and you takes your choice. Still on the viewing experience, there is also sound to consider:
[T]he bass-heavy score from Hans Zimmer [is] thunderous…. [Y]ou'll definitely want to make sure you've got a good set of speakers handy for however you do watch it.
I must confess that I didn't even notice the score ("a unique mix of choral, world-music, rock and electronic sounds"), but I did feel the floor vibrating at a few points.
Forward to the reviewing. This being Naked Capitalism, I'll first look at Villeneuve's Dune (hereafter, "Dune") as a business proposition that must succeed or fail at the box office. Next, I'll pillory some of the lazier reviewers (concluding [licks chops] with The New Yorker's). Finally, I'll review the movie itself. I am, perhaps, not Villeneuve's ideal patron. Because I know the book so well, I was always seeing the movie with a sort of binocular vision, where I experienced at one and the same time the world I imagined from reading Frank Herbert's novel, and the world I saw and heard in Villeneuve's re-envisioning of it. I don't think I ever saw Villeneuve's Dune purely as a movie.
I'm not going to give a potted plot summary or a cast of characters, since I think most NC readers have read the book. If you have not, please go now and read a detailed synopsis in Wikipedia, or the The New Republic, or the Hollywood Reporter.) CNBC has a good aggregation of reviews.
There will be spoilers!
Dune at the Box Office
Dune, as the title screens show, is really Dune, Part I. But what about Part 2? Ars Technica:
Warner Bros. has yet to formally greenlight production of Dune Pt. 2… Box-office receipts are promising in regions where Dune has already premiered, but it's unclear how the Warner Bros. empire, currently mid-acquisition, will weigh the film's performance in the US, where it launches in both theaters and HBO Max on the same day.
Box office performance from Hollywood Reporter:
Tracking suggests Dune will open in the mid-$30 million range; Warners is being more cautious in suggesting $30 million. The film started out playing Thursday evening in roughly 3,200 theaters, including numerous Imax locations; by Friday, the count will grow to 4,100-plus.

There are other challenges aside from the HBO Max factor. Younger moviegoers are so far driving the box office recovery, yet they aren't the demo who grew up on the Dune books. And Dune's lengthy running time of 155 minutes will reduce the number of showtimes in cinemas….

Overseas, Dune began rolling out earlier this month, earning an impressive $130 million-plus to date from select markets (it has yet to open in China).
"I'm smiling," Warner Bros. president of domestic distribution Jeff Goldstein said on Sunday morning. "Exhibitors are thrilled. The best part is, fans are loving what they're seeing. They're loving the big-screen experience. It's been a winner of a weekend for movie-lovers."
Of course, Dune screams franchise. Not only is there — one hopes — Part 2, there are five more Dune novels (Brian Herbert's workmanlike efforts are obviously not canon.)
If audience and reviewer ratings of other franchises are a good proxy for the success Warner Bros. is looking for, Dune should do very well. Here are its ratings on the reviewing site, Rotten Tomatoes:
Other franchises for comparison, Mad Max first because it's a dystopia that's got a lot of sand:





(Incidentally, the high ratings for both LOTR and GoT show that audiences will embrace complex worlds. It doesn't all have to be explosions and furrowed-browed 'roid-ragers whacking the bad guys, as were all the horrid trailers before my viewing experience.)
Dune's Reviewers
In gathering material for this post, I collected a number of howlers from prestigious publications. Of course, these days it's a lot to ask a movie reviewer to read the book on which a movie is based — charmingly, Grist's reviewer confesses they did not — especially when the book weighs in at 700+ pages ("They're not paying me to read. They're paying me to write!") So, I will not demand that. I do think, however, it's fair to demand that movie reviewers have read the Wikipedia entry on Dune (as you should have, if you are not familiar with the book) and watched the movie itself. Here are the howlers, ordered by prestige, starting at the low end of the scale.
(1) Thrillist:
"… walking in odd ways so as not to attract the attention of the giant sandworms that swim beneath the desert's surface…"
No. The Fremen walk on the sand without rhythm, as Paul explains to Jessica.
(2) Chicago Tribune:
… Arrakin's precious resource [the spice], which is the key (I still don't get this part, in any version) to interplanetary travel
The spice confers prescience ("foresight"), which is why Guild Navigators can use it to guide their interstellar ships along the safest path through space.That spice confers prescience is also an essential premise, since prescience is one of the things that turns Paul into a prophet.
(3) Guardian:
…wealthy overlords battle over mineral resources in a vast sandy region that they find hostile and dangerous yet irresistibly profitable.
…
No. The spice is excreted by the giant sandworms. It is not a "mineral" ffs. ("The geological definition of mineral normally excludes compounds that occur only in living beings.")
(4) Esquire:
Duke Leto Atreides (a note-perfect Oscar Isaac), his clairvoyant concubine Lady Jessica
No. Lady Jessica is not clairvoyant. Paul becomes so (see "presience" at (2). How on earth did the writer get this idea? Bonus points for "the Fremens."
(5) Washington Post:
Arrakis is the repository of hallucinogenic "spice" mines
No. Holymotheragawd, there are no "spice mines" (nor is a planet a "repository" for "mines" in any case). This isn't LOTR, where the dwarves have mines. What's wrong with these people?
(6) New York Times:
[Fremen Chani (Zendaya)] is one piece of the multifaceted puzzle of Paul's destiny, as is a mystical sisterhood (led by Charlotte Rampling in severe mistress mode) of psychic power brokers who share a collective consciousness.
No. The writer claims to possess a copy of the book, but clearly has not read it. Another essential premise is that the "mystical sisterhood" of the "Bene Gesserit" run a breeding scheme for elites. Jessica is a Bene Gesserit, and Paul was part of the scheme, which provides several essential plot points, including Paul screaming "You made me a freak!" at Jessica when they are trapped in the desert together.
(7) New Yorker:
There's a nexus of planets under the reign of a shadowy emperor, whose realm runs on a mineral known as spice.
No. The spice, as noted above — "This is almost too rich!" as evil Baron Harkonnen remarks in the book — is not a mineral.
It's inhabited by the Fremen, a people who have endured the spice colonies and survived by living underground in elaborate warrens, constructing advanced technology to sustain themselves in difficult conditions.
No. Holymotheragawd, there are no "spice colonies." The spice is gathered out in the open desert, and processed in Dune's cities. The writer seems dimly aware that "colonization" is a theme of the book, and where there is colonization, there must be colonies, I suppose.
Villeneuve's conception is monotonously literal—the sand bulges, and the maws of the creatures are shown in quick, devouring motion.
No. The writer must be thinking of some other movie. First, the burrowing motion of the sandworms throws a plume of sand up into the air. This is realistic, spectacular as imagination, and frightening. Only when the worm is about to surface does the sand "bulge." Second, their maws stay onscreen for plenty of time; there's no "quick" about it. When the sandworms can't get at what they want to devour, they sensibly move along. Why on earth does the writer think they would hang about?
Once more, these howlers could all have been avoided either by reading Wikipedia or — hear me out — by watching the movie. These reviews are all sloppy and bad, and speak very poorly of the venues that emitted them, many of which are at the pinnacle of prestige in our famously free press. One can only hope that everything is not like this.
Dune Reviewed
So how good is it? In terms of dystopian franchises, I would put Dune on a par certainly with both Blade Runners, and (if Part 2 pans out) with Mad Max. In terms of complex worldbuilding franchises, I would rank Dune above LOTR (though to be fair, I loathed LOTR because one way I experienced Tolkien's novel was as a travel book, and Peter Jackson's New Zealand + glittery CGI did violence to my imagined Middle Earth). Still on world-building, I would rank Dune below GoT, though here my imagined memory of the book may be bleeding over into the shows.
Blade Runner, LOTR, and GoT are all movie franchises based on books. Are there any movies based on books that are actually better than the books? Here is a thread on that topic:
Sunday open question: What are 1 to 5 examples of movies or TV shows that were better than the book they were adapted from?

— Noah Smith 🐇 (@Noahpinion) October 24, 2021
The list of movies that are better than their books is pretty thin; the killer example seems to be… The Godfather, but I think it's fair to say that Coppola is a better director than Mario Puzo is a writer, so there are confounding factors. In any case, I don't think Dune, the movie, is better than Dune, the book. That doesn't mean it's a bad movie!
Still using my binocular vision, here are some of the differences between Dune the movie and Dune, the book:
(1) No book apparatus or technique. Since Dune is a movie, there is no glossary. There are no epigraphs, appendices, or maps. In a book, especially a novel, these structural elements are signals of large scope. (LOTR has a similar apparatus.) Dune signals its ambitions in different ways (see below). In addition, Herbert frequently uses the internal monologue, both to advance the plot and as a character-building device. Villeneuve could have used voice-overs for this technique, but apparently found them cumbersome.
(2) Missing or altered set pieces. Herbert the novelist is very good at extended set pieces. Two, at least, are missing from the novel. One is a dinner party, where representatives of all Dune's factions gather: Paul's family, bankers, smugglers, water merchants, and other dignitaries. This is gone, and its a shame, since it provided a wonderful window into Dune's society. It also contained one of our favorite quotations: "My son displays a general garment and you claim it's cut to your fit. What a fascinating revelation." An altered set piece is the death of Liet-Kynes, the imperial ecologist, which contains another one of our favorite quotations: "Then, as his planet killed him, it occured to Kynes that his father and all the other scientists were wrong, that the most persistent principles of the universe were accident and error." All of which is a way of saying–
(3) Missing complexity. The Hollywood Reporter:
What the film doesn't do is shape Herbert's intricate world-building into satisfyingly digestible form. The history and complex societal structure that are integral to the author's vision are condensed into a blur, cramping the mythology. The layers of political, religious, ecological and technological allegory that give the novel such exalted status get mulched in the screenplay
This is especially true for the ecology of the planet Dune, which Herbert works out in satisfying detail, and which permeates Fremen culture. Villeneuve once more:
VILLENEUVE: The sand worms are one of the most important idea in the book. My production designer, Patrice Vermette, and I, we spent almost a year…
In the book, the sandworms are important, but the life-cycle of the sandworm is also important. The "sandtrout" (rather like a caterpillar to a sandworm's butterfly) is also responsible for Dune's becoming a desert, a fine example of a living being optimizing the environment for its own reproduction.
(4) Additions. There are at least two sequences that do not appear in the novel. First, when the ships bearing Paul's family land on Dune, a gangplank is then lowered for the troops to step out. But first comes a bagpipe player, as if the troops were being led into battle. As they are. (This is also a clever piece of foreshadowing, since bagpipes are also played at funerals.) The second I will let Gawker describe:
I'll set the scene in a spoiler-free way: evil, scary, bald Baron von Harkonnen (played with Mike Myers-levels of abandon by Stellan Skarsgaard) is having a secret meeting with a space witch named Reverend Mother Helen Mohiam (Charlotte Rampling, playing herself [lol]). They're not necessarily plotting universal domination, but they're not not doing that…. Though there are plenty of awe-inspiring examples of production design — futuristic vehicles, space suits of armor, brutalist architecture — there's no hint of alien life, beyond the beloved big worms that are native to Arrakis.

This changes during the above-described scene, which starts with a shot of a spider-like creature. It's the size of a person, with a big spider backside, shiny, oily black skin, and human hands at the ends of its legs. It's also drinking from a dog bowl? You never see its face, which is both a shame and a blessing because who knows what horrors are happening there. The appearance of this thing was so startling and random, yet oddly intriguing, that when Charlotte Rampling began speaking offscreen, I couldn't catch what she said. Everyone around me physically recoiled in their seats. The creature doesn't make any noise, but it's so shiny and so big and the hands are so insane, why does it have human hands? Immediately, Reverend Mother Helen demands that the Baron remove this thing, which is obviously some sort of pet, out of the room. When he does so, the spider person slowly, silently skitters into the shadows.
Here is a sketch of the spider: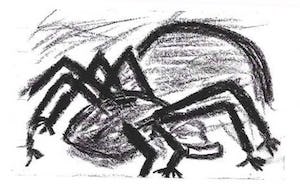 This scene does not appear in the book at all. So far as I can recall, Mohiam and the Baron never meet. Villeneuve therefore had what he considered a very good reason to put this scene — and its spider — in the movie. Since for Part 1, the scene is entirely unmotivated, I can only assume we will learn more in Part 2. (I have no ideas on this at all. Shelob is part of LOTR, not Dune.)
And now to attempt to consider the movie in its own terms:
(1) Extraordinary visuals. The Verge:
The real star of Dune, though, is the setting and worldbuilding. All of Villeneuve's modes from previous films like Arrival and Blade Runner 2049 are turned up to 11 here: the ships are starker and more abstract, the buildings more towering and brutalist, the landscapes are more sweeping and desolate
What makes [Dune] new is Villeneuve's astonishing visual sensibility. From ornithopters that flit like dragonflies to vast spaceships that glint in the mist, these are the kind of sights that Roy Batty rhapsodised about in his dying moments in Blade Runner.
(Baty's "Tears in Rain" monologue here.)
I thoroughly agree with these takes. Villeneuve's Dune is the best science fiction world I have ever seen. He doesn't seem to have a "green screen" sensibility, where the movie is shot to have CGI technicians add the dragons and explosions later. The world is all of a piece. The color scheme is subtle, unlike so many other CGI movies, which look like over-saturated HDR. The visuals really are gloriously satisfying. They don't even seem to be effects; they are just there.
(2) The acting. All I can say is that the actors get the job done. Timothee Chalamet and his cheekbones star as Paul. I expected to hate him, but I didn't:
Chalamet eagerly laps up the extra screen time as a likable flawed heir to so much intergalactic destiny. The absolute best thing about Dune, both for existing series fans and for series newcomers, is Chalamet's ability to thread the needle between "hero of destiny" and "could fail at any moment."
Some reviewers said that what Herbert did with the interior monologue, Villeneuve sought to do with the actors' physicality. I didn't see that myself, but I did notice that Chalamet started out walking the way an awkward teenager would, but at the end started walking like somebody accustomed to command.
(3) The actors. Then there is the question of the casting (which is a proxy for issues of colonialism, etc.). I like this review from Al Araby, so I'm going to quote a great slab of it:
One can easily observe the Bedouin and Amazigh inspiration behind this nomadic community on the page and the screen, through the Fremen's penchant for Keffiyeh, group feeling unity and strength in their ability to survive in such a dangerous environment. These ideas, as well as the cyclical nature of dynasties and civilisations, were reflected in Tunisian sociologist, philosopher and historian Ibn Khaldun's 14th Century book of Islamic History, "The Muqaddimah", which underpinned much of Herbert's sci-fi series.

Then there's the fact Villeneuve shot most of Arrakis in Arab countries; Jordan's Wadi Rum and Abu Dhabi in the UAE provided the vast beauty and brutality of this fictional desert planet landscape. The pale, flat-roofed buildings of Arrakeen, the planet's seat of power which, in the book, was transferred from the city of Carthag (sound familiar?) under Harkonnen rule, is reminiscent of North African architecture. If the overarching storyline about Imperialist colonisers stealing a powerful fuel [spice is no more a fuel than a mineral] from the native population doesn't remind you of a certain 20th Century Western conflict with the Middle East, the Knights Templar colour scheme of the Sardaukar certainly hints at a 12th Century one. A holy war no less!

With all this rich, Maghrebi and Middle Eastern culture, aesthetic and historical references on display, once again I must ask: where are the significant MENA actors? Dune is a complex novel with complex characters who toe the line between good and bad. There are no real heroes and motivations are often dicey so these people exist in the grey area of morality with Fremen characters like Stilgar and Chani still among the more admirable figures. What an opportunity it would have been to cast the likes of Egyptian actor Amr Waked or French-Algerian actress Lyna Khoudri in these roles.

Instead, we get Javier Bardem doing whatever the Arab version of Blackface is.
Ouch! And not unfair. Though I'm not sure Omar Sharif made all that much difference to Lawrence of Arabia. Am I wrong?
Conclusion
I have obviously gone on far too long, and if you are still with me — especially if you haven't read the book — congratulations and thank you. Is Dune worth spending two hours and thirty-five minutes in the theatre for? (It does move quickly, I promise.) Of course, to an extent your answer would depend on CO2 levels in the theatre and the proximity of others. That aside, my answer is that yes, Dune is worth it. My favorite review, from The New Republic:
But ultimately these are quibbles; Villeneuve has made a heartfelt cinematic epic that is true to its source material both in its rich details and in its emphasis on the dangers of absolute power; that will hopefully inspire new readers to delve into that source material; and that is worth donning a mask for a few hours to watch on a huge screen. Just pretend you're wearing a stillsuit.
(I don't want to explain what a stillsuit is; you can look it up. We might need them one day.) I don't know if you'll have the collective experience Villeneuve sought. Perhaps yes!
Perhaps the best indicator that Dune is a good movie is that I'm still thinking about it, two days later. In fact, I may go see it again to make sure I didn't miss anything, like that spider. Oh, and I think Villeneuve needs three parts, not two. Pay attention, Warner Bros.!
NOTES
[1] On smaller screens, the cinematography might be degraded. Ars Technica:
These images may translate just fine to a standard television screen, but having consumed and examined a ton of high-dynamic-range (HDR) content in films and video games, I couldn't help but be mesmerized by how much emphasis Villeneuve places on extreme contrast ratios. (The choice of what details to emphasize and what to obscure guides the eye toward the Atreides' impending downfall.) Will Dune look "way too dark" on your average budget-priced TV? I can't yet say, having only seen the film at a state-of-the-art cinema. But I suspect the movie's hunger to linger on extremely lit scenes will make OLED TV owners who opt to watch it on HBO Max feel pretty smart.