By Lambert Strether of Corrente.
Patient readers, I overwhelmed myself with Election Day material. I will have UPDATEs in due course, sigh. –Lambert
Bird Song of the Day
* * *
#COVID19
Patient readers, I have started to revise this section, partly to reduce my workload, but partly to focus more as an early warning, if that is possible. Hopefully I will have a variant tracker map soon. In the meantime, I added excess deaths.
Case count by United States regions: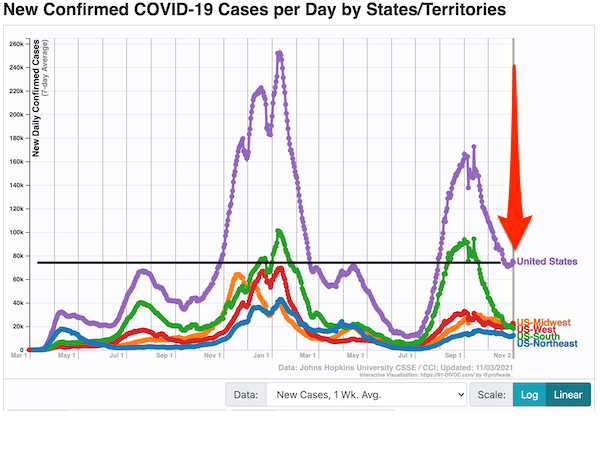 Still rising. I have added an anti-triumphalist black line. This chart is a seven-day average, so changes in direction only show up when a train is really rolling. That said, I don't think this is the surge some of us Bears have been waiting for (see the "tape watching" remarks below). It's driven by cases widely distributed through inland California (see last Friday for maps). The local economy is heavily driven by outdoors-y tourism, but there are no major airports, so possibly cases are being spread by drivers. Beyond these speculations I cannot go.
* * *
Because a rise in the case count is so counter to the narrative that Covid is over, and to me more than a little alarming. So I thought I'd look at all four regions — and buy myself a little time to move along to the great events of the day — to see if there is more to the rise than California.
Here again is the West: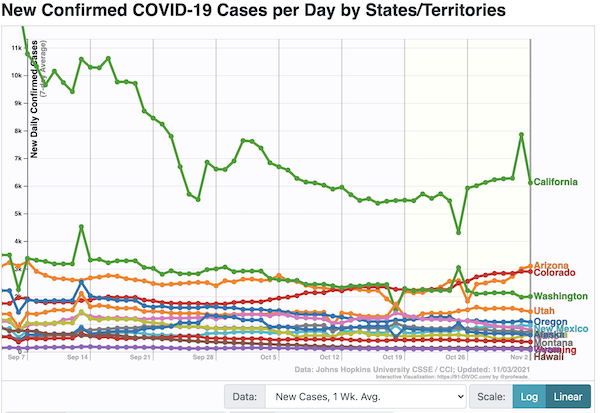 California up and down, but suddenly. A data problem?
And the Midwest: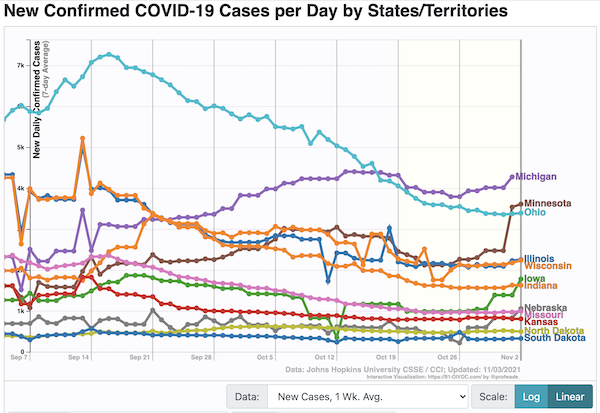 Michigan and Wisconsin up.
And the Northeast: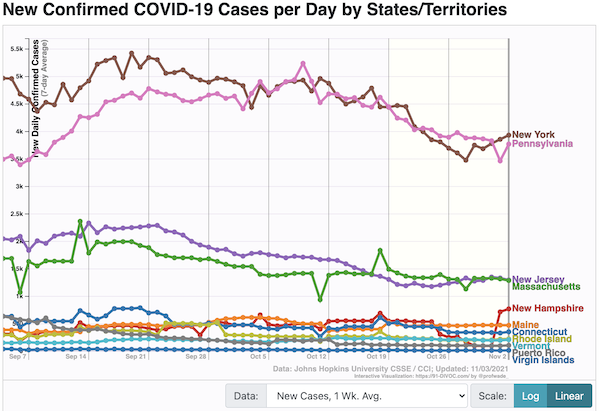 New York and Pennsylania rising.
And the South: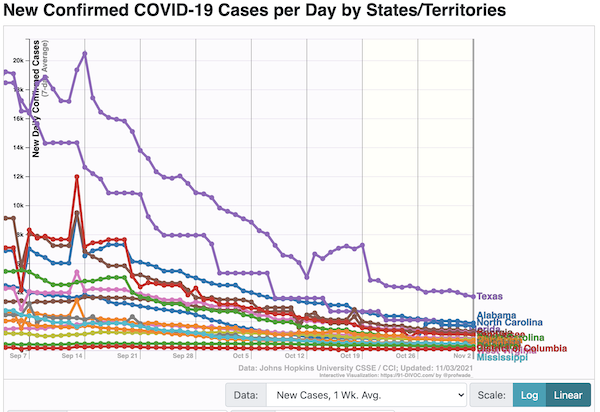 Bubba doing pretty good, now. Worth noting that California and New York are deep blue.
So, as of right now, I wouldn't call the rise a blip, because seven-day averages even out the blips, but so far, this doesn't look like The Big One.
* * *
Politics
"But what is government itself, but the greatest of all reflections on human nature?" –James Madison, Federalist 51
"They had one weapon left and both knew it: treachery." –Frank Herbert, Dune
"They had learned nothing, and forgotten nothing." –Charles Mice de Talleyrand-Périgord
Capitol Seizure
"The Attack" (not paywalled) [WaPo]. The deck: "The Jan. 6 siege of the U.S. Capitol was neither a spontaneous act nor an isolated event." If this narrative didn't come from the people who brought us RussiaGate, I'd be more inclined to invest a lot of time in it. Perhaps when there are criminal indictments of more than sad sack petty bourgeoisie spear carriers? But maybe that won't happen until we get closer to 2024.

A good question:

Just as happened in Russiagate — where liberals were told for 3 years that key Trump figures would be prosecuted for criminally conspiring with Russia, only for *zero* Americans to so charged — the DOJ, at least thus far, has charged *zero* Americans with insurrection/sedition.

— Glenn Greenwald (@ggreenwald) November 3, 2021

The walls are closing in!

"Tracking a Journalistic Cliché: "The Worst Attack on Our Democracy Since the Civil War" [Matt Taibbi, TK News]. From Biden's April 28 Joint Session speech: "The worst attack on our democracy since the Civil War."…. No one has said where exactly the line "worst attack on our democracy since the Civil War" came from…. News directors and editors once needed stiff nudges to repeat a president's words verbatim, not just because it's embarrassing to take dictation from a politician, but because it was bad business to do it for free…. This disease has spread rapidly in the last year or so, when phrases like "transformative president" and "pandemic of the unvaccinated" have begun traveling from White House transcripts to teleprompters facing anchors on CBS, CNN, MSNBC, and Fox with humorous alacrity. In fact, "the worst… since the Civil War" was such a success in flowing from Biden's head to the lips of people like Anderson Cooper and Chris Cuomo that, as noted in Matt Orfalea's terrific compilation above, it's been deployed for rare double-duty as a political cliché. It's currently in circulation describing both the January 6th riots and the efforts by Republican state officials to change voting rights laws, and has even become a bit of a crossover hit…. Of course, "since the Civil War" is absurd in any direction. None of these things were worse "attacks" on American democracy than Pearl Harbor, 9/11, the sinking of the Lusitania, or a dozen other blood-soaked episodes in our history. Also, no matter what your views of Republican voting-rights laws, no rational person would define them as more draconian or extreme than Jim Crow, Japanese internment, or any of the War on Terror initiatives, and that's just for starters." • Excellent media critique from Taibbi.
Biden Administration
"House Democrats add paid family leave back to proposed $1.75T social safety net bill" [NBC]. "House Speaker Nancy Pelosi announced Wednesday that paid family and medical leave is back in the massive social safety net spending package, but its inclusion in the final draft hinges on support from Sen. Joe Manchin, D-W.Va., a key centrist. 'I have asked the Ways and Means Committee for its legislation for Paid Family and Medical Leave to be included in this morning's hearing,' Pelosi says in a Dear Colleague letter. 'Chairman Richie Neal and the Committee staff have worked on this priority for a long time and were ready.' The proposal will include four weeks of paid leave, two sources familiar with the matter told NBC News. The sources asked for anonymity to discuss negotiations. Manchin, in response to the announcement, said he still opposes the paid leave proposal. 'That's a challenge, very much of a challenge. And they know how I feel about that,' he told reporters." • I like a President who rises to a challenge.

UPDATE "Medicare Could Negotiate Drug Prices Under Democrat Proposal" [US News]. "Under the proposal, negotiations could begin in 2023 on the most expensive drugs — anticoagulants, and cancer and rheumatoid arthritis treatments. , according to the Times. After those periods, Medicare would be able to step in, even if drug makers get patent extensions or take other measures to safeguard their patents." • Well, that's pretty pathetic.

UPDATE "Democrats Dropped Medicare Dental and Vision Coverage From Their Social Spending Bill. Voters Say It's Their Top Priority" [Morning Consuilt]. • Here is the complete list:

I didn't cross off negotiating prescription drug results because its now nominally back on the table (see above). How is it that Democrats expect people to vote for them when they cross all the voters' top priorities off their to-do list? How does that work?

UPDATE "Manchin says 'unbelievable' Virginia results validate concerns over spending package" [The Hill]. • Because of course he does. The Presideny is controlled by centrists. The House is controlled by centrists. The Senate is controlled by centrists. Deploy the blame cannons! The progressives are over there!

UPDATE "Remarks by President Biden at the COP26 Leaders Statement" [The White House]. • More than the usual number of glitches in this speech.
Democrats en Deshabille
"Youngkin's Virginia win jolts Democrats, tight race in NJ" [Associated Press]. "The elections were the first major tests of voter sentiment since Biden took office and suggested growing frustration. They also underscored that, with Trump out of office, Democrats can't center their messages on opposition to him. The results ultimately pointed to a potentially painful year ahead for Democrats as they try to maintain thin majorities in Congress…. A former co-CEO at the Carlyle Group with a lanky, 6′6″ build that once made him a reserve forward on Rice University's basketball team, Youngkin poured vast amounts of his personal fortune into a campaign that spent more than $59 million. Favoring fleece vests, Youngkin sought to cut the image of a genial suburban dad. Youngkin ran confidently on a conservative platform. He opposed a major clean energy mandate the state passed two years ago and objected to abortion in most circumstances. He also opposed mask and vaccine mandates, promised to expand Virginia's limited charter schools and ban critical race theory, an academic framework that centers on the idea that racism is systemic in the nation's institutions and that they function to maintain the dominance of white people. In recent months, it has become a catch-all political buzzword for any teaching in schools about race and American history."

* * *

The Virginia gubernatorial results, county by county:

Notice the blue counties in Alexandria. Clockwise, the famous Loudon (McAuliffe 55.0%/Youngkin 44.5%), Fairfax (64.7%/34.8%), Arlington (76.6%/22.8%), and Prince William (58.4%/40.9%). Obviously, these are all suburbs. Charlottesville, blue in the center of the state, blue Richmond, and blue Virginia Beach/Norfolk, no doubt have their own suburbs as well. However, American sprawl being what it is, there are no doubt many smaller suburbs and exurbs in the red areas of the state (which are, therefore, not necessarily "rural"). And even among blue suburbs there are differences. Loudon, for example, is by far the richest suburb in America. Fairfax contains MacLean, home of the CIA, and therefore I assume many voters who "work in government." So, beware of any narrative that treats "the suburbs" as monolithic. Clearly, they are not. Equally clearly, many still support Biden. From the University of Virginia Demographics Research Group:

Both [OMB and Census] definitions of rural area have noticeable weaknesses. The Census Bureau's definition of rural areas is largely focused on population density, , such as Clifton in Fairfax County, and sometimes classifying small towns, such as Clifton Forge in western Virginia, as urban. The Office of Management and Budget's definition has the opposite problem. Because metro areas are created on the county level, remote areas, such as most of Shenandoah National Park, are often also included in metro areas.

The UVA Research Group provides this handy map:

Plenty of red in "metro areas," which surely include "suburbs." So, I hate to cast cold water on the "It's the suburbs!" hot take, but… nobody knows anything.

This shift map is interesting:

The continuation of education polarization is an important angle to the Virginia results.

Looking at this 2020 -> 2021 shift map, it looks like Youngkin gained ground fairly uniformly across the state. pic.twitter.com/C7OLTOIskq

— Ryan Matsumoto (@ryanmatsumoto1) November 3, 2021

Any account of the Virginia election needs to explain this uniformity.

UPDATE White women:

Digging a little deeper on this 👀

WHITE WOMEN COLLEGE GRADS
VA 2020: 58% Biden, 41% Trump
VA 2021: 62% McAuliffe, 38% Youngkin

WHITE WOMEN NON-COLLEGE
VA 2020: 56% Trump, 44% Biden
VA 2021: 75% Youngkin, 25% McAuliffe

(via @NBCNews Exit Polls)

— Sahil Kapur (@sahilkapur) November 3, 2021

It could be that the Loudon county debacle resonated in red suburban counties other than Loudon (although McAuliffe lost six points over Biden in Loudon).

UPDATE "The Democratic Unraveling Began With Schools" [The Atlantic]. "Polling indicates that they are still really angry. Education was the top issue in the contest, according to the latest Washington Post/SCHAR poll, narrowly edging out the economy, 24 to 23. Democrats typically do very well on education in Virginia—suburban voters organize their lives around well-funded public schools. But this year, Youngkin entered Election Day up nine points over McAuliffe among voters who said education was their top priority. The most important data point for the election is public-school enrollment in Northern Virginia, and it's very bad for Democrats. Fairfax County, the largest county in the state, has lost more than 10,000 students since the start of the pandemic—a decline of about 5 percent. In neighboring Arlington County, the dropoff is 3.9 percent; in Loudoun County, it's 3.4 percent. Those may look like modest declines, but they should not be happening in prosperous counties where the population is growing quickly. The public schools in all three counties have a reputation for quality. People move there for the schools…. Losing the Virginia suburbs is a bigger problem for Democrats than it might appear." • But… they didn't. What I want to know is, if Fairfax County "lost" 10,000 students, where did they go? Home-schooling? Other counties? Other states? And if the parents are gone, how does that translate into votes or loss of votes? Also, if education is the top issue for 24%, and "the economy" for 23%, why is nobody talking about that? (If you're looking, as in the shift map above, issues that affect Virginians uniformly, the economy is an obvious candidate.) The author is an Omidyar Fellow at the Atlantic…

UPDATE Other Democrats start putting the boot in:

Former VA Dem Gov. Doug Wilder to @chucktodd right now:

– McAuliffe gave him a quick, perfunctory call, never talked to him again

– Youngkin called regularly, asked about HBCUs

— Matt Gorman (@mattsgorman) November 3, 2021

UPDATE "Youngkin Defeats McAuliffe" [Josh Marshall, Talking Points Memo]. "Then there's the other problem: President Biden looks weak. The pull out from Afghanistan plays some role in this. But the real driver is the months long spectacle of the President and his party unable to pass the basic legislation that makes up his agenda. Negotiating, begging, false starts, canceled votes. A President of the United States stymied by two obscure Senators the vast majority of Americans have never even heard of. Obviously this has deeply demoralized Democrats around the country – a fact which I think played a significant role in McAuliffe's defeat. But for less committed voters – a smaller portion of the electorate but the floating segment that decides most elections – the President just looks weak. He says this and that is important but can't seem to get this or that done. It's through that prism that these voters view an uncertain economy. Regardless of what the President is trying to do, he can't do it. If you're not terribly ideological or plugged into the policy and legislative details what you see is a country beset with problems and an ineffective President. That's a bad, bad combination for the President's party." • When Josh Marshall puts the boot in….

UPDATE The sort of power couple the Democrat Party rewards:

McGowan's husband Michael Halle ran the McAuliffe campaign. 😂https://t.co/7R0AjT8XIf

— Matt Stoller (@matthewstoller) November 3, 2021

* * *

UPDATE "Glenn Youngkin Built a Path for a Post-Trump Republican Party" [Zaid Jailani, Inquire]. From the polling, "The shift in the race can be traced to late September. That month, McAuliffe and Youngkin dueled in a gubernatorial debate over the topic of legislation that the former vetoed during his first term as governor (in Virginia, governors can serve only one term at a time but are free to run again after sitting it out for a cycle)…. That's when [McAuliffe, in debate with Youngkin,] uttered the line that came to define the race. 'I'm not going to let parents come into schools and actually take books out and make their own decision,' McAuliffe said in the debate. 'I don't think parents should be telling schools what they should teach.'…. [We then had the Loudon County debacle]…. In the last month of the campaign, Youngkin and conservative media hammered McAuliffe nonstop on education issues…. Youngkin made the case a centerpiece of his demand for greater transparency and accountability from schools, adding it to his earlier pledge to prohibit state sponsorship of critical race theory-inspired (CRT) ideas in public education. , putting him in alignment with the concerns of many Democratic-leaning voters. The Republican nominee's emphasis on education appeared to turn the race in his favor. I spoke to Elizabeth Schultz, who served on the Fairfax County School Board for eight years and voted for Youngkin this year. "'I told the Youngkin campaign at the beginning of June that this…was going to come down to education and it was going to come down to education in Northern Virginia,' she told me. 'I understood how angry how parents were about what happened over the course of the pandemic and the schools not being opened, the collusion that was exposed between the teachers' unions and the CDC in keeping schools closed and them architecting the messaging to keep schools closed.'" • This is worth reading in full, and it's far superior to the article on education from the Omidyar Fellow above. Plus, the detail that Youngkin supported raises for teachers is a detail I haven't seen elsewhere. Handy chart:

Youngkin leads by 17 points among Independent voters, garnering 55% of their support. pic.twitter.com/giGaklmX0i

— Echelon Insights (@EchelonInsights) October 29, 2021

UPDATE Youngkin attacking McAuliffe from the left:

When he was governor, Terry McAuliffe did Dominion Energy big favors — which led to bigger energy bills for you.

Now Dominion Energy is helping McAuliffe and attacking me because they know I'm not in their pocket. They know I will work to lower your costs. pic.twitter.com/4K4nfpgpxA

— Glenn Youngkin (@GlennYoungkin) October 30, 2021

UPDATE Youngkin's closing argument… The DMV:

Speaking in Loudoun, @GlennYoungkin promises "on day one" to launch a government-wide audit of every department, starting with the DMV

"You're gonna call into the DMV and two things are going to happen: they're going to answer the phone and say 'hi, how may I help you." pic.twitter.com/ZspPurhwPC

— Greg Price (@greg_price11) November 2, 2021

A Republlican promising to govern. A classic example of stealing the clothes of one's opponent…

* * *

UPDATE "Five takeaways from a grim night for Democrats" [The Hill]. "Youngkin handled the huge issue of former President Trump with surprising deftness, particularly for a first-time candidate. He accepted the endorsement of Trump and was careful not to alienate the former president's supporters. But he also kept Trump at arm's length, especially in the closing stretches of the general election campaign. Trump never campaigned in person with Youngkin, and the Republican gubernatorial candidate also hit out when a rally hosted by Trump allies purportedly used a flag from the rally that immediately preceded the Jan. 6 insurrection. Youngkin's campaign commercials portrayed him as an affable family man who was tonally far removed from Trump's belligerence — even if he did favor some of the same policies. Youngkin is the first GOP candidate to have real success with what might be termed a post-Trump strategy."

"The Decisive Battle" [tinkzorg]. After a long description of Japanese naval doctrine: "Every sector of America's 'knowledge worker' caste came together from the middle of 2020 up to the election and into its aftermath. Every single one. And it worked, in fact it worked perfectly…. The vote totals spoke for themselves, after all! In other words, the 'woke' really did it; they scored a perfect victory, just as the Japanese scored a perfect victory at Pearl Harbor…. It turns out that the liberal Kantai Kessen [decisive battle] suffered from the same fatal flaw as the Japanese one: it is all well and good to sink all the ships in Pearl Harbor, but what do you do if the enemy then refuses to concede defeat? The significance of 'Let's go Brandon!' spreading like wildfire outside the jaded internet set in this context is that it reveals for everyone just how powerless the media machine has now become…. Maybe surrender isn't coming at all, ever. The 'decisive battle' that was the 2020 election was indeed decisive enough, but it increasingly looks like that simply doesn't matter…. [J]ust like the Japanese in WW2, the 'email job caste' of America has a war machine that has already been maxed out. There are no reserves of fence-sitting journalists that can be drafted to fill in the holes and somehow make the message control more far-reaching or effective than it already is. There are no huge reservoirs of apolitical, unwoke university professors that can be drafted into talking some more sense into the chuds. What we all saw in 2020 represents, to some fairly significant extent, the full scope of the political, social and economic power of team blue in America today. And that team took its best shot in 2020, only to find out in 2021 that all that power has now decisively failed to settle any issues or end any conflicts in America. Team red is still there, and like the 'sleeping giant' that was America in 1941, they are now slowly waking up and starting to use their own power, on their own terms, in order to fight back." • Interesting trope, although unserious about the notion of "caste" (and class). Example of not getting it:

We love to see it! #VoteBlueVirginia pic.twitter.com/rLMtlJbkRC

— 🧕🏻Ely Ramirez #MexicoEstaDeLuto ⛪️ (@Beth_Lizet) November 2, 2021

The "blue" BMW logo is extremely tasteful!

* * *

"Poll shows Democrats want to replace Biden on the ballot in 2024. A look at why." [WaPo]. "Biden's average approval rating stands at about 43 percent, which is a number Donald Trump didn't reach for the vast majority of his presidency. George W. Bush spent most of his second term below 40 percent, and Barack Obama was in the 40s for most of his tenure. That said, however much Biden remains politically viable, there is often a difference between approval and a belief that the politician is the best option. And a poll from Marist College shows a significant disconnect on that front when it comes to Biden and the Democratic Party. The NPR-PBS NewsHour-Marist poll shows Democrats approve of Biden 85 percent to 10 percent — the kind of partisan loyalty we've come to expect from such polls, even when a president's fortunes are down. But the poll also asked a telling question about just how much Democrats would like to see Biden run again in 2024. When asked whether 'Democrats have a better chance of winning the presidency in 2024 if Joe Biden is the party's nominee, or if someone else is the party's nominee,' Democrats are split 41 percent to 41 percent." • But who exactly do they nominate? Harris? Really? Anybody who ran in 2020?
Realignment and Legitimacy
"Stunning survey gives grim view of flourishing anti-democratic opinions" [The Hill]. "The rising acceptance of political violence is playing out in courtrooms in Washington and across the country as rioters from the Jan. 6 insurrection face charges and, increasingly, prison sentences for their roles in the mayhem. One man who plotted to kidnap Michigan's governor was sentenced to six years in jail in August." • But the Michigan kidnapping plot would never have happened without FBI agent provocateurs. IIRC, Czarist minister Stolypin was assassinated by an Ohkrana informer, though not, I think, on their orders…
Stats Watch
Manufacturing: "United States Factory Orders" [Trading Economics]. "New orders for US manufactured goods inched up 0.2% September of 2021, following a downwardly revised 1.0% rise in August and beating market forecasts of a flat reading. Orders rose the most for machinery(1.2%), namely photographic equipment (7.7%) and industrial machinery (7.2%); non-durable goods industries (0.8%); fabricated metal products (0.7%); and primary metals (0.7%), notably ferrous metal foundries (4.7%). On the other hand, the steepest drop was seen in orders for transport equipment (-2.3%), weighed down mostly by nondefense aircraft and parts (-27.9%)."
Services: "United States Services PMI" [Trading Economics]. "The IHS Markit US Services PMI was revised higher to 58.7 in October of 2021 from a preliminary of 58.2. The latest expansion was sharp overall and the quickest since July. The upturn was faster than the series average, with firms linking the increase to greater client demand and a further rise in new business. The rise in output was the quickest for three months and was supported by a stronger expansion in new business. In line with greater new order inflows, firms signalled the fastest increase in backlogs of work since data collection began in October 2009, despite a faster pace of job creation. Nonetheless, concerns regarding labor shortages and unstable supply chains led business confidence to drop to an eight-month low."
Services: "United States ISM Non Manufacturing PMI" [Trading Economics]. "The ISM Services PMI jumped to a record high of 66.7 in October of 2021 from 61.9 in September, beating market forecasts of 62. It is the 4th time this year the services sector grows at a record pace, amid strong demand 'which shows no signs of slowing although ongoing challenges including supply chain disruptions and shortages of labor and materials are constraining capacity and impacting overall business conditions', Anthony Nieves, Chair of the ISM said."
* * *
"Supply Chain Crisis Risks Taking the Global Economy Down With It' [Bloomberg]. "New indicators developed by Bloomberg Economics underscore the extremity of the problem, the world's failure to find a quick fix, and how in some regions the Big Crunch of 2021 is still getting worse…. Behind the logjams lies a mix of overloaded transportation networks, shortages of labor at key chokepoints, and demand in the U.S. that's been bolstered by pandemic stimulus and focused more on goods than services…. Pulling all these pieces together, the Bloomberg Economics supply indexes show shortages just off a 20-year high in the U.S. Gauges for the U.K. and euro area are at a similarly elevated level." • Handy graphic: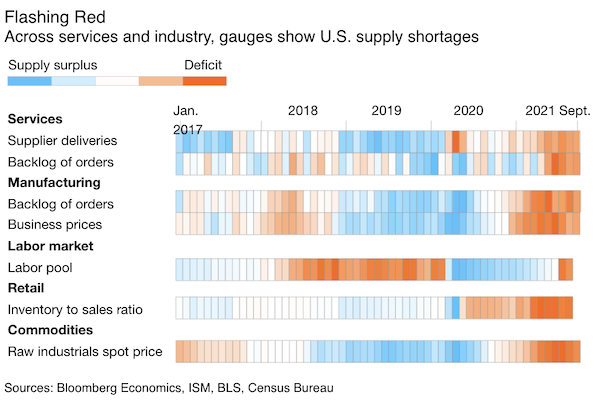 More: "What comes next is uncharted territory partly because of the sheer number of bottlenecks along the route from assembly lines to shopping baskets. As one supplier waits for another to deliver, the delays are feeding on each other…. The more than 70 ships anchored off Los Angeles, for example, are loaded with enough 20-foot containers full of goods to stretch from Southern California to Chicago if laid end to end. And even when those vessels get to dock, their payloads will only slam into the thousands already stuck in the ports waiting for a ride inland. That will require more truckers and trailers in the short run. A longer-term fix means getting Covid-19 under control, building new infrastructure such as more efficient ports, and improving technology for digital transactions and faster communication." • "Longer-term" is in a couple decades?
* * *
Today's Fear & Greed Index: 79 Greed (previous close: 78 Greed) [CNN]. One week ago: 63 (Greed). (0 is Extreme Fear; 100 is Extreme Greed). Last updated Nov 3 at 12:26pm.
The Biosphere
"I Garden. Therefore, I (Learned How to) Preserve My Own Foods." [Texas Monthly]. "A few days after my successful foray into pressure canning, my same thoughtful neighbors invited me over for dinner in their backyard. We talked about our gardens, and I left them with a jar of tomato sauce. It reminded me of something [pressure canning expert Angi Schneider] had told me: "I think that pressure canning helps me be a better person and community member." She shared jars with neighbors in need in the wake of Hurricane Harvey, and enjoys knowing that she can crack several open whenever her childrens' friends want to stay for dinner. "The goal is not to have a pantry full of home-canned jars. The goal is to make your life easier or more hospitable in some way. " With a baby (and fall tomatoes) on the way, and a queue of family members eager to stay with us while meeting him around the holidays, I'm looking forward to the rewards of this new hobby."
The 420
Department of Feline Felicity
Danger! Danger!
Evergreen cartoon. pic.twitter.com/X7HoeDCbW6

— Daniel N. Gullotta (@DanielGullotta) November 3, 2021
Zeitgeist Watch
"You Can Still Say 'Woman' But you shouldn't stop there." [New York Magazine]. "It may be harder to reconcile trans recognition with feminist analyses of reproduction, but it is entirely possible — indeed, such recognitions enlarge rather than take away from them. These arguments are being puzzled out by scholars and advocates and are already coming before courts in various forms. Contrary to the claim that trans inclusion erases feminists like Ginsburg's work on gender equality, they actually build on that intellectual and legal history, acknowledging the misogyny and denial of bodily autonomy at the heart of these laws. As an amicus brief in the Mississippi abortion case written by scholars of the Equal Protection Clause puts it, what's at stake with forced pregnancy is "an individual's right to be free from state imposition of traditional gender roles." The word woman is all over these arguments. The question is when, how, and where more is needed."
Black Injustice Tipping Point
"Tema Okun's "White Supremacy Culture" work is bad" [Matt Ylgesias, Slow Boring]. "I'm talking about 'The Characteristics of White Supremacy Culture' by Tema Okun, which I first heard of this year from the leader of a progressive nonprofit group whose mission I strongly support. He told me that some people on the staff had started wielding this document in internal disputes and it was causing big headaches. Once I had that on my radar, I heard about it from a couple of other nonprofit workers. And I saw it come up at the Parent Teacher Association for my kid's school. It's an excerpt from a longer book called Dismantling Racism: A Workbook for Social Change Groups that was developed as a tool for Okun's consulting and training gigs. But today, even though it's not what I would call a particularly intellectually influential work in highbrow circles — even ones that are very 'woke' or left-wing — it does seem to be incredibly widely circulated. You see it everywhere from the National Resource Center on Domestic Violence to the Sierra Club of Wisconsin to an organization of West Coast Quakers. Which is to say it's sloshing around quite broadly in progressive circles even though I've never heard a major writer, scholar, or political leader praise or recommend it. And to put it bluntly, it's really dumb. In my more conspiratorial moments, I wonder if it's not a psyop devised by some modern-day version of COINTELPRO to try to destroy progressive politics in the United States by making it impossible to run effective organizations. Even if not, I think the document is worth discussing on its own terms because it is broadly influential enough that if everyone actually agrees with me that it's bad, we should stop citing it and object when other people do." • See also the incredibly sloppy and bad "Advancing Health Equity: A Guide to Language, Narrative, and Concepts" from the American Medical Association (!!) in Monday's Water Cooler.
News of the Wired
"Skyscrapers-on-sea: Benidorm, an oasis of Modernist design" [Financial Times]. "Europe's ground zero [for Modernism] was Benidorm, Spain. On more solid terrain than Miami and with a long history of habitation as a fishing village, it became a remarkable experiment in creating a vertical city on the sea. Without Benidorm, perhaps there would be no Dubai — another city founded on the sand and forged through its skyline. Benidorm has the most high-rises per capita of any town in the world. But the holiday resort is also almost universally derided as a mass-market metropolis aimed at boozy British crowds, a neon-lit strip advertising fish and chips, jelly shots and sangria pitchers…. The density of this high-rise resort means elevations are as critical as the layout of the streets. It is rich, complex and colourful. Almost all buildings feature grids of balconies that give them texture, reinforced by bright awnings. Although many are now non-functional or shabby, the interplay of lowered, half-lowered and raised fabrics gives a wonderful, varied richness to the towers in striking palettes; canary yellows, tree-canopy greens and so on." • Some lovely photos, too.
* * *
Readers, feel free to contact me at lambert [UNDERSCORE] strether [DOT] corrente [AT] yahoo [DOT] com, with (a) links, and even better (b) sources I should curate regularly, (c) how to send me a check if you are allergic to PayPal, and (d) to find out how to send me images of plants. Vegetables are fine! Fungi and coral are deemed to be honorary plants! If you want your handle to appear as a credit, please place it at the start of your mail in parentheses: (thus). Otherwise, I will anonymize by using your initials. See the previous Water Cooler (with plant) here. Today's plant (RH):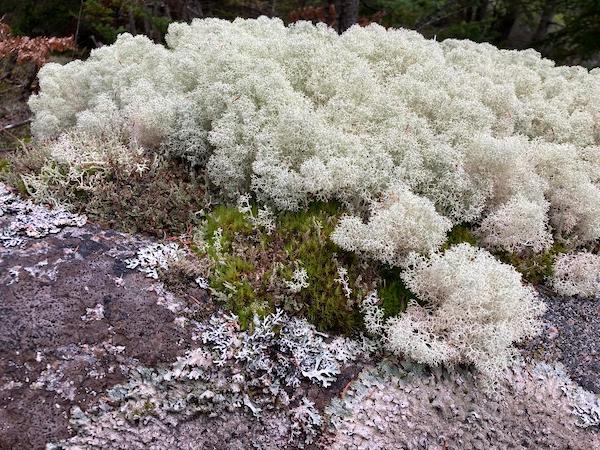 RH: "Lichens in Maine."
* * *
Readers: Water Cooler is a standalone entity not covered by the recently concluded and — thank you! — successful annual NC fundraiser. So if you see a link you especially like, or an item you wouldn't see anywhere else, please do not hesitate to express your appreciation in tangible form. Remember, a tip jar is for tipping! Regular positive feedback both makes me feel good and lets me know I'm on the right track with coverage. When I get no donations for five or ten days I get worried. More tangibly, a constant trickle of donations helps me with expenses, and I factor in that trickle when setting fundraising goals:
Here is the screen that will appear, which I have helpfully annotated.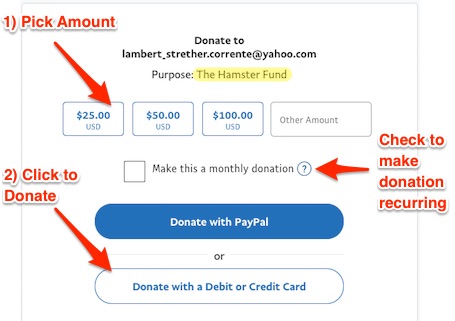 If you hate PayPal, you can email me at lambert [UNDERSCORE] strether [DOT] corrente [AT] yahoo [DOT] com, and I will give you directions on how to send a check. Thank you!2:00PM Water Cooler 6/8/2021