By Lambert Strether of Corrente.
I got wrapped around the axle today, and so there will be UPDATEs. –lambert UPDATE All done!
Bird Song of the Day
I'm really taken with the idea of a cuckoo in Homeric armor.
* * *
#COVID19
Patient readers, I have started to revise this section, partly to reduce my workload, but partly to focus more as an early warning, if that is possible. Hopefully I will have a variant tracker map soon. In the meantime, I added excess deaths.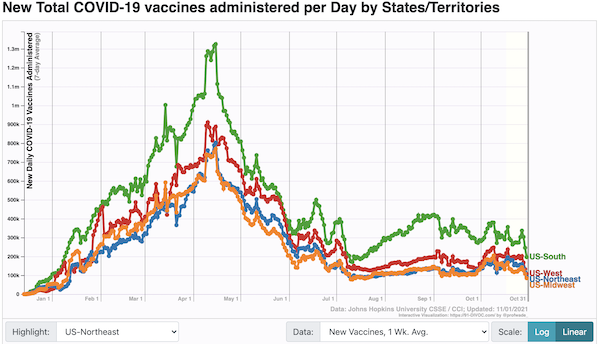 Eesh. (I have also not said, because it's too obvious, that if by Bubba we mean The South, then Bubba has done pretty well on vax.)
58% of the US is fully vaccinated (CDC data. Mediocre by world standards, being just below Turkey, and just above Argentina in the Financial Times league tables as of this Monday). We are back to the stately 0.1% rise per day. I would bet that the stately rise = word of mouth from actual cases. However, as readers point out, every day those vaccinated become less protected, especially the earliest. So we are trying to outrun the virus…
Case count by United States regions: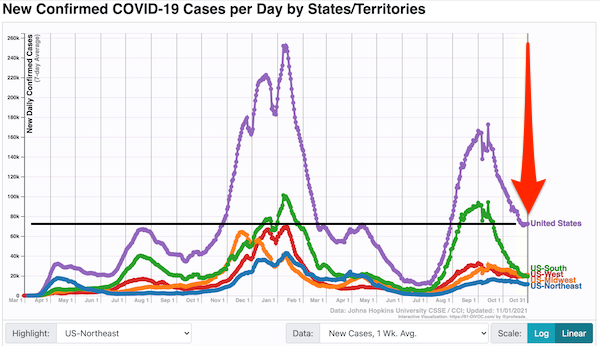 I have drawn an anti-triumphalist black line showing today's "Covid is on the retreat" peak (see NBC below) is higher than last August's crisis peak, and equal to a smaller peak in May (that was followed by decline, and then by our second highest peak). Remember that this chart is a seven-day average, so changes in direction only show up when a train is really rolling. That said, I don't think this is the surge some of us Bears have been waiting for (see the "tape watching" remarks below). It's driven by cases widely distributed through inland California (see last Friday for maps). The local economy is heavily driven by outdoors-y tourism, but there are no major airports, so possibly cases are being spread by drivers. Beyond these speculations I cannot go.
* * *
"Why are Covid-19 cases dropping?" (video) [NBC]. From November 1, still germane. They're not. Pay attention.
Simply tape-watching, this descent is as steep as any of the three peaks in November–January. It's also longer than the descent from any previous peak. We could get lucky, as we did with the steep drop after the second week in January, which nobody knows the reasons for, then or now. Today's populations are different, though. This population is more vaccinated, and I would bet — I've never seen a study — that many small habits developed over the last year (not just masking). Also, if the dosage from aerosols drops off by something like the inverse square law, not linearly, even an extra foot of social distance could be significant if adopted habitually by a large number of people. And if you believe in fomites, there's a lot more hand-washing being done. Speculating freely: There is the possibility that acquired immunity is much, much greater than we have thought, although because this is America, our data is so bad we don't know. On the other hand, Delta is much more transmissible. And although readers will recall that I have cautioned against cross-country comparisons, I'm still not understanding why we're not seeing the same aggregates in schools that we've see in Canada and especially the UK, although we have plenty of anecdotes. Nothing I've read suggests that the schools, nation-wide, have handled Covid restrictions with any consistency at all. So what's up with that?
Even if hospitalizations and the death rate are going down, that says nothing about Long Covid, the effect on children, etc. So the numbers, in my mind, are still "terrifying", even if that most-favored word is not in the headlines any more, and one may be, at this point, inured.
MWRA (Boston-area) wastewater detection: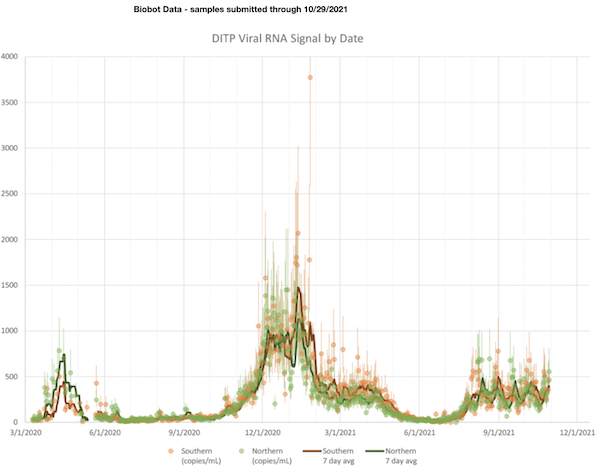 Seems like a sine-wave pattern on the right. Why? And nothing like California yet.
The Massachusetts Water Resources Authority (MWRA) service area includes 43 municipalities in and around Boston, including not only multiple school systems but several large universities. Since Boston is so very education-heavy, then, I think it could be a good leading indicator for Covid spread in schools generally.
From CDC: "Community Profile Report October 25, 2021" (PDF), "Rapid Riser" counties: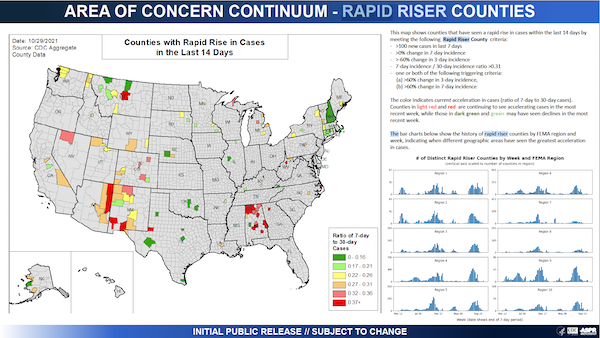 Lots of red in Alabama.
Speculating freely: One thing to consider is where the red is. If air travel hubs like New York City or Los Angeles (or Houston or Miami) go red that could mean (a) international travel and (b) the rest of the country goes red, as in April 2020 and following. But — for example — Minnesota is not a hub. If Minnesota goes red, who else does? Well, Wisconsin. As we see. Remember, however, that this chart is about acceleration, not absolute numbers. This map, too, blows the "Blame Bubba" narrative out of the water. Not a (Deliverance-style) banjo to be heard. (Red means getting worse, green means bad but getting better.)
The previous release: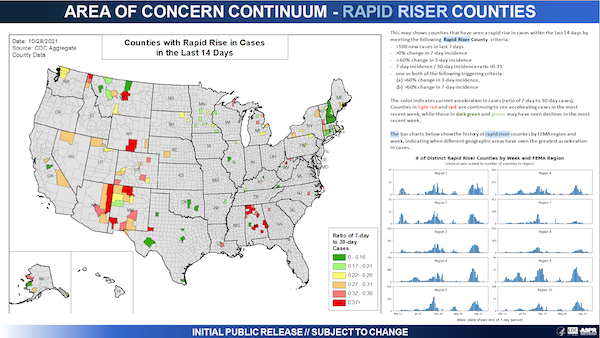 Hospitalization (CDC Community Profile):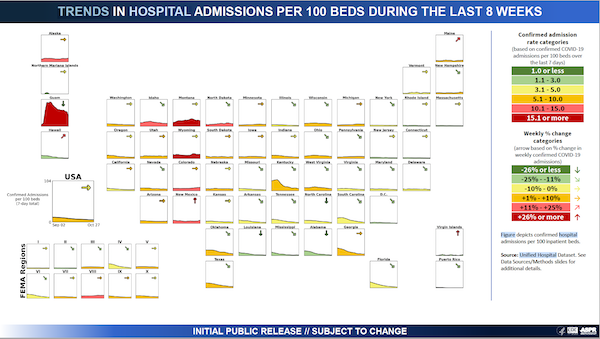 Finally some relief for the states of Idaho, Montana, and Wyoming, although I don't understand why they they have the bad luck to be so stubbornly still red.
Death rate (Our World in Data):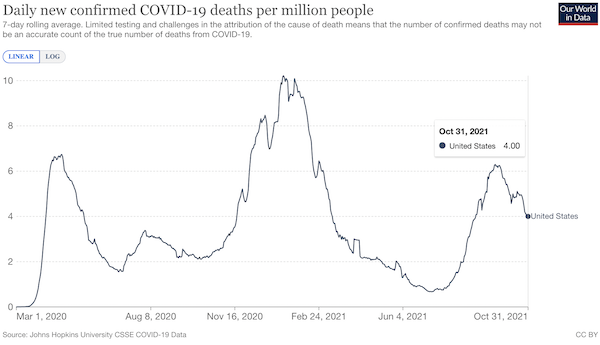 Total: 766,312 763,784. Going down again, mercifully. We had approached the same death rate as our first peak last year. Which I found more than a little disturbing.
Excess deaths (total, not only from Covid). Still not updated ffs: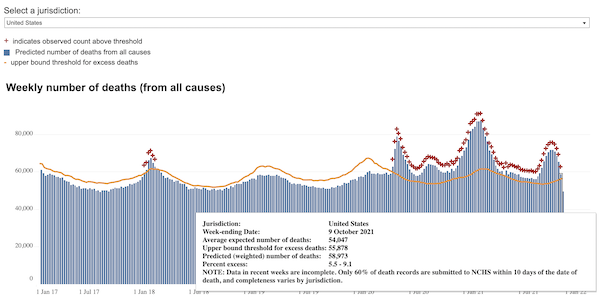 So how long does it take before 10% "excess" deaths becomes the new normal?
(Adding: I know the data is bad. This is the United States. Needless to see, this is a public health debacle. It's the public health establishment to take care of public health, not the health of certain favored political factions. Also adding: I like a death rate because it gives me a rough indication of my risk should I, heaven forfend, end up in a hospital. I should dig out the absolute numbers, too, now roughly 660,000, which is rather a lot.)
Covid cases in historic variant sources, with additions from the Brain Trust: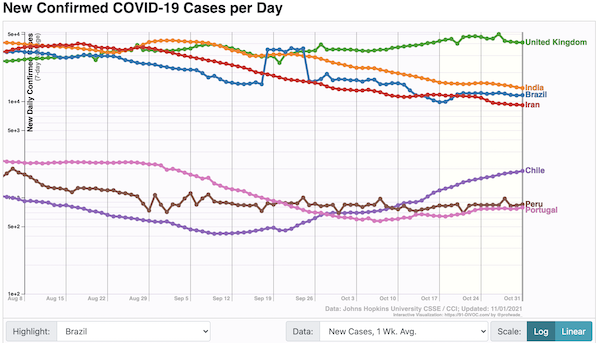 Look at Chile go! Also Portugal, which lifted restrictions about a month ago. Remember this is a log scale. Sorry for the kerfuffle at the left. No matter how I tinker, it doesn't go away.
* * *
Politics
"But what is government itself, but the greatest of all reflections on human nature?" –James Madison, Federalist 51
"They had one weapon left and both knew it: treachery." –Frank Herbert, Dune
"They had learned nothing, and forgotten nothing." –Charles Mice de Talleyrand-Périgord
Biden Administration
UPDATE It's good America has two Presidents. While President Biden goes to Europe, President Manchin can handle domestic affairs:

MANCHIN wants BIF vote asap.

"Holding this bill hostage is not going to work in getting my support for the reconciliation bill."

— Heather Caygle (@heatherscope) November 1, 2021

And to think that all the leadership of the Party of Betrayal had to do was keep their word about how the Reconciliation bill was to be structured…

UPDATE "This week: Democrats prepare to try—again—on Biden's economic package" [The Hill]. "House Democratic leadership initially hoped to be able to hold votes on both bills on Tuesday — the same day as the closely watched Virginia governor's race — with the House Rules Committee expected to meet on Monday. 'We're going to pass those two bills you've been hearing about. We're going to pass them. The vote's been called for Tuesday. We're gonna take this vote, and we're going to pass them,' House Majority Whip James Clyburn (D-S.C.) said at an event in Virginia over the weekend. But instead a House leadership aide said on Sunday that the plan had been delayed as Democrats continued to negotiate and draft the roughly $1.75 trillion social spending plan. Democrats say they are closing in on an agreement to include prescription drug negotiations in the final bill after it was left out of the framework, after a source told The Hill that an agreement reached between Sen. Kyrsten Sinema (D-Ariz.) and the White House didn't yet have enough votes." • So Pelosi's aide undercut Clyburn, hilariously. "Pelosi initially indicated that she would bring the Senate bill to the floor on Thursday, but progressives warned that they wouldn't support the bill without a commitment from Senate moderates on the details of the separate social spending legislation. 'I think there has got to be a framework agreed upon in the Senate that all of us know is going to be implemented before the members of the House vote,' Sanders told CNN." • A framework sounds like bullet points to me, and I don't like the Sanders is soft on this. Write the damn bill. These are legislators, after all. They're supposed to know how to do that.

"Congress Decides to Learn Almost Nothing From the Pandemic" [Eric Levitz, New York Magazine]. "In September, the Biden White House unveiled a proposal for a ten-year, $65 billion investment in pandemic preparedness. And the administration asked Congress to include a $30 billion "downpayment" on that program as part of this year's Build Back Better bill. As moderate Democrats demanded a massive reduction in that legislation's top-line costs, the administration trimmed its request to $15 billion. In the version of Build Back Better unveiled Thursday, pandemic preparedness receives just $2.7 billion. And roughly half of that sum is dedicated to modernizing CDC laboratories, a vital endeavor, but not a core component of the administration's preparedness agenda." • As I've been saying, though not with the word of the day ☞ democidal elites are a parsimonious explanation. I hate to think that way, but there it is.

"Buttigieg twins dress as 'twinfrastructure' for Halloween" [The Hill]. • Good to see Buttigieg has time to be doing this in between his efforts to unf*ck the Port of Los Angeles and Long Beach. (It seems to me that the payback for stealing the Iowa Primary turned out to be rather pricey. Couldn't we have made Buttigieg an Ambassador somewhere? Like Japan?)

UPDATE "COVID Gives Joe Biden A Permanent Excuse To Stay Hidden" [Michael Tracey]. "in 2020, public campaign rallies — once open to the general population as a matter of course — had been quasi-privatized on "safety" grounds. I reported on this at the time and few seemed to care, or otherwise stupidly misinterpreted the significance. Conservative commentators made the mistake of assuming that sparsely-attended Biden/Harris events were indicative of some concerted coverup to hide the fact that there was no enthusiasm for Biden and he could never win the election. But what they were really seeing was a deliberate privatization initiative — part of a political strategy that wasn't so much a coverup, but an overt and unhidden example of how powerful factions were using COVID as a pretext to shrivel the public sphere and keep the undesirables away. While also conveniently insulating themselves from scrutiny and — gasp — perhaps even the occasional heckling. And so it has gone well into Biden's first term, with a weird air of secrecy surrounding normal events of his that continue to follow this innovative quasi-privatized model. On October 25, Biden visited a New Jersey Transit maintenance facility in Kearny, NJ, which is about 10 minutes from where I live…. So I headed over to the maintenance facility, and the police officer guarding an entrance pretended not to know that the President of the United States was inside, telling me only that he heard 'some dignitaries' were on hand, and there was no chance in hell I was getting in. Attending a public event featuring the president (and governor) without submitting reams of paperwork ahead of time, and/or pulling some strings with your professional political network? Unfathomable…. A senior NJ Transit worker, who was absolutely adamant that he/she must not be identified because they could get in serious trouble for talking to the media, later told me that employees who ordinarily work in that maintenance facility were instructed by their higher-ups to stay home that day. No chance that they'd be allowed to attend this event, it was decreed, even though the event was taking place in their literal workplace — a public facility to boot. The justification? Who knows…. Watch the video of Biden at the NJ Transit event this week and it's verging-on-creepy how few people are there in the room, other than the assembled "dignitaries" — members of Congress and municipal officials, plus a smattering of other Democratic Party hotshots with 'insider' access." • So Tracey visited the facility. Material reality, what a concept.

UPDATE Hmm:

NEWS: Yellen says reconciliation is "viable" path for Ds to deal w/ debt limit

Many Ds had ruled that out & WH refused 2 discuss

Yellen on GOP: "If theyre not going to cooperate, I dont want to play chicken"

Yellen wants to abolish limit; WH mum on thathttps://t.co/SY97yeBoj6

— Jeff Stein (@JStein_WaPo) November 1, 2021
Democrats en Deshabille
UPDATE "Florida Democrats anxious as DeSantis seems unbeatable" [Politico]. "A year before the Florida gubernatorial election, the Republican governor has nearly $60 million in the bank. The GOP is on the cusp of becoming the state's majority party after erasing Democrats' enormous voter registration advantage. The Democratic field is splintering and support for President Joe Biden has collapsed in the state. It's a situation that has alarmed Democrats, who fear that Florida's days as a battleground state are over and that national donors will write off their candidates." • With a bench that includes players like Donna Shalala, I don't see how this could have happened. I mean, she was was president of the Clinton Foundation from 2015 to 2017!

UPDATE "Illinois Dems carve up liberal giant-slayer's district in new congressional map" [Politico]. "Illinois' state legislature passed a new congressional map early Friday morning that likely secures Democrats' control of 14 of the state's 17 congressional districts — but it also condemned liberal freshman Rep. Marie Newman to an uncomfortable fate at the 11th hour. Newman, who rose to fame in 2020 after ousting a veteran conservative Democrat, Dan Lipinski, fell victim to last-minute changes by Springfield legislators plotting to both boost Democratic Rep. Sean Casten and create a new district where the Latino community could elect their candidate of choice. Now, Casten and Newman are set to clash in a primary next June." • What liberal Democrats always do. Nevada, India Walton, Sanders… Learn nothing, forget nothing.

UPDATE "The Dems Must Define Themselves As A Party Fighting For Justice… Or Just A Lesser Evil Than Trump" [Down with Tyranny]. Well, let me know how that works out. Meanwhile: "Yesterday Blue Tent's David Callahan wrote in his newsletter that "there's been no sign of complacency among Democratic donors, including small donors. Quite the contrary. Beyond all the money flowing into the party committees, other evidence that donors remain on high alert has come recently from California, where Gov. Gavin Newsom raised more than $70 million to fight a recall effort, and from Virginia, where Terry McAuliffe has raised at least $45 million for his gubernatorial race. In both contests, Democrats have offered up a gusher of donations in the face of the possibility that a Trumpist candidate could win power in a key state." • So the party's doing fine. But it takes a lot of money to make people forget a howler like this: "I don't think parents should be telling schools what they should teach." In fact, we have elected School Boards so we don't have direct democracy write the curriculum, and we fund schools off the property tax, so income and influence over the curriculum correlate. Of course, for all sides, parents who are the right sort of person are the ones whose wishes should be controlling. So none of this is very edifying. But what a mess McAuliffe made for himself!
Republican Funhouse
"Why 'Poopy Pants Biden' Memes Trended After POTUS' Meeting with Pope Francis" [News 18]. About page. Not as classy and subtle as "Let's Go, Brandon!", eh? I have to run this, in case it appears in comments. "The tweet that apparently set off the rumour mills spinning was by Amy Tarkanian, former Nevada Republican Party Chairwoman and wife of Republican Attorney Danny Tarkanian." • So, a single-sourced story from a Republican operative ignites a memetic firestorm of Republican trolling (and all absolute bottom feeders, so far as I can tell). Well done, all. (I started noticing the word "poop" getting mainstreamed a couple of years ago, I think; it's interesting because "poop" is so infantile (unlike "sh*t," which could not appear in a headline). This is a zeitgeist thing, but I'm not sure why it's happening. Do we suddenly need to talk about excrement more? If so, why?

UPDATE "The conservative effort to take over school boards reaches fever pitch in one Colorado district" [NBC News]. • Another way of seeing this is that conservatives are serious about their politics and liberals are not (and the left would be serious if they knew how). Why not — hear me out — go to the school boards and fight it out? Instead of signaling aghastitude?
Realignment and Legitimacy
"'When do we get to use the guns?' The life-or-death stakes of the Kyle Rittenhouse trial" [Will Bunch, Philadelphia Inquirer]. "This is a 55-gallon drum of highly flammable political rage — not something that you want to come anywhere near with a lighted match. Unfortunately, Monday marks the launch of a Wisconsin murder trial with the potential for exactly that. It's not just that the hotly disputed case of Kyle Rittenhouse — the now 18-year-old Illinois teen who picked up an AR-15-style rifle to join vigilantes during the August 2020 unrest after a police shooting in Kenosha, Wisc., and then killed two people and wounded a third during a series of altercations — could lead to near-term unrest, although there is surely that potential…. The greater risk to the republic is that a successful self-defense argument from attorneys for Rittenhouse — already a cause célèbre for the Trumpian right, which raised the $2 million to release him on bail — will be interpreted by all of the worst people as a sign from the U.S. justice system that it's not only OK but heroic for citizens to take up arms for their perceived — and in too many cases invented — grievances."

"Covid's campaign trail vanishing act" [Politico]. "While the pandemic is nowhere near over, Covid is fading as an issue that animates voters. It's evident from recent polls in the off-year New Jersey and Virginia elections, where pre-pandemic concerns like taxes, the economy and schools now rank as the top voter priorities. Strategists of both parties are advising candidates to shift their focus ahead of the midterm elections in 2022. Already, political advertising related to the pandemic has fallen off sharply from earlier this year. 'Everybody's [who is anybody] just ready to move on,' said Julie Roginsky, a former top adviser to Gov. Phil Murphy, the New Jersey Democrat who is favored to win reelection on Tuesday. 'It's been 18 months, and whether the science merits it or not, the public's ready to move on. … They've reverted back to the issues they've always cared about, which had been put on pause for the past 18 months.' The demise of the Covid-centric campaign is, in part, a natural reaction to improving conditions surrounding the pandemic, with deaths declining, schools and businesses reopening and vaccines available in abundance. But the political fallout may be severe, especially for Democrats who ran hard on the pandemic in 2020, capitalizing on public sentiment that largely favored their party's management of the crisis. As interest in Covid fades, Democrats may lose one of their most compelling campaign planks a little more than a year before a critical midterm election in which the party is already facing headwinds." • "Compelling campaign plank"? Really?
Stats Watch
Manufacturing: "United States Manufacturing PMI" [Trading Economics]. "The IHS Markit US Manufacturing PMI was revised lower to 58.4 in October 2021, from a preliminary estimate of 59.2 and down from September's 60.7. The latest reading pointed to a sharp improvement in the health of the US manufacturing sector, although the pace of expansion slowed to the weakest for ten months due to smallest increase in production levels since July 2020 amid capacity constraints including material shortages. In addition, new orders rose the least in 10 months, while vendor performance continued to deteriorate sharply due to transportation delays and strong demand for inputs. Backlogs of work and employment increased at solid rates."
Manufacturing: "United States ISM Purchasing Managers Index (PMI)" [Trading Economics]. "The ISM Manufacturing PMI in the United States edged down to 60.8 in October 2021, from 61.1 in the previous month but slightly above market consensus of 60.5. Production rose at a slower pace and new order growth eased to a 16-month low, as the world's largest economy continued to struggle with supply constraints and rising prices."
Construction: "United States Construction Spending" [Trading Economics]. "Construction spending in the US decreased 0.5 percent from the previous month to a seasonally adjusted annual rate of USD 1.574 trillion in September of 2021, after a revised 0.1 percent gain in August and against market expectations of a 0.4 percent increase."
* * *
Shipping: "U.S. toymaker looks beyond port logjams to the risk of gluts" [Reuters]. "Along with the supply-chain headaches everyone is fighting – from clogged ports to empty store shelves – Ryan Gunnigle is focused on the potential for the opposite problem: gluts. 'Customers are just flinging crazy orders right now, so it's hard to determine the real level of demand,' said the chief executive of Kids2, the Atlanta-based toy company best known as the maker of Baby Einstein and other baby-oriented brands. Business always surges around the holidays, but this year has been turned on its head by the pandemic." • It's not clear to me when the supply chain will get unf*cked. But I don't think we need to be worrying about gluts any time soon. Now, if we don't know what "the real level of demand" is, that might have interesting knock-on effects on policy.
Tech: Tyrell Corporation still needs to fix The Zuckberg™'s hairline. The join still looks bad:
WATCH: Sneak Peek at Facebook metaverse pic.twitter.com/rUGGiJeMLr

— Insider Paper (@TheInsiderPaper) October 28, 2021
This is, apparently, the best Metaverse Zuckerberg can deliver. It looks really stupid and bad to me. Or am I just being a Luddite old codger, and the bright young things of today will flock to this platform? Readers?
Labor Market: "Five Things You Need to Know to Start Your Day" [Joe Weisenthal, Bloomberg]. "In the meantime, this is a really striking chart. The yellow line is the Conference Board's Labor Differential index, which basically measures how the public feels about the job market. The white line is a separate survey of how the the public feels about the economy overall. . Perceptions of the job market are at their highest level since 2000. Meanwhile perceptions of the broader economy have turned sharply lower. This dynamic is reflected in numerous surveys. In political polling, Democrats are getting clobbered by Republicans in terms of handling the economy." • Here's the chart: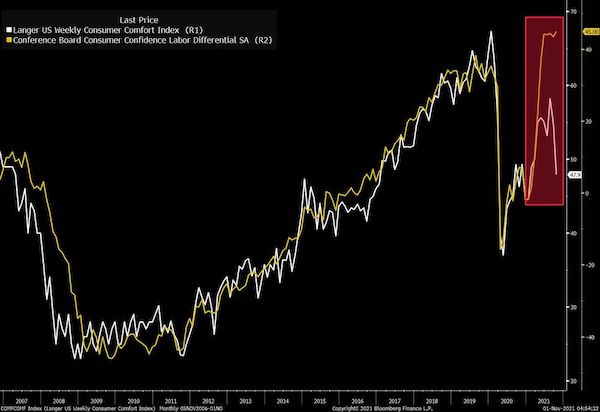 Weisenthal continues: "Obviously one possible explanation for the divergence is inflation (particularly food and gas) as well as the stress on the supply chain. Regardless of what it is though, we're in a different phase. The public perception of the economy goes beyond the job market. That's new." • I would bet that yellow line is a proxy for supply chain issues, which we are experiencing (and framing) as "inflation" now (which feeds into an austerity-driven Congress and political class, hurrah) but which will become painful, scandalous, and insoluble when there's a breakdown that will really tear a hole in a consumerist reality — insulin shortages, for example. 2010, here we come!
Mr. Market: "The 'policy mistake' mistake" [Financial Times]. "Far and away the most traded equity options are those based on the S&P 500 index and on the ETF based on that index. The nominal outstanding value of those options is currently over $7bn. There is almost twice as much outstanding volume of Tesla options than there are of Nasdaq index options, and more volume in Tesla than in the next three biggest individual names (Amazon, Apple and Facebook) combined. This strikes me as wild."
* * *
Today's Fear & Greed Index: 77 Greed (previous close: 72 Greed) [CNN]. One week ago: 71 (Greed). (0 is Extreme Fear; 100 is Extreme Greed). Last updated Nov 1 at 12:37pm. Now that poor people won't get dental, Mr. Market is in his happy space.
Rapture Index: Closes down one on Anti-Christian. "Christians have had fewer attacks in recent days" [Rapture Ready]. Record High, October 10, 2016: 189. Current: 186 (Remember that bringing on the rapture is a good thing, so higher is better.)
The 420
"Valley Bank unveils payments app for cannabis businesses" [Banking Dive]. "Valley Bank's new payment platform will provide a solution to an industrywide cash issue plaguing the cannabis-related businesses it serves by allowing their customers access to a mobile wallet payment system, the bank's chief digital product officer, Stuart Cook, told Banking Dive at the Money20/20 conference Tuesday. The $41 billion-asset nationally chartered bank, which has branches across New Jersey, New York, Florida and Alabama, serves five of the top 10 multistate cannabis-related business operators, Cook said. The platform, called Valley Pay, is expected to launch with a pilot program in the coming months. The mobile app operates similar to a reloadable Starbucks wallet gift card, Cook said."
Screening Room
"The day Alec Baldwin shot Halyna Hutchins and Joel Souza" [Los Angeles Times]. "A Los Angeles Times reconstruction of the events leading up to Hutchins' death has uncovered new details about that Thursday, and the days leading up to the shooting in that wooden church about 13 miles south of Santa Fe. As has been previously reported by The Times, the inexperience of the armorer had raised concerns from the first day on set, as did conflicts between the production managers and the camera crew. A cascade of bad decisions appeared to create a set chaotic even by its low-budget status. A set in which, against all production regulations, live bullets were not only present but several had been loaded into a prop gun." • Working conditions were bad, bad, bad. Accidents waiting to happen. And then there's this, albeit single sourced.
Halloween Post Mortem
Japanese ghosts:
For Halloween, a thread on my favourite buildings-related yokai (spirits in Japanese folklore) — starting with the Nurikabe, which manifests as a wall that impedes or misdirects walking travelers at night. Be warned: trying to go around is futile as it can extend itself forever. pic.twitter.com/mO0F17MxNI

— Irène DB (@UrbanFoxxxx) October 31, 2021
Our Famously Free Press
This tweet is still up, so I have to assume that the Times social media does not feel it needs to be corrected:
Did Marie Antoinette father two children with the Swedish count Axel von Fersen, whom she undoubtedly loved? Nancy Goldstone's "In the Shadow of the Empress" argues that she did. https://t.co/jpzuTsjpnr

— New York Times Books (@nytimesbooks) October 30, 2021
"Cancel culture: Why do people cancel news subscriptions? We asked, they answered." [Nieman Lab]. "The No. 1 reason people say they cancel a subscription is money… Nearly a third of respondents — 31% — cited money as the primary reason they canceled a subscription. Some people canceled when promotional rates expired; others were irritated that subscriptions auto-renewed or that news organizations weren't transparent about price. Respondents cited a lack of funds, often due to the Covid-19 pandemic and related income loss, as another reason for cancelling subscription. Some of those were folks who had multiple subscriptions and had to choose to cut back on one or more publications to help make ends meet. Others will seek promotional offers to the end."
Zeitgeist Watch
No:
Do you know how to properly search your child's room? 🤔👀📦 If not, stick around for our first episode of #ParentAware with Sgt. Gunsolley. Remember:

🌱To support and guide pre-teens and teenagers, you need to monitor what's happening in their lives. pic.twitter.com/mee3xRqbLR

— OC Sheriff, CA (@OCSheriff) October 28, 2021
Harvard Prof and CNN shill on the "Let's Go, Brandon!" Southwest pilot:
Yes pilot conduct. His words reflect possibility of anger management or substance abuse. It is worth asking.

— Juliette Kayyem (@juliettekayyem) October 30, 2021
Love me, love me, love me, I'm a liberal….
Black Injustice Tipping Point
Paul Robeson v. Leontyne Price:
Frank Wisner's sister's patronage of opera comes to mind pic.twitter.com/OQbpdf2ojU

— paulkleinfancam (@paulkleinfancam) October 30, 2021
You can bet a similar winnowing process is going on among the woke, though possibly not driven by the same, er, agents.
Class Warfare
"Why some retirees are delaying Social Security" [Becker's Hospital Review]. "The number of Americans retiring has increased, with retirement up 5 percent among workers ages 65 to 69…. But the number of workers applying for Social Security benefits has declined significantly in the last year, falling by 5 percent compared to 2020, and marking the largest drop in two decades…. Experts suggest that some retirees can make ends meet in the short-term because of federal stimulus assistance and unemployment insurance payments…. The longer someone delays claiming Social Security benefits, the higher the monthly check will be when a claim is made. A worker earning $60,000 annually who decides to retire at 65 would see a monthly payment increase from $1,418 to $1,550 by delaying a claim for benefits for a year. By managing to get by in the short-term on federal assistance and insurance payments, workers can delay claiming Social Security, boosting future payments. This suggests a better than expected outcome for older Americans in the wake of the pandemic."
"Advancing Health Equity: A Guide to Language, Narrative, and Concepts" (PDF) [American Medical Association]. A target-rich environment. I thought I'd look at the Glossary. First, Class: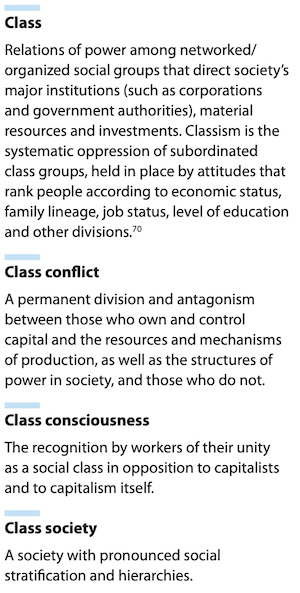 Now Race: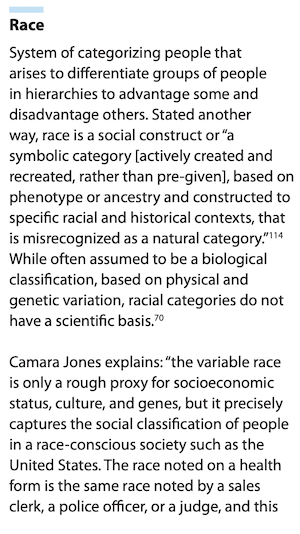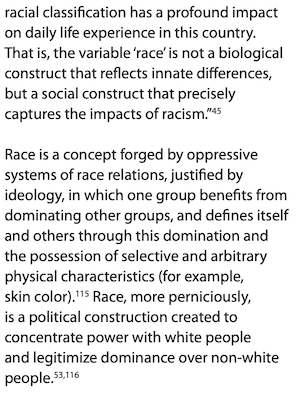 The two definitions seem to have been written by different authors, and never reconciled stylistically or conceptually by the editors. That's a bad sign. And the glossary entry for Race isn't really a definition, but a sloppy and discursive essay — including quotes and footnotes, yet! — including a grab bag of concepts. Meanwhile, the entry for Class Conflict includes the concept of capital, but the entry for Class does not. This is farcically bad, which no doubt ensures rave reactions from Successor Ideologues (snappier term needed). After all, from false premises one can prove anything, so the sloppiness is in fact useful.
News of the Wired
"The Men Of The Manosphere Who Want To Be Ghosts" [Mel Magazine]. "Somewhere along the way, the men of the manosphere decided ghosting should be a lifestyle. For them, living the 'Ghostly Life' is about cutting oneself off from all connection and communication — not only in relationships, but with society. According to Jessica Aiston, who studies male supremacy and the manosphere with Lancaster University's MANTRaP research project, 'going ghost' is one of the multiple levels within the manosphere. 'Men may start by avoiding all serious and long-term relationships with women, then avoiding short-term or casual relationships,' Aiston tells me. 'Eventually, they 'go ghost' and limit interactions or even withdraw from society altogether.' The manosphere is made up of an array of ideologies based in male supremacism, and includes incels, adherents to the red-pill ideology and Men Going Their Own Way (or MGTOW), who desire to separate themselves from what they believe is a feminist-dominated society." • I'm not sure how serious this all is in terms of numbers. The Korean analogue is apparently quite serious.
* * *
Readers, feel free to contact me at lambert [UNDERSCORE] strether [DOT] corrente [AT] yahoo [DOT] com, with (a) links, and even better (b) sources I should curate regularly, (c) how to send me a check if you are allergic to PayPal, and (d) to find out how to send me images of plants. Vegetables are fine! Fungi and coral are deemed to be honorary plants! If you want your handle to appear as a credit, please place it at the start of your mail in parentheses: (thus). Otherwise, I will anonymize by using your initials. See the previous Water Cooler (with plant) here. Today's plant (johnnyme):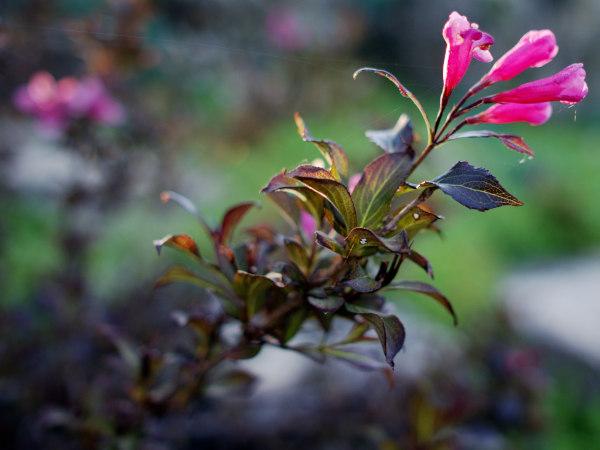 * * *
Readers: Water Cooler is a standalone entity not covered by the recently concluded and — thank you! — successful annual NC fundraiser. So if you see a link you especially like, or an item you wouldn't see anywhere else, please do not hesitate to express your appreciation in tangible form. Remember, a tip jar is for tipping! Regular positive feedback both makes me feel good and lets me know I'm on the right track with coverage. When I get no donations for five or ten days I get worried. More tangibly, a constant trickle of donations helps me with expenses, and I factor in that trickle when setting fundraising goals:
Here is the screen that will appear, which I have helpfully annotated.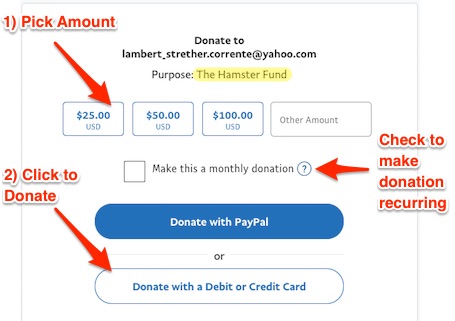 If you hate PayPal, you can email me at lambert [UNDERSCORE] strether [DOT] corrente [AT] yahoo [DOT] com, and I will give you directions on how to send a check. Thank you!2:00PM Water Cooler 6/8/2021