By Lambert Strether of Corrente.
This is Naked Capitalism fundraising week. 57 donors have already invested in our efforts to combat corruption and predatory conduct, particularly in the financial realm. Please join us and participate via our donation page, which shows how to give via check, credit card, debit card, or PayPal. Read about why we're doing this fundraiser, what we've accomplished in the last year,, and our current goal, strengthening our IT infrastructure.
I picked up a copy of former FDA Commissioner Scott Gottlieb's Uncontrolled Spread the other day (Harper-Collins, $23.19, a New York Times bestseller). It's "the first of the pandemic memoirs," as Politico puts it in their interview with Gottlieb. (Here the transcript of another interview with Gottlieb in WaPo; he's certainly articulate and well informed.) Eric Topol gives the Uncontrolled Spread his blessing: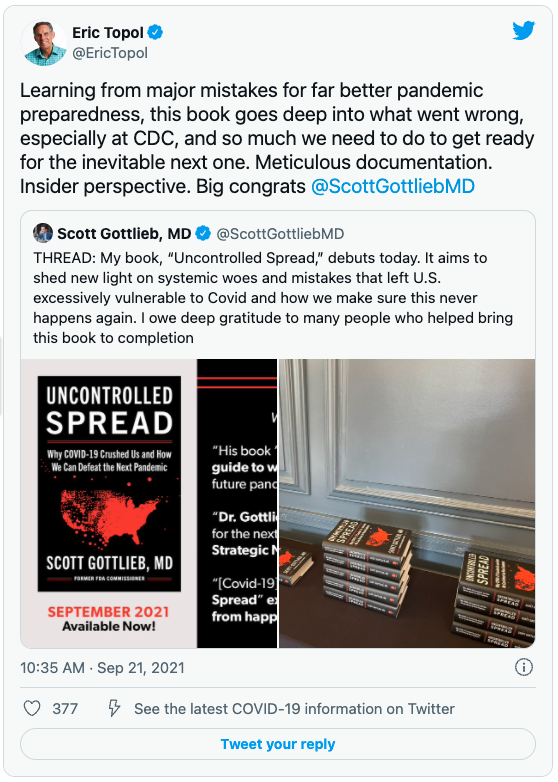 Although Publishers Weekly introduces one of the few discordant notes:
Though he lucidly explains scientific and logistical matters, Gottlieb's tendency to cite his own Wall Street Journal op-eds grates. This pandemic postmortem is more concerned with boosting the author's reputation than breaking new ground.
A word about the author. Gottlieb is a member of the Republican aristocracy (as we might call them. His wife, Allyson Brooke Nemeroff, was the national advertising director for The New York Sun. Their wedding was at the Women's National Republican Club in Manhattan). The National Journal has a detailed biography, from which we extract his work history
Resident Fellow, American Enterprise Institute, 2003-2017, 2019-Present
Partner, New Enterprise Associates (NEA), 2007-2017, 2019-Present
Commissioner, US Food and Drug Administration, 2017-2019
Managing Director, T.R. Winston & Company, 2013-2017
Policy Advisor, FDA, 2003-2007
And his business associations:
Serves on Pfizer's Regulatory and Compliance and Science and Technology committees
Director at Illumina, a biotech company working on genetic variation and biological function analysis
Board member of Tempus, a technology company building a library of clinical and molecular data
Special Partner at venture capital company NEA, works on health care, devices, biopharma, and services teams; NEA investments include Crisper Therapeutics and Collective Health
Gottlieb is also said to own 1,000 units of Pfizer stock worth over $181,920 (as of May 27, 2021). Which isn't all that much by elite standards, though not at all bad for such a young man (Gottlieb is an up-and-coming 49). He was also head of FDA for only two years, but seemingly left on good terms. His departure from FDA was amicable and he was praised by both parties. He also exhibits very good timing. (Napoleon, it is said, liked his generals to be lucky.) Gottlieb is plugged in enough to have the goods on many issues, and yet bears no responsibility for the policy outcomes.
In this brief review, I will present and comment upon extracts from the book. (I apologize for the images, which are readable but not pretty, but I don't have a camera rig that flattens book pages and enables me to photograph them from a consistent height.) I will cover two topics: First, the debacle at the CDC, where Gottlieb reinforces all our priors, and then some; second, Gottlieb's hair-brained and lunatic scheme to place our public health services, sclerotic though they may be, under the aegis of national security, and to involve clandestine operatives in epidemiology.
CDC Debacle
At NC we do have priors on the CDC (testing and PPE, data gathering, test kits, Walensky, aerosol transmission, VAERS, and the refusal to test for breakthrough cases, to list only some of the butchery). Gottlieb's extensive and detailed bill of particulars provides a gripping narrative of institutional collapse. Here are a few of examples.
As readers know, CDC initially provided state and local labs with contaminated test kits. This certainly made it difficult for the State of New York, the initial epicenter of the epidemic, to protect the public health. Page 113: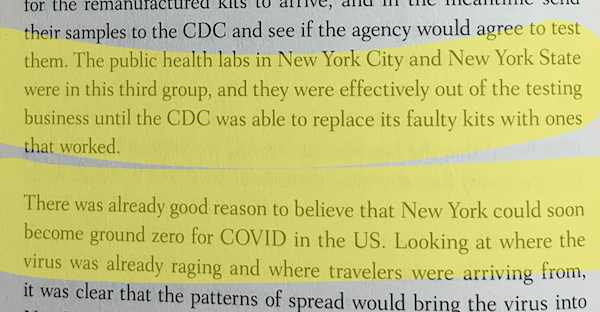 The contaminated test kits were caused by a poorly designed manufacturing process, which CDC almost certainly knew and admitted contemporaneously. Page 121: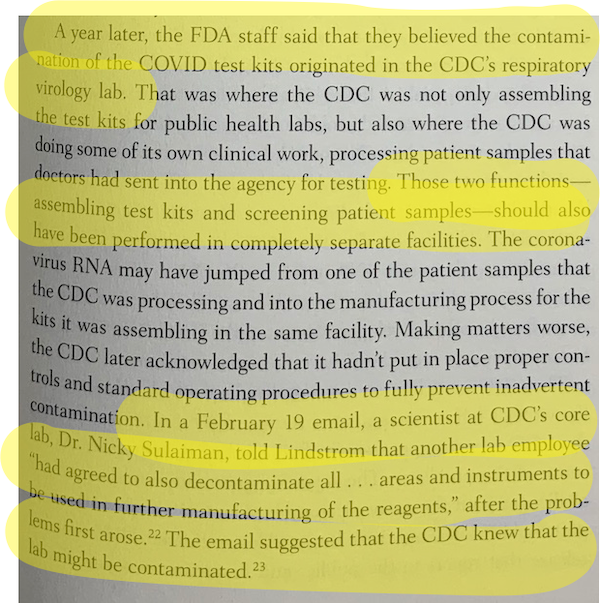 CDC maintained a parsimonious testing regime that deliberately ignored asymptomatic spread. Page 131: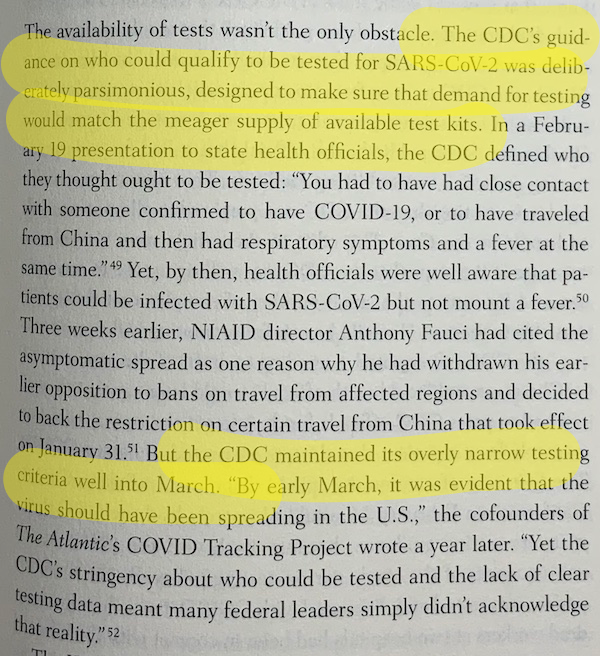 The CDC's original commitment to the theory of fomite transmission meant that it couldn't shift paradigms to aerosol transmission. Page 212: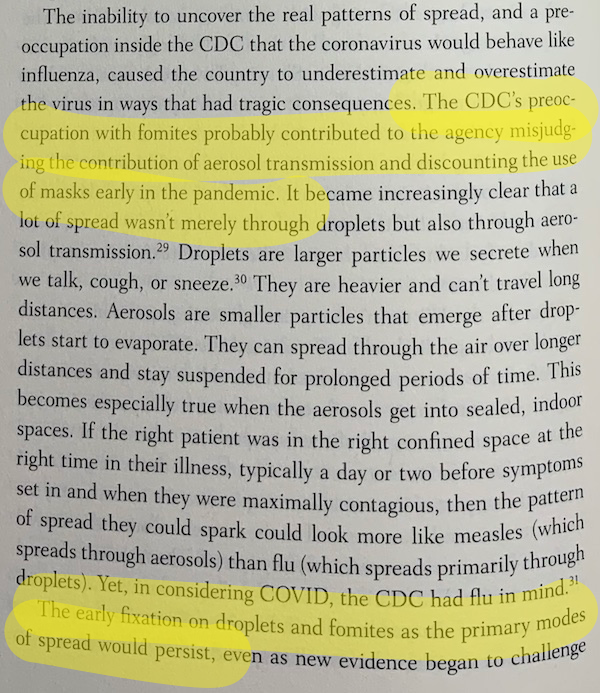 Nobody knows where the "six foot rule" comes from, including CDC. Page 213: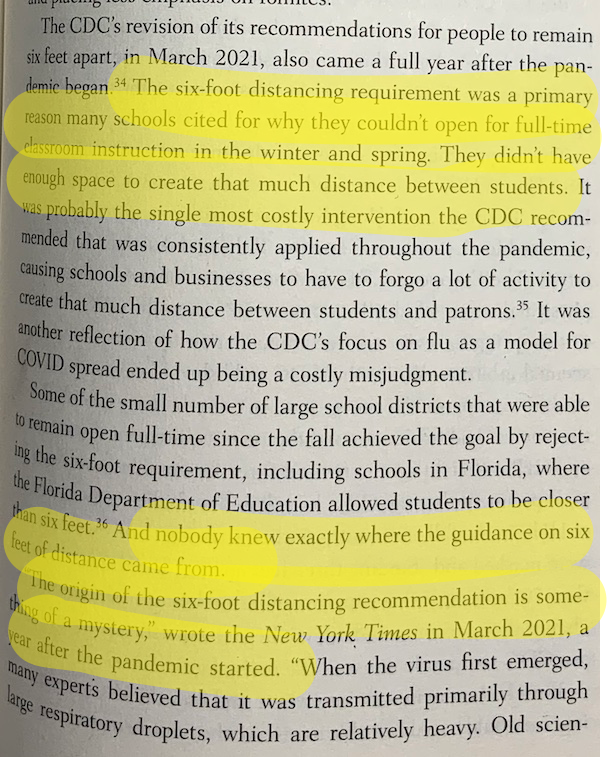 And nobody at CDC — not one single person — has ever been held accountable for any of this (none of which has anything to do with "political interference"). Trust the scientists my Sweet Aunt Fanny.
Pandemics and the National Security Community
Now we come to the lunatic part of the book, where Gottlieb proposes to place the public health mission of preventing pandemics under the aegis of the organs of state security. (This hair-raisingly cray cray part of the book, which is evidently the point of the exercise, goes more or less unmentioned in the press, from which I conclude that it's conventional wisdom, and that I should go long stupid, here as in so many places.)
Gottlieb begins low-key, suggesting that we need to prescribe a "clearer role" for our "national security infrastructure." Page 345: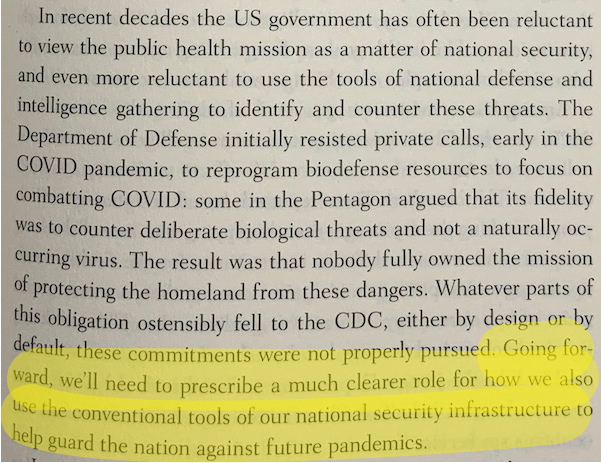 But he soon escalates. Page 349: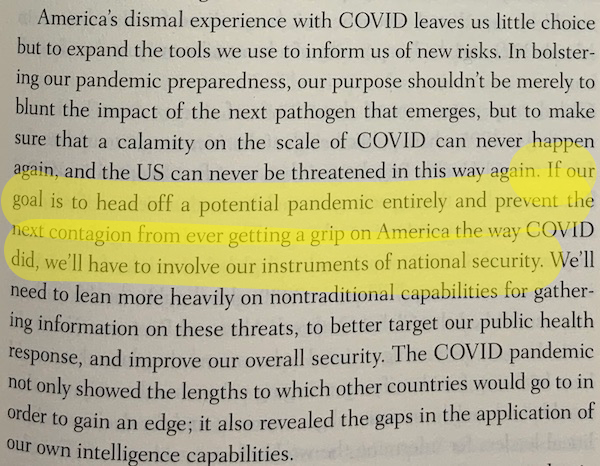 "We'll have to involve." This is mere question begging. Surely the intelligence agencies are not the only state organs capable of prediction and analysis? (To be fair, I can understand why one might wish to fall back on one of the few institutions in our sclerotic state that actually does function, rather like calling in the Army to handle nursing home staffing or container jams.)
One obvious reason run screaming from the room if anybody proposes Gottlieb's idea is this episode. From Scientific American, "How the CIA's Fake Vaccination Campaign Endangers Us All":
In its zeal to identify bin Laden or his family, the CIA used a sham hepatitis B vaccination project to collect DNA in the neighborhood where he was hiding. The effort apparently failed, but the violation of trust threatens to set back global public health efforts by decades.

It is hard enough to distribute, for example, polio vaccines to children in desperately poor, politically unstable regions that are rife with 10-year-old rumors that the medicine is a Western plot to sterilize girls—false assertions that have long since been repudiated by the Nigerian religious leaders who first promoted them. Now along come numerous credible reports of a vaccination campaign that is part of a CIA plot—one the U.S. has not denied.

The deadly consequences have already begun. Villagers along the Pakistan-Afghanistan border chased off legitimate vaccine workers, accusing them of being spies. Taliban commanders banned polio vaccinations in parts of Pakistan, specifically citing the bin Laden ruse as justification. Then, last December, nine vaccine workers were murdered in Pakistan, eventually prompting the United Nations to withdraw its vaccination teams. Two months later gunmen killed 10 polio workers in Nigeria—a sign that the violence against vaccinators may be spreading.

Such attacks could not come at a worse time. The global polio campaign has entered what should be its final stages. The number of cases has dropped from 350,000 in 1988 to 650 in 2011. The disease spreads naturally in only three countries—Afghanistan, Pakistan and Nigeria—down from more than 125 countries a quarter of a century ago. Disrupting or postponing vaccination efforts could fan a resurgence of polio around the world.

The distrust sowed by the sham campaign in Pakistan could conceivably postpone polio eradication for 20 years, leading to 100,000 more cases that might otherwise not have occurred, says Leslie F. Roberts of Columbia University's Mailman School of Public Health. "Forevermore, people would say this disease, this crippled child is because the U.S. was so crazy to get Osama bin Laden," he argues.
100,000 crippled children because CIA operatives hijacked a public health effort, good job. Gottlieb is, of course, aware of this episode. His idea is that if the public health people are "at the table" good things will happen. Perhaps the Norms Fairy will intervene, I don't know. Page 370: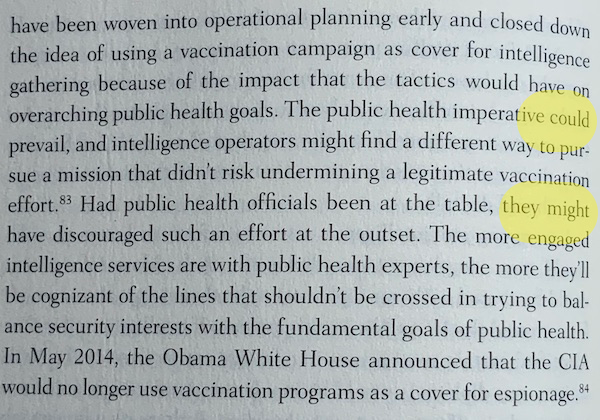 This is weak in the extreme; I have helpfully underlined the "could" and the "might." Can Gottlieb really believe that public health officials have the clout to overrule the spooks? (Not to mention that the spooks probably have files on them.) Nevertheless, here is the picture he paints. Pages 371 and 372: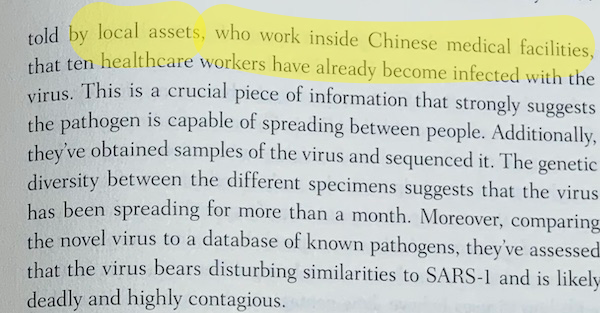 Dear Lord. Gottlieb wants to install CIA assets throughout China's medical system (and it will have to be "throughout," because we can't predict where the next outbreak will occur). Putting aside the ethics, the obvious objection is that our assets will get whacked; China's organs of counterintelligence have form. Further, such assets of ours as remain alive will be likely to have been "turned," and will be feeding us bad data. Next, we knew of the Covid genome by January 3, 2020, because a heroic Chinese scientist, Zhang Yongzhen, uploaded it to an open source database. If Zhang had known he might have been shot as a spy, would he have been likely to do that? And of course, as soon as one of these networks is penetrated and broken up, which it will be, it will be farewell to international cooperation with the United States on anything on pandemic-related, not just with China but with the entire world. And rightly. The entire scheme is so crazed and sociopathic I can only conclude that the talented Mr. Gottlieb will be put in charge of it.[1]
Conclusion
In summary, Uncontrolled Spread gives a lot of insight into the United States' institutional collapse in the face of the Covid pandemic. It's quite disconcerting to find that the policy recommendations, the agenda, one might say, are utterly demented. But that's life in these United States today!
NOTES
[1] Unless it's already happening and we don't know about it, of course. If so, Gottlieb is just the man to sell it.