Yves here. Even though the fate of the NHS is a UK story, Americans should pay close attention. Despite the mythology otherwise, about 60% of healthcare spending in the US is government-paid, between Medicare, Medicaid, the VA, and other programs. Yet Medicare has plenty of gaps, witness the need to buy Medigap insurance with traditional medicare, the many limits on Medicare drug plans, and the sneaky narrow networks in Medicare Advantage plans. And in many parts of the US (NYC, Connecticut, Dallas), many doctors don't take Medicare. And as those on the VA beat know, it's getting the Post Office treatment, being underfunded, so it can't deliver at its former service level, and then is deemed to be failing (as opposed to have been made to "fail") to justify privatization.
But the Government is engaging in a classic Big Lie: professing that nothing has changed as patients are being forced to seek private care (of course, assuming they can afford it).
By Caroline Molloy, editor of openDemocracy UK and OurNHS, a journalist and speaker. She has written extensively on politics, public services and the welfare state, and has a particular interest in public services and technology. Originally published at openDemocracy
One in five patients has been told by a doctor or another NHS professional that they would have to go private to get the treatment or test they need. That's just one of the shocking results from a survey of nearly 7,000 openDemocracy readers – backed up by separate polling commissioned by openDemocracy.
NHS staff echoed the patients' claims. Nine out of ten (87%) members of patient-facing staff said they had been simply unable to give a patient treatment or a procedure they would benefit from.
The survey, one of the largest of its kind of NHS patients and staff, provides a detailed – and worrying – breakdown of what happens to these patients.
The government has repeatedly reassured the public that the NHS will remain "free at the point of use". But such language will bring little comfort to the many who told openDemocracy that the NHS had been scaling back what it offers even before the pandemic.
Both patients and NHS staff also reported an increasing reliance on the private sector to fill in the gaps – whether funded by the taxpayer or the patient themselves – despite successive prime ministerial promises that the NHS is "not for sale".
Paying Privately
Forty per cent of patients who replied to our survey were told that the NHS simply can't offer them the treatment they need. Half of these patients – one in five of all patients – said an NHS worker then told them they would instead have to pay privately for the treatment they needed:
'There's an increasing sense that if you can't pay for private healthcare you are treated worse than before.'

'My GP was always pushing me for private care and never took steps to refer me to the specialist.'
NHS staff themselves told us a similar story.
One GP said: "I now routinely ask people if they have private insurance before referring them as I know the system is so overwhelmed."
Suggesting patients pay "alleviates patient and carer/family anxiety regarding delays for diagnostic tests," added a nurse.
Many respondents noticed NHS staff were "apologetic" and "saddened" when they had to suggest people went private. NHS staff "were always honest and showed they didn't like the situation any more than I did", said one patient. Their doctor's "hands were tied and they would have helped if they could", added another. Their GP told them it was "due to funding issues", said yet another.
Another told us: "The doctor apologised for not being able to offer me the operation. My condition is not considered bad enough. I am prescribed Tramadol for pain. I have a poor quality of life, so am not sure how bad I would have to be before an operation was offered. I am a widow, which means my quality of life is even poorer, as I can go days without a visitor, and rely on the internet for shopping and have to pay a gardener and cleaner. My savings are rapidly disappearing."
NHS guidelines have become increasingly restrictive in recent years, with a large range of procedures, from ear syringing to hip operations, either no longer paid for in some areas, or funded only in exceptional circumstances or conditions of extreme pain.
What Else Are Patients Told To Do?
Other advice given to those who had been refused NHS treatment included recommendations of 'self-care' (one in five was given this advice), being directed to a cheaper option such as a voluntary service (one in ten), and being directed to an online service (one in 20). Some 84-90% of patients reported being dissatisfied with these options, with the highest dissatisfaction (90%) among those who were directed to an online service.
"I had to attend a pointless group education session on women's urinary issues. I live in a small town, and it's an embarrassing topic – I wondered if they did it to lower referrals due to embarrassment," said one patient. "There was nothing in the education session that couldn't have been provided in a leaflet."
And there were real-world consequences, for many – 38% of those who'd been refused the ideal treatment or a test and been given this range of other options – said their health had worsened as a result, a similar number (38%) had suffered anxiety. Twelve per cent said a diagnosis had been missed.
Staff worries
Of the 500-odd NHS staff who responded to our survey, most (68%) said the problem had got worse in the past decade. Only 12% blamed the pandemic.
Nearly all frontline NHS staff – 98% – said they had felt worried that a patient's health was going to deteriorate due to the length of time they would have to wait for an NHS treatment, with around three-quarters saying the wait times had got worse over the past ten years, and around a sixth (14%) saying it had got worse mostly since the pandemic.
Around 48% of current NHS staff were thinking about leaving the service, with only 37% saying they weren't.
Public Money, Private Sector
Nearly two in five patients (38%) said that an NHS worker had told them they'd get seen more quickly if they accepted an NHS referral to a private hospital or clinic. Staff confirmed this – nearly three in five frontline NHS workers told us they'd had to refer patients to an NHS-funded private provider. Of those who did so, the majority (70%) had misgivings about this approach, but many said they felt they had little choice.
'Patient [was] seen faster. NHS clinic [had] very long wait so we were told to refer.'
Nurse

'In my field of ophthalmology (eye care) the only way to get the elderly population the treatment they need is to resort to NHS-funded private care. It's still the thin end of the wedge!'
Ophthalmologist

'I felt torn as every use of private provider means decline of the NHS funds.'
Midwife

'Made me feel complicit in privatisation by stealth. By sending them patients I was driving their profit, eroding the platform I stand on.'
Hospital doctor
Around half of patients and nearly three-quarters (73%) of staff who'd experienced this issue said it had got worse over the past decade, with far smaller proportions saying it was mainly a COVID issue or had always been an issue. Not a single member of staff said it had got better over the past decade. Four in five (82%) of NHS staff said they'd seen evidence of privatisation.
And both patients and staff explained how the private firms doing NHS work wanted only the easy cases they could "cherry-pick" NHS cash for, and make a profit from – with one patient commenting their private referral was "usually a waste of time as I end up being referred back to the NHS".
The government has recently set aside another £10bn for the private sector to deal with the backlog of cases that built up during COVID.
Getting In – and Being Pushed Out
While most people were positive about the physical healthcare, if and when they actually received it, difficulties in even getting through the door were highlighted as a concern for many.
One patient told us that getting an appointment at his local GP was "harder than joining the Masons".
Mental health services were highlighted as a particular concern, with another patient saying: "Local primary mental health triage sends you away with a list of phone numbers for other services. Took eight months, two attempts and six assessments just to see the doctor."
Once through the door of NHS services, there's also the problem of being allowed to stay there long enough. Two out of five (41%) patients said that they or someone they cared for had been discharged from hospital or another NHS service too early, though some were better able to navigate the system than others.
One told us: "Mother yo-yo'd in and out of hospital with broken leg and infections. Repeatedly released while still ill."
Another said, "I was going to be discharged from hospital far too early. but my wife who was a senior social worker intervened, and I was kept for another seven days until care provision at home was organised."
Again, NHS workers agreed. Fifty-six per cent of patient-facing staff told openDemocracy they'd had to discharge a patient too early.
Currently, hospitals and local authorities are required to assess a patient's care needs before they are discharged from hospital – a requirement many cash-strapped organisations have struggled to do promptly. This requirement was suspended during COVID and the Health and Care Bill currently before Parliament scraps it altogether.
Not a Pandemic Problem
Most concerns were identified as long predating the pandemic. Over half (56%) of patients who were refused treatment on the NHS, and a similar proportion of those who'd been discharged to early (55%) said the problem had got worse over the past decade, compared with around a quarter who felt these issues had been caused mostly by COVID. Only 1% said things had got better over the past decade.
Perhaps unsurprisingly, the single most common problem reported was having to use a telephone or online service to access the NHS, which most patients affected identified as something that had happened primarily since the pandemic (86%). But of more concern is that 64% of all respondents said they'd had to use remote access to use the NHS when they didn't feel it was suitable for their needs.
The government has recently responded to a backlash against online and telephone GP appointments by pledging support for more face-to-face appointments. But the move has left many doctors infuriated, coming as it does after years of the government heavily promoting online and remotely delivered health services in both primary and hospital care.
"My wife and I are over 80 and not comfortable with triage by unknown person over [the] phone, etc," said one patient. "We'd like to see our GP to assess our health issues which, though minor, may worsen over time if not treated. Too often we rely on brief and inconclusive chats with pharmacist."
Patient Anger
However, respondents to the openDemocracy survey were deeply unhappy about the prospect of more private involvement in healthcare, with the most common responses being "angry", "disgusted", "worried", horrified", "appalled", or "concerned".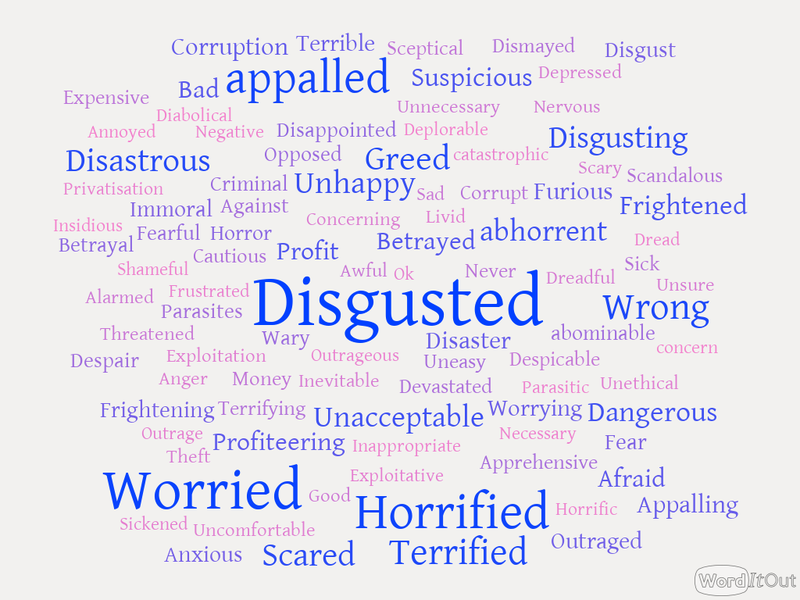 Many highlighted that they felt the attacks on the NHS were deliberate and political, and some pointed to funding issues:
"There is no discussion anymore. Was told [the NHS] won't pay for lots of things any more. Because I can largely self-manage and have been successful, I am on the virtual 'to be ignored list', it seems."
The NHS was hugely important to our readers – 95% gave the NHS five out of five for importance – the average score being 4.92 out of five.
But some expressed despair, saying they had "lost trust in the NHS" and felt "abandoned".
"Since COVID, it no longer feels there is a health service for all," said one.
"I feel there is no longer any adequate health care in this country. I must take care of myself," added another.
---
Note: The figures in our survey refer primarily to the English NHS, but early indications suggest a significant difference in the experience of users in Scotland, Wales and Northern Ireland, which we will report on further.