Rare 'Cotton Candy' Blue Lobster Is a 1-in-100 Million Catch Smithsonian
Rwandan gorillas a rare conservation success CBS (J-LS)
Dog-Sized Lizards Pose Problem in FL Weather Channel (resilc). First feral hogs….
More Fun Than Fun: Beetles Lead Complex Social Lives in Dead Trees The Wire (J-LS)
Wolves make roadways safer, generating large economic returns to predator conservation PNAS
In Bangladesh, the shrimp industry is driving a freshwater crisis Scroll (J-LS)
Our Planet: Our Business Our Planet (Dr. Kevin)
NASA's Extremely Delayed Webb Telescope Takes Another Blow, Literally This Time Gizmodo (Kevin W)
NASA will launch a spacecraft into an asteroid to knock it off course tonight TechSpot
France Is Freeing Fruit and Veg from Its Plastic Prison RTBC (Chuck L)
How the World's Foremost Maze-Maker Leads People Astray New Yorker (furzy)
#COVID-19
Science/Medicine
How much does vitamin D protect us from diseases like COVID? Popular Science (resilc)

Reduced Incidence of Long-COVID Symptoms Related to Administration of COVID-19 Vaccines Both Before COVID-19 Diagnosis and Up to 12 Weeks After MedRxIv (Basil Pesto)

Covaxin 50% Effective Against Symptomatic COVID: Real-World Study The Wire (J-LS). The study: Effectiveness of an inactivated virus-based SARS-CoV-2 vaccine, BBV152, in India: a test-negative, case-control study The Lancet
UK/Europe
Covid vaccination and death rate in Europe – in one devastating chart pic.twitter.com/rPmIYKNKIo

— Ryan Heath (@PoliticoRyan) November 23, 2021

British messaging on Covid rates can be mind bending. A BBC interviewee today said 'we're ahead of the EU in our Delta wave', perhaps suggesting it's like a race and we're in the lead. What he meant was that we've just let more people die since the summer. Hardly an accolade.

— Mike Buckley (@mdbuckley) November 23, 2021
US
'People Lined Up Out The Doors And They're Sick': COVID Patient Bottleneck Has Many Minnesotans Desperate WCCO (resilc)

Even in Highly Vaccinated New England, Hospitals Are Suffering Bloomberg

Seven doctors contract Covid after attending Florida anti-vaccine summit Guardian (Dr. Kevin)

Morgan Stanley boss to young bankers: You're 'nuts' if you're not in the office New York Post (J-LS). We predicted that the work from home trend would be subject to significant reversion once Covid was over (which clearly has not yet happened): anyone who spends time in the office will have an assignments/career advantage over the stay at home types. Out of sight is out of mind, which is not good for advancement.
Finance/Economy
The West's Wasted Crisis Yanis Varoufakis, Project Syndicate (David L)

As Pandemic Evictions Rise, Spaniards Declare 'War' on Wall Street Landlords New York Times (resilc)
COP26/Climate Change
Feeding the World in Times of Climate Change: "We Can Learn a Lot from Indigenous Peoples" Der Spiegel (J-LS)

Dancing on the edge of climate disaster Martin Wolf, Financial Times (David L)
China?
China backs regional nuclear weapon-free zone in move to 'contain Aukus' South China Morning Post (J-LS)

Who's afraid of China's nukes? Asia Times (Kevin W)

Italy's Draghi vetoes third Chinese takeover this year Reuters
New Cold War
Syraqistan
Yemen war deaths will reach 377,000 by end of the year: UN Al Jazeera

I Live in Arkansas. Why is My State Telling Me Not to Boycott Israel? New York Times

Eight reasons why the U.S. should ditch Turkey as a military partner Responsible Statecraft (resilc)
Big Brother is Watching You Watch
Apple sues Israeli spyware firm NSO Group for surveillance of users Guardian (resilc)
1/6
Jan. 6 panel subpoenas Proud Boys, Oath Keepers and leaders The Hill

Jan. 6 Organizers Used Anonymous 'Burner Phones' to Communicate with White House and Trump Family, Sources Say Rolling Stone (David L)
Trump
Somehow the Guy Who Tried to Steal Arizona for Trump Is Now Broke Vice
Biden
Florida Looks To Directly Lower Gasoline Prices With Tax Relief OilPrice. OMG, will this be a Presidential campaign talking point…..
Probe finds 'overwhelming evidence' of misconduct by Cuomo Associated Press (bob)
Black Injustice Tipping Point
Prosecution argues Ahmaud Arbery was defenseless when he was 'attacked and killed' Daily Mail (resilc). See updated headline. Says the defense is desperate.

After spending 43 years in prison for a triple murder he says he didn't commit, a Missouri man is finally free CNN

US jury awards $25m in damages over Unite the Right rally BBC
Police State Watch
Cops Are Needlessly Scaring People With Fentanyl-Laced Weed Stories Vice (resilc)
JPMorgan CEO Dimon jokes his bank will outlast China's Communist Party Reuters
Jury holds pharmacies responsible for role in opioid crisis Associated Press (BC)
The Bezzle
Plans for a 'Bitcoin City' Powered by a Volcano Have Arrived in Latin America Architectural Digest (resilc). This is El Salvador's gimmick to surpass Panama as Latin America's tax haven.
Class Warfare
Living Wages, Rarity for U.S. Fast-Food Workers, Served Up in Denmark New York Times (Kevin W)

Dollar Tree made $1,230,000,000 in profits this year, gave its CEO $10,767,883 and pays workers as little as $8.32 an hour. Over 7,400 Dollar Tree employees are forced to rely on food stamps and Medicaid subsidized by U.S. taxpayers. Cite the damn corporate greed. https://t.co/6cA6rMtY51

— Warren Gunnels (@GunnelsWarren) November 24, 2021

Flash Mob Robbers Ransack Louis Vuitton and Nordstrom Stores in San Francisco and Chicago Robb Report (furzy)

"Capitalism's over": The man who made millions by betting the economy would never recover New Statesman (Richard D)

Sparrow Health workers in Lansing, Michigan, vote overwhelmingly to authorize strike WSWS
Antidote du jour. Bob H: "Cat and wife, 2AM":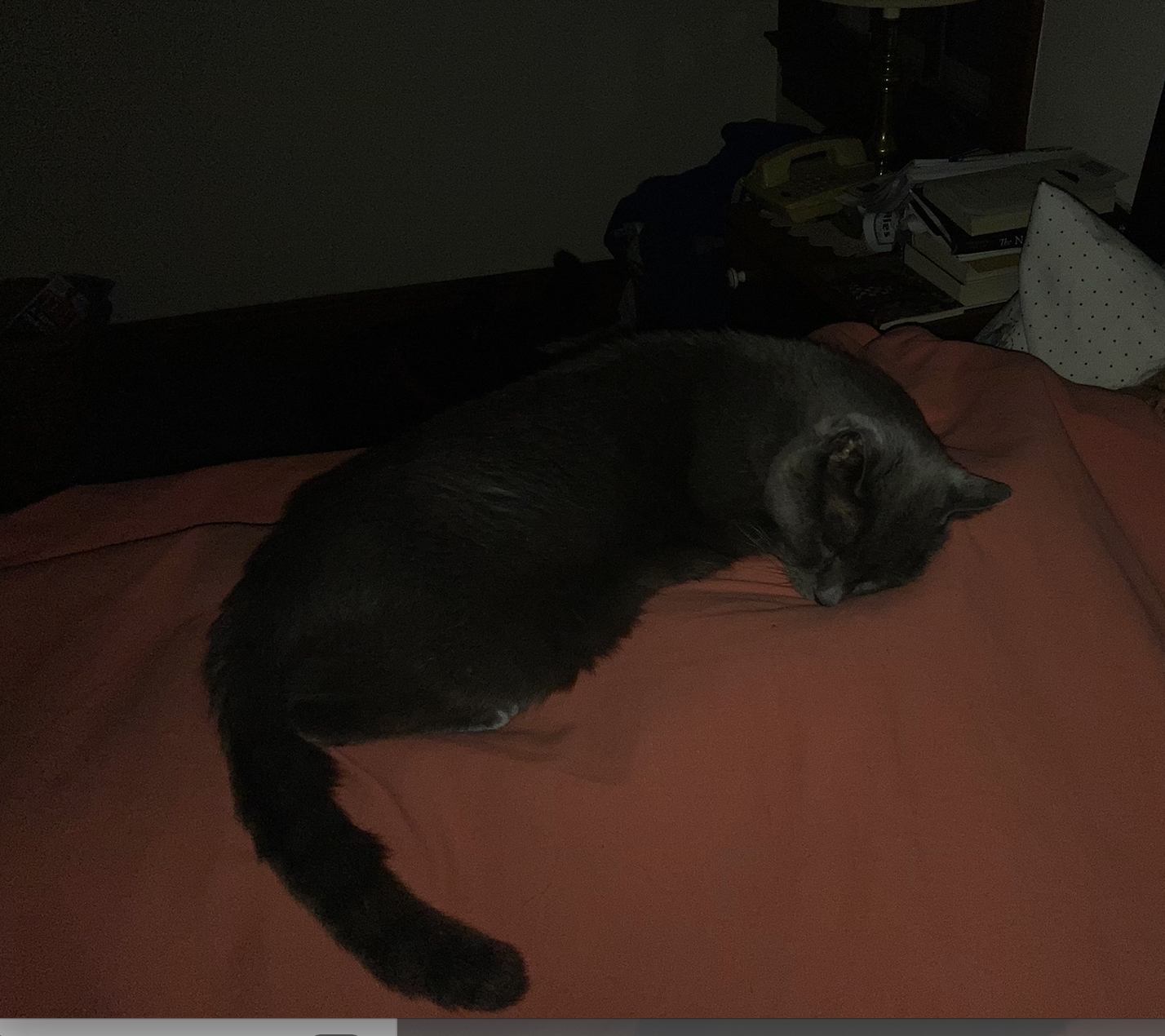 And a bonus (guurst):
Large white yak in Tibet pic.twitter.com/qxk9gCUbnq

— Edward Elderman (@edwereddie) November 14, 2021
See yesterday's Links and Antidote du Jour here.