Oregon-born gray wolf makes it almost to LA before death strikes Oregonlive (resilc) :-(
Stephen Sondheim, Titan of the American Musical, Is Dead at 91 New York Times
Maj. Ian Fishback, Who Exposed Abuse of Detainees, Dies at 42 New York Times (resilc)
How animal uses of fire help to illuminate human pyrocognition Aeon (Anthony L)
Canada issues weather 'red alert' for British Columbia CNN
What I learned eating at 8,000 Chinese restaurants BBC (David L)
J.R.R. Tolkien Denied the Beatles Making a 'Lord of the Rings' Movie Insider (furzy)
#COVID-19
Time for a round of applause for GM. Lambert found this tidbit:
Video interview: Eric Topol on the Omicron variant Noahpinion
Specifically, at 3:48, Topol having just depicted Delta as unanticpated, says of Omicron that it was even more unanticipated because it is chock full of mutations.
Having heard years of "Whocoulddanode?" after the global financial crisis, it's galling to hear that excuse for elite failure trotted out again.
As we quoted GM on November 19, based on an e-mail of November 13 that codified some things he'd been saying in bits and pieces over the preceding weeks:
The most likely future major developments of the pandemic fall into one of these three scenarios:

1. We get a second-generation Delta variant that has a major advantage over all other Delta lineages. This is the most likely one simply because right now 98% of the virus circulating around the world is Delta and Delta was the most fit variant to begin with.

2. We get a second-generation variant from one of the lineages that have still survived the Delta sweep that is capable of competing against Delta. Eyes are on Lambda/C.37 and Mu/B.1.621 and possibly P.1, because those are the only first-generation variants that still circulate in significant numbers in South America

3. Something new appears out of nowhere that is fitter than the rest. This will most likely come from Africa– there is no surveillance in the depths of the continent and there is no knowing what is brewing there.
Science/Medicine

New 'Omicron' Variant Stokes Concern but Vaccines May Still Work New York Times (Kevin W). The future's so bright I'm gonna have to wear shades….

Versus:

Here's how mutations in #SARSCoV2 Nu variant (B.1.1.529) will affect polyclonal and monoclonal antibodies targeting RBD. These assessments based on deep-mutational scanning experiments; underlying data can be explored interactively at https://t.co/uP3IKvnDw0 (1/n)

— Bloom Lab (@jbloom_lab) November 25, 2021

What the COVID Omicron Variant Really Means, and What Experts Are Worried About Haaretz (David L)

Classification of Omicron (B.1.1.529): SARS-CoV-2 Variant of Concern WHO (Kevin C)

FDA: Merck COVID pill effective, experts will review safety Associated Press (fk). By some definition of effective, see below. And:

Additionally, the FDA flagged a concern that Merck's drug led to small changes in the coronavirus' signature spike protein, which it uses to penetrate human cells. Theoretically, FDA cautioned, those changes could lead to dangerous new variants.

Merck's Covid pill shows lower efficacy in updated data CNBC. GM: "Now we wait for the Pfizermectin data to be updated…". Moi: 50% x 70% is 35% correct? And you see that level of placebo response for some SSRIs. From the story:

Merck said on Friday updated data from the study of its experimental COVID-19 pill showed lower efficacy in reducing the risk of hospitalization and deaths than an earlier interim analysis, cutting them by 30% in the study.

The drugmaker released interim data in October showing a roughly 50% reduction in hospitalizations and deaths in 775 patients. The updated rate on Friday is based on data from over 1,400 patients.

Failure to share Covid vaccines 'coming back to haunt us', says Gordon Brown Guardian (resilc). Since we are determined to learn nothing, don't expect any behavior change.

Cuba's bet on home-grown COVID vaccines is paying off Nature

Not keen about headlines with "frightening" in them. Nevertheless:
A frightening new potential explanation for vaccine-driven myocarditis and other problems Alex Berenson

Asia

Oh no, 20 hospitals closed in Shanghai for Covid inspection. Hope the government can stop its spread in Shanghai https://t.co/8KpmnO8ayc

— Victor Shih (@vshih2) November 27, 2021

Coronavirus: India to resume international flights from December 15, curbs for 'at risk' countries Scroll (J-LS). Want to place bets on how long this lasts?

UK/Europe

I spoke to the lab. They re-processed all their s-dropouts from last 7 days. Found 2 suspect cases – one was Omicron and one was not. I'm sure UK labs are doing same thing – would be surprised if we don't find samples retrospectively!

— Oliver Barnes (@mroliverbarnes) November 26, 2021

61 travellers from South Africa in Netherlands positive for COVID-19 -authorities Reuters. Lambert: "61 of around 600, two flights. Story doesn't say Omicron but one assumes."

NYT reporter on one of the flights. Note she say 85 positive Covid tests across the two flights:

And if you would like further evidence of why there is no hope for humans, now we know that stat and still probably 30% of ppl are wearing no mask or only over mouth. Dutch authorities not enforcing. We're just all in this unventilated room at hour 12, breathing on each other.

— Stephanie Nolen (@snolen) November 27, 2021

Genomic surveillance of SARS-CoV-2 in Belgium Report of the National Reference Laboratory. The Belgian case is on page 8. Interesting technical discussion and some charts before that.

Pandemic skyrockets in Europe; COVID is the No. 1 cause of death ars technica (resilc)

US

Alex M runs a testing lab:

Watch this space https://t.co/njlemRFB0J

— Prasad Jallepalli, MD, PhD (@jallepap) November 26, 2021

Watch this space https://t.co/njlemRFB0J

— Prasad Jallepalli, MD, PhD (@jallepap) November 26, 2021

CDC Statement on B.1.1.529 (Omicron variant) CDC. Lambert: "'No cases of this variant have been identified in the U.S. to date.'So I guess that means it's here…"

Biden says he delayed Africa travel ban over Omicron variant on advice of advisers led by Fauci New York Post (Kevin W). Earlier reports suggests Biden wanted to think about it more, as in not decide till Monday, and then gave in to Fauci's Monday recommendation.

US to restrict travel from eight African nations over new COVID-19 concerns The Hill

Fauci as Darth Vader of the Covid wars Asia Times (resilc)

'It's Coming': NY Declares State of Emergency Ahead of Potential Omicron Spike NBC New York. No indication of any concrete action.

America's Pandemic Star Loses Some Luster Atlantic

American manufacturers race to relieve a pandemic-triggered ammo shortage Economist (resilc)

Finance/Economy

The Week That Covid Sucker Punched the World Bloomberg

Stocks slide most in a year on concern over new virus variant Financial Times
COP26/Climate Change
China?
'Data tax' could be next blow to Chinese tech giants Asia Times (Kevin W)

Solomon Islands incident sends out a salient message South China Morning Post (furzy)

To protect one retired leader, China's bungling censors turned the Peng Shuai mess into a major incident South China Morning Post (furzy)
Brexit
Break : @MichelBarnier saying it's time to rescind the Touquet agreement and "let people who wish to claim asylum in the UK go there and do so"

He also says it's clear the UK isn't respecting the Brexit deal "which I know very well" on fishing or N Ireland@BFMTV @AureCasse pic.twitter.com/I4C0hA7J6z

— Alex Taylor (@AlexTaylorNews) November 26, 2021

WATCH French Fishing Boats Attempting to Block Eurotunnel, Calais Port Amid Row With UK Sputnik (Kevin W)
New Cold War
Syraqistan
Jordanians protest against water-for-energy deal with Israel Reuters (resilc)
Imperial Collapse Watch
US Refuses to Engage With Marshall Islands on Damage Caused by Nuclear Weapons Tests Antiwar.com. Kevin W: "The interesting bit is the expiry of the Compact of Free Association in 2023: https://en.wikipedia.org/wiki/Compact_of_Free_Association"
Biden
Manchin calls on Biden to restore Keystone XL pipeline The Hill (resilc). Not shy about pressing his advantage.

Biden: Fact-checking claims about US economic progress BBC

GOP holds on Biden nominees set back gains for women in top positions The Hill
Antitrust Tech Bills Gain Bipartisan Momentum in Senate Wall Street Journal
Black Injustice Tipping Point
Did Armed Black Radicals Fail? Plough (Dori M)
Supply Chain
Supply-Chain Snarls Leave Southern California Swamped in Empty Shipping Containers Wall Street Journal

Canada releases 50 million pounds from maple syrup stockpile New York Post (J-LS)
CalPERS
Borenstein: CalPERS gambles with taxpayers' money once again Mercury News (Kevin W)
The Bezzle
A plot of digital land was just sold in the metaverse for $2.43 million — more than most homes in NYC and San Francisco cost Business Insider (Kevin W)

Mr Goxx, the cryptocurrency-trading hamster, dies BBC (resilc)

Zip's announcement of $653m loss in August 'shocked many', as sector lost $1bn overall in 2021 Guardian (Basil Pesto)

2021 Tesla Model Y review: Nearly great, critically flawed CNET (dk). Subhead:
"The Tesla Model Y seems like the complete package, but its active safety suite is so fundamentally flawed that the whole dish is completely ruined." We've said more than once that Tesla is running on quality brand fumes.
Holiday shopping 2021: More Americans won't be buying holiday gifts this year CNBC (J-LS)
Class Warfare
Robots Won't Close the Warehouse Worker Gap Anytime Soon Wired (resilc)

The Causal Effect of Heat on Violence: Social Implications of Unmitigated Heat Among the Incarcerated NBER (resilc)
Antidote du jour. Rupert A: "Cat owns public footpath, spotted in Wellington, Aotearoa."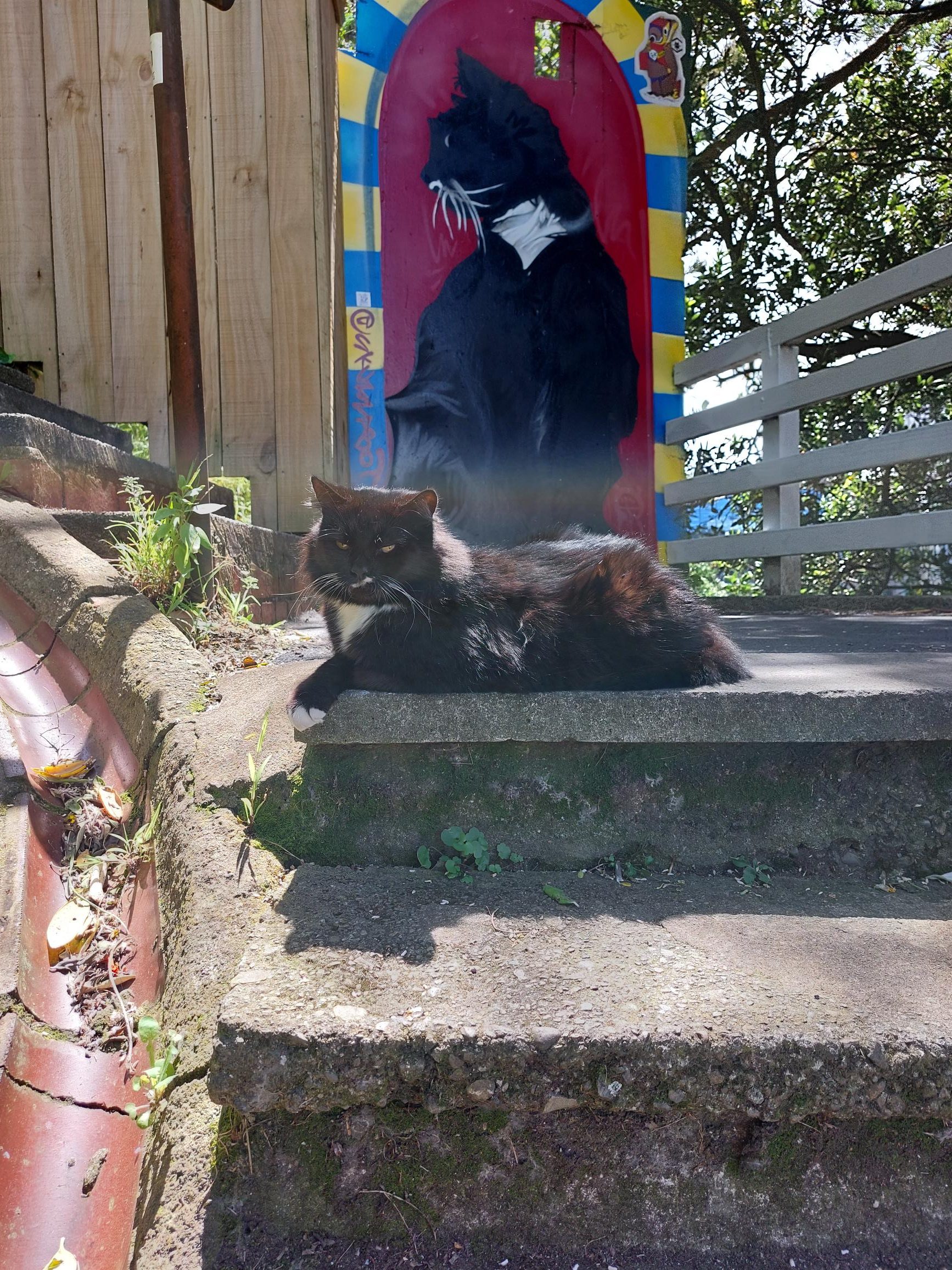 And a bonus (guurst):
Get in here ?pic.twitter.com/tR73PwTSEJ

— The World Of Funny (@TheWorldOfFunny) November 22, 2021
See yesterday's Links and Antidote du Jour here.