By Lambert Strether of Corrente.
Patient readers, I have streamlined Water Cooler somewhat. The main change is that the Politics section is now first. I anticipate that 2022-2024 will be quite lively, and with the previous structure, I was stretched too thin, and not able to devote enough time to that topic. –lambert NOTE I just realized that, in the throes of reorganization, I forgot to include the plant. One moment! UPDATE I needed to do a pantry clearout after the holiday break, so I have broken my rule and added some UPDATEs.
Bird Song of the Day
This is the closest I can come to the owl of Minerva. The media notes say: "This recording after playback of his own sounds." Very meta — thanks, Zuck, for polluting a perfectly useful word — but I believe readers have said this is something you should never do.
* * *
Politics
"But what is government itself, but the greatest of all reflections on human nature?" –James Madison, Federalist 51
"They had learned nothing, and forgotten nothing." –Charles Maurice de Talleyrand-Périgord
"When the going gets weird, the weird turn pro." –Hunter Thompson
Politics
"But what is government itself, but the greatest of all reflections on human nature?" –James Madison, Federalist 51
"They had learned nothing, and forgotten nothing." –Charles Maurice de Talleyrand-Périgord
"When the going gets weird, the weird turn pro." –Hunter Thompson
Capitol Seizure
UPDATE The views of a Clintonite bag-man:

My prediction for 2022: Before the midterm election, we will have a serious discussion about whether individual Republican House Members are disqualified by Section 3 of the 14th Amendment from serving in Congress.

We may even see litigation. pic.twitter.com/pF7P2fw0kn

— Marc E. Elias (@marceelias) December 21, 2021

"It could have been so much worse: America got lucky on Jan 6" [The Hat Tip]. • The case for the prosecution. (Has anybody noticed, in that famous picture of a noose, on display in this article, that the noose isn't actually functional?)
Biden Administration
"How Biden could have prepped for Omicron" [Politico]. Many quotes from epidemiologists. For example: "The biggest mistake the Biden administration made was to push a vaccines-only approach, rather than a 'vaccines-plus,' including rapid tests, improving indoor air quality, and distributing high-filtration masks ubiquitously, coupled with public indoor mask mandates for high-risk shared spaces. Vaccines-only suffers from a key weakness: variants. And we have now seen this play out with Omicron. We have wildfire spread as our current vaccines do not provide sterilizing immunity — meaning, people can and do still transmit the virus effectively. Rapid tests can stop public super-spreading by keeping very infectious people home. Better indoor air quality and ventilation/air filtration measures can pull infectious aerosols out of the air regardless of what variant they are carrying. And high-filtration masks can stop people who are contagious from exhaling as much virus in the air and prevent uninfected people from inhaling that virus-laden aerosol, regardless of variant." • As we've been saying, or rather screaming, for some time. (To be fair to Biden, nobody in a position of power made these recommendations in January 2021; the Democrat base was and is firmly, indeed fervently, behind Biden's Vax-only policy).

"EXTENDED CUT: How We Win the Battle with COVID (with Ed Yong)" (podcast) [In the Bubble with Andy Slavitt]. I don't have a lot of use for insider Slavitt (see NC here, here, and here), but mildmannered Ed Yong has some tough things to say:

"[There's] this tendency to go for, like, rugged, toxic individualism, over the kind of collective actions we need to actually defeat an infectious disease. And we saw this from some of the highest echelons of power in this country."

"Like Trump, who is America's id in human form, is gone, but despite that many of his successors are still hewing to similar kinds of rhetoric."

"When the CDC made its controversial and I feel ill-advised decision to change its initial guidance for masking indoors for fully vaccinated people, the rhetoric coming from people like Joe Biden and Rochelle Walensky was very much about this individual responsibility thing."

"You know, 'Your health is in your hands, the choice is yours to vaccinate or not.' Obviously, this is an infectious disease. Your health is not fully in your hands."

Breathing is a social relation… And it will be interesting to see if and how Democrats are held accountable for managing it in 2022 (and 2024, grid willing).

Well, that's sorted:

One cool thing about the entire covid experience is that I am convinced there will never be another attempt by state institutions in the US to contain a contagious disease. It'll never happen again.

— ?Dan Credentials? (@CharlemagnumPI) October 11, 2021

* * *

""The Senate Must Evolve": Chuck Schumer Seizes on January 6 to Try to Break Voting-Rights Stalemate" [Vanity Fair]. "In private, Manchin has left the door open to at least some kind of filibuster reform. "Right now, 60 is where I planted my flag," he told donors in June, according to leaked remarks published by the Intercept. "But as long as they know that I'm going to protect this filibuster, we're looking at good solutions." But in public comments, he has been more absolute. "I will not vote to weaken or eliminate the filibuster," he wrote in an op-ed last summer. Voting rights legislation will depend on which of those two Joe Manchins is the real one: Is he the hardliner he has presented himself as, or is that some kind of negotiating tactic? It remains to be seen, but Democrats are preparing to put some fleshed-out proposals in front of him…. 'What happened on January 6th is directly linked to the one-sided, partisan actions being taken by GOP-led state legislatures across the country,' Schumer wrote Monday. 'We can and must take strong action to stop this anti-democratic march.'" • If true, a little late in the day.

UPDATE "Why Democrats haven't given up on Joe Manchin and voting rights" [CNN]. "A third option, which enjoys the most support among Democratic senators, would make filibusters harder to mount and easier to end. Instead of initiating a filibuster by simple declaration, and forcing proponents of action to overcome it, it would require filibustering senators to talk continuously, as popularized by Jimmy Stewart in the 1939 movie 'Mr. Smith Goes to Washington.' It would guarantee that the minority could offer a specified number of amendments to the legislation at issue. It would let every senator speak on the floor twice. But it would ultimately allow the majority to end debate and force final action with 51 votes, not 60." • The old-fashioned filibusters were great spectacle, for good or ill.

"Scoop: Manchin returns to Build Back Better negotiations with demands" [Axios]. "Sen. Joe Manchin (D-W.Va.) is open to reengaging on the climate and child care provisions in President Biden's Build Back Better agenda if the White House removes the enhanced child tax credit from the $1.75 trillion package — or dramatically lowers the income caps for eligible families, people familiar with the matter tell Axios."

"Biden's court picks face fierce GOP opposition" [The Hill]. Fierce, but ineffectual: "By the end of his tenure, Trump had gotten 234 judges confirmed, second only to the Carter administration, after the Senate GOP majority made it a top priority. But Biden surpassed Trump's numbers in his first year. The 40 judicial confirmations under Biden are the most since former President Reagan's first term. Democrats and Biden, eager to make their own mark, have placed an emphasis on diversifying the bench."
Democrats en Deshabille
I have moved my standing remarks on the Democrat Party ("the Democrat Party is a rotting corpse that can't bury itself") to a separate, back-dated post, to which I will periodically add material, summarizing the addition here in a "live" Water Cooler. (Hopefully, some Bourdieu.) It turns out that defining the Democrat Party is, in fact, a hard problem. I do think the paragraph that follows is on point all the way back to 2016, if not before:

The Democrat Party is the political expression of the class power of PMC, their base (lucidly explained by Thomas Frank in Listen, Liberal!). ; if the Democrat Party did not exist, the PMC would have to invent it. . ("PMC" modulo "class expatriates," of course.) Second, all the working parts of the Party reinforce each other. Leave aside characterizing the relationships between elements of the Party (ka-ching, but not entirely) those elements comprise a network — a Flex Net? An iron octagon? — of funders, vendors, apparatchiks, electeds, NGOs, and miscellaneous mercenaries, with assets in the press and the intelligence community.

Note, of course, that the class power of the PMC both expresses and is limited by other classes; oligarchs and American gentry (see 'industrial model' of Ferguson, Jorgensen, and Jie) and the working class spring to mind. Suck up, kick down.

* * *

"Left and Center-Left Both Claim Stacey Abrams. Who's Right?" [New York Times]. • The reporter emptied their Rolodex (in which Third Way still appears). When Abrams lost her race for governor, she ran to Washington and got herself hired by Neera Tanden, whose name does not appear in the article. That's all you need to know.

UPDATE Democrat strategists who hate the working class:
2022
"2022 House Race Ratings" [Cook Political Report]. • Handy chart:

Commentary:

National update: on the current trajectory, there will actually be a few *more* Biden-won congressional districts after redistricting than there are now (224/435).

— Dave Wasserman (@Redistrict) December 22, 2021

Democrat NGOs were always hopped up on this, along with some of the Democrat press. Democrat electeds never were. I don't know what accounts for the discrepancy (except the constant NGO quest for funding).

"Cook Report projects GOP as clear favorite to win House majority" [The Hill]. "Republicans need to net just five seats in 2022 to recapture control of the lower chamber, a goal that appears well within reach, especially given the fact that the party of a new president tends to lose ground in Congress in midterm election years."

"What Redistricting Looks Like In Every State" [FiveThirtyEight]. "At this point, redistricting has created six more Democratic-leaning seats nationally and five fewer highly competitive seats (the number of Republican-leaning seats has held steady). However, because many of those newly blue seats are already held by Democrats, it's actually Republicans who have gained a handful of House seats through the redistricting process so far. Republicans have also converted light-red districts into safer seats in states like Indiana, Oklahoma and Utah. Overall, redistricting hasn't drastically changed the House landscape so far — but that's good news for Republicans, since the old maps already tilted the House playing field in their favor."

"Democrats Are Doing Weirdly Well in Redistricting" [Eric Levitz, New York Magazine]. "The new House map is more than half finished. And in many states where maps haven't been finalized, the broad outlines are already visible. Taken together, the emerging picture is far more favorable for Democrats than most anticipated. As of this writing, it looks like the new House map will be much less biased in the GOP's favor than the old one. And according to at least one analyst, there is actually an outside chance that the final map will be tilted, ever so slightly, in the Democrats' favor…. Now, just because the emerging map is an improvement on the old one doesn't mean that Republicans won't still boast a structural advantage. After all, the existing House map was drawn in the aftermath of the 2010 "Tea Party" wave. In 2011, Republicans had sole discretion over the borders of 219 House districts, while Democrats dictated those of just 44. An unanticipated leftward drift among suburban voters mitigated the severity of the 2011 map's biases by decade's end. But it remains a very pro-Republican baseline. In all probability, the new House map will still favor the GOP. Nevertheless, the new map is going to favor Republicans by less than the old one, which wasn't a given."
Republican Funhouse
UPDATE If we don't center this dude's lived experience, we're guilty of ableism. Nonetheless:

Dude has the upper body strength to fire one-handed but he doesn't have the brains to lock his wheelchair so the recoil doesn't push him all over the place. https://t.co/jb4CwNucCo

— Matthew Chapman (@fawfulfan) December 24, 2021
2020 Post Mortem
UPDATE Question, answer:

Bernie partly a fluke of US electoral system (that allows Vermont to have two senators) and him being just safe enough (e.g. mostly avoiding anti-imperialism) that he could fly in small planes. https://t.co/WqZzLMTuQI

— Jessica Yogini (@JessicaYogini) January 3, 2022

I do think we need a candidate who has to travel by bus or train….
Trump Legacy
UPDATE "Efforts to Trump-proof presidential certification crash into congressional realities" [Politico]. "Can the Electoral Count Act's key provisions be enforced, or can a rogue future Congress — in league with a losing presidential candidate — simply ignore it?… Experts are split on whether any Congress can pass a law that would dictate how its successors certify presidential elections. Typically, the House and Senate have the constitutional power to set their own rules, which can be changed at will. Attempting to legislate against this would be unconstitutional. But the Electoral College certification is so significant that many constitutional scholars say it overrides that congressional prerogative. Still, their view is, practically speaking, irrelevant. What matters most is how leaders of the Congress elected in 2024 and future presidential years behave. They're not beholden to adopt the prevailing view of the scholarly community, and congressional leaders often don't…. 'Whether a future Congress can deviate from the [Electoral Count Act] is an open question,' said a House aide familiar with efforts to reform the law, addressing the unfinished work on condition of anonymity. 'By putting [changes] in law, they acquire a status that makes it hard to walk away from, and likely why Congress never has done so.' That argument has uncanny parallels to the debate that consumed Congress in 1887, a decade after a disputed presidential election nearly splintered the republic anew."
Realignment and Legitimacy
UPDATE "The Republican Party Is Succeeding Because We Are Not a True Democracy" [Jedediah Britton-Purdy, New York Times]. "Majorities of the people, not the Electoral College, should be able to pick the president and decide who controls the House and Senate. All who make their lives in the United States — including the incarcerated, people convicted of felonies and noncitizens — should be allowed to vote. This might sound alarming to inland Republican voters who imagine themselves besieged by a permanent coastal majority. But in a working democracy, there are no permanent majorities or minorities. Forging partnerships in a truly democratic system, inland conservatives would soon find new allies — just not ones determined to break democracy itself. Some of these changes probably require amending the Constitution. Hard changes have come through constitutional amendment before: Shortly before World War I, activists successfully pressed state legislatures to ratify an amendment giving up their power to choose U.S. senators. Maybe we can revive mass movements for amendments, starting with one that would make the amendment process itself more democratic." • And also from the Times:

UPDATE "Democrats, Voting Rights Are Not the Problem [Yuval Levin, New York Times]. "Some Republicans insist that the process of counting and certifying the vote in some states was corrupt in 2020. There is no evidence — none — to support any specific claims on this front. But greater care and transparency about postelection administration would serve us well regardless and could render such claims easier to test and refute in ways that would build public confidence. Some Democrats insist that Republicans are preparing to manipulate the certification process in elections in some states. So far, this mostly looks like Trump supporters running for offices with authority over election administration, which is no crime in a democracy. But requiring accountability and transparency and setting some boundaries on what can happen after an election would help ease these concerns and avert the dangers that Democrats have warned about. And all of us saw just a year ago that Congress's role in certifying presidential elections could be clarified and rid of opportunities for confusion and mischief. Reforms focused on these themes would be a more productive path than what we've seen so far, which are efforts focused mostly on voting itself — on who can cast a ballot, when and by what means."

"elections" [Joe Costello]. "In the United States, the counties conduct the elections. They control the voter rolls, set up the voting mechanisms, whether booths or by mail, and tally the votes. Election confidence is gained only by making the entire process transparent, open to all sides, and to all public scrutiny. However, this simple fact elections are run by the counties is little understood by most Americans, not so incredible really. In the last half-dozen years, the national media ran countless stories alleging nefarious election manipulations by various foreign and domestic actors. It was quite clear that many of these stories were produced by people who did not understand the counties control the election processes. But, confused media coverage is de rigueur these days."

Liberals vs. conservatives:

I think they'd enjoy "Hamilton" https://t.co/KwrQdcGIPT

— Matthew Yglesias (@mattyglesias) January 1, 2022

UPDATE "Americans Need to Ratchet Down Crazy Politics" [The Liberal Patriot]. "Normal Americans need to take back control of democratic discourse and end the toxic drift in politics towards treating people or officials who think differently as enemies of the state." • Yeah, you know. Like RussiaGate. ("Normal Americans." Ruy Teixeira is one of the co-editors of this blog. Is this really where he is now, analytically?)

UPDATE "The liberty of local bullies" [Noah Smith, Noahpinion]. I know, I know, but this one's not so bad: "I have often remarked in the past how libertarianism – at least, its modern American manifestation – is not really about increasing liberty or freedom as an average person would define those terms. An ideal libertarian society would leave the vast majority of people feeling profoundly constrained in many ways. This is because the freedom of the individual can be curtailed not only by the government, but by a large variety of intermediate powers like work bosses, neighborhood associations, self-organized ethnic movements, organized religions, tough violent men, or social conventions. In a society such as ours, where the government maintains a nominal monopoly on the use of physical violence, there is plenty of room for people to be oppressed by such intermediate powers, whom I call 'local bullies.' The modern American libertarian ideology does not deal with the issue of local bullies. In the world envisioned by Nozick, Hayek, Rand, and other foundational thinkers of the movement, there are only two levels to society – the government (the 'big bully') and the individual. If your freedom is not being taken away by the biggest bully that exists, your freedom is not being taken away at all."
#COVID19
Case count by United States regions: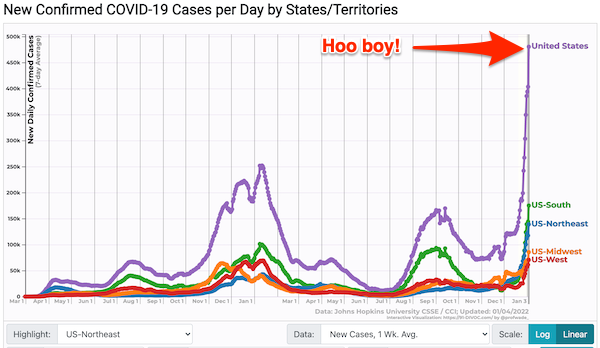 If anything, this count is an underestimate. Counts from the long New Year's weekend look suspiciously low, and at least one state was so overwhelmed it didn't supply data at all. (I wrote: "As happened in 2020, I would expect a second, higher peak, from Omicron if for no other reason." Here we very are. This chart is a seven-day average, so changes in direction only show up when a train is really rolling.) It would sure be nice if "rise like a rocket (and fall like a stick)" applied, but we can't know that yet. To be fair, previous peaks — how small the early ones look now — have been roughly symmetrical on either side. But the scale of this peak, and the penetration into the population, is unprecendented.
The official narrative that "Covid is behind us," and that the pandemic will be "over by January" (Gottlieb), and "I know some people seem to not want to give up on the wonderful pandemic, but you know what? It's over" (Bill Maher) is completely exploded. What a surprise!
MWRA (Boston-area) wastewater detection: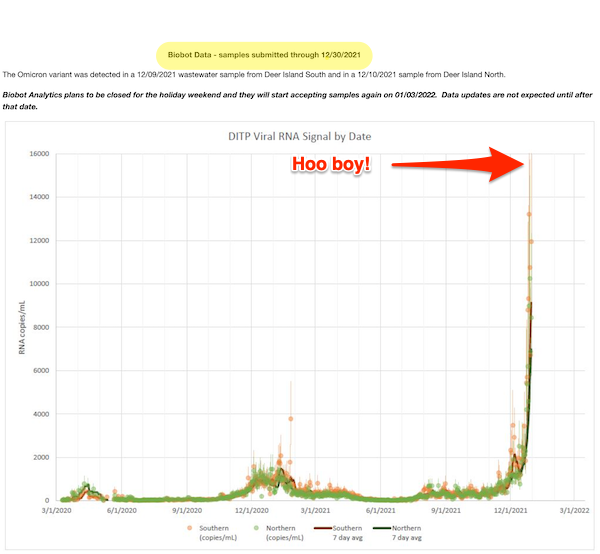 The MWRA, too, needs a bigger chart.
The Massachusetts Water Resources Authority (MWRA) service area includes 43 municipalities in and around Boston, including not only multiple school systems but several large universities. Since Boston is so very education-heavy, then, I think it could be a good leading indicator for Covid spread in schools generally.
From CDC: "Community Profile Report" (PDF), "Rapid Riser" counties: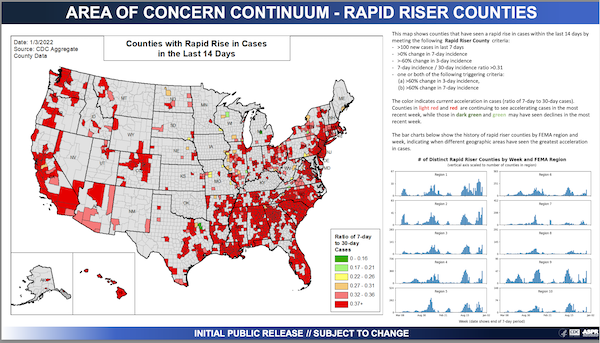 Looks like the flying coals landed and caught everywhere. Quite a change from the previous release.
The previous release: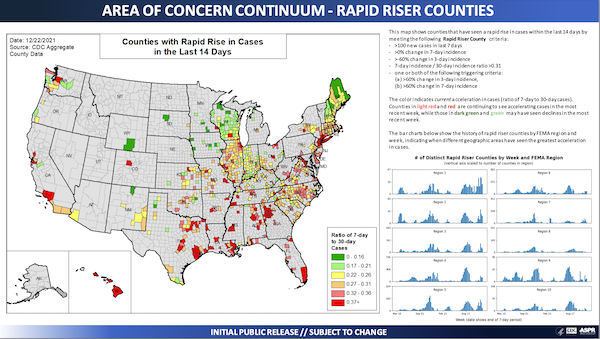 Hospitalization (CDC Community Profile):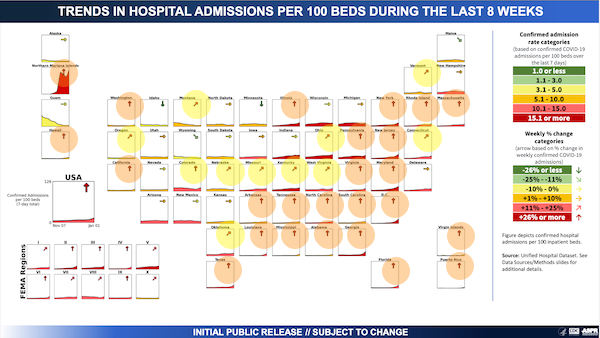 The tsunami arrives. (Note trend, whether up or down, is marked by the arrow, at top. Admissions are presented in the graph, at the bottom. So it's possible to have an upward trend, but from a very low baseline.)
Death rate (Our World in Data):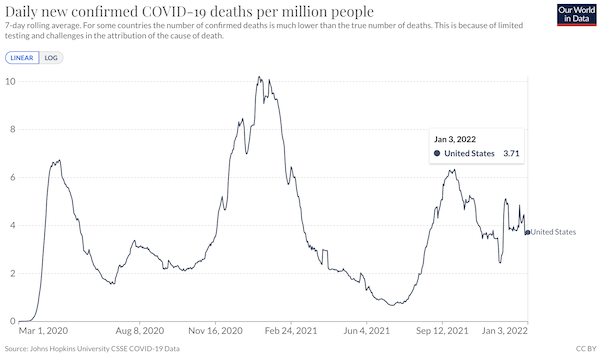 Total: 848,885 833,029. Well, we didn't hit a million by New Year's. So there's that.
Covid cases in top us travel destinations (Statista):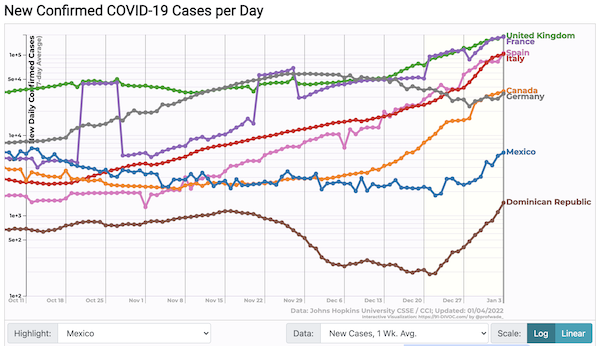 Might was well check out where we go, in case we bring something back (as from Italy to New York in 2020). This is a log scale. Sorry for the kerfuffle at the left. No matter how I tinker, it doesn't go away. (The data is from 2019, and so subject to subsequent events, but this is the best I can find.)
The CDC modeling hub and excess deaths charts will appear weekly, on Friday.
Stats Watch
Employment Situation: "United States Job Quits" [Trading Economics]. "The number of job quits in the United States increased by 370,000 to a series high of 4.527 million in November 2021, while the quits rate increased to 3.0 percent, matching the series high in September, as employers continue to have difficulty retaining workers. Quits increased in several industries with the largest in accommodation and food services (+159,000); health care and social assistance (+52,000); and transportation, warehousing, and utilities (+33,000)." • And for all those industries, it's very easy to tell a wages and working conditions story centered on Covid. For example, health care:
To me, this is the most alarming chart from the Great Resignation: Skyrocketing quits in health care

Doctors, nurses, aides & more are burned out and we're still in a pandemic

Healthcare quit rate:
March: 2.3%
April 2.5
May 2.4
June 2.5
July 2.7
Aug 2.8
Sept 2.8
Oct 2.7
Nov: 3% pic.twitter.com/WZucDL0MjL

— Heather Long (@byHeatherLong) January 4, 2022
Manufacturing: "United States ISM Purchasing Managers Index (PMI)" [Trading Economics]. "The ISM Manufacturing PMI in the US fell to 58.7 in December of 2021 from 61.1 in November, below market forecasts of 60. The reading pointed to the weakest growth in factory activity since January, amid a slowdown in new orders (60.4 vs 61.5) while employment grew the most since April (54.2 vs 53.3) and prices paid eased the most since March 2020 (68.2, the lowest reading since November 2020, vs 82.4). The U.S. manufacturing sector remains in a demand-driven, supply chain-constrained environment, with some indications of slight labor and supplier delivery improvement. "
Supply Chain: "United States LMI Logistics Managers Index Current" [Trading Economics]. "The Logistics Manager's Index fell to 70.1 in December of 2021, the lowest reading since January, but still pointing to a significant expansion in the logistics sector, amid abnormally high inventory metrics, combined with tight capacity and unseasonably high price growth. The reading also suggested that some supply chains may now be carrying too much inventory, potentially stocking up to avoid potential missed holiday sales. There was a contraction of inventories for downstream retailers but a rise for upstream firms such as manufacturers, wholesalers and 3PLs. Essentially, downstream retailers struggled to find enough capacity to handle consumer demand during the holiday rush, while their upstream vendors labored to store and manage the deluge of inventory that flowed into supply chains throughout 2021"
* * *
The Bezzle: An "Bored Ape" is some sort of coin:
all my apes gone pic.twitter.com/yGdrDVJYfM

— flglmn (@flglmn) December 30, 2021
Lots of dunking on apes, but here is the crucial point:
— Lucas Coppio ? (@lscoppio) January 2, 2022
The Bezzle: "web3 is Centralized" [Wesley Aptekar-Cassels]. "The entire blockchain world is focused on building systems for global consensus, but global consensus is a goal that is fundamentally at odds with the goal of decentralization." And: "The problem here is the profit motive: people who are working on web3 generally want to get paid for it, but it's fundamentally harder to extract rent from truly decentralized systems than it is from centralized ones. Because of that, people end up building systems that are centralized at their core, with some aesthetics of decentralization smeared on top, and call it web3."
Tech: "Snow Closed the Highways. GPS Mapped a Harrowing Detour in the Sierra Nevada" [New York Times]. "Public safety officials warned that alternate routes offered by apps like Google Maps and Waze don't always take into account hazards to drivers." • Oh.
Manufacturing: A long thread on chips. Here is a highlight:
So the most valuable item in global trade is something you DON'T SEE as it is an intermediate product. You only see the final products such as cars/laptops/etc.

Chips are one of the US top exports (airplanes, oil, chips). China is a net importer of chips. Has a deficit of chips. pic.twitter.com/bWp8PXir9C

— Trinh (@Trinhnomics) December 31, 2021
Manufacturing: "Pontifications: Assessing the advantages Boeing, Lockheed Martin-Airbus have in KC-Y tanker competition" []. Boeing is the incumbent. From Sean O'Keefe was the president of EADS North America, Airbus' parent when Boeing won the KC-X contract. He also worked for the government as the NASA administrator and on The Hill: "There is no question that this experience Boeing has had during the past decade on the KC-46 program is one that has a record. There's a real legacy there. Their performance has been very challenged in this condition. They have had a year-over-year charge they've had to take for this program, and the very likelihood they may ever, ever make a dime on the KC-46 is much in doubt. That speaks to a performance record that transcends any legacy or any capacity to really have an institutional relationship. That's going to be a factor. That's the one that when you get done with it, it almost evens out in terms of the advantages and disadvantages they have." • Oof.
* * *
Today's Fear & Greed Index: 68 Greed (previous close: 67 Greed) [
CNN
]. One week ago: 54 (Neutral). (0 is Extreme Fear; 100 is Extreme Greed). Last updated Jan 4 at 12:05pm. Big switch to Greed over the holidays!
Rapture Index: Close unchanged [Rapture Ready]. Record High, October 10, 2016: 189. Current: 185. (Remember that bringing on the rapture is a good thing, so higher is better.)
Civil War Studies
A true scholar:
We did not stop the expansion of slavery, and enslavers dominated the presidency, Senate and Supreme Court until 1865, when the North was reluctantly drawn into a war that ultimately ended slavery.

— Ida Bae Wells (@nhannahjones) January 3, 2022
Meanwhile–
"Thank You!" (podcast) [The Civil War (1861-1865)]. • The podcasters, Rich and Tracy Youngdahl, live in Boulder, Colorado. They had to flee their home when the Marshall Fire hit their neighborhood, but when they returned, their home was intact, although many of their neighbors homes were not. Note: These supremely dedicated amateurs actually know the year the Civil War began.
Games
"Land speculators will kill your game's growth" [Game Developer]. "The hot new trend these days is games featuring "digital real estate." I'm concerned these will lead to digital land speculation bubbles that will make players, developers, and investors alike lose stupid amounts of money. If you're developing or investing in a game or app like this and expecting to ride a blistering wave of growth to a multi-billion dollar valuation you'd better take a hard look at the fundamentals before you run smack into a brick wall. Digital real estate is not actually a new phenomenon, and history consistently shows that when "digital land" sufficiently resembles the economic properties of physical land, we see digital land speculation, digital housing crises, and even full-blown digital recessions. That means a period of exciting growth suddenly grinds to a halt once scalpers corner precious digital property and keep it out of the hands of those who actually want to play the damn game or perform valuable and productive activities for the community."
The Agony Column
I like this thread a lot:
and I thought to myself, and said aloud, "Hell yes, I have three potatoes"

— The Mountain Goats (@mountain_goats) January 1, 2022
"Is Depression Actually a Unique State of Consciousness?" [Psychology Today] (original). "[Philosopher Cecily Whiteley] proposes that 'when an individual is depressed, she departs from a state of wakefulness to a distinctive depressive state of consciousness, a change which is reflected in an experience of an 'existential shift' as described by Ratcliffe' (p. 13). Understanding depression this way has several benefits: First, it explains why the experience of depression can be so difficult to describe to someone who has never been depressed: It changes the very context in which one lives, thinks, and expresses themselves…. Second, framing depression as a state of consciousness helps to explain the ebb and flow of the symptoms of depression over time, in which sufferers feel like a different person in each stage…. Third, there are fascinating parallels between the self-reported experience of depression and being under the influence of psychedelics, particularly in terms of the 'existential shift' one experiences in each. As Whiteley explains, 'in both cases, individuals report robust phenomenological changes or alterations to their experiences of time, their sense of self, bodily experience, mental agency, concentration, and attention'." • Interesting! And so appropriate for the solstice… Totally unasked and perhaps uncalled-for but well-meant advice, at least for Seasonal Affective Depression: No matter the direction or distance, move! Get more sun. Take walks. When you do, look up at the sky, not down at your feet. And remember the days are lengthening.
Class Warfare
"/231/ New Class Analysis ft. Catherine Liu" (podcast) [Bungacast]. "On Thursday 9 November, George Hoare and Alex Hochuli took part in a conversation with Catherine Liu about their recent books – The End of the End of History and Virtue Hoarders, respectively. The focus was on the social and political role of the Professional-Managerial Class in historical context." • I feel asleep. Sorry. This actually means that this podcast is useful to me and I will keep listening to it.
Aristocracies in formation:
Now do Hollywood! https://t.co/n0pw5VkEdR

— Brenden Gallagher (@brendengallager) January 3, 2022
"The Left's Middle-Class Problem" [Class Unity]. "For all his talk about how not to unite the working class, [DSA representative Jamaal Bowman] seems more interested in proving his own abstract theoretical model correct than in taking seriously the interests and desires of the working class in all its diversity. Consider how he approvingly refers to the calls to defund the police that gained steam in the wake of the George Floyd protests last summer as confirmation that 'actual movements against racism tend to have no trouble understanding the deep links between economics and racial disparity.' Not only does Bascuñán seem unaware that cash-strapped police departments are often more lethal than better funded ones, and that several of the whitest (and poorest) states in the country experience some of the highest rates of police killings — he fails to ask whether the call to defund the police is even supported by the working-class black and brown people activists claim it would benefit the most. The available evidence suggests this is not the case. … This is not to suggest that proponents of defunding the police do not have legitimate and serious criticisms of policing — they do. And we certainly aren't claiming that all workers are necessarily leftwing. But a new study provides data to support Class Unity's belief that the best way to appeal to working-class people of all backgrounds is to focus on bread-and-butter economic issues and frame these in universal terms, rather than attempt to split the difference by cloaking them in the woke rhetoric that is so common among academics and NGO activists and so alienating to the majority of workers without a college degree."
News of the Wired
"AITA for cleaning out the fridge without telling my husband?" [Reddit]. • But… WHAT'S IN THE BOX?
Kill it with fire:
ICYMI: From Grace, a healthcare robot born out of the global health crisis, to Ameeca, the hyper-realistic humanoid robot, meet the most memorable robots of 2021 pic.twitter.com/mQBBGn8iPD

— Reuters (@Reuters) January 3, 2022
* * *
Contact information for plants
: Readers, feel free to contact me at lambert [UNDERSCORE] strether [DOT] corrente [AT] yahoo [DOT] com, to (a) find out how to send me a check if you are allergic to PayPal and (b) to find out how to send me images of plants. Vegetables are fine! Fungi and coral are deemed to be honorary plants! If you want your handle to appear as a credit, please place it at the start of your mail in parentheses: (thus). Otherwise, I will anonymize by using your initials. See the previous Water Cooler (with plant)
here
. Today's plant (tennessewaltzer):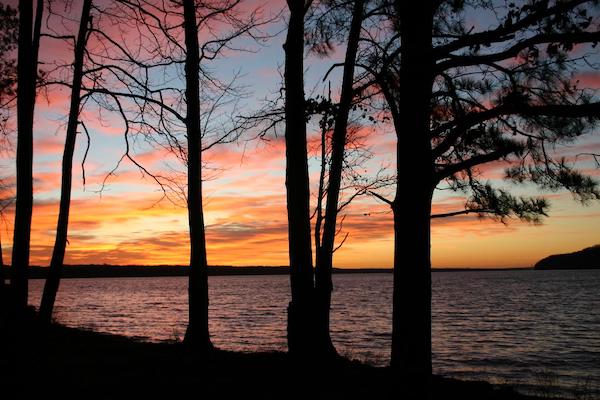 tennessewaltzer writes: "Here is a photo of the sunrise over the Tennessee River in Waterloo, Alabama." Moar sunlight!
* * *
Readers
: Water Cooler is a standalone entity
not
covered by the recently concluded and — thank you! — successful annual NC fundraiser. So if you see a link you especially like, or an item you wouldn't see anywhere else, please do not hesitate to express your appreciation in tangible form. Remember, a tip jar is for tipping!
Regular positive feedback both makes me feel good and lets me know I'm on the right track with coverage
. When I get no donations for five or ten days I get worried. More tangibly, a constant trickle of donations helps me with expenses, and I factor in that trickle when setting fundraising goals:
Here is the screen that will appear, which I have helpfully annotated.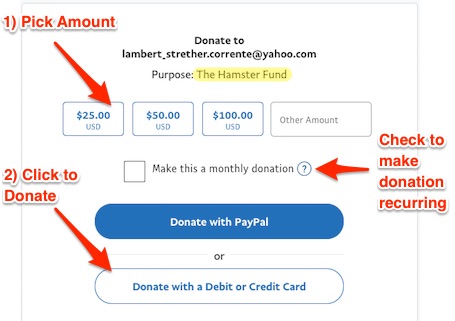 If you hate PayPal, you can email me at lambert [UNDERSCORE] strether [DOT] corrente [AT] yahoo [DOT] com, and I will give you directions on how to send a check. Thank you!