By Lambert Strether of Corrente
Patient readers, this Water Cooler is a little bit light, because ProtonMail had an outage in the middle of production. I'll make it up to you tomorrow! –lambert
Bird Song of the Day
* * *
Politics
"But what is government itself, but the greatest of all reflections on human nature?" –James Madison, Federalist 51
"They had learned nothing, and forgotten nothing." –Charles Maurice de Talleyrand-Périgord
"When the going gets weird, the weird turn pro." –Hunter Thompson
Biden Adminstration
"Islamic State leader killed during US raid in Syria" [Associated Press]. "The leader of the violent Islamic State group was killed Thursday, blowing himself up along with members of his family during an overnight raid carried out by U.S. special operations forces in northwestern Syria, President Joe Biden said…. About 50 U.S. special operations forces landed in helicopters and attacked a house in a rebel-held corner of Syria, clashing for two hours with gunmen, witnesses said. Residents described continuous gunfire and explosions that jolted the town of Atmeh near the Turkish border, an area dotted with camps for internally displaced people from Syria's civil war… First responders reported that 13 people had been killed, including six children and four women." • I hate to indulge in easy cynicism, but it seems early for this (unless Biden is sending some sort of message to Putin). Also, do we have a body? Or did we throw the body into the sea, as we are said to have done with Bin Laden?

"So long, Omicron: White House eyes next phase of pandemic" [Politico]. What a Charlie Foxtrot: "Emboldened by falling case counts, the Biden administration is plotting a new phase of the pandemic response aimed at containing the coronavirus and conditioning Americans to live with it. The preparations are designed to capitalize on a break in the monthslong Covid-19 surge, with officials anticipating a spring lull that could boost the nation's mood and lift President Joe Biden's approval ratings at a critical moment for his party. Biden and his top health officials have already begun hinting at an impending 'new normal,' in a conscious messaging shift meant to get people comfortable with a scenario where the virus remains widespread yet at more manageable levels. But it's a delicate operation. The White House is wary of declaring victory too early, only to get hit with another catastrophic variant, a half-dozen administration officials and others close to the Covid response said. Officials are also anxious that voters will be disappointed by the idea of living with an endemic virus under a president who once pledged to shut it down completely. And they realize that it will take vigilance — and billions more dollars from Congress — to prevent the nation from backsliding into crisis once again." • No kidding it's "delicate." And I don't think "the nation" backslid at all; it was tripped up and then shoved, not least by the Biden Administration's democidal policy choices in January 2021.

"Endemicity Is Meaningless" [The Atlantic]. "Endemicity, then, just identifies a pathogen that's fixed itself in our population so stubbornly that we cease to be seriously perturbed by it. We tolerate it. Even catastrophically prevalent and deadly diseases can be endemic, as long as the crisis they cause feels constant and acceptable to whoever's thinking to ask." • In other words, endemicity is a matter of public relations. Rather like this:

My friend showed me how they fixed the water stain on the ceiling in their office. pic.twitter.com/ksnF1QAtQv

— Canaffle Dax ✨💕 (@Canaffle) February 2, 2022

That's our Democrats!

"Joe Biden Praises Mitch McConnell As 'A Man of Honor'" [Peter Daou. Direct Left]. "I worked in the upper ranks of the Democratic Party for a decade, believing the people I worked for were as interested in fighting the GOP as I was. Once I recognized that the system cannot be changed from within and that both ruling parties uphold a corrupt system, I changed my registration to become unaffiliated. That independence from the duopoly has given me the clarity to see how Democratic leaders deceive their voters…. I hope that more Democrats and liberals see through the performative opposition of the Democratic Party's ruling elites. Biden, Schumer, Harris, and Pelosi are not "defending democracy," they are protecting the oligarchy. Just like their friend Mitch McConnell." • "Man of honor" has a distinct mafioso flavor to me….
Democrats en Déshabillé
I have moved my standing remarks on the Democrat Party ("the Democrat Party is a rotting corpse that can't bury itself") to a separate, back-dated post, to which I will periodically add material, summarizing the addition here in a "live" Water Cooler. (Hopefully, some Bourdieu.) It turns out that defining the Democrat Party is, in fact, a hard problem. I do think the paragraph that follows is on point all the way back to 2016, if not before:

The Democrat Party is the political expression of the class power of PMC, their base (lucidly explained by Thomas Frank in Listen, Liberal!). ; if the Democrat Party did not exist, the PMC would have to invent it. . ("PMC" modulo "class expatriates," of course.) Second, all the working parts of the Party reinforce each other. Leave aside characterizing the relationships between elements of the Party (ka-ching, but not entirely) those elements comprise a network — a Flex Net? An iron octagon? — of funders, vendors, apparatchiks, electeds, NGOs, and miscellaneous mercenaries, with assets in the press and the intelligence community.

Note, of course, that the class power of the PMC both expresses and is limited by other classes; oligarchs and American gentry (see 'industrial model' of Ferguson, Jorgensen, and Jie) and the working class spring to mind. Suck up, kick down.

Currently, I'm working my way through an example: A "Top Ten" list of intellectuals, chosen by a panel of judges. This is a tiny olive out of which Bourdieu is squeezing an incredible quantity of juice; more later when he finishes with it. (The example is directly on point for the subject of this section; for example, Mark Halperin's The Note focsed on the "Gang of 500," which refers to "political insiders and journalists who influence the daily media narrative in U.S. politics.") For my own purposes, I'm interested in "design without a designer" issues in political decision-making; how does a group (vague word) of people from disparate fields come to a collective decision — like "live with it" — without central planning? (A useful question to ask when we get the architects of our Covid policy before a Truth and Reconciliation Community — or the Hague.) For example, it occurs to me that a useful dynamic takes place with Keynesian Beauty Contests (the neoliberal alternative to the Wansee conference?). But we will see what Bourdieu comes up with.

* * *
2022
* * *
Realignment and Legitimacy
"Democrats Move to Purge Half of New York's House Republicans" [Cook Political Report]. "The biggest redistricting weapon of 2022 has always been the Empire State, and Democrats are poised to finally use it. On Sunday, New York Democrats unveiled a gerrymander that could expand their lead in the delegation from 19D-8R to 22D-4R — the largest single-state shift in the country. Gov. Kathy Hochul has already said she supports using the redistricting process to give her party more seats. The main reason for the shift: back in 2011, a stalemate in Albany prompted federal courts to draw a politically neutral plan. This time, Democrats fully control Albany — and redistricting — for the first time since the Voting Rights Act's passage. The plan takes some creative liberties, to say the least: it pairs Trump-loving Staten Island with Whole Foods-shopping Park Slope to oust GOP Rep. Nicole Malliotakis (NY-11). The proposed Long Island 3rd CD, where Democratic Rep. Tom Suozzi is running for governor, jumps across Long Island Sound to pick up more Democrats. The 24th CD pairs Watertown with Niagara County, more than 200 miles away."

"Militia-aligned group will control a Northern California county if recall vote totals hold" [Sacramento Bee]. "After two years of threats and conspiracy theories, the militia-backed movement seeking to seize control of one of California's most conservative counties, so far, appears to have prevailed — a major victory for far-right factions vying to replace more moderate Republican elected leaders across the state. On Tuesday, Shasta County voters chose to recall Supervisor Leonard Moty, a Republican former Redding police chief, according to early election returns posted late Tuesday night. With all precincts in Moty's district reporting Tuesday night, nearly 53% of voters choose to remove him. Still, fewer than 400 votes separate the tally, and local election officials caution that the race remains too close to call. But if the early vote totals hold, Moty's ouster will tip the majority of the five-member board to a movement aligned with local militia members. Moty's replacement will be either Dale Ball, a local construction superintendent, or Tim Garman, president of a local school board. Ball had a lead of just 33 votes over Garman. Both candidates were at the 'victory' party Tuesday night with members of the local militia. If it proves successful, the recall represents a major political victory for far-right factions in California as they seek to take power on local elected boards across the state." • Hmm…. Do we have any readers who know Shasta County?

The United States is such an enormous and various country:

Rather pleased with this map 🥳 pic.twitter.com/YEIamgYb3z

— Erin (@erindataviz) February 2, 2022
#COVID19
Case count by United States regions: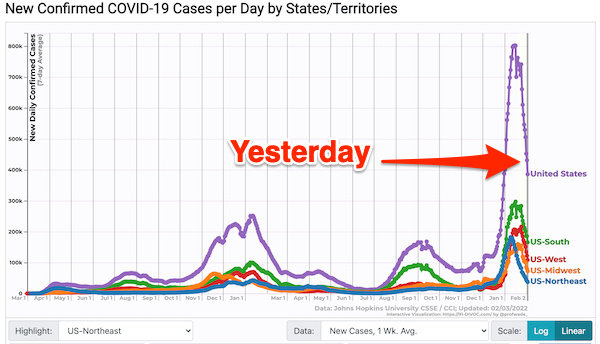 Rise like a rocket, and fall like a stick; the slope of the downward curve is more or less the same as the upward curve. (Previous peaks — how small the early ones look now — have been roughly symmetrical on either side. But the scale of this peak, and the penetration into the population, is unprecedented.) I wonder if there will be plateau when BA.2 takes hold. Since the Northeast has form, that is probably the region to watch for this behavior first.
The official narrative was "Covid is behind us," and that the pandemic will be "over by January" (Gottlieb), and "I know some people seem to not want to give up on the wonderful pandemic, but you know what? It's over" (Bill Maher) was completely exploded. What a surprise!
MWRA (Boston-area) wastewater detection: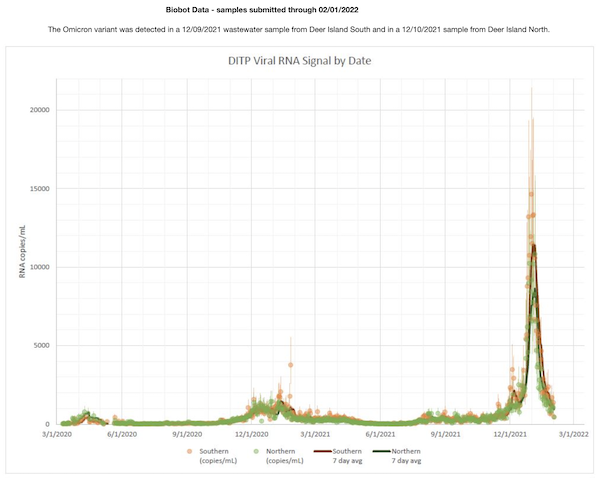 Continues encouraging. No jump from the return of the students yet, which is even more encouraging.
The Massachusetts Water Resources Authority (MWRA) service area includes 43 municipalities in and around Boston, including not only multiple school systems but several large universities. Since Boston is so very education-heavy, then, I think it could be a good leading indicator for Covid spread in schools generally.
From Fox 13 News Utah:
Key screen: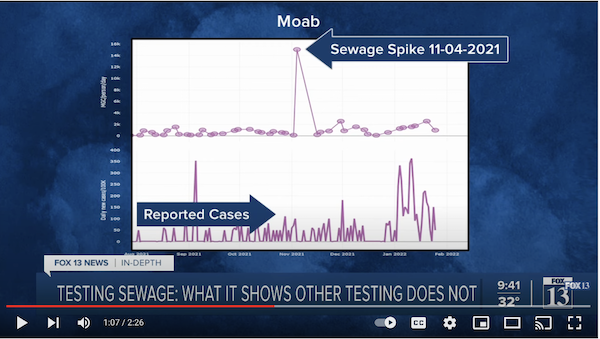 Good thing the Biden Administration set up that national wastewater testing dashboard in January, 2021. Oh, wait….
From CDC Community Profile Reports (PDFs), "Rapid Riser" counties: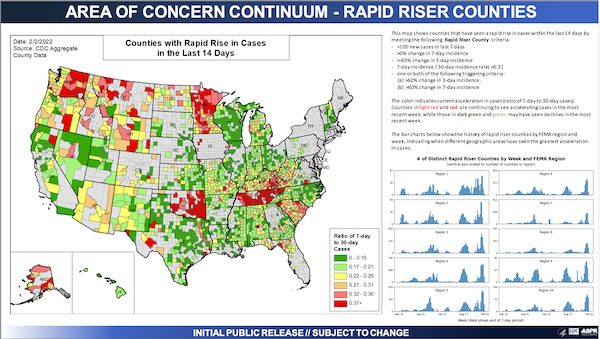 Finally, Minnesota starts to come down. There are state border effects; Tennessee, for example, reports weekly. Not sure what's happening with Oklahoma and Vermont/New Hampshire. (Remember that these are rapid riser counties. A county that moves from red to green is not covid-free; the case count just isnt, well, rising rapidly.)
The previous release: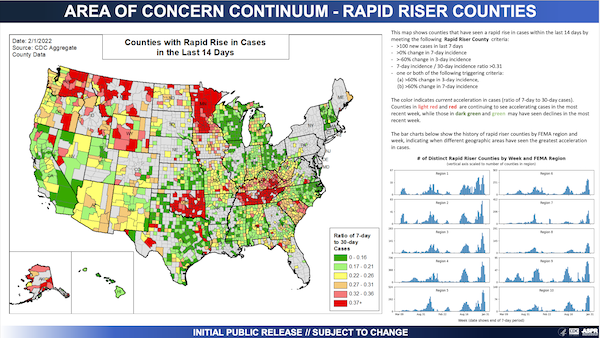 Hospitalization (CDC Community Profile):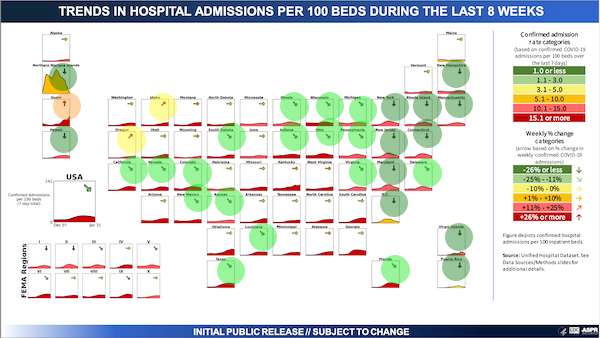 Only one orange jurisdiction; c'mon, Guam! (Note trend, whether up or down, is marked by the arrow, at top. Admissions are presented in the graph, at the bottom. So it's possible to have an upward trend, but from a very low baseline.)
Just a reminder:
As with everything else, because the United States is not a serious country, our hospitalization data is bad. Here the baseilne is off:
Hospital trick: patients admitted with covid in 10-12 days become post-covid & no longer counted as hospitalized covid patients. ICU is full of post-covid patients that are here for 30, 40, 50 & more days. Not counted in the official stats.

— Dr. Natalia 💉😷 (@SolNataMD) January 24, 2022
Death rate (Our World in Data):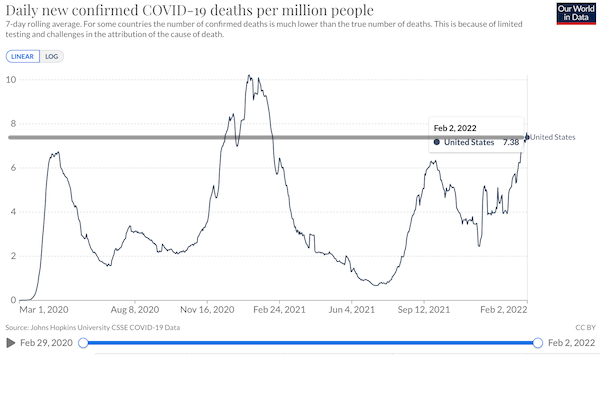 Total: 917,600 913,960. I have added an anti-triumphalist "Fauci Line." As we know, deaths are a lagging indicator. I assume the absurdity of the "Omicron is mild" talking point is, at this point, self-evident. If you know somebody who's in "lead my life" mode, you might consider telling them their odds of dying from Covid are now worse than with the first wave in New York.
American exceptionalism:
"Since Dec. 1, when health officials announced the first Omicron case in the United States, the share of Americans who have been killed by the coronavirus is at least 63 percent higher than in any of these other large, wealthy nations." https://t.co/4RDF141uCV

— David Wallace-Wells (@dwallacewells) February 2, 2022
Covid cases in top us travel destinations (Statista):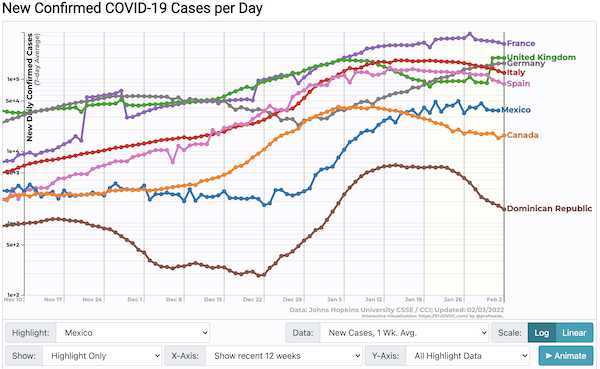 Good news here too. For the time being.
Stats Watch
Employment Situation: "United States Initial Jobless Claims" [Trading Economics]. "The number of Americans filing new claims for unemployment benefits fell by 23K to 238K in the last week of January, the lowest reading in 3 weeks and below market forecasts of 245K, as demand for labour remains strong and the impact of the spread of the omicron coronavirus variant apparently starts to fade. The 4-week moving average which removes week-to-week volatility was 255K, the highest level since mid-November."
Manufacturing: "United States Factory Orders" [Trading Economics]. "New orders for US manufactured goods dropped by 0.4 percent from a month earlier in December of 2021, the first monthly decrease since April 2021 and the steepest since April of 2020, above market expectations of a 0.2 percent decline."
Services: "United States ISM Non Manufacturing PMI" [Trading Economics]. "The ISM Services PMI for the US fell to 59.9 in January of 2022 from 62.3 in December, pointing to the slowest growth in the services sector since February of 2021. Still, figures came slightly above market forecasts and remained well above the long-run average of 55."
Services: "United States Services PMI" [Trading Economics]. "The IHS Markit US Services PMI was revised slightly higher to 51.2 in January of 2022 from a preliminary of 50.9, but still pointed to the slowest growth in the services sector since July of 2020. The spread of the omicron variant hampered the upturn in new business and domestic and foreign demand conditions weakened. Firms were able to expand their workforce numbers further, however, which helped to soften the degree of pressure on business capacity. As a result, backlogs of work rose at the slowest pace since August 2021."
* * *
Big Ag: "Has The Farm Financial Picture Turned Dire? Ag Economy Barometer Reveals Reality of Input Price Pain for 2022" [AgWeb]. "Issues with input issues are evident in the latest Purdue University/CME Ag Economy Barometer. The January barometer fell 6 points, which marks the lowest reading since July 2020. The survey of 400 producers showed supply chain disruptions aren't just causing angst, prompting producers to adjust their outlooks for the farm financial picture for 2022…. 'The sharp drop in the financial performance index this month indicates producers expect a sharp decline in income in 2022 compared to 2021. In the December survey, producers were focused on comparing a very positive income year, 2021, to 2020, which really supported the index at year end,' says Jim Mintert, the barometer's principal investigator and director of Purdue University's Center for Commercial Agriculture." • Hmm. Maybe I sh
Real Estate: "Mall Customers Shop for New Hips or Knees as Surgery Centers Fill Store Vacancies" [Wall Street Journal]. "Closed department stores and rising vacancies, which accelerated during the pandemic, mean landlords are increasingly desperate to fill big blocks of space. Medical tenants, along with schools and warehouses, offer a way to do that. They represent the latest sign that mall owners are focusing their efforts to offset declining retail business with new offerings and services that can't be easily replicated online. Many medical providers, meanwhile, have been looking to expand amid rising healthcare spending. Malls offer cheap real estate, ample parking, easy access to highways and plenty of nearby customers." • I wonder how the ventilation is. Good, maybe? Good in public areas, bad in stores or offices? I don't know…..
The Bezzle: "More than $320 million stolen in latest apparent crypto hack" [CNBC]. "One of the most popular bridges linking the ethereum and solana blockchains lost more than $320 million Wednesday afternoon in an apparent hack. It is DeFi's second-biggest exploit ever, just after the $600 million Poly Network crypto heist, and it is the largest attack to date on solana, a rival to ethereum that is increasingly gaining traction in the non-fungible token (NFT) and decentralized finance (DeFi) ecosystems. Ethereum is the most used blockchain network, and it is a big player in the world of DeFi, in which programmable pieces of code known as smart contracts can replace middlemen like banks and lawyers in certain types of business transactions." • "Certain types" is doing a lot of work, there.
* * *
Today's Fear & Greed Index: 34 Fear (previous close: 36 Fear) [CNN]. One week ago: 33 (Fear). (0 is Extreme Fear; 100 is Extreme Greed). Last updated Feb 3 at 1:29pm.
Feral Hog Watch
"'30-50 feral hogs' guy feels vindicated after reports of California being overrun by pigs go viral" [Daily Dot (MT_Wild)]. "The man who was mocked on Twitter in 2019 for raising concerns about feral hogs is now being defended as a modern-day prophet due to a 'feral swine bomb' that is ravaging the San Francisco Bay Area…. [Arkansas resident Willie McNabb] says that not a day has gone by since 2019 where he hasn't been reminded of his initial tweet. 'It feels like I'm stuck in some type of perpetual groundhog day—like I'm reliving the same day over and over again,' he said. 'I do remember feeling when the tweet first happened a bit overwhelmed—which was most likely my naïveté about social media and how far-reaching it can be.' McNabb says his intention was never to politicize the gun debate and that the longevity of his tweet speaks to legitimate concerns regarding the spread of feral hogs. The current praise of McNabb also seems to be divorced from the gun control debate as well, with the majority of users focused on the growing feral pig phenomenon. 'My state of Arkansas received $3.4 million from the Federal Government three months after my tweet,' he said. 'There have been many great articles written and segments produced on various media platforms about feral hogs since then. All of these things help address the issue that they are real and a real problem for millions of Americans.' McNabb says overall his interactions online have been positive and that he enjoys the memes. 'I quickly learned to be more careful in what I say, and how I express my thoughts. As I tell my kids—you can only control what you can control—and that starts with how we speak to each other,' he added. 'Be respectful, kind, and decent—you never know where someone is coming from until you engage and listen.'" • Perhaps a little too much self-professed country wisdom, here. Nevertheless… I don't think I've ever posted on feral hogs, at least not in the last decade. Perhaps I should!
Class Warfare
So, having destroyed the very notion of public health, we will have destroyed public education as well:
New NEA poll of teachers

— 55% say they will leave teaching sooner than they had originally planned

—90% say that feeling burned out is a serious problem

— 80% report unfilled job openings have led to more work obligations for those left https://t.co/g50OExE260

— Adam H. Johnson (@adamjohnsonNYC) February 3, 2022
Go long charters, I suppose….
"Efforts to scrap school mask rules may run into parent opposition, polls show" [ChalkBeat]. "A Chalkbeat review of over a dozen polls since this summer found that support for masking in schools consistently outstrips opposition among parents and the general public. That could change, of course, and a substantial and vocal minority of parents have opposed masking requirements. The existing polling, though, suggests that masking rules might be difficult to quickly dislodge. Most recently, a January poll conducted for the New York Times found that 68% of Americans backed required masking for students in order to try to control the spread of the omicron variant. A separate survey from December found that only 28% of adults supported in-person schooling without masking during a COVID spike." • The official and official-adjacent propaganda on masking is so thick; and oddly, the voices of the minority are constantly amplified.
News of the Wired
"If We're Going to Live With COVID-19, It's Time to Clean Our Indoor Air Properly" [Time]. "The relationship of room ventilation to risk of infection isn't linear—that is, doubling of ventilation rate further reduces the concentration of air contaminants by only about half. This means that doubling poor ventilation from 1 ACH to 2 ACH provides relatively greater improvement in protection for room occupants than, for example, the increased protection from doubling ventilation from 6-12 ACH. This is because when air contaminants are low, much more air movement is required to dilute and remove them. Moreover, increases ventilation rates are costly, often requiring larger fans, blowers, ventilation ducts, and more electricity, as well as greater heating, cooling, and dehumidification capacity. At the same time, as noted, for the much more infectious Omicon variant, very high ventilation rates are needed to keep up with high viral concentrations and infectiousness . Therefore, because mechanical ventilation may not be sufficient to reduce the risk of infection, mechanical ventilation in public buildings should be supplemented by other methods of air disinfection. For current and future viral pathogens like SARS-CoV-19, relatively high levels of "equivalent" ventilation by supplemental air disinfection will be needed." • I don't think the ventilation community understands that the meta-policy of "live with Covid" is to do the absolute minimum. Or worse. I'm just waiting for Johns Hopkins Institute for the Applied Economics, Global Health, and the Study of Business Enterprise — so very many tells in that name — to come out with another meta-study showing that ventilation should be halved, not doubled.
* * *
Contact information for plants: Readers, feel free to contact me at lambert [UNDERSCORE] strether [DOT] corrente [AT] yahoo [DOT] com, to (a) find out how to send me a check if you are allergic to PayPal and (b) to find out how to send me images of plants. Vegetables are fine! Fungi and coral are deemed to be honorary plants! If you want your handle to appear as a credit, please place it at the start of your mail in parentheses: (thus). Otherwise, I will anonymize by using your initials. See the previous Water Cooler (with plant) here. Today's plant (JG):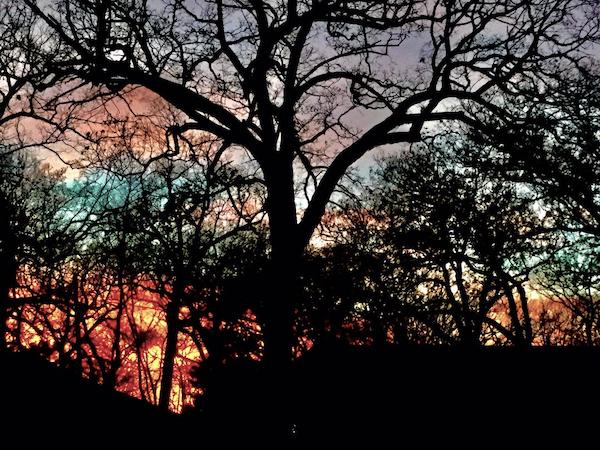 JG writes: "Central Iowa. Looking westward from living room window." Generally, I don't think of Iowa as quite this dramatic….
* * *
Readers: Water Cooler is a standalone entity not covered by the recently concluded and — thank you! — successful annual NC fundraiser. So if you see a link you especially like, or an item you wouldn't see anywhere else, please do not hesitate to express your appreciation in tangible form. Remember, a tip jar is for tipping! Regular positive feedback both makes me feel good and lets me know I'm on the right track with coverage. When I get no donations for five or ten days I get worried. More tangibly, a constant trickle of donations helps me with expenses, and I factor in that trickle when setting fundraising goals:
Here is the screen that will appear, which I have helpfully annotated.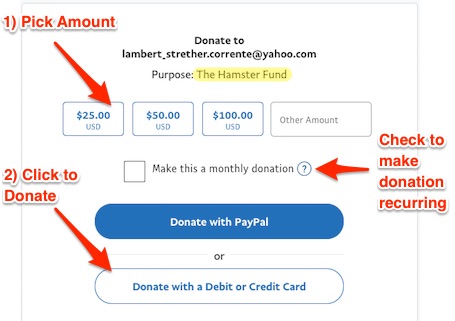 If you hate PayPal, you can email me at lambert [UNDERSCORE] strether [DOT] corrente [AT] yahoo [DOT] com, and I will give you directions on how to send a check. Thank you!