Dear patient readers,
I contacted some respectable economists about this tweet. They said they are willing to make a stink with Instagram but they would like a few more examples. They don't want to saddle up and have Instagram claim this was a one-off algo brain fart. So please provide more examples in comments if you have seen them. Thanks.
Instagram is putting a context warning label on memes that connect inflation to corporate greed (HT: @IolaElla) pic.twitter.com/X2cQr6GFOI

— Joe Weisenthal (@TheStalwart) February 15, 2022
From tiger to snow leopard: 50 years of conservation science in India Scroll (J-LS)
Study finds elk are too smart for their own good, and the good of Utah PhysOrg (Robert M)
How ancient plants 'learnt' to use water when they moved on to land – new research The Conversation (Kevin W)
JILA atomic clocks measure Einstein's general relativity at millimeter scale National Institute of Standards and Technology (Kevin W)
Examining sudden evolutionary change University of California, Santa Barbara (Robert M)
9 out of 10 ticks in this Pennsylvania park carried a potentially fatal neurological virus LiveScience (David L)
Their Bionic Eyes Are Now Obsolete and Unsupported IEEE Spectrum (Dr. Kevin). OMG horrible.
How many words does it take to make a mistake? London Review of Books (Anthony L)
#COVID-19
Science/Medicine

Nasal Approach to COVID Vaccination Gains Traction Yale School of Medicine (fk)

Pandemics disable people — the history lesson that policymakers ignore Nature (Dr. Kevin)

Coronaviruses are 'clever': Evolutionary scenarios for the future of SARS-CoV-2 STAT. Do not like positioning of endemicity as benign.

Omicron Sub-Variant May Cause New Surge of Infections in Current Wave Bloomberg. BA.2. Um, how long have we been warning that it was displacing original Omicron?

dk's TLDR: Pigs get better ventilation than office workers and nursing home residents:

In contrast, before Covid, research on ventilation/filtration & disease in human buildings was quite sparse. @linseymarr, @Don_Milton, Julian Tang, Yuguo Li, & a few others were lone voices in the wilderness, shouting into a void, ignored by CDC & WHO. 10/40 pic.twitter.com/1mBC5uedyr

— Ryan Hisner (@LongDesertTrain) February 17, 2022

Mysterious Link Between Vitamin D And COVID-19 Reaffirmed in 'Striking' New Findings Science Alert (Chuck L)

UK/Europe

Some served patients. Others served Prosecco.

(Location: Atherleigh Way, Leigh) pic.twitter.com/78XtRyvx3U

— Led By Donkeys (@ByDonkeys) February 16, 2022

Asia

Xi Jinping intervention raises threat of 'more draconian' Hong Kong Covid measures Financial Times

US

The CDC wants to 'give people a break' from masking up indoors as hospitalizations, cases, and deaths drop Business Insider. To add insult to injury, look at the Walensky photo. Here the CDC has been finally recommending KN/N95s just before yet more exhortations to stop masking as if it's a punishment. Yet what is Walensky wearing? A cloth mask over a procedure mask? Help me.

COVID-19 deaths continue to rise among children in the US WSWS

Philadelphia establishes metrics for masks and vaccine mandates Inquirer (Joshua S)

Finance/Economy

Employers take note: Most remote workers don't want to go back to the office CNN (Kevin W)
Climate/Environment
China?
China's New 'Robotic Yak' Will Support Ground Troops, But Its Abilities Appear to Be Overhyped Popular Mechanics
India
Assembly Elections: How Does Indelible Ink Work? The Wire (J-LS)

Gujarat Official Suspended After School Elocution Contest on 'My Idol Nathuram Godse' The Wire (J-LS)
New Cold War
Russian Claims of Ukraine Pullback Are False, U.S. Charges Bloomberg

China says U.S. is exaggerating Russian threat to Ukraine Reuters

Another All-Time Media Faceplant, this time over Ukraine: https://t.co/Td8WLqovcc

— Matt Taibbi (@mtaibbi) February 17, 2022

Chomsky: US Push to "Reign Supreme" Stokes the Ukraine Conflict TruthOut (Kevin C)
Syraqistan
Israeli settler violence is not legitimate discourse – opinion Jerusalem Post (resilc)

BREAKING: While all eyes are on Ukraine, Israel just bombed Syria's Damascus, terrorizing Syrians in the middle of the night.

— Sarah Abdallah (@sahouraxo) February 16, 2022
Big Brother is Watching You Watch
Google Plans to Curtail Cross-App Tracking on Android Phones Wall Street Journal

New York Is Now Using Cameras With Microphones To Ticket Loud Cars Road and Track
Biden
Mexican president says Biden is using avocado ban as a political weapon against his country Daily Mail (resilc).

AMLO may not be wrong, see: Outrage after Mexico exonerates ex-defense minister in drug case Guardian (DS)
Migrants sew mouths shut in quest for Mexico passage to U.S. border Reuters
Democrats Helped Build The Social Safety Net. Why Are Many Now Against Expanding It? FiveThirtyEight. Resilc: "More into NATO expansion and space force."
The Biggest Midterm Challenge for Democrats in 2022: Winning Back Parents New Republic
In New Yorker interview, Ocasio-Cortez defends Biden and Pelosi, urges readers not to lose "hope" in reforming two-party system WSWS
Our Famously Free Press
Britain Just Delivered a Crushing Blow to the Press Bloomberg

Twitter Officially Launches Labels To Identify the 'Good Bots' TechCrunch. Kill me now.

Today's article was ostensibly about a school board recall in San Francisco. As it has done so many times, however, the NYT let its San Francisco "Bureau Chief" Thomas Fuller insert a gratuitous paragraph about crime. https://t.co/GcDzbMQOai pic.twitter.com/VwV73zSjWr

— Alec Karakatsanis (@equalityAlec) February 16, 2022
Rep. Alexandria Ocasio-Cortez warns there's 'a very real risk' the US won't be a democracy in 10 years Business Insider (Kevin W)
Families of Sandy Hook victims announce $73 million settlement with Remington NPR (Kevin W)
Elon Musk's brain chip company, Neuralink, faces animal abuse claims Guardian (furzy)
FAA chief Steve Dickson announces resignation midway through term CNBC
FCC Bans Deals That Block Competition In Apartments ars technica
EV charging stations need repairs—but who's going to foot the bill? Popular Science (resilc)
Why the surge in retail sales is not as good as it looks MarketWatch
The Big Mac Index: A Measure of Purchasing Power Parity & Burger Inflation Visual Capitalist (furzy)
The Bezzle
'Crypto Ruined My Life': The Mental Health Crisis Hitting Bitcoin Investors Vice (resilc). It's called having a gambling addiction.

NYSE Moves Closer To NFT Trading With Trademark Application Reuters
Class Warfare
Antidote du jour. Furzy: "Stacy's barn kitty, minding the store on Maryland's Eastern Shore":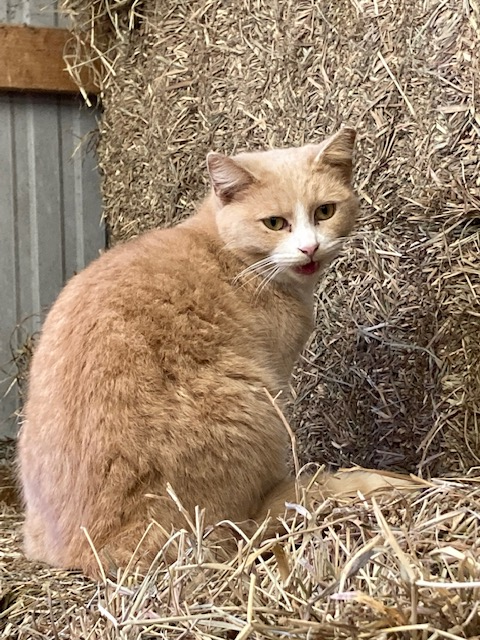 And a bonus (Chuck L):
My beautiful daughter just sent me this from Tasmania. She saw it on her way to work!! pic.twitter.com/Tv0byAXbct

— Murray Smythe (@Murray_J_Smythe) February 16, 2022
See yesterday's Links and Antidote du Jour here.