By Lambert Strether of Corrente
Bird Song of the Day
Thanks to alert reader Lena, this is Northern Bobwhite week at Naked Capitalism!
* * *
Politics
"But what is government itself, but the greatest of all reflections on human nature?" –James Madison, Federalist 51
"They had learned nothing, and forgotten nothing." –Charles Maurice de Talleyrand-Périgord
"When the going gets weird, the weird turn pro." –Hunter Thompson
Capitol Seizure
"Judge finds Trump 'more likely than not' committed felony obstruction in effort to overturn election" [ABC]. "U.S District Judge David Carter said in the ruling that Trump's former lawyer John Eastman must turn over most documents he is withholding from the Jan. 6 House committee investigating the attack on the U.S Capitol. 'Based on the evidence, the Court finds it more likely than not that President Trump corruptly attempted to obstruct the Joint Session of Congress on January 6, 2021,' Carter wrote. The judge, who reviewed Eastman's documents, ordered Eastman to turn over all but ten that the court found privileged…. In his ruling, Judge Carter, a Clinton appointee, provided a summary of several documents Eastman has sought to block. 'The eleventh document is a chain forwarding to Dr. Eastman a draft memo written for President Trump's attorney Rudy Giuliani,' Carter wrote. 'The memo recommended that Vice President Pence reject electors from contested states on January 6. This may have been the first time members of President Trump's team transformed a legal interpretation of the Electoral Count Act into a day-by-day plan of action.'"
Biden Adminstration
"Former CIA chief and Obama Defense Secretary explains away Biden's fiery unscripted remark calling for Putin's removal on president being IRISH – weeks after Biden made a joke about it" [Daily Mail]. Panetta: "'I happen to think that Joe Biden, you know, he's Irish, really has a great deal of compassion when he sees that people are suffering. And I think it overwhelmed him in the sense of seeing all of the horrors that were resulting from this war. So, you know, from a personal point of view, I understand why he said it. But at the same time, when you're President of the United States, you just have to be disciplined to make sure you don't make comments that ultimately have to be clarified by the White House." • Commentary:

"To comprehend why Panetta made a vaguely racist orientalism remark like that, you must first understand the Italian mind."

— Kevin Adams (@KvnJAdms) March 28, 2022

Also, @BidenInsultBot getting a good workout:

I've had enough of you, ya pink-eyed wagon wheeler

— Joe Biden Insult Bot (@BidenInsultBot) March 29, 2022

"Saving Ukraine vs. Defeating Russia" [Spencer Ackerman, Forever Wars]. "Already, unchastened Iraq invasion advocates like Eliot Cohen are quoting gangster movies about how you need to put one of their guys in the morgue when they put one of your guys in the hospital. It is easy to see Ukraine becoming a battlefield upon which its supposed allies will be eager to fight to the last Ukrainian so long as it means deepening Putin's chosen quagmire. Same goes for Biden describing the war as a 'new battle for freedom' while standing on the soil of Poland, whose current government is the scene of substantial democratic backsliding of its own. Then there's America's own retreat from even the flimsy bourgeois democracy we've had since 1965.

Moral clarity from a former Bush operative is always so amusing:

If FDR said in '41 on Hitler "My god, this man cannot remain in power", would you agree? If Truman said in '47 on Stalin "My god, this man cannot remain in power", would you agree? If Carter said in '77 on Idi Amin "My god, this man cannot remain in power", would you agree?

— Matthew Dowd (@matthewjdowd) March 27, 2022

Whatever, whatever, whatever…..
Democrats en Déshabillé
I have moved my standing remarks on the Democrat Party ("the Democrat Party is a rotting corpse that can't bury itself") to a separate, back-dated post, to which I will periodically add material, summarizing the addition here in a "live" Water Cooler. (Hopefully, some Bourdieu.) It turns out that defining the Democrat Party is, in fact, a hard problem. I do think the paragraph that follows is on point all the way back to 2016, if not before:

The Democrat Party is the political expression of the class power of PMC, their base (lucidly explained by Thomas Frank in Listen, Liberal!). ; if the Democrat Party did not exist, the PMC would have to invent it. . ("PMC" modulo "class expatriates," of course.) Second, all the working parts of the Party reinforce each other. Leave aside characterizing the relationships between elements of the Party (ka-ching, but not entirely) those elements comprise a network — a Flex Net? An iron octagon? — of funders, vendors, apparatchiks, electeds, NGOs, and miscellaneous mercenaries, with assets in the press and the intelligence community.

Note, of course, that the class power of the PMC both expresses and is limited by other classes; oligarchs and American gentry (see 'industrial model' of Ferguson, Jorgensen, and Jie) and the working class spring to mind. Suck up, kick down.

* * *

I have always hated that "need to" locution:

Often forgotten is the role that Albright played in the destruction of Yugoslavia.

In an off-record session with the media, Albright said, "we intentionally set the bar too high for the Serbs to comply. They need some bombing, and that's what they are going to get."

— Danny Haiphong (@SpiritofHo) March 23, 2022

"Women's March pushes for impeachment of Justice Thomas over wife's texts" [The HIll]. • It's certainly been awhile since we've heard from the Women's March. How are they doing these days?
2022
"The Corporate Threat In Dems' Must-Win Senate Race" [The Lever]. "The super PAC, Penn Progress, says it is supporting conservative Democratic Rep. Conor Lamb in the Pennsylvania race because he represents the party's 'strongest chance to flip the seat' — despite the group's own polling data finding that Fetterman, the lieutenant governor, is trouncing Lamb in the primary and performing better than Lamb against at least one top Republican candidate, according to reporting by Politico. While Fetterman might actually be Democrats' best chance to take the seat, Politico obtained a slide deck prepared for donors showing that Penn Progress is preparing to attack Fetterman as a "socialist" who supports a "government takeover of health care." These are standard talking points used by Republicans and corporate health care propagandists — which makes sense, given the super PAC's ties to the industry. Penn Progress' executive director, Erik Smith, leads a communications firm that works for Cigna, one the nation's largest health insurers, according to a corporate financial filing." • Shocking!

"How Fetterman is pulling away in Pennsylvania" [The Hill]. "The gloves have yet to come off against Lt. Gov. John Fetterman in Pennsylvania's Senate Democratic primary — and those waiting for a blue-on-blue bloodbath aren't likely to get it. Tatted up with an outsized personality, a pile of cash and a playbook that mirrors past populist campaigns, Fetterman is pulling ahead in the party's nominating contest. If he wins, he'll face off against a Republican for an open seat in a state that could decide who controls the Senate. Liberals say he can do it. They see the over six-and-a-half-foot-tall Fetterman — bald, straight-talking, with a semi-permanent scowl — as an outsider capable of wooing voters in the battleground Joe Biden and Donald Trump each won by less than 2 points. On policy, he leans mostly to the left. But don't call him Bernie Sanders, a socialist or even a progressive. He's hard to brand, and that's part of the appeal, some Democrats say. ;He is not adopting a lot of the litmus tests that you have seen progressives try to urge upon candidates,' said Adam Jentleson, executive director of Battle Born Collective and former deputy chief of staff to the late Senate Majority Leader Harry Reid (D-Nev.). ;He's managing to cross over into normie world in a way that I don't think you've seen from other so-called progressives,' he said. 'That's why I think the label doesn't quite fit.' An iconoclast he is not. Fetterman plays well with the establishment and holds some of their views. He propped up President Biden's bipartisan infrastructure plan and helped Terry McAuliffe try to win Virginia's governorship. He's against expanding the Supreme Court and supports fracking. He hasn't criticized the party. He even gets the occasional retweet from White House chief of staff Ron Klain. 'He's not trying to check all of the boxes,' Jentleson said. That's not to say he's a centrist, either. Fetterman, pro-union with a rotation of rolled up shirts to match, wants higher wages for workers and likes small-dollar donations for his own bid. His campaign's average contribution is $28, just one dollar higher than the $27 that fueled Sanders's first presidential run. He wants more government involvement on things like 'Medicare for All,' the universal health care proposal where even some progressives are divided [lol]. He sees climate change as a racial justice issue. He also wants weed to be legal, full stop." • I suppose one thing to watch, if he wins, is whether Democrat loyalists gang up with Republicans to try to defeat him. I'm guessing yes. And speaking of Pennsylvania Republicans–

"Pennsylvania Senate primaries get personal" [The Hill]. "Senate primaries in Pennsylvania are getting nastier by the day, with Republicans launching personal attacks in a race to the right and Democrats seemingly laying the groundwork for assaults over electability. The battles are only expected to get tougher ahead of the May 17 primaries, when Republicans and Democrats will choose their nominees for a race that will help determine who controls the Senate. 'Unfortunately, negative campaigning works or people wouldn't do it,' said Sam DeMarco, the chair of the Allegheny County GOP. 'There's two ways to win. One is to boost your positives. The other is to boost your opponent's negatives. And these folks on all sides are using both methods to try to make their case.' The top two front-runners in the GOP primary, former hedge fund manager Dave McCormick and celebrity cardiothoracic surgeon Mehmet Oz, have been at each other's throats for weeks with accusations of insufficient conservatism or loyalty to former President Trump. But the recent back-and-forth over foreign entanglements has escalated the campaign to scorched earth. Oz has thrown barbs McCormick's way over his former hedge fund's ties to China, a top boogeyman in U.S. politics, and released ads highlighting past comments praising Beijing. McCormick and his allies have deflected the charge, claiming the business experience makes him better able to tackle issues surrounding Beijing, and ramped up his criticism of China. On the flip side, McCormick has made hay of Oz's dual citizenship with Turkey, suggesting he could have split loyalties."
2024
"Ron DeSantis Isn't a Trump Clone. He's Just a Republican" [Bloomberg]. "The accusation that DeSantis is an enemy of democracy rests heavily on exaggerated claims about an election law he signed; a 'sweeping voter suppression law,' the liberal Brennan Center calls it. It's true that the law includes new restrictions, such as requiring that county employees oversee ballot drop-boxes. But it's also true that the law leaves Floridians with greater ballot access, in key respects, than a lot of states run by Democrats. Florida has no-excuse absentee voting, unlike Delaware and New York. Finally, there's the matter of DeSantis's lib-owning style. He is obviously happy to annoy liberals for no reason other than pleasing conservatives, as when he smirked his way through a bill-signing in Brandon, Florida. But it's absurd to take DeSantis to illustrate that Republicans now think smiting the left 'matters more than achieving policy objectives,' as one journalist put it. Even the 'culture-war' legislation DeSantis has backed, regulating classroom instruction on sexual orientation and on race relations, has been about more than upsetting his political opponents. Agree or disagree with those bills, they are a response to concerns some parents have about contemporary educational trends. And his administration has an extensive policy record beyond those issues. He has cut taxes, expanded school choice, spent money on protecting the Everglades and legalized medical marijuana. It's not a record that appeals to most Democrats, of course, and they are entitled to make their case against both the substance and the style of DeSantis. They may find, though, that the Trump-clone attack falls flat — and that not every voter who disliked Trump disliked him for the same reasons they do."

"Questions abound as Trump raises – and hoards – huge sums of 2024 cash" [Guardian]. "Donald Trump's ferocious money-raising machine, powered in equal measure by grassroots giving and large individual and corporate donations, has never really stopped turning – and it is currently raising huge sums of cash. As of this month, Trump has $108,046,100 saved in his Save America political fund, more than the Republican and Democratic national committees combined, and 12 times as much as the fund – Pac for the Future – for the Democratic House speaker, Nancy Pelosi. And all of that has been raised while Trump's own ambitions remain unclear. Though his grip on the Republican party remains tight – and he has waged an endorsement war against his opponents – the big question over whether Trump will run again for the White House remains unanswered. Without any declared candidacy, his war chest's purpose and thus also that of its master, is unclear – and deliberately so." • That's a lot of money!
RussiaGate
"The return of Hunter Biden's laptop" [Vox]. "There is no obligation for media outlets to run with conveniently timed opposition research pushed by one presidential candidate's team shortly before an election." • Oh, hell no. Remember when the New York Times suppressed James Risen's story on Bush's (felonious) program of warrantless surveillance until after Bush was safely re-elected? This Vox "explainer" explains a lot, but perhaps not what Vox thinks it does. The sheer quantity of special pleading and rationalization is really impressive.
Realignment and Legitimacy
My heavens!

Representative Franklin Delano Roosevelt Jr. (D-NY) pic.twitter.com/Q92S8bDmaf

— Dripped out Politicians (@PoliticDrip) March 29, 2022

Explains a lot….

* * *
#COVID19
If you missed it, here is yesterday's post on my queasiiness with CDC numbers, especially case count, which I (still) consider most important, despite what Walensky's psychos at CDC who invented "community levels" think. But these are the numbers we have.
Case count by United States regions: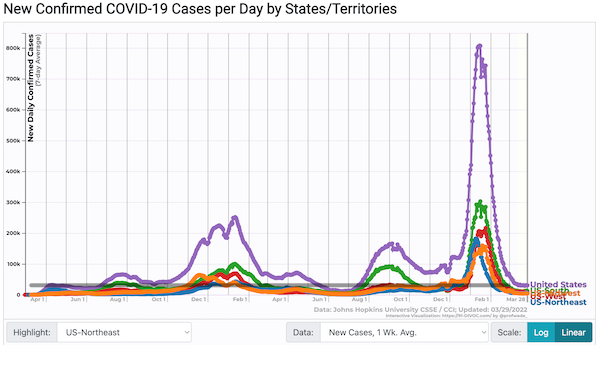 Fellow tapewatchers will note that "up like a rocket, down like a stick" phase is done with, and the case count– such as it is — is now leveling out. At a level that, a year ago, was considered a crisis, but we're "over" Covid now, so I suppose not. I have added a Fauci Line. Perhaps this says more about my temperament than it does about the data, but occasionally I watch Japanese tsusami videos. The first signs, at least in the videos I've watched, are not roaring sounds or giant waves, but strange ripples in the water, boats rocking when they should not, and so on. And so, for those inclined to pick up on creepy little signals, we seem to be getting rather a lot of them, even leaving Europe out of the equation.
The official narrative is "Covid is Over." In the fall, the official narrative was "Covid is behind us," and that the pandemic will be "over by January" (Gottlieb), and "I know some people seem to not want to give up on the wonderful pandemic, but you know what? It's over" (Bill Maher). That narrative was completely exploded. What a surprise! This time, it may be different. But who knows?
NOTE I shall most certainly not be using the CDC's new "Community Level" metric. Because CDC has combined a leading indicator (cases) with a lagging one (hospitalization) their new metric is a poor warning sign of a surge, and a poor way to assess personal risk. In addition, Covid is a disease you don't want to get. Even if you are not hospitalized, you can suffer from Long Covid, vascular issues, and neurological issues. For these reasons, case counts — known to be underestimated, due to home test kits — deserve to stand alone as a number to be tracked, no matter how much the political operatives in CDC leadership would like to obfuscate it.
MWRA (Boston-area) wastewater detection: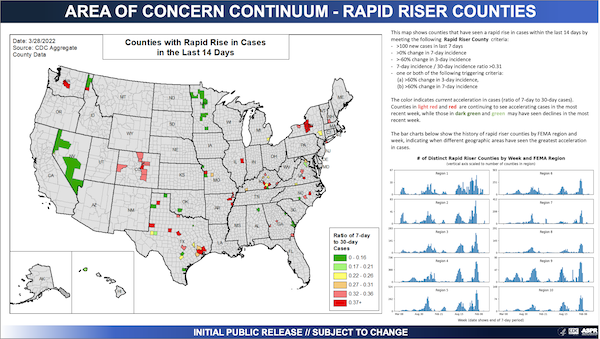 The MRWA is divided into two sections, North and South. North is distinctly up, South is rising slowly. The rise has visibly affected this chart, which aggregates them. The aggregate of the enormous Omicron spike conceals change, but change there is. Of course, it's a very small rise. Maybe this time the movie will end differently.
The Massachusetts Water Resources Authority (MWRA) service area includes 43 municipalities in and around Boston, including not only multiple school systems but several large universities. Since Boston is so very education-heavy, then, I think it could be a good leading indicator for Covid spread in schools generally.
From CDC Community Profile Reports (PDFs), "Rapid Riser" counties: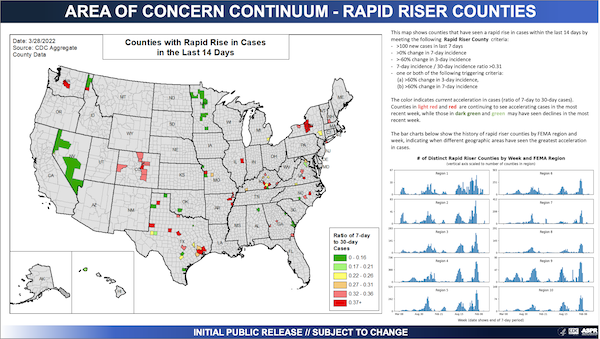 Every so often I think of doing away with this chart. Then another state flares up, today upstate New York (Remember that these are rapid riser counties. A county that moves from red to green is not covid-free; the case count just isnt, well, rising rapidly.)
The previous release: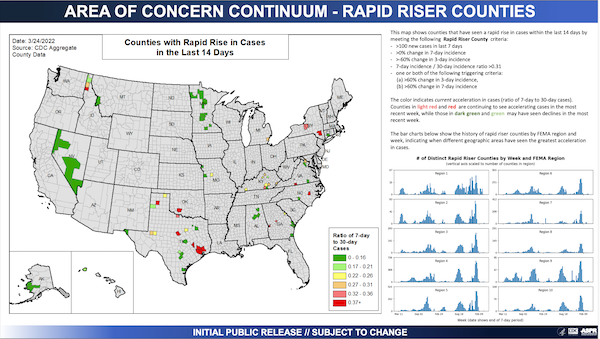 Here is CDC's interactive map by county set to community transmission: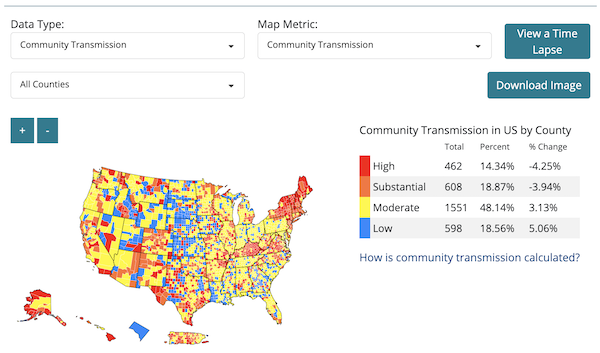 Continuing slow improvement, assuming the numbers aren't jiggered.
Hospitalization (CDC Community Profile):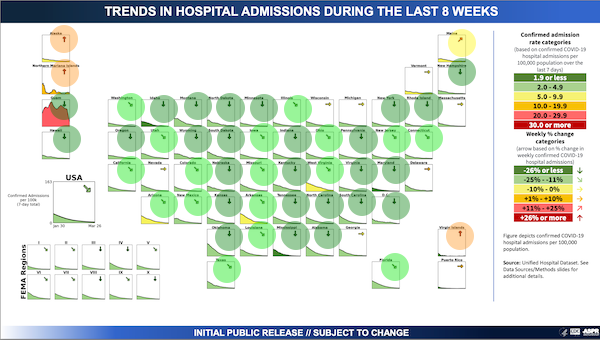 Again, I don't like the sudden effloresence of yellow and orange. I don't care that the baseline is low. From the point of view of our hospital-centric health care system, green everywhere means the emergency is over (and to be fair, this is reinforced by case count and wastewater). However, community transmission is still pervasive, which means that long Covid, plus continuing vascular damage, are not over. (Note trend, whether up or down, is marked by the arrow, at top. Admissions are presented in the graph, at the bottom. So it's possible to have an upward trend, but from a very low baseline.)
Death rate (Our World in Data):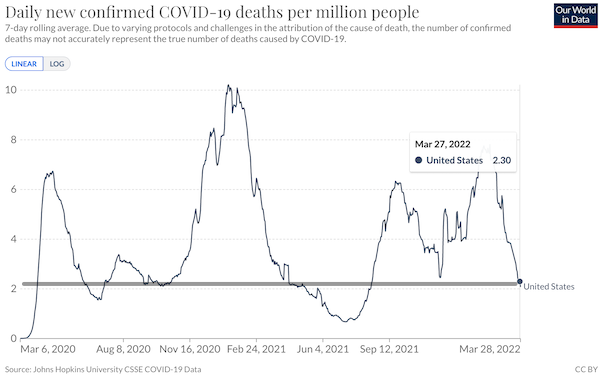 Total: 1,004,244 1,001,175 . We did it. Break out the Victory Gin. Fortunately, the numbers are headed downward. I have added an anti-triumphalist Fauci Line.
Covid cases in top us travel destinations (Statista):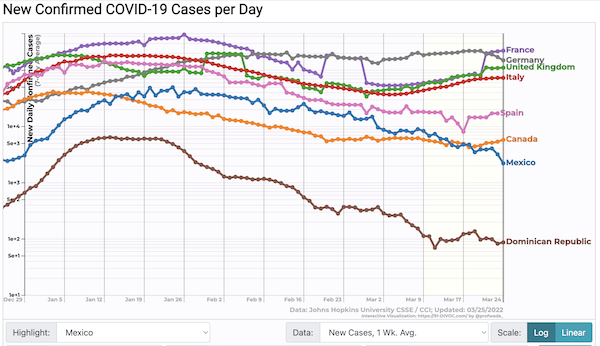 Stats Watch
Employment Situation: "United States Job Openings" [Trading Economics]. The number of job openings in the United States was 11.266 million in February of 2022, little changed from an upwardly revised 11.283 million in January and compared with market expectations of 11 million. The number of available jobs remained near a record high of 11.448 million set in December as companies continued to struggle to find scarce workers."
Housing: "United States House Price Index YoY" [Trading Economics]. "The average prices of single-family houses with mortgages guaranteed by Fannie Mae and Freddie Mac in the United States jumped 18.2 percent year-on-year in January 2022, the most in five months and following a 17.7 percent gain in December."
* * *
Shipping: "Shipping container maker Singamas rides pandemic demand boom to post record 40-fold surge in profit" [South China Morning Post]. "Singamas sold some 347,000 twenty-foot equivalent units for dry freight, more than triple the 112,000 units sold in 2020. Net profit jumped over 40 times to US$186.8 million last year, from US$4.57 million a year earlier."
Supply Chain:
The number of boxships waiting outside the ports of Shanghai and nearby Ningbo have increased considerably. @LLIntelligence data shows containerships at anchor outside Shanghai and Ningbo ports have risen to 146 compared to 120 recorded on March 25https://t.co/7ApMkP5x8e

— Lloyd's List Editorial (@LLEditorial) March 29, 2022
* * *
Today's Fear & Greed Index: 52 Neutral (previous close: 49 Neutral) [CNN]. One week ago: 44 (Fear). (0 is Extreme Fear; 100 is Extreme Greed). Last updated Mar 29 at 1:32pm.
Rapture Index: Closes unchanged [Rapture Ready]. Record High, October 10, 2016: 189. Current: 188. (Remember that bringing on the rapture is a good thing, so higher is better.)
The Stage
At last, a new take on Rock v. Smith:
The devil works hard but the updater of the Macbeth Wikipedia page works harder pic.twitter.com/c7QaLTS7So

— hannah strong (@thethirdhan) March 28, 2022
Games
"Elden Ring: The Kotaku Review" [Kotaku]. "I've long since made peace with the fact that reviewing Elden Ring—that is, providing an adequately thorough accounting of my time with the game—is nigh impossible, at least with my limited skillset. How do I make you feel the way I felt every time I encountered a merchant or enemy creating the most mournful diegetic music I've ever heard in a video game? What words can I use to bestow the same soothing nostalgia that rushed over me the first time I hit a wall with my weapon and it finally faded away to reveal a hidden path? How do I spell out the perfect onomatopoeia to capture my reflexive groan when I was ambushed by a nest of smoke-spewing basilisks, immediately aware of their dangers from encounters in previous Souls games? Everything in Elden Ring comes bundled with its own kind of friction, designed to rub you the wrong way until, finally, it rubs you the right way. And those rough edges cannot be sandpapered down without fundamentally changing the game's entire raison d'être. Souls fans often make hay over the feeling of accomplishment that comes from overcoming the genre's much-vaunted challenges, but it's more than that. It's like when my dad recently greased the hinges of an old screen door in my childhood home. The first time I opened it following his turn as a handyman, I fumbled with a brief weightlessness when I wasn't greeted by the exact sound and sensation I expected. I heard nothing. I felt nothing. It was like I was in a void. All the texture, all the personality that door previously clutched in its creaking joints was gone, replaced by a whispery smoothness that hid its existence rather than adding flavor to the world. That's Elden Ring without the learning curve, a process that sees FromSoftware essentially throw players into the deep end and encourage them to swim for safety." • Any Elden Ring players care to comment?
Our Famously Free Press
"Interview: The 'Sleuth's Corner'" [Matt Taibbi, TK News]. "The first thing the members of the "Sleuth's Corner" (colloquially, "the Corner") want you to know is they're not zealots, at least not in the way you think…. Despite only being mentioned as a group in passing in a few traditional press treatments (a multi-page section in Meier's book is the closest thing to a full profile), the Corner has broken numerous major stories in the Trump era, specializing in putting names to unnamed figures in news stories. Among others, they identified Igor Danchenko, the primary source of the infamous 'Steele Dossier,' as well as Eric Ciaramella, the alleged 'whistleblower' in the Ukrainegate case, and Rodney Joffe, also known as 'Tech Executive-1' in Special Counsel John Durham's indictment of former Hillary Clinton campaign lawyer Michael Sussmann. In return, they've been denounced as anti-vaxxers, QAnon adherents, Trump operatives, conspiracy theorists, and Russian spies, and that's just for starters. When @Hmmm57474203, the blogger who outed Brookings fellow Danchenko as Steele's primary sub-source, confronted New York Times national security reporter Charlie Savage on Twitter, Savage* answered with a reply that suggested 'Hmmm was a foreign plant." • This is very good reporting by Taibbi, well worth reading in full.
Guillotine Watch
"Inflation Stings Most If You Earn Less Than $300K. Here's How to Deal" [Bloomberg]. The headline is wprse than the body: "Economists say the overall share of income spent on gas is lower than it used to be, and despite the increases, prices are still relatively low by historical standards. That's true, but it offers little consolation these days for someone on the lower end of the income distribution who drives to work. Food prices are also up, posting their biggest monthly increase since April 2020. There, too, those making less than $19,000 spend much more of their income — almost 15% — compared with higher earners, whose total food spending is just 4% of their income. Households with income of about $50,000 spend 8.5% of it on food. The most recent barometer of consumer sentiment showed the highest-ever share of Americans expecting their finances to worsen in the coming year. About 54% think their incomes will lag behind inflation in the year ahead — a pretty high percentage historically." But then: "When it comes to food, don't be afraid to explore." • No mention of bugs?
Class Warfare
"The Truth About Bama Rush Is Hiding in Plain Sight" [New York Magazine]. "A 2014 study from Cornell University found that despite the fact that only 2 percent of Americans join a fraternity, 80 percent of Fortune 500 executives and 76 percent of U.S. senators and congressmen were fraternity members." • I've always hated fraternies. Now I really know why.
"What is it really like to be a digital nomad?" [Sifted]. "The life of a nomad has gotten considerably easier since Danchuk first packed his bags. When he first started out, there was no Airbnb, no Facebook groups, no Tinder, and Google Translate wasn't as effective as it is today. The expat hubs of young, digital professionals that have sprung up in major cities such as Berlin, New York and Chiang Mai also didn't exist back then, he says." • Not clear to me if this will continue in Biden's New World Order. Interesting 'til it comes to the "authentic relating" part….
News of the Wired
"Genetic Link to Fear Memories Found Hiding Within Mice's 'Junk DNA'" [Science Alert]. "Using a powerful new sequencing technique researchers have tracked down genes within mice that work towards soothing fear-related memories. These genes are hidden within relatively unknown regions of the mammalian genome we'd written off as 'junk DNA'…. 'Our findings suggest that long non-coding RNAs provide a bridge, linking dynamic environmental signals with the mechanisms that control the way our brains respond to fear,' [University of Queensland neuroepigeneticist Timothy Bredy] explained. 'With this new understanding of gene activity, we can now work towards developing tools to selectively target long non-coding RNAs in the brain that directly modify memory and hopefully, develop a new therapy for PTSD and phobia.'" • Or… other things.
Contact information for plants: Readers, feel free to contact me at lambert [UNDERSCORE] strether [DOT] corrente [AT] yahoo [DOT] com, to (a) find out how to send me a check if you are allergic to PayPal and (b) to find out how to send me images of plants. Vegetables are fine! Fungi and coral are deemed to be honorary plants! If you want your handle to appear as a credit, please place it at the start of your mail in parentheses: (thus). Otherwise, I will anonymize by using your initials. See the previous Water Cooler (with plant) here. Via TH: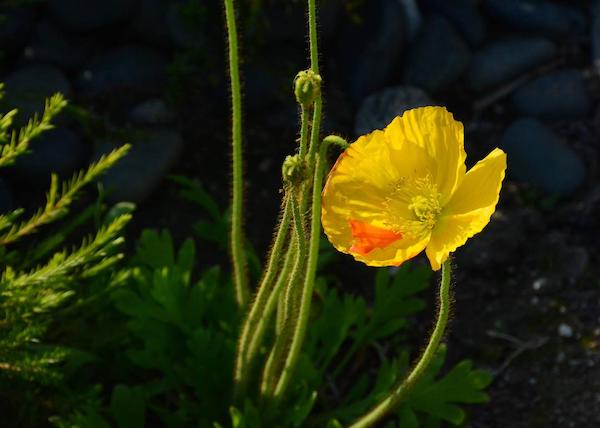 I love poppies, but they I have never been able to photograph them properly! They catch the slightest breeze so easily, and I'm not willing to completely surrender depth of field for shutter speed. This poppy seemed quite cooperative, however!
* * *
Readers: Water Cooler is a standalone entity not covered by the recently concluded and — thank you! — successful annual NC fundraiser. So if you see a link you especially like, or an item you wouldn't see anywhere else, please do not hesitate to express your appreciation in tangible form. Remember, a tip jar is for tipping! Regular positive feedback both makes me feel good and lets me know I'm on the right track with coverage. When I get no donations for five or ten days I get worried. More tangibly, a constant trickle of donations helps me with expenses, and I factor in that trickle when setting fundraising goals:
Here is the screen that will appear, which I have helpfully annotated.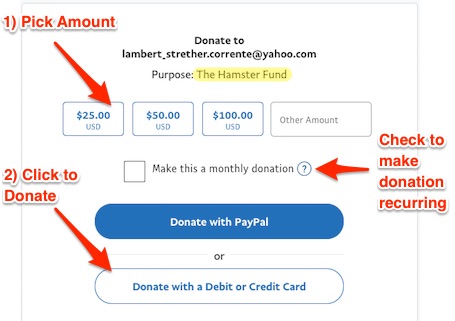 If you hate PayPal, you can email me at lambert [UNDERSCORE] strether [DOT] corrente [AT] yahoo [DOT] com, and I will give you directions on how to send a check. Thank you!