By Lambert Strether of Corrente
Bird Song of the Day
Hawaiian Bird Week at Naked Capitalism continues.
* * *
Politics
"But what is government itself, but the greatest of all reflections on human nature?" –James Madison, Federalist 51
"They had learned nothing, and forgotten nothing." –Charles Maurice de Talleyrand-Périgord
"When the going gets weird, the weird turn pro." –Hunter Thompson
Capitol Seizure
How It Started: "In Conference Call Before Riot, a Plea to 'Descend on the Capitol" [New York Times]. "One week before an angry mob stormed the Capitol, a communications expert named Jason Sullivan, a onetime aide to Roger J. Stone Jr., joined a conference call with a group of President Donald J. Trump's supporters and made an urgent plea. After assuring his listeners that the 2020 election had been stolen, Mr. Sullivan told them that they had to go to Washington on Jan. 6, 2021 — the day that Congress was to meet to finalize the electoral count — and 'descend on the Capitol,' according to a recording of the call obtained by The New York Times. While Mr. Sullivan claimed that he was 'not inciting violence or any kind of riots,' he urged those on the call to make their presence felt at the Capitol in a way that would intimidate members of Congress, telling the group that they had to ensure that lawmakers inside the building 'understand that people are breathing down their necks.' He also pledged that Mr. Trump was going to take action on his own; the president, he said, was going to impose a form of martial law on Jan. 6 and would not be leaving office." • And the result:

How It Turned Out:
Biden Adminstration
"Bidenworld projects calm about Covid but bite their nails in private" [Politico]. "Underneath the displays of confidence, however, is simmering anxiety. Biden officials and others close to the federal response privately acknowledged that the next few weeks will determine whether the White House has truly entered a new era — or managed to misread the moment once again. Despite increasing Covid caseloads in 31 states, the administration believes there's little evidence that the uptick, driven by the more contagious BA.2 subvariant, will reach the heights of the Omicron and Delta waves that preceded it. More encouragingly, Covid hospitalizations have remained largely flat ["largely is doing a lot of work, there] — a sign that vaccines and treatments are ensuring far fewer people suffer serious symptoms, and a boon to the theory that the U.S. can more safely live with the virus. 'The most important thing that the vaccines are doing is keeping people away from the hospital and the morgue," said John Moore, a virologist at Cornell University's Weill Cornell Medicine.' Still, the climbing case count has put some health officials on edge. They've spent recent days searching for hints that a bigger resurgence is on the way, unnerved by the steep increases that have already hit Europe and concerned that poor data collection is obscuring signs of a similar boom already underway here.'… [S]ome experts working on the response believe the undercounting is more severe than has been publicly acknowledged, ." • Even with the data gamed, you can see the rise in both cases and hospitalization, confirmed by sewage. I'm gonna need a bigger chart. More: "In one sign of the uncertainty within parts of the administration, the Centers for Disease Control and Prevention on Wednesday announced it would keep mask mandates for public transportation in place for another two weeks. The decision represents a shift from a month ago, when the administration signaled plans for a new system determining masking based on Covid risk levels — a move aimed at bringing the transportation policy in line with the CDC's separate, less strict framework for indoor masking." • In other words, "community levels" is being shit-canned, along with the rationale behind it. More: "More than half of all adults still haven't gotten even their first booster, CDC data show — and at least for now, the administration appears all out of new ideas. 'There is a narrative that this is under control,' the person close to the White House said. 'But I don't know how you spin that message without having an incredibly aggressive public stance on boosters. And we're not getting it done.'" • Nothing, of course, about ventilation or other non-pharmaceutical interventions. Maybe we'll luck out. But at this point, that's what we're depending on.

Some young punk in the West Wing put Austin up to this:

This morning, I had the pleasure of speaking with Ukrainian troops training in the U.S. who are returning home to Ukraine today. Their bravery and skill are amazing. I made clear the U.S. will continue to provide them with the assistance they need. pic.twitter.com/6J8ys43v2O

— Secretary of Defense Lloyd J. Austin III (@SecDef) April 10, 2022

"Second gentleman Doug Emhoff's chief of staff to depart" [CBS News]. "In a letter to the second gentleman's office, obtained exclusively by CBS News, chief of staff Julie Mason announced her departure, calling it one of the 'toughest decisions,' she's ever made but 'the right one' for her children. Katie Peters, who is currently communications director for Emhoff's office, will serve as acting chief of staff until a permanent replacement is selected." • Spend more time with her familiy? Really?
Democrats en Déshabillé
I have moved my standing remarks on the Democrat Party ("the Democrat Party is a rotting corpse that can't bury itself") to a separate, back-dated post, to which I will periodically add material, summarizing the addition here in a "live" Water Cooler. (Hopefully, some Bourdieu.) It turns out that defining the Democrat Party is, in fact, a hard problem. I do think the paragraph that follows is on point all the way back to 2016, if not before:

The Democrat Party is the political expression of the class power of PMC, their base (lucidly explained by Thomas Frank in Listen, Liberal!). ; if the Democrat Party did not exist, the PMC would have to invent it. . ("PMC" modulo "class expatriates," of course.) Second, all the working parts of the Party reinforce each other. Leave aside characterizing the relationships between elements of the Party (ka-ching, but not entirely) those elements comprise a network — a Flex Net? An iron octagon? — of funders, vendors, apparatchiks, electeds, NGOs, and miscellaneous mercenaries, with assets in the press and the intelligence community.

Note, of course, that the class power of the PMC both expresses and is limited by other classes; oligarchs and American gentry (see 'industrial model' of Ferguson, Jorgensen, and Jie) and the working class spring to mind. Suck up, kick down.

* * *

"Democrats blame messaging for their political problems" [The Hill]. "Sun Slated To Appear In East."'We got a story to tell, just got to tell it,' Obama said as he left the East Room." • Joe Biden owes me six hundred bucks. There's your story.

"So This Is Pramila Jayapal's Strategy" [The Lever]. "Brown joined the CPC when she took office in January, after defeating Turner in a primary battle in which Brown racked up support from the fossil fuel-funded, pro-Israel DMFI PAC (support she requested), Ohio Republicans, and a contractor that she had awarded $17 million to as a city councilor, a potential tit-for-tat that resulted in an ethics probe. After Turner aired an advertisement touting her support for Medicare for All, corporate lobbyists — including those representing Big Pharma — held a fundraiser for Brown, and the anti-Medicare for All lawmaker Rep. Jim Clyburn (D-S.C.) intervened to support her campaign. DMFI PAC and the corporatist dark money group Third Way spent $2.4 million promoting Brown and opposing Turner. Even so, the CPC welcomed Brown with open arms. She also joined the CPC's adversary caucus, the New Democrat Coalition, which includes several CPC members. Perhaps it's not a bad thing to welcome any member who is willing to vote with the caucus. Brown signed on as a co-sponsor to Jayapal's Medicare for All legislation in early February, for example. But if the strategy ends up with the caucus endorsing a candidate who ran a campaign backed by pharmaceutical lobbyists, the pro-Israel lobby, and Republicans — all constituencies whose interests are vehemently opposed to the CPC's agenda — against a progressive like Turner, the inside game has gone awry. Sanders, meanwhile, the only Senate member of the CPC, endorsed Turner just one day before the CPC endorsed Brown." • More on Shontel Brown:

Crypto billionaire Sam Bankman-Fried's Protect Our Future PAC makes an initial $1 million ad buy supporting Shontel Brown in #OH11.

The cmte has spent $10M now in 4 races ($5.2M in #OR06 for Carrick Flynn, $1.9M each in #GA07 and #TX30 for Lucy McBath and Jasmine Crockett) https://t.co/jC98irtLRc pic.twitter.com/8829R8h2b2

— Rob Pyers (@rpyers) April 13, 2022

"Colleagues worry Dianne Feinstein is now mentally unfit to serve, citing recent interactions" [San Francisco Chronicle]. "When a California Democrat in Congress recently engaged in an extended conversation with Sen. Dianne Feinstein, they prepared for a rigorous policy discussion like those they'd had with her many times over the last 15 years. Instead, the lawmaker said, they had to reintroduce themselves to Feinstein multiple times during an interaction that lasted several hours. Rather than delve into policy, Feinstein, 88, repeated the same small-talk questions, like asking the lawmaker what mattered to voters in their district, the member of Congress said, with no apparent recognition the two had already had a similar conversation. The episode was so unnerving that the lawmaker — who spoke to The Chronicle on condition they not be identified because of the sensitivity of the topic — began raising concerns with colleagues to see if some kind of intervention to persuade Feinstein to retire was possible…. Adding urgency to the recent concerns: If Democrats retain control of the Senate next year, Feinstein will succeed retiring Vermont Sen. Patrick Leahy as the Senate's president pro tem — putting her third in line for the presidency. Feinstein has filed paperwork with the Federal Election Commission that would allow her to run in 2024, a formality that lets her keep her fundraising accounts active, though she has not yet declared whether she intends to run.

"The First Defense Against Trump's Assault on Democracy" [The New Yorker]. • A puff piece, and not especially entertaining. No mention of the word "Steele."
2022
Somehow, I accidently nuked the countdown to the midterms. Here it is, back again. 208 days is a long time in poliitics.

* * *

FL: "DeSantis draws congressional map that would dramatically expand GOP's edge in Florida" [NBC]. "Florida Gov. Ron DeSantis proposed a new congressional map that would create four more Republican-leaning districts and wipe out Democrats' national redistricting advantage. The map — which would carve up a Black-held district — was released Wednesday afternoon, just days after state legislators said they would defer to DeSantis, a Republican, on the new congressional boundaries. The Republican-controlled Legislature drew maps that would have created less of a GOP advantage, but DeSantis vetoed them last month…. .Court challenges appear inevitable, but there is little time to change the map before the August primaries in the lead-up to the November midterm elections. Daniel Smith, a political science professor at the University of Florida who studies elections, said DeSantis appeared to be inviting lawsuits. The map 'is clearly being drawn to challenge the remaining provisions of the Voting Rights Act that the Supreme Court has not struck down,' he said."

IA: "DNC panel strips Iowa of guaranteed first vote for president; state party can still apply for coveted spot" [Des Moines Register]. "Iowa Democrats are no longer guaranteed a place at the front of the presidential nominating calendar after a panel of Democratic National Committee members voted Wednesday to effectively strip them of their coveted first-in-the-nation status. The DNC's Rules and Bylaws Committee voted to adopt a plan that will require Iowa Democrats to proactively make the case they should be reinstated to their long-held position." • After the Iowa Democrats nuked their reputation to take down Sanders, this is the thanks they get.

MI: "Democratic Rep. Slotkin draws big campaign cash in bid for Michigan toss-up seat" [Washington Examiner]. "Democratic Rep. Elissa Slotkin raised more than $1.3 million in the first quarter, swamping her likely Republican challenger in Michigan's newly configured 7th Congressional District, Tom Barrett, while growing her war chest to $5.5 million. Slotkin, first elected in the 2018 Democratic House wave by beating a GOP incumbent, is bracing for a fight in a new swing district, which, as drawn, slightly favors Republicans. But the congresswoman remains confident about her prospects in a midterm election shaping up as a rebuke of President Joe Biden." • A CIA Democrat.

OR: "National Democrats appear to be picking a favorite in Oregon's new congressional district" [Oregon Public Broadcasting]. "In a surprising development, most of the Democrats in the 6th Congressional District primary denounced what they say is an unprecedented move by a political action committee affiliated with national Democrats, the House Majority PAC. They say the PAC has thrown itself into the highly competitive race by purchasing roughly $1 million of ads to help political newcomer Carrick Flynn…. Closely aligned with Pelosi, the House Majority PAC bills itself as 'the only PAC focused exclusively on electing Democrats to the U.S. House of Representatives.'… Flynn is from Vernonia, Oregon, where he says he grew up poor, but received a scholarship that sent him to the University of Oregon. He later graduated from Law School, and has focused his campaign on his experience advising the federal government on issues like technology and disaster preparedness. Despite being a political newcomer and comparative unknown, TV and radio ads on Flynn's behalf have already made his candidacy far more visible than other campaigns. A committee called Protect Our Future PAC has poured nearly $5 million into the effort, including spots touting Flynn's support for seniors and commitment to public service. The committee is supported by Sam Bankman-Fried, the billionaire founder of a cryptocurrency exchange who lately has shown an intention to get deeply involved in national politics. Another group, the Justice Unites Us PAC, has reported spending more than $800,000 assisting Flynn. That amount alone is more than Salinas, who has attracted many powerful institutional endorsements in the race, has been able to raise since announcing her run last year." • Yale, eh?

OR: "'Phantom candidate' or worldly policy wonk? Questions swirl around Carrick Flynn candidacy" [Salem Statesman-Journal]. Fascination article, where Flynn exhibits a charmingly childlike inability to understand who might be giving him money, or why ("I nearly spilled my drink"). More: "[T]alk to Flynn or those who know him and he is described as more policy wonk than political operative. Hesaid he is a long-time analyst and consultant who has worked on some of the world's biggest issues: eradicating global poverty, navigating the emergence of artificial intelligence and preparing for global pandemics. According to his online profiles, he has lived in Kenya, Liberia, Timor-Leste, India, Malaysia, Ethiopia and England." So he's a spook? This guy looks like he was decanted from the same vat as Buttigieg.

OR: "Pelosi PAC blasted for meddling in Oregon primary" [Axios]. "rotect Our Future PAC, a new group launched this cycle by billionaire Sam Bankman-Fried, founder of the crypto firm FTX, has pledged to spend $10 million on the 2022 elections. Nonetheless, it's already committed over half of its pledged donations to Flynn alone. That total is also three times the amount it's spending on Rep. Lucy McBath's re-election in a more high-profile Democrat-on-Democrat House primary in Georgia…. .'Do I know exactly what was exchanged by his people and [House Majority PAC's] people?' [campaign manger Robin] Logsdon said to Oregon Public Broadcasting. 'No, but I can speculate, as can everyone, that promises have been made.'"
RussiaGate
"Democrat-Linked Lawyer Ordered to Face Charge Tied to Trump-Russia Probe" [Bloomberg]. Final paragraph: "Special Counsel John Durham, appointed during the Trump administration to investigate the probe, is lining up evidence for a trial this year. He has previously suggested that Clinton's campaign and the Democratic Party may be improperly withholding evidence."
Realignment and Legitimacy
The youth (1):

Biden's second-worst demographic – not relative to expectations, but OVERALL – is the highly liberal 18-34 age group. 21% approve. He's 47 points underwater. And yet DC still reflexively assumes moderation is the cure, rather than the cause, of the problem https://t.co/iPNTOqMFZ9 pic.twitter.com/i0UBDdHawj

— Will Stancil (@whstancil) April 13, 2022

I don't even know what 'highly liberal" means.

The Youth (2):

The fact here is inarguably correct, whatever you think about the conclusion. Identify as LGBT (Gallup's term / definition) …
– Boomers – 3%
– Gen X – 4%
– Millennials – 11%
– Gen Z – 21%https://t.co/lv7Cy41BCH https://t.co/yFwBrv9n9U

— Steve Koczela (@skoczela) April 8, 2022

"Opinion: How America's Youth Lost Their Religion During the 1990s" [The Roys Report]. "Possibly the most oft-repeated statistic in American religion is the rise of the religiously unaffiliated from just 5% of the population in the early 1970s to about 30% of adults in 2022. In a field where shifts typically move at a glacial pace, that demographic factoid may represent the most abrupt and most consequential shift in American society in the postwar period. But there is a more recent such phase shift, when American religion changed incredibly quickly, in whose aftermath we feel even today. Using data from the General Social Survey, which has been fielded consistently from 1972 through 2021, and restricting the sample to adults between the ages of 18 and 35, a single decade comes into sharp focus: the 1990s. It's a moment when young Americans seemed to lose religion virtually overnight. In 1991, 87% of young adults indicated that their faith was Christian, primarily Catholic and Protestant. Just 8% of this age group said that they had no religious affiliation. In 1998, only seven years later, the share of 18- to 35-year-olds who said they were Christians dropped a full 14 percentage points to 73%, while the percentage who answered "none" jumped to 20%, an increase of 12 percentage points. A ratio that hadn't changed at all between 1972 and 1991 had moved by double digit percentages in seven years." • There are various explanations given. None of them focus on the church itself.
#COVID19
* * *
If you missed it, here last week's post on my queasiiness with CDC numbers, especially case count, which I (still) consider most important, despite what Walensky's psychos at CDC who invented "community levels" think. But these are the numbers we have.
* * *
Case count by United States regions: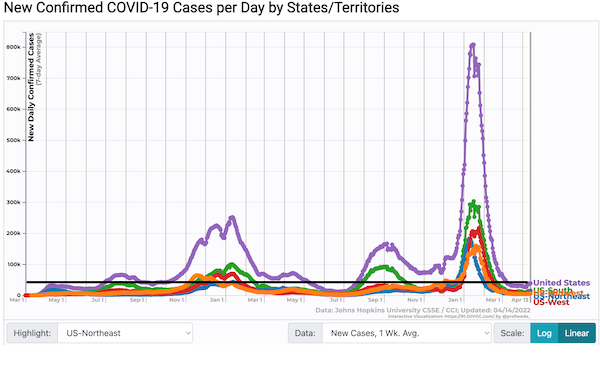 Uh oh. Remember, it's 100% certain the cases numbers are significantly understated. They've always been gamed, but it's worse than before. Here are the cases for the last four weeks: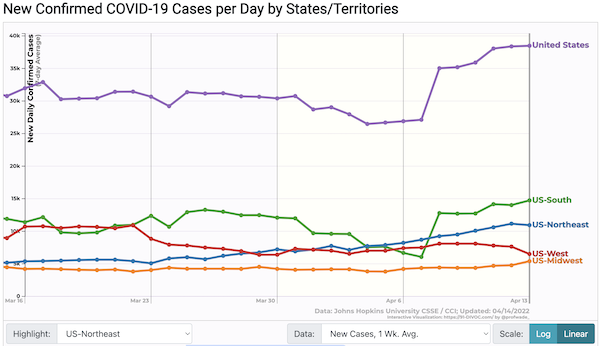 NOTE I shall most certainly not be using the CDC's new "Community Level" metric. Because CDC has combined a leading indicator (cases) with a lagging one (hospitalization) their new metric is a poor warning sign of a surge, and a poor way to assess personal risk. In addition, Covid is a disease you don't want to get. Even if you are not hospitalized, you can suffer from Long Covid, vascular issues, and neurological issues. For these reasons, case counts — known to be underestimated, due to home test kits — deserve to stand alone as a number to be tracked, no matter how much the political operatives in CDC leadership would like to obfuscate it.
MWRA (Boston-area) wastewater detection: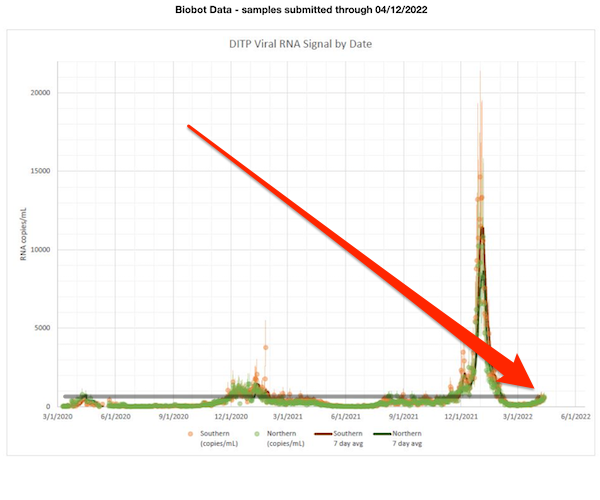 As I said on 4/8: "Too soon for a Fauci line? I'd give it a week." I was too conservative. As usual, the crisis of the past is the normal of the present.
The Massachusetts Water Resources Authority (MWRA) service area includes 43 municipalities in and around Boston, including not only multiple school systems but several large universities. Since Boston is so very education-heavy, then, I think it could be a good leading indicator for Covid spread in schools generally.
From Biobot Analytics: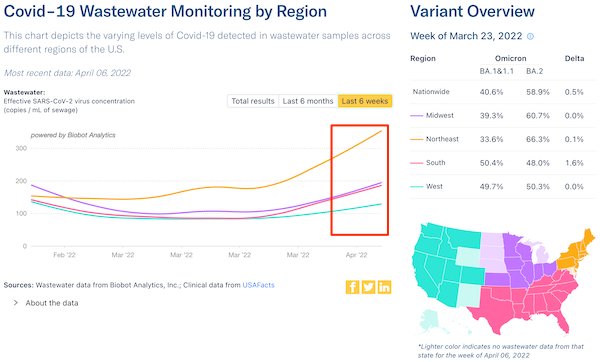 Cases lag wastewater data.
From CDC Community Profile Reports (PDFs), "Rapid Riser" counties: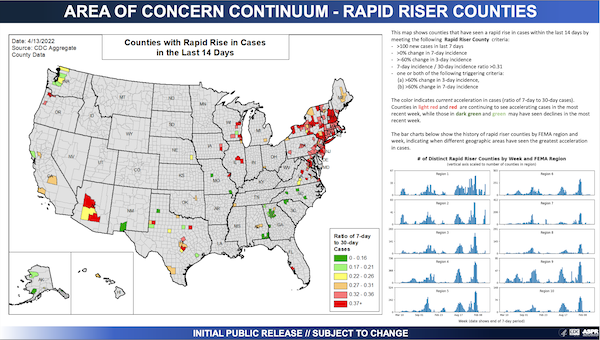 The Northeast isn't looking too good, now confirmed by hospital data. I wonder how many Gridiron Club attendees took the Acela home the following morning? (Remember that these are rapid riser counties. A county that moves from red to green is not covid-free; the case count just isnt, well, rising rapidly.)
The previous release: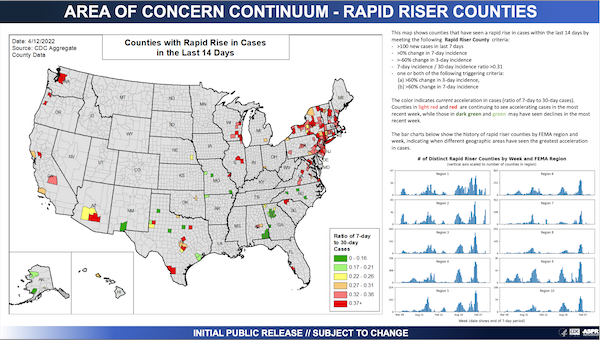 Here is CDC's interactive map by county set to community transmission. This is the map CDC wants only hospitals to look at, not you: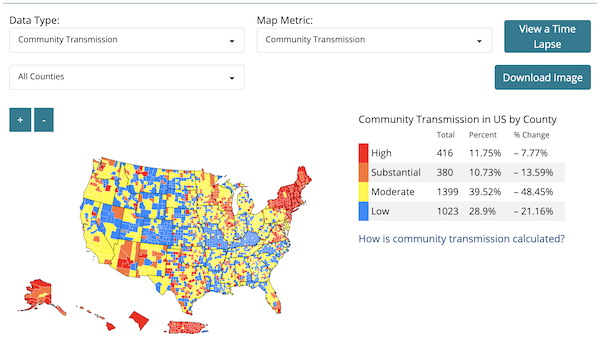 Continuing slow improvement as the map shifts from mostly red to mostly yellow (assuming the numbers aren't jiggered). However, look at the Northeast, which remains stubbornly red.
Hospitalization (CDC Community Profile):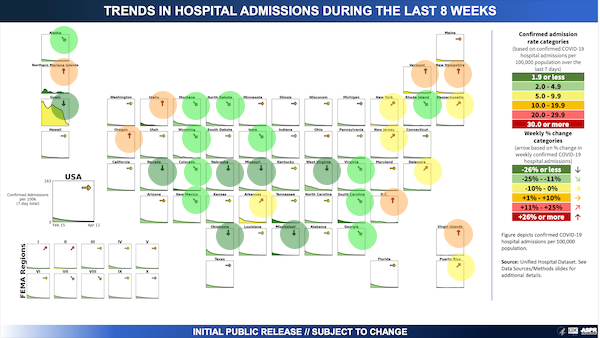 Suddenly, the Northeast isn't looking good. Of course, absolute levels are still low, so CDC can argue that nothing should be done. Again, I don't like these sudden effloresences of yellow and orange. I don't care that the baseline is low. From the point of view of our hospital-centric health care system, green everywhere means the emergency is over (and to be fair, this is reinforced by case count and wastewater). However, community transmission is still pervasive, which means that long Covid, plus continuing vascular damage, are not over. (Note trend, whether up or down, is marked by the arrow, at top. Admissions are presented in the graph, at the bottom. So it's possible to have an upward trend, but from a very low baseline.)
Death rate (Our World in Data):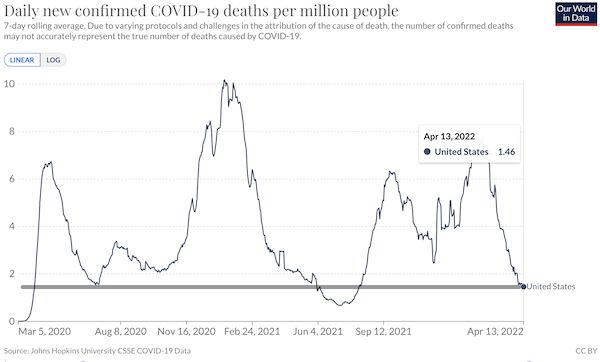 Total: 1,014,114 1,013,044. We did it. Break out the Victory Gin. have added an anti-triumphalist Fauci Line. The numbers have been level for the past few days, and they're still democidally high.
Covid cases in top us travel destinations (Statista):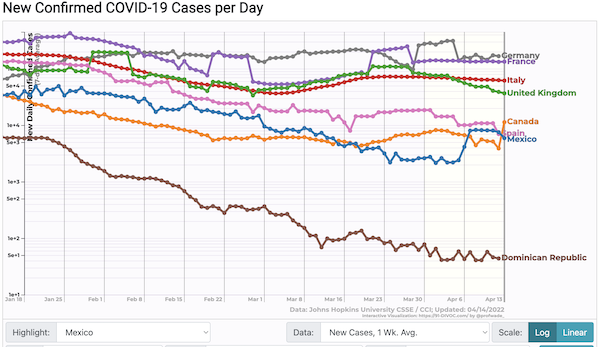 Stats Watch
Retail Sales: "U.S. Retail Sales" [Trading Economics]. "Retail sales in the US were up 0.5% month-over-month in March of 2022, below an upwardly revised 0.8% rise in February and market forecasts of 0.6%. Figures show consumer spending remains robust but reflect mainly an increase in spending due to a surge in prices for energy, food and other goods and services. Retail sales aren't adjusted for inflation."
Employment Situation: "United States Initial Jobless Claims" [Trading Economics]. "The number of Americans filing new claims for unemployment benefits rose by 18 thousand to 185 thousand in the week ended April 9th, above market expectations of 171 thousand. Still, claims remain close to the previous week's revised level of 167 thousand, the lowest since 1968."
* * *
* * *
Today's Fear & Greed Index: 41 Fear (previous close: 46 Neutral) [CNN]. One week ago: 43 (Neutral). (0 is Extreme Fear; 100 is Extreme Greed). Last updated Apr 14 at 1:24pm.
Rapture Index: Closes unchanged [Rapture Ready]. Record High, October 10, 2016: 189. Current: 187. (Remember that
Sports Desk
"San Francisco Giants' Alyssa Nakken, 31, makes major league history as first woman to coach on field in regular-season game" [ESPN]. • Good!
The Gallery
"Anonymous Buyer Pays Over $1 Million for a Piece of Invisible Art" [Smithsonian]. "Before NFTs upended the art world, the artist Yves Klein sold nothing in exchange for solid gold. One of the key figures of the nouveau réalisme (New Realism) movement, Klein was a pioneer of conceptual art. Between 1959 and his death in 1962, he made one of the most outrageous artistic statements of his career, selling a series of receipts for invisible "zones" and accepting payment only in gold bullion. Now, six decades later, one of those receipts has sold for over $1 million at auction. Though Klein sold numerous receipts for Zones of Immaterial Pictorial Sensibility, few exist today. That's because he encouraged his buyers to burn them—part of a ritual in which buyers asserted themselves as the 'definitive owners' of their purchased 'zone.' As part of the ritual, Klein would dump half the payment into the Seine while burning the receipt in the presence of witnesses." • NFTs, here we come!
Carrington was peripheral to Bloomsbury, but I would say this is more interesting than the work of, say, Duncan Grant:
Leonora Carrington, The Giantess (The Guardian of the Egg), c.1947 #WomensArt pic.twitter.com/6d2cmnI5vu

— #WOMENSART (@womensart1) April 14, 2022
Zeitgeist Watch
"The Final Pandemic Betrayal" [Ed Yong, The Atlantic]. "In just two years, COVID has become the third most common cause of death in the U.S., which means that it is also the third leading cause of grief in the U.S. Each American who has died of COVID has left an average of nine close relatives bereaved, creating a community of grievers larger than the population of all but 11 states. Under normal circumstances, 10 percent of bereaved people would be expected to develop prolonged grief, which is unusually intense, incapacitating, and persistent. But for COVID grievers, that proportion may be even higher, because the pandemic has ticked off many risk factors. Deaths from COVID have been unexpected, untimely, particularly painful, and, in many cases, preventable. The pandemic has replaced community with isolation, empathy with judgment, and opportunities for healing with relentless triggers. Some of these features accompany other causes of death, but COVID has woven them together and inflicted them at scale. In 1 million instants, the disease has torn wounds in 9 million worlds, while creating the perfect conditions for those wounds to fester. It has opened up private grief to public scrutiny, all while depriving grievers of the collective support they need to recover. The U.S. seems intent on brushing aside its losses in its desire to move past the crisis. But the grief of millions of people is not going away. 'There's no end to the grief,' Lucy Esparza-Casarez told me. 'It changes. It morphs into something different. But it's ongoing.' By upending the entire world, COVID could have created a shared experience that countered the loneliness of grief. But most of the people I've been speaking with feel profoundly lonely—detached from society, from their support network, and especially from their loved ones at the moment of their death."
News of the Wired
"A Simple, Effective At-Home PFAS Solution" [The Brockovich Report]. • This is a product endorsement, but Brockovick has form. Readers?
One for the Trillbillies:
posting this for the one and only @tressiemcphd pic.twitter.com/ONaDfju1hY

— ant (@anthoknees) April 13, 2022
* * *
Contact information for plants: Readers, feel free to contact me at lambert [UNDERSCORE] strether [DOT] corrente [AT] yahoo [DOT] com, to (a) find out how to send me a check if you are allergic to PayPal and (b) to find out how to send me images of plants. Vegetables are fine! Fungi and coral are deemed to be honorary plants! If you want your handle to appear as a credit, please place it at the start of your mail in parentheses: (thus). Otherwise, I will anonymize by using your initials. See the previous Water Cooler (with plant) here. Via Copeland: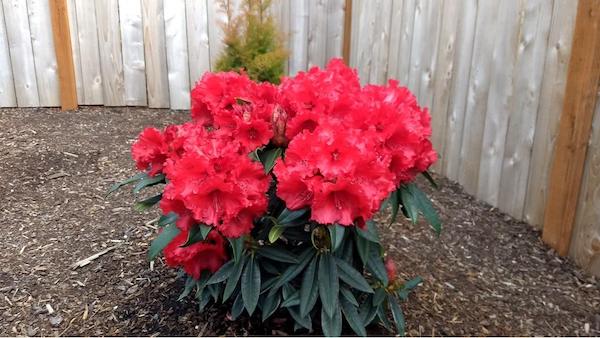 Copeland writes: "This is Rhododendron 'Taurus', one of the best reds and an early bloomer. My cheap phone camera (or Moi, I'm too addled to adjust the photo settings manually) really struggles with this hue. It is actually much redder and without the washed out areas where the flower petals are reflecting light."
* * *
Readers: Water Cooler is a standalone entity not covered by the recently concluded and — thank you! — successful annual NC fundraiser. So if you see a link you especially like, or an item you wouldn't see anywhere else, please do not hesitate to express your appreciation in tangible form. Remember, a tip jar is for tipping! Regular positive feedback both makes me feel good and lets me know I'm on the right track with coverage. When I get no donations for five or ten days I get worried. More tangibly, a constant trickle of donations helps me with expenses, and I factor in that trickle when setting fundraising goals:
Here is the screen that will appear, which I have helpfully annotated.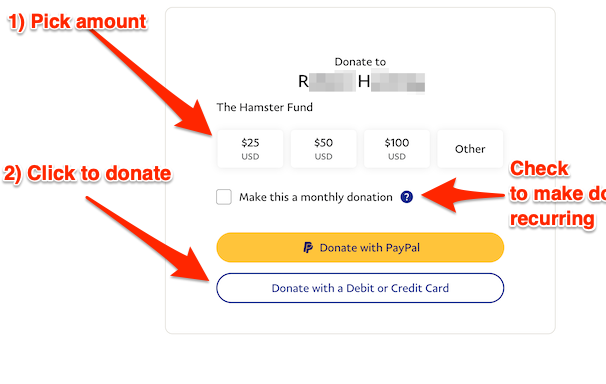 If you hate PayPal, you can email me at lambert [UNDERSCORE] strether [DOT] corrente [AT] yahoo [DOT] com, and I will give you directions on how to send a check. Thank you!