Lambert and I, and many readers, agree that Ukraine has prompted the worst informational environment ever. We hope readers will collaborate in mitigating the fog of war — both real fog and stage fog — in comments. None of us need more cheerleading and link-free repetition of memes; there are platforms for that. Low-value, link-free pom pom-wavers will be summarily whacked.
And for those who are new here, this is not a mere polite request. We have written site Policies and those who comment have accepted those terms. To prevent having to resort to the nuclear option of shutting comments down entirely until more sanity prevails, as we did during the 2015 Greek bailout negotiations and shortly after the 2020 election, we are going to be ruthless about moderating and blacklisting offenders.
–Yves
P.S. Also, before further stressing our already stressed moderators, read our site policies:
Please do not write us to ask why a comment has not appeared. We do not have the bandwidth to investigate and reply. Using the comments section to complain about moderation decisions/tripwires earns that commenter troll points. Please don't do it. Those comments will also be removed if we encounter them.
* * *
We need to find a couple of videos of Ukraine that seem to be only on Telegram. Neither Lambert nor I are willing to sign up because Telegram now wants too much personal information. If any readers with established Telegram accounts are willing to try to locate some particular videos and send us coordinates, please write me at yves-at-nakedcapitalism-dot-com with "Telegram" in the headline. Thanks!
* * *
Pterosaurs May Have Had Brightly Colored Feathers, Exquisite Fossil Reveals Scientific American
The ECB Must Act Soon to Avoid a Currency Crisis Bloomberg (Furzy Mouse). Important!
Calpers Plans to Vote to Replace Warren Buffett as Berkshire Hathaway's Chairman WSJ
Climate
Climate change and farming driving insect decline BBC (Re Silc).
#COVID19
Despite In-Flight Celebrations, Many Americans Would Prefer to Keep Masks on Planes: Poll Gizmodo. "A new quickfire poll put out by the Associated Press-NORC Center for Public Affairs Research shows that 56% of U.S. respondents said there should be requirements to wear a mask on planes, trains or other public transport. Less than a quarter of respondents prefer no requirements." Placing this here at the start as an antidote to, well, despair at the idiocy to come. Note that these figures are holding up in the face of an enormous propaganda campaign.

Biden says Americans should decide for themselves if they want to wear masks on public transportation. NYT. Clearly, it's mission-critical for liberal Democrats to stomp out the last vestiges of non-pharmaceutical intervention and mutual regard for each other's safety before the next respiratory pandemic arrives.

"Rhinoceros":

Rhinoceros is a play about conformity and mob mentality and mass delusion, about how easy it is for people to accept outrageous/unacceptable things simply because everyone else is doing it.

In the end, the protagonist Berenger is the only human left. 2/

— Debra Caplan (@debra_caplan) April 20, 2022

Thread worth reading in full.

Lawsuit seeks to overturn renewed Philadelphia mask mandate Politico

"Freedom" (1):

Flying today. A @delta pilot (🤯) walked by me in the airport and said, take your mask off man- breath free!

Why is it those who so strongly felt others were imposing their beliefs (in health, wellness and compassion) on them, feel so free to impose their beliefs on others?! pic.twitter.com/UQDXcLCoWN

— Jerome Adams (@JeromeAdamsMD) April 20, 2022

"Freedom" (2):

Just so everyone knows, @AlaskaAir has reached out and said they'll be investigating, but won't be able to tell me the results. Which is fair enough, but I told them I was taken aback by how all the staff went with it and didn't try to help those of us wearing masks.

— Jonathan Evans (@jhewiz) April 20, 2022

* * *

Not Ready for the End Game — Why Ending Federal Covid-19 Emergency Declarations Will Harm Access to Care NEJM.

The response to Covid-19 does not hinge on a single emergency declaration. Overlapping federal, state, and local declarations have triggered executive emergency powers to spend money and issue, suspend, and alter regulations. Most state and local governments have now terminated the declarations that allowed governors and mayors to order travel and business restrictions and mask and quarantine mandates without legislative action.1 At the federal level, several distinct emergency declarations remain active, but their primary effect is to remove regulatory barriers and address liability concerns that would otherwise impede access to health care and medical countermeasures (see table), not to impose mandates.

Because federal agencies have power to regulate patient safety and the interstate spread of disease even without a declared emergency, rescinding federal declarations will have little effect on federal powers to impose vaccination and mask mandates. The vaccination requirement for health care workers issued by the Centers for Medicare and Medicaid Services (CMS) relies on ordinary authority; it does not depend on an active emergency declaration. Similarly, although the Centers for Disease Control and Prevention (CDC) chose to link the duration of its current order requiring masks on airplanes and other public conveyances to the federal public health emergency (PHE) declaration, the order relies on its general powers to control communicable diseases, and the agency could reissue it even if the PHE declaration ends.

CDC advisers discuss future of COVID-19 booster shots Center for Infectious Disease Research and Policy

* * *

The Key Policy We Need to End the COVID-19 Pandemic Is Being Ignored Time

Despite effective treatments, HIV drags on. Experts warn COVID may face the same fate NPR

This Is, As Far As I'm Concerned, The Greatest Airport Story Ever Told Defector. Read all the way to the end.
China?
Hopes rise in Shanghai's battle against Covid-19 as two districts report no new cases Straits Times

Shanghai food (1):

I am not alone leading the group buys; we organized a kind of "building committee" comprised of our group buy leaders and volunteer squad. It's time/energy-intensive to do group buys so we share the responsibility.

We are effectively the newest, lowest rung of government (lol)

— David Fishman (@pretentiouswhat) April 20, 2022

Worth reading in full, for an insight into how China's government works.

Shanghai food (2):

People in Shanghai are still being given rotting and counterfeit food:https://t.co/sAkiwI7uSs
Even other provinces trying to help out can't get our trucks of food through to our fellows.

Shanghaiese have proven their incompetence, the Central Government needs to step in.

— Naomi Wu 机械妖姬 (@RealSexyCyborg) April 21, 2022

This thread is also on how China is governed, and also worth reading in full. More:

What's quite frightening to me, and the millions of Chinese like me- 1st tier, educated, middle class, is this is our first genuine encounter with incompetent local governance on a massive scale in an environment very similar to our own. And we're becoming increasingly concerned.

— Naomi Wu 机械妖姬 (@RealSexyCyborg) April 21, 2022

Shanghai food (3):

Equally, 90 percent of Chinese truckers are independent owner-operators – which means that they can't risk being caught in lockdown, or they'll lose weeks of income, so they don't want to go into Shanghai.

— James Palmer (@BeijingPalmer) April 18, 2022

Migrant workers in China find new jobs — and precarious conditions — in COVID control NPR

* * *

Dead heat by 2050: massive North China area to be hotspot for killer mix of heatwaves and surface ozone, study finds South China Morning Post

US media: Russia-Ukraine conflict is not the biggest change in the global order What China Reads
U.S. is concerned about lack of transparency of China pact with Solomon Islands –White House Reuters
Study shows 99% on Indonesia's most populous island have COVID-19 antibodies Channel News Asia. Indonesia used mostly Chinese vax.
UN asks Sri Lanka to negotiate 'debt-for-nature' swaps to ease economic meltdown FT
New Not-So-Cold War
Putin tells forces not to storm Ukraine holdout in Mariupol AP

The war in Donbas Yasha Levine

* * *

What happens to weapons sent to Ukraine? The US doesn't really know CNN. What could go wrong?

US forces to train Ukrainians on US-provided artillery systems Al Mayadeen

* * *

The Fog of Information War in Ukraine Human Events. Disentangling the various propaganda ratlines.

Senior Editor of National Review normalizes Nazis:

There is a band of people in Mariupol, taking a stand, trying to hold on, as the beast bears down on them. This is real-war stuff. Real heroism is on display. Not the playacting that we do in our "culture wars," day after day. Forgive me for being totally disgusted.

— Jay Nordlinger (@jaynordlinger) April 20, 2022

How the CIA and Italy's secret state manipulated the right and infiltrated the left Ada Winstanley. Operation Gladio. Filing this bit of the historical record here just to show we have form.

* * *

Was NATO Enlargement a Mistake? Foreign Affairs. A symposium.

Foreign Policy for the Twenty-First Century Boston Review

* * *

Loose language on atrocities will not help Ukraine Editorial Board, FT. Deck: "Biden's allegation of genocide against Russia is too hasty."

Ukraine war refugees top 5 million as assault intensifies AP
Biden Administration
DOJ to appeal travel mask mandate ruling after CDC says masks still needed on public transportation Politico
Mexico nationalises lithium in populist president's push to extend state control FT
Supply Chain
Russian Crude Shipments Have Fallen 25% In A Week OilPrice.com

China's March coal imports from Russia plunge 30% yr/yr Hellenic Shipping News

China imports 13% less crude oil from Saudi in March, 14% less from Russia -customs Channel News Asia
Intelligence Community
Former Intelligence Officials, Citing Russia, Say Big Tech Monopoly Power is Vital to National Security Glenn Greenwald. Because of course they do.

After inspiring 'Zero Dark Thirty,' she wants to inspire your best life Responsible Statecraft
Sports Desk
Before Jerry Sandusky, Penn State football had another serial sexual predator. This is the untold story of his crimes and the fight to bring him to justice ESPN
Guillotine Watch
We are ruled by Harkonnens:

Amazon workers were greeted with this message on Easter Sunday.@BusinessInsider calculated Jeff Bezos receives $152K/minute, while workers slog through a 10-12 hour shift for the chance to win a $2 snack raffle. pic.twitter.com/yezIzc5vtk

— More Perfect Union (@MorePerfectUS) April 18, 2022
Class Warfare
Resident Mortality And Worker Infection Rates From COVID-19 Lower In Union Than Nonunion US Nursing Homes, 2020–21 (abstract only) Health Affairs

Working at Amazon Is Hazardous to Your Health Jacobin

Inflation, Corporate Power, and the Forgotten New Deal Pro Market
The Boneyard Principle: Why the Next Big Thing will Emerge from a Failed Idea Every. On the success of Tik-Tok
Does Wall Street Need New Storytelling? Insecurity Analysis. "If all you offer is money, all you get are mercenaries."
Antidote du jour (via):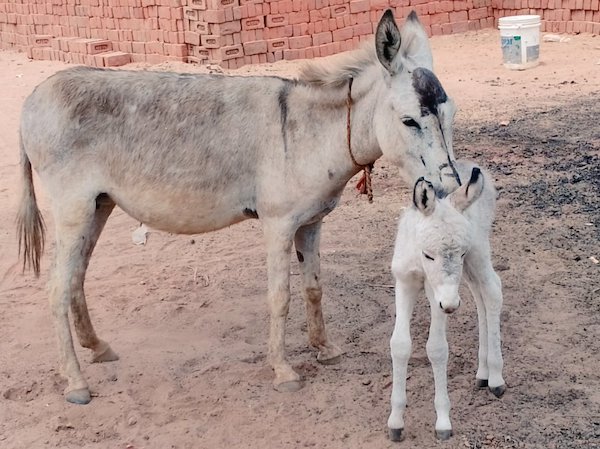 Bonus Antidote:
BFF!??????pic.twitter.com/E9qRTKdTZD

— LovePower (@LovePower_page) April 17, 2022
See yesterday's Links and Antidote du Jour here.