Lambert and I, and many readers, agree that Ukraine has prompted the worst informational environment ever. We hope readers will collaborate in mitigating the fog of war — both real fog and stage fog — in comments. None of us need more cheerleading and link-free repetition of memes; there are platforms for that. Low-value, link-free pom pom-wavers will be summarily whacked.
And for those who are new here, this is not a mere polite request. We have written site Policies and those who comment have accepted those terms. To prevent having to resort to the nuclear option of shutting comments down entirely until more sanity prevails, as we did during the 2015 Greek bailout negotiations and shortly after the 2020 election, we are going to be ruthless about moderating and blacklisting offenders.
–Yves
P.S. Also, before further stressing our already stressed moderators, read our site policies:
Please do not write us to ask why a comment has not appeared. We do not have the bandwidth to investigate and reply. Using the comments section to complain about moderation decisions/tripwires earns that commenter troll points. Please don't do it. Those comments will also be removed if we encounter them.
* * *
The Webb Telescope Is Almost Fully Aligned Gizmodo
Machine-learning models vulnerable to undetectable backdoors: new claim The Registry. Holy [firetruck]!!!!!
Climate
Wynn Bruce dies after lighting himself on fire outside Supreme Court NY Post

Activism, Uncensored: On Winning and Losing Strategies of Climate Change Protest Matt Taibbi, TK News

Can you reach net zero by 2050? FT. A game.
#COVID19
Washington's elite turned the Gridiron dinner into a COVID superspreader. Let's learn from it. Jerome Adams, USA Today. More on this disgraceful episode at NC here. And speaking of Jerome Armstrong:

Masks (1):

One more addition to greatest (NOT) hits of replies: "I'm sure the @delta pilot didn't know your wife was being treated for cancer." 🤦🏽‍♂️

Umm- That's EXACTLY the point! Can't tell someone is at risk by looking at them. Which is why respect should be the basis for all engagement.

— Jerome Adams (@JeromeAdamsMD) April 23, 2022

(Cf. Matt 5:11.) Surgeon General Armstrong's original tweet:

Flying today. A @delta pilot (🤯) walked by me in the airport and said, take your mask off man- breath free!

Why is it those who so strongly felt others were imposing their beliefs (in health, wellness and compassion) on them, feel so free to impose their beliefs on others?! pic.twitter.com/UQDXcLCoWN

— Jerome Adams (@JeromeAdamsMD) April 20, 2022

Masks (2):

At least 10 people in the airport or on the plane have told me I don't need to wear a mask anymore. I'm just trying to protect my new lungs and my children while traveling for work y'all 😭

— Salty AF 🫁♻️ (@saltylungs) April 23, 2022

Joe, Rochelle, Tony, Leanna, David, Ashish: good job.

Masks (3):

Masks not mandatory on (train replacement) buses in Boston, yet check out the air quality! 🤢 We all only boarded about 10 minutes ago.

Urgent need for #SafeIndoorAir on public transport everywhere, esp. given the higher likelihood of people of low socio-economic status using it pic.twitter.com/O65E6CbUbm

— Benjamin Veness (@venessb) April 24, 2022

Masks (4):

Thrilled to announce I'm going to smoke cigarettes on my next @Delta flight because I'm really not worried about the health risks and @Delta puts my personal freedom first.

— Bess Kalb (@bessbell) April 20, 2022

SARS-CoV-2 Vaccination and Myocarditis in a Nordic Cohort Study of 23 Million Residents JAMA (Acacia). From the Abstract: "Results of this large cohort study indicated that both first and second doses of mRNA vaccines were associated with increased risk of myocarditis and pericarditis. For individuals receiving 2 doses of the same vaccine, risk of myocarditis was highest among young males (aged 16-24 years) after the second dose. These findings are compatible with between 4 and 7 excess events in 28 days per 100 000 vaccinees after BNT162b2 [Pfizer], and between 9 and 28 excess events per 100 000 vaccinees after mRNA-1273 [Moderna]. This risk should be balanced against the benefits of protecting against severe COVID-19 disease.
China?
Coronavirus: Shanghai logs record 39 deaths in latest outbreak as Vice-Premier Sun calls for the timely treatment of patients South China Morning Post

In Shanghai London Review of Books. Today's must-read. Lots of detail.

Chinese astronauts land on Earth after China's longest crewed space mission Reuters
Scott Morrison says Chinese military base in Solomon Islands would be 'red line' for Australia, US ABC Australia
India
The Battle to Save India Has to Be Waged By Every Single One of Us The Wire
Syraqistan
'Not our fight': Why the Middle East doesn't fully support Ukraine Deutsche Welle

Bread, Debt and Politics Whip Up Volatile Mix in Tunisia Bloomberg

Jerusalem's Temple Mount Clashes Are Spreading to Jordan's Royal Palace Haaretz
UK/EU
New Not-So-Cold War
'Al Qaeda is on our side': How Obama-Biden team empowered terrorists in Syria Aaron Maté. Another must-read. And the same crew took the playbook, scratched out "Syria" and wrote in "Ukraine," and here we are. Throwaway paragraph:

While Trump put an end to the CIA proxy war, his efforts to further extricate the U.S. from Syria by withdrawing troops were thwarted by senior officials who shared the preceding administration's regime change goals.

"When President Trump said 'I want everybody out of Syria,' the top brass at Pentagon and State had aneurysms," Christopher Miller, the Acting Secretary of Defense during Trump's last months in office, recalls.

Jim Jeffrey, Trump's envoy for Syria, admitted to deceiving the president in order to keep in place "a lot more than" the 200 U.S. troops that Trump had reluctantly agreed to. "We were always playing shell games to not make clear to our leadership how many troops we had there," Jeffrey told Defense One.

Since I know the defenders of "our democracy" respect "norms" too much to ever stage a coup, although this looks remarkably like one, I won't use the word. But feel free to think it!

* * *

Zelensky lashes out at Kremlin as he announces Blinken and Austin visit FT

The awful truth is dawning: Putin may win in Ukraine. The result would be catastrophe Guardian and Boris Johnson admits Russian victory in Ukraine is 'a realistic possibility' as Putin steps up onslaught Evening Standard

Russia says it destroyed Odesa terminal where foreign weapons were stored Reuters

Bulgarian PM Denies Ukraine's Request For Weapons; Says 'have Clear Red Lines' Republic World

Turkey blocks Russian armed forces' air route to Syria FT

DIHK: Banning Russian gas is a catastrophe for German industries Al Mayadeen. Association of German Chambers of Commerce and Industry.

A West-mandated Russian "default": who wins and who loses? The Saker

* * *

Why Neutrality Is a Trap for Ukraine Foreign Policy

Nine reasons why NATO should close the door to Sweden and Finland Responsible Statecraft

* * *

The New Nuclear Reality The New Yorker

"There Cannot Be a Nuclear War" (interview) Olaf Scholz, Der Spiegel
Biden Administration
Ukraine war fuels a weapons gold rush — and defense contractors are already cashing in Salon

In rejecting a prisoner's post-conviction claim, court plants seeds for narrowing habeas relief SCOTUSblog
Supply Chain
Ukraine Has Planted 20% of Expected Spring Crops So Far This Year, Says Ukrainian Ag Ministry Farm Journal
2022
Jan. 6 revelations will 'blow the roof off the House,' Rep. Jamie Raskin says NBC. Big if true.
2024
Why Elon Musk believes 'woke mind virus' and 'wokeness' are threats to modern civilization USA Today. I wonder if Musk is contemplating a Presidential run. It would be like him. The "smart Trump" we're all worried about?
Republican Funhouse
What's With the Far-Right's Interest in Ball Tanning? Rolling Stone. Gender affirmation?
The Bezzle
Autopilot fail! Moment driverless Tesla being summoned by owner across Washington air field crashes into $2m private jet and keeps going even after collision Daily Mail
Our Famously Free Press
Anatomy of a Bogus "Disinformation" Smear Michael Tracey
Imperial Collapse Watch
DoD audit says Army's $22 billion 'mixed reality' goggle needs more soldier input Army Times (Re Silc).
Guillotine Watch
Soaring food prices push more Cargill family members on to world's richest 500 list Guardian
Inspiring: Celebrities Spell Out 'We're All In This Together' With Their Yachts Babylon Bee
Class Warfare
Workers at Starbucks Roastery second in Seattle — and on Capitol Hill — to unionize Capitol Hill Seattle Blog. Schultz must be chewing the carpet.

Amazon's Union Busting Is Subsidized By The Government Lever News

If Wage Growth Is Driving Inflation, Why Is Workers' Share of Income Falling? Dean Baker, DC Report
Atoms with Consciousness: Yo-Yo Ma Performs Richard Feynman's Ode to the Wonder of Life, Animated The Marginalian
Endemic Pathogens Are Making You Crazy And Then Killing You: Toxoplasmosis Spotlight hard to write. The author.
Antidote du Jour (via):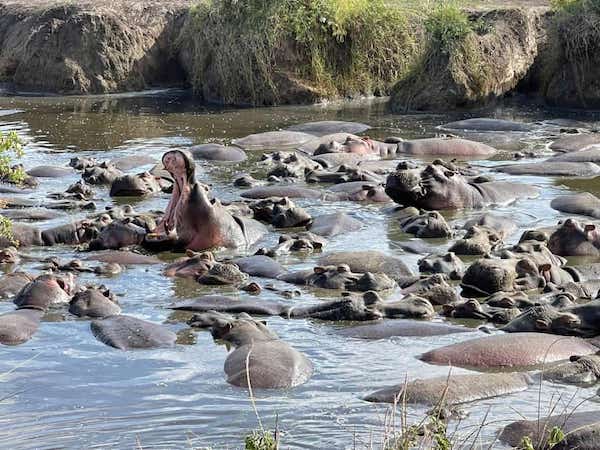 Spot the rocks!
Bonus Antidote:
First steps of a baby elephant.. ? pic.twitter.com/CF2R6AHzWS

— Buitengebieden (@buitengebieden_) April 22, 2022
See yesterday's Links and Antidote du Jour here.