By Lambert Strether of Corrente
Bird Song of the Day
This is Tanager week at Naked Capitalism. New York, United States.
* * *
Politics
"But what is government itself, but the greatest of all reflections on human nature?" –James Madison, Federalist 51
"They had learned nothing, and forgotten nothing." –Charles Maurice de Talleyrand-Périgord
"When the going gets weird, the weird turn pro." –Hunter Thompson
Biden Adminstration
"'People are still upset': why Joe Biden's jobs boom failed to win over voters" [Financial Times]. "[T]he much-desired "hot" economy the White House and congressional Democrats championed so doggedly — and engineered through the $1.9tn stimulus package enacted in March 2021 — has been accompanied by a messy mix of high inflation, labour shortfalls and supply chain disruptions that have been exacerbated by Russia's invasion of Ukraine and new waves of coronavirus infections. These factors are weighing heavily on American households and businesses, meaning Biden and his party are getting little or no political credit for the jobs boom and wage gains ahead of the midterm elections. It is a troubling verdict in the court of public opinion for an administration that desperately wanted to deliver tangible economic benefits to middle-class Americans, to fend off a new populist backlash and show that US democracy could produce positive economic results…. "People are still pretty upset, still pretty pessimistic and on edge," [Mark Zandi, an economist at Moody's Analytics who has advised Democratic and Republican presidential campaigns] added." • I can't imagine why.
2022
* * *

PA: "Pennsylvania Portents" [The Baffler]. "The Pennsylvania primary delivered exactly what was expected: a Republican Thunderdome made up of the party's most extreme elements, and a commanding Democratic Senate primary victory for Lieutenant Governor John Fetterman, who carried every county in Pennsylvania…. [T]here are other signs of a person at odds with his image. With a tightly orchestrated campaign, slick digital advertisements, masterful use of political surrogates (such as his more likable wife, Gisele), and a sophisticated fundraising operation, Fetterman is more of a standard politician than his brand would have you believe. That political savvy is a large part of how he boxed out the competition in the left-of-center lane…. Fetterman may have done progressives a favor. He and his campaign helped lead the charge on a night when insurgents appear to have largely smashed Pennsylvania's Democratic old guard." • Good. For me, that's enough right now.

TX: "O'Rourke's standoff with Gov. Abbott over Uvalde mass shooting marks the new era in Texas politics" [Express News]. "The rawness of a new era of Texas politics was on full display on Wednesday in Uvalde as Gov. Greg Abbott and Beto O'Rourke were eye-to-eye in a high school auditorium in the aftermath of one of the state's worst gun violence tragedies…. That dynamic was on display in the heated governors race long before Uvalde. O'Rourke has for months been far more intense in his campaign against Abbott than in his 2018 campaign against U.S. Sen. Ted Cruz. In that race against Cruz, Democrats worried O'Rourke wasn't tough enough. That's not the case this time. O'Rourke hammered Abbott earlier this year for the failures of the power grid during the 2021 winter storms that killed more than 700 people and left millions without electricity. O'Rourke went so far as to accuse Abbott of essentially accepting bribes from oil and gas company executives to assure he wouldn't regulate them. Now one of Abbott's biggest donors is suing O'Rourke for libel and defamation. Kelcy Warren, chairman of the board at the gas pipeline company Energy Transfer Partners, filed suit against O'Rourke in San Saba County seeking more than $1 million in damages in a case filed in March…. O'Rourke hadn't told his staff about making any speeches or confrontation with Abbott, they said. But then suddenly there he was, jumping up from his seat shouting and pointing fingers." Here's a video:

.@BetoORourke just showed up and shook things up. @statesman pic.twitter.com/Z1FtBwUEdJ

— Luz Moreno-Lozano 🦇 (@LuzMorenoLozano) May 25, 2022

The dynamics — and the cops in khaki lounging on the stage — remind me very much of this famous scene:

Visually, O'Rourke is Luke, and the dignitaries on the stage are The Captain — victorious and dominating. I commend O'Rourke for his courage and his statement, which isn't something I say about Democrats a lot. But I could wish that the episode had not ended in a physical retreat. like Luke getting beaten down. I'n not sure what a tactical alternative would have been; O'Rourke loves to stand on things, but I think the stage was just a little too high to leap onto. Perhaps (see the end of the snippet above) more staff-work?

I'll be waiting for this take to appear:

The Uvalde shootings were terrible. But they in no way justify what Beto O'Rourke did to the norms.

— New York Times Pitchbot (@DougJBalloon) May 26, 2022

TX: "Congressional Runoffs Between Blue Dog Democrats and Progressives in South Texas Too Close to Call" [The Texan]. "In Texas' 28th Congressional District, U.S. Rep. Henry Cuellar (D-TX-28) declared victory over progressive challenger Jessica Cisneros. But Cisneros has not conceded, and counties in the district still need to certify votes for an official result. As of Wednesday morning with all precincts reporting according to the secretary of state, Cuellar leads Cisneros by 177 votes, only 0.4 percent. Similarly, in Texas' 15th Congressional District, Michelle Vallejo expressed optimism about the results but leads Ruben Ramirez by only 23 votes. Unlike Cuellar, though, Vallejo has not declared victory."

TX: Good news:

I don't think many people outside of South Texas realize what is happening in #TX15

A progressive first-time candidate is ahead of the DMFI/AIPAC/Blue Dog anointed one … with 100% of precincts reporting!@MichelleVforTX y'all! pic.twitter.com/LyS6X11B4O

— Mike Siegel (@SiegelForTexas) May 25, 2022
2024
"There Has to Be a Backup Plan. There's a Backup Plan, Right? Inside the 2024 soul-searching that's happening in every corner of the Democratic Party." [New York Magazine]. "This untenable state of affairs — in which Biden insists he wants the job until he's 86 but much of his party won't listen — is only partially a by-product of his not yet officially declaring his candidacy. (He's following the traditional timeline, in which the incumbent relaunches after the midterms.) It's partly because of Biden's own occasional hedges: With family tragedies and two brain aneurysms in his past, he has always allowed that he might step aside if his health declined or if "fate intervened." But its origins may also be traced precisely to March 9, 2020, when Biden pitched Democratic voters on a certain vision of the future…. ook, I view myself as a bridge," Biden said that day. "Not as anything else." He was onstage in Detroit, on an exhilarating high, less than a week after a shock Super Tuesday romp that supercharged his once-flagging primary campaign and made it almost impossible for Sanders to catch up….. Gesturing at Harris, Whitmer, and Booker, he said, "There's an entire generation of leaders you saw stand behind me. They are the future of this country." Biden didn't intend his remarks to be a one-term pledge, but the notion had been in the air; some allies had debated the idea semi-openly in the press just a few months earlier. Regardless, this appearance in Detroit was replayed frequently and promoted enough in the ensuing months to become a symbol of Biden's promise to defeat Trumpism and then let the country move on, ushering in a new era of leadership…. . It became clear that Biden's bridge, to consider his analogy on its terms, wasn't built to completion at the far side. For liberal and progressive voters, the cognitive dissonance has been significant." • Bridge, eh? "Gentlemen, gentlemen! I won't take any more credit for this victory than necessary. Lord Kitchener did not – nay, will not – die in vain, grid willing. [Applause] Gentlemen, gentlemen – I, as leader, will use power like a drum, and leadership like a violin. Take out any idea. Compare ideas, with the one idea left we are left you have no doubt and without a doubt we have enthusiasm! Gentlemen, gentlemen, please, gentlemen – ! Now, now, gentle- gentlemen, now that we have obtained control we must pull together as one – like a twin! Keeping the prophecy of power as enthusiasm! All for one!" The whole article is well worth a read; it's interesting to see each alternative foreclosed.
Democrats en Déshabillé
I have moved my standing remarks on the Democrat Party ("the Democrat Party is a rotting corpse that can't bury itself") to a separate, back-dated post, to which I will periodically add material, summarizing the addition here in a "live" Water Cooler. (Hopefully, some Bourdieu.) It turns out that defining the Democrat Party is, in fact, a hard problem. I do think the paragraph that follows is on point all the way back to 2016, if not before:

The Democrat Party is the political expression of the class power of PMC, their base (lucidly explained by Thomas Frank in Listen, Liberal!). ; if the Democrat Party did not exist, the PMC would have to invent it. . ("PMC" modulo "class expatriates," of course.) Second, all the working parts of the Party reinforce each other. Leave aside characterizing the relationships between elements of the Party (ka-ching, but not entirely) those elements comprise a network — a Flex Net? An iron octagon? — of funders, vendors, apparatchiks, electeds, NGOs, and miscellaneous mercenaries, with assets in the press and the intelligence community.

Note, of course, that the class power of the PMC both expresses and is limited by other classes; oligarchs and American gentry (see 'industrial model' of Ferguson, Jorgensen, and Jie) and the working class spring to mind. Suck up, kick down.

* * *

"How Joe Manchin Aided Coal, and Earned Millions" [New York Times]. "The Grant Town power plant is also the link between the coal industry and the personal finances of Joe Manchin III, the Democrat who rose through state politics to reach the United States Senate, where, through the vagaries of electoral politics, he is now the single most important figure shaping the nation's energy and climate policy….[Manchin] went into business with the Grant Town power plant. Mr. Manchin supplied a type of low-grade coal mixed with rock and clay known as "gob" that is typically cast aside as junk by mining companies but can be burned to produce electricity. In addition, he arranged to receive a slice of the revenue from electricity generated by the plant — electric bills paid by his constituents. The deal inked decades ago has made Mr. Manchin, now 74, a rich man…. he Grant Town plant, which has been the sole customer for his gob for the past 20 years, according to federal data. At key moments over the years, Mr. Manchin used his political influence to benefit the plant. He urged a state official to approve its air pollution permit, pushed fellow lawmakers to support a tax credit that helped the plant, and worked behind the scenes to facilitate a rate increase that drove up revenue for the plant — and electricity costs for West Virginians. Records show that several energy companies have held ownership stakes in the power plant, major corporations with interests far beyond West Virginia. At various points, those corporations have sought to influence the Senate, including legislation before committees on which Mr. Manchin sat, creating what ethics experts describe as a conflict of interest." • "What ethics experts describe as a conflict of interest." Beautiful.
RussiaGate
"Sussmann billed Clinton campaign for thumb drives he gave to FBI pushing Alfa-Bank allegations" [Washington Examiner]. Lol, lawyers are too much. "Two thumb drives containing Alfa-Bank claims, along with "white papers" pushing the claims, were provided to Baker by Sussmann at the meeting, and the prosecution presented evidence that even the USB drives bought by Sussmann were billed to the Clinton campaign. The thumb drives, one blue and the other red, were displayed to the jury as evidence this week in Washington. Kori Arsenault, a paralegal for the Justice Department, discussed an expense report in which the expense owner was listed as 'SUSSM' — Sussmann, who submitted it on Sept. 22. The allocation was marked 'confidential' and charged to Hillary for America….. Arsenault put together other records aiming to demonstrate that Sussmann went to the FBI on behalf of the Clinton campaign, including a Perkins billing chart laying out her findings related to Sussmann billing time to the Clinton campaign. She specifically pointed to a meeting on "Communications with M Elias regarding server issue" on July 1, 'Communications with M Elias regarding server issue' on July 31, 'Meeting with consultant, M Elias, revisions to white paper, meeting with expert and reporter, follow up meeting' on Sept. 6, 'Multiple meetings regarding confidential project, draft white paper … meetings with M Elias' on Sept. 14, and 'Work and communications regarding confidential project' on Sept. 19…. [FBI general counsel James Baker] testified last week he was '100% confident' that Sussmann claimed he was not there on behalf of a client."
Realignment and Legitimacy
"A Culture That Kills Its Children Has No Future" [Elizabeth Bruenig, The Atlantic]. "Yesterday, before the families of Uvalde had buried their children, Texas Attorney General Ken Paxton said in a televised interview that he would 'much rather have law-abiding citizens armed and trained so that they can respond when something like this happens, because it's not going to be the last time.' That is to say: It's going to go on indefinitely." • Once again, what's the issue? We need to learn to live with the shootings and perform personal risk assessments.

Ka-ching:

🚨BREAKING🚨

I analyzed the gun rights lobbying groups donations to politicians from 2018, 2020, and 2022 campaigns.

In 2018, Ted Cruz had the most contribution from gun rights groups, at $311K.

In 2022, Rand Paul did at $38K.

See full report here: https://t.co/WlsxB6rhq3 pic.twitter.com/BwGFxDG2xD

— unusual_whales (@unusual_whales) May 25, 2022

A fine description of how ideologies take hold:

What Keynes said about Ricardianism applies equally to neoclassical economics pic.twitter.com/HcznDrq10j

— Sandeep Vaheesan (@sandeepvaheesan) May 25, 2022

Over-determined, contingent, but not inexplicable.
#COVID19
Lambert here: I am but a humble tape-watcher, but if some trusting, non-realist soul tells you that "Covid is over," you can tell them that cases are up, transmission is up, test positivity is up, hospitalization is up, rapid riser counties are up, and wastewater is up, too. And this is all from data designed to support the narrative that "Covid is over," and gamed within an inch of its life. So, if signals like that are flashing red, consider what the real signal must be like. (Note also this is all with BA.2 only, and with what the establishment considers an "immune wall" made from vaccination and prior infection. Since semper aliquid novi Africam adferre, and we've let 'er rip at the airports…. Well, I just hope we get lucky with BA.4 and BA.5. "God has a special providence for fools, drunkards, and the United States of America." –Otto von Bismarck.
* * *
Holy moley (1):
I'm just a mom of a toddler, trying to get through the end of the year, begging you to please stop reporting your kid's positive covid test to the school.

— Daniela Jampel (@daniela127) May 21, 2022
Holy moley (2):
It Wasn't Easy to Get Emily Oster to Smile

We Ended Up Having to Make a Diorama of a Teachers' Union and Lighting It on Fire

By The Photographers at Time Magazine pic.twitter.com/u1wOojBVcC

— New York Times Education Pitchbot (@GreyLadiesNYC) May 23, 2022
That smile. I haven't gotten around to gifting Oster with an award yet, but as with Leanna Wen there will be many opportunities.
"Welcome to the Next COVID Wave" [New York Magazine]. • Late to the party!
* * *
If you missed it, here's a post on my queasiness with CDC numbers, especially case count, which I (still) consider most important, despite what Walensky's psychos at CDC who invented "community levels" think. But these are the numbers we have.
* * *
Case count by United States regions: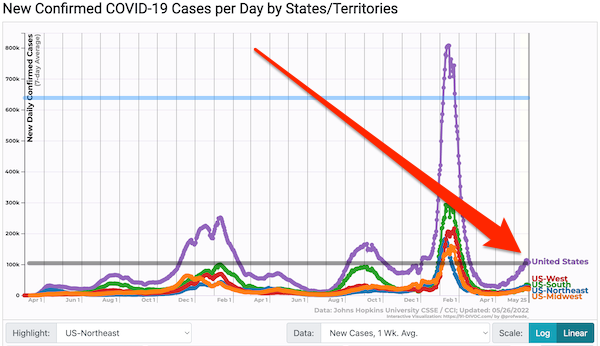 The train is still rolling. Biden has handily beaten Trump's first two peaks, even accepting the data, which of course nobody does. (Remember these data points are weekly averages, so daily fluctuations are smoothed out. Also remember, it's 100% certain the cases numbers are significantly understated. They've always been gamed, but it's worse than before. One source said they though cases might be undercounted by a factor of six. Gottlieb thinks we only pick up one in seven or eight.) The black "Fauci Line" is a counter to triumphalism, since it compares current levels to past crises. The blue "Biden Line" shows what the case count would be if it were 106,000 * 6 = 636,000, i.e. not gamed.
Here are cases for the last four weeks: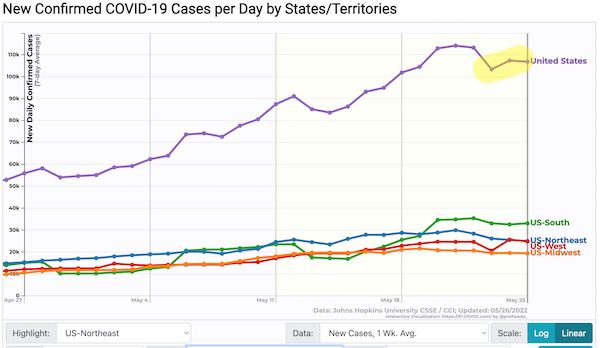 A bit of a dip. We shall see. Worth noting that cases have doubled tripled in four weeks.
NOTE I shall most certainly not be using the CDC's new "Community Level" metric. Because CDC has combined a leading indicator (cases) with a lagging one (hospitalization) their new metric is a poor warning sign of a surge, and a poor way to assess personal risk. In addition, Covid is a disease you don't want to get. Even if you are not hospitalized, you can suffer from Long Covid, vascular issues, and neurological issues. For these reasons, case counts — known to be underestimated, due to home test kits — deserve to stand alone as a number to be tracked, no matter how much the political operatives in CDC leadership would like to obfuscate it. That the "green map" (which Topol calls a "capitulation" and a "deception") is still up and being taken seriously verges on the criminal.
From the Walgreen's test positivity tracker: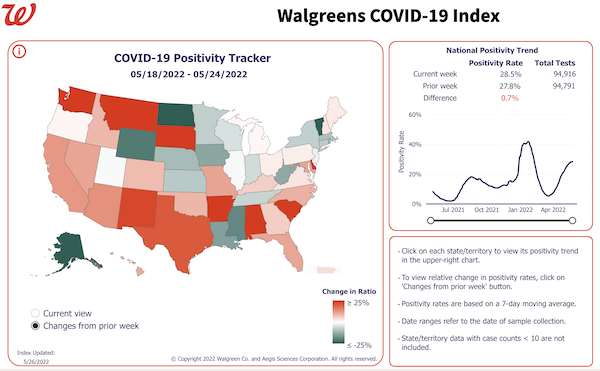 I'm leaving the corporate logo on as a slap to the goons at CDC.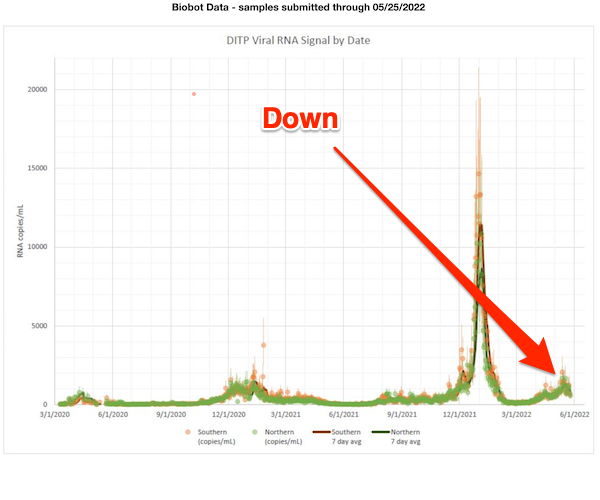 Down (for both north and south systems). Readers suggest that this reflects the colleges and universities closing for the summer; commencement for BC was May 23, BU's May 22; Harvard's was yesterdat, May 25. So I think readaers are correct.
The Massachusetts Water Resources Authority (MWRA) service area includes 43 municipalities in and around Boston, including not only multiple school systems but several large universities. Since Boston is so very education-heavy, then, I think it could be a good leading indicator for Covid spread in schools generally.
Cases lag wastewater data.
From Biobot Analytics: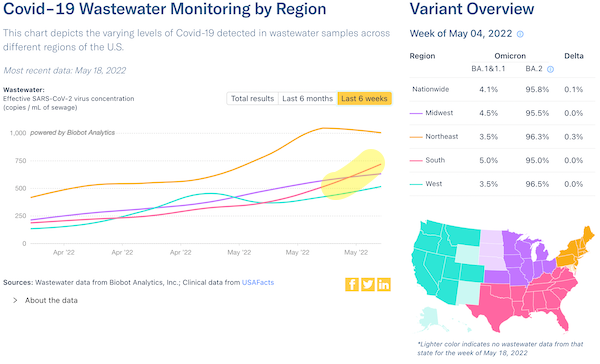 The South is up. Northeast retrospectively revised downward. I don't like this at all, and maybe I should drop this chart. The other thing I'm not liking is that big time lag with the variants. May 4? I want to know about BA.4 and BA.5 (dubbed "variants of concern" by The European Centre for Disease Prevention and Control (ECDC) last week, but not WHO).
From CDC Community Profile Reports (PDFs), "Rapid Riser" counties: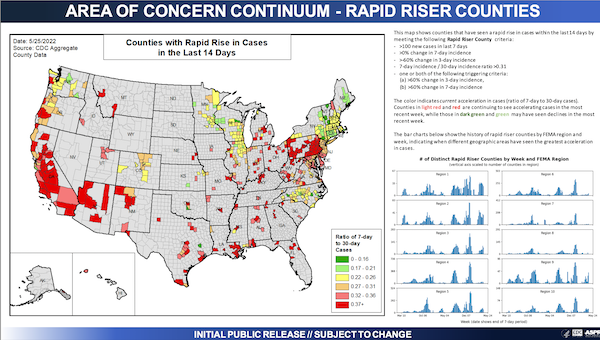 Looks like California and Pennsylvania are carrying the load. Midwest much improved. Note that the South is not pulling away, as from the national wastewater data I'm looking for (except a Louisiana, perhaps).
The previous release: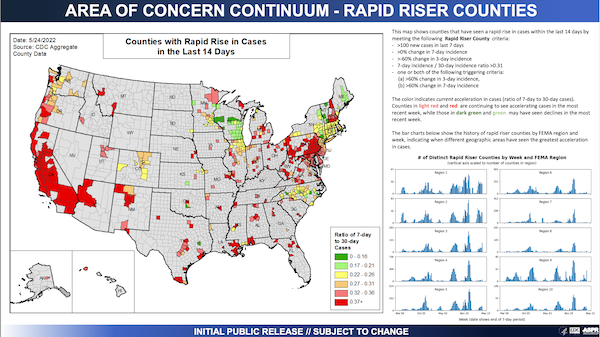 Here is CDC's interactive map by county set to community transmission. This is the map CDC wants only hospitals to look at, not you: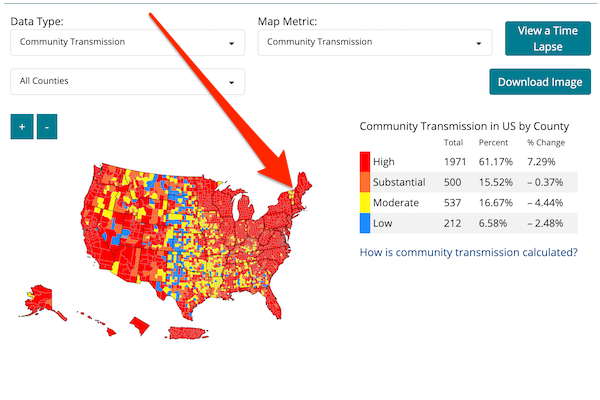 East coast, West Coast, and Midwest are all red. Although New Hampshire has gone yellow!
Hospitalization (CDC Community Profile). Back to normal, so yesterday's debacle (this chart disappeared) was only an editorial screw-up (CDC drone: "That guy Strether is onto us!"):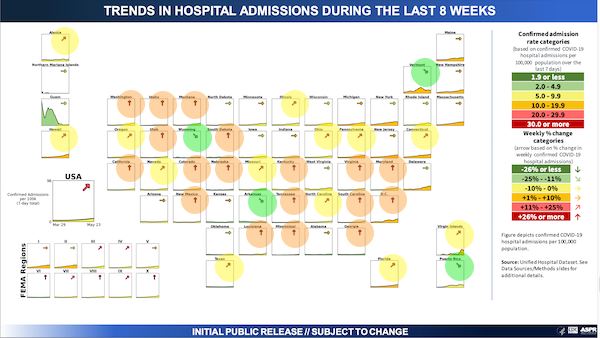 Less and less green.
Death rate (Our World in Data):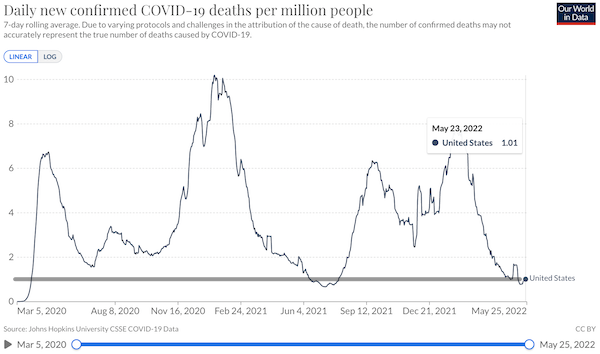 Total: 1,030,415 1,029,524. Now at the second-lowest "valley," which is good. I have added an anti-triumphalist Fauci Line.
Covid cases in top us travel destinations (Statista):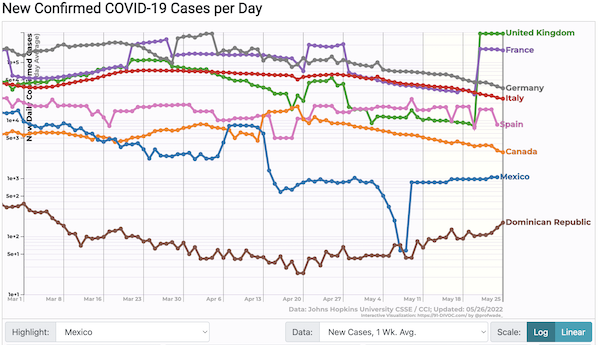 Big jump in the UK and France! Why both together? Coincidence? (Note the quality of these numbers varies wildly. For example, the UK is cutting back on testing data.
Stats Watch
Employment Situation: "United States Initial Jobless Claims" [Trading Economics]. "The number of Americans filing new claims for unemployment benefits decreased by 8 thousand to 210 thousand in the week ended May 21st, from the previous week's unrevised level of 218 thousand and above the market estimate of 215 thousand. "
Manufacturing: "United States Kansas Fed Manufacturing Index" [Trading Economics]. "The Kansas City Fed's Manufacturing Production Index fell to 19 in May of 2022 from 28 in the prior month. Despite the slowdown, regional factory activity remained strong, driven mainly by transportation equipment, electrical equipment, and furniture related product manufacturing. Indexes for supplier delivery time and volume of shipments were slightly lower, while figures for volumes of new orders, employment, and order backlogs accelerated."
* * *
Manufacturing: "Apple's Cement Overshoes" [Cory Doctorow]. "Many people have noticed that their parents used to keep refrigerators and washing machines in service for decades, but their own appliances all seem to end up beyond repair after a few short years. This is by design, and Apple led the appliance manufacturers to victory in killing Ohio's Right to Repair bill, then they took the fight to Nebraska, where they helped kill farmers' dreams of fixing their own tractors (they also convinced Ontario's Ford "open for business" government to kill a repair bill, giving countless small businesses the shaft so that a tax-evading multinational headquartered in Cupertino, California could make more money off the people of Ontario)…. Eventually, it became clear to Apple and other anti-repair companies that they were going to lose the repair wars some day — it was a matter of when, not if. Apple needed a backup plan. They needed to make it look like they were taking steps to allow managed, safe repairs, while doing nothing of the sort. They needed to invent repairwashing. First came 2019's certified independent repair program, which allowed independent shops to fix iPhones with Apple's blessing. This program was designed to be as cumbersome and useless as possible…. This week, The Verge's Sean Hollister got to try out Apple's home repair program. The company shipped him 79 pounds' worth of gear, in two ruggedized Pelican cases. Included in the kit: 'an industrial-grade heat station that looks like a piece of lab equipment,' to loosen the glue that holds the phone together (recall Apple's aversion to 'screws, not glue'). For all the gear Hollister got from Apple, following the official Apple manual and ."
* * *
Today's Fear & Greed Index: 16 Extreme Fear (previous close: 11 Extreme Fear) [CNN]. One week ago: 9 (Extreme Fear). (0 is Extreme Fear; 100 is Extreme Greed). Last updated May 26 at 1:53 PM EDT.
Under the Influence
"The Newest Face of Fake Meat? Kim Kardashian" [Gizmodo]. • Headline a little too on-the-nose
The Gallery
A bitmap:
Sea Creatures Mosaic; 1st Century BC – 1st Century CE.

Originally it was in the of the Faun in Pompeii. Now preserved in National Archaeological Museum, Naples 🇮🇹#archaeohistories pic.twitter.com/9hTWlrZxRd

— ArchaeoHistories (@histories_arch) May 23, 2022
Class Warfare
"Improved Job Security Among Low-Income Workers Is Helping to Reduce Inequality" [Morning Consult]. "The Morning Consult/Axios Inequality Index fell from 5.88% in April to 5.28% in May, reflecting a narrowing of economic inequality across income groups this month. Labor market strength, which has recently provided higher benefits to lower-income Americans, was the primary driver of the index's decrease. In the current historically tight labor market, workers are feeling more secure in their jobs — particularly lower-income workers. In May, only 10.3% of workers from households with annual incomes of less than $50,000 expected to experience a loss of employment income in the next four weeks, compared with 10.4% of those from households earning $100,000 or more. This is not the norm. Typically, workers with lower or hourly pay tend to feel less secure in their jobs than higher-income workers. The strong labor market has also disproportionately improved employment outcomes among lower-income households recently. " • For now.
News of the Wired
"… the lone and level sands stretch far away":
Eastern Province, Saudi Arabia (27.5°N 47.6°E), 20 May 2022 pic.twitter.com/7aOeYvXkGY

— Sentinel 2 Bot (@Sentinel2Bot) May 26, 2022
* * *
Contact information for plants: Readers, feel free to contact me at lambert [UNDERSCORE] strether [DOT] corrente [AT] yahoo [DOT] com, to (a) find out how to send me a check if you are allergic to PayPal and (b) to find out how to send me images of plants. Vegetables are fine! Fungi and coral are deemed to be honorary plants! If you want your handle to appear as a credit, please place it at the start of your mail in parentheses: (thus). Otherwise, I will anonymize by using your initials. See the previous Water Cooler (with plant) here. From dk (via):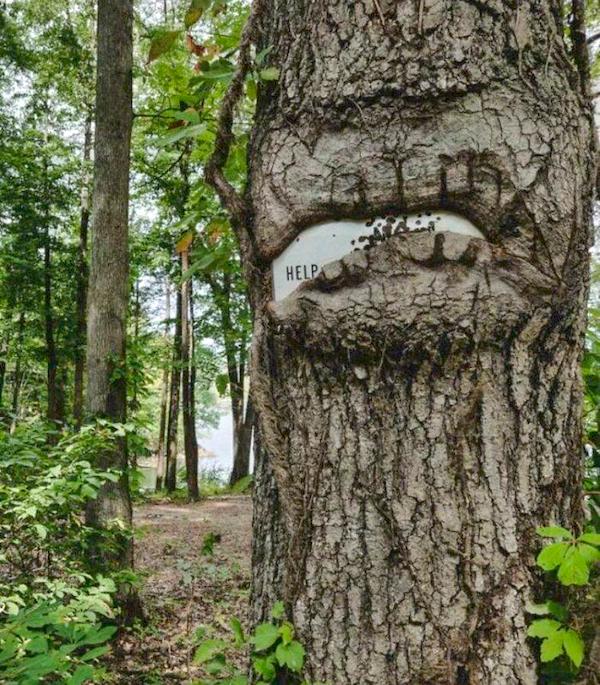 dk writes: "I feel you, tree."
* * *
Readers: Water Cooler is a standalone entity not covered by the recently concluded and — thank you! — successful annual NC fundraiser. So if you see a link you especially like, or an item you wouldn't see anywhere else, please do not hesitate to express your appreciation in tangible form. Remember, a tip jar is for tipping! Regular positive feedback both makes me feel good and lets me know I'm on the right track with coverage. When I get no donations for five or ten days I get worried. More tangibly, a constant trickle of donations helps me with expenses, and I factor in that trickle when setting fundraising goals:
Here is the screen that will appear, which I have helpfully annotated: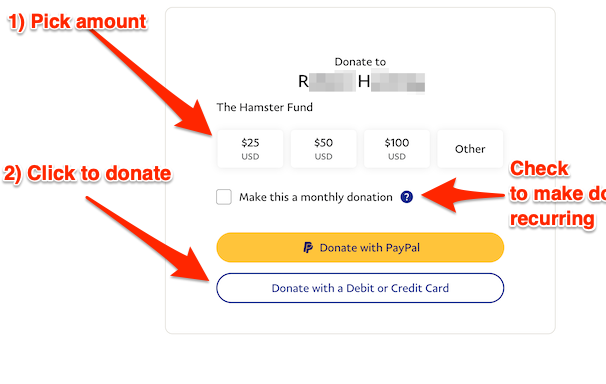 If you hate PayPal, you can email me at lambert [UNDERSCORE] strether [DOT] corrente [AT] yahoo [DOT] com, and I will give you directions on how to send a check. Thank you!