By Lambert Strether of Corrente
Bird Song of the Day
This is Tanager week at Naked Capitalism. From the Dominican Republic.
"Sparrow ID Guides from Macaulay Library and Bird Academy" [The Cornell Lab of Ornithology]. Free downloads. "Sparrows are a challenge to birders of all skill levels because they're often skulky and hard to see. At first they seem like dull brown birds, but when you get a good look, they show beautiful and intricate patterns on their feathers. Because many species are hard to see, they are sought after by avid listers and those who appreciate the beauty of birds. Whether you're at home or out in the field, these helpful four-sheet sparrow reference guides have full-color photos of eastern, central, western and widespread sparrows." • Maybe I should have a sparrows week….
* * *
Politics
"But what is government itself, but the greatest of all reflections on human nature?" –James Madison, Federalist 51
"They had learned nothing, and forgotten nothing." –Charles Maurice de Talleyrand-Périgord
"When the going gets weird, the weird turn pro." –Hunter Thompson
Biden Adminstration
"Joe Biden pleads for gun control after 19 children killed in Texas shooting" [Financial Times]. • What's the issue? We need to learn to live with the shootings and perform personal risk assessments.

Zelensky-Jugend:

Twelve-year-old Andrii and six-year-old Valentyn build checkpoints and dug trenches in the village of Stoianka, near Kyiv. The two boys want to be soldiers when they grow up and hope to defend their country one day pic.twitter.com/rggI6RnfQC

— Reuters (@Reuters) May 24, 2022

Totally not an indication of manpower problems.
2022
* * *

GA: "Georgia's Raphael Warnock and Herschel Walker will face off in key US Senate race, CNN projects" [CNN]. "Walker, 60, who was urged to run by former President Donald Trump, is a political newcomer — but a celebrity in the state where he won the 1982 Heisman trophy as one of college football's greatest running backs of all time at the University of Georgia. His Senate run opened the candidate to scrutiny of his personal life, including the resurfacing of allegations of domestic violence and threats against former romantic partners. Still, Walker breezed through the primary, skipping debates and forums that would have forced him to take clear policy positions and answer tough questions…. Warnock preaches at Martin Luther King Jr.'s former church, Ebenezer Baptist Church in Atlanta, and has a long record as a civil rights champion. Walker, meanwhile, has long expressed ambivalence about racial issues"

GA: "Georgia Democrats signal brutal ad campaign against Herschel Walker as high-stakes Senate race begins" [NBC]. "In a hostile welcome to the general election, the Democratic Party of Georgia released a web video featuring a montage of TV news clips and torn-from-the-headlines controversies about Walker's past and present — from campaign finance issues to his questioning of evolution to exaggerations about his education to questionable health products and a dubious mist he promoted as a Covid cure. 'Georgians deserve a senator who is up for the job,' reads the on-screen text. 'Herschel Walker has proven he's not.' Running 1 minute and 18 seconds, the web ad doesn't even touch the issues of domestic violence that surfaced during the primary. But Democrats promise those hits are coming as part of a deluge of attack ads to help Sen. Raphael Warnock survive what's shaping up to be a tough election year for Democrats. Walker's campaign and supporters are bracing for it and say they stand ready to unload on Warnock with whatever it takes, a pledge that could make the swing-state contest — which could decide the balance of power in the evenly divided Senate — cost $150 million to $200 million, according to estimates from Democratic and Republican consultants familiar with the race. Walker, for his part, is already running an anti-Warnock ad on digital and connected TVs."

GA: 3.4%, thank heavens:

GA GOP Gov candidate Kandiss Taylor today: "We're gonna do a political rally and we're gonna honor Jesus .. They're not gonna tell us 'separation of church and state.' We are the church! We run this state! .. The church runs the state of Georgia!" pic.twitter.com/CP19s4KKSL

— Ron Filipkowski 🇺🇦 (@RonFilipkowski) May 22, 2022

PA: "After Stroke, Doctors Look at Fetterman's Campaign Trail Prospects" [New York Times]. "What really is the prognosis for John Fetterman, the Democratic Senate nominee from Pennsylvania who had a stroke on May 13?… Medical specialists asked questions about Mr. Fetterman's treatment with a defibrillator. They say it would make sense only if he has a different condition that puts him at risk of sudden death, like cardiomyopathy — a weakened heart muscle. Such a heart condition may have caused the blood clot. Or, the doctors say the campaign could be correct about afib causing the clot. Thrombectomy, the method likely used to remove the clot, also indicates that Mr. Fetterman experienced more than a tiny stroke, although prompt treatment may have averted damage and saved his brain." • Times "just asking questions." I mean, DIck Cheney was Vice President for eight years, and he didn't have a heart at all.

TX: "Closely watched Democratic primary in Texas' 28th District remains too close to call" [NPR]. "A closely watched runoff election in South Texas between incumbent Democratic Rep. Henry Cuellar and progressive challenger Jessica Cisneros remained too close to call as of Wednesday morning, according to The Associated Press. As of 10 a.m. ET Wednesday, just 175 votes separated the two candidates." • Although, in a Buttigieg-like move, Cuellar declared victory before the official count was released. Commentary:

Pelosi and Clyburn making 11th hour robo-calls for an anti-abortion candidate with an A rating from the NRA on the day of a horrific mass shooting as Roe is about to be overturned is an absolutely perfect summary of Democratic Party leadership

— Kate Aronoff (@KateAronoff) May 25, 2022

More:

Tough call. I believe the calculation here is who can win a reddish constituency. I find Cuellar distasteful too, & if he wins we will have another Manchin/Sinema situation for some issues. But if Cisneros wins the primary, I fear we lose the seat. I would hope to be wrong.

— Pat #AccountabilityJusticeHealingPeace (@patsdunc) May 25, 2022

Well, is it better that Democrats not deliver anything because they're out of power, or is it better that Democrats be in power, and not deliver anything because Manchin Cuellar "denies" the leadership his vote? The latter, obviously, because of fundraising.
2024
"National Dems are calling in a new communications expert: Eric Adams" [Politico]. "But the city's 110th mayor, who took office in January, is assuming a more influential role in the national Democratic Party as a leader whose motto is "get stuff done" while communicating those accomplishments to voters. Case in point: House Speaker Nancy Pelosi and Rep. Sean Patrick Maloney (D-N.Y.), the head of the Democratic Congressional Campaign Committee, just had Adams speak at the DCCC's Chairman's Issues Conference and Weekend in the city on Saturday. Last weekend's DCCC conference was "very much about helping the Democrats get control of their messaging challenges," according to one person who attended the event. That they would turn to Adams — a moderate Democrat and retired NYPD captain who was a registered Republican from 1995 through 2002 — to do that says as much about the party's direction as any of the competitive primaries playing out this year." • Former Republican? Liberalgasm!
Democrats en Déshabillé
I have moved my standing remarks on the Democrat Party ("the Democrat Party is a rotting corpse that can't bury itself") to a separate, back-dated post, to which I will periodically add material, summarizing the addition here in a "live" Water Cooler. (Hopefully, some Bourdieu.) It turns out that defining the Democrat Party is, in fact, a hard problem. I do think the paragraph that follows is on point all the way back to 2016, if not before:

The Democrat Party is the political expression of the class power of PMC, their base (lucidly explained by Thomas Frank in Listen, Liberal!). ; if the Democrat Party did not exist, the PMC would have to invent it. . ("PMC" modulo "class expatriates," of course.) Second, all the working parts of the Party reinforce each other. Leave aside characterizing the relationships between elements of the Party (ka-ching, but not entirely) those elements comprise a network — a Flex Net? An iron octagon? — of funders, vendors, apparatchiks, electeds, NGOs, and miscellaneous mercenaries, with assets in the press and the intelligence community.

Note, of course, that the class power of the PMC both expresses and is limited by other classes; oligarchs and American gentry (see 'industrial model' of Ferguson, Jorgensen, and Jie) and the working class spring to mind. Suck up, kick down.

* * *

They're not gonna hire you, Matt:

.@mattduss rejects the notion that Ukraine should make territorial compromises to end its 8-year war, urging fellow progressives to nod along with folks like George W. Bush, the Cheneys, Lindsey Graham, every neocon think tank, and the GOP Congressional leadership instead. https://t.co/o1AP2EmvBi

— Aaron Maté (@aaronjmate) May 24, 2022
Republican Funhouse
"GOP frustration builds with Freedom Caucus floor tactics" [The Hill]. "[Members of the House Freedom Caucus] have forced recorded votes on normally noncontroversial bills on the suspension calendar, forcing lawmakers to hang around the chamber for hours to get their votes in rather than conduct other business…. Some GOP lawmakers are getting frustrated with the hard-line tactics of the conservative House Freedom Caucus…. [Rep. Mike Rogers (R-Ala.)] said that he told the Freedom Caucus members: '​​I'm just telling y'all, just giving you a heads up, you're getting a lot of ill will around here. This stuff will come back to you. You just can't do this to people and think that they're not going to remember it.'…. Bills and resolutions considered under suspension of the rules have historically passed by voice vote, often with few members in the House chamber. They account for the majority of bills passed in modern Congresses. But Freedom Caucus members last year started demanding recorded votes for those bills, drastically changing the pace of floor action. Perry and Roy in a joint interview argued that most all bills deserve a recorded vote, that it gives more time for members to review the legislation and that leadership often sneaks through controversial bills as suspension bills. Members should not be considered as on record supporting a bill that passed by voice vote if they did not get a chance to vote on it, they say. 'What ought to happen in this body, irrespective of what we're doing at any particular moment, is we ought to have a consensus on a fair way to move bills through appropriately, where we start with the default position of voting, and you're only moving something by voice or consent when there's universal agreement that is unobjectionable,' Roy said. Freedom Caucus members have also argued that the tactic helps slow down and delay Democrats' agenda."
RussiaGate
"Hillary Clinton personally approved plan to share Trump-Russia allegation with the press in 2016, campaign manager says" [CNN]. "Hillary Clinton personally approved her campaign's plans in fall 2016 to share information with a reporter about an uncorroborated alleged server backchannel between Donald Trump and a top Russian bank, her former campaign manager testified Friday in federal court. Robby Mook said he attended a meeting with other senior campaign officials where they learned about strange cyberactivity that suggested a relationship between the Trump Organization and Alfa Bank, which is based in Moscow. The group decided to share the information with a reporter, and Mook subsequently ran that decision by Clinton herself. 'We discussed it with Hillary,' Mook said, later adding that 'she agreed with the decision.'" • How it works:

Key fraud of Russiagate articulated by former FBI official. Operatives and journalists fabricate something into existence, goad the security state apparatus into "investigating," which then enables them to report that an "investigation" is underway into the thing they fabricated pic.twitter.com/e07EsIZRgu

— Michael Tracey (@mtracey) May 21, 2022
2020 Post Mortem
Wut.

Ari Rabin-Havt, The Fighting Soul: On the Road with Bernie Sanders. Hat tip, barbarian critic.
Obama Legacy
Fierce urgency:

I like what this man has to say. If only he could have been President with a supermajority in Congress https://t.co/D7huqJAdta

— Childless Feminist Slut with Cats (@katewillett) May 25, 2022
Realignment and Legitimacy
"GOP Ideologues Keep Flopping In Their Efforts To Take Over School Boards" [HuffPo]. "Conservative Republicans running for school boards in North Carolina and New York overwhelmingly lost their elections Tuesday night, the latest sign that the GOP's effort to wage a sweeping anti-LGBTQ, anti-Black culture war on public schools is failing…. These races generated a 'huge swell in turnout,' reported the Times Union, which it attributed to parents' strong rejection of right-wing 'take back our schools' candidates…. It's a trend that's been playing out for months. Earlier in May, conservative school board candidates all across Montana overwhelmingly lost. Progressive school board candidates trounced in New Hampshire in March, even in conservative towns. In Wisconsin, the results were mixed, but a number of conservative candidates lost despite significant funding. In the town of Eau Claire, for example, all three right-wing school board candidates who ran on anti-LGBTQ platforms lost to incumbents and their allies."
#COVID19
Lambert here: I am but a humble tape-watcher, but if some trusting, non-realist soul tells you that "Covid is over," you can tell them that cases are up, transmission is up, test positivity is up, hospitalization is up, rapid riser counties are up, and wastewater is up, too. And this is all from data designed to support the narrative that "Covid is over," and gamed within an inch of its life. So, if signals like that are flashing red, consider what the real signal must be like. (Note also this is all with BA.2 only, and with what the establishment considers an "immune wall" made from vaccination and prior infection. Since semper aliquid novi Africam adferre, and we've let 'er rip at the airports…. Well, I just hope we get lucky with BA.4 and BA.5. "God has a special providence for fools, drunkards, and the United States of America." –Otto von Bismarck.
* * *
* * *
* * *
If you missed it, here's a post on my queasiness with CDC numbers, especially case count, which I (still) consider most important, despite what Walensky's psychos at CDC who invented "community levels" think. But these are the numbers we have.
* * *
Case count by United States regions: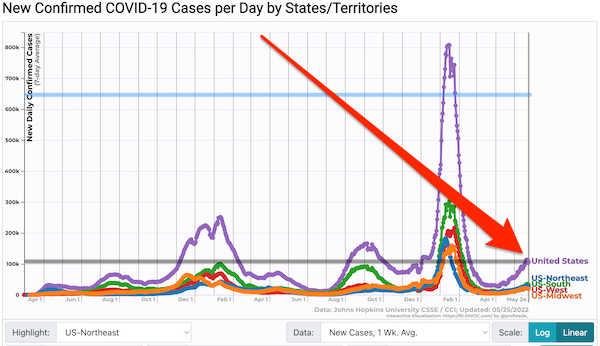 The train is still rolling. Biden has handily beaten Trump's first two peaks, even accepting the data, which of course nobody does. (Remember these data points are weekly averages, so daily fluctuations are smoothed out. Also remember, it's 100% certain the cases numbers are significantly understated. They've always been gamed, but it's worse than before. One source said they though cases might be undercounted by a factor of six. Gottlieb thinks we only pick up one in seven or eight.) The black "Fauci Line" is a counter to triumphalism, since it compares current levels to past crises. The blue "Biden Line" shows what the case count would be if it were 107,000 * 6 = 642,000, i.e. not gamed.
Here are cases for the last four weeks: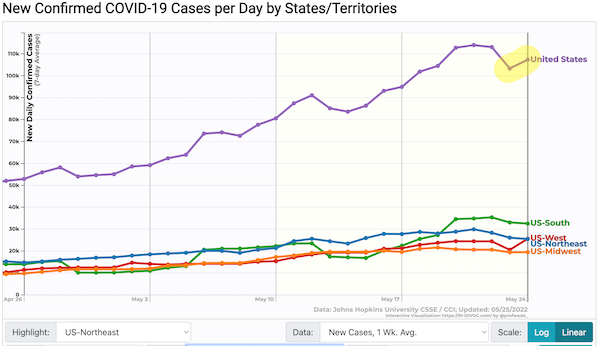 Rebound from the dip. We'll probably see another dip after Memorial Day weekend. Worth noting that cases have doubled tripled in four weeks.
NOTE I shall most certainly not be using the CDC's new "Community Level" metric. Because CDC has combined a leading indicator (cases) with a lagging one (hospitalization) their new metric is a poor warning sign of a surge, and a poor way to assess personal risk. In addition, Covid is a disease you don't want to get. Even if you are not hospitalized, you can suffer from Long Covid, vascular issues, and neurological issues. For these reasons, case counts — known to be underestimated, due to home test kits — deserve to stand alone as a number to be tracked, no matter how much the political operatives in CDC leadership would like to obfuscate it. That the "green map" (which Topol calls a "capitulation" and a "deception") is still up and being taken seriously verges on the criminal.
From the Walgreen's test positivity tracker: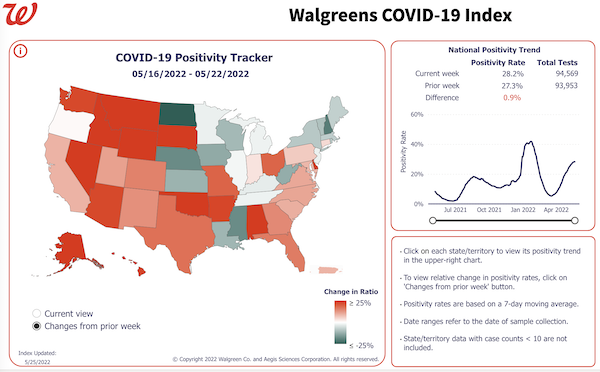 I'm leaving the corporate logo on as a slap to the goons at CDC.
NOT UPDATED MWRA wastewater data: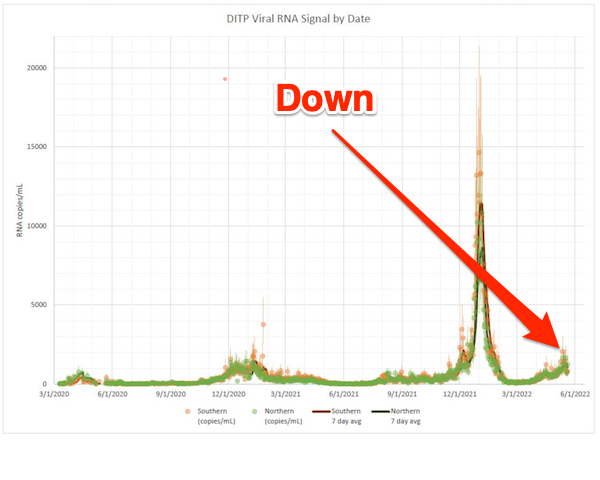 Down (for both north and south systems). Readers suggest that this reflects the colleges and universities closing for the summer; commencement for BC was May 23, BU's May 22; Harvard's is tomorrow. May 25. So I think readaers are correct.
The Massachusetts Water Resources Authority (MWRA) service area includes 43 municipalities in and around Boston, including not only multiple school systems but several large universities. Since Boston is so very education-heavy, then, I think it could be a good leading indicator for Covid spread in schools generally.
Cases lag wastewater data.
From Biobot Analytics: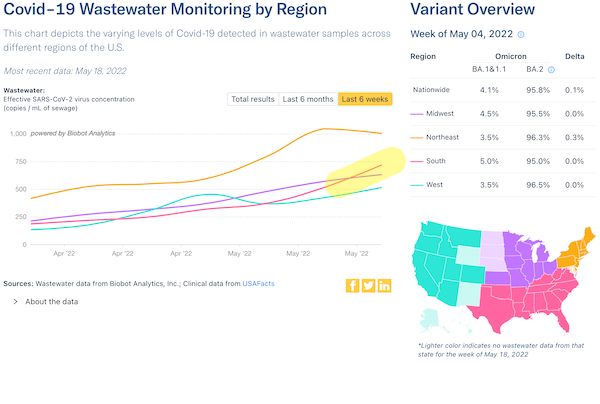 The South is up. Northeast retrospectively revised downward. I don't like this at all, and maybe I should drop this chart. The other thing I'm not liking is that big time lag with the variants. May 4? I want to know about BA.4 and BA.5 (dubbed "variants of concern" by The European Centre for Disease Prevention and Control (ECDC) last week, but not WHO).
From CDC Community Profile Reports (PDFs), "Rapid Riser" counties: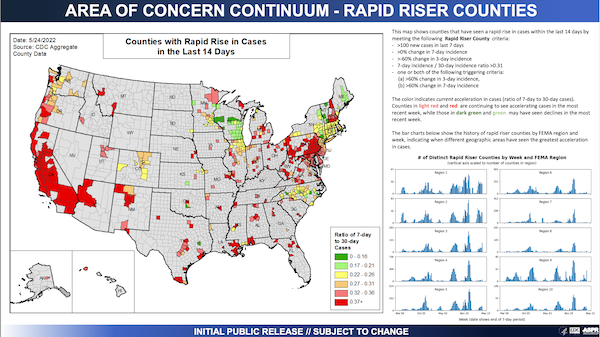 Holy moley, California! Meanwhile, New England improves (except for New Hampshire). Pennsylvania reddens. Midwest improves. Very dynamic!
The previous release: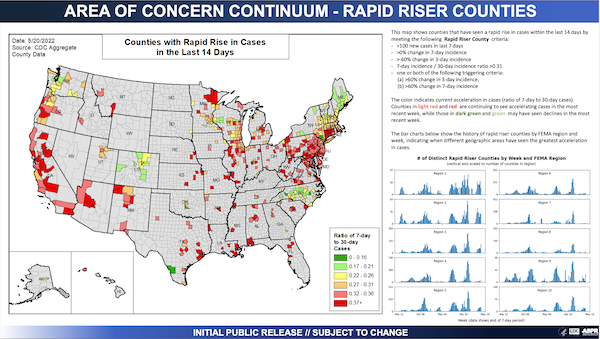 Here is CDC's interactive map by county set to community transmission. This is the map CDC wants only hospitals to look at, not you: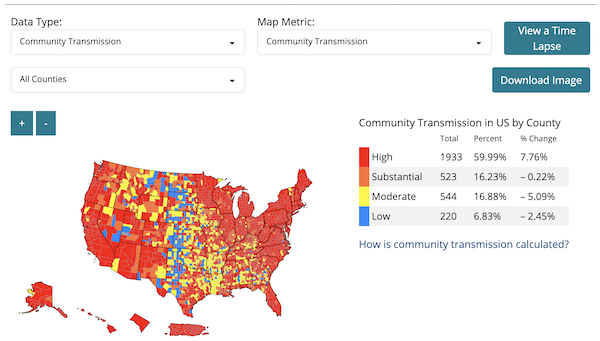 East coast, West Coast, and Midwest are all red.
Hospitalization (CDC Community Profile). Back to normal, so yesterday's debacle (this chart disappeared) was only an editorial screw-up (CDC drone: "That guy Strether is onto us!"):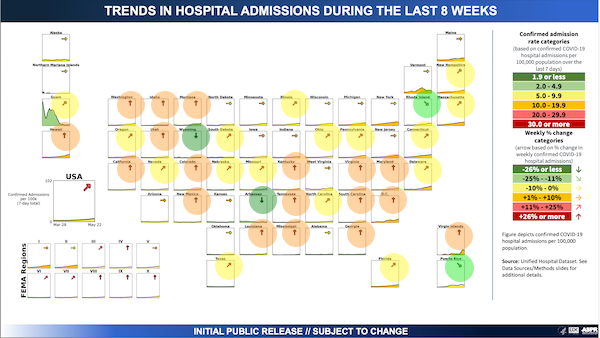 Less and less green.
Death rate (Our World in Data):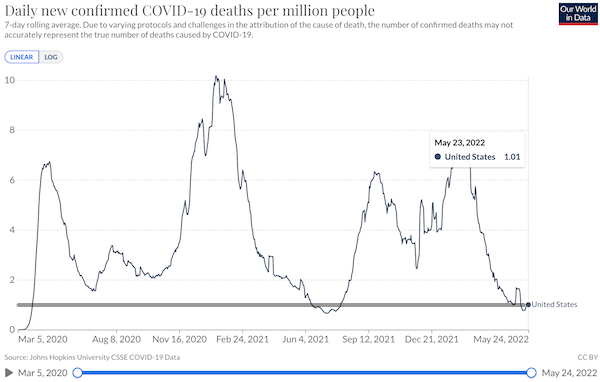 Total: 1,029,524 1,029,121. Now at the second-lowest "valley," which is good. I have added an anti-triumphalist Fauci Line.
Covid cases in top us travel destinations (Statista):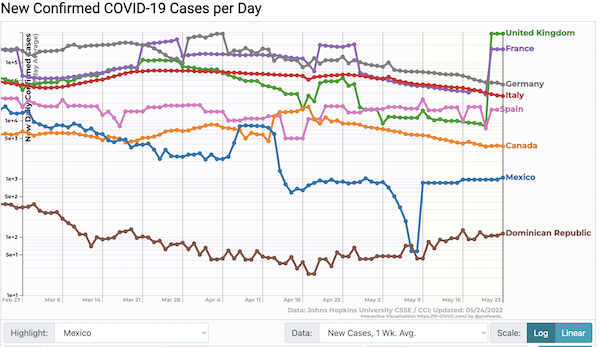 Big jump in the UK and France! Why both together? Coincidence? (Note the quality of these numbers varies wildly. For example, the UK is cutting back on testing data.
Stats Watch
Manufacturing: "United States Durable Goods Orders" [Trading Economics]. "New orders for US manufactured durable goods increased 0.4% month-over-month to $265.3 billion in April of 2022, following a downwardly revised 0.6% rise in March and below forecasts of 0.6%, in a sign business spending moderated."
* * *
Retail: "More Horrors Await After $550 Billion Retail Earnings Meltdown" [Bloomberg]. Great headline. "Soaring costs and swollen inventories have retailers on the ropes, and investors fear that the punishment won't ease anytime soon. With companies from Costco Wholesale Corp. to Dollar General Corp. and Best Buy Co. set to report earnings next week, investors are bracing for more bad news after a disastrous few days that sent giants like Walmart Inc. and Target Corp. to their worst stock-price drops since 1987. In all, some $550 billion in market value was erased from consumer stocks over the past five days."
The Bezzle: "ALTIF Transcripts: Cryptocalypse Now!" (interview) [Izabella Kaminska, The Blind Spot]. "Personally, I think that sort of era of cheap money has come to an end. And with that the first domino to fall is going to be the most speculative part of the market, which was crypto, which depends essentially on an incredibly pro risk-on attitude. And when money gets tighter than like a CDO, I see as like the first tranche of global liquidity getting mopped up…. I think it's like a cross between 2008 and dot.com. It's like the perfect fusion of those two crises, isn't it? Because on the one hand, the similarities of 2008 are the financial engineering and this idea that we had created systems that were totally immune from, like conventional risks in the financial system. And then the other side of it is this sort of casino style, you know, money printing world of dot com era where everyone was basically printing their own currency as well, but in the form of stock, and using it to pay out their employees or whatever. And that came to a grinding halt, if you recall, also within the tightening cycle of the Fed. So I think there is a common sort of similarity between those two and it's merged into the crypto crisis. The difference this time round is whether it's more contained. And I think maybe there is a fair argument to say that it hasn't got to the systemic stage. In fact, I would say in some ways cryptos operated like a honeypot attracting the worst of like financial speculation and taking it outside of the conventional core financial system. And it remained quite gated…." • Interesting interview.
Mr. Market: Because what are friends for:
Every year I sign up to as many cash fantasy football leagues as I can through friends, family & colleagues. I then pay £24 a year to follow an expert on patreon and copy his team and transfers exactly each week and end up winning each league. I'm set to make over £4000 this…

— Fesshole 🧻 (@fesshole) May 18, 2022
Thank heavens this guy has stayed small-scale…
Mr. Market: "Global Business Is Enduring a Synchronized Slowdown: Eco Week" [Bloomberg]. "Days after global finance chiefs described the widespread economic fallout inflicted by Russia's war in Ukraine, business surveys may show an increasingly synchronized slowdown…. Surveys of economists on the probable outcomes of 15 gauges of the indicators from the US and across Europe predict a decline in every single one."
* * *
Today's Fear & Greed Index: 13 Extreme Fear (previous close: 13 Extreme Fear) [CNN]. One week ago: 15 (Extreme Fear). (0 is Extreme Fear; 100 is Extreme Greed). Last updated May 25 at 1:35 PM EDT.
Rapture Index: Closes down one on Volcanoes. After a very active first part of 2022, volcanic activity has slowed down" [Rapture Ready]. Record High, October 10, 2016: 189. Current: 187. (Remember that bringing on the Rapture is good.)
Under the Influence
Who could have known:
The Kardashian sisters have looked VERY different in Instagram snaps compared to real life https://t.co/GDWWErTuYx

— Daily Mail Online (@MailOnline) May 25, 2022
The Gallery
The garden path:
The Wall of the Garden, 1877 #caillebotte #impressionism https://t.co/Q63uQfI9iz pic.twitter.com/YUTQcCIgI3

— Gustave Caillebotte (@art_caillebotte) May 23, 2022
Class Warfare
"The Gentrification of Layaway" [The Atlantic]. "A couple of years ago, I was buying a top from a major retailer online. It wasn't particularly expensive—less than $100—but when I was going to check out, I was offered—much as I was at my local V.I.M. in the '90s—the 'opportunity' to finance my purchase over four incredibly affordable installments, this time using a service called Klarna. I was tickled: 'They basically gentrified layaway,' I texted a friend…. From a certain perspective, buy now, pay later (BNPL) services like Klarna and Afterpay are—like gentrified neighborhoods—upgrades from layaway. You can get your item immediately and pay for it over time. … The irony is that while layaway might have been stigmatized as a service for the "poor," no one who used it was getting into debt. You brought your item home when you were done paying for it. Plain and simple…. What's particularly seductive about BNPL is that you not only have the immediate satisfaction of getting the item, but it is pitched to fiscally uneducated young people as a responsible decision." • Includes a good overview of layaway.
News of the Wired
"Chimpanzees produce diverse vocal sequences with ordered and recombinatorial properties" [Nature]. "The origins of human language remains a major question in evolutionary science. Unique to human language is the capacity to flexibly recombine a limited sound set into words and hierarchical sequences, generating endlessly new sentences. … Chimpanzees produced 390 unique vocal sequences. Most vocal units emitted singly were also emitted in two-unit sequences (bigrams), which in turn were embedded into three-unit sequences (trigrams). Bigrams showed positional and transitional regularities within trigrams with certain bigrams predictably occurring in either head or tail positions in trigrams, and predictably co-occurring with specific other units. From a purely structural perspective, the capacity to organize single units into structured sequences offers a versatile system potentially suitable for expansive meaning generation…. An important next step is to assess whether the production of a large diversity of sequences with ordering properties actually promotes versatile meaning generation." • More research needed!
* * *
Contact information for plants: Readers, feel free to contact me at lambert [UNDERSCORE] strether [DOT] corrente [AT] yahoo [DOT] com, to (a) find out how to send me a check if you are allergic to PayPal and (b) to find out how to send me images of plants. Vegetables are fine! Fungi and coral are deemed to be honorary plants! If you want your handle to appear as a credit, please place it at the start of your mail in parentheses: (thus). Otherwise, I will anonymize by using your initials. See the previous Water Cooler (with plant) here. From TH: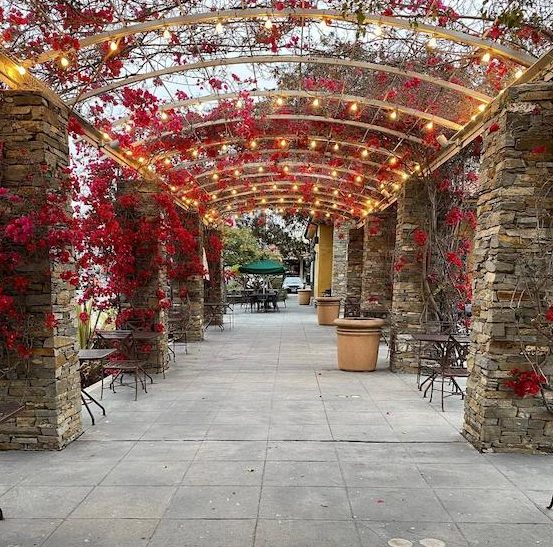 TH writes: "We have a Bougainvillea, but it kind of hulks in a very large clump in the backyard. House sparrows absolutely love it. Well, for that matter, so do all shapes and forms of wildlife from our neighborhood; skunks, opossums, and raccoons come to mind—not to mention cats. I think WE would like it better if we could get it to do something like this."
* * *
Readers: Water Cooler is a standalone entity not covered by the recently concluded and — thank you! — successful annual NC fundraiser. So if you see a link you especially like, or an item you wouldn't see anywhere else, please do not hesitate to express your appreciation in tangible form. Remember, a tip jar is for tipping! Regular positive feedback both makes me feel good and lets me know I'm on the right track with coverage. When I get no donations for five or ten days I get worried. More tangibly, a constant trickle of donations helps me with expenses, and I factor in that trickle when setting fundraising goals:
Here is the screen that will appear, which I have helpfully annotated: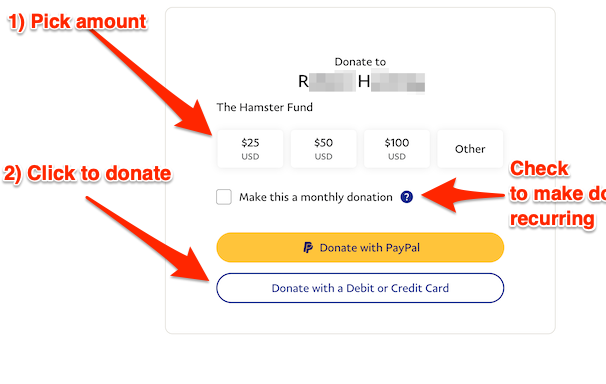 If you hate PayPal, you can email me at lambert [UNDERSCORE] strether [DOT] corrente [AT] yahoo [DOT] com, and I will give you directions on how to send a check. Thank you!