Lambert and I, and many readers, agree that Ukraine has prompted the worst informational environment ever. We hope readers will collaborate in mitigating the fog of war — both real fog and stage fog — in comments. None of us need more cheerleading and link-free repetition of memes; there are platforms for that. Low-value, link-free pom pom-wavers will be summarily whacked.
And for those who are new here, this is not a mere polite request. We have written site Policies and those who comment have accepted those terms. To prevent having to resort to the nuclear option of shutting comments down entirely until more sanity prevails, as we did during the 2015 Greek bailout negotiations and shortly after the 2020 election, we are going to be ruthless about moderating and blacklisting offenders.
–Yves
P.S. Also, before further stressing our already stressed moderators, read our site policies:
Please do not write us to ask why a comment has not appeared. We do not have the bandwidth to investigate and reply. Using the comments section to complain about moderation decisions/tripwires earns that commenter troll points. Please don't do it. Those comments will also be removed if we encounter them.
* * *
Meet the territorial females and matriarchs in Australia's backyard The Conversation
SPACs Are Sputtering. Desperate New Terms Could Send Them Into a Death Spiral. Institutional Investor
There's a Whiff of Fearful Symmetry in the Air John Authers, Bloomberg
Researchers Use Algae to Power a Computer for Months Smithsonian
Climate
Winter ticks wiped out nearly 90% of the moose calves scientists tracked in part of Maine last year Maine Public Radio
#COVID19
Everything's going according to plan:

We know tolerance for very high death rates has been referenced by people with close contact with the White House and state leadershttps://t.co/YVTVWQAJcD

— wsbgnl (@wsbgnl) May 19, 2022

(The "new guidance" being CDC's infamous "community levels" metric.)

As US daily COVID-19 cases surpass 100,000, White House makes clear that it will take no serious action WSWS. "Notably, the briefing was held remotely, with each of the three speakers and all reporters safely participating in separate locations. After telling the American population that large, in-person, maskless gatherings are safe, the White House COVID Response Team evidently prescribes a very different set of guidelines for themselves." Beggars belief.

How Public Health Failed America The Atlantic

* * *

Patients Diagnosed with Post-COVID Conditions (PDF), FAIR Health, Inc.

Post-COVID conditions, also known by such terms as long COVID and post-acute sequelae of COVID-19, have become an issue of growing national concern. Until recently, researchers were limited by the lack of a specific ICD-10 diagnosis code for post-COVID conditions. Effective October 1, 2021, ICD-10 code U09.9 was introduced for "post COVID-19 condition, unspecified." This report is among the first to use the U09.9 code for research purposes. Drawing on longitudinal data from FAIR Health's repository of billions of private healthcare claims, this report studies the population of 78,252 patients in the repository who were diagnosed with the U09.9 code from October 1, 2021, to January 31, 2022. That population is analyzed by COVID-19 hospitalizations, age, gender, number of days from initial COVID-19 diagnosis to last post-COVID diagnosis during the study period, preexisting chronic comorbidities, co-occurring diagnoses and risk scores. Among the key findings: The majority (75.8 percent) of patients diagnosed with a U09.9 post-COVID condition had not been hospitalized for COVID-19.

So, cases is a better metric than hospitaliztion? Or would be, if we were tracking them anymore?

Venous or arterial thrombosis and deaths among COVID-19 cases: a European network cohort study The Lancet. n = 909, 473. From the Findings: "Cumulative 90-day incidence of venous thromboembolism ranged from 0·2% to 0·8% among COVID-19 cases, and up to 4·5% for those hospitalised. For arterial thromboembolism, estimates ranged from 0·1% to 0·8% among COVID-19 cases, increasing to 3·1% among those hospitalised. Case fatality ranged from 1·1% to 2·0% among patients with COVID-19, rising to 14·6% for hospitalised patients."

How Often Can You Be Infected With the Coronavirus? NYT

* * *

UK mum Sarah Paxman given trial date for stand against COVID-19 infected schools WSWS. I'd like to see cases like this in the US.

Guest column: Don't be fooled by the myths about kids and COVID flourishing on social media The Advocate

The COVID Testing Company That Missed 96% of Cases ProPublica
Spain, Portugal Detect Over 40 Suspected Cases Of Rare Monkeypox Disease NDTV. I can't even.
Massachusetts reports first confirmed U.S. case of monkeypox this year The Hill. Not clear whether Monkeypox is transmitted by touch (prairie dog study) or aerosols (drum study) or possibly both. It would be nice if we didn't replicate the droplet fiasco (which included ignoring the precautionary principle).
China?
ASEAN-India naval exercise planned to promote solidarity Phnom Penh Post
Myanmar
Can the Arakan Army achieve its confederacy dream? Frontier Myanmar and Myanmar's shadow government holds talks with powerful Arakan Army Radio Free Asia (sorry).

Myanmar resistance urges West to provide arms for fight against junta Reuters. No. We'd screw it up. We have form.
Children on Tonle Sap face a hazy future Globe_. For more on Tonle Sap, see NC here.
UK/EU
Leaked emails expose UK Home Secretary Priti Patel's connection to MI6-style 'research and influence operation The Grayzone

EU ready to turn measures targeting fears over N Ireland protocol into draft law FT
New Not-So-Cold Cold War
More Ukraine fighters surrender in Mariupol, Russia says Reuters. "Top commanders of Ukrainian fighters who had made their last stand at the Azovstal steelworks in the port city were still inside the plant, according to the leader of pro-Russian separatists in control of the area, Denis Pushilin was quoted by local news agency DNA as saying on Wednesday." My fuhrer, Steiner….

How Turkey spoiled NATO's historic moment with Finland, Sweden Reuters

Germany's Scholz downplays fast-tracking EU membership for Ukraine FT

* * *

Ukraine wins Eurovision Song Contest with performance by Kalush Orchestra as Zelenskyy vows to host show next year Sky News

Ukraine's army of activist investigators documents Russian war crimes Politico. No chain of custody issues here!

Google's Russian subsidiary to file for bankruptcy after bank account seized Reuters (Re Silc).

* * *

Kinsley gaffe, except not:

Former President George W. Bush: "The decision of one man to launch a wholly unjustified and brutal invasion of Iraq. I mean of Ukraine." pic.twitter.com/UMwNMwMnmX

— Sahil Kapur (@sahilkapur) May 19, 2022

People are dunking on Bush for this, but in fact the decision for war in Iraq was supported by virtually the entire political class, including the press. "One man" did not make the decision.
SUR: Lula Proposes Lat Am Currency To "End US Dollar Dependency" Brasilwire
Cosco To Invest US$3 Billion In Peru's Chancay Port Silk Road Briefing
Biden Administration
Biden invokes Defense Production Act to increase infant formula supply Reuters

Column: Here's why the arguments against canceling student debt make no sense Michael Hiltzik, Los Angeles Times
Shortages
Noble Gases Are Suffering from Putin's War in Ukraine Izabella Kaminska, Bloomberg
Health Care
I just caused a long line at the pharmacy counter. And still paid $141 for an inhaler. Wendell Potter (marym). Wendell Potter is a "smart shopper"!

'Bane of My Existence:' The Burden of Medicare Advantage Denials MedScape
Big Brother Is Watching You
Liberals Drive State Censorship Black Agenda Report

ShotSpotter's deafening impact Chicago Reader
Assange
Julian Assange should not be extradited to US to face espionage charges, Council of Europe tells Priti Patel The Telegraph
The Bezzle
Cautionary Tales from Cryptoland (interview) Molly White, Harvard Business Review. White runs the entertaining website Web3 Is Going Just Great.
Class Warfare
How the Brain 'Constructs' the Outside World Scientific American
Is an unknown, extraordinarily ancient civilisation buried under eastern Turkey? The Spectator
Antidote du jour (via):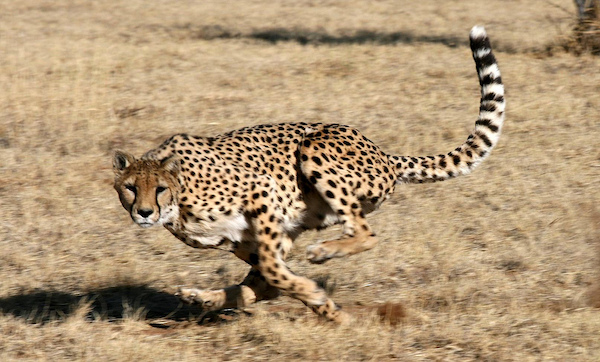 Meep meep!
See yesterday's Links and Antidote du Jour here.