Readers may recall that last month we broke the story of CalPERS' gross negligence on the workplace safety front. The short version is that despite having a persistent high level of Covid cases, CalPERS has refused to reinstate telework policies, when other similarly afflicted California agencies. So it appears that maintaining the Cult of Marcie Frost outranks employees health and complying with Covid-related regulations.
As we'll explain, CalPERS flagrant disregard for the well-being of its workers has persisted despite pushback from the union representing the workers at the CalPERS headquarters complex in Sacramento, complaints first at at least one "stakeholder" session in May and then the Board of Administration meeting in June, and the Sacramento Bee reporting on this continuing scandal.
The stakes are even higher than CalPERS and the Bee have acknowledged. A new study, admittedly now at the preprint stage but from a highly respected team using the high-quality Veterans Administration database, supports an idea we've suggested from the get-go: that every Covid infection has a health cost, and those costs accumulate. Some reactions from top experts:
Extremely important paper on: Outcomes of Covid Reinfection

Compared to those with first infection, reinfection led to increased risk at 6 months of: mortality by 2.38%, hospitalization 9.5% and post covid medical events 19.6%.

1/https://t.co/UZGraPtF29 pic.twitter.com/g65XlY39tn

— Yaneer Bar-Yam (@yaneerbaryam) June 20, 2022
Great summary 👇 of a VERY important study showing that reinfection with COVID has a CUMULATIVE weakening impact on your immune system; progressively increasing your chances of death/hospitalization/multi-system damage every time you're reinfected. HUGE implications for policy. https://t.co/ZBALB9ScFN

— Gil McGowan (@gilmcgowan) June 21, 2022
Let's return to the state of play. First, some background from our May 31 post:
A Covid outbreak at the CalPERS' headquarters buildings in Sacramento has become so severe that the SEIU Local 1000 District Labor Council 781 President Hoang-Van Nguyen, who represents staff in the three-building compound, has published an Emergency Telework Petition on Action Network, which we've embedded below.

As you can see, Nguyen charges CalPERS with violating Department of Industrial Relations in not providing her with case counts and close contact data as required. As we'll discuss below, the likely reason for CalPERS violating employee notification requirements is that they are also violating OSHA and Cal-OSHA rules by not engaging in contact tracing.

Note that Nguyen also states that that five Divisions1 have Covid cases, which qualifies as a major outbreak, and strongly implies that CalPERS is also violating regulatory requirements by not evaluating whether to stop some or all in-office activities….

As we'll see soon, sources indicate that CalPERS is not engaging in required contact tracing but merely notifying staffers in the work area with a positive case that they may have been exposed and need to take protective measures, like masking up. So they aren't looking into, let alone making proper notifications, of exposures via its cafeteria, its meeting rooms, the fitness room, bathrooms, or usual workplace interactions, like someone visiting a colleague who works in another part of the campus to discuss a current project.

A CalPERS employee last week who has a track record of high accuracy, sent me the following e-mail:

I have first-hand knowledge that CalPERS HQ has been experiencing COVID outbreaks in the office, and in my opinion, grossly mismanaging them. I do not know the total count, but I would imagine it is significant.

When there are COVID outbreaks, management is only notifying staff that work directly in the same area as those reporting the infection, and instructing them to work from home for the next two weeks. But obviously the infected individuals have frequented communal areas – bathrooms, conference rooms, break rooms, the cafeteria, and fitness center – and on a daily basis coming into contact with people from all over the complex.
As we'll soon see, the picture is even worse than this employee suggested. We'll show that an different employee reported in public comments, as if this was a common practice, that employees who've had someone in their immediate workplace contract Covid are expected to keep coming to work!
But first to the overview, in public comments at the June 15 Board of Administration meeting, from Hoang-Van Nguyen:
MS. NGUYEN: I have come to speak to you today to express the grave concerns we have as employees working here at CalPERS. In March, we were directed to come back to work in office for three days per week. And since then, COVID infection rates have increased exponentially. Even in the last week, our infection rates have increased by 10 percent.

Last week, our represented employees, we delivered a petition to President Taylor, as
well as CEO Marcie Frost expressing some specific demands. The first is that when there are multiple outbreaks in multiple divisions, that we are all sent home for telework for our health and safety. The second is that our divisions are treated equally and the same, and lastly, that we have better information shared with me as the authorized union representative here at CalPERS. These demands are incredibly important, because as COVID infection rates rise, our infection rates at CalPERS are increasing more than they are in Sacramento County.
A June 20 Sacramento Bee article summarized Nguyen's concerns:
Nguyen recently delivered to CalPERS CEO Marcie Frost and Board President Theresa Taylor a petition with more than 500 signatures and three demands: a return to full-time telework until infections drop; a uniform policy for all the department's divisions, and more detailed communications to the union regarding infections.

CalPERS requires most workers — with the exception of call center employees — to work from the office three days a week under a policy implemented in March. Department representatives have cited the need to make sure employees were assigned and performed full-time work.

The department is broken up into 32 divisions in three buildings on Q Street in Sacramento…

Seven of the divisions are in "outbreak" status under Cal/OSHA rules, spokesman Brad Pacheco said in an email, meaning they've had three infections in the last two weeks…

But departments' approaches have diverged since then, with some continuing to allow full-time remote work and others requiring office appearances one to three days per week.

The surge has forced departments to re-evaluate. Some departments, including the 5,600-employee Franchise Tax Board, have softened in-office requirements. The FTB is down from two days a week to one and managers have discretion to expand telework through Sept. 2. SEIU Local 1000 also organized a petition there…

Nguyen said the variability among divisions increases the risk of exposure.

The risks are serious, she said, citing a recent Centers for Disease Control and Prevention finding that about one in five people who had COVID-19 have lingering symptoms, known as long covid.
CalPERS Is Continuing to Lie About Compliance and May Be Understating Cases
It appears that CalPERS is playing fast and loose with data, or even worse, that Nguyen has a better handle on Covid cases than CalPERS does by virtue of getting the scoop from employees.
CalPERS is required to report weekly to CalHR about its Covid cases. The data from CalHR shows a higher case count than CalPERS spokesman Brad Pacheco gave to the press. In addition, the information I received from CalHR seems inconsistent with Nyugen's statement that cases at CalPERS are rising "exponentially," suggesting that CalPERS is finding creative ways to undercount its Covid cases. You can infer CalPERS is playing fast and loose in the way Pacheco responded to the Sacramento Bee:
Since April 1, 69 of the department's roughly 2,800 employees have contracted cases that CalPERS has confirmed originated at work, Pacheco said. For the same time period, the department is aware of 195 infections in total among employees, he said.
On May 23, I had asked Brad Pacheco to comment on a report I had gotten from a CalPERS insider that CalPERS had had 90 Covid cases at its headquarters compound since April 1. Pacheco denied that and said CalPERS had had only 47 cases. On May 27, Pacheco told the participants at a retiree roundtable that CalPERS had had 62 cases. If he was accurate in both instances, that's an awfully big jump in a few days.
On May 23, I also wrote CalHR for either CalPERS' case data, or if they were unable to provide that, to treat my e-mail as a Public Records Act request and provide all of CalPERS' weekly Covid-related reports from 1/1/2022 to present.1 When that didn't arrive, I sent a stern note, since CalHR in the past has been very punctual and professional.
I didn't get the records, since CalHR instead went to the trouble of making a spreadsheet to summarize the data. Since I am entitled to the records, I have (now nicely) asked to please send those along.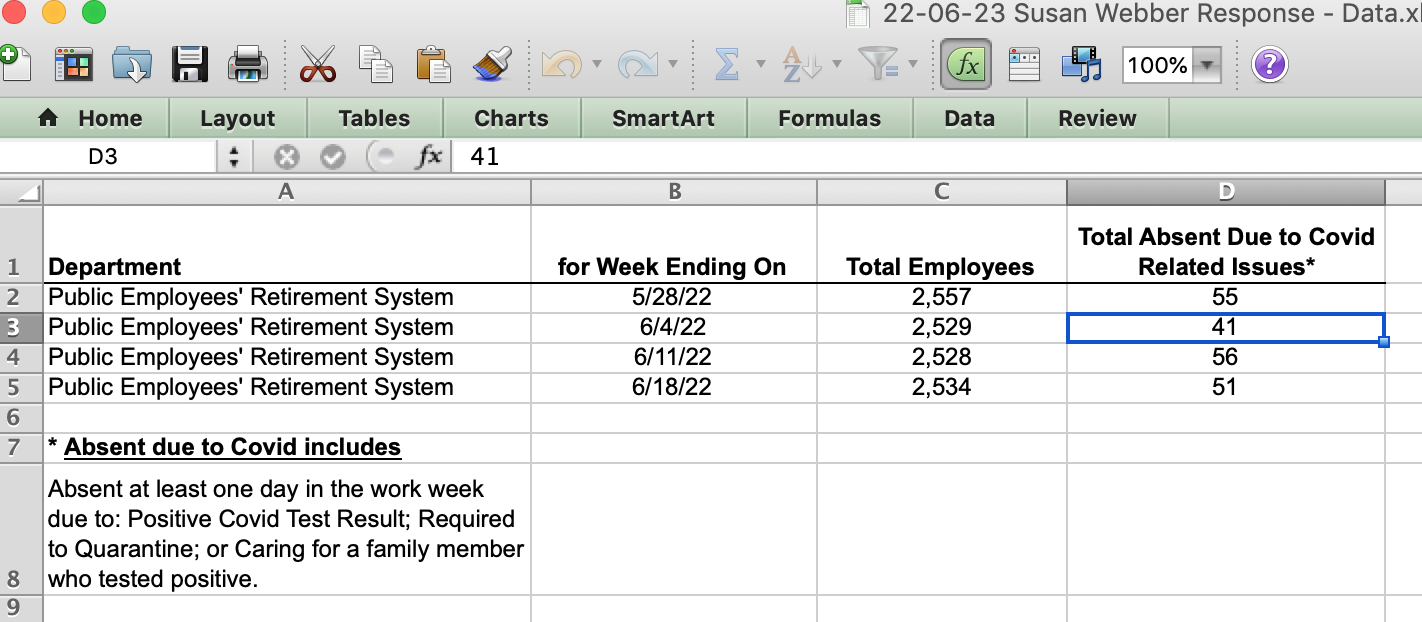 Note that even though CalHR responded to my request for reports from 1/1/2022, they sent data that started only as of the week of 5/28. That strongly suggests that CalPES did not provide the legally required reports before then, and started only as a result of our query to CalHR.
There's no way, until I get the documents I requested from CalHR, tp reach much in the way of conclusions, since there are too many differences in the basis for reporting (the CalHR report shows only 2500ish employees, presumably headquarters-only, when Pacheco gives CalPERS-wide totals; the CalHR data includes absences not due to infection; quarantine rules means absences can extend over a work week for a single infection). Nevertheless, even with making some effort, the Pacheco report of 195 cases since April 1 doesn't square well with the CalHR data plus the previous report of 47 cases as of May 23. But the spreadsheet does present an ongoing high case level and Nguyen's alarm says CalPERS isn't fully capturing infections.
Despite CalPERS claiming that if it had four cases in one division, that constituted an outbreak and the division would go on telework if possible, the very first caller in public comments reported that four people in his unit tested positive, yet it hadn't been put on outbreak status! Either CalPERS is flat out lying about its procedures or is doing a piss-poor job of keeping on top of cases. Neither picture is good.
In addition to shirking notification and safety requirements like contact tracing, particularly involving high risk areas like the cafeteria and the fitness center, CalPERS is falling back elsewhere on the lazy, uncaring approach of doing the bare minimum required.
For instance, despite having what clearly looks like too many employees back at work (remember that absence levels are still high even with a few divisions being in telework mode), CalPERS isn't even mandating masking, much the stressing the importance under Omicron of wearing good masks.
CalPERS' employees who are clearly trying to do the right thing by masking up are being badly served by not being informed that only an N95 adequately protects other staffers, and even N95s do not offer full workday protection against contagion unless everyone is wearing them.
See this chart, published in the Wall Street Journal in early January, and does not reflect the much higher contagiousness of Omicron: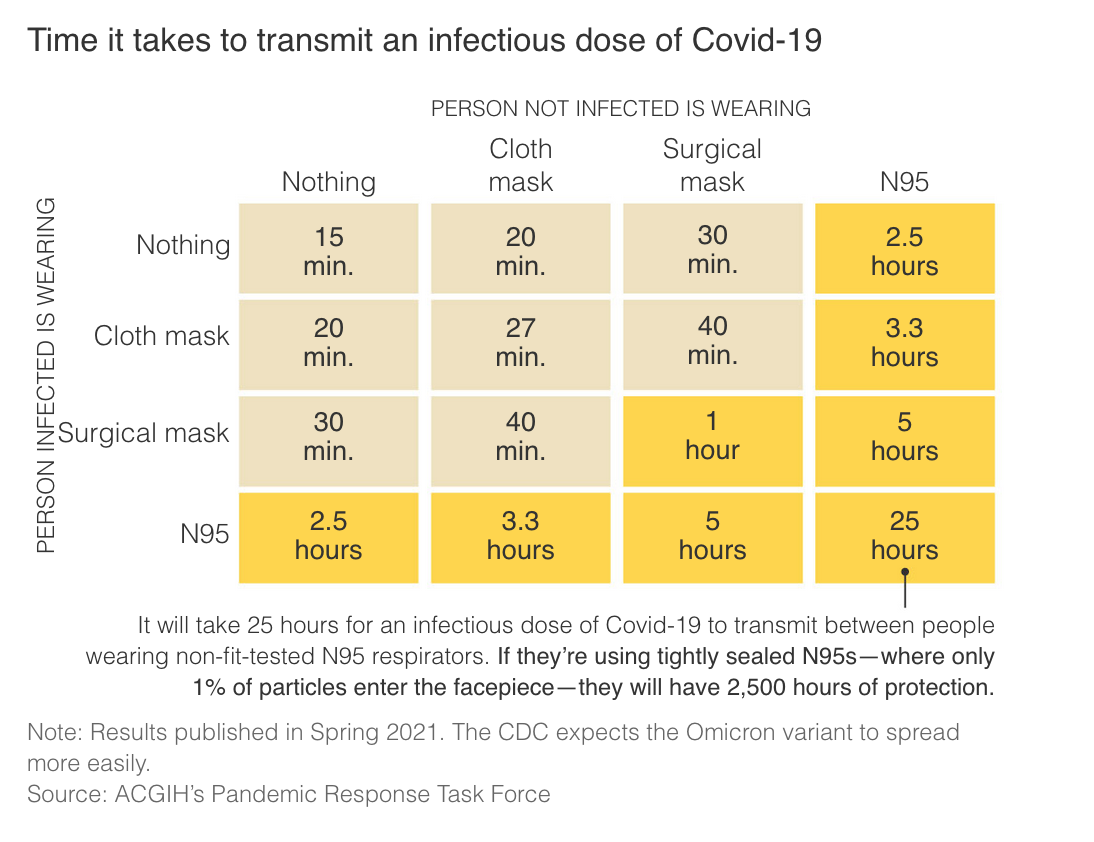 I've seem more recent versions of this table, which I am unable to find again given the state of Google, that cuts all of the estimates of mask protection under Omicron by 50%, so now the protection a N95 wearer gets from exposure to someone not wearing a mask is reduced from 2.5 hours to 1.25 hours.
I don't mean to criticize Tony Cuny, a CalPERS employee who was brave enough to speak up in the public comments about the need for CalPERS to do more to protect workers, since any misunderstandings on his part reflect poor guidance by CalPERS. He may indeed have been wearing an N95. But his statement as it reads perpetuates the notion that merely wearing a mask protects others, when it has to be an N95 to do so for anything other than brief exposures. From the transcript of the Board of Administration meeting on June 15:
MR. CUNY: I'm here to share with you the perspective of an employee that's contracted COVID. Luckily, I did not have significant health impacts from it and I did contract COVID from outside the workplace. However, due to our office policy, I exposed my fellow co-workers. Again, luckily I was wearing a mask, so I did not transmit it to them. And then go into an 11-day self-isolation period where my wife had to take responsibility for caring for our child.

Just in May, I got a close exposure notice, which sent me back home, which rebegan the cycle of concern that I may be spreading this to my family or to my office workers. And then just last week, I was notified that four people in my area tested positive for COVID. We're still coming back into the office.
If CalPERS insists on staying open, despite its own data showing it hasn't stopped this Covid outbreak, and keep employees from incurring long-term health damage and the risk of shorter lifespans from Covid, the most important thing they could do is a strict masking policy, requiring the use of N95s supplied by CalPERS.2 Another helpful and low-cost measure is installing Corsi-Rosenthal boxes in bullpens and bringing them into conference rooms when holding meetings.
Instead, we have this plea from Jen Comy, the wife of a CalPERS employee who is also a supervisor at another state agency:
Ms. Comy: We, like many, have been incredibly diligent throughout this pandemic to be safe and his return to work has been the biggest risk to our family. CalPERS supported telework when it was mandatory. And although the Governor seems to support a majority telework agreement, CalPERS has dehumanized their staff by demanding they return to an office environment to get back to work.

Two years ago, the benefits of telework were health and safety, work-life balance, less commute, and better for the environment. What has changed in your mission as an employer that all those benefits are trumped by a need for you to physically have staff on-site? It is laughable and disheartening that your actions contradict
the image CalPERS is trying to market as a forward-thinking employer who cares about the health and well-being of employees.
Such blatant disregard of employee well-being comes at a cost. Since Marcie Frost became CEO, we've regularly gotten e-mails from current and recently ex CalPERS staffers describing the accelerating exodus of employees with good educational backgrounds and reputations. But the board seems perfectly happy to have Frost sink the good ship CalPERS as long as she enables them to pretend that everything is fine.
____
1 Note that under California transparency laws, state agencies are NOT required to provide information. They ARE required to produce records. So my e-mail essentially amounted to, "Please send me the data I am interested in as a response to a press inquiry, or if you can't do that, please treat this e-mail as a Public Records Act request and send me these reports." After the month delay and then the prodding, CalHR decided to treat this as a Public Records Act request.
2 Rob Feckner was worried that if CalPERS imposed a mask mandate, they'd get an employee petition protesting it. That position is an insult to intelligence. CalPERS is ignoring the petition from SEIU Local 1000 District Labor Council 781 over telework, even though about 1/5 of the staff signed it and more would if they were not afraid of repercussions (I've had two e-mails from CalPERS employees afraid to sign' this is a real issue). CalPERS is perfectly willing to ignore employee wishes when it suits them. And CalPERS could break a sweat like posting the table above or similar ones about mask efficacy and send some of the many articles around explaining why cloth and even procedure masks are of limited value with Omicron.