It may seem peculiar to offer a defense of sort to the IRS, since most people here regard doing their taxes with even less enthusiasm than a visit to the dentist (although attitudes depend very much on the state of one's finances and teeth). However, the reporting on the Democratic Party plan to increase IRS funding and staffing has been so bad that it's not hard to feel a bit sorry for a generally unloved agency being kicked for mainly bogus reasons.
The Financial Times does the helpful job, in a new, prominently placed story, of explaining how the barrage of whinging about the idea of a chronically budget-starved agency getting the additional dough to do a less bad job is coming almost entirely from the Republican side. Republicans hate taxes, ergo any mention of more taxes or more tax collection must be depicted as an evil feasting on productive American enterprise. Oh, once in a while they'll also express faux concern for small fry taxpayers, but that's just for optics, the same way that big banks get community banks to act as the front men in opposing legislation.
However, taxes serve to validate the currency, drain demand, provide incentives and disincentives, and can be used to redistribute income. Team Dem puts up a PR defense of its IRS funding plans, without acknowledging that it's a pretense to claim that the Federal government needs to tax to spend. Those are entirely political constraints. Do yo see anyone worrying about where the money for the next bombing run in Iraq weapons shipment to Ukraine is coming from?
But the Democrats have done themselves and the IRS no favors by justifying the spending as more than paying for itself via improved collection (note it probably will but there are better reasons to argue for more IRS funding). As we'll also discuss, their analysis is based on a Larry-Summers touted "tax gap" that tax pros view as greatly exaggerated.
Background: How the IRS Came to Play an Overly Large Role, Including Social Support Payments
It is easy to forget that the IRS is at the very tail end of decisions. It did not write the overly complicated US tax code. It did not stand in the way of wage earners having the agency provide them with a pre-filled in tax form for them to sign and return if they agree….as is the practice in most civilized countries. It was H&R Block that prevented that.1 Nor did the IRS have anything to do with the near-total abandonment of anti-trust, which has resulted in a great increase in complexity of the legal structures of the biggest companies, as they gobbled up competitors and businesses with arguable synergies. That makes the biggest and even moderately big companies vastly more complex and difficult to audit than forty years ago.
But most Americans and even commentators have also lost sight of the fact that the IRS has become the primary government agency in dealing with consumers and businesses. Taxpayers focus on the collection side, but the IRS also allocates the Earned Income Tax cCredit to low income wage earners. And the IRS distributed coronavirus payments: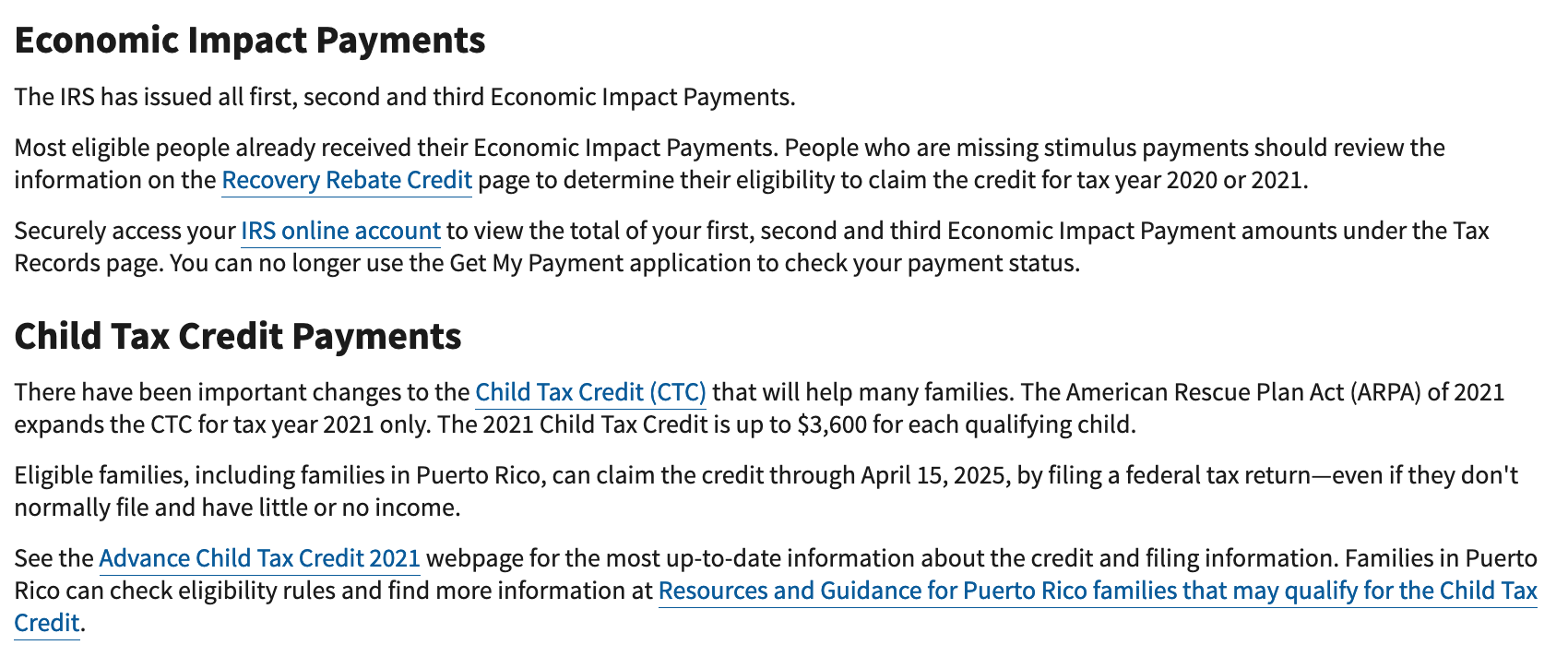 The Row Over the Proposed IRS Budget and Staffing Increases
First, let's review some key facts about the possibility of more cash and goodies for the IRS. Remember that the much-touted $80 billion increase is over ten years, as will be the 87,000 new hires. However, "new hires" do not equal "staffing increase". The IRS is a geriatric agency. It lost 10,000 employees in the last ten years and expects an additional 50,000 to retire in five to six years. The 87,000 new bodies will largely replace existing bodies. And the increases will be concentrated in customer service and IT.
Oh, and some of those new hands on deck are needed to clear out a big return processing backlog. From Jonathan Curry in Tax Notes (no online version) on August 16:
According to [National Taxpayer Advocate Erin] Collins's report, which was released June 22, the IRS's paper processing pace was far short of what it would need to be for the agency to be anywhere near healthy entering the 2023 filing season, despite taking actions like forming a surge team and imposing mandatory overtime.

An IRS spokesperson referred Tax Notes to the agency's filing season updates page, which notes that as of August 5, the IRS has 9.7 million unprocessed individual tax returns from tax year 2021, 1.8 million of which require error correction. The remainder are paper returns still awaiting processing and review. The agency also had 2.1 million amended individual tax returns as of August 6 and 4.7 million quarterly employer returns as of August 10.
Let's turn to the aforementioned Financial Times story:
Charles Rettig, commissioner of the Internal Revenue Service, knew that an $80bn funding boost for the agency included in the [Inflation Reduction Act] bill was becoming one of the package's most controversial measures among Republicans and rallied to its defence…

"The IRS has for too long been unable to pursue meaningful, impactful examinations of large corporate and high-net-worth taxpayers to ensure they are paying their fair share"….

Many tax experts have said a funding boost for the IRS was overdue. According to the Center on Budget and Policy Priorities think-tank, the IRS's budget is 20 per cent lower than its 2010 level when adjusted for inflation, while its full-time employees have declined by a fifth. The audit rate has dropped 54 per cent for large companies and 71 per cent for millionaires. The "tax gap", which measures the difference between taxes owed and taxes collected, is around $600bn annually, a Treasury official said.

Biden administration officials said the funding increase spread over a decade would be used for technological upgrades, better customer service and additional staffing, including replacing a series of expected retirements and increasing audits of the richest taxpayers. Over time, this would raise revenue to pay for the spending in the bill and reduce the budget deficit, the administration said.
We'll turn to the "tax gap" canard in a minute. We'll first address the Republican trumped up charges. One is stoking the fears of ammosexuals that the IRS is arming up. From the pink paper:
"Are they going to have a strike force that goes in with AK-15s already loaded ready to shoot some small business person in Iowa?" asked Chuck Grassley, the veteran Republican senator of Iowa and longtime member of the tax-writing Senate finance committee who is running for re-election this year, while speaking to Fox News this month.
Grassley of all people should know better. The IRS plays a big, and sometimes even the leading, role in busting drug lords and money launderers. The agency drily notes "Crossover between tax and non-tax crimes is common." From the March 2022 IRS-CI Highlights, quoting the opener and the start of the first "program area":
Program Areas

Below is just a small example of the types of cases in which CI has led or been significantly involved in over the last few years… Despite having 25% less staff over the course of the decade, CI has consistently delivered strong results. An increase in funding would help to add more investigations to the pipeline, ensure more criminals are held accountable, and shore up the global financial system.

Narcotics/Counterterrorism/National Security Investigations

IRS:CI targets the illicit financial flows of Transnational Criminal Organizations to reduce the economic incentive of narcotics trafficking, terrorist financing, and money laundering. IRS:CI has key positions to enhance operational coordination at DEA SOD, EO-OCDETF, OCDETF Fusion Center, FinCEN, IOC2, HIDTA, J-CODE in addition to Joint Terrorism Task Force (JTTF) and National Counterintelligence Task Force (NCITF). Investigations involve money laundering (Title 18) and currency violations (Title 31). IRS:CI is the largest user of Bank Secrecy Act data to identify significant financial criminal activity. Investigative areas include: money laundering, narcotics, public corruption, corporate fraud, terrorism, healthcare fraud, and financial institution fraud.

Herman Aguirre, the leader of transnational drug conspiracy tied to the El Chapo Mexican drug cartel, was convicted of narcotics conspiracy, and operating a continuing criminal enterprise and money laundering conspiracy. He was sentenced to serve life in prison.
Aguirre was the leader of a transnational drug trafficking organization that utilized contacts and a source of supply whose territory included Mexico, Arizona, California, and elsewhere. The source of supply was the Sinaloa Cartel, led by Joaquín "El Chapo" Guzmán and Ismael "El Mayo" Zambada.

Alfredo Vasquez-Hernandez, 59, was sentenced to 22 years in prison for his role in a $1 billion trafficking conspiracy.
Vasquez-Hernandez was a high-ranking member of the Sinaloa cartel and a close lieutenant of Joaquin 'El Chapo' Guzman.
Hernandez was the logistics man behind shipping tons of drugs by train from Mexico to Chicago concealed amid furniture cargo.

Six offshore financial service executives and a Swiss financial services company were charged with conspiracy to defraud the IRS for allegedly helping three large-value U.S. taxpayer-clients conceal more than $60 million in income and assets held in undeclared, offshore bank accounts to evade U.S. income taxes.

A federal jury convicted an attorney of conspiracy to commit money laundering after evidence showed that received drug proceeds from clients and associates who engaged in drug trafficking and used bank accounts of the law firm where he practiced to launder more than a million dollars.
Republicans have also been flogging the idea not only is the IRS about to become an armed posse, but that it is also going to target middle class taxpayers. In fact, the legislation explicitly targets the high income. From Michael Mechanic at Mother Jones:
In fact, efforts to restore IRS enforcement funding have always been about making sure rich people pay their taxes, which helps explain why the GOP is so bent out of shape about it….

As I wrote previously:

From 2010 to 2018, even as the IRS received 9 percent more tax returns, its annual budget was slashed by $2.9 billion—a 20 percent reduction that cost the agency more than one-fifth of its workforce. Investigations of non-filers plummeted and the amount of outstanding tax debt the IRS formally wrote off (based on the 10-year statute of limitations for collections) more than doubled—from less than $15 billion in 2010 to more than $34 billion in 2019.

Virtually no partnerships were audited in 2018….

A fair subset of superwealthy Americans doesn't even bother filing. The Treasury Department's Inspector General for Tax Administration reported in 2020 that nearly 880,000 "high income" non-filers from 2014 through 2016 still owed $46 billion, and the IRS was in no condition, resource-wise, to collect. The 300 biggest delinquents owed about $33 million per head, on average. Fifteen percent of their cases had been closed without examination by IRS staffers, and another one-third weren't even in line to be "worked."

Well, look whose IRS audit rates declined the most dramatically from when Obama was in power to when Trump was in power… pic.twitter.com/GpBzqKOrns

— Michael Mechanic (@MichaelMechanic) August 11, 2022
This should not be hard to understand expect to those who have an interest in getting you not to understand it. The IRS approaches improved enforcement the same way Willy Sutton thought about robbing banks: go where the money is.
As alert readers may have noticed in the chart above, there is an abuse that on paper leads to audits of lower income taxpayers, which is Earned Income Tax Credit fraud. But the perps there are rings, but the results wind up being audits of phony low-income tax returns. So they get counted as low-income audits even though the taxpayers are often non-existent.
Yellen confirmed that middle and even moderately high income households won't be subject to more IRS scrutiny. From the Financial Times:
"Contrary to the misinformation from opponents of this legislation, small business or households earning $400,000 per year or less will not see an increase in the chances that they are audited," US Treasury secretary Janet Yellen said in a letter to Rettig this month.
Keep in mind that the IRS is literally an instrumentality of the Treasurer:
The IRS is organized to carry out the responsibilities of the secretary of the Treasury under section 7801 of the Internal Revenue Code. The secretary has full authority to administer and enforce the internal revenue laws and has the power to create an agency to enforce these laws. The IRS was created based on this legislative grant.
Now having said that, the Democrats and their allies are way out over their skis in touting how much they can garner by closing their self-styled tax gap. The press has tended to invoke "tax gap" as if it's such a well-defined and accepted construct that it is accepted as fact. For instance, from the Financial Times:
The "tax gap", which measures the difference between taxes owed and taxes collected, is around $600bn annually, a Treasury official said.
The reason this overconfidence in the existence of a super big pot of uncollected tax matters is that it served as the justification for the scuppered effort to have financial institutions report inflows and outflows on bank accounts, ex wage deposits. of $600 a year or greater.
Lee Sheppard of Tax Notes shredded the methodology behind and computation of the tax gap in a March 2021 article (no online version, emphasis ours):
Former Treasury Secretary Lawrence H. Summers believes the tax gap is collectible…

The tax gap is a meaningless accounting entry, and the estimated revenue gain from doubling the IRS budget is overstated.

[Former IRS Commissioner Charles O.] Rossotti testified at the May 11 Senate Finance Taxation and IRS Oversight Subcommittee hearing extravagantly titled "Closing the Tax Gap: Lost Revenue From Noncompliance and the Role of Offshore Tax Evasion."….

The hearing was based on a new study from the National Bureau of Economic Research that says, um, rich people cheat on their taxes. The study argues that random audits underestimate the extent of top-tier tax evasion because they don't capture offshore accounts and passthrough businesses. At the hearing, Nina Olson of the Center for Taxpayer Rights noted that the study had not been peer reviewed….Moreover, a pair of government economists found problems with the study, especially the indiscriminate use of multipliers.

Well, gee, don't we have FATCA for offshore accounts? Didn't Congress ramp up FBAR penalties? Didn't we scare rich Americans out of Switzerland? Didn't banks spend billions to tip new customers upside down for their passports? The NBER study concludes, using data before FATCA went into effect, that most offshore wealth is undeclared.

FATCA is not self-implementing. The first batch of final FATCA regulations became effective beginning in 2014, but reporting compliance by banks didn't really get going until 2015 and 2016 due to a number of extensions along the way, while the data the economists used ended in 2012 and 2013 (T.D. 9610, T.D. 9808, T.D. 9809, T.D. 9852). The bottom line is that the NBER economists were looking at crusty old pre-FATCA data to argue that offshore accounts were a big problem.

Shouldn't we give FATCA a chance? Not that the IRS has been fast off the blocks. The IRS, as of 2018, had not made effective use of taxpayer information, according to Treasury Inspector General for Tax Administration J. Russell George, who testified at the hearing. The IRS doesn't have information to match the account provided by the bank with a taxpayer. Often the information that is lacking is something as basic as a Social Security number, according to George. The IRS spent $380 million on systems for FATCA and is getting information from international agreements that it is not meaningfully using because it cannot be matched to a taxpayer.
Sheppard's discussion is generally good news for the IRS. It means that it has a lot of relatively low hanging fruit once it gets better at mining FATCA data. But the flip side is that the estimate of $600 billion in extra dough to be had is wildly exaggerated. But if Team Dem is convinced that much is to be had somewhere, they might start looking under couch cushions for quarters poking harder at lower-earner tax filings.
But given that the IRS has had difficulty even in hiring people, don't expect the tax men to be saddling up for anyone any time soon.
______
1 I am told H&R Block is a shadow of its former self, lobbying-wise. So it is over my pay grade as to why salary-earners are put through the indignity of filing out tax returns. Is it TurboTax? Inertia? Republicans seeing this indignity as adding fuel to the anti-tax fire?