By Lambert Strether of Corrente
Bird Song of the Day
Volcano Junco, Cerro Buenavista communication towers, San José, Costa Rica. "Calls given as one bird of a pair flew to the other, a la pair excitement calls…" Short but sweet!
* * *
Politics
"But what is government itself, but the greatest of all reflections on human nature?" –James Madison, Federalist 51
"Here's food for thought, had Ahab time to think; but Ahab never thinks; he only feels, feels, feels" –Herman Melville, Moby Dick
"The logic of the insult and the logic of scientific classification represent the two extreme poles of what a classification may be in the social world." –Pierre Bourdieu, Classification Struggles
Biden Administration
EPA on indoor air quality:

.@EPA is asking for feedback to design an indoor air quality program for public buildings to help reduce #covid19.

This is an area where we can engage to push for meaningful change. Tomorrow at 7PM ET/5PM PThttps://t.co/caAvJWNEuw

— Matthew Cortland 👻 (@mattbc) October 18, 2022

A good thread.

"President Biden Pledges to Codify Roe with Bill that Goes Far Beyond Roe" [Jonathan Turley], "The Women's Health Protection Act (WHPA) is routinely described in the media as a "codification of Roe," repeating the false claim by the White House and many Democratic sponsors. It is in fact what many pro-choice advocates have always wanted Roe to be but have been unsuccessful in establishing through the court system." • Turley seems to think "It seeks to accomplish legislatively what could not be accomplished judicially for decades" is an indictment. In fact, it's the right thing to do, which (I assume) is why the Democrats haven't done it.

"Save Social Security From its 'Saviors'" [Stephanie Kelton, The Lens]. "The debates have already started, and I expect them to heat up after the midterms. Just think back to what happened after the midterm shellacking in 2010, when a newly-emboldened group of republicans lawmakers joined forces with a group of so-called 'moderate democrats' to push for cuts to Social Security as part of a 'Grand Bargain.' Of course, no one ever comes right out and says they want to CUT Social Security. That would be political suicide. Instead, lawmakers—democrats and republicans—describe their positions as well-intentioned and grounded in the harsh reality of budgetary math. They want to SAVE Social Security…. The only conceivable problem, as I explained last week, is with the way the enacting legislation was written.1 Congress could "fix" Social Security simply by amending that legislation to grant the Old-Age and Survivor's Insurance (OASI) and Disability Insurance (DI) programs the same federal backstopping that already guarantees program solvency for the Supplemental Medical Insurance (SMI) Trust Fund."
2022
* * *

"McCarthy's striking warning signal on GOP and Ukraine aid" [WaPo]. "In a new interview, though, McCarthy is singing a significantly different tune. He says that if Republicans win back Congress, we shouldn't take for granted that the United States will send further military aid to Ukraine. 'I think people are going to be sitting in a recession and they're not going to write a blank check to Ukraine,' McCarthy told Punchbowl News. 'They just won't do it. … It's not a free blank check. And then there's the things [the Biden administration] is not doing domestically. Not doing the border and people begin to weigh that. Ukraine is important, but at the same time it can't be the only thing they do, and it can't be a blank check.' A few points. First: This statement does not so much rule out future military aid to Ukraine as suggest it might be more limited and difficult to obtain. But whether that's because certain Republicans might demand budget offsets or simply don't want to send as much money overseas, the practical effect is a GOP leader warning that Congress could soon get quite a bit stingier if his party is in charge." • The article goes on to present a convoluted theory that McCarthy is warning the Democrats to pass what Ukraine needs in the lame duck session (assuming the Republicans win). That makes no sense to me. "When your enemy's drowning, throw 'em an anvil." I just read this as one more way the Republicans, bless their heart, are asking for my vote.

"2022 Midterm Elections: Democrats Narrowly Lead on the Generic Ballot" [Morning Consult]. Bullet points:

Democrats' Generic Ballot Lead Plateaus: Congressional Democrats lead their Republican counterparts by 3 percentage points on the generic ballot (48% to 45%) among likely voters, with another 7% undecided three weeks from Election Day. The figures have been rather consistent over the past couple weeks, after Democrats topped out at a 5-point lead in early October.

Biden's Approval Rating Ticks Up: According to the latest surveys conducted Oct. 14-16, 46% of likely voters approve of Biden's job performance (up from 44% a week ago), while 53% disapprove (down from 54%).

Democrats Hold Enthusiasm Edge: For the fifth week in a row, Democratic voters are more likely than Republicans to say they are "extremely" or "very" enthusiastic about voting in the midterm elections, 63% to 58%. The 5-point gap is the largest Democratic advantage Morning Consult has recorded in 2022.

Democrats Gain Trust on the Economy: Congressional Republicans are favored over their Democratic counterparts to handle the economy, 46% to 39%. But that 7-point gap marks a relatively consistent tightening since mid-June, when Republicans had a 16-point advantage on the question.

"1 big thing: Democrats' blue-state headaches" [Axios]. "House Republicans are increasingly confident they can make unexpected inroads into some solidly Democratic congressional districts, including in some of the bluest states in the country: California, Connecticut, New York, Oregon and Rhode Island. Following the money is as important as following the (limited) congressional public polling. Republicans are now pouring over $25 million into some of the bluest political battlegrounds on the map — a fresh sign that the political winds favor the GOP down the home stretch. The Congressional Leadership Fund, aligned with House Minority Leader Kevin McCarthy, has spent or reserved over $23 million on ads in eight Democratic-held districts that President Biden carried by double-digit margins. (Ariz.-4, Calif.-13, Calif.-47, Calif.-49, Conn.-5, N.Y.-17, Ore.-4, R.I.-2.) The NRCC is also spending $2.2 million on coordinated or hybrid ad buys with their nominees in five more Democratic-held districts that Biden carried by double-digits. (Calif.-26, Ga.-2, N.M.-3, N.Y.-4, Ore.-6). One common denominator in most of these blue-state races: Crime. Murders have been on the rise in major metropolitan areas within these states and near these districts, and the GOP's advertising has hit Democrats over bail reform, reallocating resources away from police, and an overall sense of disorder. Another factor favoring the GOP, according to one Republican official analyzing internal data, is that abortion isn't as motivating of an issue — voters are more confident reproductive rights are secure in states where Republicans are in the minority." Oops. And: "The fact that Biden spent political capital in Democratic strongholds Oregon and California this week — less than a month before Election Day — speaks volumes about the national mood."

"The four sleeper races that may decide the Senate majority" [The Hill]. "High-profile election battles in states like Pennsylvania, Georgia and Nevada have dominated talk about which party wins the Senate majority but strategists on both sides are eyeing sleeper races in second and third tier states such as North Carolina, Colorado and Washington that could unexpectedly tip the balance of power. A couple of Senate races that were expected to be top-tier races have faded in the background, such as Arizona, where incumbent Sen. Mark Kelly (D) has pulled well ahead of his Republican rival in the polls and fundraising, and New Hampshire, where Republicans failed to recruit their best candidate, Gov. Chris Sununu (R). With three weeks before Election Day, however, Democratic and Republican strategists say there are several "sleeper races" that could surprise political handicappers and decide which party controls the Senate next year….

"Voters See Democracy in Peril, but Saving It Isn't a Priority" [New York Times]. "In fact, more than a third of independent voters and a smaller but noteworthy contingent of Democrats said they were open to supporting candidates who reject the legitimacy of the 2020 election, as they assigned greater urgency to their concerns about the economy than to fears about the fate of the country's political system." • Fine word, "legitimate."

FL: "Police cameras show confusion, anger over DeSantis' voter fraud arrests" [Tampa Bay Times]. "When police went to arrest Tony Patterson outside his Tampa home in August, he couldn't believe the reason. 'What is wrong with this state, man?' Patterson protested as he was being escorted to a police car in handcuffs. 'Voter fraud? Y'all said anybody with a felony could vote, man.'…. They are accused of violating a state law that doesn't allow people convicted of murder or felony sex offenses to automatically be able to vote after they complete their sentence. A 2018 state constitutional amendment that restored the right to vote to many felons excluded this group. But, as the videos further support, the amendment and subsequent actions by state lawmakers caused mass confusion about who was eligible, and the state's voter registration forms offer no clarity. They only require a potential voter to swear, under penalty of perjury, that they're not a felon, or if they are, that their rights have been restored. The forms do not clarify that those with murder convictions don't get automatic restoration of their rights." • The Republican version of Democrats' complex eligibility requirements, both — now that I think of it — seemingly inspired by literacy tests in the segregated South.

GA: "Five takeaways from the Abrams-Kemp debate in Georgia" [The Hill]. "Abrams stunned many political observers in 2018 when she came within 55,000 votes of defeating Kemp in the race for Georgia governor with a campaign that focused on voting rights and the need for greater racial equity. She has largely tried to replicate that strategy this year, attacking Kemp and Republicans for implementing new voting laws and hammering the need to balance public safety with police reform. In one heated exchange, Abrams accused Kemp of ignoring the struggles of Black and brown people who have faced police discrimination, saying that 'while you may not have had that experience, too many people I know have.' She also touted efforts by Abrams and her allies to implement election reforms in the wake of the 2018 election to make voting more accessible. 'We didn't win every single claim, but we forced major changes to the election laws,' she said. All told, Abrams is hoping to recreate the momentum that helped propel her to a near-win four years ago. But she's facing a very different political environment this year than she did in 2018, and the question is whether her message has the same resonance."

PA:

Pennsylvania Lt. Governor John Fetterman just released an updated medical report from his primary care doctor.

The report concludes that Fetterman "has no work restrictions and can work full duty in public office." pic.twitter.com/yD91ri3xDG

— Kyle Griffin (@kylegriffin1) October 19, 2022

TX: "In Texas, where money has long dominated politics, Greg Abbott is in a league of his own" [Texas Tribune]. "Since Greg Abbott first declared he would run for governor on July 14, 2013, he's raised the equivalent of $83,793 per day to fund his pursuit of power. That's $20,000 more than the median Texas household earns in a year. Throughout his political career, Abbott has amassed a mountain of campaign cash unrivaled in Texas. He is easily the most prolific fundraiser in state history — even compared with his two predecessors, George W. Bush, who went on to become president, and Rick Perry, who served as governor for a record-breaking 14 years. Since 1995, when Abbott made his first bid for statewide office for a seat on the Texas Supreme Court, he has raised $348 million in campaign donations when adjusted for inflation, a sum greater than the cost to build the new Longhorn basketball arena at the University of Texas at Austin. In his 25 consecutive years in public office, Abbott's ability to court donors has become central to his political livelihood. His robust campaign treasury has allowed him to scare off potential opponents, bulldoze those who dare to challenge him, whip a Legislature keen on passing his agenda, fund a sprawling grassroots organization and generally reshape Texas politics in his image. 'That Greg Abbott is the most successful fundraiser in the history of Texas politics is not a meaningless statement. Being more successful than Bush 43, being more successful than Perry — one was president and one had two different chances to be the nominee — is saying something,' said Matt Mackowiak, an Austin-based Republican strategist. 'I think people have underestimated Greg Abbott, at their peril, for 20 years.'"
2024
"Kamala Harris allies leak fresh Biden, Buttigieg gripes to CNN" [SFGate]. Buttigieg in more demand on the trail than Harris, so: " Harris' allies had to come up with excuses as for why a comparative political novice is more sought after than a career politician with a much larger national profile. One is that Harris's security footprint is larger than Buttigieg's. Having the Secret Service and local police on scene creates financial and logistical problems that Buttigieg, who travels with just one bodyguard, doesn't have to worry about. Another excuse is that Buttigieg is in charge of an agency that doles out billions of dollars in grants to states for infrastructure projects, which can be appealing to Democratic candidates looking for an easy win with voters. Harris, by contrast, is a high-ranking figure in a partisan administration, and candidates in tight races may feel more comfortable appearing alongside a popular bureaucrat like Buttigieg. Finally, Harris is — as one source in the CNN article put it — "in Biden's house." Buttigieg is not associated with Biden the way Harris is, which gives him more latitude with his remarks on the campaign trail. Harris, on the other hand, is closely scrutinized by Republicans and has to adhere to the administration's general message. This puts her at a disadvantage with candidates who are looking for a surrogate with a fresh message or maybe don't want to be associated with every aspect of Biden's platform. Whether these excuses are justified is unclear." • Now that I've got "puppy-killing charlatan" out of the way for Oz, I'm working on Buttigieg: "vat-grown McKinsey _____." Unfortunately, "homunculus," although exactly on point, is out of the question, for obvious reasons. In the great tradition of "short-fingered vulgarian"….

"Virginia Gov. Youngkin campaigns for Drazan in tight Oregon race for governor" [KATU]. "Drazan and Democratic candidate Tina Kotek have been neck and neck in the race, with unaffiliated candidate Betsy Johnson also mixing up the race. 'You've got the Kotek-Biden agenda at work in Oregon, and you can't do anything but shake your head,' said Youngkin. 'They are agents of chaos. Everything they do makes it worse. … It's your moment to take back your state, take back your schools, to take back your cities, take back your law enforcement, and to make a statement that just like in Virginia, it will be heard around the world.'" • Video of Youngkin testing the national stage. He doesn't sound like he's from The Carlyle Group, I'll give him that. He does jump around a little.
Trump Legacy
"Emails reveal new details of Trump White House interference in CDC Covid planning" [Politico]. • From the The House Select Subcommittee on the Coronavirus Crisis. The test kit debacle, the masking debacle, the denial that Covid is airborne debacle, the unmasking-right-before-Omicron debacle, the "green map" debacle, the "Scarlet Letter" debacle, and the many, many data debacles were all due to pervasive and long-lasting institutional problems at CDC, and had nothing to do with Trump's sh*tstirring at the political appointee level (Trump being "the former guy" who, we might remember at this point before we deploy the term "democide," brought vaccines to patients in record time, an enormous achievement that the molasses-brained Biden administration promptly squandered). I do agree that the CDC should not have been "interfered" with. It should have been burned to the ground, the rubble plowed under, and the ground salted. NOTE The CDC test kit debacle surfaced on February 12. The first item on the Committee's timeline is a press conference by Deborah Birx on February 25, more than enough time even for the Trump administration to conclude that CDC was an omnishambles. Adding, it's a little disheartening that when what we really need on Covid is a Truth and Reconcilation Commisssion, what we're going to be getting is more fodder for Democrat talking points in 2024 [bangs head on desk]. If this thesis — just to strawman a little bit — is that "All we had to do was let the trained professionals at CDC do their jobs without interference from elected officials, and this pandemic would have been over a long time ago," that's not a tenable hypothesis.
Democrats en Déshabillé
Patient readers, it seems that people are actually reading the back-dated post! But I have not updated it, and there are many updates. So I will have to do that. –lambert

I have moved my standing remarks on the Democrat Party ("the Democrat Party is a rotting corpse that can't bury itself") to a separate, back-dated post, to which I will periodically add material, summarizing the addition here in a "live" Water Cooler. (Hopefully, some Bourdieu.) It turns out that defining the Democrat Party is, in fact, a hard problem. I do think the paragraph that follows is on point all the way back to 2016, if not before:

The Democrat Party is the political expression of the class power of PMC, their base (lucidly explained by Thomas Frank in Listen, Liberal!). ; if the Democrat Party did not exist, the PMC would have to invent it. . ("PMC" modulo "class expatriates," of course.) Second, all the working parts of the Party reinforce each other. Leave aside characterizing the relationships between elements of the Party (ka-ching, but not entirely) those elements comprise a network — a Flex Net? An iron octagon? — of funders, vendors, apparatchiks, electeds, NGOs, and miscellaneous mercenaries, with assets in the press and the intelligence community.

Note, of course, that the class power of the PMC both expresses and is limited by other classes; oligarchs and American gentry (see 'industrial model' of Ferguson, Jorgensen, and Jie) and the working class spring to mind. Suck up, kick down.

* * *
Realignment and Legitimacy
#COVID19
Sorting medical professionals, an excellent thread worth reading in full:
I've been trying to write this thread for about six months, but it's a mess.
It's full of conjecture.
It feels really judgmental.
It feels opinionated.
It feels uncomfortable.

But it's absolutely essential that we open a conversation about medical professionals and covid.

— tern (@1goodtern) October 18, 2022
This group is "ones":
Some medical professionals are (in my opinion) at the top of their game right now.
They're sharing compassionate intelligent wisdom about Covid, and promoting sensible behaviour and action.

— tern (@1goodtern) October 18, 2022
This group is "twos":
Some medical professionals are (in my opinion) totally off the rails.
They've abandoned the principles of public health and the precautionary principle.
They're promoting a virus and endangering the vulnerable.

— tern (@1goodtern) October 18, 2022
This group is "threes":
Some medical professionals are (in my opinion) somewhere in the middle, but by being there, they are abdicating their responsibility to promote health and failing everyone.

— tern (@1goodtern) October 18, 2022
On the group twos:
Group twos are all about self promotion. They're into point scoring and putting other people down.

— tern (@1goodtern) October 18, 2022
And:
Group twos may be more interested in control, power, and inflience, so they often fight their way into positions of authority.

— tern (@1goodtern) October 18, 2022
And the group threes:
Group threes are the ones who
*should know better*.

— tern (@1goodtern) October 18, 2022
Good discussion of professional pressures on group threes. Importantly, group threes follow Infection Control Guidelines:
Bad news, I'm afraid.
They answer to the managers, and they follow the government guidance that is set by the same politicians who are minimising the pandemic.

— tern (@1goodtern) October 18, 2022
(I have shown here how "Hospital Infection Control Departments Tenaciously Resist Airborne Transmission, Aided by CDC.")
This whole thread (it's much richer than this excerpt) makes me very happy, because it meets "the test of independent invention." I divided the members of the PMC into subclasses I labeled "exceptional" and "hegemonic." Hegemonic maps neatly onto the twos; exceptional maps neatly to ones. I didn't name the residue, threes, who form the majority of the class; perhaps "normals" would do, if that's not too insulting.
• Maskstravaganza: Shot:
Who's that Asian guy in black respirator?

— Abundant Pedestrian Sheds (@AbundantLandUse) October 18, 2022
Chaser:
The only smart one in the room.

— Daniel Brittain Dugger (@dbdugger) October 18, 2022
• Maskstravaganza: Medical care (1):
Dear @accpchest This one photo helps us gauge the level of (in)competence among U.S. Critical Care fellows. Maybe you can clarify if Anything was done to protect them/patients/work colleagues next week, from that pandemic infection with known short and long term sequelae. https://t.co/4T5OWt8VWr

— LadyG (@LadyGmke) October 19, 2022
IMNSHO, the science is clear. How did these "Fellows" go so wrong? What is the mechanism? (They sure are smiling, though!)
• Maskstravaganza: Medical care (2):
Hcw spouse called into office in small groups. Masks required.

She is in GVS elipse P100.

*Every* other HCW in surgical mask, most not wearing them correctly.

This is never ever ever going to end.#CovidIsAirborne and #dropletdogmakillshttps://t.co/uVZq314jF1

— Eric's Personal Risk Assessment (@Eric_Carroll) October 18, 2022
* * *
• On the excellence of CDC's scientific communication:
Another one of them was talking about how he's forgetting to do things, + hx of COVID with hospitalization, his wife wound up with 5 clots in her lungs and needed surgery, ~50 yo.

— Michael Olesen 💉😷🇺🇸🇺🇦 (@maolesen) October 18, 2022
* * *
• Eugenics are a game two parties can play, it would seem:
Vote like your life depends on it—because it does during the #COVID19 pandemic. Florida and OH leaders have failed you and died needlessly. Just vote wisely.

Florida: Vote @valdemings & @CharlieCrist
Ohio: Vote @TimRyan & @nanwhaley pic.twitter.com/ATF33dAmdr

— Eric Feigl-Ding (@DrEricDing) October 17, 2022
Each in their own way, of course.
* * *
Transmission
Here is CDC's interactive map by county set to community transmission. (This is the map CDC wants only hospitals to look at, not you.)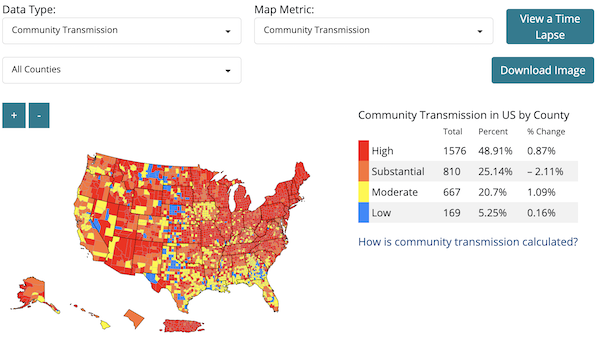 Lambert here: I have to say, I'm seeing more and more yellow and more blue, which continues to please. But is the pandemic "over"? Well….
Positivity
From the Walgreen's test positivity tracker, October 18: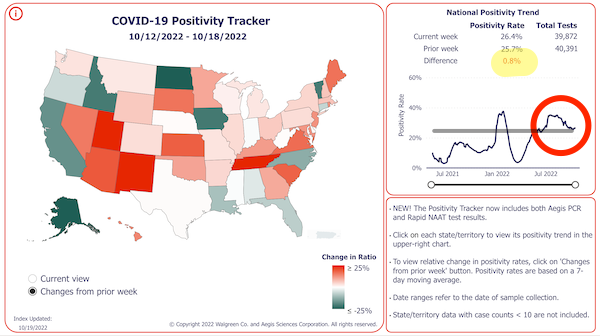 0.8%.
Readers, please click through on this, if you have a minute. Since Walgreens did the right thing, let's give this project some stats.
Wastewater
Wastewater data (CDC), October 15: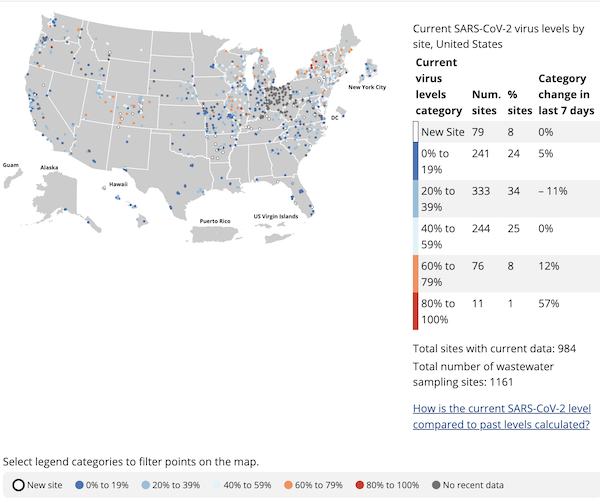 October 14: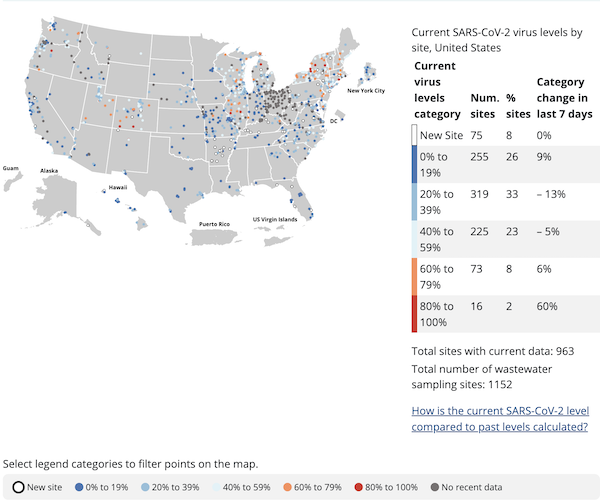 Variants
Lambert here: It's beyond frustrating how slow the variant data is. Does nobody in the public health establishment get a promotion for tracking variants? Are there no grants? Is there a single lab that does this work, and everybody gets the results from them? Additional sources from readers welcome [grinds teeth, bangs head on desk].
Variant data, national (Walgreens), October 1: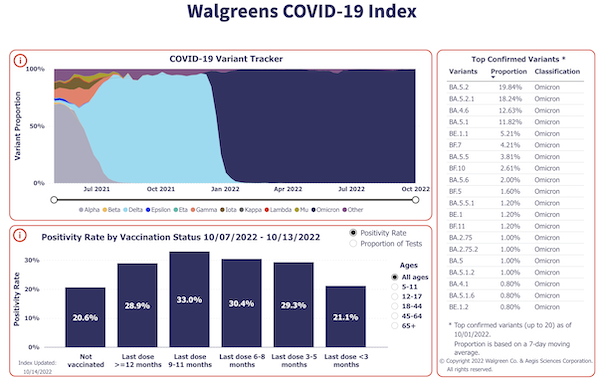 Variant data, national (CDC), September 24 (Nowcast off):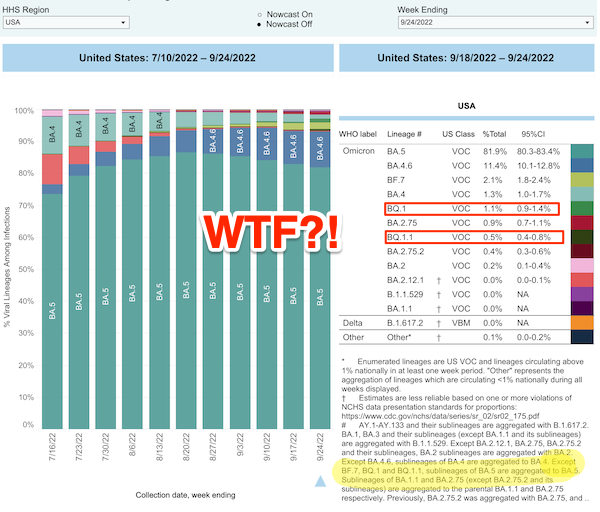 Deaths
Death rate (Our World in Data):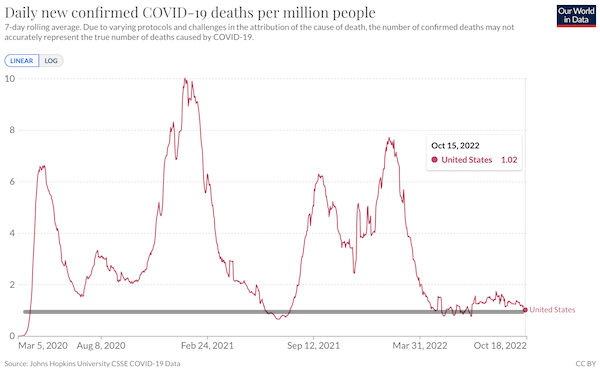 Total: 1,091,086 – 1,090,802 = 284 (284 * 365 = 103,660, which is today's LivingWith™ number (quite a bit higher than the minimizers would like, though they can talk themselves into anything. If the LivingWith™ metric keeps chugging along like this, I may just have to decide this is what the powers-that-be consider "mission accomplished" for this particular tranche of death and disease.
It's nice that for deaths I have a simple, daily chart that just keeps chugging along, unlike everything else CDC and the White House are screwing up or letting go dark, good job.
Stats Watch
Housing: "Housing Starts" [Trading Economics]. "Housing starts in the US slumped 8.1 percent to an annualized rate of 1.439 million in September 2022, down from a revised 1.566 million in the previous month and well below market consensus of 1.475 million. The US housing market has been hit by soaring prices of materials and rising mortgage rates, which recently reached their highest level since 2002."
* * *
Shipping: "Container-ship logjams off US ports finally easing as imports fall" [India Shipping News]. "The good news is that there were fewer than 100 container ships stuck waiting off North American ports on Friday. The bad news is that there were still 99 container ships offshore and the pre-COVID norm was in the single digits. There's still a long way to go to clear the backlog. But the current tally is now back to June levels and 35% off recent highs." • I can't find the comment where this source appeared, so whoever you are, take a bow!
* * *
Today's Fear & Greed Index: 35 Fear (previous close: 34 Fear) [CNN]. One week ago: 18 (Extreme Fear). (0 is Extreme Fear; 100 is Extreme Greed). Last updated Oct 19 at 1:45 PM EDT. October, and no crash yet. It's like waiting for the Ukrainian Kherson counter-offensive.
Zeitgeist Watch
Yikes:
1 in 7 men and 1 in 10 women in the US don't have a single friend. #AdriftBook pic.twitter.com/fxHxl1tG2s

— Scott Galloway (@profgalloway) October 18, 2022
"Desperate Americans Are Getting Botox for Their Teeth" [The Atlantic]. "Across the country, patients dealing with the meddlesome condition are now turning to Botox—yes, Botox. 'It's a very popular treatment' for people who grind and clench their teeth, Lauren Goodman, a L.A.-based cosmetic nurse, told me. Bruxism, the official term encompassing both behaviors, is an involuntary action that tends to happen when people are sleeping at night, for reasons including alcohol and tobacco use, sleep apnea, and stress—perhaps why the condition has soared in the United States during the pandemic. The condition is a tolerable nuisance for many people, but the symptoms can get very real: With bruxism on the rise, dentists are reporting more chipped and cracked teeth in patients, along with jaw pain and facial soreness. In the most severe cases, patients can suffer debilitating headaches and jaw dislocation. The most common treatments, such as mouth guards and lifestyle changes, only sometimes help get rid of symptoms. That's what makes Botox so appealing for the recent flood of teeth grinders." • It's almost as if there's some collective anxiety that's being suppressed….
News of the Wired
The horror, the horror. On how Calibri took over Microsoft Office:
Went back into my transcripts. pic.twitter.com/zPHjeyPFSk

— Matthew Kirschenbaum (@mkirschenbaum) October 18, 2022
I love the idea of Microsoft deciding they needed to standardize on one font for Office and optimizing for PowerPoint. Plus the engineers thought old-style numerals were broken, because they didn't sit right on the baseline. Say what you will about Apple, at least they understood fonts.
Somebody tell Meta (or wait, don't):
Children of the 80s might remember ASCII games like "Rogue," where space and movement could be represented by text. Fafinski points out that the Einsiedeln 326 manuscript did much the same thing, serving as a visual-textual guide for those making pilgrimages to Rome. pic.twitter.com/IM8hyRfouM

— Stanford CMEMS (@CMEMSStanford) October 18, 2022
* * *
Contact information for plants: Readers, feel free to contact me at lambert [UNDERSCORE] strether [DOT] corrente [AT] yahoo [DOT] com, to (a) find out how to send me a check if you are allergic to PayPal and (b) to find out how to send me images of plants. Vegetables are fine! Fungi and coral are deemed to be honorary plants! If you want your handle to appear as a credit, please place it at the start of your mail in parentheses: (thus). Otherwise, I will anonymize by using your initials. See the previous Water Cooler (with plant) here. From notabanker: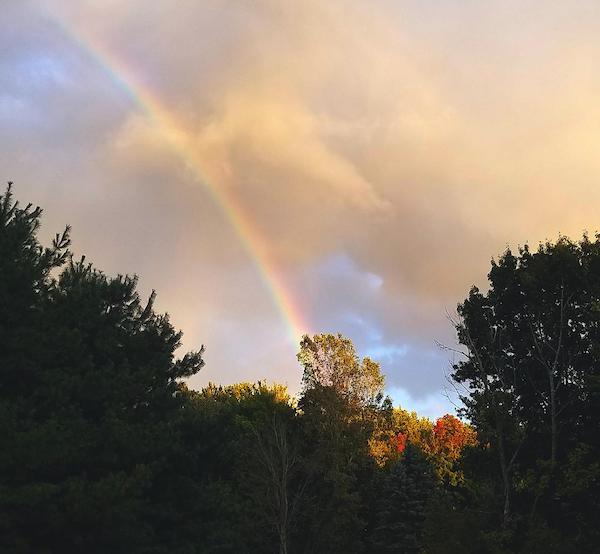 notabanker writes: "Here is one I took a couple of days ago in my backyard. Unfortunately, I didn't find the pot o gold." Nice leaf color too!
* * *
Readers: Water Cooler is a standalone entity not covered by the annual NC fundraiser. So if you see a link you especially like, or an item you wouldn't see anywhere else, please do not hesitate to express your appreciation in tangible form. Remember, a tip jar is for tipping! Regular positive feedback both makes me feel good and lets me know I'm on the right track with coverage. When I get no donations for five or ten days I get worried. More tangibly, a constant trickle of donations helps me with expenses, and I factor in that trickle when setting fundraising goals:
Here is the screen that will appear, which I have helpfully annotated: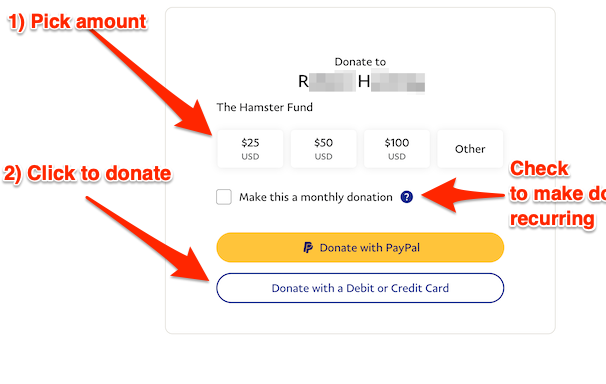 If you hate PayPal, you can email me at lambert [UNDERSCORE] strether [DOT] corrente [AT] yahoo [DOT] com, and I will give you directions on how to send a check. Thank you!