By Lambert Strether of Corrente
Bird Song of the Day
Dark-eyed/Yellow-eyed Junco, Gila, Arizona, United States
* * *
Politics
"But what is government itself, but the greatest of all reflections on human nature?" –James Madison, Federalist 51
"Here's food for thought, had Ahab time to think; but Ahab never thinks; he only feels, feels, feels" –Herman Melville, Moby Dick
"The logic of the insult and the logic of scientific classification represent the two extreme poles of what a classification may be in the social world." –Pierre Bourdieu, Classification Struggles
Biden Administration
"Senate Dems press SEC chair to slow Wall Street rules" [Politico]. "In a previously unreported letter, a dozen Democrats led by Sen. Jon Tester of Montana asked Gensler to give corporate America and the broader public more time to weigh in on the raft of rules the agency is proposing. The SEC's agenda includes a landmark climate risk disclosure rule for public companies, new transparency requirements for hedge funds and a revamp of the stock market's plumbing. The Democrats who signed the letter include: Raphael Warnock of Georgia, Kyrsten Sinema and Mark Kelly of Arizona, Mark Warner and Tim Kaine of Virginia, Tom Carper and Chris Coons of Delaware, Maggie Hassan of New Hampshire, Jacky Rosen of Nevada, Gary Peters of Michigan and John Hickenlooper of Colorado." • Well, so much for Warnock. Naturally, the Democrats are trying to screw up one of the few bright policy spots in the Biden Administratation (antitrust being the other).
2022
* * *

"Young Voters Approve of Democratic Policies But Don't Credit the Party, Teen Vogue and Change Research Find" [Teen Vogue]. n = 1,173. "Although Democrats have enjoyed recent legislative victories, there seems to be a gap between these achievements and what the party has been able to communicate to young voters. Many respondents haven't heard of the legislation Democrats have passed. Some don't know who the candidates are in their statewide midterm elections and what they stand for. 'We might see greater improvement in key measures if lawmakers and campaigns directly communicated these policies to young voters,' the Change Research team tells Teen Vogue. 'Unfortunately, few [young voters] have heard about these accomplishments.' Fewer than 30% of surveyed voters have heard of the Bipartisan Safer Communities Act — the first significant federal gun reform legislation in nearly three decades. Barely half have heard about the Inflation Reduction Act, which is best known for its provisions to reduce US carbon emissions, and only 23% have heard a lot about the IRA. Just weeks before the election, almost half of the respondents say they've seen, read, or heard 'only a little' or 'nothing at all' about the candidates for Congress in their area. There are two significant outliers to this awareness gap: Most young voters have heard about the Supreme Court overturning Roe v. Wade (97%) and the Biden administration forgiving $10,000 in federal student loan debt (89%). Student debt relief has made 40% of respondents either much or somewhat more supportive of Biden and the Democrats, and 4 in 10 voters deem it a "significant step forward," compared with 32% who call it "too little, too late.'"

PA: "It's a dog fight: The battle over ads targeting Oz regarding animal abuse" [Politico]. "Ads detailing the abuse that allegedly occurred under Republican Senate hopeful Mehmet Oz's watch while he was a principal investigator at the Columbia University Institute of Comparative Medicine have resulted in an embittered back-and-forth between the Oz campaign and the super PAC who funded them…. Oz's campaign has denied his involvement in the abuse, claiming he was not in the operating room during or after operations, and that he was not alerted to the abuse until after the cases were finished." • Surely a "principal investigator" is supposed to know this stuff?
2024
"Donald Trump And Tulsi Gabbard: The 2024 GOP Ticket?" [1945]. "bookmaker Betfair has placed Gabbard as the third most likely candidate to win the GOP nomination – at 10 to 1 – displacing former Vice President Mike Pence to fourth place. Betfair still has Trump as the favorite, at 11-to-8 odds. If Trump does win another nomination, Betfair has Gabbard as the second most likely candidate to join him on the ticket, with 4-to-1 odds. Ron DeSantis is the favorite to be Trump's running mate, at 16-to-5." • Hmm.
Democrats en Déshabillé
Patient readers, it seems that people are actually reading the back-dated post! But I have not updated it, and there are many updates. So I will have to do that. –lambert

I have moved my standing remarks on the Democrat Party ("the Democrat Party is a rotting corpse that can't bury itself") to a separate, back-dated post, to which I will periodically add material, summarizing the addition here in a "live" Water Cooler. (Hopefully, some Bourdieu.) It turns out that defining the Democrat Party is, in fact, a hard problem. I do think the paragraph that follows is on point all the way back to 2016, if not before:

The Democrat Party is the political expression of the class power of PMC, their base (lucidly explained by Thomas Frank in Listen, Liberal!). ; if the Democrat Party did not exist, the PMC would have to invent it. . ("PMC" modulo "class expatriates," of course.) Second, all the working parts of the Party reinforce each other. Leave aside characterizing the relationships between elements of the Party (ka-ching, but not entirely) those elements comprise a network — a Flex Net? An iron octagon? — of funders, vendors, apparatchiks, electeds, NGOs, and miscellaneous mercenaries, with assets in the press and the intelligence community.

Note, of course, that the class power of the PMC both expresses and is limited by other classes; oligarchs and American gentry (see 'industrial model' of Ferguson, Jorgensen, and Jie) and the working class spring to mind. Suck up, kick down.

* * *
Clinton Legacy
No:

I have helpfully underlined the part where Chelsea, not knowing what she says, says it.
Realignment and Legitimacy
"How the Diploma Divide Is Remaking American Politics" [Eric Levitz, New York Magazine]. Chris Arnade first popularized the front row/back row distinction, shorthand for what Levitz takes on here. "Blue America is an increasingly wealthy and well-educated place….. A more educated Democratic coalition is, naturally, a more affluent one. In every presidential election from 1948 to 2012, white voters in the top 5 percent of America's income distribution were more Republican than those in the bottom 95 percent. Now, the opposite is true: Among America's white majority, the rich voted to the left of the middle class and the poor in 2016 and 2020, while the poor voted to the right of the middle class and the rich." Wierd flex on "left," but OK. More: "There are worse things for a political coalition to be than affluent or educated. Professionals vote and donate at higher rates than blue-collar workers. But college graduates also comprise a minority of the electorate — and an underrepresented minority at that." Weak base, weak party (along with a reliance on the highly credentialed organs of state security, the press, and Big Tech — distinctions without differences — to make up the numbers. More: "In my view, education polarization cannot be understood without a recognition of the values divide between educated professionals and working people in the aggregate. That divide is rooted in each class's disparate ways of life, economic imperatives, socialization experiences, and levels of material security. By itself, the emergence of this gap might not have been sufficient to trigger class dealignment, but its adverse political implications have been greatly exacerbated by the past half-century of inequitable growth, civic decline, and media fragmentation." • Note the weirdly contradictory usages of "class". Still, well worth a read, since Levitz is trying to work though some really knotty issues. Now, speaking of "values"–

"The Death Eaters: Covid in the Liberal Imagination" [Greg Gonsalves, The Nation]. "In poring over The Pandemic Diary—a magisterial work of hundreds of pages of text and photographs—what I quickly realized was that this was not my pandemic, especially in that first year, where Camilo showed an evolving streetscape of New Yorkers in poorer communities in the city, out and about in masks, trying to survive a plague as best they could. Meanwhile, many of us stayed home in the early months of Covid-19, ordering groceries and other essential online, while some decamped out of the cities all together. Of course, the "many of us" are the professional class who could opt out of the most dangerous circumstances over the past two and a half years, in the comfort that our class afforded. Camilo's photographs are for me essentially a tale of two pandemics, in which social and economic class, along with race, are the dividing lines…. our policies on Covid-19—and not just on schools—have largely been based on taking the social realities of the well-off as the neutral, default setting. This perspective still predominates, from the pages of our major newspapers to the centers of power in our cities and towns, the states and the country as a whole. At some point, after we stop blaming Donald Trump for our pandemic woes or even focus on the policy failures of the Biden administration, we have to take a look at ourselves—or at least my own demographic: liberal, economically secure, highly educated, privileged professionals—and our role in all this." • When hell freezes over, would be my guess.

"Democracy balances on the brink in Kansas and U.S. Too many of us choose not to notice." [Kansas Reflector]. "As evidence, I present two separate yet interconnected stories. The first appeared in Kansas Reflector over the weekend. It outlined the potential consequences of a case before the U.S. Supreme Court. Called Moore v. Harper, the case involves a bizarre concept called the independent state legislature theory. As Minnesota Reformer reporter Michelle Griffith explained, if the nation's high court backs this theory, the consequences could be cataclysmic. State lawmakers could "enact laws to make it harder to vote in federal elections without review from state courts. Legislatures could shorten the early voting period, restrict mail-in balloting to certain counties and require voter ID, among other measures.' Legislatures — including the supermajority GOP one foisted upon Kansas — could have their way with election law. State courts couldn't stop them. Griffith writes further that 'administration of the presidential election is under a different clause, so at stake is solely the administration of congressional elections.' Given the U.S. Supreme Court's recent track record, however, that hardly reassures. Now, keep that scary scenario in mind while I pivot to the second story. The New York Times noted last week that more than 370 Republican candidates running this year have voiced doubts about the 2020 election. That's a majority of those running from the party."

"Election administrators are under attack in Texas. Here's what that means for the midterms." [Texas Tribune]. "With the 2022 midterms less than a month away, election administrators in Texas and elsewhere continue to face a level of harassment and threats that experts say had never been experienced before the November 2020 presidential election. In August, the entire staff of the elections office in Gillespie County, about 80 miles west of Austin, resigned, citing threats, 'dangerous misinformation' and a lack of resources. The same month, Bexar County elections administrator Jacque Callanen told KSAT, a San Antonio news station, that her department was confronting similar challenges. 'We're under attack,' Callanen said. 'Threats, meanness, ugliness.' She added that staff members were drowning in frivolous open-records requests for mail ballots and applications. Texas is one of several states targeted by right-wing activists who are seeking to throw out voter registrations and ballots, according to The New York Times. Last month, angry activists disrupted a routine event in which officials publicly test voting equipment outside of Austin, swarming the Hays County elections administrator and Texas Secretary of State John Scott, a Republican, while alleging unproven election law violations." • OTOH, if one outcome of all this commotion is the abolition of voting machines, I am here for that. OTOH, when I think of "election administrators" I think of nice old church ladies who cross my name off the voter list, hand me a ballot, and then give me an "I Voted" sticker. It would be unconscionable to harras them, especially because they are performing an important civic duty.
#COVID19
• "COVID Rates Back Above 20% in Parts of Manhattan as Virus Rebounds" [NBC New York]. "COVID-19 positivity rates are back above 20% in parts of Manhattan, as the latest city data indicate the virus is digging in ahead of winter. . Just a day prior, no neighborhood was over 20%…. You may not have heard of these two subvariants before — . Both are descendants of omicron, which has proven to be the most vaccine-elusive and infectious COVID variant to date, and both are spreading at rapid rates. That's especially true in the CDC's New York region, which also includes New Jersey, Puerto Rico and the Virgin Islands. According to the health agency's latest variant report, those subvariants account for 11.6% and 8% (19.6%), respectively, of COVID cases for the week ending Oct. 15, up from 4.1% and 1.9% (6%) in the report two weeks prior. The CDC estimates those two variants could account for up to 36.6% of New York area cases, which is nearly double the highest-range estimate at the national level." • Interestingly, the Port Authority Bus Terminal is in Hell's Kitchen. So is the New York Passenger Ship Terminal, for cruise ships. Penn Station is just south. The Covid train always leaves on time, doesn't it? And there's always another one coming! An alert reader informs me of an increase in mask-wearing in New York working class areas. Can other readers confirm?
* * *
"Sports bars can be great places for catching the Phillies and Eagles — and COVID-19" [The Inquirer]. "With the Phillies in the National League championships, the Eagles still undefeated, and the Union making waves, it's a great time for Philadelphia sports fever. But remember that festive fans can put themselves at risk of a real fever — as in the kind caused by the flu or COVID-19. Crowded spaces with lots of drinking and shouting, such as a sports bar or a packed stadium, are prime spots for the spread of infectious disease, public health experts say. Yes, official COVID totals are fairly low at the moment. Yet in Philadelphia and the rest of the country, those numbers have long been considered to be an underestimate, given that so many people are now testing themselves at home, if they are getting tested at all. The safe bet is to assume that the virus is circulating, said Chrysan Cronin, director of the public health program at Muhlenberg College. Case in point: Twenty-four out of 150 people who attended a recent party in honor of former Inquirer editor Gene Roberts have since tested positive for COVID, said event organizer Arlene Notoro Morgan, assistant dean for external affairs at Temple University's Klein College of Media and Communication. The party, held in New York City, lasted for hours and featured plenty of drink and spirited conversation — much like the atmosphere at a sports bar." • To be young and stupid is one thing. To be old and stupid is quite another.
* * *
• I wonder why:
1/n The anger, fear and sadness conveyed by news media headlines is increasing over time.
Summary of published paper: https://t.co/SW6qYTIw2Y pic.twitter.com/GnDHzMHfRt

— David Rozado (@DavidRozado) October 19, 2022
And:
5/n A question arising from our results: Does the sentiment and emotionality embedded in news media headlines reflect a wider societal mood or does it instead reflect the sentiment and emotionality prevalent or pushed by those creating news content?

— David Rozado (@DavidRozado) October 19, 2022
I don't see how a society that leaves a million deaths unmourned and unrecognized, collectively, could avoid considerable "anger, fear and sadness." There's no catharsis, no release, not even a "national conversation." (Compare the AIDS quilt, now at the National AIDS Memorial. There's nothing like that catharsis today, and a Covid Memorial is unlikely). Instead, we have smiling, and the demand that everybody smile. (No doubt the flip side of the smile power tripping is the epidemic of people grinding their teeth at night.) As a blogger who ingests an enormous quantity of "anger, fear and sadness conveyed by news media headlines" daily I feel this condition keenly. Of course, there's rather a lot of real world reasons to feel anger, fear, and sadness. The issue, I think again, is the lack of release. Perhaps catharsis cannot be monetized in the same way that unresolved emotions can be.
"'The Rage Would Come Out of Nowhere': Personality Change Has Emerged as a Symptom of Long Covid" [Rolling Stone]. "While there's still a long way to go, thanks to researchers like Nordvig, we're beginning to see what's happening inside the brains of those with Long Covid. 'In advanced imaging — especially in some of our studies — we see changes in blood flow, blood permeability, and brain metabolism that overlap with areas responsible for these areas of the personality,' [Anna] Nordvig [co-founded the Post-COVID "Brain Fog" Clinic at Weill Cornel] explains. 'Neuropsychological testing is something we also send some patients for, to help diagnose the [personality] change. This is still under study.' And given that Nordvig sees Long Covid personality change as likely being a combination of neurological issues and the mental health impact of long-term stressors, one cause shouldn't be viewed as more 'legitimate' than the other. 'The thing is, it's a false dichotomy, because ,' [Adam] Kaplin [of Johns Hopkins] explains. 'So saying that it's both means that they're interacting with one another.' This interaction is something [Julie] Fallon has experienced firsthand. Before she realized she was dealing with Long Covid, she sought neurological treatment for what she thought was post-concussion syndrome, and added a psychiatrist to her multidisciplinary medical team. 'At that point I was evaluated and diagnosed with PTSD, severe social anxiety, generalized anxiety disorder, panic, and depression,' she explains. 'I was presenting with the type of trauma experienced by war veterans.' It would take several months, but once Fallon was able to her personality change, her persistent rage went away, and she felt like her pre-Covid self again. Similarly, the turning point for [Tony] Marks came when he was able to in his personality and adjust his behavior accordingly." • I can testify that recognizing the Process? Change? Syndrome is important. I can still remember reading a Scientific American article on Seasonal Affective Depression when crossing the Charles River on the Red Line on a dark winter day. I read the symptoms, and they were what I was experiencing (wolfing down cookies for the carbs was one IIRC). Once the whatever-it-was had a name, I was able to recognize and control it from that point forward, which made a big difference in my life. The mind really did affect the brain.
* * *
• The list gets pretty long:
1
Sanitiser

— tern (@1goodtern) October 19, 2022
#3 is denial. #4 is bravery.
* * *
• "Car Seat Headrest Cancels Upcoming Tour Dates Because Of Ongoing Post-COVID Health Issues" [UpRoxx]. "When Car Seat Headrest canceled a Chicago-area show last month, singer Will Toledo explained that he was experiencing, "A post-COVID condition which involves heavy nausea, fatigue, dizziness, and a buzzing nervous system." Dubbed "histamine intolerance," the ailment had Toledo "stuck in bed" and is one of the more common side effects of Long COVID symptoms. Now it seems as though Toledo's health has not improved, and Car Seat Headrest has canceled an upcoming West Coast Tour, as well as the band's appearance at When We Were Young Fest in Las Vegas…. The conversation surrounding Long COVID seems to be bubbling up in the music industry and is very much a real one." • Bitter irony in "When We Were Young" fest.
* * *
• You do have to admit that Covid minimizers have been completely masterful in their "public health" [sic] "communications":
Panel experts discuss how long #COVID has created a new challenge in the course of the pandemic and presents another public health communications hurdle as many factors surrounding the conditions remain unknown. #IDWeek2022 pic.twitter.com/hRCqDvyEhb

— IDWeek (@IDWeek2022) October 19, 2022
What on earth induced the organizers of IDWeek ("the joint annual meeting of the Infectious Diseases Society of America (IDSA), Society for Healthcare Epidemiology of America (SHEA), the HIV Medicine Association (HIVMA), the Pediatric Infectious Diseases Society (PIDS), and the Society of Infectious Diseases Pharmacists (SIDP)) to put not only David Leonhardt but Emily Oster on their (unmasked) panel? I didn't know they were in the business of infectious disease promotion!
* * *
• "Making Trouble" [Science]. A review of forthcoming changes to GOF (Gain of Function) studies. "A U.S. clampdown will have no sway over privately funded GOF research or what happens in other countries, which typically lack policies like the P3CO framework. In Japan and most of Europe, for example, oversight is limited to rules on biosafety and, sometimes, biosecurity along with voluntary self-regulation, say biosecurity experts Gregory Koblentz of George Mason University and Filippa Lentzos of King's College London. It's too soon to say how a 2020 Chinese biosafety law will affect PPP research, they say… Meanwhile, a growing number of laboratories around the world are jumping into the field. In an interview with the MIT Technology Review last year, for example, [coronavirus expert Ralph Baric of the University of North Carolina] noted that just three or four labs were engineering bat coronaviruses before the pandemic, but that number has since multiplied. The expansion is 'unsettling,' he said, because some 'inexperienced' groups could proceed 'with less respect for the inherent risk posed by this group of pathogens.' (Baric could not be reached for this story.)" • So the horse is out of the barn?
* * *
Transmission
Here is CDC's interactive map by county set to community transmission. (This is the map CDC wants only hospitals to look at, not you.)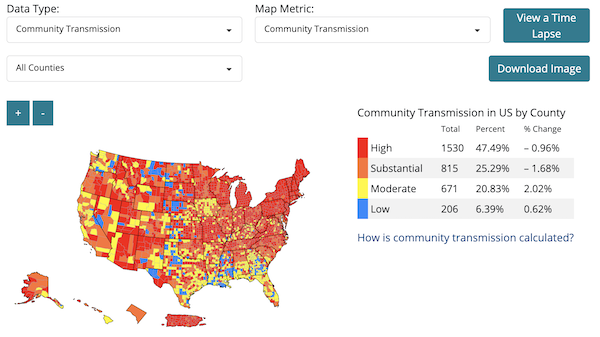 Lambert here: I have to say, I'm seeing more and more yellow and more blue, which continues to please. But is the pandemic "over"? Well….
Positivity
From the Walgreen's test positivity tracker, October 18: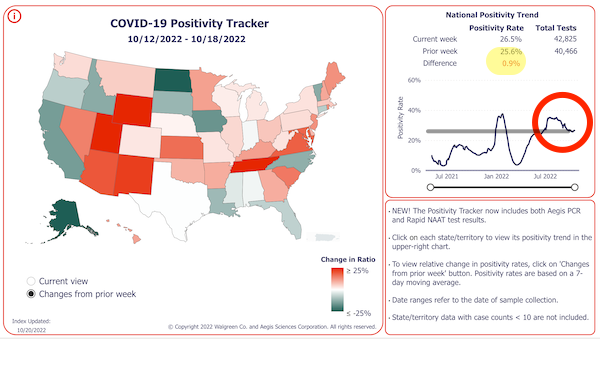 0.9%.
Readers, please click through on this, if you have a minute. Since Walgreens did the right thing, let's give this project some stats.
Wastewater
Wastewater data (CDC), October 16: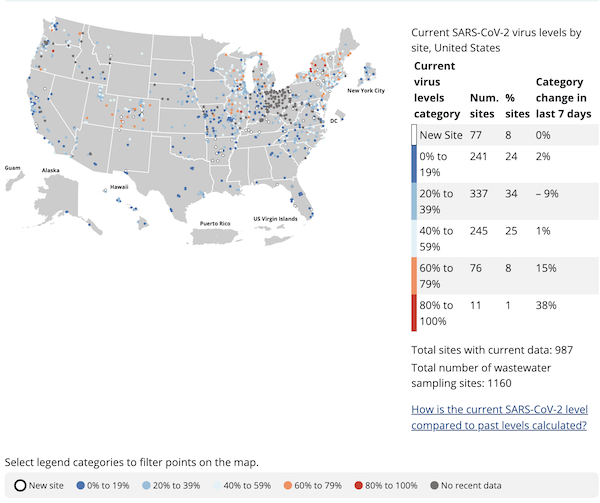 October 15: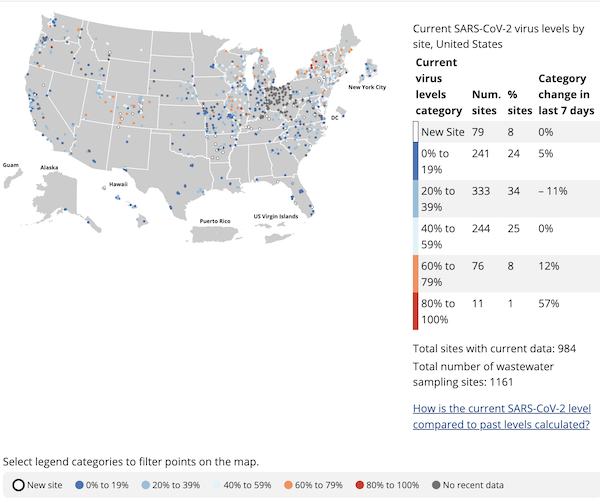 Variants
Lambert here: It's beyond frustrating how slow the variant data is. Does nobody in the public health establishment get a promotion for tracking variants? Are there no grants? Is there a single lab that does this work, and everybody gets the results from them? Additional sources from readers welcome [grinds teeth, bangs head on desk].
NEW Variant data, national (Walgreens), October 7: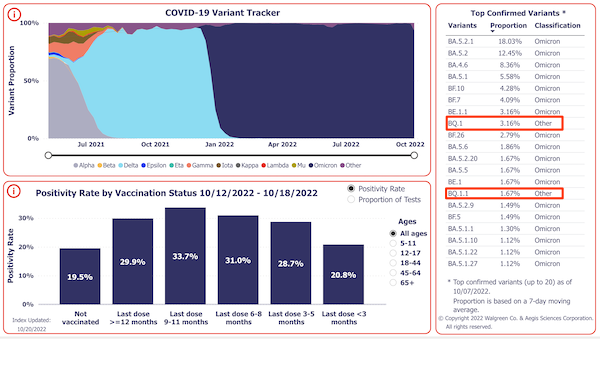 Lambert here: BQ.1*, out of nowhere. So awesome.
Variant data, national (CDC), September 24 (Nowcast off):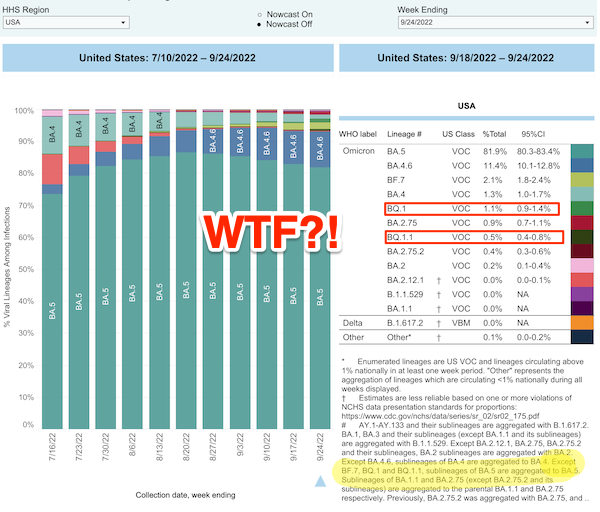 Deaths
Death rate (Our World in Data):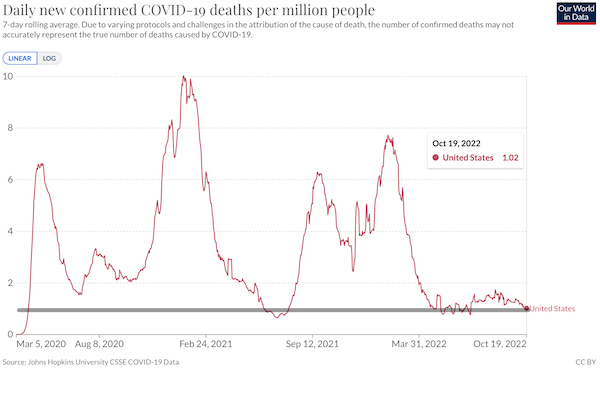 Total: 1,092,031 – 1,091,086 – 1,090,802 = 945 (945 * 365 = 344,925, which is today's LivingWith™ number (quite a bit higher than the minimizers would like, though they can talk themselves into anything. If the LivingWith™ metric keeps chugging along like this, I may just have to decide this is what the powers-that-be consider "mission accomplished" for this particular tranche of death and disease.
It's nice that for deaths I have a simple, daily chart that just keeps chugging along, unlike everything else CDC and the White House are screwing up or letting go dark, good job.
The Gallery
Matisse, you say. From 1915:
White and Pink Head, 1915 #cubism #henrimatisse https://t.co/9pzgS0isro pic.twitter.com/3irmovJGEf

— Henri Matisse (@artistmatisse) October 20, 2022
From a search of artbots on The Twitter, many artists tried their hand at #Cubism. Paraphrasing MarkTwain Bill Nye on Wagner: "Picasso's art is better than it looks."
Zeitgeist Watch
"A Sin to Eat: The Untold Story of Anorexia as Religion" [Jezebel]. "Amelia is living out her early twenties at a time when pro-skinny social media content is cause for censorship, and eating disorder-related hospitalizations are reportedly on the rise among adolescents. At the same time, New York podcasters canvas the virtues of skinniness in ketamine drawls, while the Y2K fashion revival inspires commentators to affirm that 'thin is in again.' She's in a double-bind. As a young woman, she's taught that her alignment with today's beauty ideals grants her attention, affection, and envy. Yet she's also reprimanded for taking that lesson in earnest, as journalists, parents, and online commentators tend to place the blame on individuals like her for reinforcing 'painfully skinny' waif girl ideals, without offering any empathy for why she might need to pursue skinniness as her life's ultimate meaning in the first place. 'It's not about some skinny waif TikTok aesthetic,' Amelia says, refuting anyone who might misunderstand her goals. 'I want to be skinny so I can feel like an ethereal angel. If I can make it through the day without binging, then I can be pure and good. It's almost like my own religion.' So into the world of subliminals, pro-anorexia hashtags, and angel numbers Amelia escaped to worship among those who do understand her. You'll encounter plenty of people like Amelia across TikTok, Instagram, and Twitter, who use thinspirational saints like Alana Champion in their display photos and angel numbers in their handles." • I don't know if this is a moral panic or not. I rather hope so.
Class Warfare
"Workplace injuries loom behind recent rise in union activity" [Minnesota Reformer]. " It's no coincidence that here in Minnesota at least, much of the workforce revolt is concentrated within some of the most dangerous industries for workers. And those risks got even worse during the pandemic…. Minnesota's workplace illness and injury rate has traditionally run higher than the U.S. average. But that gap widened even further in 2020, the last year for which the Department of Labor and Industry has complete data. That year there were 3.5 OSHA-recordable workplace illnesses and injuries for every 100 full-time private sector workers in the state, roughly 30% higher than the 2.7 per 100 nationwide. The data further show that the highest rates of injury and illness were found in private industry nursing and residential care facilities, where the rate of 13.7 illnesses and injuries per 100 workers was close to four times the statewide average. Justice and public safety professions were next on the list, followed by local government nursing facilities, private hospitals and state government nursing facilities. Four out of the five most dangerous professions in Minnesota, in other words, involve nursing and residential care. Those numbers partly explain why health care workers have been at the forefront of much of the state's union activity. The COVID-19 pandemic was behind the lion's share of those figures. The pandemic accounted for 41% of all injuries and illnesses, with much of those within the health care sector. The rate of injury and illness among health care workers effectively doubled between 2019 and 2020." • The most concrete material benefit at all is your life. "You have the right not to be killed." –The Clash.
"Prime Week Walkouts Hit Amazon, from Air Hub to Delivery Station" [Labor Notes]. "Amazon's vast distribution network is staggering. There's the invisible lacework of surveillance algorithms and artificial intelligence. There are the visible footprints: trucks, robots, hulking warehouses. And then there are the workers. It takes more than a million people, most of them low-paid and grindingly exploited, to pick, sort, unload, ship, and deliver packages to customers' doors within days of an order. Last week workers took aim at disrupting this symphony of human capital with walkouts at four distinct warehouse types in the company's logistics chain—a cross-dock near Chicago, a delivery station and a fulfillment center near Atlanta, and in Southern California, one of the company's large air hubs. The walkouts weren't centrally coordinated. But they were all timed to coincide with the company's Prime Day promotional sales rush, which ran October 10 to 12." • Wildcat strikes, hmmm….
Chris Smalls on Albany loss:
Chris Smalls with a defiant statement on @AmazonLabor's election loss in Albany today. pic.twitter.com/J0VJ6XyjD8

— Jordan Zakarin (@jordanzakarin) October 18, 2022
News of the Wired
"Furrygate: A Litterbox of Lies" [The Bulwark]. " Ever since an episode of The Focus Group that made me aware of the great Furry Panic of 2022: an apparently widespread belief that children are "identifying" as cats in school, with said phenomenon being an outgrowth of the woke critical race theorizing / trans / groomer ideology that invaded American classrooms beginning January 21, 2021. During that fateful focus group, Stacy from Wisconsin was the first to raise the issue. She recalled a recent job fair where '15 kids were furries. . . . They identify as a cat. Identify as a dog. . . . They had collars on. They had a leash.' Another participant, Jennifer, chimed in concurring that it was a problem in her school district as well . . . even though she eventually conceded that she had 'never seen anything.'…. The furry tales compounded upon themselves in my Twitter mentions and DMs. They were shared by several other prominent Republicans. Last week the man with the largest audience in all of podcasting, Joe Rogan, got in on the action during an interview with former Democrat and noted furriologist Tulsi Gabbard…. The story is the same in New York, Iowa, Oregon, and elsewhere. There are lots of accounts from people's friends uncle's kids. There is no—zero, zilch, zip, nada—actual evidence of purring while pooping." • Tulsi, Tulsi….
"The Cambodian American Reign of Doughnut Shops Began in This La Habra Shop" [KCET]. "Few people know why there are so many Cambodian-owned doughnut shops in California. Even fewer would draw connections between the Cold War and those bright pink donut boxes made popular in the 1980s. As the U.S. war in Vietnam extended into Vietnam's neighbors, the Khmer Rouge came to power in Cambodia, killing millions and displacing hundreds of thousands. Refugees from Vietnam and Cambodia first arrived in Orange County by way of Camp Pendleton in 1975. Among them was a man who would later be known as the 'Donut King': Ted Ngoy. Ngoy, his wife Suganthini, their three children, an adopted nephew and two nieces were sponsored by a church in Tustin. Working as a church janitor and a gas station attendant at night, Ngoy observed the nearby doughnut shop, and its food that reminded him of the Cambodian rice flour pastry nom kong. Seeing the steady stream of donut customers inspired Ngoy to start a business of his own. Ngoy's church sponsors helped him become the first Southeast Asian accepted into Winchell's management training program. In 1979, after gaining experience running a Winchell's on the Balboa pier in Newport Beach, he bought a small doughnut shop in La Habra called Christy's where his wife and kids worked to keep the shop running. This is a familiar story of the reliance on unpaid family labor in the 'mom-and-pop' ethnic economy. When Suganthini became a U.S. citizen, she took the name Christy. As the Khmer Rouge wiped out between 1.5 to 3 million Cambodians between 1975 and 1979 and displaced hundreds of thousands more, Ngoy was steadily growing his doughnut empire in America. This niche business created an economic pipeline for newly arrived refugees from Cambodia. By the 1990s, there were approximately 1,500 Cambodian-owned doughnut shops in California." • I really don't know where to file this, so it goes here.
* * *
Contact information for plants: Readers, feel free to contact me at lambert [UNDERSCORE] strether [DOT] corrente [AT] yahoo [DOT] com, to (a) find out how to send me a check if you are allergic to PayPal and (b) to find out how to send me images of plants. Vegetables are fine! Fungi and coral are deemed to be honorary plants! If you want your handle to appear as a credit, please place it at the start of your mail in parentheses: (thus). Otherwise, I will anonymize by using your initials. See the previous Water Cooler (with plant) here. From TH: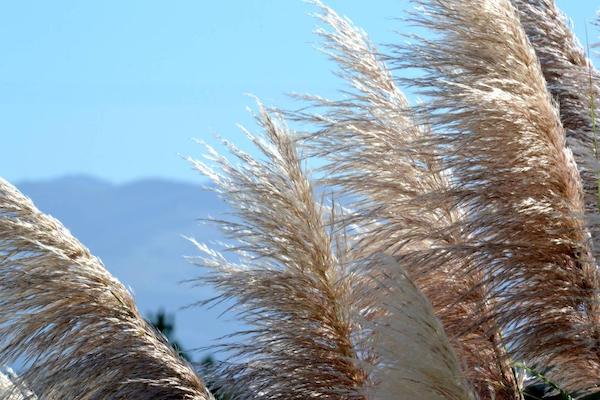 TH writes: "This Pampas Grass is at the Vandenberg Space Force Base in Lompoc, California." The blue mountains!
* * *
Readers: Water Cooler is a standalone entity not covered by the annual NC fundraiser. So if you see a link you especially like, or an item you wouldn't see anywhere else, please do not hesitate to express your appreciation in tangible form. Remember, a tip jar is for tipping! Regular positive feedback both makes me feel good and lets me know I'm on the right track with coverage. When I get no donations for five or ten days I get worried. More tangibly, a constant trickle of donations helps me with expenses, and I factor in that trickle when setting fundraising goals:
Here is the screen that will appear, which I have helpfully annotated: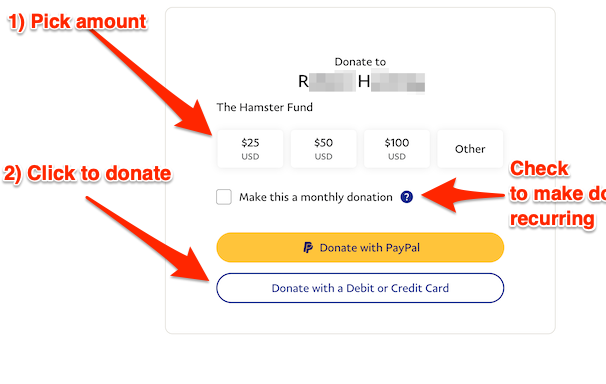 If you hate PayPal, you can email me at lambert [UNDERSCORE] strether [DOT] corrente [AT] yahoo [DOT] com, and I will give you directions on how to send a check. Thank you!