By Lambert Strether of Corrente
Bird Song of the Day
Blue Mountain Vireo, Silver Hill Gap, Portland, Jamaica. "Song from a bird moving low and mostly hidden through roadside second growth."
"Good godwit! Bird flies 8,425 miles NON-STOP from Alaska to Australia – setting a new world record" [Daily Mail]. "A young bird has become a world record holder by flying 8,425 miles non-stop from Alaska to Australia in 11 days. The five-month-old bar-tailed godwit left Alaska on October 13 and touched down in Ansons Bay in northeast Tasmania, Australia on October 24. Scientists say the bird, known simply as 234684, flew a minimum of 8,425 miles (13,560km) in 11 days and one hour without stopping.It's one of many birds that scientists in Alaska had attached a 5G satellite tag to in order to track migration patterns." • Go go go, 234684!
* * *
Politics
"But what is government itself, but the greatest of all reflections on human nature?" –James Madison, Federalist 51
"Here's food for thought, had Ahab time to think; but Ahab never thinks; he only feels, feels, feels" –Herman Melville, Moby Dick
"The logic of the insult and the logic of scientific classification represent the two extreme poles of what a classification may be in the social world." –Pierre Bourdieu, Classification Struggles
Biden Administration
"Scoop: John Kerry preparing to leave Biden administration" [Axios]. • Ketchup with that nothingburger?
2022
* * *

More totally genuine smiles:

People will roll their eyes at President Biden spending time with TikTok influencers this week. But this is the gag: The eight of them have 67M+ followers. By comparison, about 1.5-2.5M watch Fox, CNN or MSNBC in prime time. More from @taylorlorenz.https://t.co/jf9XNcEewP

— Steven Overly (@StevenOverly) October 27, 2022

* * *

PA: "Hot mic opens window on Senate races" [Jamie Dupress, Regular Order]. "Two days after a somewhat rough debate for Lt. Gov. John Fetterman – because of his speaking difficulties – Schumer was still upbeat. 'It looks like the debate didn't hurt too much in Pennsylvania as of today, so that's good.' Biden crosses his fingers when hearing that."

PA: "Fetterman debate performance has Democrats on edge about Pa. Senate race" [NBC]. "One Democrat who has been in touch with the Fetterman campaign said it erred in not having him do more events and interviews sooner, to better acclimate voters to the challenges he was facing and to make the incremental improvements in his recovery more visible in real time. Fetterman, after spending much of the summer off the campaign trail, began ramping up his activity in the weeks leading up to the debate. 'Their team has been ignoring what have been saying for months: We've expressed our concerns many, many times about being more transparent,' the source said, who asked for anonymity to speak candidly about the race. 'It's OK to have a medical issue — you just have to be transparent about it.' The alarm is also acute in Democratic circles beyond Pennsylvania. 'It was startling,' said a senior Senate Democratic aide who has worked on political campaigns. 'I really question the judgment that he continued with this race.' But with partisan control of the 50-50 Senate hanging in the balance, Democrats have little choice but to hope that Fetterman's platform matters more to voters than his performance." • "[T]ons of strategists and insiders." So, OK. I suppose they can be right some of the time.
2024
"Biden keeps low profile on midterms campaign trail as he weighs 2024 run" [Financial Times]. "'If [the midterms] are as bad as some people expect, there's going to be a lot of chaos in the party. There are going to be demands from many different quarters for a complete change in the leadership — citing the gerontocracy that we currently have,' said Jim Manley, a Democratic strategist and former senior adviser to Harry Reid, the late Senate majority leader… '[Biden] is the president we've seen in this country's history,' Cindy Axne, the Iowa Democrat in a tight contest to keep her seat in the House, said at a virtual reception with him on Wednesday evening." • Can't argue with that!

"From Fetterman to Biden" [National Review]. "Fetterman's condition, and the way that his campaign and the media guarded against any serious inquiry into it, will have a run-on effect. The taboo against believing your own eyes and ears was shattered last night. And that taboo was guarding Joe Biden." • Hmm.
Democrats en Déshabillé
Patient readers, it seems that people are actually reading the back-dated post! But I have not updated it, and there are many updates. So I will have to do that. –lambert

I have moved my standing remarks on the Democrat Party ("the Democrat Party is a rotting corpse that can't bury itself") to a separate, back-dated post, to which I will periodically add material, summarizing the addition here in a "live" Water Cooler. (Hopefully, some Bourdieu.) It turns out that defining the Democrat Party is, in fact, a hard problem. I do think the paragraph that follows is on point all the way back to 2016, if not before:

The Democrat Party is the political expression of the class power of PMC, their base (lucidly explained by Thomas Frank in Listen, Liberal!). ; if the Democrat Party did not exist, the PMC would have to invent it. . ("PMC" modulo "class expatriates," of course.) Second, all the working parts of the Party reinforce each other. Leave aside characterizing the relationships between elements of the Party (ka-ching, but not entirely) those elements comprise a network — a Flex Net? An iron octagon? — of funders, vendors, apparatchiks, electeds, NGOs, and miscellaneous mercenaries, with assets in the press and the intelligence community.

Note, of course, that the class power of the PMC both expresses and is limited by other classes; oligarchs and American gentry (see 'industrial model' of Ferguson, Jorgensen, and Jie) and the working class spring to mind. Suck up, kick down.

* * *

"First on CNN: Assailant tried to tie up Paul Pelosi in home attack, sources say" [CNN]. "The man who assaulted Paul Pelosi, the husband of House Speaker Nancy Pelosi, tried to tie him up 'until Nancy got home,' according to two sources familiar with the situation. When the police arrived, the assailant was saying he was 'waiting for Nancy.' Paul Pelosi was attacked with a hammer at the couple's home in San Francisco by a male assailant early Friday morning, law enforcement sources told CNN. The assailant who attacked Paul Pelosi was searching for the speaker of the House, according to a source briefed on the attack. The intruder confronted the speaker's husband in their San Francisco home shouting, 'Where is Nancy? Where is Nancy?' according to the source. Pelosi, 82, was hospitalized but is expected to make a full recovery, the Democratic speaker's office said in a statement. The attack sent shock waves through Washington and sparked an outpouring of condolences and condemnation from congressional leaders on both sides of the aisle. It comes as fears of political violence directed toward lawmakers remain high in the wake of the January 6, 2021, attack on the US Capitol as well as other high-profile violent incidents that have targeted members of Congress in recent years." • How the hell do we get in? (The coverage, naturally, will be all about feelings, not facts…).

"Diplomacy Watch: The West doesn't know how to talk about Ukraine" [Responsible Statecraft]. On the "Progressive" Caucus's retracted letter debacle: "But hope springs eternal: The controversy over the letter has managed to open up some, let's say, spirited conversation about diplomacy, and some establishment figures have been pushed to defend the idea of expanding talks between Washington and Moscow. Even former Obama aide Ben Rhodes, who has previously worked closely with much of the Biden administration, argued on his podcast that dodging the topic of diplomacy is (politically) dangerous for the Democrats. ' Rhodes said." • No question about it.

"What really happened with that Ukraine letter? We asked Joe Cirincione to explain." [Semafor]. "Terrible staff work + terrible expert advice – Member involvement = Debacle. To produce the shortest-lived Congressional letter in history, the CPC policy director worked in June with a few outside groups to write the letter. They were told they could release it when they got 30 of the 100 CPC members to sign it. They couldn't hit that number until October, when they blindsided the members by releasing it 2 weeks before key elections."

I wouldn't have thought Ro Khanna would be the only Democrat left standing — or at least not groveling — but here we are:

.@RoKhanna: This letter is common sense. It said that, at the same time we stand with Ukraine, we need to make sure that we're reducing the risk for nuclear war and engaging in talks with the Russians to make sure the conflict doesn't escalate. https://t.co/9WJ6evFYEy

— Quincy Institute (@QuincyInst) October 25, 2022
Realignment and Legitimacy
"Nevada officials begin unprecedented hand count of ballots" [Associated Press] • ZOMG, "unprecedented!" Aghastitude at hand-counted paper ballots now? I don't think much of the Republican "activists" on this. But a system of hand-marked paper ballots, hand-counted in public, is robust enough to resist any of this nonsense. The same cannot be said for voting machines.

"Sheriff Found Guilty of Violating Detainees' Rights With Restraint Chairs" [New York Times]. "The jury sent a note to Judge Eleanor Ross, saying that one juror had not been following instructions and had repeated that he believed "the sheriff and the president are above the law and not required to follow the Constitution," the newspaper reported." • Except when I click through, I see the anodyne "one juror was failing to follow instructions." Not the same!
#COVID19
• At least we know Biden's a** is OK. Because look what he pulled out of it:
It's simple.

Now, get moving and get the updated COVID vaccine! https://t.co/jlrmakPiNU. pic.twitter.com/7i7PcABxTv

— President Biden (@POTUS) October 27, 2022
"One Covid Shot Once a Year" isn't remotely true; see current CDC vaccination schedules here.
• Scotty, Gladys, Jacinda: Take a bow!
This, 100%. China may be the worst version of Zero-COVID but it's the only one we've got left since we're the only one that can withstand pressure from the West.
Aus and NZ proved Zero-COVID could be done democratically while respecting individual rights- so had to be stopped. https://t.co/MYN2idCTVp

— Naomi Wu 机械妖姬 (@RealSexyCyborg) October 28, 2022
Can't have Zero Covid in the Five Eyes; it just won't do. (Note, again, according to Wu, the Chinese government isn't behaving as if #CovidIsAirborne. The wrong theory of transmission isn't a recipe for success with a Zero Covid policy (though if that new bubble tea vaccine works out for them, they may skin by).
* * *
• Throwing away an appreciable percentage of the workforce?
But yeah, largely I've just accepted that my career has (possibly permanently?) stalled in tech because the price of admission to networking now is possible covid exposure.

— Kate Violette (@qkate) October 26, 2022
Not that tech is without problems.
* * *
• Looking into Far UV:
Caveat #1. Did I mention I'm an amateur? While I have earned my place to claim a fair amount infectious disease transmission expertise, when it comes to UV sterilization, I'm currently at the "white guy with a physics degree" stage of personal development. HERE BE DRAGONS.

— Mike Famulare (@famulare_mike) October 3, 2022
This is a good thread with a lot of detail. Concluding:
But we can't always mask or don't always want to. And so as part of a layered strategy for harm reduction, I remain interested in the role of far UV-C in general and personal UV-C in particular. Let me know what you think, as we take this learning journey together.

— Mike Famulare (@famulare_mike) October 3, 2022
Putting my concerns more pointedly: If businesses can make themselves and their customers believe they've made Covid go away by screwing in a lightbulb, they will (this being the stupidest timeline). And at the expense of genuinely solving ventilation problems, and showing the ventilation problems have been solved).
* * *
• "EU regulator recommends adding heavy periods to side effects of mRNA COVID shots" [Reuters]. "European Medicines Agency (EMA) committee on Friday recommended adding heavy menstrual bleeding to the list of side effect of mRNA COVID-19 vaccines made by Moderna, as well as Pfizer and its partner BioNTech. Reports of heavy periods – bleeding characterised by increased volume and/or duration that interferes with the quality of life – have been observed during clinical trials, from cases in the real world and in medical literature, the EMA said…. The regulator has now concluded that there is at least a 'reasonable possibility' that heavy menstrual bleeding is causally associated with these vaccines.
* * *
• Poor babies!
3) It has been conveyed to me that my scoop 2 weeks ago upset the @CDCgov leadership, who were caught trying to defend how they neglected to inform the public that #BQ variants went from UNLISTED to suddenly 11%. It was epically embarrassing of @CDCDirector. https://t.co/XRMbKqaRcp

— Eric Feigl-Ding (@DrEricDing) October 28, 2022
* * *
Transmission
Here is CDC's interactive map by county set to community transmission. (This is the map CDC wants only hospitals to look at, not you.)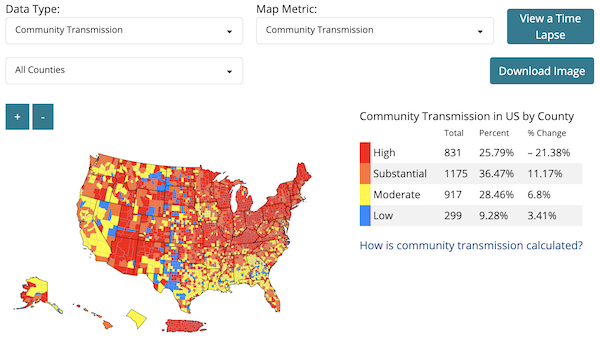 Lambert here: I have to say, I'm seeing more and more yellow and more blue, which continues to please. But is the pandemic "over"? Well….
Positivity
From the Walgreen's test positivity tracker, October 24: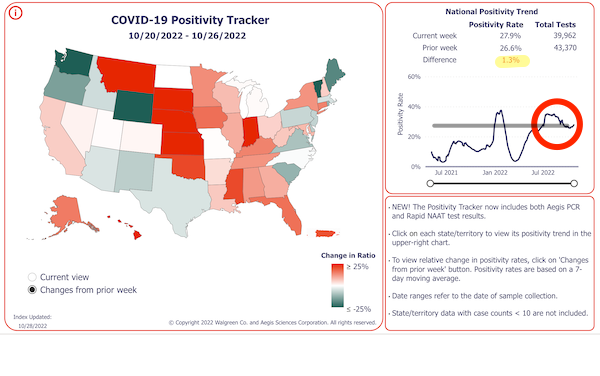 1.3%. Faster increase.
• Can any library-going readers confirm?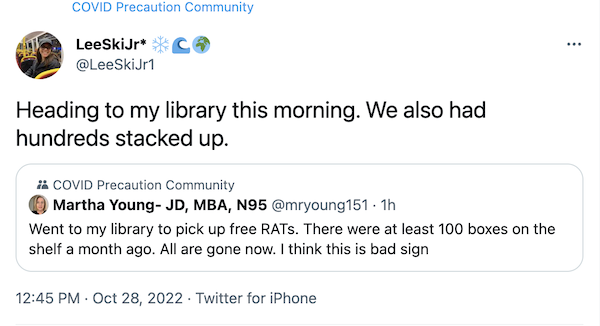 Wastewater
Wastewater data (CDC), October 23: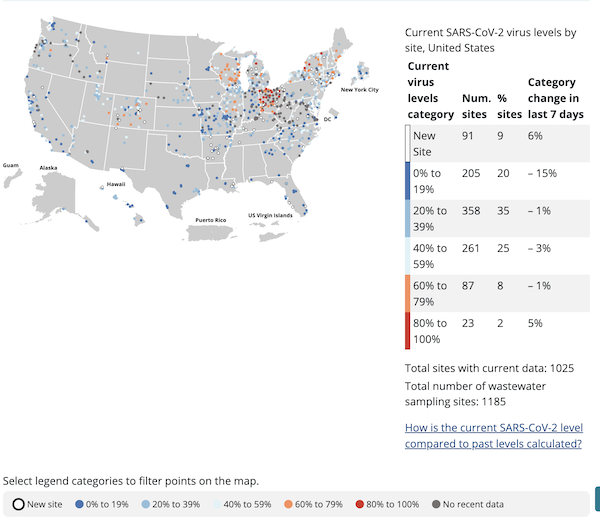 October 22: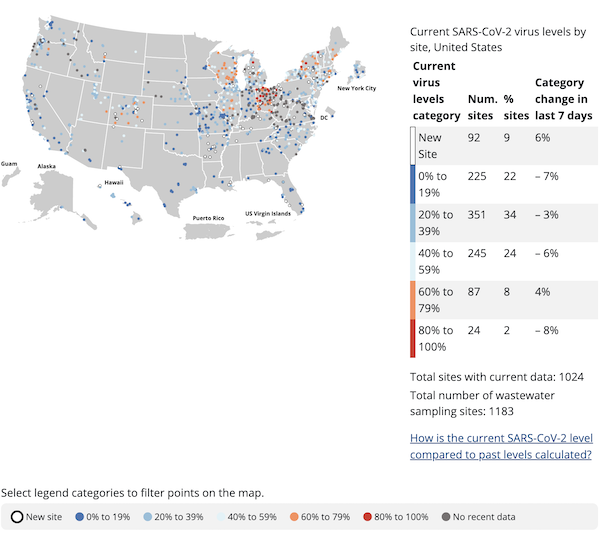 Variants
Lambert here: It's beyond frustrating how slow the variant data is. Does nobody in the public health establishment get a promotion for tracking variants? Are there no grants? Is there a single lab that does this work, and everybody gets the results from them? UPDATE Yes. See NC here on Pango.
Variant data, national (Walgreens), October 19: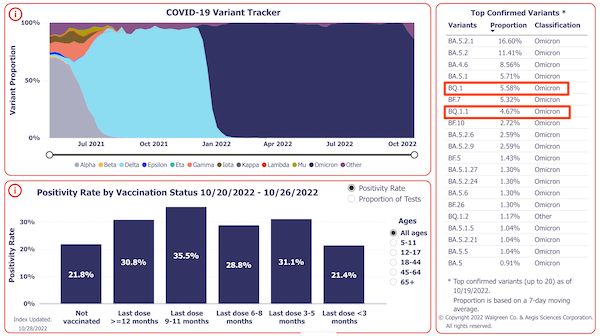 Lambert here: BQ.1*, out of nowhere. So awesome.
Variant data, national (CDC), October 8 (Nowcast off):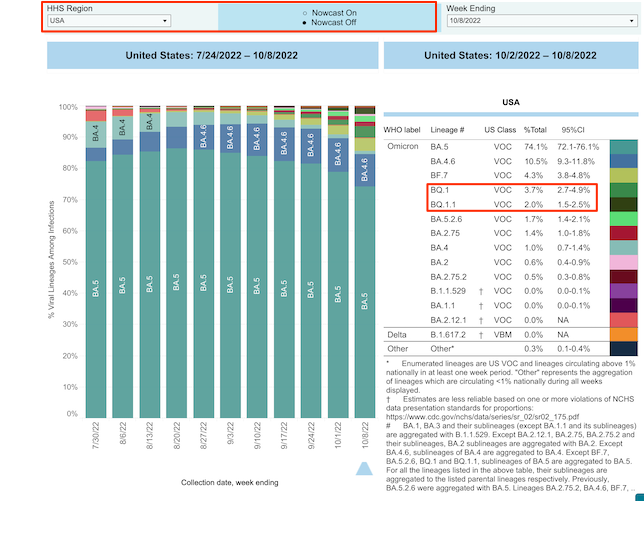 Lambert here: Most of the screenshots of CDC variants running around crop out whether Nowcast (CDC's model) is on or off; see red box at top. The BQ1.* figure of 27% that's running around is CDC's Nowcast projection, three weeks out. (It's telling that CDC would rather build a model than fund faster acquisition of real data.)
Deaths
Death rate (Our World in Data):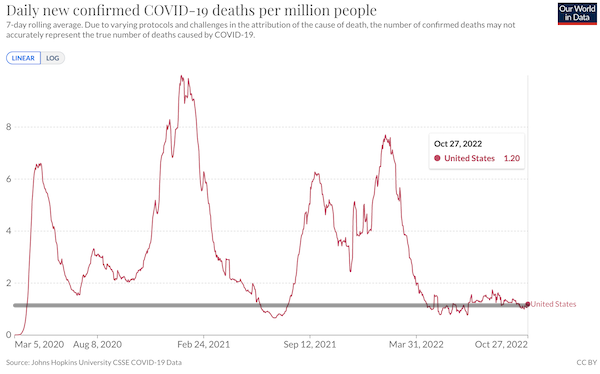 Total: 1,094,596 – 1,094,163 = 433 (433 * 365 = 158,045, which is today's LivingWith™ number (quite a bit higher than the minimizers would like, though they can talk themselves into anything. If the LivingWith™ metric keeps chugging along like this, I may just have to decide this is what the powers-that-be consider "mission accomplished" for this particular tranche of death and disease.
It's nice that for deaths I have a simple, daily chart that just keeps chugging along, unlike everything else CDC and the White House are screwing up or letting go dark, good job.
Stats Watch
Consumer Sentiment: "United States Michigan Consumer Sentiment" [Trading Economics]. "The University of Michigan consumer sentiment for the US was revised higher to 59.9 in October of 2022 from a preliminary of 59.8. The current conditions subindex was revised higher to 65.6 from 65.3 while the gauge for expectations was confirmed at 56.2. The median expected year-ahead inflation rate rose to 5.0%, with increases reported across age, income, and education. Last month, long run inflation expectations fell below the narrow 2.9-3.1% range for the first time since July 2021, but since then expectations have reverted to 2.9%. Uncertainty over inflation expectations remains elevated, indicating that inflation expectations are likely to remain unstable in the months ahead." • Uncertainty is not what Powell wants.
* * *
Retail: "Amazon is heading into the holiday season talking about cost cuts rather than sales growth. The e-commerce leader is projecting that sales in the current quarter would be far below expectations… sending a new shock wave across the retail sector and offering a stark sign of how shifting economic forces are battering companies that thrived during the pandemic" [Wall Street Journal]. "Amazon's sales last quarter rose 15% from a year earlier, while its $2.9 billion net profit marked its first quarterly profit this year but a 9% decline from the year before. The company also jolted observers with its projection for revenue of $140 billion to $148 billion in the fourth quarter—analysts had expected more than $155 billion. CEO Andy Jassy said Amazon is building 'a stronger cost structure for the business moving forward.' That plan includes cutbacks in the company's sprawling logistics network." • A "stronger cost structure" = union busting?
Tech: "Adobe steals your color" [Cory Doctorow]. "For people who work in prepress, a key part of their Adobe tools is integration with Pantone. Pantone is a system for specifying color-matching. A Pantone number corresponds to a specific tint that's either made by mixing the four standard print colors (cyan, magenta, yellow and black, AKA "CMYK"), or by applying a "spot" color. Spot colors are added to print jobs after the normal CMYK passes – if you want a stripe of metallic gold or a blob of hot pink, you specify its Pantone number and the printer loads up a separate ink and runs your media through its printer one more time…. All of this is suddenly relevant because it appears that things have broken down between Adobe and Pantone. Rather than getting Pantone support bundled in with your Adobe apps, you must now pay $21/month for a Pantone plugin…. Remember, Adobe's apps have moved to the cloud. Any change that Adobe makes in its central servers ripples out to every Adobe user in the world instantaneously. If Adobe makes a change to its apps that you don't like, you can't just run an older version…. The next version of Adobe's apps will require you to pay that $21/month Pantone fee, or any Pantone-defined colors in your images will render as black. That's true whether you created the file last week or 20 years ago. Doubtless, Adobe will blame Pantone for this, and it's true that Pantone's greed is the root cause here. But this is an utterly foreseeable result of Adobe's SaaS strategy. If Adobe's customers were all running their apps locally, a move like this on Pantone's part would simply cause every affected customer to run older versions of Adobe apps. Adobe wouldn't be able to sell any upgrades and Pantone wouldn't get any license fees. But because Adobe is in the cloud, its customers don't have that option."
Tech: "High-Tech Cars Are Killing the Auto Repair Shop" [Wired]. "If you want to understand the rising complication in the auto repair industry, try to get a realignment on a new Audi. A car needs realignment when it's drifting to one side or the steering wheel is vibrating, a procedure that involves adjusting the suspension, which connects a car to its wheels. A decade or so ago, that took about an hour and a half, auto repairers who spoke to WIRED say. Today, that same procedure is usually closer to three or four hours, and it can take up to nine. That's because newer cars have advanced driver-assistance systems, which can keep cars in their lane, detect blind spots, and avoid collisions—functions that require a car to have a firm grasp of where it is in space. That requires repairers to calibrate the sensors and cameras in a car underpinning those advanced systems. Some brands of vehicle can only be calibrated with specialized and expensive tools. To start with, the equipment needed to assure a car's wheels are in alignment costs in the $70,000 range, says Lucas Underwood, the president of L&N Performance Auto Repair in Blowing Rock, North Carolina. Then you'll need targets, which help a car's sensors and camera systems orient themselves. These can vary by automaker and cost around $30,000 per set. In all, it can cost hundreds of thousands of dollars to acquire the tools and make the shop adjustments to repair just a few car makes. That's before the cost of training workers to use those tools, with shops paying thousands each year to keep their staff certified to fix specific cars. Investing for the future, then, can set shop owners back by millions. That investment can be worth it for a business that intends to stay open for a while, but many auto shop owners are nearing retirement. A 2019 industry survey found that nearly half of auto shop proprietors were 60 or older."
Tech: "Your next PC should be a desktop – maybe even this Chinese mini machine" [The Register]. "The big incursion into the PC market in recent years has been just-good-enough laptops in the form of the Chromebook. Maybe it's time to think about good-enough desktops too – especially now that hybrid work is a new normal. I'm often told that the two or three days a week of work from home that's now permissible for many workers demands tools tuned to these new circumstances. It's important to ensure people are as productive as possible now that the office is not an everyday destination. By tidying up my workspace and freeing my laptop for when it's really needed, my mini-desktop is that tool. And I think it could be yours, too, if like me you are lucky enough to have a dedicated work from home space." • A PC desktop seems to run around $300, exclusive of peripherals.
Labor Market: "[T]he introduction of artificial intelligence and other sophisticated technologies is changing the nature of the workforce across supply chains, from white-collar management positions to the jobs on the warehouse floor. It is the flip side of automation efforts often undertaken to cut payrolls" [Wall Street Journal]. "Mondelez Chief Supply-Chain Officer Sandra MacQuillan's new recruits are showing more interest in things like the snack-foods supplier's 'no-touch' distribution centers and factories. Companies say the investments also help open the remaining warehouse jobs to a wider array of workers since robots at some sites now do more of the heavy lifting."
* * *
Today's Fear & Greed Index: 61 Greed (previous close: 57 Greed) [CNN]. One week ago: 45 (Neutral). (0 is Extreme Fear; 100 is Extreme Greed). Last updated Oct 27 at 2:06 PM EDT. A swing to greed? Weird. Honestly, if it means Mr. Market thinks there won't be a nuclear war, I'm a happy camper. But still…
Book Nook
Epic indeed!
OK, people, you worked hard to get me to 10K followers, so here is your reward! An epic 62-Tweet thread about the #Voynich manuscript coming your way, starting NOW! pic.twitter.com/iwuhRRMX6i

— Lisa Fagin Davis (@lisafdavis) August 9, 2022
Who knows, maybe somebody in the readership will break the code! (Fascinating that the poster is able to figure out how many scribes worked on the manuscript. It was quite a project! But to what end? And what about the alien plants?)
The 420
"Blowing smoke? Lawsuit accuses popular cannabis brand of overstating THC content in its joints" [Los Angeles Times]. "'The declarations of THC content on [DreamFields Brands Inc. and Med for America Inc.'s] labels … are false,' the plaintiffs' attorneys wrote in the complaint. 'Defendants are systematically overstating the THC content to deceive consumers into thinking that the effects of their prerolls are more potent than they truly are.' The makers of Jeeter products have a 'financial incentive' to misrepresent the THC contents in their marijuana, the lawsuit alleges, because consumers are willing to pay a premium for potency: the higher the price, the higher you get, in theory. The suit, filed by Santa Monica-based law firm Dovel & Luner on behalf of two California residents who bought the allegedly mislabeled products, seeks unspecified damages and restitution. Attorneys are also seeking class-action status for the lawsuit." • Lawsuits from users who didn't get loaded enough didn't figure in my picture of legalization, though I suppose it should have. And THC levels in modern cannabis are so much higher than they were than I heard they were in my day it's hard to know who people would even know the difference.
Class Warfare
"Young Silicon Valley workers are in for a rude awakening as industry giants make major job cuts and ditch ambitious projects for the first time in their careers" [Business Insider]. "For years, Big Tech companies have competed on pay and perks to lure workers in a tight labor market. Now, the endless hiring and allotments for employee travel, free food, and company swag are being replaced by budget cuts, new performance mandates, and even layoffs. It's a first for many tech workers, an entire generation of whom have known nothing but non-stop growth and a bull market. To these employees, recent changes are 'straight up heresy,' as Bill Gurley, a veteran venture capitalist, put it in June. 'During this rate-induced boom, competition for employees created a Disney-esque set of experiences/expectations in high tech companies.' There was something of an outcry at Meta, for example, when the company earlier this year decided to limit the timing for free meals at offices and took away the laundry service it offered to workers. Within two months, the company froze hiring. Now, employees are worried about it cutting headcount by as much as 20%, as managers warn workers of impending cuts, Insider reported."
News of the Wired
"More fun":
Create photogenic smiles for users with auto-smile from #HMSCore Video Editor Kit, to detect up to 3 faces and add natural smiles so that video/image editing becomes more fun.

Learn more👉https://t.co/eJFh0KbRQO#HuaweiDevelopers pic.twitter.com/FMtf7zxJY8

— Huawei Developers (@Huawei_devs) September 5, 2022
In other words, I should never trust a smile I see in a photo, ever again.
* * *
Contact information for plants: Readers, feel free to contact me at lambert [UNDERSCORE] strether [DOT] corrente [AT] yahoo [DOT] com, to (a) find out how to send me a check if you are allergic to PayPal and (b) to find out how to send me images of plants. Vegetables are fine! Fungi and coral are deemed to be honorary plants! If you want your handle to appear as a credit, please place it at the start of your mail in parentheses: (thus). Otherwise, I will anonymize by using your initials. See the previous Water Cooler (with plant) here. From IM: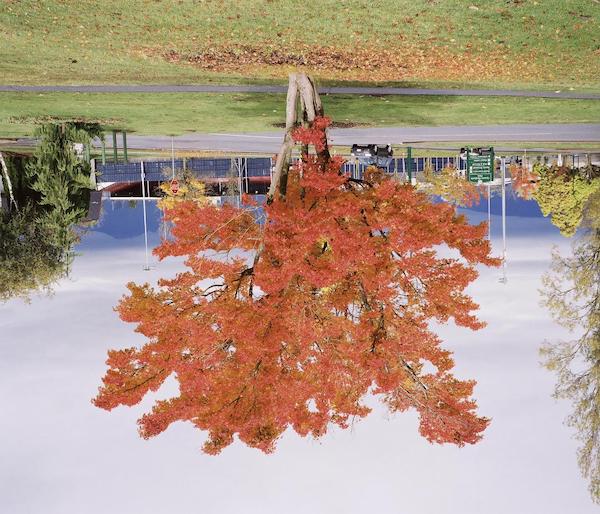 IM: "Rodney Graham died this past week. He was a legend in the Vancouver art scene, and a true polymath — rock and punk musician, bakery owner, multimedia art star, genial freak and weirdo who always had time for everyone. I was fortunate to help look after him in the course of his illness. One of his favorite subjects was the upside down tree — initially from the inverted projection of a camera obscura, later simply photos hung upside down. I can't claim to have taken any as gorgeous as he did, but here is a Vancouver tree headed the wrong way, in Rodney's fashion."
* * *
Readers: Water Cooler is a standalone entity not covered by the annual NC fundraiser. So if you see a link you especially like, or an item you wouldn't see anywhere else, please do not hesitate to express your appreciation in tangible form. Remember, a tip jar is for tipping! Regular positive feedback both makes me feel good and lets me know I'm on the right track with coverage. When I get no donations for five or ten days I get worried. More tangibly, a constant trickle of donations helps me with expenses, and I factor in that trickle when setting fundraising goals:
Here is the screen that will appear, which I have helpfully annotated: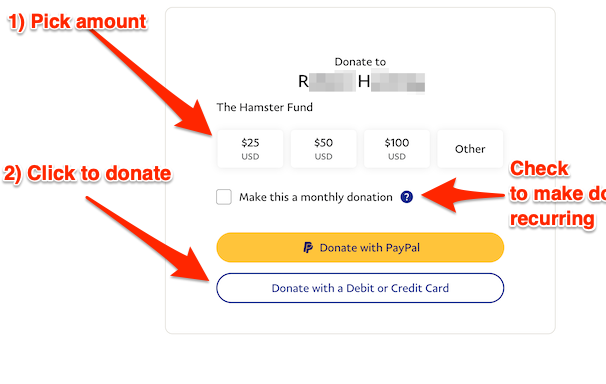 If you hate PayPal, you can email me at lambert [UNDERSCORE] strether [DOT] corrente [AT] yahoo [DOT] com, and I will give you directions on how to send a check. Thank you!