By Lambert Strether of Corrente
Patient readers, you can start reading now, there's more than enough! I really outdid myself collecting material over what was for me a five-day weekend. So, more to come! –lambert UPDATE All done!
Bird Song of the Day
Ornate Flycatcher (Western), Milpe Bird Sanctuary, Pichincha, Ecuador.
* * *
Politics
"But what is government itself, but the greatest of all reflections on human nature?" –James Madison, Federalist 51
"Here's food for thought, had Ahab time to think; but Ahab never thinks; he only feels, feels, feels" –Herman Melville, Moby Dick
"So many of the social reactions that strike us as psychological are in fact a rational management of symbolic capital." –Pierre Bourdieu, Classification Struggles
Biden Administration
"White House looks to tell 'great story of America' with holiday decor" [The Hill]. "'During your visit to the People's House, through rooms full of history and holiday decor, in the mirrored ornaments and reflective lights, our hope is that you feel at home and find yourself in the great story of America,' the first lady said. 'As our country gathers for the holidays, traditions may vary, but our shared American values — a belief in possibility, optimism, and unity — endure season after season,' she added."
2022
It looks like PCCC has hired Mothership Strategies. I hate to post an entire ad — which at least is toned down graphically from Mothership's usual shrieking madness — but there's a lot going on:

(1) At the top: "Work the word 'Trump' into every paragraph!"; (2) The fine print: PCCC gets a cut (half?) if you're the sort of loyal donor who has everything already set up in ActBlue; (3) the Democrats have their base so persuaded that "fighting for" is all they can do that it's now their actual pitch. I mean, donating so "Joe Manchin is less relevant" is the hill you're going to die on? Really?

* * *

CA: "Karen Bass drew more votes than any mayor candidate in L.A. history" [Los Angeles Times]. "A record number of Los Angeles voters cast ballots for mayor in this month's election, the result of changes in the electoral calendar, the state's easing of voter registration rules and the provocative contest between U.S. Rep. Karen Bass and businessman Rick Caruso, according to analysts and nearly complete returns from county officials. Bass took advantage of the new political landscape to drub her rival, notching a nearly 10-percentage-point margin." • I hold no brief for Bass, but I'm glad Caruso couldn't just buy the election.
2024
"2024 Tracker: Here's who is running for the GOP nomination" [The Hill]. • I hate it when stores start playing Xmas music after Halloween. But here we are.

"Newsom Told the White House He Won't Challenge Biden" [Politico]. "Gov. Gavin Newsom has won three elections in five years in America's largest state, is apoplectic about his party's messaging defects and follows Florida Gov. Ron DeSantis and the right-wing media ecosystem with a zeal that would put some opposition researchers to shame. But Newsom wants the word to go forth: He's not going to challenge President Biden for the Democratic nomination in 2024. 'I've told everyone in the White House, from the chief of staff to the first lady,' he recounted to me as we sat on the top floor of California's now-ceremonial governor's mansion on election night. His message to Ron Klain and Jill Biden over the summer — when he visited Washington amid growing speculation, and considerable West Wing irritation, that he was plotting a primary challenge — was to count him as a firm supporter of Biden's reelection: 'I'm all in, count me in,' he said he told them. Newsom relayed the same to Biden himself on election night." • It's the "now-ceremonial governor's mansion" because Newsome doesn't live there.
Democrats en Déshabillé
Patient readers, it seems that people are actually reading the back-dated post! But I have not updated it, and there are many updates. So I will have to do that. –lambert

I have moved my standing remarks on the Democrat Party ("the Democrat Party is a rotting corpse that can't bury itself") to a separate, back-dated post, to which I will periodically add material, summarizing the addition here in a "live" Water Cooler. (Hopefully, some Bourdieu.) It turns out that defining the Democrat Party is, in fact, a hard problem. I do think the paragraph that follows is on point all the way back to 2016, if not before:

The Democrat Party is the political expression of the class power of PMC, their base (lucidly explained by Thomas Frank in Listen, Liberal!). ; if the Democrat Party did not exist, the PMC would have to invent it. . ("PMC" modulo "class expatriates," of course.) Second, all the working parts of the Party reinforce each other. Leave aside characterizing the relationships between elements of the Party (ka-ching, but not entirely) those elements comprise a network — a Flex Net? An iron octagon? — of funders, vendors, apparatchiks, electeds, NGOs, and miscellaneous mercenaries, with assets in the press and the intelligence community.

Note, of course, that the class power of the PMC both expresses and is limited by other classes; oligarchs and American gentry (see 'industrial model' of Ferguson, Jorgensen, and Jie) and the working class spring to mind. Suck up, kick down.

* * *

"House Dems on GOP's thin majority: Welcome to hell" [Politico]. "House Minority Leader Kevin McCarthy and his team are set to take over in January with the kind of margins that vexed Speaker Nancy Pelosi, but lacking the two decades of experience she brought to the task. And the House GOP will have to steer legislation through with as few as four votes to spare while its leaders deal with an emboldened Freedom Caucus, internal finger-pointing over a disappointing midterm cycle, and a looming brawl over a 2024 presidential primary that features Donald Trump back in the mix."
#COVID19
Lambert here: I can't call a winter surge, but I'm not uncalling it either. High transmission (CDC), the elevation and continued increase in positivity (Walgreens), and the steady takeover of BQ.1* (CDC; Walgreens) are all more than a little unsettling (as is the apparent proliferation of variants). Stay safe out there! (As one might expect at the beginning of a holiday surge, wastewater in Queens County, NY (JFK/LGA), Cook County, IL (ORD), and Los Angeles County (LAX) are all elevated, with JFK/LGA and LAX being more elevated than last week, and ORD the same. Hospitalization in BQ.1*-dominated New York continued to increase before Thanksgiving, so let's see what happens after.
* * *
This is very big:
"Outbreak Reports: An Outbreak of SARS-CoV-2 Omicron Subvariant BA.2.76 in an Outdoor Park — Chongqing Municipality, China, August 2022" [China CDC Weekly]. The original article, referred to in Links this morning. "The first coronavirus disease 2019 (COVID-19) case infected with the SARS-CoV-2 Omicron subvariant BA.2.76 who caused local transmission was reported in Chongqing Municipality on August 16, 2022. For 35 minutes, the Patient Zero jogged along a lake at a local park without wearing a mask. Among the 2,836 people potentially exposed at the time, 39 tested positive. Overall, on the morning of August 16. All 39 cases lacked any previous exposure to the variant before testing positive on their nucleic acid test." • "Fleeting contact" at scale. Mask up! On China generally:
I've been saying this for ages, without airborne mitigation, there is no end to rolling lockdowns. https://t.co/Ri3ryE6kA3

— Naomi Wu 机械妖姬 (@RealSexyCyborg) November 27, 2022
• "Increase in COVID-19 downwind following a wind change" (preprint) [ResearchSquare]. The Abtract: "Aerosolized SARS COV-2 is viable for at least 3–5 hours. Aerosols can rapidly become droplet nuclei and be carried long distances by wind before they settle. We hence investigated the possibility of identifying wind-assisted transmission of COVID-19. COVID-19 cases/100,000 population was calculated for hotspots and surrounding areas. Daily wind direction/speed data for hotspots was collated. Seven-day rolling averages of COVID-19 cases/100,000 population was plotted against wind direction/speed to compare case rate trends in hotspots, upwind and downwind areas. Within 14 days of the wind blowing into an area, case rate trends downwind differed from that of the hotspot. The difference compared to the hotspot could be an increase, plateau, or a slower decrease. This suggests that viral particles carried by the wind can lead to an increase in infections downwind. Research on ways to reduce aerosol transmission in the community is urgently needed." • Plenty of confounders! Here's a summary. Still a preprint, not picked up by a journal, apparently. Nevertheless….
* * *
From the Department of "I Got This Cough Over The Holidays I Just Can't Shake":
"'The View' Cohost Ana Navarro Got "Stuck Quarantining" In NYC Hotel After Testing Positive For Covid" [Deadline]. "'It's been a hell of a week. COVID got me again. Tested positive on Monday. Got stuck quarantining in a hotel in NYC. Took treatment,' [Ana Navarro] shared on Instagram on Saturday, Nov. 26. 'Fortunately, now feeling good and testing negative. I was triple-boosted and thought that protected me. I didn't wear a mask anywhere. I got complacent.'"
"Sharon Stone reveals unlucky outcome following doctor's visit as she catches Covid" [Hello]. "The mother-of-three reflected on the irony of the situation: 'I managed to not get Covid for so long, do you know how I got Covid – because they stopped wearing masks. And do you know where I got Covid, from a nurse!' … Detailing some of her symptoms, she added: 'The scrambled brain, the isolation, it's a lot.'" • A parallel case:
Cancer patient who gets #COVID19 after arriving in the hospital because doctors/nurses aren't masking—is just about the most infuriating stories of the pandemic—that is entirely the fault of the @CDCDirector at this damn point in the pandemic. #BringBackMasks https://t.co/ZW81OywLT9

— Eric Feigl-Ding (@DrEricDing) November 26, 2022
Another parallel case:
My grandmother was admitted to the oncology unit last week for a gallbladder issue, ended up with COVID 5 days later. Masks optional for employees.

— Sarah Warren, RN (@shesinscrubs) November 25, 2022
Is it really too much to ask that hospitals not spread disease? Yes, yes, I know "Healthcare-Acquired Infections" can make any hospital a death trap are a thing, but HCWs not masking really marks a new low for "infection control" (along with the infection control departments and administrators. For CDC's abrogation of infection control for airborne Covid, see NC here.)
* * *
• "Testing Toronto's indoor spaces for virus transmission risk" [Toronto City News]. "Toronto is participating in what's being billed as the first ever city-wide program to test and rate the indoor air quality of spaces where people work, shop, and gather. The City is partnering with BreatheEasy, which uses a 20 minute rapid air safety test to determine air quality ratings. 'So what the system does it releases droplets into the air that are like human breath, and they move the way that human breath does in the space and are cleared by HVAC filters, by air purifiers, by the native air motion and air system in the building as well as natural ventilation,' explains Sam Molyneux, the co-founder of BreatheEasy. 'What the sensors do is they measure how quickly these particles are cleared from the space.' … So far, almost 130 locations in the 50 busiest blocks of downtown Toronto have been tested to provide a vivid day-in-the-life view of airborne infection safety and risks. … 'We started using that technology as a way of creating really safe spaces,' says IQ CEO Kane Willmot. 'It is a way to take the invisible and make it visible. So we are able to find out if there are airborne contaminants in our space, also do swabbing as well throughout our space to see if there is any COVID, or any sort of bacteria." • Terrific. Why can't we do this? Why can't China?
* * *
• Brain worms (1):
Especially I am referring to doctors, immunologists, virologists, epidemiologists etc

So I think some minimizing is cynical

And a much larger chunk of minimizers are merely useful tools whose inability to tolerate intense feelings makes them valuable to minimizing

— Thomas Finch, MD, MBA (@FinchTH) November 22, 2022
• Brain worms (2):
P.S. This is why ppl outlining risks get called "fear mongerers"

It's a tactic to try to stop messaging that contradicts the worldview of the person trying to self-soothe.

Same with anti-mask sentiment. Mask is necessarily a signal of risk. Incompatible with "no big deal".

— Jonathan Mesiano-Crookston 🌬️🔅#COVIDisAirborne (@jmcrookston) August 10, 2021
• Brain worms (3):
"Yes, a principal is telling someone's wife to divorce him because he wants to protect them from a deadly, disabling virus.

"Companies are also starting to pressure their employees to get therapy "to conquer their fear of Covid."

3/

— Yaneer Bar-Yam @yaneerbaryam@forall.social (@yaneerbaryam) November 24, 2022
* * *
• Maskstravaganza:
Getting lots of compliments and curious questions on my new Airgami mask. Most breathable N95 filtration I've tried. pic.twitter.com/cqDYbfcDbH

— Lauralee Dukeshire (she/her) (@LauraleeDukesh1) November 25, 2022
"Airgami wins BARDA Mask Innovation Challenge!" (press release) [Airgami]. "Gary Disbrow, Head of the U.S. Biomedical Advanced Research and Development Authority (BARDA), announced today that the Airgami® origami mask, by Air99 LLC, has been named a first-place winner in the second and final phase of the Mask Innovation Challenge sponsored by BARDA, the National Institute for Occupational Safety and Health (NIOSH) within the U.S. Centers for Disease Control and Prevention, and the National Institute of Standards and Technologies (NIST). 'The Airgami mask leverages origami principles to improve fit, breathability, and aesthetics. The unique design increases the overall filtering and breathing surface area which exceeded the criteria of the Target Product Profile (TPP) during the final round of testing.'" • This is extremely neat, and naturally led to an immediate grant of Federal monies to ramp up production. Ha ha, kidding! From the top of the page: "Airgami is NOT taking new orders at the moment. Please check back early-December.
Fulfillment time of existing orders is up to THREE WEEKS. Thank you for your patience." Here is their FAQ.
• Maskstravaganza: "The science behind masks and their use" [Chasing Normal]. A useful roundup. "The broad consensus of peer-reviewed and published science has been straightforward: masks work. The degree depends on issues like real world compliance, study design, type of masks, and other factors. Here is a list of 27 peer-reviewed and published mask studies. Of these, 22 studies find masks are effective, 1 is inconclusive, and 4 find masks generally ineffective. (It is important that we set standards on what studies to review, since there are libertarian and disinformation faux institutions attempting to cherry pick, or 'publish' skewed reviews of mask studies and evidence.) Those still debating whether masks work may claim that there are few if any Randomized Clinical Trial (RCT) studies. While there was a study in Bangladesh of villagers that found benefits with surgical masks, the more important point is this: you cannot force people in the real world to consistently wear masks or not wear masks in situation A, setting B, and infection risk level C. It would also be unethical to ask some people to not wear masks in a known contagious or higher risk setting. The closest we can really come is with controlled environment aerosol 'mannequin' experiments and carefully analyzed real world comparisons. This article wryly mocks the RCT argument: 'Parachute use to prevent death and major trauma related to gravitational challenge: systematic review of randomized controlled trials.'"
* * *
• "Health+ Long Covid Human-Centered Design Report" (PDF) [HHS]. Report of an HHS contractor. "To ensure that solutions are implemented that respond to the real and immediate needs of people impacted by Long COVID—people with Long COVID, their caregivers, health care researchers and professionals, and Long COVID advocacy groups—HHS selected Coforma's Health+™ program and its human-centered design process to launch Health+ Long COVID. The goal of this process is to understand the lived experiences and needs of people impacted by Long COVID across the United States, and to identify opportunities to improve government services and simultaneously advance interagency efforts to increase their quality of life and care. This report, commissioned by HHS and independently produced by Coforma, is a result of the Health+ Long COVID cycle." • Sounds… Well, I don't know what it sounds like. Do any readers have experience with Coforma or their process? (Also, "interagency" in the national security world also means slow, complicated, highly bureaucratized (besides yielding the results that we see)).
Transmission
Here is CDC's interactive map by county set to community transmission (the "red map"). (This is the map CDC wants only hospitals to look at, not you.)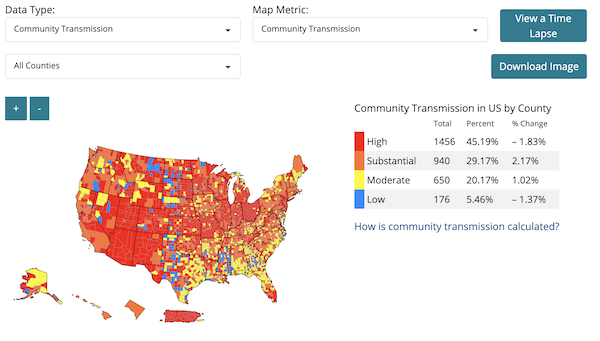 Positivity
From the Walgreen's test positivity tracker, published November 27: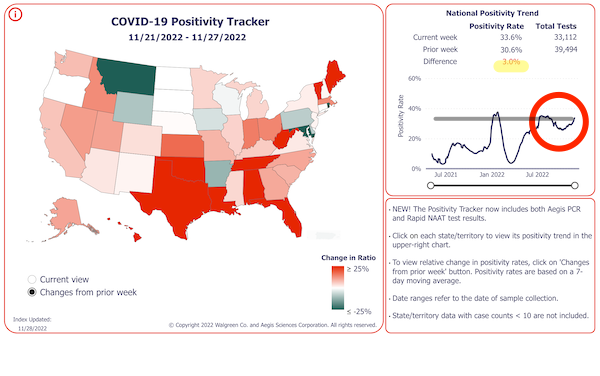 3.0%. That's quite a jump.
Wastewater
Wastewater data (CDC), November 21: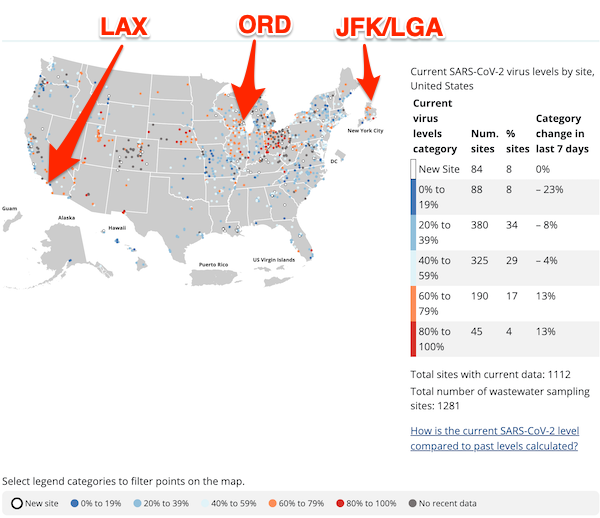 November 19: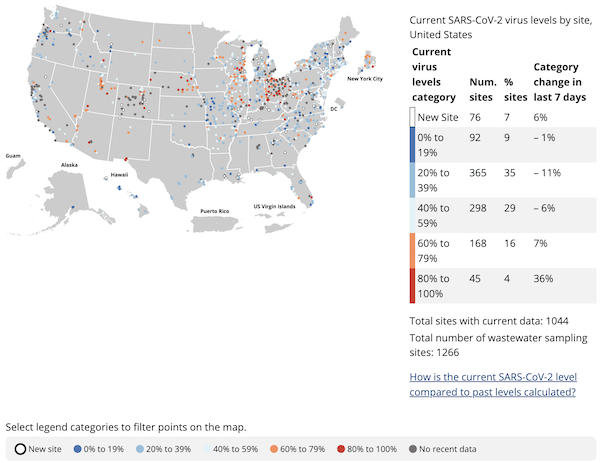 Variants
Lambert here: It's beyond frustrating how slow the variant data is. Does nobody in the public health establishment get a promotion for tracking variants? Are there no grants? Is there a single lab that does this work, and everybody gets the results from them? [grinds teeth, bangs head on desk]. UPDATE Yes. See NC here on Pango. Every Friday, a stately, academic pace utterly incompatible with protecting yourself against a variant exhibiting doubling behavior.
Variant data, national (Walgreens), November 13: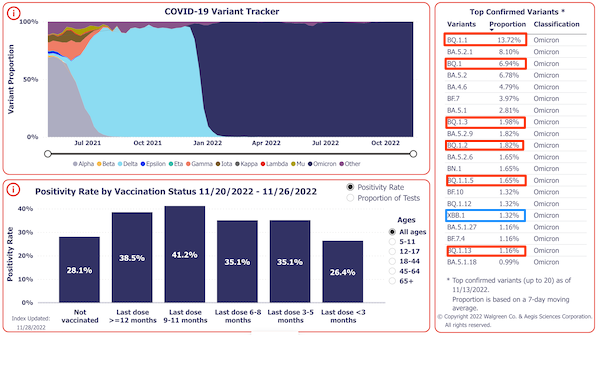 Lambert here: BQ.1* moving along quite briskly, though lower than CDC. XBB coming up on the charts.
Variant data, national (CDC), November 5 (Nowcast off):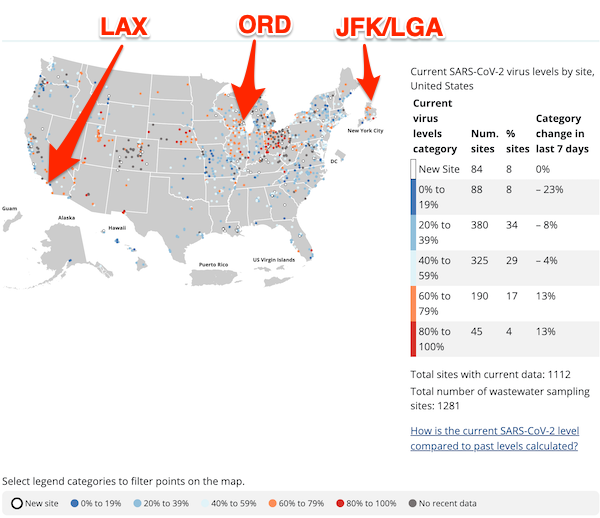 BQ.1* moving along quite briskly. Note the appearance of XBB, and see the highlighted note: Like BQ.1*, XBB appears suddenly when CDC decides to disaggregate the data. Exactly as with CDC's infamous "green map," a lag is introduced, this time by CDC's decision-making process; Walgreens had XBB last week, but CDC has it only this week. I don't see what purpose the aggregation serves. If the issue is a jillion low-circulation variants would make the table impossibly long and confusing for users, that's a UI/UX issue; handle it with software. Have a slider/filter that aggregates variants under 1%, say. Allow scrolling the results. Whatever. But stop concealing data!
• "New COVID Variant XBB Is Gaining Ground Among Americans" [US News]. "Known as XBB, this latest subvariant now represents 3.1% of new COVID cases throughout the U.S. and 5% of cases in the Northeast. Based on preliminary estimates from the U.S. Centers for Disease Control and Prevention, cases of XBB may be doubling every 12 days. However, the variant shouldn't pose the same threat that the emergence of Omicron posed a year ago, CBS News reported. 'Where we've seen surges, they've seen mostly it be driven by seasonality, people coming inside, spending more time around one another, but not being specifically being driven by the emergence of a new variant,' the CDC's Ian Williams told the agency's emergency response and preparedness advisers earlier this month, CBS News reported." • Biden's January 2021 Omicron surge wasn't driven by Omicron? What am I missing here? (See the Walgreens variant chart above for a vivid sense of how Omicron conquered all before it. (And in the final paragraphs, US News amplifies CDC's horrid "community levels" ("green map") metric. Horrid reporting [pounds head on desk].
New York/New Jersey (Region 2) numbers are higher: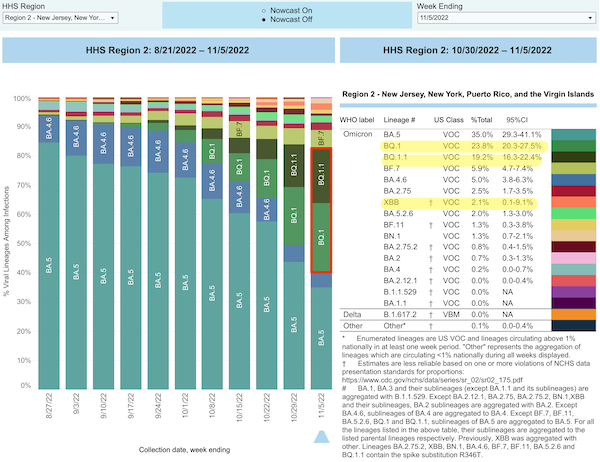 Here is Queens County, NY (JFK/LGA), now flashing red for the holidays: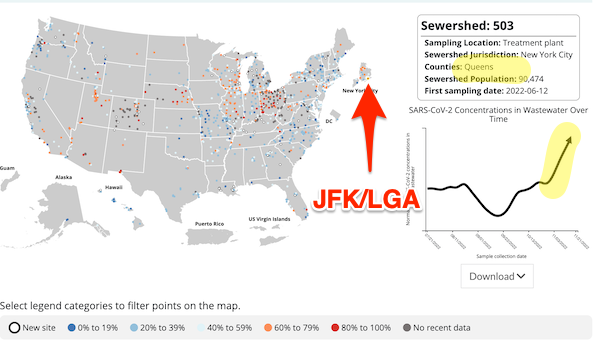 • As a check, since New York is a BQ.1* hotbed, New York hospitalization, updated November 24: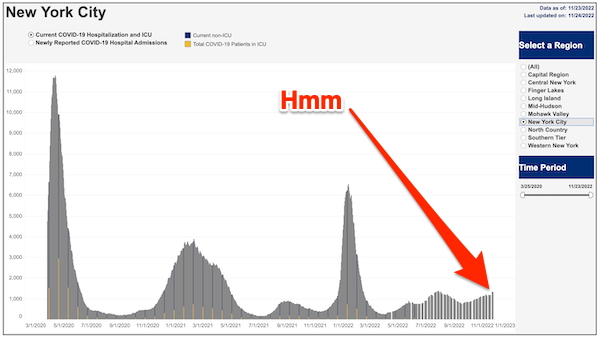 Lambert here: Increasing, after leveling out.
Deaths
Death rate (Our World in Data):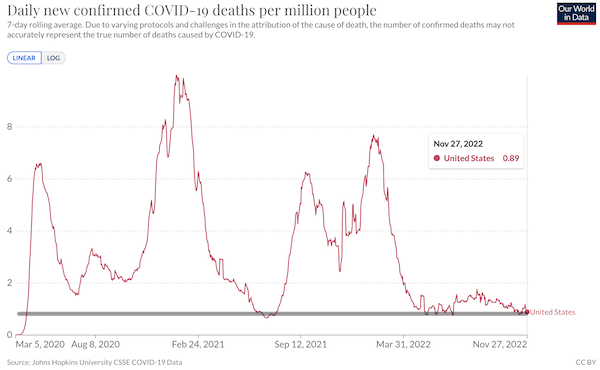 Total: 1,104,755 – 1,103,355 = 1400 (1400 * 365 = 511,000 deaths per year, today's YouGenicist™ number for "living with" Covid (quite a bit higher than the minimizers would like, though they can talk themselves into anything. If the YouGenicist™ metric keeps chugging along like this, I may just have to decide this is what the powers-that-be consider "mission accomplished" for this particular tranche of death and disease).
It's nice that for deaths I have a simple, daily chart that just keeps chugging along, unlike everything else CDC and the White House are screwing up or letting go dark, good job.
• "COVID-19 Mortality Working Group: Another month of high excess mortality in July 2022" [Actuaries Digital]. "Total excess mortality for the first seven months of 2022 is 14%." • This is Australia. Our absolute numbers would be a good deal higher.
Stats Watch
Manufacturing: "United States Dallas Fed Manufacturing Index" [Trading Economics]. "The Federal Reserve Bank of Dallas' general business activity index for manufacturing in Texas increased to -14.4 in November of 2022 from -19.4 in the prior month. The prices paid for raw materials index fell sharply to 22.6 from 32 in October, supporting lower inflation for prices received for finished goods (13.9 vs 22.2). On the other hand, the production index, a key measure of state manufacturing conditions, fell to 0.8 points from 6 in the prior month, suggesting further deceleration in output growth."
* * *
Retail: "It's not your imagination: Shopping on Amazon has gotten worse" [WaPo]. "The first page of Amazon results includes an average of about nine sponsored listings, according to a study of 70 search terms conducted in 2020 and 2021 by data firm Profitero. That was twice as many ads as Walmart displayed, and four times as many as Target…. I call it the "shill results" business. Even when they contain a tiny disclaimer label — as do Amazon's — these kinds of ads can be misleading because they fill up spaces people have every reason to expect to contain trustworthy, independent information. What's worse, many other apps and online marketplaces are following Amazon's lead. Shill results now crowd Apple and Google's smartphone app stores — search for an app used for couple's therapy, and you'll get an ad for a dating app….. Amazon has turned shill results into its next big thing. After selling $31 billion in ads last year, Amazon became the third-largest online ad company in the United States, trailing only Google and Facebook….. [I]n my experience, Amazon's ads are often not useful, not informative and can make shopping a little bit harder. If you are searching for a cat bed, you have an expectation that Amazon will show you the cat beds that are most useful for you. Not $389 cat beds. Not the pet bed Amazon makes the most money from. Not a weird knockoff."
The Bezzle: "BlockFi Files for Bankruptcy as Latest Crypto Casualty" [Wall Street Journal]. "Cryptocurrency lender BlockFi Inc. filed for bankruptcy Monday, making it the latest major digital-assets firm to fail since FTX, with which BlockFi is financially intertwined. BlockFi's chapter 11 filing continues the march of crypto platforms forced into insolvency following this summer's crypto-price downturn and this month's failure of FTX, a big exchange with ties throughout the largely unregulated industry. BlockFi, based in Jersey City, N.J., is only beginning to answer how its hundreds of thousands of customers will fare. The company's top 10 creditors alone are owed close to $1.2 billion, according to its filings with the U.S. Bankruptcy Court in Trenton, N.J, with the total amount of liabilities likely to be much larger. The firm, founded in 2017 by Zac Prince and Flori Marquez and backed by Thiel Capital spinout Valar Ventures, lends money to customers using their cryptocurrency assets as collateral. Bain Capital, Tiger Global Management and a fund operated by the Winklevoss twins are also included among BlockFi's equity investors, according to PitchBook Data Inc."
Tech: "Facebook Is Replacing Its Human News Editors with AI" [OptOut]. "Recent reports reveal that Meta, which owns Facebook and Instagram, is axing its human news curators in favor of artificial intelligence. Facebook, especially, is becoming a fossil in the rapidly evolving world of social media, and it's struggling to emulate newer, immensely popular apps such as TikTok. To make matters worse, the $300 billion company will stop paying news outlets to host their content." • Ah. The pivot to AI.
* * *
Today's Fear & Greed Index: 62 Greed (previous close: 63 Greed) [CNN]. One week ago: 63 (Greed). (0 is Extreme Fear; 100 is Extreme Greed). Last updated Nov 28 at 1:41 PM EST.
Rapture Index: Closes up one on Anti-Semitism. "Attacks against Jews have been on the increase" [Rapture Ready]. Record High, October 10, 2016: 189. Current: 187. (Remember that bringing on the Rapture is good.)
Xmas Pregame Festivities
No:
TONIGHT 😆 pic.twitter.com/n9RdKXI2ZS

— Violet Blue® (@violetblue) November 26, 2022
The Conservatory
Psychedelia I've never heard, from alert reader ThirtyOne:
Our Famously Free Press
Full circle:
Everyone should start blogging again. Own your own site. Visit all your friends' sites. Bring back the artisan, hand-crafted Web. Sure, it's a little more work, but it's worth it. You don't even need to stop using social media! It's a "yes, and" situation, not a "no, but" one. https://t.co/BzHYh59F36

— John Scalzi (@scalzi) November 24, 2022
Zeitgeist Watch
Reminds me of Philip K. Dick's VALIS (which I admit I have never read):
Oh I love these. This is an insane conspiracy theory called New Chronology that stipulates basically all of history before the 17th century was falsified by the Vatican, the Masons, and the Romanovs. Most famously endorsed by Gary Kasparov. https://t.co/5A3rez1XU6

— isi baehr-breen (its pronounced 'izzy') (@isaiah_bb) November 25, 2022
"Ancient Apocalypse archaeology update 2: Are there underground chambers at Gunung Padang?" [ArcheoThoughts]. • No. Thanks, Netflix.
"'Goncharov' isn't a real Martin Scorsese movie, but Tumblr convinced the internet it's a classic" [NBC]. "Martin Scorsese's 1973 mafia masterpiece "Goncharov" is re-emerging online as film buffs obsess over the tale of corrupted power and loss. Its haunting theme song is finally on Spotify. The poster — which features Robert DeNiro, Al Pacino, Gene Hackman and Cybill Shepherd against an Italian cityscape — has gone viral. The film's love triangle and homoerotic undertones have inspired hundreds of stories on the fanfiction site Archive of Our Own. The catch: "Goncharov" isn't real. It's an elaborate, and convincing, Tumblr bit. The fictional film follows Goncharov, a former Russian mobster and discotheque manager who gives up a life of crime to settle in the "seemingly idyllic Naples" with his wife Katya after the fall of the Soviet Union. But in Naples, he meets Andrey "The Banker" Daddano, who becomes his rival and implied love interest. While she grieves her father's death, Katya meets Sofia, and they develop a close friendship brimming with implied sexual tension… The movie's title can be traced back to a years-old Tumblr post, when a user published a photo of a pair of "knockoff boots." Instead of a brand name, the tag on the boots read: 'The greatest mafia movie ever made. Martin Scorsese presents GONCHAROV. Domenico Proccacci production. A film by Matteo JWHJ0715. About the Naples mafia.' The user appears to have since deleted their blog. In 2020, another Tumblr user reblogged the post with a screenshot of a comment that read, 'this idiot hasn't seen goncharov.' The fake film 'inexplicably started to pick up traction' during the weekend of Nov. 19, according to Polygon. The New York Times reports that 'Goncharov' was the top trending topic on Tumblr by Monday evening, followed by 'Martin Scorsese.' In the week since, it's made its way to Twitter and TikTok, where the tag #goncharov has over 7 million views." • Would Hubertus Bigend please pick up the nearest white courtesy phone?
A little too on-the-nose:
Just walked past a Restoration Hardware that has apparently decided that a body cast from Pompeii is a chic coffee table ornament…? pic.twitter.com/zYtvkfFOrv

— Erin L. Thompson (@artcrimeprof) November 23, 2022
Black Injustice Tipping Point
"William Wells Brown, Wildcat Banker" [The Public Domain Review]. I just extract the money part, but the whole piece is worth a read; Brown is a fascinating figure. "As Brown explains it, the lack of small change in Monroe — a nationwide scarcity in this period — created a demand for shinplasters: small denomination bills issued by private businesses serving as Wildcat banks (like Brown's barber shop) and backed by nothing more than the confidence of the local community. In Bank Notes and Shinplasters: The Rage for Paper Money in the Early Republic, Joshua R. Greenberg recounts how during the 1830s these western banks were often labelled as fraudulent, "wild cat" organizations, the joke being that such banks — in order to discourage anyone from trying to redeem their notes — were "located in areas so remote that only wildcats lived nearby". Value often decreased over distance: dollars from a Monroe, Michigan bank were worth less in New York City because the issuing bank was regarded as unreliable, while the note itself was harder to redeem (the note holder would have to travel almost six hundred miles to cash it, if it could be cashed at all). Americans would need to constantly haggle over the perceived value of hundreds of different bank notes in their day-to-day lives, while papers like Counterfeit Detector and Bank Note List and Thompson's Bank Note Reporter provided detailed — and constantly shifting — lists of which notes were reliable and which were not." • This seems familiar somehow.
Guillotine Watch
"Balenciaga files $25M suit over controversial ad amid 'BDSM teddy bear' backlash" [New York Post]. Exceptionally nasty stuff, every bit as creepy as described, perhaps moreso, though I'm not going to reproduce the images. "The fashion house brought the suit Friday against production company North Six, Inc. and set designer Nicholas Des Jardins and his eponymous company for the inclusion in one of the ads of legal documents from a US Supreme Court decision on child porn laws. The fashion brand ad also showed unsettling pictures of a child holding teddy bears dressed in bondage outfits in ads that came out around the same time. The two-page court summons doesn't mention the BDSM teddy bears." • This suit is ridiculous. Anybody who knows anything about fashion, fashion photography, advertising, or advertising agencies knows that the client obessively reviews an ad at every stage of production, and has the final signoff. The only reason I can think of for Balenciaga to run it is shock value, followed by the Streisand effect. which would occur among Balenciaga's customers, who are the sort of wealthy people who can pay for couture. So what does that say about our elites? Not that they're all lizard people… but some are the sort of people who visit Little St. James. Or worse. And they somehow almost never get turned in! Good summary here.
"Sam Bankman-Fried's Truly Effective Philanthropy: Teaching" [Dean Baker, CEPR]. "Recognizing the enormous waste and corruption in the financial sector, Bankman-Fried decided that the best way to attack it was by putting himself at the center of a scandal hitting finance at its most vulnerable point: the crypto craze…. The potential benefits here are enormous. If we can just downsize the financial sector by 10 percent, it will free up more than $300 billion a year for productive purposes. That comes to more than $2,500 a year for every family in the country. As the effective philanthropy folks say, you can buy a lot of mosquito netting with $300 billion a year…. So, Bankman-Fried knew what he was doing in running a Ponzi-scheme and making himself look like one of the most despicable people alive. He may spend a lot of time in prison and be viewed with universal contempt for the rest of his life, but if his crimes lead to a crackdown on finance, he will have provided a great service to humanity." • This is irony along the lines of Swift's Modest Proposal. A lot of the online commentary seems to have missed this.
Class Warfare
"The Spectacular Life of Octavia Butler" [Vulture]. Super-interesting and well worth reading in full. This passage caught my eye: "In Mind of My Mind, a young, Black psionic named Mary discovers she can create a 'pattern,' a neural network that brings other psionics under her control. While at first the others bristle, they soon come to discover they enjoy the mental stability her power gives them." • Seems very contemporary!
News of the Wired
"Neuroexistentialism" [Philosophers Magazine]. "The constructive project of neuroexistentialism, then, is to make use of the knowledge and insights of the behavioural, cognitive, and neurosciences to satisfy our existential concerns and achieve some level of flourishing and fulfilment. While much progress has already been made on this front, the project continues. And since naturalism is the only game in town, it's one we should all hope succeeds." • Hmm.
* * *
Contact information for plants: Readers, feel free to contact me at lambert [UNDERSCORE] strether [DOT] corrente [AT] yahoo [DOT] com, to (a) find out how to send me a check if you are allergic to PayPal and (b) to find out how to send me images of plants. Vegetables are fine! Fungi and coral are deemed to be honorary plants! If you want your handle to appear as a credit, please place it at the start of your mail in parentheses: (thus). Otherwise, I will anonymize by using your initials. See the previous Water Cooler (with plant) here. From JustAnotherVoluteer: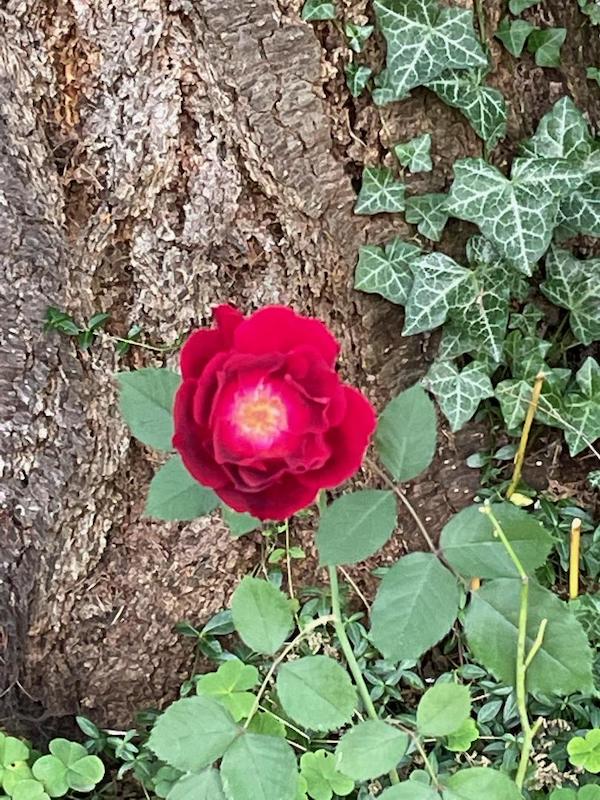 JustAnotherVoluteer writes: "Most likely the last rose of summer along with some shade loving oxalis and the damn English ivy."
* * *
Readers: Water Cooler is a standalone entity not covered by the annual NC fundraiser. So if you see a link you especially like, or an item you wouldn't see anywhere else, please do not hesitate to express your appreciation in tangible form. Remember, a tip jar is for tipping! Regular positive feedback both makes me feel good and lets me know I'm on the right track with coverage. When I get no donations for five or ten days I get worried. More tangibly, a constant trickle of donations helps me with expenses, and I factor in that trickle when setting fundraising goals:
Here is the screen that will appear, which I have helpfully annotated: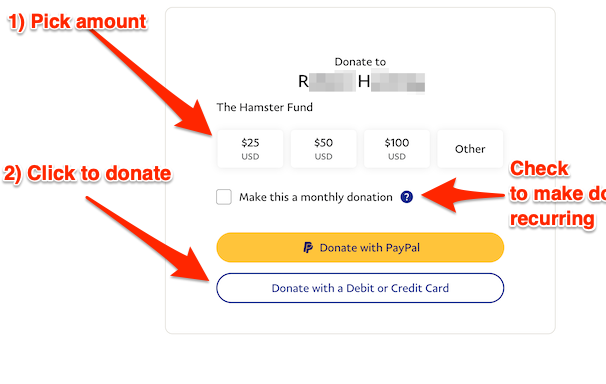 If you hate PayPal, you can email me at lambert [UNDERSCORE] strether [DOT] corrente [AT] yahoo [DOT] com, and I will give you directions on how to send a check. Thank you!