By Lambert Strether of Corrente
Bird Song of the Day
Handsome Flycatcher, Megantoni Camp 3, Tinkanari, Cuzco, Peru. Today, the flycatcher is handsome. Yesterday, the flycatcher was ornate!
* * *
Politics
"But what is government itself, but the greatest of all reflections on human nature?" –James Madison, Federalist 51
"Here's food for thought, had Ahab time to think; but Ahab never thinks; he only feels, feels, feels" –Herman Melville, Moby Dick
"So many of the social reactions that strike us as psychological are in fact a rational management of symbolic capital." –Pierre Bourdieu, Classification Struggles
Biden Administration
"Proud pro-labor President"

As a proud pro-labor President, I'm reluctant to override the ratification procedures and views of those who voted against the agreement.

But in this case – where the economic impact of a shutdown would hurt millions – I believe Congress must use its powers to adopt this deal.

— President Biden (@POTUS) November 29, 2022

"But in this case – where the economic impact of a shutdown would hurt millions – I believe Congress must use its powers to adopt this deal give the workers four sick days." Fixed it for ya.

"Statement from President Joe Biden on Averting a Rail Shutdown" [WhiteHouse.gov]. "I share workers' concern about the inability to take leave to recover from illness or care for a sick family member. No one should have to choose between their job and their health – or the health of their children. I have pressed legislation and proposals to advance the cause of paid leave in my two years in office, and will continue to do so. Every other developed country in the world has such protections for its workers. But at this critical moment for our economy, in the holiday season, we cannot let our strongly held conviction for better outcomes for workers deny workers the benefits of the bargain they reached, and hurl this nation into a devastating rail freight shutdown." • So, when the workers have no leverage, we don't give them what they demand. And when the workers have leverage, we don't give them what they demand.

An easy layup even for Marco Rubio:

RUBIO: "Just because Congress has the authority to impose a heavy-handed solution does not mean we should. It is wrong for the Biden Administration, which has failed to fight for workers, to ask Congress to impose a deal the workers themselves have rejected. <1/4>

— Michael Needham (@MikeNeedham) November 29, 2022

Now would be a good time for the Progressive Caucus to roll on its back, expose its belly, and widdle like the little puppy it is. Nothing on this on AOC or Jayapal's Twitter feeds….

"Biden calls for Congress to act to stop rail strike" [Roll Call]. "The union membership that has rejected the tentative agreement has cited ongoing concerns about a lack of paid sick days. But Biden, in the statement about the need for Congress to act quickly, rejected the idea of lawmakers reopening the terms of the agreement. 'Some in Congress want to modify the deal to either improve it for labor or for management. However well-intentioned, any changes would risk delay and a debilitating shutdown. The agreement was reached in good faith by both sides,' Biden said." • Translation of "both sides": Union management doesn't represent the workers, the majority of whom rejected the deal. Shocking, I know.
2022
NY: "GOP voter turnout at presidential levels, outpaces Democrats in N.Y. governor's race" [Times-Union]. "Republican turnout was substantially higher than for Democrats, 63 to 47 percent, according to an analysis of unofficial election results obtained by the Times Union from the state Board of Elections." • Hmm. The New York Democrats really are in disarray.

TX: "Here's why we still don't know what went wrong in Harris County on Election Day" [Texas Tribune]. "Even now, election staffers are continuing to call each of the more than 700 election judges who worked the polling sites to find out exactly how many locations opened late, how many ran out of paper and how many had issues with voting machines. An investigation by the county's district attorney launched earlier this week alleges at least 23 polling locations had paper ballot shortages. Harris is unusual among large Texas counties in not having an effective system for logging its polling place problems. Others have an easier, faster way to gather that data that doesn't require calling hundreds of people individually and taking down notes. Instead, election software troubleshooting tools, used these days by many election directors across the nation, can help monitor and keep track of every issue reported at polling sites. These tools have features that alert officials of an issue in detail and provide status updates of the resolution in real time."
2024
"Biden Helped Democrats Avert a '22 Disaster. What About '24?" [New York Times]. "Now, as Mr. Biden mulls a decision over whether to seek a second term, interviews with more than two dozen Democratic elected officials and strategists suggest that, whatever misgivings some Democrats may harbor about another Biden candidacy, his party is more inclined for now to defer to him than to try to force a frontal clash with a sitting president. In recent days, officials ranging from Representative Henry Cuellar, one of the most conservative House Democrats, to Representative Pramila Jayapal, the chair of the Congressional Progressive Caucus, have said they would support another Biden bid. In private conversations, younger Democratic operatives have shifted from discussing potential job opportunities in a competitive presidential primary to gaming out what a Biden re-election campaign might look like." • Fascinating to see "operative" used in a neutral, non-judgemental way (something I tend not to do).

"Turning Point for Garland as Justice Dept. Grapples With Trump Inquiries" [New York Times]. "But the appointment of a special counsel, Jack Smith, on Nov. 18, and a painstakingly planned rollout of the announcement, signaled a significant, if subtle, shift in that approach. Garland has shown a growing willingness to operate outside his comfort zone — within the confines of the rule book — in response to the extraordinary circumstance he now finds himself in: investigating Trump, a top contender for the 2024 nomination of a party that is increasingly rallying around the charge that Garland has weaponized the Justice Department against Republicans." • Look. Aren't these walls taking rather a long time to close in?
Republican Funhouse
"The postliberal crackup: The GOP's post-midterm civil war starts with the New Right" [Salon]. • You'll like this, if it's the sort of thing you like. But I can't believe these ideas are being taken seriously (which is a big weakness of mine; often stupid ideas are very powerful).
Democrats en Déshabillé
Patient readers, it seems that people are actually reading the back-dated post! But I have not updated it, and there are many updates. So I will have to do that. –lambert

I have moved my standing remarks on the Democrat Party ("the Democrat Party is a rotting corpse that can't bury itself") to a separate, back-dated post, to which I will periodically add material, summarizing the addition here in a "live" Water Cooler. (Hopefully, some Bourdieu.) It turns out that defining the Democrat Party is, in fact, a hard problem. I do think the paragraph that follows is on point all the way back to 2016, if not before:

The Democrat Party is the political expression of the class power of PMC, their base (lucidly explained by Thomas Frank in Listen, Liberal!). ; if the Democrat Party did not exist, the PMC would have to invent it. . ("PMC" modulo "class expatriates," of course.) Second, all the working parts of the Party reinforce each other. Leave aside characterizing the relationships between elements of the Party (ka-ching, but not entirely) those elements comprise a network — a Flex Net? An iron octagon? — of funders, vendors, apparatchiks, electeds, NGOs, and miscellaneous mercenaries, with assets in the press and the intelligence community.

Note, of course, that the class power of the PMC both expresses and is limited by other classes; oligarchs and American gentry (see 'industrial model' of Ferguson, Jorgensen, and Jie) and the working class spring to mind. Suck up, kick down.

* * *
Realignment and Legitimacy
"Republicans in Arizona, Pennsylvania counties decline to certify midterm election results" [ABC]. "Republicans on the election boards of Cochise County in Arizona and Luzerne County in Pennsylvania voted against motions to certify the election results there." Ann English, [Cochise County's] board chair and a Democrat: "[O]ur machine count and hand count matched 100%." So what do we need the machines for? More: "In Luzerne County, two Republican members of the elections board voted against certifying the midterm results, two Democrats voted to certify and one Democratic member abstained. Luzerne County faced a paper ballot shortage on Election Day, but voting hours were extended to ensure that all ballots could be cast." • It is true, as a paper ballot advocate, I haven't addressed supply chain issues….
#COVID19
Lambert here: I can't call a winter surge, but I'm not uncalling it either. High transmission (CDC), the elevation and continued increase in positivity (Walgreens), and the steady takeover of BQ.1* (CDC; Walgreens) are all more than a little unsettling (as is the apparent proliferation of variants). Stay safe out there! (As one might expect at the beginning of a holiday surge, wastewater in Queens County, NY (JFK/LGA), Cook County, IL (ORD), and Los Angeles County (LAX) are all elevated, with JFK/LGA and LAX being more elevated than last week, and ORD the same. Hospitalization in BQ.1*-dominated New York continued to increase before Thanksgiving, so let's see what happens after.
* * *
• "There is no such thing as 'herd immunity.' Why the ongoing dangers of COVID-19 are real" [USA Today]. "We all need to recognize the dangers of COVID-19 and the risks it imposes to our long-term health and our country's workforce. Long COVID occurs in approximately 30% to 35% of cases. It commonly occurs with even mild disease and with reinfections. The severity is additive with each exposure and the symptoms can often persist for over a year (the longest patients have been followed). There is no such thing as 'herd immunity' and I beg to differ with the CDC regarding "immune debt" causing the increase in respiratory infections, and there statement regarding Respiratory Syncytial Virus infections: 'And so these children, if you will, need to become infected [with RSV] to move forward because it's a disease very common in children.' 'Immune debt' is just another push for 'herd immunity' and to use this to explain the increase in RSV infections is mind boggling, since we had a significant number of infections last year. At the end of Nov. 2022, Pediatric hospitals were filled with RSV, but at that time there were corresponding more RSV infections in the previous year. We are on track to have an even larger RSV season, but 'immune debt' is an unlikely etiology. Another explanation for rising RSV hospitalizations is 'immune theft' due to COVID-19 which as of last March had infected over 75% of children. Mounting research has shown that COVID-19 is associated with immune dysfunction which can persist for at least 8 months (the longest time studied)." • The person at CDC with whom the author "begs to differ" is, of course, America's favorite eugenicist, Rochelle Walensky.
* * *
• Maskstravaganza: "But everyone can make their own personal risk assessment":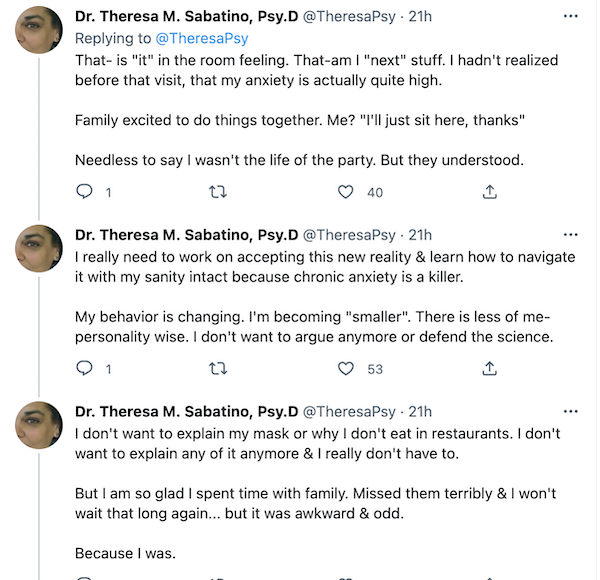 "I felt small."
• Maskstravaganza: One tiny anecdote, perhaps an outlier: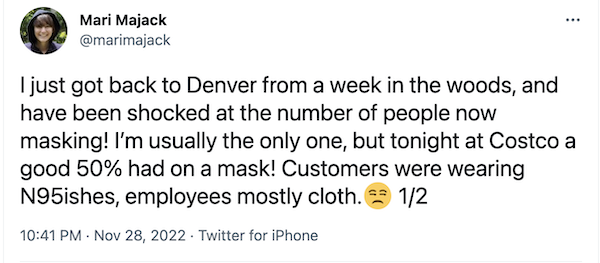 My own anecdote: I watch for "Let me see your smile!" stories, because they tick me off so much. Very few of them lately. I did find one—
• Maskstravaganza: UC = University of Calgary:
At UC office today, Lady seeing us says " Do you want to remove your masks"." Err No" we say "Covid is still with us". "I have a Screen and it means I could see your Smile"
"Covid is Airborne, the screen won't help"
"It will Health and Safety installed it"
"Err Still No"
"Oh Ok"

— alan PW💙 🎩 🐟 🏴‍☠️🦜 (@penheiro53) November 15, 2022
I pity the "Lady." She's trusting, and two years into the pandemic, believes that plexiglass screens work. Terrible, terrible communications from the Canadian public health establishment….
* * *
• "New Covid outbreak on a cruise ship headed for Melbourne after 'slightly elevated' cases caused it to skip a stop at another major Australian port" [Daily Mail]. Next to last paragraph: "Meanwhile a limousine driver told Mr Mitchell his company had 13 people booked for collection when the [S.S. Petri Dish The Grand Princess] arrives in Melbourne but said he won't be collecting them as he 'cannot risk' his drivers and their families." • The phrase you're looking for is "plague ship."
* * *
* * *
• "SARS-CoV-2 and the Eyes: A Review of the Literature on Transmission, Detection, and Ocular Manifestations" [Medical Science Monitor]. A review of the literature. From the Abstract: "During the coronavirus disease 2019 (COVID-19) pandemic, numerous reports of ocular anomalies occurring in patients infected with severe acute respiratory syndrome coronavirus 2 (SARS-CoV-2) have emerged. The most frequently reported pathology is conjunctivitis, which may be the first or only clinical manifestation of the disease. Involvement of SARS-CoV-2 in development of alterations in other ocular structures was suggested, including the cornea, the retina, and blood vessels. Possible mechanisms include direct activity of the viral agent, as well as systemic inflammatory response with accompanying thromboembolic complications. Genetic material of SARS-CoV-2 was detected in ocular secretions of infected individuals, including asymptomatic patients. Moreover, angiotensin-converting enzyme 2 (ACE2), a receptor protein used by the virus to enter the cell, has been found on the surface of various structures of the eye, which indicates a risk of transmission through ocular tissues. Therefore, it is crucial to use eye protection by medical professionals having contact with potentially infected patients." • For me, an epidemiological study is the [sic] "gold standard." I haven't seen one for transmission through the eyes.
* * *
• "COVID-19 cases to jump 80% by Dec. 7, Mayo forecasts" [Beckers Hospital Review]. I'm using the Wayback Machine for this, since (spookily?) the original URL throws an Error 500. Looks like Becker, who is good, took this down, rightly so far as I can tell. I can't find the 80% forecast on the Mayo page, which Mayo says is being taken down anyhow.
•
* * *
Transmission
Here is CDC's interactive map by county set to community transmission (the "red map"). (This is the map CDC wants only hospitals to look at, not you.)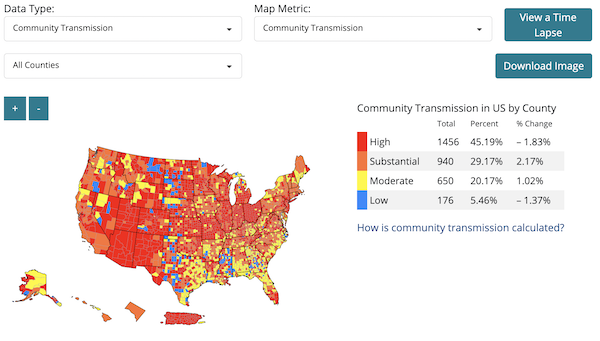 Positivity
From the Walgreen's test positivity tracker, published November 28: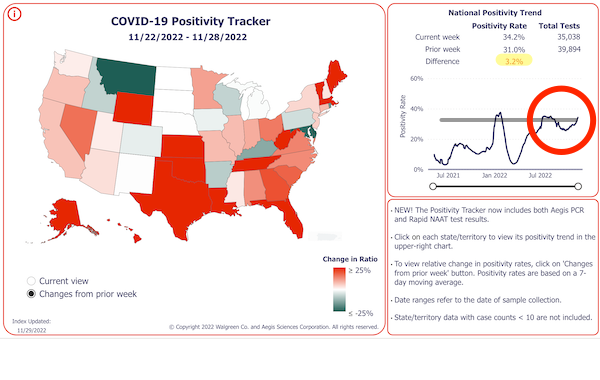 3.2%. Yesterday was 3.0%. These rates are not smoothed, so we really can't be sure if there's a train rolling or not. Nevertheless, we now have not only an increase, but an increase in the rate of increase. Let's wait and see.
Wastewater
Wastewater data (CDC), November 22: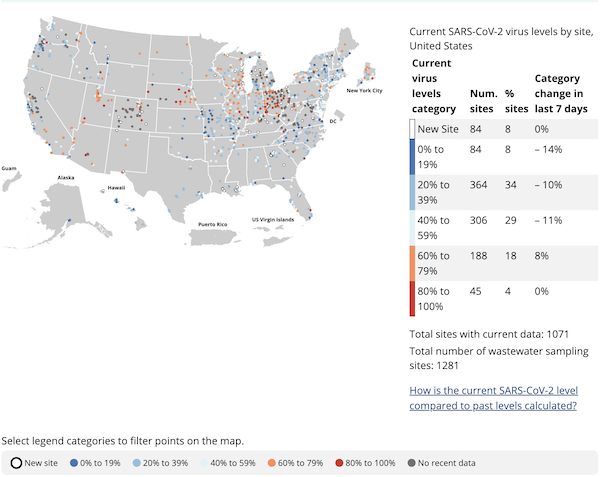 November 21: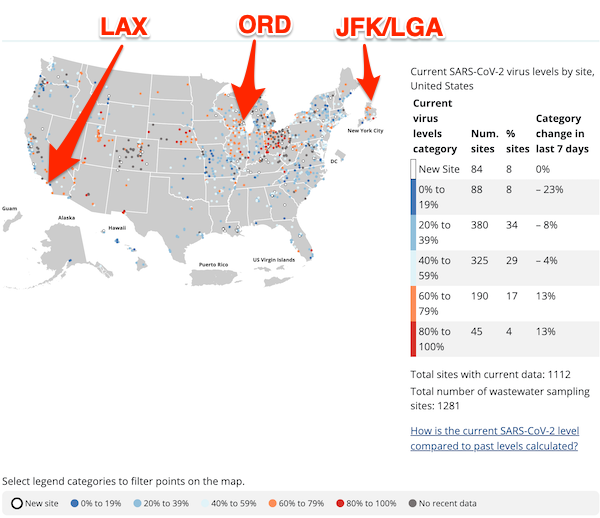 Variants
Lambert here: It's beyond frustrating how slow the variant data is. Does nobody in the public health establishment get a promotion for tracking variants? Are there no grants? Is there a single lab that does this work, and everybody gets the results from them? [grinds teeth, bangs head on desk]. UPDATE Yes. See NC here on Pango. Every Friday, a stately, academic pace utterly incompatible with protecting yourself against a variant exhibiting doubling behavior.
Variant data, national (Walgreens), November 13: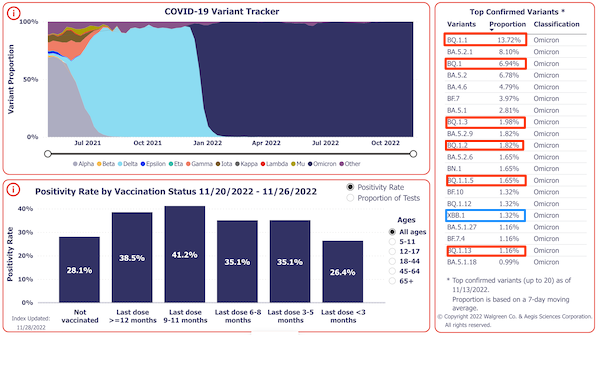 Lambert here: BQ.1* moving along quite briskly, though lower than CDC. XBB coming up on the charts.
Variant data, national (CDC), November 5 (Nowcast off):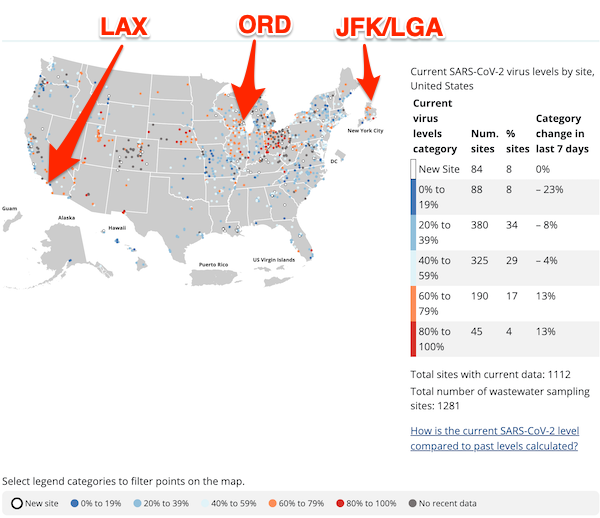 BQ.1* moving along quite briskly. Note the appearance of XBB, and see the highlighted note: Like BQ.1*, XBB appears suddenly when CDC decides to disaggregate the data. Exactly as with CDC's infamous "green map," a lag is introduced, this time by CDC's decision-making process; Walgreens had XBB last week, but CDC has it only this week. I don't see what purpose the aggregation serves. If the issue is a jillion low-circulation variants would make the table impossibly long and confusing for users, that's a UI/UX issue; handle it with software. Have a slider/filter that aggregates variants under 1%, say. Allow scrolling the results. Whatever. But stop concealing data!
New York/New Jersey (Region 2) numbers are higher: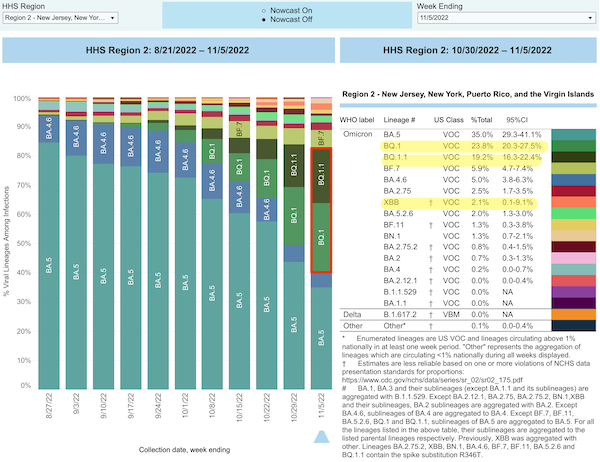 • Here is Queens County, NY (JFK/LGA), now flashing red for the holidays: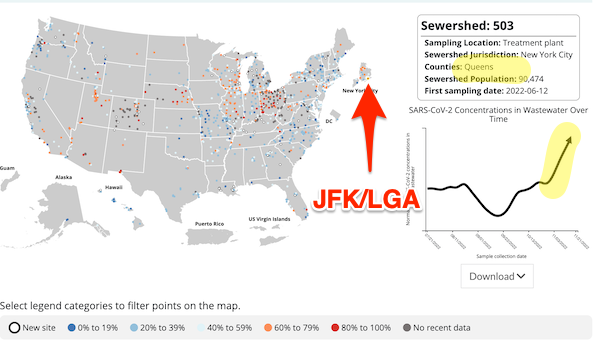 • As a check, since New York is a BQ.1* hotbed, New York hospitalization, updated November 29: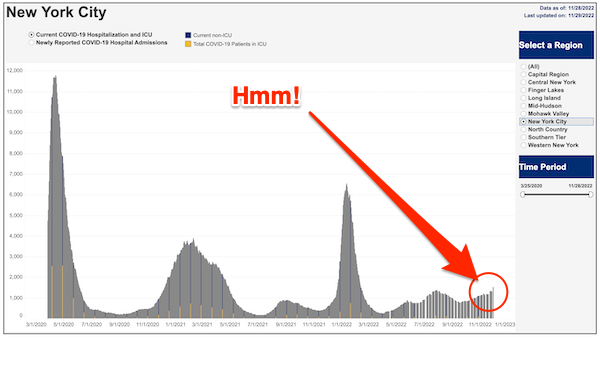 Lambert here: As with positivity, these rates are not smoothed, so we really can't be sure if there's a train rolling or not. Nevertheless, we now have not only an increase, but an increase in the rate of increase.
Deaths
Death rate (Our World in Data):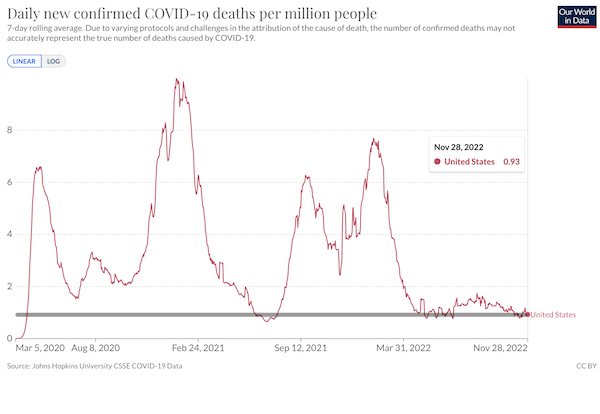 Total: 1,104,879 – 1,104,755 = 124 (124 * 365 = 45,260 deaths per year, today's YouGenicist™ number for "living with" Covid (quite a bit higher than the minimizers would like, though they can talk themselves into anything. If the YouGenicist™ metric keeps chugging along like this, I may just have to decide this is what the powers-that-be consider "mission accomplished" for this particular tranche of death and disease).
It's nice that for deaths I have a simple, daily chart that just keeps chugging along, unlike everything else CDC and the White House are screwing up or letting go dark, good job.
Stats Watch
There are no official statistics of interest today.
* * *
The Bezzle:
SBF and his buds Nishad and Caroline personally made a $580m investment in Anthropic, an AI dev corp, in April 2022. Inquiring minds would like to know more. pic.twitter.com/Cy28OLIhXh

— Ben Hunt (@EpsilonTheory) November 29, 2022
Here's the transcript of an interview with Anthropic's founders. It's… remarkable.
* * *
Today's Fear & Greed Index: 60 Greed (previous close: 59 Greed) [CNN]. One week ago: 63 (Greed). (0 is Extreme Fear; 100 is Extreme Greed). Last updated Nov 29 at 1:34 PM EST.
The Screening Room
Lots and lots of detail on Kubrick's Barry Lyndon: The NASA lens, the grain of the film….
The entire movie is a series of oil paintings but this particular shot from Barry Lyndon is ridiculous, doesn't feel real at all pic.twitter.com/esgItXsybX

— Justin🎃Boldaji (@justinboldaji) November 28, 2022
By "doesn't feel real" must be meant "doesn't feel like an oil painting."
Civil War Studies
Holy moley, Radical Republican Thaddeus Stevens:
the whole landed property […] If the South is ever to be made a safe republic let her land be cultivated by the toil of its owners, or the free labour of intelligent citizens" https://t.co/Q162fJm7qU [2/2] pic.twitter.com/X69X9k3wkY

— Graham Clark (@grahamcclark1) November 26, 2022
"Speaking before his people at home in his impassioned plea for this scheme of ruin to Southern wealth-holders…." And note the chapter title: "Confiscation." Makes you wonder what the Andrew Johnson impeachment and acquittal were really about.
Zeitgeist Watch
Look on my works ye mighty:
And now we can't upgrade a HVAC system🙄 https://t.co/JNdiTkW6Ay

— Naomi Wu 机械妖姬 (@RealSexyCyborg) November 26, 2022
China can't seem to upgrade its HVAC systems either.
Black Injustice Tipping Point
"The Black Investors Who Were Burned by Bitcoin" [The Atlantic]. "[T]housands of Black investors… have seen the value of their crypto investments plummet. The prototypical face of crypto is young, white, techy, and male, but perhaps no other demographic group has been harder hit by the crypto bust than Black Americans, who are half as likely to own stocks as their white counterparts but significantly more likely to own cryptocurrencies. Because Black investors piled into the crypto market at or near its most recent top, many of those investors are now in the red. That is especially worrisome because Black investors had so little to lose to begin with: Young Black men are one of the poorest segments of American society. It is also worrisome because many Black investors poured money into bitcoin because they found it so hard to build generational wealth in the first place. Discriminated against by banks, overlooked by investment managers, redlined and saddled with educational debt, many turned to more esoteric opportunities." • Exactly as a generation of Black wealth was destroyed by the Great Financial Crash and Obama's subsequent housing policies.
Class Warfare
"Inequality in Society Drives Stock-Market Performance" [Wall Street Journal]. "[S]tocks and other financial assets are just tokens whose price is determined by supply and demand. Most of the time it is demand that matters most, with large amounts of supply—IPOs and secondary issues—usually a symptom of excessively high prices. It turns out that one of the biggest drivers of that demand in the long run is how unequal society is. The argument is pretty simple, as laid out by Jacques Cesar, a former managing partner at Oliver Wyman now leading a research project for the management consultancy: The rich save more and are more willing to take the extra risk of putting their savings into stocks. Mr. Cesar calculates that one household earning $1 million a year would put about 20 times as much into stocks as the total invested by 20 households each with an income of $50,000, based on averages for their income groups, even though their overall income is the same. Raise inequality and demand for stocks goes up, and so do prices. This doesn't mean traditional financial metrics are irrelevant. But it helps explain why there has been an upward trend in valuations over the past 40 years, as U.S. inequality has soared. More millionaires and billionaires are buying stocks because there are more millionaires and billionaires. At the same time, there are more millionaires and billionaires because profit margins are high—for many reasons, including increased monopoly power—and companies choose to pay their top people much more than in the past. 'There's a duality,' Mr. Cesar says. 'Ultimately they're two faces of the same coin. [Company] earnings are both cause and consequence of high income inequality.'" • A duality. Or a contradiction.
"Railroading workers" [Popular Information]. "The dispute boils down to one issue: paid sick leave. … Railroad companies have adamantly refused to include any short-term paid leave. That means rail workers must report to work, even when they are sick, or forfeit their pay. "It's an insane and cruel system, and these guys are fed up with it," Peter Kennedy, chief negotiator for the maintenance workers union, which rejected the deal, said. Rail workers say that some colleagues come to work with COVID because they can't afford to take time off. The maintenance workers are seeking a deal with at least four paid sick days. The railroad companies, according to the union, are unwilling to negotiate." • Four. Sick. Days.
"Reports from Striking University of California Philosophy Graduate Students" [Daily Nous]. "During my time in San Diego I've always spent more than 50% of my income on rent. My landlord recently raised my rent so I'm now paying about 75% of my income on rent. I simply can't afford that. I'm trying to find a place to move, but it's nearly impossible to find a place. Not just a place that's safe or reasonably close to campus. It's nearly impossible just to find a place, any place, that I can afford with my stipend. I work full-time over the summer and try to find ways to make extra money during the academic year, all just to be able to pay my bills. It's undeniable that I would be a better philosopher and better teacher if I had been able to spend those countless hours doing what I came to UCSD to do instead of spending that time trying to survive. It harms grad students, our departments, the students we teach, our universities, and the discipline of philosophy as a whole when grad students are forced to spend inordinate amounts of time making extra money instead of focusing on our work. That's why we need more money. ~ UCSD Philosophy Graduate Student."
"The Culture Workers Go On Strike" [The New Republic]. "This season culture workers are organizing against their own exploitation. Professors of art, workers at museums, and assistants at a publishing house have all gone on strike or staged public protests during contract negotiations. Call this a black-turtleneck-worker uprising rather than a white-collar one. 'Wages are stagnant and we earn far lower salaries than our peers elsewhere,' the union representing employees at the Brooklyn Museum recently tweeted. They've been busy protesting outside their work site. During one action, workers held up signs decrying the vacuity of the VIP opening for the museum's haute couture fashion exhibit: One read, 'You can't eat prestige.' (The union is calling for a 7 percent salary increase this year and raises of 4 percent per year for each of the two years following.) Unions are currently on strike at the publisher HarperCollins and at the University of California system, where 48,000 academic workers are sitting out their underpaid teaching gigs."
News of the Wired
I remain, today, unwired.
* * *
Contact information for plants: Readers, feel free to contact me at lambert [UNDERSCORE] strether [DOT] corrente [AT] yahoo [DOT] com, to (a) find out how to send me a check if you are allergic to PayPal and (b) to find out how to send me images of plants. Vegetables are fine! Fungi and coral are deemed to be honorary plants! If you want your handle to appear as a credit, please place it at the start of your mail in parentheses: (thus). Otherwise, I will anonymize by using your initials. See the previous Water Cooler (with plant) here. From Timotheus: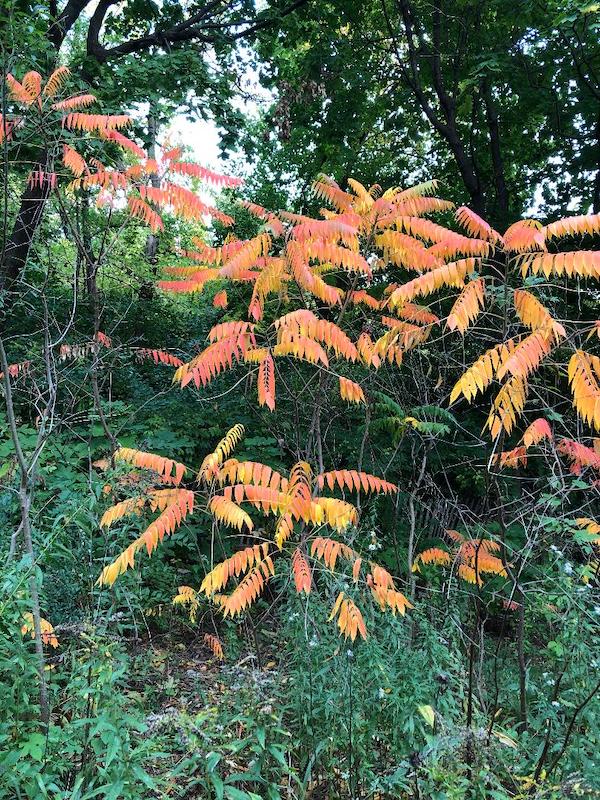 Timotheus writes: "Stands out amidst the green, Isham Park, upper Manhattan."
* * *
Readers: Water Cooler is a standalone entity not covered by the annual NC fundraiser. So if you see a link you especially like, or an item you wouldn't see anywhere else, please do not hesitate to express your appreciation in tangible form. Remember, a tip jar is for tipping! Regular positive feedback both makes me feel good and lets me know I'm on the right track with coverage. When I get no donations for five or ten days I get worried. More tangibly, a constant trickle of donations helps me with expenses, and I factor in that trickle when setting fundraising goals:
Here is the screen that will appear, which I have helpfully annotated: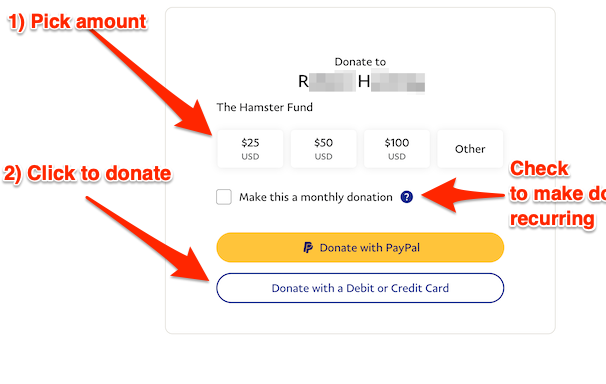 If you hate PayPal, you can email me at lambert [UNDERSCORE] strether [DOT] corrente [AT] yahoo [DOT] com, and I will give you directions on how to send a check. Thank you!