By Lambert Strether of Corrente
Bird Song of the Day
Flavescent Flycatcher, Pichincha, Ecuador. Ornate, handsome, now flavescent!
* * *
Politics
"But what is government itself, but the greatest of all reflections on human nature?" –James Madison, Federalist 51
"Here's food for thought, had Ahab time to think; but Ahab never thinks; he only feels, feels, feels" –Herman Melville, Moby Dick
"So many of the social reactions that strike us as psychological are in fact a rational management of symbolic capital." –Pierre Bourdieu, Classification Struggles
Biden Administration
Good, but so very far below the hopes and dreams of so many:

At a time of record profits in the rail industry, it's unacceptable that rail workers have ZERO guaranteed paid sick days. It's my intention to block consideration of the rail legislation until a roll call vote occurs on guaranteeing 7 paid sick days to rail workers in America.

— Bernie Sanders (@SenSanders) November 29, 2022

And see the Railroad Workers United Open Letter below. And:

Following productive conversations between CPC members and Leadership, the House will pass contract legislation for railway workers that includes paid sick leave.

Progressives have championed paid leave across industries, and we won't abandon that commitment.

Chair @RepJayapal: pic.twitter.com/SG3ILhskdK

— Progressive Caucus (@USProgressives) November 30, 2022

Now I have to understand "enrollment correction":

Following productive conversations between CPC members and Leadership, the House will pass contract legislation for railway workers that includes paid sick leave.

Progressives have championed paid leave across industries, and we won't abandon that commitment.

Chair @RepJayapal: pic.twitter.com/SG3ILhskdK

— Progressive Caucus (@USProgressives) November 30, 2022

"Accompanied by." Hmmm.

The dogs that don't bark:

The union leadership question throughout this process is totally glaring. https://t.co/RzqhK9RWD3

— Jonah Furman (@JonahFurman) November 29, 2022

* * *

"Biden's Secret Service rental vehicles burst into flames after he left Nantucket vacation" [FOX News]. "Biden spent Thanksgiving on the ritzy Massachusetts island with his family last week. The Secret Service rented five vehicles from Hertz to carry the president and his family, and all five of them caught fire in the parking lot, according to footage first obtained by the Nantucket Current… It is currently unknown what caused the fire." • All five?
2022
"In Legislative Elections, Democrats Defied Recent History" [BOLTS]. "Republicans were confident that they would build up power in statehouses and inflict a 'bloodbath' on Democrats. Instead, they failed to win any new legislative chamber, their seat gains are minuscule by recent standards, and their strongest showings are concentrated in places they already dominate. Democrats, meanwhile, flipped four legislative chambers and allied with centrist Republicans to wrestle a fifth chamber away from the GOP. The results have deflated conservative ambitions to channel backlash against the sitting president to leap ahead in states, like they did in 2010 and 2014…. No such wave occurred in 2022. Republicans gained only 22 legislative seats this fall out of more than 6,000 that were on the ballot, according to Bolts's review of the latest available results…. And it gets worse for Republicans. While they managed to net a few seats overall, their biggest gains came in chambers that they already massively control, such as the West Virginia or South Carolina houses, or else in New York, where they are deeply in the minority. By contrast, Democrats soared in closely-divided legislatures and seized four previously GOP-held chambers: Michigan's House and Senate, Minnesota's Senate, and Pennsylvania's House. In addition, the GOP seems to have lost control of Alaska's Senate; a group made up of centrist Republicans and Democratic senators announced on Friday that they would form a coalition to run the chamber. We may not know until 2023 if a similar coalition emerges in the Alaska House, or if the GOP can coalesce to win control of that chamber."
Republican Funhouse
"Aren't You Embarrassed?" [The Dispatch]. "The Mar-a-Lago dinner is a sublime example. If I told you that a once and possibly future president held court with two famous Jew-baiters, you'd be mortified. But if I told you that one of those Jew-baiters was America's most famous African American hip-hop star and his sidekick was a dweeby white nationalist incel, you'd find it hard to take seriously. The MAGA establishment is an endless freak show, and freak shows are scary—but also ridiculous. Many memorable moments of the Trump era are like that. When I think back on them, it's less a linear progression than a vertiginous kaleidoscope of preposterous yet sinister cringe. It's an irreligious Trump holding up a Bible after pushing protesters out of Lafayette Park. It's hair dye running down Rudy Giuliani's face while conniving to overturn a national election. It's Mike Lindell punctuating endless rants about voting machines to hawk pillows. It's Sean Spicer bellowing that Trump's inauguration crowd was the largest in history despite photographic proof to the contrary. It's Steve Bannon in four layered collared shirts casually revealing Trump's 'Stop the Steal' plot in advance. It's Kyle Rittenhouse walking out to virtual confetti and fireworks at a Turning Point USA event. It's Kash Patel pushing conspiracy theories about the 2020 outcome in a children's book. It's grandmas and grandpas turning out for Trump rallies in 'Q' tie-dye. It's cop-punching goons carrying 'Thin Blue Line' flags outside the Capitol on January 6. It's anti-vaxxers dosing themselves with deworming medicine as a folk cure for COVID. It's everything that comes out of Marjorie Taylor Greene's mouth." • From the right. Also an aesthetic argument.
Democrats en Déshabillé
Patient readers, it seems that people are actually reading the back-dated post! But I have not updated it, and there are many updates. So I will have to do that. –lambert

I have moved my standing remarks on the Democrat Party ("the Democrat Party is a rotting corpse that can't bury itself") to a separate, back-dated post, to which I will periodically add material, summarizing the addition here in a "live" Water Cooler. (Hopefully, some Bourdieu.) It turns out that defining the Democrat Party is, in fact, a hard problem. I do think the paragraph that follows is on point all the way back to 2016, if not before:

The Democrat Party is the political expression of the class power of PMC, their base (lucidly explained by Thomas Frank in Listen, Liberal!). ; if the Democrat Party did not exist, the PMC would have to invent it. . ("PMC" modulo "class expatriates," of course.) Second, all the working parts of the Party reinforce each other. Leave aside characterizing the relationships between elements of the Party (ka-ching, but not entirely) those elements comprise a network — a Flex Net? An iron octagon? — of funders, vendors, apparatchiks, electeds, NGOs, and miscellaneous mercenaries, with assets in the press and the intelligence community.

Note, of course, that the class power of the PMC both expresses and is limited by other classes; oligarchs and American gentry (see 'industrial model' of Ferguson, Jorgensen, and Jie) and the working class spring to mind. Suck up, kick down.

* * *
Realignment and Legitimacy
"The Best Tax System on Earth" [People's Policy Project]. "Here, all ordinary wage and tax transactions are processed through a central government system, and TAKS automatically takes out whatever it estimates you owe before the money is deposited in your bank account, along with any welfare payments—like family or unemployment benefits, pension payments, and so on. (Self-employed people and businesses do have to file tax returns, but this can't be avoided.) The Faroes also have an exceptionally clean tax code, with no deductions of any kind for ordinary employment income. The Faroese code could be printed on a fancy restaurant menu…. But TAKS is a substantial upgrade even from the world's most efficient and hassle-free tax systems, which provides several immediate advantages. First, because it monitors every income stream for each individual, and does it continuously instead of once a year, it can automatically adjust tax withholding on the fly, and almost always hits the correct figure. "When the year is over, almost everybody ends up with 'oh, it's correct. I don't have to pay anymore, and I don't get any money back,'" said Mørkøre. Continuous collection also eliminates the time risk of the government losing out on tax payments if companies go bankrupt before TAKS could cash their checks. Second, nearly all government benefit payments are consolidated and partly automated. Instead of welfare agencies having to maintain their own payment systems—like how each American state maintains a separate unemployment bureaucracy, many of which are severely dysfunctional—the government simply tells TAKS who is eligible for what program, and the payments are rolled into the daily distribution. Third, most of the burden of payroll processing is removed from employers. "Business, they are very happy about this," Mørkøre told me. 'They don't have to do anything else—they don't have to transfer some money to the tax authorities or some pensions, or the other funds, nothing. It's all done at the same time.' Fourth, TAKS's requirement that everything happens through their bank-centered system both greatly simplifies their administrative tasks and ensures that virtually every person has a bank account." • Population: 45,000.

"The Perpetually Irrational Ukraine Debate" [Stephen Walt, Foreign Policy]. "What if the war does end in a messy and disappointing compromise instead of the happy Hollywood ending most of the world would like to see? Despite the welcome progress Ukraine has made in recent months, such an unsatisfying outcome may still be the most likely result. If Russia still controls substantial amounts of Ukrainian territory a year from now, Ukraine has suffered additional damage in the interim, Putin still rules in Moscow despite the harm his war has done to Russia, and the United States' European allies have had to absorb another influx of refugees and endure difficult Ukraine-related economic hardships, then it will be increasingly difficult for the Biden administration to spin this war as a success story. The finger-pointing, blame-casting, and blame-avoidance will then make today's rancorous debate seem mild by comparison. Unfortunately, these are the sort of political circumstances that lead presidents to keep distant wars going. Even if there's no plausible path to victory, the desire to avoid being accused of not having done enough tempts them to escalate in some way or kick the can down the road. (In case you've forgotten, that's pretty much how the United States ended up in Afghanistan for nearly two decades.) U.S. President Joe Biden and his team haven't given themselves a lot of wiggle room, and their freedom of action is further reduced when any hint of less-than-total support for Kyiv generates a firestorm of hawkish denunciations."

"Oath Keepers founder guilty of sedition in U.S. Capitol attack plot" [Reuters]. "Oath Keepers founder Stewart Rhodes, and another leader of the right-wing group, were found guilty on Tuesday of seditious conspiracy for the attack on the U.S. Capitol by Donald Trump supporters, an important win for the Justice Department…. All five defendants were convicted of obstruction of an official proceeding – the congressional certification of the election results – with mixed verdicts on a handful of other charges. The charges of seditious conspiracy and obstruction of an official proceeding each carry a sentence of up to 20 years in prison. Two more high-profile trials related to the attack are due to begin next month. Four other Oath Keepers members face seditious conspiracy charges, as do members of the right-wing Proud Boys group, including its former chairman Enrique Tarrio." • A sad fate for an organization riddled with FBI informants.

* * *

"Detroit Voting Machine Failures Were Widespread on Election Day" [Time]. "ore than 80 voting machines in Detroit malfunctioned on Election Day, officials say, resulting in ballot discrepancies in 59% of precincts that raise questions about the reliability of future election results in a city dominated by Democratic and minority voters. 'This is not the first time,' adds Daniel Baxter, elections director for the city. 'We've had this problem in nearly every election that we administer in the city of Detroit.' Baxter says that the machines were tested for accuracy before election day in accordance with state and federal guidelines, but that sometimes the machines 'hit up against each other and malfunction' as they're being transported to the precincts. The machines were optical scanners, meaning they registered and counted the votes marked on paper ballots. Many of the machines jammed over the course of election day, perhaps because Michigan had a two-page ballot this year, which meant that paper ballots were collected but inconsistently recorded by the machines. Michigan does not have early voting, so any mechanical malfunction would necessarily happen on election day, since that's the only day the machines are used. That's why so many machines malfunctioned at the same time. 'You don't expect a laptop to last 10 years, and you shouldn't expect a voting machines to last 10 years,' says Detroit City Clerk Janice Winfrey." • … hand-counted in public.
#COVID19
Lambert here: I can't call a winter surge, but I'm not uncalling it either. High transmission (CDC), the elevation and continued increase in positivity (Walgreens), and the steady takeover of BQ.1* (CDC; Walgreens) are all more than a little unsettling (as is the apparent proliferation of variants). Stay safe out there! (As one might expect at the beginning of a holiday surge, wastewater in Queens County, NY (JFK/LGA), Cook County, IL (ORD), and Los Angeles County (LAX) are all elevated, with JFK/LGA and LAX being more elevated than last week, and ORD the same. Hospitalization in BQ.1*-dominated New York continued to increase before Thanksgiving, so let's see what happens after.
* * *
• "One shot, once a year":
One shot, once a year—that's all most people will need to stay protected from COVID year-long. Make a plan to get your shot at https://t.co/ddwWZdNCgg.

— Vice President Kamala Harris (@VP) November 28, 2022
Look, I know this is Kamala Harris, but it's still disinformation. "One shot." Really? Not last year! Show me the study. "Stay protected." From Long Covid? From vascular and neurological damage? Really? No, not really. Harris's lying would be shocking if it were not so routine.
* * *
• "How to think like an aerosol scientist this holiday season to stay healthy" [Colorado Public Radio News]. This is a really good wrap-up, worth reading in full. "Jose-Luis Jimenez, a chemistry professor at the University of Colorado Boulder, believes those worried about sicknesses ruining holiday plans could do one simple thing to reduce risk of infection — thinking about ventilation and airflow as you go about your day. ',' Jimenez said. Throughout the pandemic, his constant companion (besides a well-fitted N95 mask) is an ordinary-looking, simple tool: a clear square box, which regularly posts a number in large black font. He takes a carbon dioxide monitor everywhere — his office at CU, museums, fast food joints, planes, trains, automobiles, along on his travels to his native Spain, and more. His goal is to promote awareness of aerosols in the transmission of illness, through the monitoring of carbon dioxide in indoor environments. High levels of carbon dioxide means a space is poorly ventilated, and there's a greater chance of breathing in a virus someone else might be carrying. The general concept, he said, is summarized by a maxim in the aerosol research world: the solution to pollution is dilution. Jimenez said people are just starting to understand the risk of dirty air as similar to the way humans learned of the dangers of dirty water."
* * *
• "The Mystery of the COVID jogger" [Bob Morris, DropCite]. Here is an annotated version of the original paper from China CDC Weekly. This is a useful summary of the paper, with maps of the part and seating diagrams. Morris comments: "I have been criticized for calling the evidence of jogger as the source of the outbreak through airborne spread in the park 'overwhelming'. After reconsidering, I agree that this was not the right word. Instead, if these data are accurate, I would call this as close to metaphysical certainty as I have ever seen in 34 years as an epidemiologist. This all depends on data accuracy. I have included a series of questions to the authors in China and reached out to ask them to weigh in." • Here are the questions: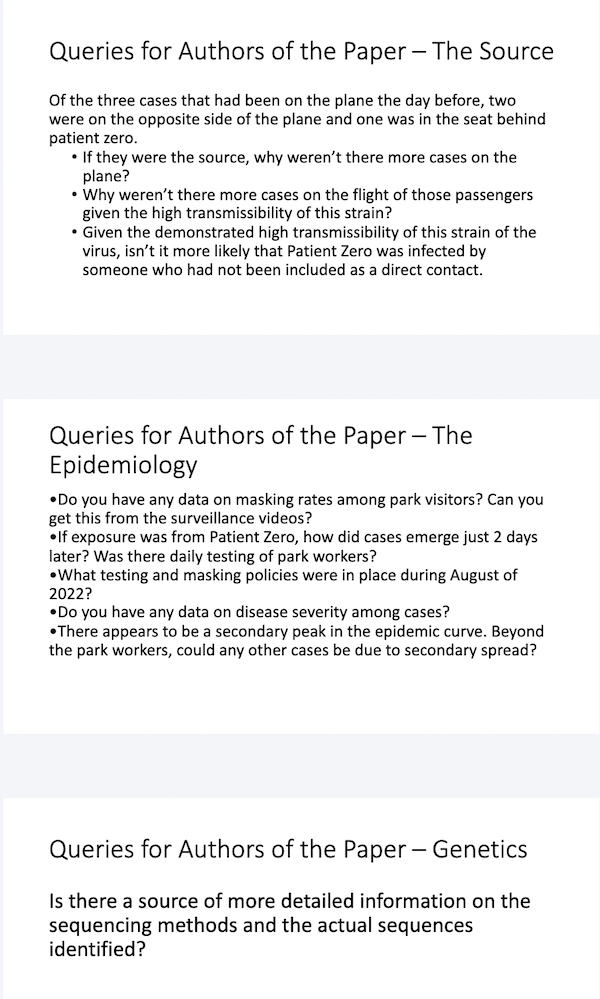 * * *
• Good!
We did it!

Every indoor gathering space at my kids' school has at least one #corsirosenthalbox.

We built in the same spot I first offered HEPA filters for every class over 15 months ago. What a journey!

I'm so grateful to @JimRosenthal4 @CorsIAQ @kprather88 and more. pic.twitter.com/HTZx68kGio

— Liesl McConchie (@LieslMcconchie) November 30, 2022
I just wish I knew how widespread CR boxes are. Plenty of tweets, but at some point you'd expect an association of some sort.
* * *
• "Persistent alveolar type 2 dysfunction and lung structural derangement in post-acute COVID-19″ (preprint) [bioRxiv]. Lung imaging study, n = 11. From the Discussion: "We observed that PC cases showed distinct features in comparison to healthy lung or acute COVID-19, with extensive derangement of the vascular network characterized by increased microvascularization and NET-induced [neutrophil deployment of extracellular traps] vascular damage. Thrombosis as well as intussusceptive and sprouting angiogenesis have been found in acute COVID-19 at higher levels than in Influenza patients. The fact that in our data we find the level of vascular derangement higher in post-acute than in acute COVID-19 suggests that ." • Ulp.
* * *
Transmission
Here is CDC's interactive map by county set to community transmission (the "red map"). (This is the map CDC wants only hospitals to look at, not you.)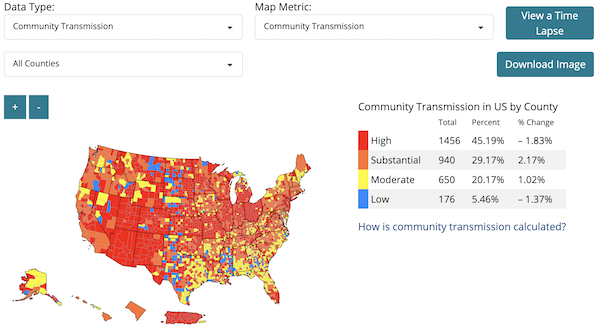 Positivity
From the Walgreen's test positivity tracker, published November 29: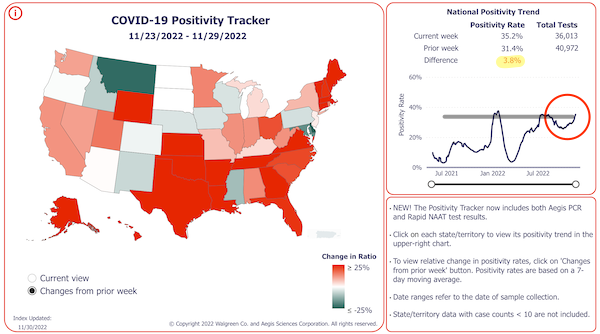 3.8%. Yesterday was 3.2%. We now have not only an increase, but an increase in the rate of increase. NOTE I was wrong yesterday. This chart is based on a seven-day moving average. So there's a train rolling. Let's see how fast and hard.
Wastewater
Wastewater data (CDC), November 26: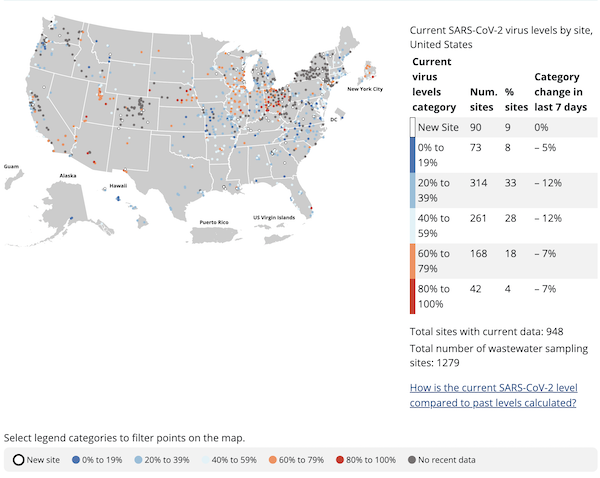 November 22: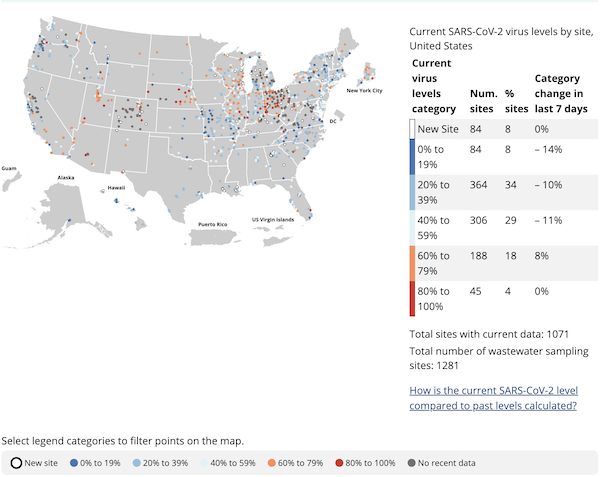 And MWRA data, November 22: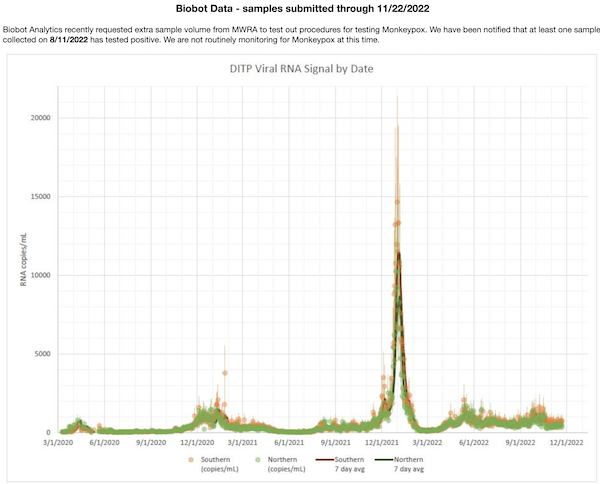 Lambert here: Nothing special, but note the date.
Variants
Lambert here: It's beyond frustrating how slow the variant data is. Does nobody in the public health establishment get a promotion for tracking variants? Are there no grants? Is there a single lab that does this work, and everybody gets the results from them? [grinds teeth, bangs head on desk]. UPDATE Yes. See NC here on Pango. Every Friday, a stately, academic pace utterly incompatible with protecting yourself against a variant exhibiting doubling behavior.
Variant data, national (Walgreens), November 13: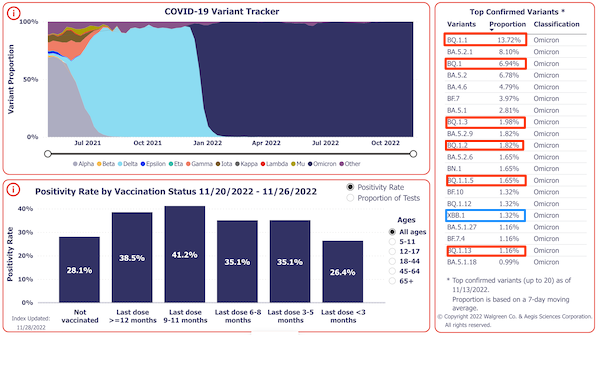 Lambert here: BQ.1* moving along quite briskly, though lower than CDC. XBB coming up on the charts.
Variant data, national (CDC), November 5 (Nowcast off):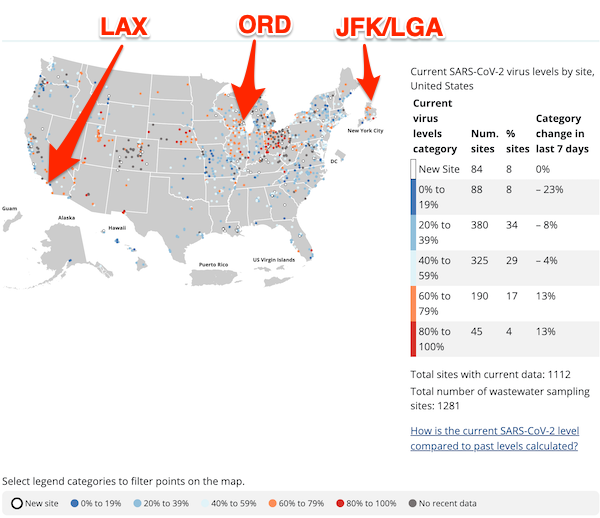 BQ.1* moving along quite briskly. Note the appearance of XBB, and see the highlighted note: Like BQ.1*, XBB appears suddenly when CDC decides to disaggregate the data. Exactly as with CDC's infamous "green map," a lag is introduced, this time by CDC's decision-making process; Walgreens had XBB last week, but CDC has it only this week. I don't see what purpose the aggregation serves. If the issue is a jillion low-circulation variants would make the table impossibly long and confusing for users, that's a UI/UX issue; handle it with software. Have a slider/filter that aggregates variants under 1%, say. Allow scrolling the results. Whatever. But stop concealing data!
New York/New Jersey (Region 2) numbers are higher: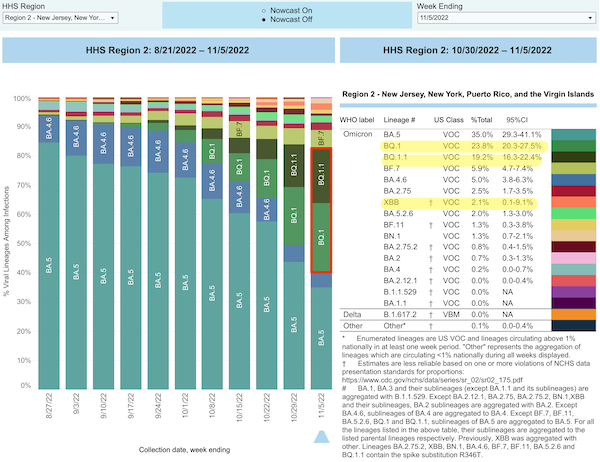 • NOT UPDATED As a check, since New York is a BQ.1* hotbed, New York hospitalization, updated November 29: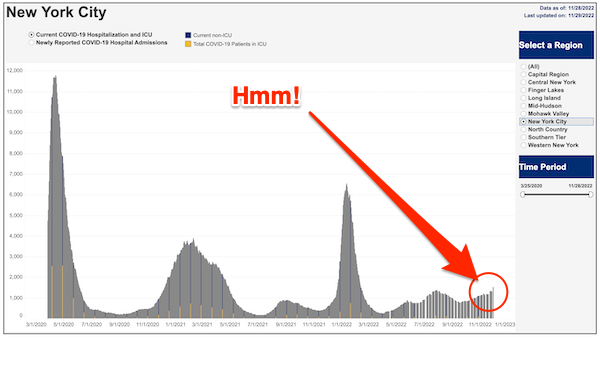 Lambert here: Unlike positivity, these rates are not smoothed, so we really can't be sure if there's a train rolling or not. Nevertheless, we now have not only an increase, but an increase in the rate of increase.
Deaths
Death rate (Our World in Data):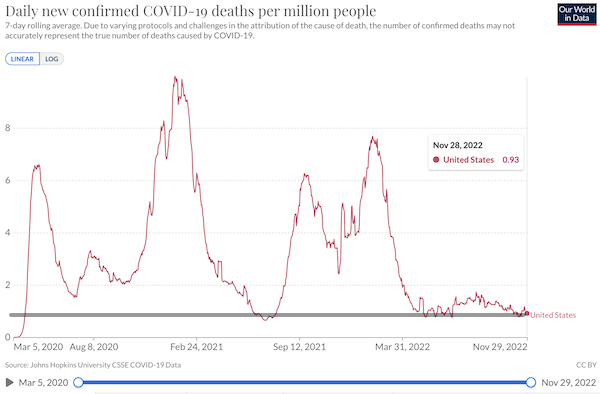 Total: 1,105,049 – 1,104,879 = 170 (170 * 365 = 62,050 deaths per year, today's YouGenicist™ number for "living with" Covid (quite a bit higher than the minimizers would like, though they can talk themselves into anything. If the YouGenicist™ metric keeps chugging along like this, I may just have to decide this is what the powers-that-be consider "mission accomplished" for this particular tranche of death and disease).
It's nice that for deaths I have a simple, daily chart that just keeps chugging along, unlike everything else CDC and the White House are screwing up or letting go dark, good job.
Stats Watch
Employment Situation: "United States ADP Employment Change" [Trading Economics]. "Private businesses in the US created 127K jobs in November of 2022, the least since January of 2021, and well below market forecasts of 200K. The slowdown was led by the manufacturing sector (-100K jobs) and interest rate-sensitive sectors like construction (-2K), professional/business services (-77K); financial activities (-34K); and information (-25K). The goods sector shed 86K jobs. On the other hand, consumer-facing segments were bright spots."
GDP: "United States GDP Growth Rate" [Trading Economics]. "The US economy grew an annualized 2.9% on quarter in Q3 2022, better than an initial estimate of 2.6%, and beating forecasts of 2.7% reflecting upward revisions to consumer and business spending and net trade."
Manufacturing: "United States Chicago PMI" [Trading Economics]. "The Chicago PMI in the United States tumbled to 37.2 points in November of 2022 from 45.20 points in the previous month, marking the third consecutive month of contractions. It is the lowest reading since May of 2020, well below market forecasts of 47."
Profits: "United States Corporate Profits" [Trading Economics]. "Corporate profits in the United States went down 0.2 percent to USD 2.52 trillion in the third quarter of 2022, after a 6.2 percent rise in the previous period."
* * *
The Bezzle: Giving Andrew Ross Sorkin the help that he needs:
2/ Stealing Customer Funds

The FTX Terms of Service are very clear that customer assets belong to the customer–not to FTX.

You realize it was illegal for you to misappropriate assets from your customers' accounts, right?

— MetaLawMan (@MetaLawMan) November 29, 2022
The Bezzle: "Crypto Lenders' Woes Worsen as Bitcoin Miners Struggle to Repay Debt" [Bloomberg]. "Beleaguered crypto lenders are being dealt another blow from Bitcoin miners as they weather the aftermath of the FTX collapse. Miners, who raised as much as $4 billion from mining-equipment financing when profit margins were as high as 90%, are defaulting on loans and sending hundreds of thousands of machines that served as collateral back to lenders. New York Digital Investment Group, Celsius Network, BlockFi Inc., Galaxy Digital, and the Foundry unit of Digital Currency Group were among the biggest providers of funding to finance computer equipment and build data centers." • Eesh, so out of this bubble we're not even getting some leftover infrastructure?
The Bezzle: "The secret to Liver King's success? Steroids" [Unherd]. "Over the course of the past year, an 'ancestral fitness' personality named Brian 'Liver King' Johnson has become a ubiquitous presence on the internet. Skyrocketing from relative obscurity to become an influencer with millions of followers, this short, thickly-bearded, heavily-tanned, and always-shirtless man cuts an impressive figure who belies his 45 years. He attributes his eye-catching physique to the consumption of raw organ meats and testicles in conjunction with an 'ancestral lifestyle' built on nine tenets ('wins,' 'primals,' 'move,' 'eat,' 'cold,' and so on). Even as his fame grew and high-profile people in the sports and fitness world, like podcaster Joe Rogan, accused him of steroid use, the Liver King merely said he was glad famous people were talking about him. At the same time, he adamantly maintained that performance-enhancing drugs played no role in the development of his physique — which he claimed to have been building since he was a teenager. It should come as little surprise, then, that emails written by Johnson himself, asking for advice about the steroids he was using, were eventually forwarded to the YouTube fitness channel More Plates, More Dates."
* * *
Today's Fear & Greed Index: 67 Greed (previous close: 60 Greed) [CNN]. One week ago: 62 (Greed). (0 is Extreme Fear; 100 is Extreme Greed). Last updated Nov 30 at 1:45 PM EST.
Our Famously Free Press
"Twitter is no longer enforcing its Covid misinformation policy" [CNN]. "Twitter said it will no longer enforce its longstanding Covid misinformation policy, yet another sign of how Elon Musk plans to transform the social media company he bought a month ago. In 2020, Twitter developed an extensive set of rules that sought to prohibit 'harmful misinformation' about the virus and its vaccines. Between January 2020 and September 2022, Twitter suspended more than 11,000 accounts for breaking Covid misinformation rules and removed almost 100,000 pieces of content that violated those rules, according to statistics published by Twitter. The policy received acclaim from medical professionals: In an advisory to technology platforms, US Surgeon General Dr. Vivek Murthy cited Twitter's rules as an example of what companies should do to combat misinformation. Twitter did not appear to formally announce the rule change. Instead, some Twitter users Monday night spotted a note added to the page on Twitter's website that outlines its Covid policy. 'Effective November 23, 2022, Twitter is no longer enforcing the COVID-19 misleading information policy,' the note read. Musk has promised to restore many previously banned Twitter accounts as soon as this week. It is possible that among the restored accounts will be some of the 11,000 banned under Twitter's former Covid misinformation rules." • I am in some sympathy with aghastitude on this. However, the greatest and most effective misinformation in the entire pandemic came and continues to come from trusted institutional sources: WHO and CDC, on airborne transmission and masks. And yet those two accounts are not among the 11,000 banned. This appears to me and other old-timers as a moderation issue. And moderation is hard:
1. You need moderation
2. It doesn't have to be perfect but it has to be present
3. It needs to be flexible with some discretion for the moderators to boot bad actors or those bad actors will game the rules
4. Discriminatory harassment has to be banned

— Will Stancil (@whstancil) November 29, 2022
And:
or, you know, find one of those mods and pay them a bunch of money

— Atrios (@Atrios) November 29, 2022
I've been dubious that moderation can scale; but Reddit is moderated. Twitter has 206 million daily active users, and Reddit 52 million, but at least it's not an order of magnitude difference.
On blogs:
A small tragedy of the internet: The blogs of the early 2000s literally shifted culture (pop or otherwise) as we know it. But I'm going back to some old famous ones trying to read them and most JUST DON'T EXIST ANYMORE. All that culture-shifting writing just GONE.

— a.b. (@AlannaBennett) November 29, 2022
Twitter seems to be stirring up (justified) feelings of reminiscence for what was lost.
"Choosing not to kill off millions of vulnerable people (as the US is doing) isn't a 'critical flaw'"
I cannot believe 'Murican progressives right now are sounding just like Qanon MAGAts two years ago.

Actually, no, scratch that. I can totally believe that. 😂 https://t.co/MR0bJ5cO70

— 38Parrots (@Parrots38) November 29, 2022
I hold no brief for Taylor Lorenz, but she's right on that.
Zeitgeist Watch
"The Fetishization of the Old" [Sam Bankman-Fried, Measuring Shadows]. His blog. From 2015, still germane: "We like old plays and old movies and old wines and old instruments and old laws and old people and old records and old music. We like them because they're old and come with stories but we convince ourselves that there's more: we convince ourselves that they really were better." • Based on this post — and SBF's subsequent career — "we" are right. The old was better.
"When High Fashion and QAnon Collide" [New York Times]. More on Balenciaga, and I've seen the photos from Balenciaga's campaign: creepy child abuse. "As online criticism of the campaigns spread, the story was picked up across right-leaning media outlets, including The New York Post and the prime time Fox News show 'Tucker Carlson Tonight.' The show has helped to publicize and mainstream QAnon, the internet conspiracy theory that 'a group of Satan-worshiping elites who run a child sex ring are trying to control our politics and media.' 'Here you have a major international retail brand promoting kiddie porn and sex with children,' Mr. Carlson told viewers on Nov. 22, 'and not promoting it subtly but right out in the open.'" Carlson is, in fact, accurate (though the sexualization of children isn't confined to Balenciaga). Further, the Times headline is deceptive. Nowhere does the Times indicate that QAnon per se was actually involved. More: "The social media ire has moved beyond the brand to envelop swaths of the global fashion industry — including the celebrities who are often its billboards — for not being more openly critical of Balenciaga's provocative marketing strategy." • "Provocative marketing strategy"? If I were inclined to believe that "a group of Satan-worshiping elites who run a child sex ring are trying to control our politics and media," the initial Times distortion plus its weird whitewashing and reframing" would be another stage in my journey down the QAnon rathole. Holy moley.
Class Warfare
"Railroad Workers United Open Letter to Congress and the President" [Railroad Workers United, Google Docs]. Strong stuff:
Senator Sanders has tweeted that he will "block consideration of the rail legislation until a roll call vote occurs on guaranteeing 7 paid sick days to rail workers in America". We applaud this effort but we also note that rail workers are fighting for 15 days of sick leave and that the United States is the only country in the developed world that does not guarantee paid sick leave. Under the threat of a railroad strike, which will cripple the US economy if executed, the opportunity has opened up for all working people in the country to stand in solidarity with railroad workers and demand what we deserve, the right to live in dignity.
And:
As members of Congress debate amendments to the Tentative Agreement in order to avert a railroad strike, we urge Congress and the President to also take hold of this historic opportunity to empower all working people. As such we urge Congress to adopt the following demands:

1. Public Ownership of the Railroads: To deal with the current supply chain crisis, Congress must take control of rail infrastructure as is done the world over and operate it under the public interest.

2. Universal Paid Family and Sick Leave: The United States is the only developed country that does not guarantee paid leave. Our members of Congress have the privilege of enjoying paid family and sick leave which must be expanded to include all working people.

3. Pass the PRO Act and Fund the NLRB: Congress must step up and ensure that the right to organize for working people is protected through the passage of the PRO Act and also ensure that the NLRB is properly funded to accommodate the sharp increase in unionization.
Note that RWU is a caucus of craft union members, and not a rail union per se. It's possible to add your signature.
"Web3, the Metaverse, and the Lack of Useful Innovation" [American Affairs]. "For the past decade, the United Way's ALICE program has attempted to measure how much of the population faces economic hardship, taking into account both the cost of living and available incomes. Working at the county level in about half of the United States, alice routinely finds that about 40 percent of the population struggles to make ends meet. While this reality hits some groups harder than others, it affects all races, genders, and other identities, from the majority of white populations in, for example, dying manufacturing and mining towns in Appalachia to majority black populations on the Southside of Chicago or rural Alabama. The reality of hardship plays out in places with long-standing black poverty, examined in classics like William Julius Wilson's When Work Disappears (1996), as well as in Anne Case and Angus Deaton's study of the more recent rise of 'deaths of despair.' Our question is whether newly hyped technologies, like the Metaverse, Web3, and blockchain, have any chance of changing this basic picture. There are many reasons to be skeptical that they can. In many ways, the Metaverse and Web3 are merely a pivot by Silicon Valley, an attempt to gain control of the technological narrative that is now spiral­ing downward, due to the huge start-up losses and the financial failure of the sharing economy and many new technologies. Huge start-up losses along with the small markets for new technologies have brought forth novel criticisms of Silicon Valley. If we are correct that the newest wave of hot technologies will do almost nothing to improve human welfare and productivity growth, then elected officials, policymakers, leaders in business and higher education, and ordinary citizens must begin to search for more fundamental solutions to our current economic and social ills. In what follows, we will first review Web3 and the Metaverse. Mul­tiple industry insiders claim that these technologies require far better infrastructure than currently exists, and that their constituent technologies of blockchain, crypto, virtual and augmented reality (VR and AR) aren't working well by themselves."
News of the Wired
I don't know if I want to switch to green tea:
Cutting-edge research by scholars at Tongji Medical College, from @HuazhongUST!

This analysis reveals the dose–response relationship between alcohol, coffee or tea consumption and cognitive deficits.
Read more: https://t.co/7XjxyYCjWU pic.twitter.com/eYHShDEbhw

— Cambridge University Press, Asia – Academic (@cambridgeasia) November 30, 2022
* * *
Contact information for plants: Readers, feel free to contact me at lambert [UNDERSCORE] strether [DOT] corrente [AT] yahoo [DOT] com, to (a) find out how to send me a check if you are allergic to PayPal and (b) to find out how to send me images of plants. Vegetables are fine! Fungi and coral are deemed to be honorary plants! If you want your handle to appear as a credit, please place it at the start of your mail in parentheses: (thus). Otherwise, I will anonymize by using your initials. See the previous Water Cooler (with plant) here. From JJD: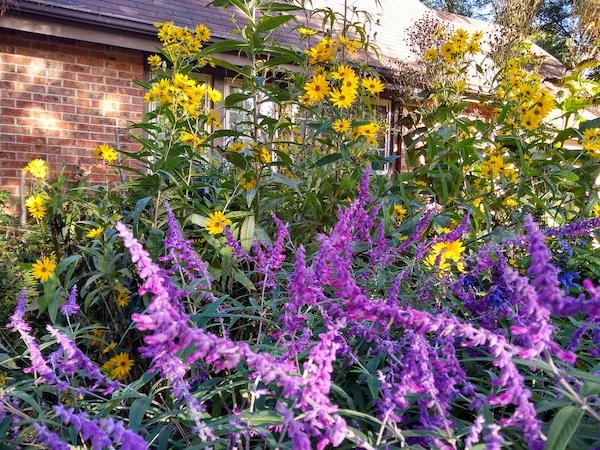 JJD writes: "A nice Fall flowering combination: perennial sunflowers and Salvia leucantha." It is!!
* * *
Readers: Water Cooler is a standalone entity not covered by the annual NC fundraiser. So if you see a link you especially like, or an item you wouldn't see anywhere else, please do not hesitate to express your appreciation in tangible form. Remember, a tip jar is for tipping! Regular positive feedback both makes me feel good and lets me know I'm on the right track with coverage. When I get no donations for five or ten days I get worried. More tangibly, a constant trickle of donations helps me with expenses, and I factor in that trickle when setting fundraising goals:
Here is the screen that will appear, which I have helpfully annotated: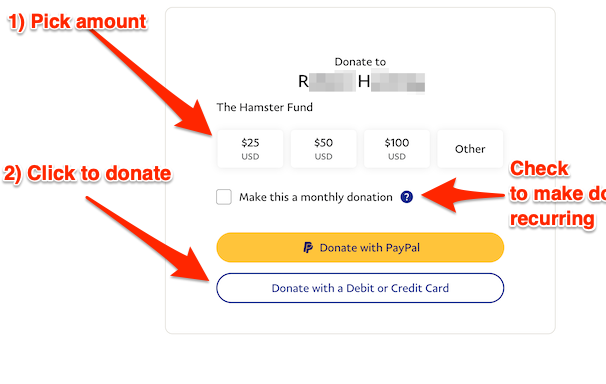 If you hate PayPal, you can email me at lambert [UNDERSCORE] strether [DOT] corrente [AT] yahoo [DOT] com, and I will give you directions on how to send a check. Thank you!