It was really hard to get the most important stunningly bad findings from the latest FTX bankruptcy filing in a headline. So read on for more thrills and chills!
John J. Ray III, the newly appointed CEO of bankrupt crypto player FTX's sprawling empire who played the same role in the then-biggest-evah Enron bankruptcy and other big corporate implosions, filed his formal initial assessment with the Delaware bankruptcy court in the form of declaration, embedded below.
The document makes clear that FTX was an unprecedented steaming mess of lack of controls and plenty of what looks like fraud, although Ray pointedly just sets forth bad facts and lets knowledgeable readers draw inferences. The record-keeping failure is so extensive that it sounds as if Ray is going to have to build a significant new company, from the ground up, to try to figure out what is what. Yet it's also clear that much will wind up missing, particularly money. Ray said right at the top that a "substantial portion" of FTX assets may be stolen or missing.
At the stage of this filing, Ray could only make an approximate description of the business, putting operations into four "silos" and describing the major legal entities and activities in each.
Let us look at the things FTX did not have:
Balance sheets that showed crypto customer funds as liabilities1. The only customer holding on the consolidated balance sheets are fiat currencies!
Digital asset controls: "The FTX Group did not keep appropriate books and records, or security controls, with respect to its digital assets."
An accounting department
Audited financials for all businesses. Only one "silo" used a recognized audit firm. The biggest customer-facing silo had its books prepared by a no-name flake (office in the Metaverse, you cannot make this up), two had no audited statements2
Record of bank accounts and signers on those accounts
Centralized cash management
Record of employees and their employment terms
Meaningful disbursement controls
Board meetings and/or "audited by flaky auditor" financials for many FTX entities
Records of most decisions
So far, Ray has found only $564 million of cash and has moved $760 million of crypto to cold wallets.
However, four entities appear to be solvent! And guess what, three were regulated ones: LedgerX LLC, d/b/a FTX US Derivatives, regulated by the CFTC; FTX
Capital Markets LLC, an SEC-registered broker-dealer; Embed Financial Technologies Inc., and its wholly-owned non-Debtor subsidiary Embed Clearing LLC, which are also SEC-registered broker-dealers. The fourth was "FTX Value Trust Company, a South Dakota Trust Company, which provides custodial services." It appears that this custodian handled only fiat assets.
Oh, and as to that $1 billion loan to Bankman-Fried personally, it's in a footnote, along with a $2.3 billion loan to a Bankman-Fried solely-owned entity: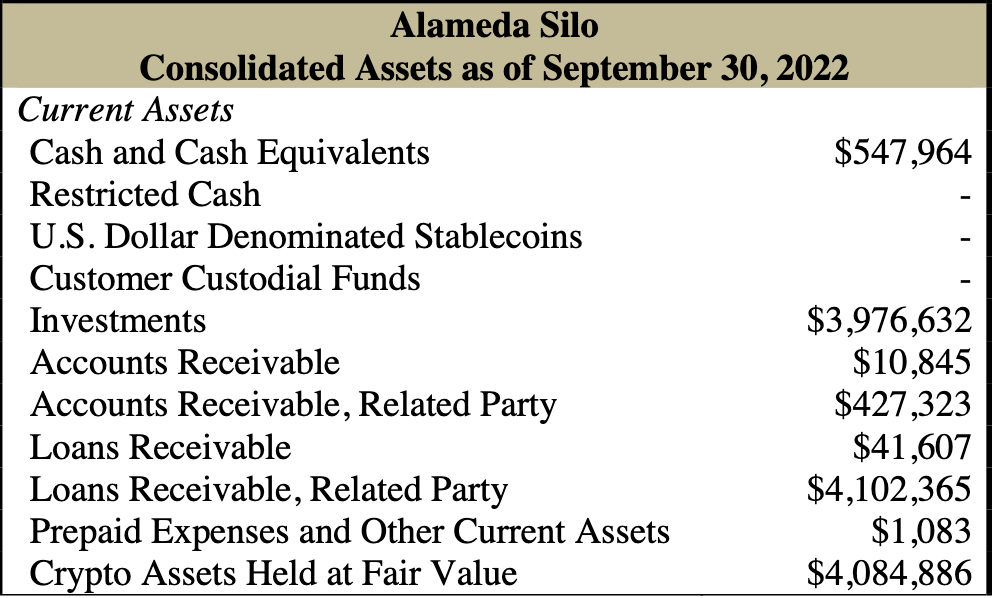 Paper Bird is 100% owned by Bankman-Fried. From The Information:
New filings in crypto exchange FTX's bankruptcy case revealed that Alameda Research loaned co-founder Sam Bankman-Fried $3.3 billion. The $3.3 billion included a $1 billion loan to Bankman-Fried and $2.3 billion to Paper Bird Inc., a Delaware-based company owned entirely by Bankman-Fried, according to a Miami-Dade County resolution approving the naming rights to FTX Arena.
I'm waiting for someone to press Bankman-Fried about that, given his sanctimonious handwaves about raising new money to help pay off all the people owed by FTX. What about paying your $3.3 billion back first????
That's not the only not-kosher activity in this filing. Consider:
Unacceptable management practices included the use of an unsecured group email account as the root user to access confidential private keys and critically sensitive data for the FTX Group companies around the world, the absence of daily reconciliation of positions on the blockchain, the use of software to conceal the misuse of customer funds, the secret exemption of Alameda from certain aspects of FTX.com's auto-liquidation protocol, and the absence of independent governance as between Alameda (owned 90% by Mr. Bankman-Fried and 10% by Mr. Wang) and the Dotcom Silo (in which third parties had invested).
And:
For example, employees of the FTX Group submitted payment requests through an on-line 'chat' platform where a disparate group ofsupervisors approved disbursements by responding with personalized emojis.
On top of that:
In the Bahamas, I understand that corporate funds of the FTX Group were used to purchase homes and other personal items for employees and advisors. I understand that there does not appear to be documentation for certain of these transactions as loans, and that certain real estate was recorded in the personal name of these employees and advisors on the records of the Bahamas.
Tax fraud! I assume many of the FTX employees were American citizens. When is the IRS going to have a good look?
Oh, and post-BK filing stealing, which in the trade is called "fraudulent conveyance":
(a) at least $372 million of unauthorized transfers initiated on the Petition [bankruptcy filing] Date..(b) the dilutive 'minting' of approximately $300 million in FTT tokens by an unauthorized source after the Petition Date and (c) the failure of the co-founders and potentially others to identify additional wallets believed to contain Debtor assets
If you still think that this train wreck was merely the result of a bunch of young super entitled kids who could barely run a lemonade stand playing at high finance, the plans of Bankman-Fried and his sometimes girlfriend Ellison to flee to Abu Dhabi, where the US has no extradition treaty, should give you pause, as should software designed to hide misappropriation of customer funds and making private keys public, as in easy to steal. And we also have:
Mr. Bankman-Fried often communicated by using applications that were set to auto-delete after a short period of time, and encouraged employees to do the same.
There is also a lot of confused commentary on Twitter. The Bahamas regulator is fighting with the US petitioners over who is top dog in this process; the Bahamas regulator filed a so-called Chapter 15 filing. From the Wall Street Journal on November 16:
Securities regulators in the Bahamas are seeking to control FTX bankruptcy proceedings through the crypto exchange's locally based subsidiary, challenging the company's chapter 11 filing in Delaware and setting the stage for a possible venue dispute with its new U.S. management.

FTX Digital Markets Ltd., the crypto company's subsidiary based in the Bahamas, filed for chapter 15 in New York bankruptcy court on Tuesday to seek U.S. recognition of Bahamian liquidation proceedings. The action, if successful, could move at least a portion of the legal proceedings over the collapse of FTX from the U.S. bankruptcy courts to local courts in the Bahamas….

Mr. Simms [the provisional Bahaman regulator] said Tuesday in a sworn declaration that the Supreme Court of the Commonwealth of the Bahamas has sole jurisdiction over FTX Digital and other entities operated from its "substantial office complex" in Nassau, Bahamas. He said he rejects the validity of any attempt to place FTX affiliates under U.S. bankruptcy protection, saying such an action required authorization from FTX Digital's officers.

Both FTX's exchange and Mr. Bankman-Fried relocated to Nassau in September 2021, according to court documents. Although FTX comprises a "seemingly complex structure," the entire FTX brand ultimately operated from the Bahamas, Mr. Simms said.
Maybe experts can tell me otherwise, but the most important customer activities were not carried out through FTX Digital. If you look at fiat balances as a rough proxy for activity, FTX Digital represented less than 1/10th of the total. Thus it's likely to be quite a stretch for the Bahamas to assert control over much more than the bankruptcy of the Bahama subsidiary.
However, some Twitter commentators are misrepresenting a press release from the Bahamas regulator saying it had assumed control of the assets of FTX Digital as meaning it had taken control of all assets. The Bahama regulator also oddly stated on Thursday that it had ordered all FTX Digital assets to be transferred to cold wallets as of last Saturday. As CoinDesk noted:
It's unclear why the commission made the announcement five days after placing the order. It's also unclear whether and when exactly these transfers may have occurred.
And the row is getting ugly. From the Wall Street Journal's latest story:
FTX lawyers alleged that Mr. Bankman-Fried and the government of the Bahamas have worked to siphon and transfer FTX assets into accounts outside the control of management, even after the company filed for bankruptcy in Delaware last week. Filing for bankruptcy usually ensures that a company's assets are ringfenced and can't be touched without court authorization.

"The Bahamian government is responsible for directing unauthorized access to the debtors' systems for the purpose of obtaining digital assets of the debtors," FTX's lawyers said Thursday. The Securities Commission of the Bahamas didn't immediately reply to a request for comment.
In the meantime, Bankman-Fried seems to be pathologically unconcerned and free of guilt. I suppose having at least $3.3 billion and continued access to controlled substances might explain that. As Kelsey Piper of Vox, who interviewed Bankman-Fried via messaging, wrote:
As we messaged, I was trying to make sense of what, behind the PR and the charitable donations and the lobbying, Bankman-Fried actually believes about what's right and what's wrong — and especially the ethics of what he did and the industry he worked in. Looming over our whole conversation was the fact that people who trusted him have lost their savings, and that he's done incalculable damage to everything he proclaimed only a few weeks ago to care about. The grief and pain he has caused is immense, and I came away from our conversation appalled by much of what he said. But if these mistakes haunted him, he largely didn't show it.
Perhaps Bankman-Fried feels no need to feign being sorry because none of his fellow travelers have either. From the Heisenberger Report:
Keep in mind, these are the entities into which some of the smartest and best known venture capital firms on the planet threw billions of dollars. These are the entities around which countless journalists fawningly editorialized, spilling untold gallons of digital ink in the service of lionizing a would-be messiah. These are the entities that were glorified on a weekly basis by the most widely-followed mainstream financial media outlets on Earth.

The suggestion that this was so elaborate a ruse that no one — neither the most seasoned VCs nor the investigative arms of media conglomerates run by billionaires — could've known it might end in tears, beggars belief. The fact is, nobody looked, because nobody wanted to see.
And while officials pick over what they can find of the FTX corpse, other shoes are falling in crypto-land. Lender BlockFi has halted withdrawals and is expected to file for bankruptcy. The Winklevoss twin's exchange/custodian Gemini had a spike of withdrawals and paused them on Wednesday. This fresh tweet says things are not looking much better now:
Crypto Is Flowing Out of Exchanges: Severe Outflows From Gemini, OKX and Cryptocom, Says JP Morgan https://t.co/vfQ6M3LQYE pic.twitter.com/4HiaxYiWW7

— BitcoinAgile (@bitcoinagile) November 18, 2022
I don't see how Bankman-Fried does not wind up in jail. The US is very loath to prosecute white collar criminals, but this story has become way too visible, too many small fry lost money, and the conduct was too egregious for this not to be punished. Given the utter chaos of the financials, it may take a prosecutor who can argue jurisdiction and venue some time to master enough details to gin up a filing and get Bankman-Fried. If nothing else, there's always mail and wire fraud to get discovery started. If no one else gets there first, expect a group of attorneys general from red states to saddle up.
____
1 The mini-balance sheets in the filing are constructed from unaudited balance sheets as of September 30. However, it appears FTX never recorded customer crpto holdings on its balance sheets: "Such liabilities are not reflected in the financial statements prepared by these companies while they were under the control of Mr. Bankman-Fried."
2 From the filing:
I have substantial concerns as to the information presented in these audited financial statements, especially with respect to the Dotcom Silo. As a practical matter, I do not believe it appropriate for stakeholders or the Court to rely on the audited financial statements as a reliable indication of the financial circumstances of these Silos.
00 FTX John Ray III declaration