By Lambert Strether of Corrente
Bird Song of the Day
Ochre-lored Flycatcher, Riberalta–Pampa San Lorenzo North, El Beni, Bolivia. I cannot forebear from posting this Media Note: "Song from the xanthochromic member of the pair, in response to playback of Ferruginous Pygmy-Owl." Two words of the day here. Also, how does "ochre" have "lore"?
* * *
Politics
"But what is government itself, but the greatest of all reflections on human nature?" –James Madison, Federalist 51
"Here's food for thought, had Ahab time to think; but Ahab never thinks; he only feels, feels, feels" –Herman Melville, Moby Dick
"So many of the social reactions that strike us as psychological are in fact a rational management of symbolic capital." –Pierre Bourdieu, Classification Struggles
Biden Administration
On the railroad strike legislation and "enrollment correction" (more on rail below under "Class Warfare"):

If Congress pulls off paid sick days for rail workers, it will be in large part because of Jamaal Bowman's and other progressives agitating at the last minute against the White House's and Pelosi's publicly stated commitment to not changing the terms of the deal. https://t.co/u06MWjrg2Q

— Jonah Furman (@JonahFurman) November 30, 2022

Quite a lot of commentary, most focusing on the separation of the Temporary Agreement (TA) bill from the sick leave bill:

Nah, they should have voted down the TA and only pushed through one that includes sick leave. Because now the Senate will pass the TA, shoot down the amendment, and House progressives can throw their hands up and say "oh well, we tried!"

— John Schoonmaker🌹 (@schoonmaker845) November 30, 2022
Republican Funhouse
"Congress Should Act to Prevent a Rail Strike" [National Review]. "Three years is enough, and all other options have been exhausted. It's time for Congress to fulfill its duties under the RLA and prevent a work stoppage by adopting the Walsh–Biden deal, with no modifications or poison pills, before December 9, the first day a strike would be legal. The sides have had plenty of chances to negotiate a deal on their own, and in many respects they have, but a few holdouts have taken the economy hostage. Congress is well within its statutory and constitutional roles to act in protection of interstate commerce, and it should do so as soon as possible to reassure businesses of continuous rail service. President Biden, for once, has put the interests of the general American economy ahead of special interests who donate to Democrats. Republicans in Congress should as well and join with Democrats to make sure that nationwide rail strikes remain a thing of history." • Good to have that whole "party of the workers" thing cleared up.
Democrats en Déshabillé
Patient readers, it seems that people are actually reading the back-dated post! But I have not updated it, and there are many updates. So I will have to do that. –lambert

I have moved my standing remarks on the Democrat Party ("the Democrat Party is a rotting corpse that can't bury itself") to a separate, back-dated post, to which I will periodically add material, summarizing the addition here in a "live" Water Cooler. (Hopefully, some Bourdieu.) It turns out that defining the Democrat Party is, in fact, a hard problem. I do think the paragraph that follows is on point all the way back to 2016, if not before:

The Democrat Party is the political expression of the class power of PMC, their base (lucidly explained by Thomas Frank in Listen, Liberal!). ; if the Democrat Party did not exist, the PMC would have to invent it. . ("PMC" modulo "class expatriates," of course.) Second, all the working parts of the Party reinforce each other. Leave aside characterizing the relationships between elements of the Party (ka-ching, but not entirely) those elements comprise a network — a Flex Net? An iron octagon? — of funders, vendors, apparatchiks, electeds, NGOs, and miscellaneous mercenaries, with assets in the press and the intelligence community.

Note, of course, that the class power of the PMC both expresses and is limited by other classes; oligarchs and American gentry (see 'industrial model' of Ferguson, Jorgensen, and Jie) and the working class spring to mind. Suck up, kick down.

* * *

Apparently, "Trumpy" is a term of art now:

If you would ever like them to not be Trumpy, then meeting them on their economic needs is the first step

— Aaron (@AaronH02056) November 30, 2022

"The quiet maneuvering that delivered Jeffries the top House Dem spot" [Politico]. "Behind the scenes, House Democrats' biggest power transfer in two decades was hardly a shoo-in. Democrats across the caucus said Jeffries — along with his top lieutenants, Reps. Katherine Clark (D-Mass.) and Pete Aguilar (D-Calif.) — succeeded thanks to years of careful maneuvering to consolidate support from every influential bloc in the party. And the powerful but unassuming trio, which has jokingly referred to itself in private as the "kids table" for the last two years, did it without a formal whip team. With Speaker Nancy Pelosi and her top lieutenants still in place, Jeffries and his two deputies instead wooed colleagues with a heads-down mentality, raising gobs of money and listening to what fellow Democrats wanted…. As another senior Democrat put it: "The race was over before anyone else knew what was happening.'" Too bad the New York Democrats helped lose the House, but presumably Jeffries will straighthen that out. More: "Democrats were in high spirits Wednesday as they huddled for a closed-door meeting to elect the new triumvirate, with screams and hugs as senior members touted the importance of a new generation of leaders." • Screams and hugs….

"Jim Clyburn was elected to a new leadership position after David Cicilline pulled his short-lived bid to challenge the Democratic leader." [Politico]. "Clyburn, who'd previously been the third-ranking House Democrat, opted to exit the upper three positions of leadership to make way for a generational change as Speaker Nancy Pelosi and Majority Whip Steny Hoyer (D-Md.) announced they would step down. Though he had previously hinted for months at moving aside from leadership completely to fill an emeritus role in the party, his decision to instead seek a position in the upper tier of leadership forced Democrats to reshuffle their positions to make room." • Clyburn will become Assistant Leader (apparently the number 4 spot). Jeffries, Clyburn… Wouldn't it be nice if the Black Misleadership Class wasn't irredeemably corrupt?
#COVID19
Lambert here: I can't call a winter surge, but I'm certainly not uncalling it either, after what we see post-Thanksgiving. High transmission (CDC), the elevation and continued increase in positivity (Walgreens), and the steady takeover of BQ.1* (CDC; Walgreens), along with increased hospitalization in BQ.1* hotbed New York, are all more than a little unsettling (as is the apparent proliferation of variants). Stay safe out there! (As one might expect at the beginning of a holiday surge, wastewater in Queens County, NY (JFK/LGA), Cook County, IL (ORD), and Los Angeles County (LAX) continue to be elevated. If you are planning to travel on Xmas, do consider your plans carefully.)
• "How to Hide a Plague: How Elite Capture and Individualism Made Covid Normal" (video) [Justin Feldman, YouTube]. Grab a cup of coffee and listen, it's great (and some members of the commentariat attended Feldman's lecture personally; please chime in).
This is the best current history of the Covid pandemic I have heard. It gives historical background, and an excellent timeline from pandemic start to the present day. I recommend this highly. (It all makes sense; not in a good way, but at least…. sense. (As opposed to Wither and Frost — names chosen with care — wandering about at the end of That Hideous Strength, an alternative picture of pandemic management.)
* * *
• "The Skagit County Choir Covid-19 Outbreak – Have we got it Wrong?" [Public Health]. "Over time, papers or reports may come to be taken for granted as evidence for some phenomenon. Researchers cite them without critically re-examining findings in the light of subsequent work. This can give rise to misleading or erroneous results and conclusions. We explore whether this has occurred in the widely reported outbreak SARS-CoV-2 at a rehearsal of the Skagit Valley Chorale in March 2020, where it was assumed, and subsequently asserted uncritically, that the outbreak was due to a single infected person…. We show it is vanishingly unlikely that this was a single point source outbreak as has been widely claimed and on which modelling has been based." • Commentary:
A good summary of (some, not all the reasons) why the Dingwall et al. paper trying to re-write history on airborne transmission for the Skagit Valley choir (and LOTS of other choirs) is so embarrassingly bad https://t.co/MwrHyXC8Qr

— Prof. Jose-Luis Jimenez (@jljcolorado) November 21, 2022
More commentary:
For the avoidance of doubt, the Skagit choir study was one of the most (if not THE most) meticulous and robust study of a real-world super-spreader event ever conducted. @jljcolorado @ShellyMBoulder are two of the world's top scientists of the airborne nature of covid-19. https://t.co/efmUXM1W5u

— Trisha Greenhalgh (@trishgreenhalgh) November 22, 2022
Not impressed with Greenhalgh's argument from authority, except insofar as it points out the stakes (for a group of exceptional PMCs). Something to watch. I would expect Science to grind this one down. Unless it's politicized, of course. And a historical note:
We owe so much to an unsung hero. A retired teacher from rural Washington state.

She won't get any credit but she for damn sure pushed the science forward. She gathered meticulous data for dr. Jose Jimenez.

Skagit valley choir president Carolynn Comstock.

Good job mom pic.twitter.com/E92XEUlQbf

— sparkly jesus (@writermom35) December 26, 2020
Citizen science!
* * *
• How will hospital Infection Control fill those empty slots…..
POLITE COMMENT: If Infectious Diseases had risen to its greatest challenge in a century and not retreated into droplet dogma, thereby causing the needless deaths of hundreds of thousands, it may have had more success at attracting residents. https://t.co/9X8LA0ULXS

— Dr David Berger, aBsuRdiSTe cROnickLeR (@YouAreLobbyLud) December 1, 2022
* * *
• Ka-ching:
It appears that the @CAPublicHealth has a contract for graphic design services related to Covid-19 for $192 million. That's $10.7 million per month to produce images like this one.

We must fight the Covid-industrial complex.

Credit to @JimSmit95248518 & @hamill_law for sharing. pic.twitter.com/b6C2HOBgc4

— Laura Powell (@LauraPowellEsq) November 11, 2022
Far be it for mother and lawyer Powell to look into Runyon Saltzman, a Democrat–adjacent Sacramento-based PR firm. Looks like routine corruption, to me. Frankly, I wouldn't mind a "Covid-Industrial" complex that much, unless it produced material like this:
Catch flights not COVID-19 this holiday travel season! The updated COVID-19 booster is now available for everyone ages 5+. #GetBoosted to keep yourself and family safer with the most protective doses yet. pic.twitter.com/H0hrN9Ppb2

— CA Public Health (@CAPublicHealth) November 28, 2022
I like the vaguely Constructivist look, but California Public Health really shouldn't be stating that vaccines prevent transmission, because they don't.
* * *
• Maskstravaganza:
Mask customizing game changer: rub-on transfers pic.twitter.com/oC5TXQpCis

— Amanda Hu (@amandalhu) September 20, 2022
I've been clamoring for mask stickers!
* * *
Transmission
Here is CDC's interactive map by county set to community transmission (the "red map"). (This is the map CDC wants only hospitals to look at, not you.)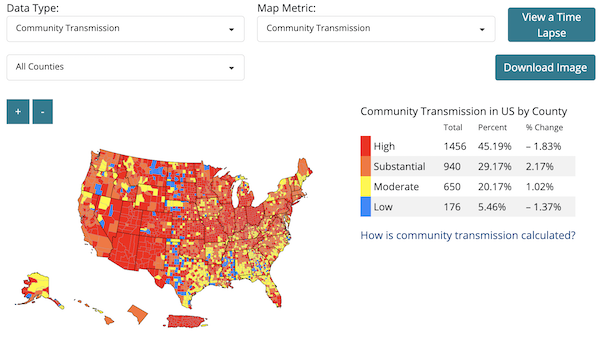 Lambert here: The powers-that-be don't even see transmission as a problem, obviously. But you might!
Positivity
From the Walgreen's test positivity tracker, published November 30: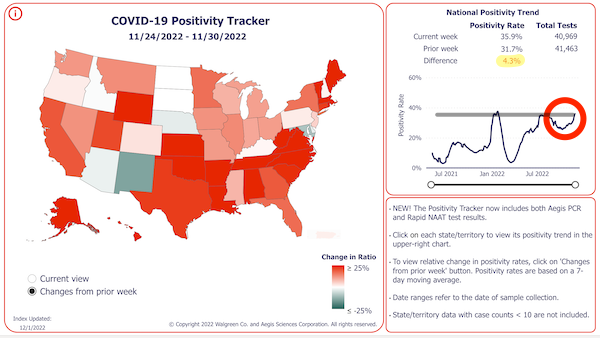 4.3%. Yesterday was 3.8% (3.2%). We now have not only an increase, but an increase in the rate of increase. If we look at the entire chart, we do see surges that accelerated faster. But not when the pandemic is supposed to be "over." Could be a Thanksgiving travel artifact, of course, in which case it should slow in the next week. But if not….
Wastewater
Wastewater data (CDC), November 27: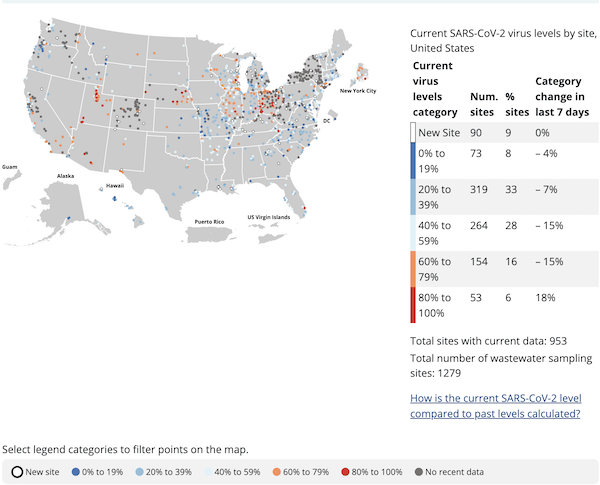 JFK/LGA, Queens County is red; ORD, Cook County is orange; LAX, Los Angeles County is orange. Stay safe when travelling.
November 26: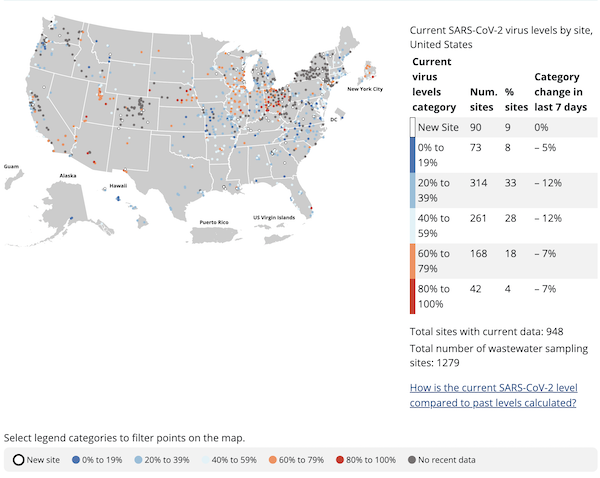 And MWRA data, November 28: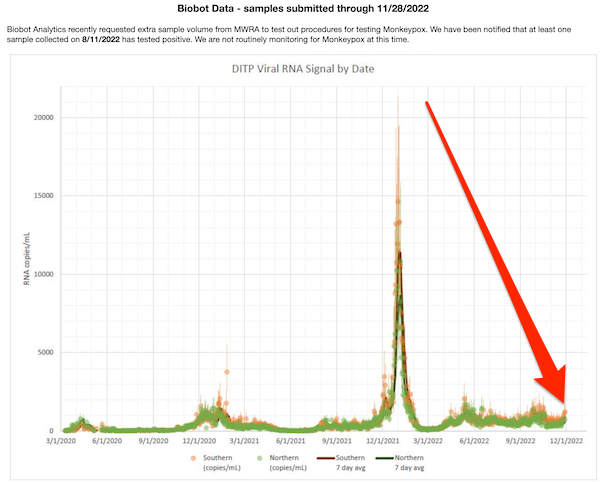 Lambert here: Nothing special, but note the date. Here we go. Note that this data is a 7-day average. Let's see what happens after the coming weekend when all the college kids go clubbing.
Variants
Lambert here: It's beyond frustrating how slow the variant data is. Does nobody in the public health establishment get a promotion for tracking variants? Are there no grants? Is there a single lab that does this work, and everybody gets the results from them? [grinds teeth, bangs head on desk]. UPDATE Yes. See NC here on Pango. Every Friday, a stately, academic pace utterly incompatible with protecting yourself against a variant exhibiting doubling behavior.
Variant data, national (Walgreens), November 13: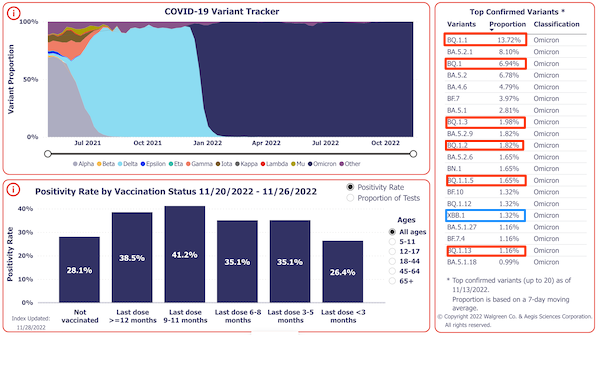 Lambert here: BQ.1* moving along quite briskly, though lower than CDC. XBB coming up on the charts.
Variant data, national (CDC), November 5 (Nowcast off):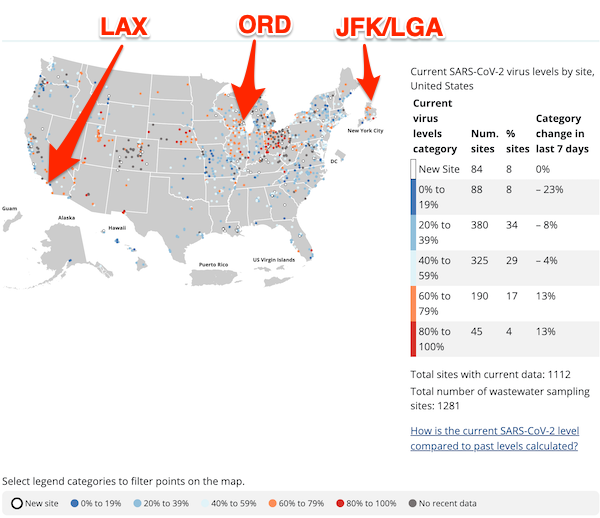 BQ.1* moving along quite briskly. Note the appearance of XBB, and see the highlighted note: Like BQ.1*, XBB appears suddenly when CDC decides to disaggregate the data. Exactly as with CDC's infamous "green map," a lag is introduced, this time by CDC's decision-making process; Walgreens had XBB last week, but CDC has it only this week. I don't see what purpose the aggregation serves. If the issue is a jillion low-circulation variants would make the table impossibly long and confusing for users, that's a UI/UX issue; handle it with software. Have a slider/filter that aggregates variants under 1%, say. Allow scrolling the results. Whatever. But stop concealing data!
New York/New Jersey (Region 2) numbers are higher: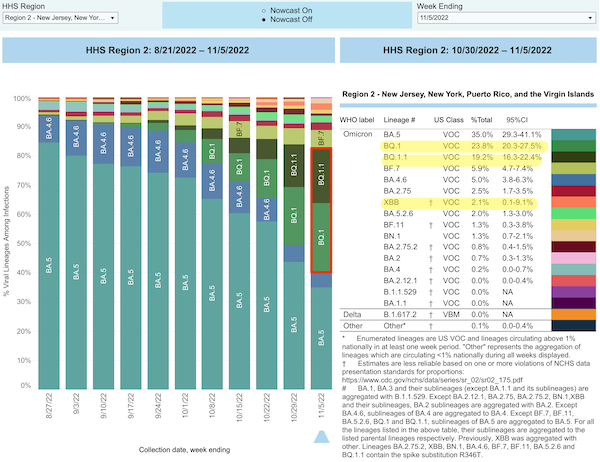 • As a check, since New York is a BQ.1* hotbed, New York hospitalization, updated November 30: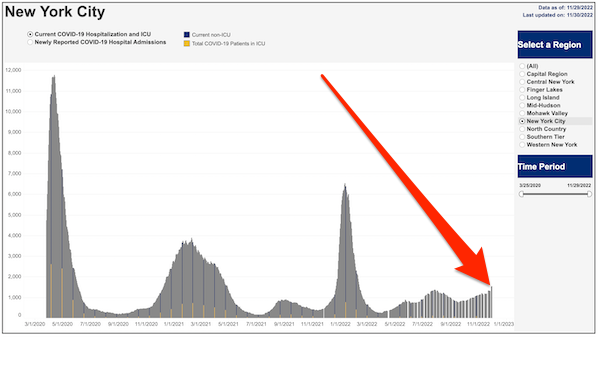 Lambert here: Starting to look like a real surge. Unlike positivity, these rates are not smoothed, so we really can't be sure if there's a train rolling or not. Nevertheless, we now have not only an increase, but an increase in the rate of increase.
Deaths
Death rate (Our World in Data):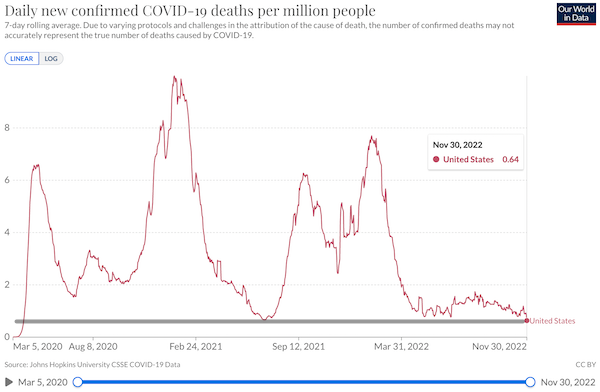 Total: 1,105,546 – 1,105,049 = 497 (497 * 365 = 181,405 deaths per year, today's YouGenicist™ number for "living with" Covid (quite a bit higher than the minimizers would like, though they can talk themselves into anything. If the YouGenicist™ metric keeps chugging along like this, I may just have to decide this is what the powers-that-be consider "mission accomplished" for this particular tranche of death and disease).
It's nice that for deaths I have a simple, daily chart that just keeps chugging along, unlike everything else CDC and the White House are screwing up or letting go dark, good job.
Stats Watch
Employment Situation: "United States Initial Jobless Claims" [Trading Economics]. "The number of Americans filing new claims for unemployment benefits decreased by 16,000 to 225,000 on the week ending November 26th, compared to market expectations of 235,000."
Personal Income: "United States Personal Income" [Trading Economics]. "Personal income in the United States increased 0.7% from a month earlier in October of 2022, up from a 0.4% rise in September and above market expectations of a 0.4% gain. It was the strongest reading since October of 2021, primarily reflecting increases in compensation and government social benefits. The increase in compensation was led by private wages and salaries."
Manufacturing: "United States ISM Purchasing Managers Index (PMI)" [Trading Economics]. "The ISM Manufacturing PMI declined to 49 in November of 2022 from 50.2 in October and more than market forecasts of 49.8 pointing to the first contraction in factory activity since May 2020."
Manufacturing: "United States Manufacturing PMI" [Trading Economics]. "The S&P Global US Manufacturing PMI was revised slightly higher to 47.7 in November of 2022 from a preliminary of 47.6, but continued to point to the first contraction in factory activity since June of 2020. The fall was driven by declines in output and new orders. Demand conditions weakened in domestic and external markets, as new export orders fell further. Employment growth slowed as pressure on capacity dwindled and backlogs of work contracted strongly. On a more positive note, supply chains improved for the first time since October 2019."
* * *
The Bezzle: "What Does Sam Bankman-Fried Have to Say for Himself?" [New York Magazine]. "I feel real fucking bad about what happened. It hurt a lot of customers, and it hurt a lot of employees, and my friends — and I want to do anything that I can to try to make that up as best that I can. But it's — it's bad. I fucked up. I did. In multiple ways, frankly." Gawd, it's like Beckett. Yves posted at length on SBF this morning, but I just wanted to add that l did listen to the DealBook video where Ross-Sorkin (dear gawd, the West Wing) interviewed SBF. You should too, for as long as you can stand, maybe ten minutes. SBF's voice is really, really weird, and it's not just because he uses a lot of finance jargon, which I can cope with. To quote Neal Stephenson's Snow Crash: "Da5id's voice is deep and placid, with no trace of stress. The syllables roll off his tongue like drool. As Hiro walks down the hallway he can hear Da5id talking all the way. 'i ge en i ge en nu ge en nu ge en us sa tu ra lu ra ze em men…." SBF's voice isn't deep, but "the syllables roll off his tongue like drool"? Absolutely.
The Bezzle: "Crypto Trader Auros Global Misses Payment on DeFi Loan as FTX Contagion Spreads" [CoinDesk]. "Auros joins other digital-asset firms, including BlockFi and Genesis Global Capital, that face financial difficulties as contagion spreads across the crypto industry. This phase of the now yearlong market rout started as crypto exchange FTX and its corporate sibling Alameda Research became insolvent and filed for bankruptcy protection earlier this month. Genesis is a unit of Digital Currency Group, which also owns CoinDesk."
Concentration: "How monopoly enshittified Amazon" [Cory Doctorow]. "one of the unfavorable terms Amazon forces on sellers is "most favored nation" status (MFN), which means that Amazon sellers have to offer their lowest price on Amazon — they can't sell more cheaply anywhere else. Then Amazon hits sellers with fees. Lots of fees: Fees to be listed on Prime (without which, your search result is buried at the bottom of an endless scroll): Fees for Amazon warehouse fulfillment (without which, your search result is buried at the bottom of an endless scroll) And finally, there's payola — the "ads" you have to buy to outcompete the other people who are buying ads to outcompete you. All told, — sometimes more. Companies just don't have 45% margins, because they exist in competitive markets. If I'm selling a bottle of detergent at a 45% markup, my rival will sell it at 40%, and then I have to drop to 35%, and so on. But everyone has to sell on Amazon, and Amazon takes their 45% cut, which means that all these sellers have to raise prices. And, thanks to MFN, the sellers then have to charge the same price at Walmart, Target, and your local mom-and-pop shop." • "Cory, Lambert. Love your work. Could we say "crapified"?" It's more euphonious….
Mr. Market: In a crisis, everything correlates:
This is a pretty remarkable chart from Deutsche Bank's Jim Reid.

Basically every single asset class in the world reversed in November.

It's all one big trade.https://t.co/detNzLOETt pic.twitter.com/VnzVTjzjwa

— Joe Weisenthal (@TheStalwart) December 1, 2022
* * *
Today's Fear & Greed Index: 70 Greed (previous close: 70 Greed) [CNN]. One week ago: 62 (Greed). (0 is Extreme Fear; 100 is Extreme Greed). Last updated Dec 1 at 12:25 PM EST.
Black Injustice Tipping Point
Maybe this will finally take Walensky down:
This year marks the 50th anniversary of the end of the Tuskegee syphilis study. Tomorrow, I will be joined by colleagues & #PublicHealth leaders as we honor the 623 African American men, their suffering & sacrifice, and our commitment to ethical research and practice. https://t.co/cbR8Shy0Db

— Rochelle Walensky, MD, MPH (@CDCDirector) November 29, 2022
First, "sacrifice"? As in voluntary, knowing participation. Second, "men"? Yes, what the Tuskegee doctors did to the men was horrible, but what about the children born with congenital syphilis? And the partners of the men? Holy moley, if Walensky doesn't dogpiled on this one, I'm gonna have to give consideration to the idea that this "social justice" thing isn't entirely on the up-and-up….
Class Warfare
Railroad workers:
"Why America's Railroads Refuse to Give Their Workers Paid Leave" [Eric Levitz, New York Magazine]. "The freight carriers can afford to make concessions on pay. It isn't that painful to increase wages by a sizable amount when you've recently slashed your head count by 30 percent (and hope to continue innovating your way to a smaller payroll in the years to come). But providing rail workers with ordinary time-off benefits would threaten the industry's core business strategy, [Precision Scheduled Railroading (PSR)], an operating procedure that has helped to nearly double its profits over the past decade. That strategy is predicated on treating rail workers as if they were nearly indistinguishable from the railcars they drive. The typical railcar requires maintenance at predictable intervals and does not require an unanticipated day off to see a doctor about an unexplained pain or to visit a loved one in the hospital. But workers often do." • Shorter: "We're capital and your not." (On PSR, see NC here.)
About the coverage:
It cannot be overstated: @cnn is serving as a literal PR mouthpiece for the exploitive rail carriers and @JoeBiden—putting the responsibility for a shutdown on the exploited workers instead of the oppressive robber barons making RECORD profits pic.twitter.com/OMDCirFzXk

— Jordan (@JordanChariton) December 1, 2022
"Alliance Resource Partners (ARLP) Q3 2022 Earnings Call Transcript" [The Motley Fool]. "I think on the rail strike, there's continuing negotiations. There's several of the various unions, there's like a dozen different unions that are impacted by those negotiations in the rail sector. I think there's several of them that have already voted down the most recent proposal. We know the railroads and U.S. government is involved along with labor unions. It's a possibility. We're still believing that the federal government will be involved enough to prevent a major disruption to our economy that a rail strike would occur. So we're placing a low probability on it." • It's a done deal!
"Most Americans support Congress' intervention in the possible rail strike" [YouGov]. • Maybe they don't have a clear picture of what Congress has in store. That said: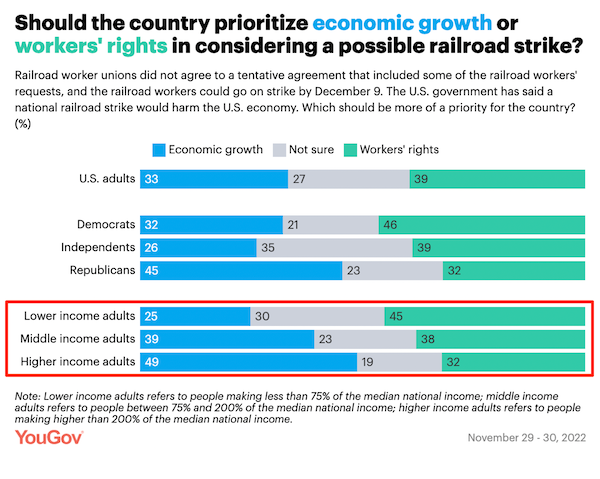 * * *
"Alabama's Striking Coal Miners Are Upping the Ante" [Kim Kelly, The Real News]. "Once the marchers reached their destination, they gathered to listen to President Roberts speak about the ongoing struggle. Creating a painfully on-the-nose visual metaphor, Brookwood police cars formed a ring around the group, silently protecting the forces of capital from the laborers who created it. Across the road, a belt cleaner sat atop a massive mound of sparkling black coal, its obsidian angles glinting in the fading sunlight as the striking miners hollered at the scab vehicles driving past them. Emotions began to run high. Even as union officials emphasized the importance of nonviolence, some workers in the crowd yelled out that it wasn't enough—that they needed to take the fight directly to the scabs' doorsteps. 'Years ago, that's what they would do,' Miss Pearlie, a retired coal miner and one of the Auxiliary members who'd volunteered to be arrested, piped up. 'They would go to their houses, and they would do something.'" • Hmm.
News of the Wired
For electrical transmission tower mavens:
here's what it is supposed to look like. a transposition tower rotates the relative position of the three phase wires. this is done to balance the impedance of each of the wires so that one of them doesn't hog current. pic.twitter.com/srxgskSWWG

— Tube Time (@tubetime@mastodon.social) (@TubeTimeUS) September 16, 2020
And hanging plants mavens:
Who needs curtains when you've got trailing plants 🌿 pic.twitter.com/MnHp9bDJVR

— Houseplant Hobbyist (@HobbyistPlant) November 30, 2022
* * *
Contact information for plants: Readers, feel free to contact me at lambert [UNDERSCORE] strether [DOT] corrente [AT] yahoo [DOT] com, to (a) find out how to send me a check if you are allergic to PayPal and (b) to find out how to send me images of plants. Vegetables are fine! Fungi and coral are deemed to be honorary plants! If you want your handle to appear as a credit, please place it at the start of your mail in parentheses: (thus). Otherwise, I will anonymize by using your initials. See the previous Water Cooler (with plant) here. From lyman alpha blob: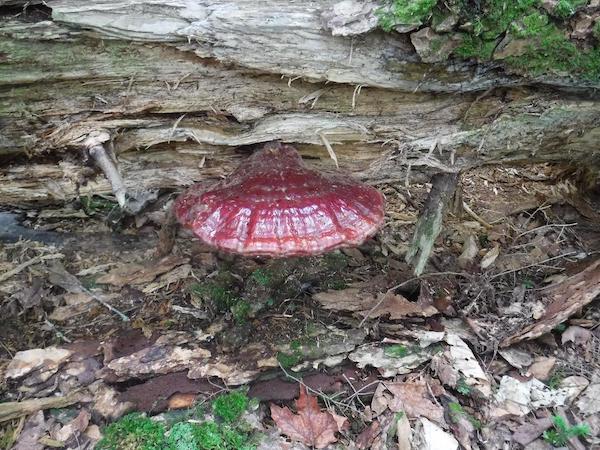 lyman alpha blob writes: "Here's a fungus from Dover-Foxcroft, ME. Not sure what kind."
* * *
Readers: Water Cooler is a standalone entity not covered by the annual NC fundraiser. So if you see a link you especially like, or an item you wouldn't see anywhere else, please do not hesitate to express your appreciation in tangible form. Remember, a tip jar is for tipping! Regular positive feedback both makes me feel good and lets me know I'm on the right track with coverage. When I get no donations for five or ten days I get worried. More tangibly, a constant trickle of donations helps me with expenses, and I factor in that trickle when setting fundraising goals:
Here is the screen that will appear, which I have helpfully annotated: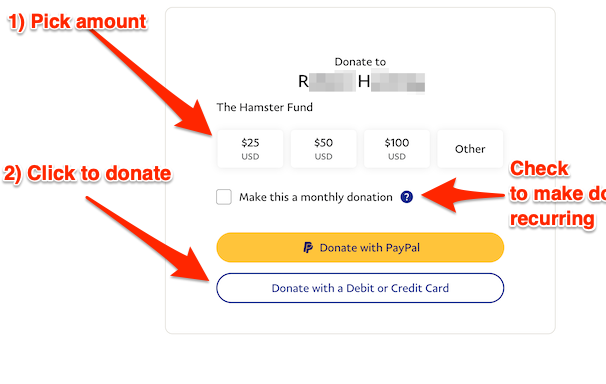 If you hate PayPal, you can email me at lambert [UNDERSCORE] strether [DOT] corrente [AT] yahoo [DOT] com, and I will give you directions on how to send a check. Thank you!