By Lambert Strether of Corrente.
Bird Song of the Day
Blue Mountain Vireo, Blue Mountains NP–Silver Hill Gap, Portland, Jamaica. "Song from a bird moving low and mostly hidden through roadside second growth."
* * *
Politics
"But what is government itself, but the greatest of all reflections on human nature?" –James Madison, Federalist 51
"Here's food for thought, had Ahab time to think; but Ahab never thinks; he only feels, feels, feels" –Herman Melville, Moby Dick
"So many of the social reactions that strike us as psychological are in fact a rational management of symbolic capital." –Pierre Bourdieu, Classification Struggles
Biden Administration
"Biden earned political capital this fall. He's quietly spending it." [Politico]. "Biden aides have been working with outside advisers to help sketch out components of a reelection ramp up, including Obama alum Jim Messina, with whom the president has discussed polling in recent weeks, according to two people familiar with his involvement. Messina did not return calls for comment. They are also reengaging donors and zeroing in on key staff roles and hires to fortify a unit that could operate outside the close-knit group that runs operations at the White House. They're further along on finalizing a headquarters for the campaign, too, with Wilmington, Del., the likely destination, although Philadelphia has not been ruled out. 'We're aware that there is no deficit of people who speculate, but very few individuals are actually knowledgeable about anything of that nature,' White House spokesperson Andrew Bates said. Those in the White House have proceeded like Biden will run. His family will play an outsized role in making the final decision and first lady Jill Biden, initially reluctant, is said to have warmed to another campaign." • Swell. Of course, Biden wired SC up for himself, not just Harris….
2022
"Herschel Walker's Defeat and the GOP's Lost Vote Harvest" [Wall Street Journal]. "Republicans got whupped by Democrats' early-voting game and may be years behind in a major shift in turnout tactics. The party spent more time grousing over Democrats' 2020 voting changes than it did asking itself why its opponents were so laser-focused on making mail-in and early voting easier. It turns out that 720 hours (the month Democrats use to mobilize early voters) is more than 72 hours (the three days Republicans use to mobilize their Election Day voters). Top Republicans have finally discovered arithmetic." • Oh good. More people voting on partisan affilation rather than candidates or issues.

"Turnout by Republicans Was Great. It's Just That Many of Them Didn't Vote for Republicans" [New York Times]. "In state after state, the final turnout data shows that registered Republicans turned out at a higher rate — and in some places a much higher rate — than registered Democrats, including in many of the states where Republicans were dealt some of their most embarrassing losses…. The final Times/Siena polls showed that voters in Pennsylvania, Georgia, Arizona and Nevada preferred Republican control of the Senate. It's fair to say voters in these key states probably preferred Republican control of government, in no small part because more Republicans showed up to vote. They just didn't find Republican candidates they wanted to support at the top of the ticket."

* * *

GA: I bet Neera Tanden won't even remember who she is:

She has said her favorite book is Atlas Shrugged. I don't think Abrams was ever really even dishonest about what she believed, just a lot of people didn't pay attention. https://t.co/0zBvn4AB9g

— Zaid Jilani (@ZaidJilani) December 9, 2022

On the bright side, national Democrats loved Abrams, and gave a lot of money to the party. So there's that.

IA: "Want to Know Why Democrats Lose Rural America?" [New York Times]. "[D]iscarding Iowa is not a great way to mend fences in rural America — where the Democratic brand has become virtually unmarketable…. But diversity did have a chance here. Barack Obama was vaulted to the White House. Iowa actively encouraged Black candidates to challenge the white establishment. Mr. Obama beat Hillary Clinton here. Iowa had no problem giving a gay man, Pete Buttigieg, and a Jewish democratic socialist, Bernie Sanders, the two top tickets out to New Hampshire last cycle. Black, white or Latino, it's organization that matters in Iowa…. Latinos in Storm Lake overwhelmingly caucused for Mr. Sanders. Julián Castro can complain all he wants." And: "The old brick factory haunts along the mighty Mississippi River are dark, thanks to Ronald Reagan and Bill Clinton and everyone else who sold us out for 'free trade.'… It tends to frustrate those left behind, and the resentment builds to the point of insurrection when it is apparent that the government is not here to help you…. It's hard to feel from 30,000 feet. So Donald Trump landed in Sioux City on the eve of the midterm elections to claim his stake before a large crowd buffeted by the gales out of Nebraska. 'The Iowa way of life is under siege,' Mr. Trump bellowed. 'We are a nation in decline. We are a failing nation.' They loved him. The Democrats view the crowd as deplorable and told Iowa to get lost." • Indeed they did. And I would bet conditions in rural SC are just as bad, if not worse.
2024
"New Hampshire's first-in-the-nation primary in jeopardy" [WCAX]. "New Hampshire could lose its coveted first-in-the-nation presidential primary under new rules proposed by President Biden and the Democratic National Committee…. If New Hampshire does end up losing its number-one status, it could also have a huge economic impact. The primary brings in tens of millions of dollars each election cycle. Lappie says candidates would likely campaign in the state less. 'If South Carolina is officially voting first with delegates, that could cause New Hampshire to lose attention,' he said. The party chair in New Hampshire released a statement that says in part, 'The DNC did not give New Hampshire the first-in-the-nation primary and it is not theirs to take away. This news is obviously disappointing, but we will be holding our primary first. We have survived past attempts over the decades and we will survive this.' As for what comes next, Scanlan says his office is simply waiting to see how things play out. He says New Hampshire's exact primary date will not be announced until the fall of next year. The debate is only about the Democratic primary. The Republican Party says it intends to continue to have New Hampshire first on its primary calendar."
Republican Funhouse
"Meet New York's New Republican Voters" [New York Magazine]. "In significant swaths of Brooklyn and Queens, Republican voting is growing organically, driven less by reactionary white people looking longingly to the suburbs — a coalition that helped elect Rudy Giuliani twice in the 1990s — and more by communities of recent immigrants and Orthodox Jews. Some of these voters are conservatives who no longer wish to support Democrats at any level of government after spending years ticket-splitting…. What unites immigrants from East Asia and Russia as well as Yiddish-speaking Hasidic Jews and the comparatively less strict Orthodox Jews? Fear of rising crime." • So maybe Adams knows what he's doing, an appalling prospect.
Democrats en Déshabillé
Patient readers, it seems that people are actually reading the back-dated post! But I have not updated it, and there are many updates. So I will have to do that. –lambert

I have moved my standing remarks on the Democrat Party ("the Democrat Party is a rotting corpse that can't bury itself") to a separate, back-dated post, to which I will periodically add material, summarizing the addition here in a "live" Water Cooler. (Hopefully, some Bourdieu.) It turns out that defining the Democrat Party is, in fact, a hard problem. I do think the paragraph that follows is on point all the way back to 2016, if not before:

The Democrat Party is the political expression of the class power of PMC, their base (lucidly explained by Thomas Frank in Listen, Liberal!). ; if the Democrat Party did not exist, the PMC would have to invent it. . ("PMC" modulo "class expatriates," of course.) Second, all the working parts of the Party reinforce each other. Leave aside characterizing the relationships between elements of the Party (ka-ching, but not entirely) those elements comprise a network — a Flex Net? An iron octagon? — of funders, vendors, apparatchiks, electeds, NGOs, and miscellaneous mercenaries, with assets in the press and the intelligence community.

Note, of course, that the class power of the PMC both expresses and is limited by other classes; oligarchs and American gentry (see 'industrial model' of Ferguson, Jorgensen, and Jie) and the working class spring to mind. Suck up, kick down.

* * *
Realignment and Legitimacy
"After the rail fiasco" [Tempest]. "We are still in the early days of assessing the potential long-term political implications of the Biden administration's decision to impose a highly unpopular contract on rail workers with the active support of "The Squad" (with the exception of Rashida Tlaib) in Congress. A line has certainly been crossed, however, and it's hard to see a way back for those on the Left and in the labor movement who've engaged in mind-boggling intellectual summersaults to justify it as a good thing. It should be noted that even Tlaib's dissent was well within the boundaries of Democratic Party politics…. Biden's blatant strike-breaking will have dire consequences for the rest of us. He handed the mainstream and paramilitary far right a huge gift, four weeks after many people breathed a sigh of relief that the Republican victories in the midterm election were limited. The fact that no one in Biden's cabinet threatened to resign over the decision goes to show how far removed from the lives of working-class people they are and the dynamics of U.S. politics today. The two most likely to dissent, Labor Secretary Marty Walsh, who is close to the unions, and Transportation Secretary Pete Buttigieg, who has presidential ambitions, did Biden's dirty work without any hesitation on Capitol Hill…. For Tempest, recent events add urgency to several political questions before the revolutionary socialist Left in the United States. The first and foremost is the utility of socialists, who know which side of the class line they are on, remaining members of DSA, which is so damaged and irreformable at this point. The second issue before us is the need to take steps to create a larger revolutionary socialist grouping—to move beyond the fragments of the revolutionary Left. There are several thousand revolutionary socialists in the U.S. in and around DSA and scattered through different formations. Most of us feel the need to be in a larger organization, yet such a group can only emerge out of debate, discussion, and cooperative work and struggle. We look forward to having those discussions."

"The Evolution Of Union-Busting" [The Intercept]. "Virtually none of the presenters identified explicitly as anti-union agents. Many described themselves or had professional biographies emphasizing their role as DEI experts, developers of 'human capital,' and champions of workplace 'belonging.' The industry has undergone somewhat of a rebranding, with many labor relations executives now identifying as 'people experts' and diversity executives. Even the host of the conference was camouflaged. The conference was organized by a group called CUE, which bills itself publicly as simply 'a community for positive employee relations.' But that sunny image belies its true agenda: Founded in 1977 by the National Association of Manufacturers, as part of a sweeping crusade against organized labor, CUE is formally known as the 'Council for a Union-Free Environment.' The organization provides research and training for the union suppression tactics, an estimated $340-million-per-year cottage industry of lawyers and consultants who specialize in assisting corporations with mitigating the threat of organized labor. But there was no doubt that they understood how controversial their work can be. Ken Hurley, the vice president of Kellogg's Co. for human resources and labor relations who presided over the effort last year to replace striking cereal workers, said he did not want participants to share his slide deck, for fear of leaks…. 'Labor consultant folks converting into DEI folks,' added [Michael C. Duff, a law professor at the University of Wyoming]. 'It's really a wonderful kind of psyops, right, because these people are supposed to be close to employees.'" • I'm sure that there are no NC readers surprised by this.
#COVID19
Lambert here: Eric Topol has called a winter surge (or "wave") of Covid. I am but a humble tapewatcher, but I'm reluctant to do so. (Partly because I know my temperament, and I have strong priors. So "I won't because all of me wants to," as Sam Spade says.) Topol's view is the establishment view: Hospital-centric. Mine is infection-centric. I do not see the acceleration or doubling in cases that I would expect to see based on past surges. So we'll see. Let's wait and see what the remainder of the holiday season brings. Reader discussion on this important point is welcome. Nevertheless–
Stay safe out there: High transmission (CDC), the elevation of positivity (Walgreens), the steady takeover of BQ.1* (CDC; Walgreens), along with elevated hospitalization in BQ.1* hotbed New York are all more than a little unsettling (as is the apparent proliferation of variants). As one might expect at the beginning of a holiday surge, wastewater in Queens County, NY (JFK/LGA), Cook County, IL (ORD), and Los Angeles County (LAX) continues to be elevated. If you are planning to travel on Xmas, do consider your plans carefully.
* * *
• Not sure whose side to be on here, if any:
Dr. Fauci is a national hero who will be remembered for generations to come for his innate goodness & many contributions to public health

Despite your business success, you will be remembered most for fueling public hate & divisions.

You may have money, but you have no class. https://t.co/0zabyXMERz

— John O. Brennan (@JohnBrennan) December 11, 2022
Though it is interesting to see a powerful spook openly attacking Musk.
* * *
• Maskstravaganza: "The Case for Mask Mandates" [Chasing Normal]. • Canada. Lots of good data.
• Maskstravaganza:
Didn't the CDC just issue a statement recommending masks? https://t.co/kfr8R4ZjwK

— Denise Dewald, MD 🗽 (@denise_dewald) December 12, 2022
Do what I do, not what I say… And yes, yes CDC did "encouraged" masking up–
• Maskstravaganza: Even CDC's community levels are bad:
Let's #maskup, New York! https://t.co/MLN7VYmLhW

— ArmbrustUSA (@armbrust_usa) December 9, 2022
• Maskstravaganza:
#BringBackMasks https://t.co/sdfCrQwlX0

— Eric Feigl-Ding (@DrEricDing) December 10, 2022
• Maskstravaganza:
During the ride up the coast, my dad went early without either of us and spent time talking to strangers in the dining car unmasked. He also went unmasked during a portion of the flight despite my insistence AND adding the sipmask … and tonight he's +ive! Nightmares https://t.co/toAzESNJcC

— nic (@nickelpin) December 10, 2022
Typically, Dad being Dad doesn't lead to infection by a potentially lethal pathogen. Not sure what to do about this…
* * *
• "Stubborn omicron wave sticking around for Christmas" [Financial Review]. Australia. "Melbourne University epidemiologist Professor Nancy Baxter said the rising number of infections was due to waning immunity, but underreporting was camouflaging the prevalence of sickness. 'We think probably at least one in 50 Australians to one in 25 Australians currently have COVID,' Professor Baxter said. 'That's a lot of COVID in circulation. And it's peaking in the next week or two. That means there are going to be a lot of cases at Christmas where people want to get together. There's a lot of risk.'" • One in 50 is a lot. One in 25 is a lot more.
* * *
• Alert reader splashoil reports from the field:
From my trusty Aranet4! My flight from Puerto Vallarta to Seattle and a 40 minute flight to Bellngham WA. (Huge spike)

Maybe a dozen masks seen on the two flights. Lots of coughing! Where is testing of cabin air filters?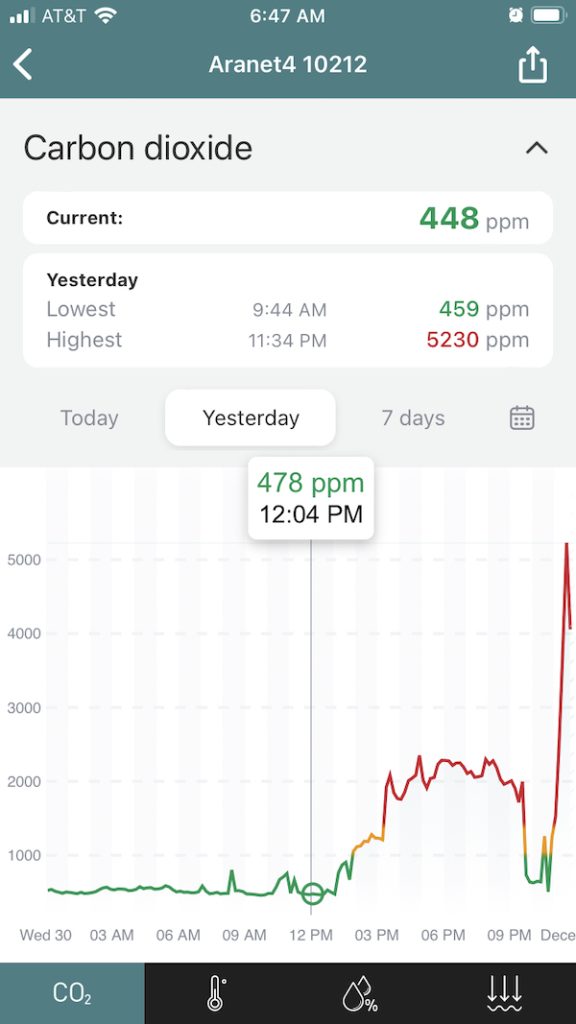 • Another report from the field:
.@United won't let me turn on my portable hepa filter on your flight. Why?

— Deborah Sills (@DeborahSills) December 9, 2022
* * *
• "Respiratory pathogens: pandemic preparedness guidance" (PDF) [WHO]. Just unbelievable, or rather, all-to-believable: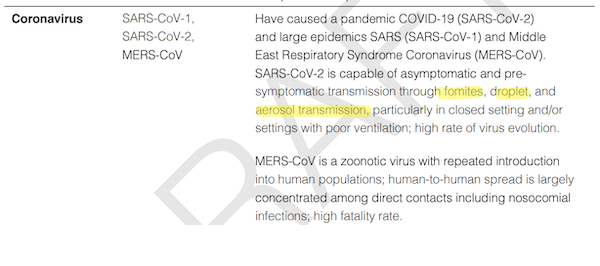 Clearly, a political document, rather than a technical, let alone epidemiology. The priority ordering of "fomites, droplets, and aerosols" makes no sense unless it's from least to most attested, which makes no sense (and by "least," I mean "not"). For SARS-CoV-2, the ordering makes no sense at all, especiall given that fomites and droplets are not affected at all by "closed settings" or "poor ventilation," which WHO mentions in, er, it's next breath. What I think we can infer is that there are fomite goons at WHO as well as droplet goons, and they still have significant political power.
• "Population cyclical immune dysregulation":
3/ In early 2022, February I think, I posited the concept of what I termed, 'population cyclical immune dysregulation' in one of these reports. This was a *speculation* on my part, a worse-case scenario that was low-probability but high-risk.

— Conor Browne (@brownecfm) December 10, 2022
And:
6/ I went on to speculate that PCID could lead an inexorably downward spiral of population health: first Covid infection to secondary infection to second Covid infection to more secondary infections and so on. This would obviously place an unmanageable strain on health services.

— Conor Browne (@brownecfm) December 10, 2022
And:
6/ I went on to speculate that PCID could lead an inexorably downward spiral of population health: first Covid infection to secondary infection to second Covid infection to more secondary infections and so on. This would obviously place an unmanageable strain on health services.

— Conor Browne (@brownecfm) December 10, 2022
A good call, if made (I haven't seen the report he mentions) and scenario that looks a lot like what we are experienced (see the Tyee here). Thread worth reading in full. (The account is a "biorisk consultant specialising in COVID-19 business continuity, forecasting, and analysis.")
* * *
* * *
* * *
* * *
Transmission
Here is CDC's interactive map by county set to community transmission (the "red map"). (This is the map CDC wants only hospitals to look at, not you.)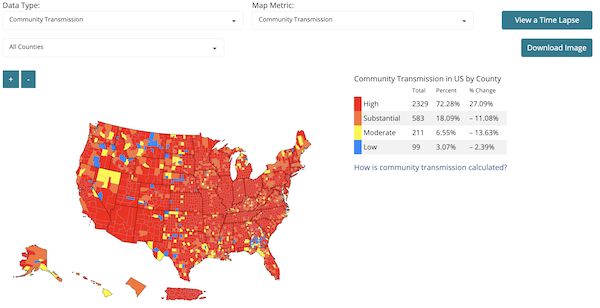 Previous version: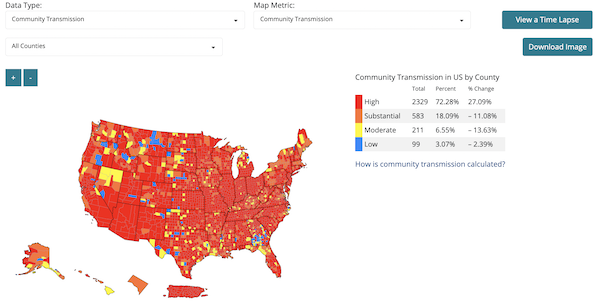 NOTE: CDC doesn't say how often this updates.
Positivity
From the Walgreen's test positivity tracker, published December 10: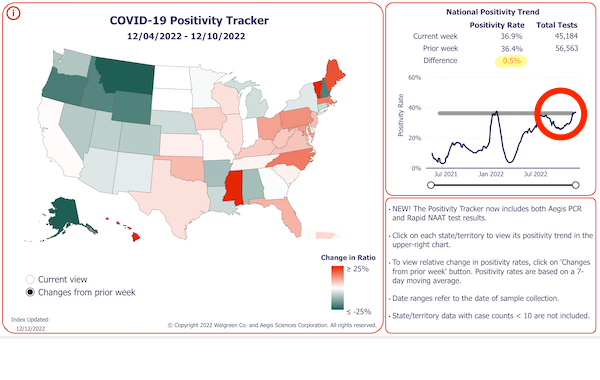 0.5%. Slightly up.
Wastewater
Wastewater data (CDC), December 6: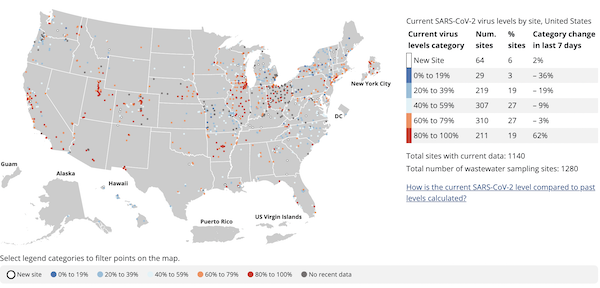 JFK/LGA, Queens County is still red; ORD, Cook County just turned red; LAX, Los Angeles County now red. I would bet that speckling of red in Utah is sky country. Stay safe when travelling.
December 5: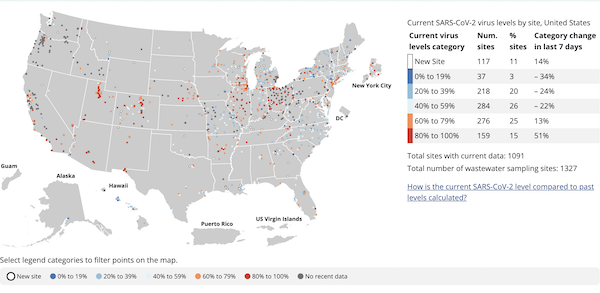 • California data point (1):
1/ SARS-CoV-2 concentrations are skyrocketing in wastewater across California. Results below for the Hyperion treatment plant that serves a large fraction of City of Los Angeles wastewater. pic.twitter.com/h8nki3QoHx

— Richard Corsi, PhD, PE (Texas) (@CorsIAQ) December 9, 2022
• California data point (2):
Covid wastewater at UC Davis approaching record high. Campus bivalent vaccine compliance is only 22%. Get vaxxed and mask up! pic.twitter.com/P4KvB0NKxr

— Majime Sugiru is on STRIKE #NoCOLANoContract (@asians_art) December 8, 2022
And MWRA data, December 8: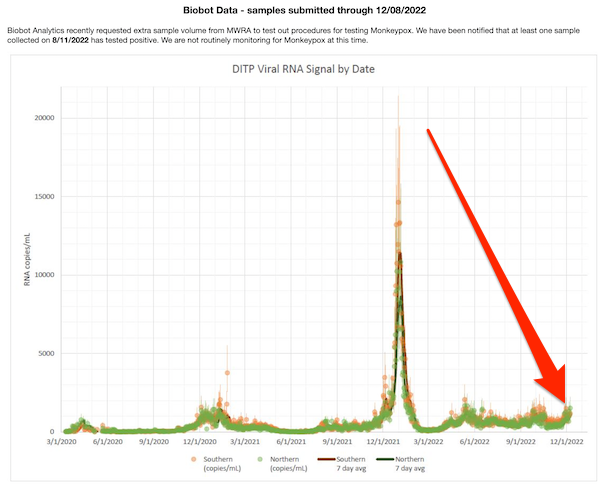 Lambert here: Fiddling and diddling. Up in the North, down in the South.
Variants
Lambert here: It's beyond frustrating how slow the variant data is. Does nobody in the public health establishment get a promotion for tracking variants? Are there no grants? Is there a single lab that does this work, and everybody gets the results from them? [grinds teeth, bangs head on desk]. UPDATE Yes. See NC here on Pango. Every Friday, a stately, academic pace utterly incompatible with protecting yourself against a variant exhibiting doubling behavior.
NOT UPDATED Variant data, national (Walgreens), November 28: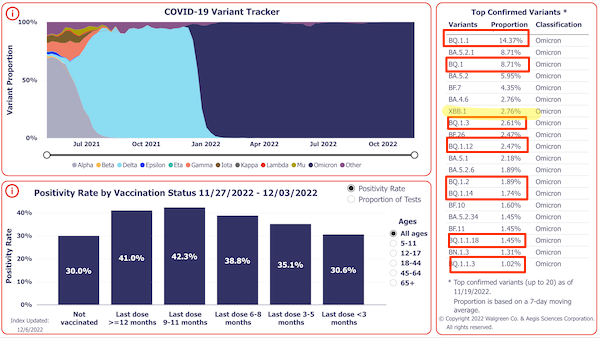 Lambert here: BQ.1* first on the leaderboard. XBB charging.
NOT UPDATED Variant data, national (CDC), November 19 (Nowcast off):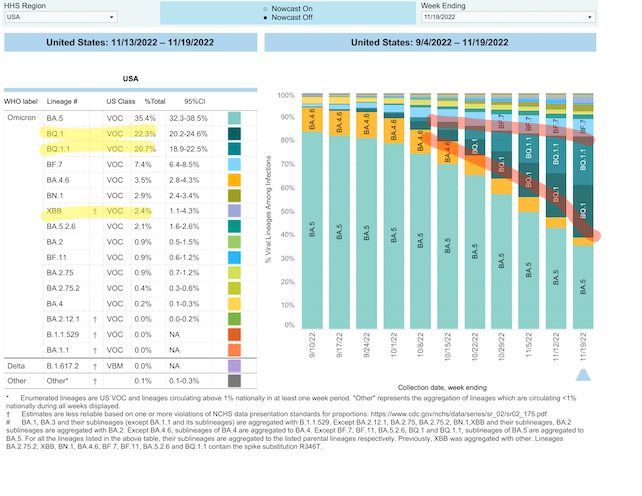 BQ.1* takes first place. Note the appearance of XBB.
• As a check, since New York is a BQ.1* hotbed, New York hospitalization, updated December 10: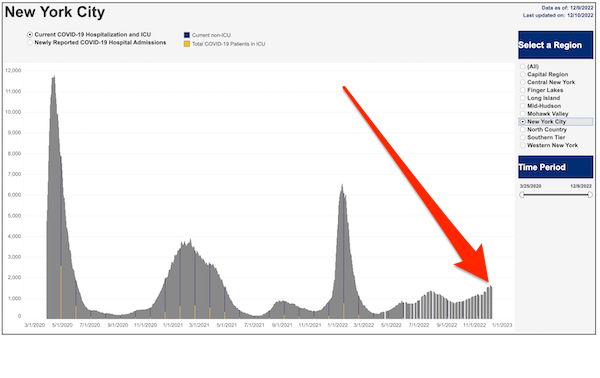 Lambert here: Slightly down.
• Hospitalization data for Queens:

Deaths
Death rate (Our World in Data):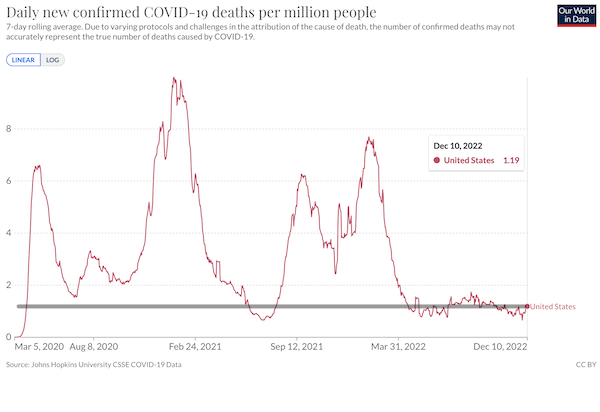 Total: 1,109,851 – 1,109,394 = 457 (457 * 365 = 166,805 deaths per year, today's YouGenicist™ number for "living with" Covid (quite a bit higher than the minimizers would like, though they can talk themselves into anything. If the YouGenicist™ metric keeps chugging along like this, I may just have to decide this is what the powers-that-be consider "mission accomplished" for this particular tranche of death and disease).
It's nice that for deaths I have a simple, daily chart that just keeps chugging along, unlike everything else CDC and the White House are screwing up or letting go dark, good job.
• A lot of stories like this:
Two young male sports reporters have now suddenly dropped dead within a week of each other

Since February 2020 nearly forty thousand young men have died because of the 20% increase in average monthly deaths from cardiovascular and respiratory diseases

Forty thousand pic.twitter.com/NRMIQbax2Y

— Gregory Travis — @greg_travis@mastodon.social (@greg_travis) December 12, 2022
Lots of confounders, of course. Commentary:
Lots of people are rightly concerned about antivaxxers weaponizing the increase in premature sudden deaths to spread antivaxx disinfo. So am I. But at least antivaxxers actually *noticed* that young people keep dropping dead. Which is more than I can say for medicine/PH leaders.

— Dr. Lisa Iannattone (@lisa_iannattone) December 11, 2022
• How strange that there weren't ten such pages:
Hey, who remembers when 100,000 dead from COVID in the USA was considered an "incalculable loss?"

A 100,000 have died from COVID in the past eight months and the death rate is increasing pic.twitter.com/Hm1IndjJH4

— Gregory Travis — @greg_travis@mastodon.social (@greg_travis) December 10, 2022
Incalculable? All too calculable.
• "Thousands more Australians died in 2022 than expected. COVID was behind the majority of them" [The Conversation]. "Last month, the Australian Bureau of Statistics (ABS) released a report of mortality statistics. It showed that from January to July 2022, there were 17% more deaths (16,375) than the average expected for these months…. As we will see, the excess deaths this year were likely lower than the ABS estimate – but still overwhelmingly related to COVID and its effects on health."
Stats Watch
There are no official statistics of interest today.
* * *
The Bezzle: "Sam Bankman-Fried to testify before Congress remotely: 'Quite overbooked'" [New York Post]. "During Monday's interview with the 'Unusual Whales' platform that was conducted on Twitter Spaces, Bankman-Fried confirmed he will testify — but through a Zoom link from his luxury residence in the Bahamas." • The Unusual Whales interview:
Today Unusual Whales asked questions to SBF of FTX regarding:

– wire fraud
– customer deposits + withdraws
– assets backing 1:1
– tokenized shares
– Alameda loans
– Congress
– Tether

We + panel asked hard Qs and cut him off. Listen to the interview here: https://t.co/OvGXckf3oe

— unusual_whales (@unusual_whales) December 12, 2022
The transcript is not up yet, so I can't sell if SBF was asked into which account he desposited his billion dollar loan from Alameda (see Yves here).
Tech: Let's not get too excited about fusion power; there's a history here:
This story about a potential breakthrough in fusion power does sound very exciting. And obviously it would be a huge benefit to the world if the technology could be made to work and deployed at scale. But… (1/x) https://t.co/i4YW83Iqft

— Ed Crooks (@Ed_Crooks) December 11, 2022
The whole thread is worth reading (and bookmarking).
Tech: Oops:
For those who follow me on Mastodon I've now parked that account for the time being following a server error at SDF that wiped out a third of my followers there plus all content from 19 November onwards. No point in putting in the effort if it just goes down the toilet.

— Davenant 📸 (@MarcDavenant) December 12, 2022
A well-regarded photographer in the UK.
* * *
Today's Fear & Greed Index: 56 Greed (previous close: 53 Greed) [CNN]. One week ago: 64 (Greed). (0 is Extreme Fear; 100 is Extreme Greed). Last updated Dec 12 at 1:47 PM EST.
Rapture Index: Closes down one on Israel. "Israel has been rarely calm in the past few days" [Rapture Ready]. Record High, October 10, 2016: 189. Current: 185. (Remember that bringing on the Rapture is good.)
Healthcare
I'm sure every international traveler or expatriate has had this experience:
this is why i struggle to fully convey to americans just how bad they have it pic.twitter.com/7mqXkrsc6v

— Malkaiden@weatherishappening.network (@Malkaiden) December 8, 2022
Of course, we as the imperial hegemon are working hard to make sure that the rest of the world sinks to our standard, not to raise our standards to theirs.
Zeitgeist Watch
Word of the day:
Necrophages (organisms that feed on dead things) usually don't eat bones, as they make a difficult and not very nutritious meal.

The only real fans of bones on the menu are Osedax worms, who live in the deep sea and burrow in the bones of carcasses looking for fats and collagen. pic.twitter.com/z7IQmCI6MK

— Royal Institution (@Ri_Science) December 9, 2022
"Necrophage" might replace "ghoul," say, being more general. Also, like C.S. Lewis's macrobes, necrophages might well be entities, as opposed to individual (natural) persons.
Class Warfare
"Huge decline of working class people in the arts reflects fall in wider society" [Guardian]. "The proportion of working-class actors, musicians and writers has shrunk by half since the 1970s, new research shows. Analysis of Office for National Statistics data found that 16.4% of creative workers born between 1953 and 1962 had a working-class background, but that had fallen to just 7.9% for those born four decades later. This reflected a similar decline in the number of people with working-class origins, according to the paper in the journal Sociology by researchers from the universities of Edinburgh, Manchester and Sheffield. People whose parents had a working-class job accounted for about 37% of the workforce in 1981, but by 2011 that had fallen to about 21%. The finding raises questions about why years of attempts to make the arts more open and diverse have not had more impact – people who grew up in professional families were four times more likely than those with working-class parents to be in creative work, the study found…. The lack of ability to take risks is another barrier, Carthew said, such as working two jobs or not having money to go out for drinks to build a network or pay for a hotel in London while doing an internship. 'Publishers are trying more to get a broad church of people,' [Natasha] Carthew said. 'But they've been slow, like everywhere's been slow.' 'There are lots of schemes, and then the money runs out – they've ticked that box and then they move on and put their cash somewhere else. I've seen that with my festival. That's why the momentum keeps changing. They want novelty.'" • Doubtless the same in the US, or worse, given how NGOs work.
"Amazon announces new holiday driver tip pool that's just .0005% of its net worth" [Daily Dot]. "In 2021, Amazon drivers were overworked, harassed, and underpaid, especially during the holiday season. This year, the tech mega-giant will give their drivers a $5 tip if their customer says 'Alexa, thank my driver.'… The total cost of the Amazon program—$5 for the first million "thank yous" plus $20,000 for each of the five most thanked drivers—is $5.1 million…. Meanwhile, the company spent $4.3 billion working to bust Amazon's union campaign last year…. While Amazon could be using this money to pay its workers without some customer aspect attached to it—as it refuses to abide by national labor laws—the initiative will hopefully bring some kindness into Amazon driver's days, which can be marred with hostility."
"Why Is Howard Schultz Taking This So Personally?" [New York Times]. "Mr. Schultz, 69, appears intent on defusing interest in a union before he leaves the company next spring for the third — and, dare one say, final — time. He has thrown himself into providing new benefits and wage increases, but withheld them from employees in the union, which represents about 2 percent of the company's U.S. work force of more than 250,000. When asked in an interview in June if he could ever imagine embracing the union, Mr. Schultz responded with a single immovable word: No. He has alluded to a downside for customers, and some labor experts argue that a union could seek to limit the number of syrups, powders and foams that can be added to drinks, as a way to ease the burden on baristas…. The stakes extend far beyond Starbucks. The union campaign has helped give rise to labor organizing at a variety of other companies, including Apple, Trader Joe's and REI. If the union manages to wring significant concessions from Starbucks, it could accelerate organizing elsewhere and help change the relationship between management and labor across the country. If, on the other hand, the union fades away under Mr. Schultz, it could undermine the recent organizing renaissance and further relegate unions to the economy's margins."
* * *
"The 4% Rule for Retirement Spending Makes a Comeback" [Wall Street Journal]. "'It's counterintuitive, but when valuations are high, it is the worst time to retire,' said Morningstar personal finance director Christine Benz." • What an insane system. You retire when you're lucky, not when you need to, or want to. But those "personal finance directors" collect their ample salaries and bonuses!
* * *
Sounds like a lovely event: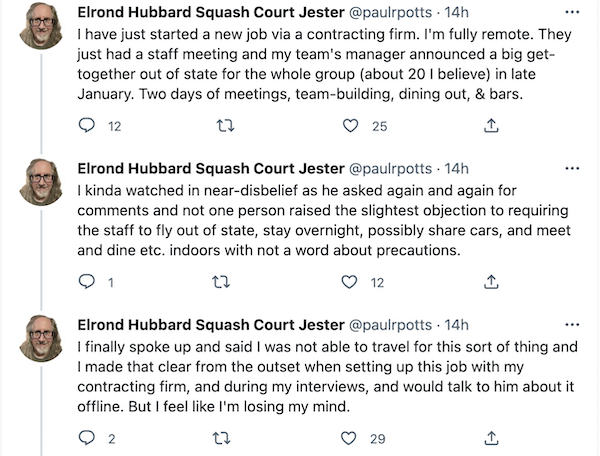 "Selling your labor power to survive" means "selling your labor power to survive":

News of the Wired
"The Autocrat in Your iPhone" [Foreign Affairs]. "Pegasus or other similar spyware technology has been found on the digital devices of prominent political opposition figures, journalists, and human rights activists in many countries. Providing the ability to clandestinely infiltrate even the most up-to-date smartphones—the latest "zero click" version of the spyware can penetrate a device without any action by the user—Pegasus has become the digital surveillance tool of choice for repressive regimes around the world." • Autocrats? What, we're not worried about the organs of state security enforcing "the rules-based domestic order"? Or Apple itself?
* * *
Contact information for plants: Readers, feel free to contact me at lambert [UNDERSCORE] strether [DOT] corrente [AT] yahoo [DOT] com, to (a) find out how to send me a check if you are allergic to PayPal and (b) to find out how to send me images of plants. Vegetables are fine! Fungi and coral are deemed to be honorary plants! If you want your handle to appear as a credit, please place it at the start of your mail in parentheses: (thus). Otherwise, I will anonymize by using your initials. See the previous Water Cooler (with plant) here. From Carla: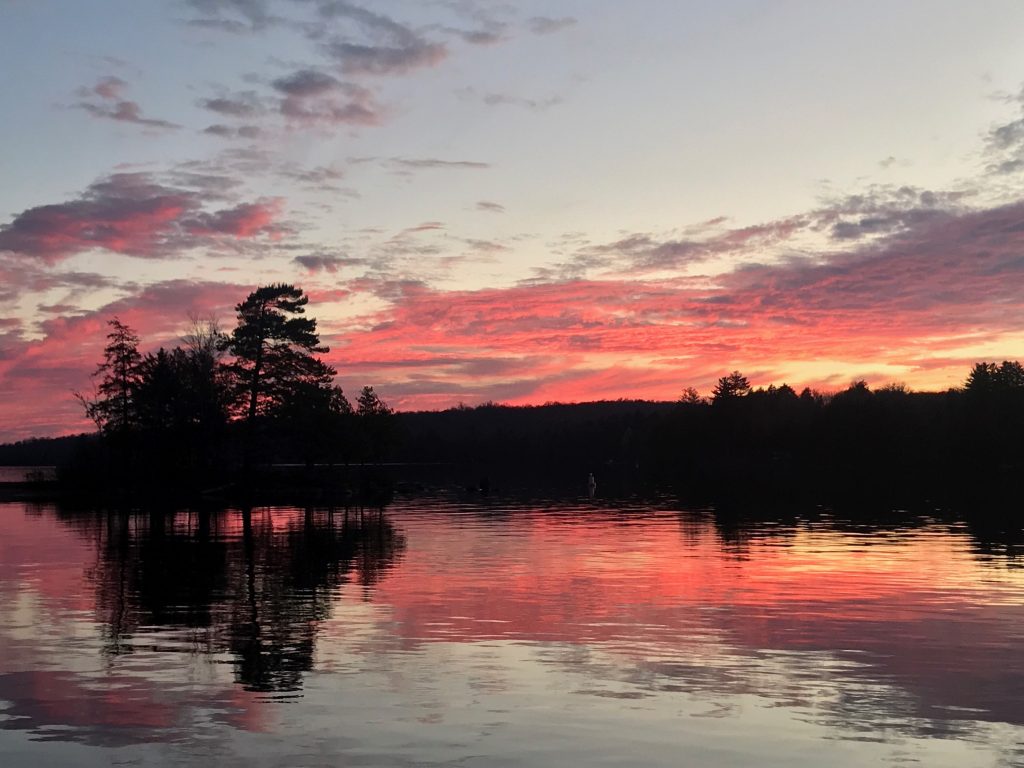 Carla writes: "Cranberry Lake, Adirondack Park, NY."
* * *
Readers: Water Cooler is a standalone entity not covered by the annual NC fundraiser. So if you see a link you especially like, or an item you wouldn't see anywhere else, please do not hesitate to express your appreciation in tangible form. Remember, a tip jar is for tipping! Regular positive feedback both makes me feel good and lets me know I'm on the right track with coverage. When I get no donations for five or ten days I get worried. More tangibly, a constant trickle of donations helps me with expenses, and I factor in that trickle when setting fundraising goals:
Here is the screen that will appear, which I have helpfully annotated: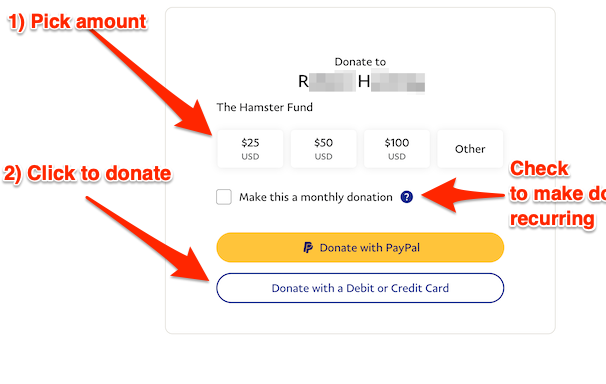 If you hate PayPal, you can email me at lambert [UNDERSCORE] strether [DOT] corrente [AT] yahoo [DOT] com, and I will give you directions on how to send a check. Thank you!