By Lambert Strether of Corrente.
Bird Song of the Day
Philadelphia Vireo, Guelph–Wastewater Treatment Plant/Speed River Area, Wellington, Ontario, Canada."A mix of song and calls." I don't know what Gritty is doing in Guelph.
* * *
Politics
"But what is government itself, but the greatest of all reflections on human nature?" –James Madison, Federalist 51
"Here's food for thought, had Ahab time to think; but Ahab never thinks; he only feels, feels, feels" –Herman Melville, Moby Dick
"So many of the social reactions that strike us as psychological are in fact a rational management of symbolic capital." –Pierre Bourdieu, Classification Struggles
Biden Administration
"Two Decades After 9/11 Inquiry, a Similar Plan for Covid Stalls in Congress" [New York Times]. "Bipartisan legislation to create a Sept. 11-style independent panel to investigate the pandemic response by both the Trump and Biden administrations appears stalled on Capitol Hill, despite a 20-to-2 vote in favor of the measure by the Senate health committee. Backers say their last hope for passage is to tack it onto an upcoming spending bill, the final major must-pass piece of legislation of the current Congress…. There has been no vocal opposition to the bill, but it has been in limbo since it passed the health committee in March — a victim of inertia and a lack of White House support…. President Biden has not taken a public position on the bill, and the White House is privately resisting it, according to an official familiar with the measure, who spoke on the condition of anonymity to discuss its status…. President Biden has not taken a public position on the bill, and the White House is privately resisting it, according to an official familiar with the measure, who spoke on the condition of anonymity to discuss its status." • Understandably, since Biden had performed worse than Trump in every respect, including the body count (unless you're a eugenicist, in which case Biden's your guy).
2024
"Trump, Biden fortunes shift dramatically post-midterms" [The Hill]. "While it's still early in the cycle — and Biden isn't expected to make an announcement about a reelection bid until spring — both Democrats and Republicans say the potential Trump-Biden match-up is already taking shape. 'Obviously Biden is in a stronger position today for the nomination than he was a month ago — not something you'd typically say about a sitting president," said Republican strategist Doug Heye. Heye said the good midterm results limit the chances of a real primary challenge against the president. Trump, in contrast, is likely to see a fight for the GOP nomination. 'Trump's popularity in the party has dropped,' Heye remarked. Democrats, even those weary of writing off Trump, also feel Republicans are beginning to drift away from the former president. 'It feels like the migraine named Donald we've all had for the last six years is finally abating,' said Democratic strategist Christy Setzer. 'He just doesn't hold the same power anymore.' Recent polls show Biden ahead of Trump in a potential match-up. A Marquette Law school poll out earlier this month showed Biden leading Trump, 44 percent to 34 percent. (Twenty-two percent said they would prefer someone else or would not vote.)"

"DOJ subpoenas Raffensperger's office as Trump investigation continues" [Atlanta Journal-Constitution]. "A copy of the Dec. 9 subpoena obtained by The Washington Post shows DOJ has requested "any and all communications in any form to, from or involving" Trump, his campaign, employees or attorneys. The subpoena names 19 individuals — including attorneys John Eastman, Rudy Giuliani, Cleta Mitchell, L. Lin Wood and Sidney Powell…. Meanwhile, a Cobb County spokesperson confirmed the county election board also received an FBI subpoena Monday for records related to the 2020 election… Fulton County District Attorney Fani Willis also is conducting a criminal probe… Willis' investigation began by focusing on the January 2021 call in which Trump asked Raffensperger to find just enough votes for him to overturn Biden's victory. Since then, her investigation has expanded to target the fake slate of presidential electors who participated in Trump's far-fetched scheme..,. DOJ also has been investigating the presidential electors. The latest subpoena to Raffensperger indicates the department's probe also is casting a wide net."
Democrats en Déshabillé
Patient readers, it seems that people are actually reading the back-dated post! But I have not updated it, and there are many updates. So I will have to do that. –lambert

I have moved my standing remarks on the Democrat Party ("the Democrat Party is a rotting corpse that can't bury itself") to a separate, back-dated post, to which I will periodically add material, summarizing the addition here in a "live" Water Cooler. (Hopefully, some Bourdieu.) It turns out that defining the Democrat Party is, in fact, a hard problem. I do think the paragraph that follows is on point all the way back to 2016, if not before:

The Democrat Party is the political expression of the class power of PMC, their base (lucidly explained by Thomas Frank in Listen, Liberal!). ; if the Democrat Party did not exist, the PMC would have to invent it. . ("PMC" modulo "class expatriates," of course.) Second, all the working parts of the Party reinforce each other. Leave aside characterizing the relationships between elements of the Party (ka-ching, but not entirely) those elements comprise a network — a Flex Net? An iron octagon? — of funders, vendors, apparatchiks, electeds, NGOs, and miscellaneous mercenaries, with assets in the press and the intelligence community.

Note, of course, that the class power of the PMC both expresses and is limited by other classes; oligarchs and American gentry (see 'industrial model' of Ferguson, Jorgensen, and Jie) and the working class spring to mind. Suck up, kick down.

* * *
Realignment and Legitimacy
"The FBI Files Are Even More Dangerous" [RealClearPolitics]. "Elon Musk is performing a great public service by releasing the Twitter Files, which show how the social media company he recently purchased suppressed news about the Biden family's foreign dealings. While the company's actions, which occurred weeks before the 2020 election, raise knotty questions about free speech, they are a distraction. The more urgent issue is the conduct of our own government, specifically the Federal Bureau of Investigation, which created the landscape where censorship and disinformation could thrive and possibly change the outcome of the presidential contest. Here is a brief chronology which focuses on the bureau's key role in this ongoing scandal…. The Twitter Files reveal that a prime force calling for the censorship of the news was James Baker, a lawyer who had previously worked at the FBI, where he was instrumental in furthering the Trump/Russia collusion hoax. It strains credulity to believe he never checked with his former colleagues at the bureau about the laptop before advising Twitter that 'it's reasonable for us to assume that they may have been [hacked] and that caution is warranted.' The same goes for the rival news organizations that disparaged the laptop story. There can be little doubt that the bureau's phone lines were burning that day, though we do not know who called, what they asked, or what they were told." • No, we don't know. But it would be nice to find out! Just to re-up this:

2. Kevin Michelena – current Twitter Sr. Corporate Security Analyst. Ex FBI Intelligence Analyst 12 yearshttps://t.co/NMH3yff3J2

— Name Redacted (@NameRedacted247) December 7, 2022

There are 15 items on the list of FBI spooks who have become Twitter executives (though hopefully most of them have been fired). It also beggars belief that none of them conferred with buddies still at the bureau.
#COVID19
Lambert here: Eric Topol has called a winter surge (or "wave") of Covid. I am but a humble tapewatcher, but I'm reluctant to do so. (Partly because I know my temperament, and I have strong priors. So "I won't because all of me wants to," as Sam Spade says.) Topol's view is the establishment view: Hospital-centric. Mine is infection-centric. I do not see the acceleration or doubling in cases that I would expect to see based on past surges. So we'll see. Let's wait and see what the remainder of the holiday season brings. Reader discussion on this important point is welcome. Nevertheless–
Stay safe out there: High transmission (CDC), the elevation of positivity (Walgreens), the steady takeover of BQ.1* (CDC; Walgreens), along with elevated hospitalization in BQ.1* hotbed New York are all more than a little unsettling (as is the apparent proliferation of variants). As one might expect at the beginning of a holiday surge, wastewater in Queens County, NY (JFK/LGA), Cook County, IL (ORD), and Los Angeles County (LAX) continues to be elevated. If you are planning to travel on Xmas, do consider your plans carefully.
* * *
• This is a terrific thread about how a whole family saved themselves from infection after the husband ("geologist") came back infected from one of those superspreading shindigs PMCs love to hold:
1/
Herewith a longish thread on how these #CorsiRosenthalBoxes helped 3 of us avoid #COVID19 while a family member self-isolated. Extra challenges included (1) a Yukon winter, and (2) controlling infectious aerosols in an energy efficient house. pic.twitter.com/pa2ImMhWZZ

— Tania J. Spencer (@TaniaJSpencer) December 12, 2022
And:
11/
In total, the geologist self isolated for 12 days, the first 4 of which he tested negative.

Consequently, nobody else in the family was infected.

— Tania J. Spencer (@TaniaJSpencer) December 12, 2022
Lots and lots of hard thinking and good data in this thread. I recommend you read it in full.
* * *
• And speaking of superspreading shindigs:
Shoutout to all the best and brightest among us who just can't seem to solve the problem of how to network with colleagues without eating indoors at the same time. 🤷

— Covid19 (@friendlycovid19) December 11, 2022
• Here's yet another:
All this proves is that 80% of haematologists can't follow guidelines. pic.twitter.com/lLrdOaXLcY

— Put a Mask on it (@patientadvAU) December 12, 2022
• "Rejoice! Despair! The office holiday party is back in person" [WaPo]. Extroverts are gonna kill us all. "The comeback of the in-person holiday party — think ugly-sweater contests and secret-Santa gift exchanges — marks a return to the kinds of gatherings that have traditionally punctuated the year's end in the workplace. It's a chance for companies, especially those with hybrid or remote staffs, to bring employees together in one place after a challenging and change-filled few years. For some workers who have yet to return to the office, it may be their first in-person introduction to colleagues or bosses…. At a time of heightened tension over return-to-office policies, many companies are eager to use holiday parties as a way to highlight the virtues of being in person, Challenger said. Executives he spoke with seemed particularly hopeful about the chance to connect with Generation Z employees, some of whom have never attended an in-person office celebration before." • I'm sure that will be exciting for them.
* * *
• Maskstravaganza: "Authorities are urging indoor masking in major cities as the 'tripledemic' rages" [National Public Radio]. "Over the past few weeks, a surge in cases of COVID, the flu and respiratory syncytial virus (RSV) has been sickening millions of Americans… The triple threat[1] has been called a "tripledemic" by some health experts…. The center's map that tracks COVID-19 community levels[2] has been showing more orange recently, a color indicating an area of "high" infection[3], Walensky told NPR's Alisa Chang on All Things Considered. "To protect communities in those circumstances at those high levels, we have recommended[4] and continue to recommend that those communities wear masks," she said."… In New York City, health commissioner Dr. Ashwin Vasan on Friday advised[5] New Yorkers to wear face coverings[6] inside stores, public transit, schools, child care facilities, and other public shared spaces, especially when they are crowded." • Despite the dulcet tones of NPR, this is horrid coverage. [1] Perhaps I didn't get the memo, but I have yet to see any kind of breakdown of the case rates for each virus; I would also expect the case rate for Covid to be unexpectedly high, because people lie about it ("It's just a cough I can't shake"). Of course, this breakdown is an impossible demand, because our case date for Covid is so bad (hat tip, CDC). [2] On the vile "community levels" ("green") map, which Walensky continues to press, and which bullshit NPR unquestionably injects into the bloodstrem of the body politic, see the NOTE in the Tranmission section. [3] Walensky is lying. The Community Levels map does not indicate "infection"; at the very best, it indicates a combination of transmission and hospitalization; see, again, the NOTE. [4] Always recommendations, encouragement. Never "guidance," let alone a mandate. [5] Ditto. [6] This is one of my crotchets, but a mask is not a "face covering." Eyes are part of the face, and the eyes are not "covered" (important, since you can smile with your eyes).
• Maskstravaganza: A long thread on why Canadians aren't masking:
[Jeff comment: Governments and public health are not using the word airborne so many people don't understand that respiratory viruses are spread in the air through aerosols which masks and better ventilation will reduce the risk ( https://t.co/rilBEALUK2 )]. 9/ pic.twitter.com/QtU66gUqk3

— Dr. Jeff Gilchrist (@jeffgilchrist) December 12, 2022
They don't use the word "airborne" in China, either.
• Maskstravaganza: "San Antonio hospital could have an answer to the PPE crisis– elastomeric masks" [KENS5]. From 2020, still germane. "'We are the only center in the U.S. which uses elastomeric masks routinely,' Dr. Annie Kizilbash said. Kizilbash is an associate professor in Internal Medicine and the Medical Director at The Texas Center for Infectious Disease or TCID. She says the Elastomeric North 7700 Respirator is Hypoallergenic and made 100 percent of silicon and the center has 130 of these masks being routinely used. TCID is organized under the Texas Department of State Health Services under the public health division. The hospital specializes in treating tuberculosis patients. Dr. Kizilbash says the Elastomeric is highly effective against airborne diseases such as Tuberculosis. She says the center has used them since 1996 and not once did an employee test positive for TB…. As for the cost, she says it's significant. For 170 employees, Kizilbash says . The Reusable Elastomeric masks cost just over two thousand dollars and only needs a filter change once a year. 'These masks can be used for years if you take care of them.'" • Hmm. One can only wonder why hospital administrators don't go with the cheaper alternative, even if they don't care about the health of their workers.
* * *
• "Strep A hits Europe: Health chiefs warn of spike in children becoming seriously ill with usually-mild bug in wake of Covid" [Daily Mail]. "The WHO noted that the surge in Strep A came after a 'period of reduced incidence of infections' during the pandemic. There is usually a surge in iGAS cases every three to four years but social distancing during the Covid pandemic is thought to have interrupted this cycle." • Ah, "is thought to." By whom? (Note WHO and the Daily Mail's careful erasure of immune dysregulation from Covid, IMNSHO a more plausible explanation, at least for adults; certainly an alternative to be mentioned.)
• "RSV, Flu, and COVID: Understanding Today's 'Tripledemic'" [Christopher Gill, Boston University School of Health]. "Due to the COVID-19 restrictions, in the past several years, we saw major declines in the incidence and impact of RSV and influenza. That was good, but also meant that the population was NOT acquiring as much herd immunity to those other viruses. At the same time, infants were still being born and adding to the population of susceptible individuals. The result was a bit like winding a clock spring too tightly, because now the rebound has been much more severe than in typical years. While this is a bit of a simplification of a very complex process, our best guess is that we are now in the midst of a planet-wide rebound of viral transmission. This is particularly for diseases that mainly affect young infants, such as RSV." • Again, the careful erasure of immune dysregulation. Perhaps the Brains Trust will correct me, but I can see how a baby who has never encountered RSV would have no immune resistance to it (hence the pediatric surge). I'm not so sure about adults. And I also want data on the proportions of virus in the tripledemic (if there is any). I am hearing a lot of analogies, like "winding a clock spring," and that's worrisome.
* * *
Lambert here: Our world-class public health agency: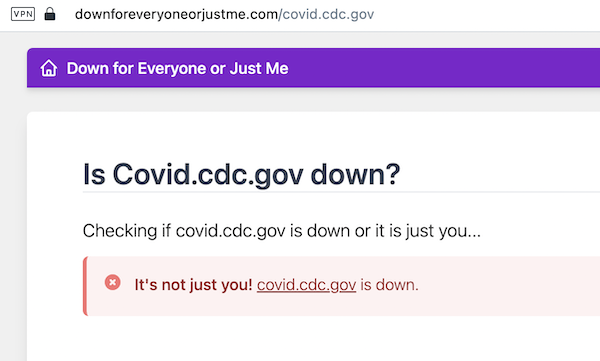 How am I supposed to do my personal risk assessment with yesterday's data?
Transmission
SITE DOWN Here is CDC's interactive map by county set to community transmission (the "red map"). (This is the map CDC wants only hospitals to look at, not you.)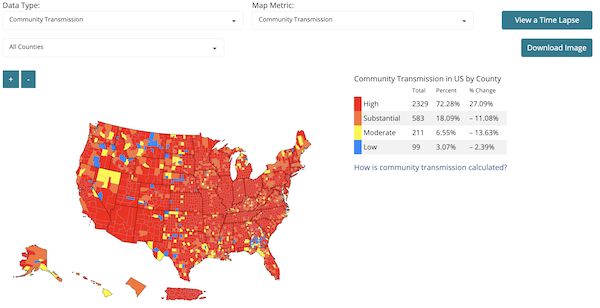 Previous version: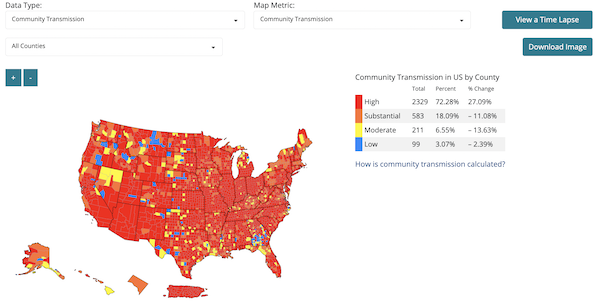 NOTE: CDC doesn't say how often this updates.
Lambert here: Some readers seemed not to be aware of the difference between the "green map" (community levels) and the "red map" (transmission) so I am reintroducing the boilerplate I once used:
NOTE: I shall most certainly not be using the CDC's new "Community Level" metric. Because CDC has combined a leading indicator (cases) with a lagging one (hospitalization) their new metric is a poor warning sign of a surge, and a poor way to assess personal risk. In addition, Covid is a disease you don't want to get. Even if you are not hospitalized, you can suffer from Long Covid, vascular issues, and neurological issues. That the "green map" (which Topol calls a "capitulation" and a "deception") is still up and being taken seriously verges on the criminal.
Positivity
From the Walgreen's test positivity tracker, published December 11: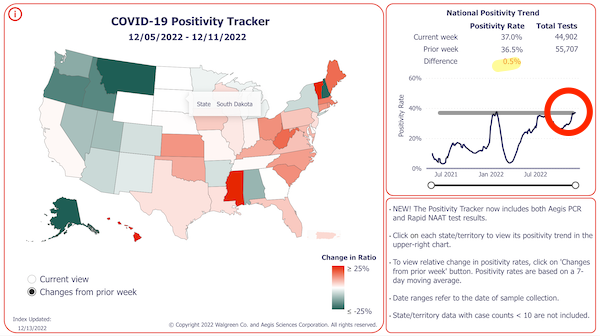 0.5%. Same as yesterday.
Wastewater
SITE DOWN Wastewater data (CDC), December 6: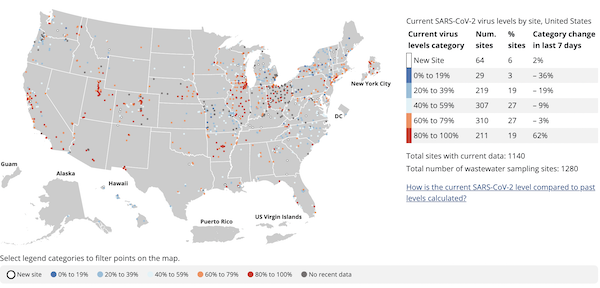 JFK/LGA, Queens County is still red; ORD, Cook County just turned red; LAX, Los Angeles County now red. I would bet that speckling of red in Utah is sky country. Stay safe when travelling.
December 5: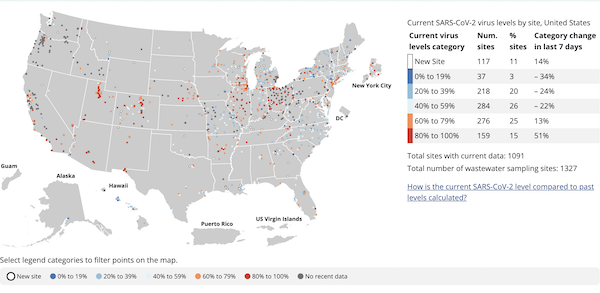 NOT UPDATED And MWRA data, December 8: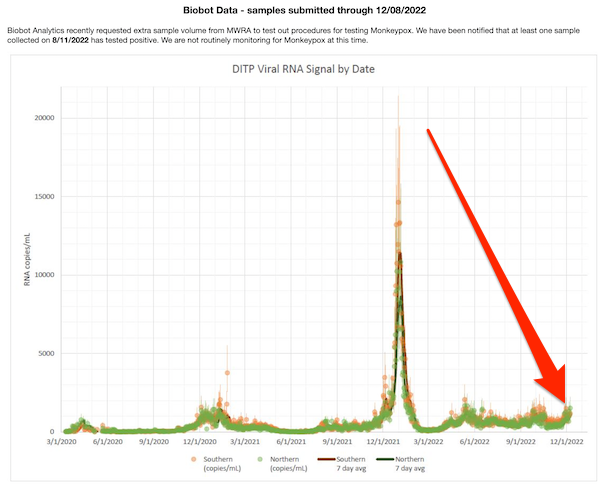 Lambert here: Fiddling and diddling. Up in the North, down in the South.
Variants
Lambert here: It's beyond frustrating how slow the variant data is. Does nobody in the public health establishment get a promotion for tracking variants? Are there no grants? Is there a single lab that does this work, and everybody gets the results from them? [grinds teeth, bangs head on desk]. UPDATE Yes. See NC here on Pango. Every Friday, a stately, academic pace utterly incompatible with protecting yourself against a variant exhibiting doubling behavior.
NOT UPDATED Variant data, national (Walgreens), November 28: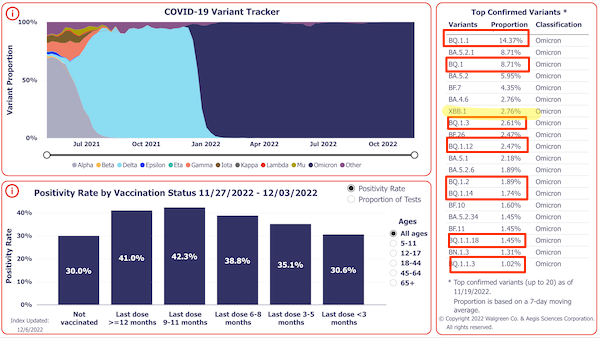 Lambert here: BQ.1* first on the leaderboard. XBB charging.
NOT UPDATED Variant data, national (CDC), November 19 (Nowcast off):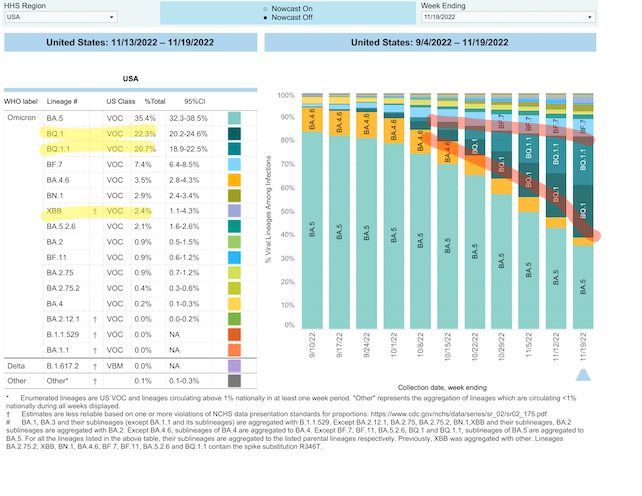 BQ.1* takes first place. Note the appearance of XBB.
• As a check, since New York is a BQ.1* hotbed, New York hospitalization, updated December 13: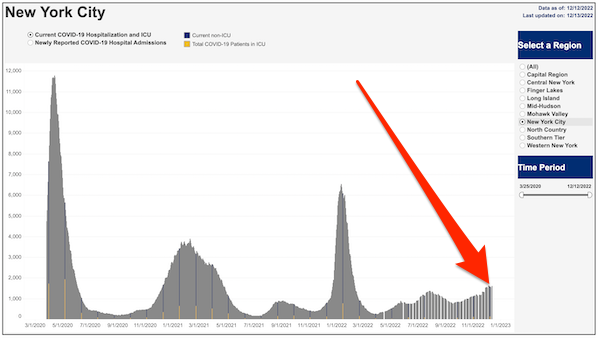 Lambert here: Slightly down.
• Hospitalization data for Queens, updated December 10:

Deaths
Death rate (Our World in Data):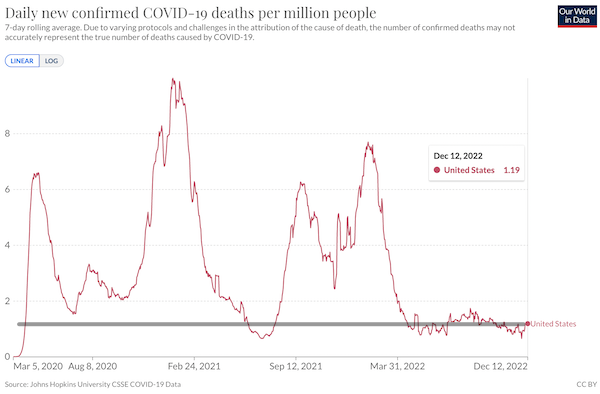 Total: 1,109,983 – 1,109,851 = 132 (132 * 365 = 48,180 deaths per year, today's YouGenicist™ number for "living with" Covid (quite a bit higher than the minimizers would like, though they can talk themselves into anything. If the YouGenicist™ metric keeps chugging along like this, I may just have to decide this is what the powers-that-be consider "mission accomplished" for this particular tranche of death and disease).
It's nice that for deaths I have a simple, daily chart that just keeps chugging along, unlike everything else CDC and the White House are screwing up or letting go dark, good job.
UPDATE: I misplaced a tweet about German excess deaths among males in their 40s and 50s, sadly! So I removed the tweet that was here. –lambert
Stats Watch
Inflation: "United States Consumer Price Index (CPI)" [Trading Economics]. "The consumer price inflation rate in the US eased for a fifth straight month to 7.1 percent in November 2022, the lowest since December 2021 and below market expectations of 7.3 percent. Still, the latest reading remained well above the US Federal Reserve's 2 percent target."
Optimism: "United States NFIB Business Optimism Index" [Trading Economics]. "The NFIB Small Business Optimism Index in the United States unexpectedly increased to 91.9 in November of 2022 from 91.3 in October, beating forecasts of 90.4, amid a slight ease in inflation pressures and better business conditions over the next six months. "The small business economy is recovering as owners manage an ongoing labor shortage, supply-chain disruptions, and historic inflation" said William Dunkelberg, NFIB chief economist."
Optimism: "United States IBD/TIPP Economic Optimism Index" [Trading Economics]. "The IBD/TIPP Economic Optimism Index in the US increased to 42.9 in December of 2022 from 40.4 in November, beating market forecasts of 41.3. The biggest positive contribution came from the personal finances subindex which rose by 1.8 points to 50.2, edging into optimistic territory for the first time since September as gas prices fell and the Dow Jones rallied. Also, the share of Americans who think the US economy is in a recession fell to 55% from 58%in November and 61% in October. Meanwhile, the six-month outlook for the US economy increased by 3.4 points to 37.7. Still, the index remained below 50 for a sixteenth consecutive month, continuing to point to pessimism."
* * *
The Bezzle: "Disgraced FTX CEO Sam Bankman-Fried 'orchestrated yearslong fraud' on investors and customers, SEC and criminal charges say" [NBC]. "A grand jury in the Southern District of New York indicted Bankman-Fried on eight counts: conspiracy to commit wire fraud on customers, wire fraud on customers, conspiracy to commit wire fraud on lenders, wire fraud on lenders, conspiracy to commit commodities fraud, conspiracy to commit securities fraud, conspiracy to commit money laundering and conspiracy to defraud the United States and violate the campaign finance laws. The indictment alleges Bankman-Fried knowingly devised the scheme to defraud customers of FTX by 'misappropriating those customers' deposits and using those deposits to pay expenses and debts of Alameda Research," his own privately-held crypto hedge fund, to make investments. The wire fraud on lenders and customers started in or about 2019 and lasted through November 2022, according to the filing. The indictment also alleges Bankman-Fried duped lenders to Alameda by obtaining money and property by providing 'false and misleading information to those lenders regarding Alameda Research's financial condition.' The indictment also accuses Bankman-Fried of campaign finance violations for conspiring with others and making campaign contributions to candidates and political committees above the federal donation limit."
* * *
Today's Fear & Greed Index: 59 Greed (previous close: 58 Greed) [CNN]. One week ago: 61 (Greed). (0 is Extreme Fear; 100 is Extreme Greed). Last updated Dec 13 at 12:29 PM EST.
Zeitgeist Watch
"What is Mimetic Desire?" [Anti-Mimetic]. "The assumption that my desires are all my own—this story that I tell myself—is what the French social scientist René Girard calls "The Romantic Lie." The Lie is that I want things independently, or that I choose all of the objects of my desire out of some secret desire chamber in my heart. I know a good thing when I see it; I know what's desirable and what's not, unaided…. The value of objects is not objective—it's subjective. And that subjective value is determined mimetically, based on our relationships with others. We could say that value is intersubjective: we assign value to things (and therefore desire them) according to what other people want. …. The more abstract the thing is, the more mimetic desire usually comes into play. Our central nervous system certainly isn't going to give us any clear or intelligible answers. But models can. Models are people who show us what is worth wanting. Rather than an internal (biological) homing device that helps us make choices, models are external signposts that steer us toward the pursuit of certain people, places, things, even lifestyles. Models are like people who seem farther up ahead on the path we're on; they can see around a corner that we can't see around. We assume that they have some insight into which direction to go that we do not. In short, we assume they have something that we do not—that they possess some quality of being that we do not. And so we follow them. Mimetic desire means that we make many of our choices according to the desires of others—our models." • Hmm. I could have filed this under influencers, but the ideas seem to have broader implications. One might model a spectacle, for example. Or membership in a political party or movement.
"It's Not Cool to Overreact: How Normalcy Bias Will Define Our Future" [OK Doomer]. "Amanda Ripley theorizes normalcy bias in Unthinkable: Who Survives When Disaster Strikes and Why. She paints a stark description of it in a related article: "Large groups of people facing death act in surprising ways. Most of us become incredibly docile…Usually, we form groups and move slowly, as if sleepwalking in a nightmare." In short, we don't panic. We chill way out.,.. Psychologists have documented this glitch for decades. About half of people are almost destined to shut down during an emergency. Even if they can function, they'll spend precious time gossiping with each other and trying to get more information before they even try to do anything. Scientists call it milling. Sometimes, they'll even distract themselves by calming strangers down and minimizing their concerns. Maybe you've noticed. Many of us have encountered this attitude daily over the last few years. It's infuriating. We've tried to get those around us to take various threats seriously, whether it's the coronavirus or climate change. Our friends and family wave us off. It leaves us feeling isolated and unbalanced, wondering if we're the ones with the problem. We're not, and normalcy bias shows just how weird people act in the face of threats. Most of the time, they're predisposed to shrug it off." And:
So when you add it all up:

30 percent respond well.

10 percent freak out.

10 percent minimize.

50 percent go into sheep mode.

Psychologists have observed this pattern over and over again in everything from earthquakes to traffic accidents. It's practically baked in that 70 percent of people will wait until it's too late to solve a crisis.
Hmm. Bug, or feature?
Class Warfare
"The Gamification of Everything Is No Fun" [The New Republic]. "[Adrian Hon] created Zombies, Run!, a smartphone game that incentivizes running and that has been downloaded more than 10 million times, and founded a company that produces games for clients like the BBC, Penguin Books, Microsoft, and the British Museum. His central argument, as suggested by the subtitle, is that 'gamification has become the twenty-first century's most advanced form of behavioral control.'… Taylorism 2.0 comprises everything from warehouse work to programming to truck and taxi driving. In trucking, fleet telematics systems use leaderboards and competitions to 'motivate individual drivers and teams to compete for better scores, badges, prizes, and bonuses,' in the words of the founder of Cambridge Mobile Telematics. Uber uses 'quests' to lure drivers into working for longer hours, and Lyft similarly offers 'streak bonuses' to drivers who accept back-to-back rides. What these examples share is the reliance on large pools of data about workers—a phenomenon that has led privacy scholars to warn of a 'scored society' or the rise of 'informational capitalism.; The work that, for Hon, best expresses Digital Taylorism's 'infantilizing gamification,' though, is working at a call center. Here, timers on computers have replaced stopwatches, measuring the duration of calls down to the second and tracking how workers' performance ranks next to their own past performance, their team average, and 'company benchmarks.'" • If I have this right, workers under capitalism are "Non-Player Characters." At least ideally.
News of the Wired
Dad.
My son was chewing on electrical wires,
So I had to ground him.

He's doing better currently and conducting himself properly.

— PUNS (@ThePunnyWorld) December 12, 2022
"Two studies deliver strong evidence linking depression and gut bacteria" [The New Atlas (Furzy Mouse)]. "Two new studies published in Nature Communications offer some of the strongest evidence to date for a relationship between depression and gut bacteria. The research does not claim bacteria in the gut directly causes depression, but does suggest a strong correlation that could inform novel diagnostic biomarkers for the mood disorder…. [The first] study found consistent associations between general microbial diversity and depression, regardless of ethnicity. Essentially, the more diverse an individual's gut bacterial population the less likely they were to experience depression…. The second study zoomed in more specifically on the gut bacterial species that could be associated with depression. First, stool samples of around 1,000 subjects from an ongoing population health study in Rotterdam were closely analyzed to track correlations between specific bacteria and depression symptoms. Thirteen bacterial types were directly associated with symptoms of depression…. Of course, the million-dollar question is whether these gut microbes are actually contributing to a person's depression, or are other factors relating to depression cause these microbiome changes? Najaf Amin, co-author on the Oxford study, said the causal relationship is still unclear. Some of the bacteria identified in the study are known to synthesize several key brain neurotransmitters relating to mood and depression, so it is entirely plausible to speculate the microbiome plays a causal role in depression. However, Amin also suggests it is just as plausible to suggest depression leads to other physiological changes that subsequently transform the microbiome." • Or both. Surely causality is not always one way?
"Ashwagandha: 7 Proven Health Benefits of This Ancient Herb" [SciTech Daily]. Plenty of footnotes. "While ashwagandha has been documented in some of the oldest Ayurvedic texts, modern scientific research is slowly catching up. More benefits and uses of ashwagandha could yet be discovered. However, ashwagandha has been shown to help with muscle gains and exercise performance, mental performance, libido, stress, and anxiety. As an adaptogen, ashwagandha is used for a wide range of purposes in Ayurveda, as it can help restore your metabolic health, energy levels, and hormone balance." • Readers, thoughts? (I'd like to avoid powders or pills.)
* * *
Contact information for plants: Readers, feel free to contact me at lambert [UNDERSCORE] strether [DOT] corrente [AT] yahoo [DOT] com, to (a) find out how to send me a check if you are allergic to PayPal and (b) to find out how to send me images of plants. Vegetables are fine! Fungi and coral are deemed to be honorary plants! If you want your handle to appear as a credit, please place it at the start of your mail in parentheses: (thus). Otherwise, I will anonymize by using your initials. See the previous Water Cooler (with plant) here. From Carla: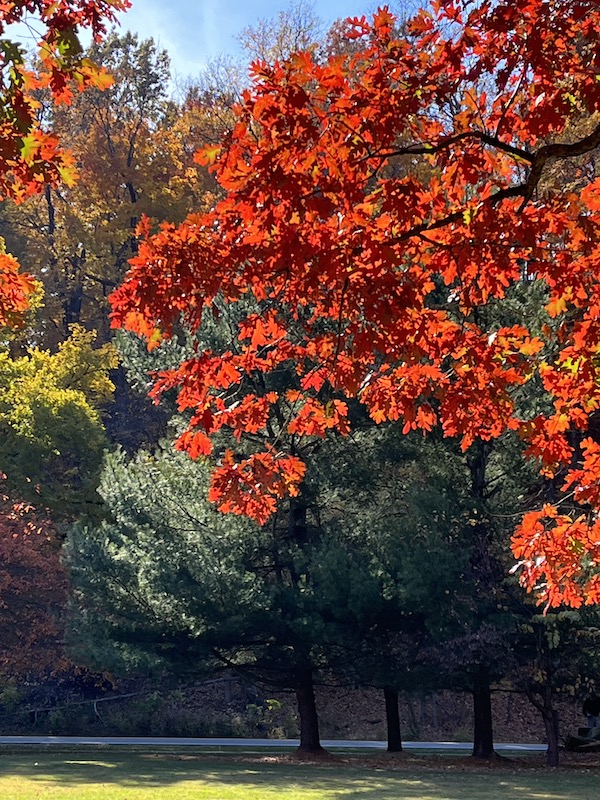 Carla writes: "Afternoon sun shining through red oak leaves, Cleveland Metroparks." Wow!
* * *
Readers: Water Cooler is a standalone entity not covered by the annual NC fundraiser. So if you see a link you especially like, or an item you wouldn't see anywhere else, please do not hesitate to express your appreciation in tangible form. Remember, a tip jar is for tipping! Regular positive feedback both makes me feel good and lets me know I'm on the right track with coverage. When I get no donations for five or ten days I get worried. More tangibly, a constant trickle of donations helps me with expenses, and I factor in that trickle when setting fundraising goals:
Here is the screen that will appear, which I have helpfully annotated: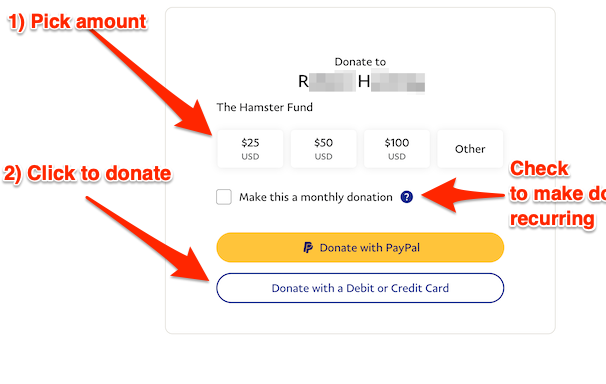 If you hate PayPal, you can email me at lambert [UNDERSCORE] strether [DOT] corrente [AT] yahoo [DOT] com, and I will give you directions on how to send a check. Thank you!