By Lambert Strether of Corrente.
Readers, thank you for all the kind words about Water Cooler's Covid coverage (after I whinged that I wasn't sure anybody was reading it). –lambert P.S. The more anecdotes, tips and techniques, and field reports the better!
Bird Song of the Day
Snow Bunting, North Slope, Alaska, United States. "A male singing, responding another male on the background."
* * *
Politics
"But what is government itself, but the greatest of all reflections on human nature?" –James Madison, Federalist 51
"Here's food for thought, had Ahab time to think; but Ahab never thinks; he only feels, feels, feels" –Herman Melville, Moby Dick
"So many of the social reactions that strike us as psychological are in fact a rational management of symbolic capital." –Pierre Bourdieu, Classification Struggles
Capitol Seizure
"'What doesn't kill me makes me stronger': Trump DEFIANTLY slaps down Jan. 6 committee criminal referral following never-before-seen damning testimony by Hope Hicks" [Daily Mail]. "In her taped testimony played at Monday's final meeting of the Democrat-led committee, Hicks revealed that Trump 'refused' to put out a statement warning against violence in the lead-up to January 6. In a videotaped segment of her prior testimony, Hicks also discussed warning Trump that he could harm his legacy by pushing his election fraud claims. 'The only thing that matters is winning,' the ex-president allegedly responded." • Hmm. I remember thinking "Hmm, there's something here" when Hicks, quite early in the campaign, told a Bloomberg reporter seeking an interview that she would be taking a nap instead.

"Jan. 6 panel urges Trump prosecution with criminal referral" [Associated Press]. "While a criminal referral is mostly symbolic, with the Justice Department ultimately deciding whether to prosecute Trump or others, it is a decisive end to a probe that had an almost singular focus from the start…. The report's 154-page summary, made public as the hearing ended, found that Trump engaged in a 'multi-part conspiracy' to overturn the election. While the majority of the report's main findings are not new, it altogether represents one of the most damning portraits of an American president in recent history, laying out in great detail Trump's broad effort to overturn his own defeat and what the lawmakers say is his direct responsibility for the insurrection of his supporters." • What we have instead is "violations of four criminal statutes": aiding an insurrection, obstructing an official proceeding, and conspiracy to make a false statement. (I've read this mess of an article twice, and can't find the fourth one.) Insurrection is a crime. So far as I can tell, none of the January 6 participants have been charged with insurrection. The Proud Boys have been charged with "seditious conspiracy" [that word again], considered by the Committee but rejected in the case of Trump ("Among the other charges contemplated, but not approved, by the committee was seditious conspiracy"). But if the rioters weren't charged with insurrection, then where exactly is the insurrection Trump is being charged with? Please don't make me put on my yellow waders for this….
Biden Administration
"What Trump promised, Biden seeks to deliver in his own way" [Associated Press]. "Biden aides are quick to say that the president is fulfilling his own campaign promises, rather than honoring pledges made by Trump. But one of Biden's first moves as president in 2021 was to provide $1,400 in direct payments to Americans as part of his coronavirus relief package. Along with the $600 in payments in a pre-Biden [i.e., Trump] relief package, the sum matched the $2,000 that Trump called for in the twilight of his presidency, though he could not get it through Congress." • Biden (and Warnock and Ossoff, while all three were working to win the key state of Georgia in the Senate) promised me $2,000. They didn't promise me $1,400 plus $600 from the former guy. I'm amazed, except not, to see AP repeating this "baseless" claim. It discredits the rest of the article.
2024
2022
"Making Sense of Midterm America" [Richard Haas, Project Syndicate]. Haas is head of the Council on Foreign Relations, so this is The Blob's conventiional wisdom on the midterms: "A political earthquake in the United States was averted in the midterm elections. With the Democrats exceeding expectations, US foreign policy will remain mostly on familiar terrain for the next two years, until the 2024 presidential election – after which anything can, and possibly will, happen. What was expected to be a decisive no-confidence vote in Biden for the most part failed to materialize. Republicans were widely expected to perform better than they did. The party in power almost always loses seats in midterms, as voters seek to express unhappiness and look for change, and many of the issues at the top of voters' minds, including inflation, crime, and illegal immigration, ought to have resulted in big Republican gains. But voter concerns about other issues, from abortion rights to the health of American democracy, together with questions about the fitness of more than a few Republican candidates, worked in the Democrats' favor." • Note that "What was expected" is in the passive voice; I never expected. Note also that the "familiar territory" in question is Bakhmut, Kherson, Kharkiv, Kyiv, etc… Meanwhile, another Blob member actually interprets international relations in terms of identity politics:

What is "Ontological Security" and what does it have to do with Russia's invasion of Ukraine?

Pretty much everything.

[THREAD]

— Paul Poast (@ProfPaulPoast) December 17, 2022

And:

As the subtitle of @BrentJSteele1's book indicates, "ontological security" is not about survival of "stuff" but survival of "identity". This is in contrast to "the body" (i.e. physical)https://t.co/4EOo0XToMz

— Paul Poast (@ProfPaulPoast) December 17, 2022

* * *

FL: "The surprising resurgence of Republicans in Miami" [Financial Times]. "When Raquel Regalado was growing up in 1980s Miami, she remembers protesters demanding that immigrants speak English and an inhospitable bumper sticker that asked: 'Will the last American to leave please remember to bring the flag?' These days, Regalado, a county commissioner who is the daughter of Cuban immigrants, delights in what she calls 'this fusion that is very Miami'. It is a place where Hispanic immigrants of various stripes have mixed and mingled and intermarried. Bilingualism and multiculturalism are the norm. So, increasingly, is the Republican party. In one of the more surprising results of November's midterm elections, Florida Governor Ron DeSantis became the first Republican candidate for statewide office in 20 years to conquer Miami-Dade, the state's most populous county and a Democratic bastion dominated by black and Hispanic voters. DeSantis's 11-point victory in Miami-Dade represented a whiplash-inducing 40-point swing from Hillary Clinton's 2016 triumph there over Donald Trump, intensifying speculation the governor will mount a White House campaign. It also confirmed what many on the ground already knew: Republicans now dominate what was, until recently, a vital swing state that has shifted to the right even as conservatives' grip appears to be loosening on other traditional havens, such as neighbouring Georgia. It had become conventional wisdom among pundits that the growing numbers of Latino voters in states such as Florida would fill the Democrats' ranks. Instead, Miami-Dade's turn could be a sign that Republicans have honed their appeal to more culturally conservative Latino voters, something that could pay dividends far beyond south Florida." • The "coalition of the ascendant" — the concept that Democrats didn't actually have to deliver on anything, because demographics would do their work for them — turned out to be a debacle (called it). It's been quietly abandoned, but very naturally nobody has been held accountable since this is, after all, the Democrat party.

NY: "Who Is Rep.-Elect George Santos? His Résumé May Be Largely Fiction" [New York Times]. "George Santos, whose election to Congress on Long Island last month helped Republicans clinch a narrow majority in the House of Representatives, built his candidacy on the notion that he was the 'full embodiment of the American dream' and was running to safeguard it for others. His campaign biography amplified his storybook journey: He is the son of Brazilian immigrants, and the first openly gay Republican to win a House seat as a non-incumbent. By his account, he catapulted himself from a New York City public college to become a 'seasoned Wall Street financier and investor' with a family-owned real estate portfolio of 13 properties and an animal rescue charity that saved more than 2,500 dogs and cats. But a New York Times review of public documents and court filings from the United States and Brazil, as well as various attempts to verify claims that Mr. Santos, 34, made on the campaign trail, calls into question key parts of the résumé that he sold to voters. Citigroup and Goldman Sachs, the marquee Wall Street firms on Mr. Santos's campaign biography, told The Times they had no record of his ever working there. Officials at Baruch College, which Mr. Santos has said he graduated from in 2010, could find no record of anyone matching his name and date of birth graduating that year. There was also little evidence that his animal rescue group, Friends of Pets United, was, as Mr. Santos claimed, a tax-exempt organization: " • Typically, oppo is performed before elections, not after. What's really going on here?

WA-03: "Volunteers fueled an upset WA Congressional win one doorbell at a time" [Seattle Times (PI)]. "Amid the punditry and late-night quarterbacking of the postelection season, a major lesson is getting lost: The importance of volunteers knocking on doors. A case in point is the astonishing victory that an army of volunteers more than 500 strong, most of them young mothers, pulled off in the last weeks of the race in Washington's 3rd Congressional District that includes Vancouver. The pollsters at FiveThirtyEight had given Marie Gluesenkamp Perez, a down-to-earth auto body shop owner and Democrat, a 2% chance of winning the district against Joe Kent, a career soldier and rising MAGA Republican star who was crushing Gluesenkamp Perez in their debates." Good detail on the volunterers, and: "Early on in Gluesenkamp Perez's campaign, the Democratic Congressional Campaign Committee decided it had bigger fish to fry, leaving her largely to fend for herself. Just across the river, the party threw its weight behind Jamie McLeod-Skinner, the incumbent in Oregon's District 5, south of Portland. The DCCC funded a field staff at least five times larger than Glusenkamp Perez's but recruited many fewer volunteers. McLeod-Skinner lost by 2 points. Most campaigns don't believe that people will volunteer their time to save their country, and that's a fatal mistake. Many elections that decide the future of the country come down to a handful of votes. Yet a number of voters hold a complex set of views and can go either way. A real conversation with a volunteer from their community is the most effective way to persuade them to go to the polls."
Democrats en Déshabillé
Patient readers, it seems that people are actually reading the back-dated post! But I have not updated it, and there are many updates. So I will have to do that. –lambert

I have moved my standing remarks on the Democrat Party ("the Democrat Party is a rotting corpse that can't bury itself") to a separate, back-dated post, to which I will periodically add material, summarizing the addition here in a "live" Water Cooler. (Hopefully, some Bourdieu.) It turns out that defining the Democrat Party is, in fact, a hard problem. I do think the paragraph that follows is on point all the way back to 2016, if not before:

The Democrat Party is the political expression of the class power of PMC, their base (lucidly explained by Thomas Frank in Listen, Liberal!). ; if the Democrat Party did not exist, the PMC would have to invent it. . ("PMC" modulo "class expatriates," of course.) Second, all the working parts of the Party reinforce each other. Leave aside characterizing the relationships between elements of the Party (ka-ching, but not entirely) those elements comprise a network — a Flex Net? An iron octagon? — of funders, vendors, apparatchiks, electeds, NGOs, and miscellaneous mercenaries, with assets in the press and the intelligence community.

Note, of course, that the class power of the PMC both expresses and is limited by other classes; oligarchs and American gentry (see 'industrial model' of Ferguson, Jorgensen, and Jie) and the working class spring to mind. Suck up, kick down.

* * *

"Manchin sidesteps questions on leaving Democratic Party: 'I'll let you know later'" [The Hill]. "Manchin avoided saying outright if he'd join fellow centrist Sen. Kyrsten Sinema (Ariz.), who shocked Washington earlier this month by announcing that she would become an Independent…. Manchin said last week that he didn't intend to immediately follow Sinema in making a party switch but didn't rule it out for the future."

"Jeffries taps DelBene to lead House Democrats' campaign arm" [The Hill]. "The move by Rep. Hakeem Jeffries (D-N.Y.) puts [Rep. Suzan DelBene (D-Wash.)] — a seasoned former tech executive with deep ties to the deep pockets of Silicon Valley — at the helm of the Democratic Congressional Campaign Committee (DCCC) during a high-stakes presidential cycle…. But the playing field changed dramatically last month, when rank-and-file Democrats voted to shift the top DCCC spot from an elected position, chosen by the full caucus, to an appointed role at the discretion of the Democratic leader. That adjustment gave Jeffries, who will replace Pelosi at the top of the party next year, new power to choose the campaign chief unilaterally. In picking DelBene, he touted her experience as a 'battle-tested' lawmaker with 'serious management and operational experience inside and outside government.'" • I wondered if DelBene, being from Silicon Valley, was a CIA Democrat:

"Try on spy disguises!"
Our Famously Free Press
"Hunter Biden's Laptop and 2020's First Big Lie" [Wall Street Journal]. "When you say the Hunter Biden laptop story was real, Democrats and their media allies respond that the private embarrassments of Hunter Biden aren't news. sWhen you say a large retinue of former top intelligence officials lied when they portrayed the laptop as a Russian intelligence operation, they say there's no evidence that Joe Biden profited from his son's activities. When you say Twitter censored a legitimate news story and active-duty FBI officials may have encouraged the company to do so, they insist that Twitter is a private company and that Hunter's activities were not illegal and had already been widely reported to the public. In other words, the defenses now filling the media evade every important question. Only one intellectually honest statement has been heard anywhere and that was offered months ago by liberal philosopher and podcaster Sam Harris: Yes, the laptop story was true and newsworthy. Yes, intelligence veterans and the press lied in suppressing it to help Joe Biden. And he supports their doing so." • All true, something I don't say often about what appears in the WSJ's Op-Ed page. And: "So compromised are the national reporting staffs of the Washington Post, the New York Times and other outlets that they can't be trusted on the biggest story of the day. A Jeff Bezos, say, would have to take a page from the CIA's own history and recruit a 'Team B' off-site from his Washington Post to investigate the laptop ruse, then require his newspaper to report the truth however discomfiting to its newsroom and leadership." • Not such a bad idea.
#COVID19
Lambert here: I am but a humble tapewatcher, but unlike Eric Topol, I'm not calling a surge, because the last peak was Biden's Omicron debacle, and after an Everest like that, what's left? Topol's view is the establishment view: Hospital-centric. Mine is infection-centric. I do not see the acceleration or doubling in cases that I would expect to see based on past surges. There is also the TripleDemic aspect, which I don't know enough about.
I am calling a "Something Awful." It's gonna be bad, in some new way, and we don't know how, yet. Wastewater has taken off in New York, Chicago, San Francisco, and Los Angeles, right on time, two weeks after Thanksgiving. Those are not only in themselves large cities, they are all the sites of international airports (reminiscent of the initial surge in spring 2020, which emanated, via air travel, from New York). Wastewater is a leading indicator for cases, which in turn lead hospitalization (and death). In addition, positivity has begun to increase again (Walgreens), and BQ.1* has taken over. Finally, I'm hearing a ton of anecdotes (and do add yours in comments).
Stay safe out there! If you are planning to travel on Xmas, do consider your plans carefully.
• Here is the national wastewater data from BioBot. This is probably the best proxy for case counts that we have: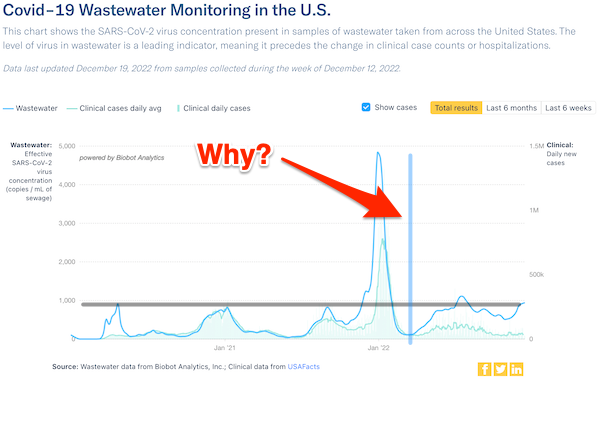 I have drawn a grey line to show how current levels compare to past peaks; nothing near Biden's ginormous jouissance last year at about this time, of course. But there's still time! I have drawn a DNC-blue vertical line to call attention to the divergence between clinical case curves and wastewater curves; at some point I need to track down what policy changes the administration made near that date (besides Walensky's "Scarlet Letter" remark).
• "A new omicron subvariant is spreading in China. Here's what we know so far." [Live Science]. "Reports from China indicate BF.7 has the strongest infection ability out of the omicron subvariants in the country, being quicker to transmit than other variants, having a shorter incubation period, and with greater capacity to infect people who have had a previous COVID infection, or been vaccinated, or both. To put this into context, BF.7 is believed to have an R0, or basic reproduction number, of 10 to 18.6. This means an infected person will transmit the virus to an average of 10 to 18.6 other people. Research has shown omicron has an average R0 of 5.08. The high transmission rate of BF.7, taken with the risk of hidden spread due to the many asymptomatic carriers(opens in new tab), is understood to be causing significant difficulty in controlling the epidemic in China." • Fortunately, with our rigorous regimen of airport testing and quarantine of infected travellers…. Oh, wait. It has occurred to me, as I [await|consider|fantasize|live in fear of] whatever "Something Awful" might be, that a really good candidate would be something out of China. The virus has pretty big population to experiment on, there, some of them surely immune-compromised.
• "New Covid-19 wave coming? China's reopening puts rest of Asia on alert for fresh virus strains" [South China Morning Post]. "Singapore's health minister Ong Ye Kung this week warned that China's reopening could lead to mutations of the coronavirus, something the city state was 'watching.' 'They're taking very decisive steps to open up their economy and society. This [is] bound to drive up infections, which we are not so worried [about] because our resilience is high and we've gone through three waves this year,' he said. But the question is, with 1.3 billion people mostly uninfected, [when] the disease starts to spread, we are bound to get mutations.'" • Lots of minimization going on in Asia, too, sadly. Of course the SCMP is owned by Alibaba, which wants people shopping.
* * *
• Metaphors (1):
Remember everyone, when the snow falls and the roads get slippery, don't slow down while driving, you don't want to go living in fear. #BringBackMasks #COVID19 #covid #COVIDisAirborne #CovidIsntOver #DoSomething #winter

— Keith Muise (@keetmuise) December 16, 2022
• Metaphors (2):
The steps are our society.
Each footfall is a covid infection.

— tern (@1goodtern) December 17, 2022
* * *
• A long thread explaining how to fit-test your mask:
THREAD: 19 Tips for a DIY mask fit test to reduce your risk of #COVID19.

H/t @amandalhu & @__philipn__

What did I miss? pic.twitter.com/Pp1bM8zMur

— Mike Hoerger, PhD MSCR MBA (@michael_hoerger) December 17, 2022
The only test I have known hitherto — which may be folk wisdome — is putting a small mirror in the freezer. Put on your mask, then hold the mirror near your mask as you breathe out (including the sides). It the mirror mists, the mask fit is bad. However, this approach seems much more systematic!
• Maskstravaganza: More on the study emitted by Canadian Infection Control goons John Conley et al., purporting to show that there is no difference between surgical masks and N95s:
The issue of the obscurely outlined methodology for the fit testing was previously explored in this thread. But the time has come to revisit this issue now https://t.co/0tX5KZO9zP

— Dr Satoshi Akima FRACP 『秋間聰』 (@ToshiAkima) December 17, 2022
• Maskstravaganza: "Lion tests positive for COVID-19 at Seneca Park Zoo" [WHAM]. "The zoo said all of its cats are vaccinated for COVID and boosted. Anyone working within six feet of the animal is required to wear a mask." • Commentary:
The zoo is taking more precautions around their animals than humans are taking around children in the local schools.

— Laura Miers (@LauraMiers) December 20, 2022
Yep!
• Maskstravaganza: Nazis gotta Nazi:
The person giving her a shot is masking, but she is not.

I'm seeing pictures/scenes like this a lot, and it reinforces a class divide in which people who are servicing you are not allowed to infect you, but it's ok for you to infect them.

— Biologist Next Door (@ninjagirlphd) December 20, 2022
"[P]eople who are servicing you are not allowed to infect you, but it's ok for you to infect them." Sounds better in the original German: Lebensunwertes Leben
* * *
• "Nasopharyngeal and oropharyngeal rinses with neutral electrolyzed water prevents COVID-19 in front-line health professionals: A randomized, open-label, controlled trial in a general hospital in Mexico City" [Biomedical Reports]. n = 170. "A prospective open-label randomized controlled clinical trial was performed on front-line medical staff from the Dr. Enrique Cabrera General Hospital in México City to evaluate the effectiveness of nasopharyngeal and oropharyngeal rinses with a neutral electrolyzed water, known as SES, to reduce the risk of COVID-19 disease among front-line, not vaccinated medical staff. … The prophylactic protocol was demonstrated as a protective factor, in more than 90%, for developing the disease, and without adverse effects. Nasal and oral rinses with SES may be an efficient alternative to reinforce the protective measures against COVID-19 disease and should be further investigated." • I can't translate this advice from Wu, but it sounds like a good idea:
For those of you doing the HOCL nebulizer trick for COVID prophylaxis- https://t.co/PgwgrsLXZUhttps://t.co/hQAwqYeuWe
-cosmetic cold foggers do the same job for a third of the price and far more discreetly.
(Only use NaDCC tablets, not homebrew HOCL to avoid inhaling ClO) pic.twitter.com/kMMNwOPPCL

— Naomi Wu 机械妖姬 (@RealSexyCyborg) December 18, 2022
Readers, have any of you tried this?
* * *
• "Artificial intelligence model detects asymptomatic Covid-19 infections through cellphone-recorded coughs" [MIT Press]. "MIT researchers have now found that people who are asymptomatic may differ from healthy individuals in the way that they cough. These differences are not decipherable to the human ear. But it turns out that they can be picked up by artificial intelligence. In a paper published recently in the IEEE Journal of Engineering in Medicine and Biology, the team reports on an AI model that distinguishes asymptomatic people from healthy individuals through forced-cough recordings, which people voluntarily submitted through web browsers and devices such as cellphones and laptops. The researchers trained the model on tens of thousands of samples of coughs, as well as spoken words. When they fed the model new cough recordings, it accurately identified 98.5 percent of coughs from people who were confirmed to have Covid-19, including 100 percent of coughs from asymptomatics — who reported they did not have symptoms but had tested positive for the virus. The team is working on incorporating the model into a user-friendly app, which if FDA-approved and adopted on a large scale could potentially be a free, convenient, noninvasive prescreening tool to identify people who are likely to be asymptomatic for Covid-19. A user could log in daily, cough into their phone, and instantly get information on whether they might be infected and therefore should confirm with a formal test." • This is from 2020. What the hell happened? Where's Apple on this? Or Huawei?
* * *
Transmission
Here is CDC's interactive map by county set to community transmission (the "red map"). (This is the map CDC wants only hospitals to look at, not you.) The map updates Monday-Friday by 8 pm: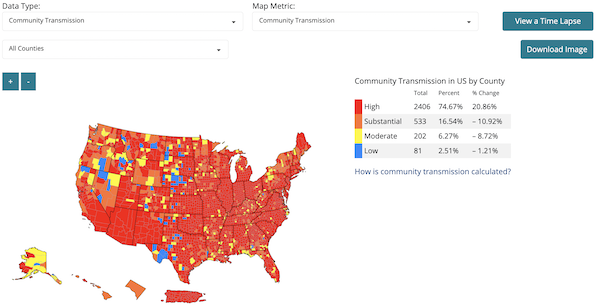 NOTE: I shall most certainly not be using the CDC's new "Community Level" metric. Because CDC has combined a leading indicator (cases) with a lagging one (hospitalization) their new metric is a poor warning sign of a surge, and a poor way to assess personal risk. In addition, Covid is a disease you don't want to get. Even if you are not hospitalized, you can suffer from Long Covid, vascular issues, and neurological issues. That the "green map" (which Topol calls a "capitulation" and a "deception") is still up and being taken seriously verges on the criminal.
• On hospitalization (see also under Variants for New York data):
At some point in the next few days, there will be more Americans over the age of 70 hospitalized with COVID than at any previous point in the pandemic outside of the initial winter surge and last winter's brief Omicron spike. pic.twitter.com/qdnQOhTuuc

— David Wallace-Wells (@dwallacewells) December 17, 2022
Positivity
From the Walgreen's test positivity tracker, published December 18: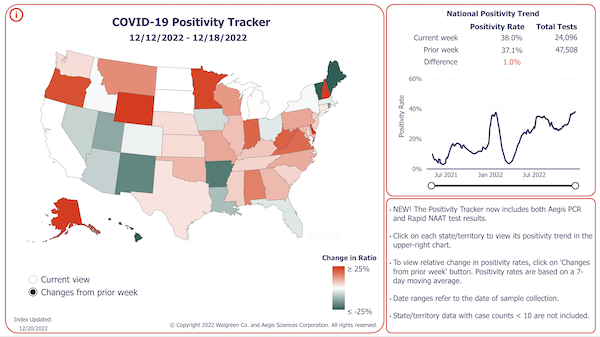 1.0%. Still increasing.
Wastewater
Wastewater data (CDC), December 16: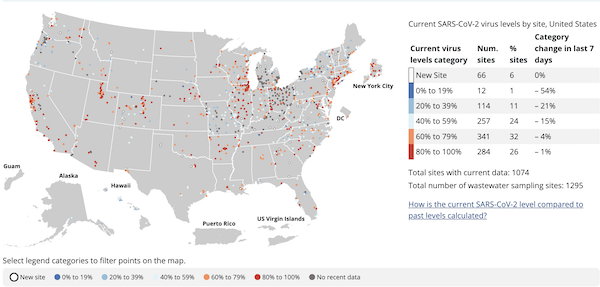 Yikes. The country's redder than ever. (Ohio has tended to be very red for some time; but now it's greyed out, i.e. no data.)
December 11: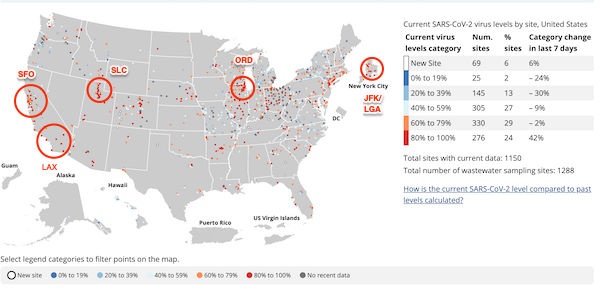 And MWRA data, December 15: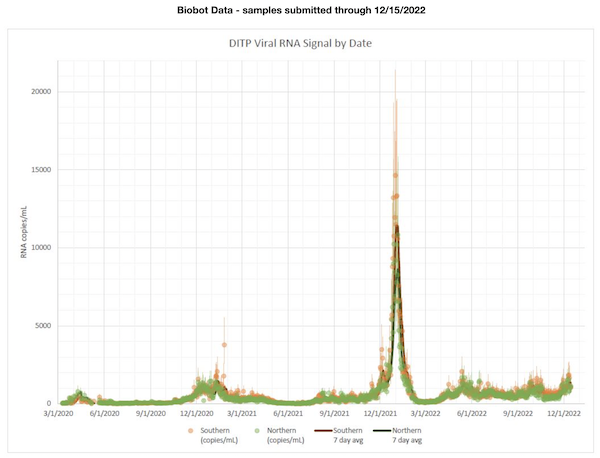 Lambert here: Slight drops North and South, but the trend is still clear.
Variants
Lambert here: It's beyond frustrating how slow the variant data is. Does nobody in the public health establishment get a promotion for tracking variants? Are there no grants? Is there a single lab that does this work, and everybody gets the results from them? [grinds teeth, bangs head on desk]. UPDATE Yes. See NC here on Pango. Every Friday, a stately, academic pace utterly incompatible with protecting yourself against a variant exhibiting doubling behavior.
NOT UPDATED Variant data, national (Walgreens), December 2: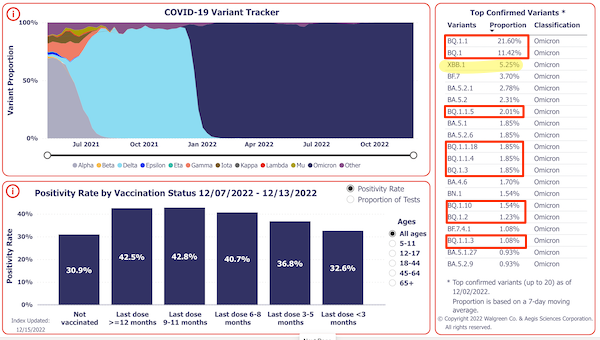 Lambert here: BQ.1* dominates, XBB coming up on the outside. Not sure why this data is coming out before CDC's, since in the past they both got it from Pango on Fridays.
Variant data, national (CDC), November 26 (Nowcast off):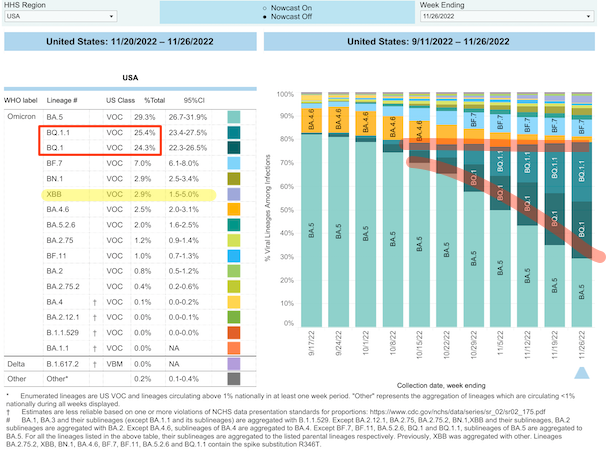 BQ.1* takes first place. Note the appearance of XBB. Here is Region 2, the Northeast, where both BQ.1* and XBB are said to higher, and are: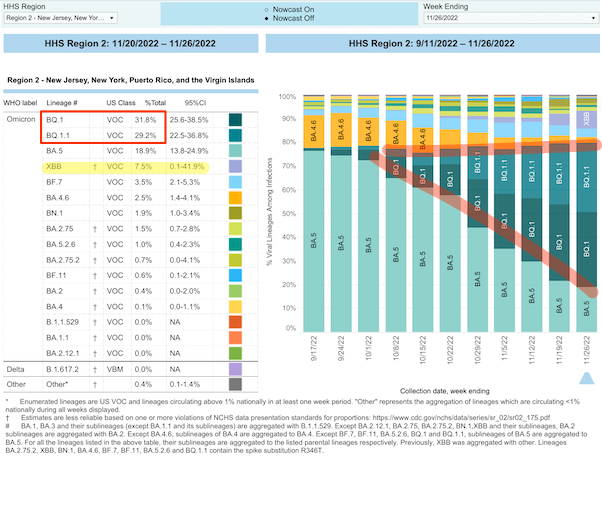 • As a check, since New York is a BQ.1* hotbed, New York hospitalization, updated December 20: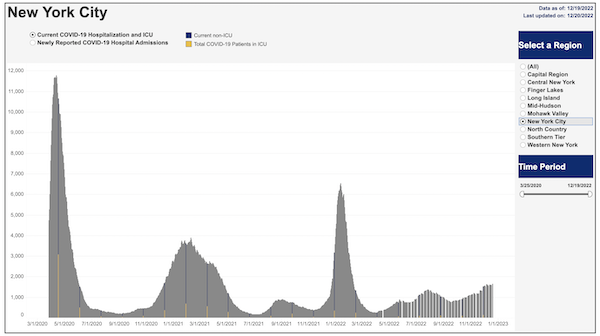 Lambert here: Looks like a plateau, for now. But hospitalization lags cases, so we shall see.
• Hospitalization data for Queens, updated December 17:

Ditto.
Deaths
Death rate (Our World in Data):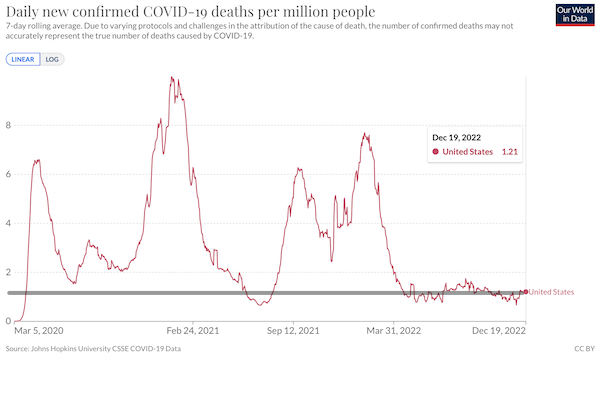 I don't know why this chart has turned red. Perhaps they're holding a masque?
Total: 1,113,307 – 1,112,797 = 510 (510 * 365 = 1861,50 deaths per year, today's YouGenicist™ number for "living with" Covid (quite a bit higher than the minimizers would like, though they can talk themselves into anything. If the YouGenicist™ metric keeps chugging along like this, I may just have to decide this is what the powers-that-be consider "mission accomplished" for this particular tranche of death and disease).
It's nice that for deaths I have a simple, daily chart that just keeps chugging along, unlike everything else CDC and the White House are screwing up or letting go dark, good job.
Stats Watch
There are no official statistics of interest today.
* * *
The Bezzle: "CFPB Orders Wells Fargo to Pay $3.7 Billion for Widespread Mismanagement of Auto Loans, Mortgages, and Deposit Accounts" [Consumer Financial Protection Bureau]. "The Consumer Financial Protection Bureau (CFPB) is ordering Wells Fargo Bank to pay more than $2 billion in redress to consumers and a $1.7 billion civil penalty for legal violations across several of its largest product lines. The bank's illegal conduct led to billions of dollars in financial harm to its customers and, for thousands of customers, the loss of their vehicles and homes. Consumers were illegally assessed fees and interest charges on auto and mortgage loans, had their cars wrongly repossessed, and had payments to auto and mortgage loans misapplied by the bank. Wells Fargo also charged consumers unlawful surprise overdraft fees and applied other incorrect charges to checking and savings accounts. Under the terms of the order, Wells Fargo will pay redress to the over 16 million affected consumer accounts, and pay a $1.7 billion fine, which will go to the CFPB's Civil Penalty Fund, where it will be used to provide relief to victims of consumer financial law violations. 'Wells Fargo's rinse-repeat cycle of violating the law has harmed millions of American families,' said CFPB Director Rohit Chopra. 'The CFPB is ordering Wells Fargo to refund billions of dollars to consumers across the country. This is an important initial step for accountability and long-term reform of this repeat offender.'" • Can the CFPB bring criminal charges, and if so, why did it not? This isn't Wells Fargo's first time at the rodeo, as Chopra in fact says.
The Bezzle:
Christ Driving the Traders from the Temple pic.twitter.com/shLkuJmxsY

— BruegelBot (@BruegelBot) December 18, 2022
The Bezzle: "Orphaned neurological implants" [Cory Doctorow, Medium]. "Earlier this year, many people with Argus optical implants — which allow blind people to see — lost their vision when the manufacturer, Second Sight, went bust. Nano Precision Medical, the company's new owners, aren't interested in maintaining the implants, so that's the end of the road for everyone with one of Argus's "bionic" eyes. The $150,000 per eye that those people paid is gone, and they have failing hardware permanently wired into their nervous systems. Having a bricked eye implant doesn't just rob you of your sight — many Argus users experience crippling vertigo and other side effects of nonfunctional implants. The company has promised to 'do our best to provide virtual support' to people whose Argus implants fail — but no more parts and no more patches. Second Sight wasn't the first neural implant vendor to abandon its customers, nor was it the last. Last week, Liam Drew told the stories of other neural abandonware in "Abandoned: the human cost of neurotechnology failure" in Nature. Among that abandonware: ATI's neural implant for reducing cluster headaches, Nuvectra's spinal-cord stimulator for chronic pain, Freehand's paralysis bypass for hands and arms, and others. People with these implants are left in a precarious limbo, reliant on reverse-engineering and a dwindling supply of parts for maintenance." • This will definitely not happen with Musk's brain implants.
Tech: "Meta axes two Danish datacenters amid shift to AI infrastructure" [The Register]. "Meta has canned two datacenters under development in Denmark as part of a broader plan to deepen investments in artificial intelligence…. The decision comes just weeks after Meta announced it would lay off approximately 11,000 employees – about 13 percent of the company's global workforce. The layoffs followed a string of difficult quarters for the Social Network. During the most recent quarter, revenues slid four percent year over year while profits slid 52 percent to 4.4 billion. While Meta shed human capital, the org indicated it was doubling down on datacenter infrastructure. During its Q3 earnings call this fall, CFO Dave Wehner said Meta was in an 'investment cycle to build more headroom in our datacenters.' Those investments included a larger emphasis on AI/ML workloads, which Wehner said Meta would be "carefully evaluating" to determine the scale of future deployments. In the weeks since making these statements, Zuck's mothership appears to have decided to focus future deployments around AI infrastructure – to improve engagement both with ads and with user-generated content." • Let me know how that works out.
Tech: "Thirst Traps" [Jon Stokes, Return]. "If there's a ray of hope out there, I look for it in Musk's subscription model. I think Musk correctly apprehends a dynamic I've covered in detail in my newsletter: the social media advertising machine feeds on engagement, and the best way to drum up engagement is to stimulate outrage. If he can move the revenue base away from the spiritually corrosive ad model to a model where users are paying for the value they get from the network, he has a shot at actually turning Twitter into a net benefit for society. Obviously, the incumbent class of successful outrage merchants hate this plan and have pilloried it since it was announced. That's a good, crowd-sourced signal that what he's doing might work. Because in any world where being a human scissor is a losing strategy, they'll all fade back into well-deserved obscurity." • Not the main thesis of the article, but interesting nonetheless.
* * *
Today's Fear & Greed Index: 38 Fear (previous close: 38 Fear) [CNN]. One week ago: 63 (Greed). (0 is Extreme Fear; 100 is Extreme Greed). Last updated Dec 20 at 3:05 PM EST.
Rapture Index: Closes unchanged [Rapture Ready]. Record High, October 10, 2016: 189. Current: 185. (Remember that bringing on the Rapture is good.)
Xmas Pregame Festivities
"By the numbers: How Walt Disney World transforms for the holiday season" [ABC]. "The decorations have become a tradition for Disney's parks and resorts, as well as many visitors. Rave Troan, Walt Disney World's marketing strategist, hopes visitors leave full of memories and cheer. 'It's traditions, it's storytelling, it's spending time together unplugged and really taking it all in and taking it with you for years to come,' she said."• No, it's really not. Especially the "unplugged" part "25,000 C-7 shaped LED lights and 40,000 mini-LED lights are in Disney's Animal Kingdom."
The Gallery
Brushstrokes!
You deserve some flowers today, for the best reason of all: none. 💐

🖌️ Berthe Morisot, "Peonies," 1869, oil on canvas pic.twitter.com/IxndbCcbtk

— National Gallery of Art (@ngadc) December 17, 2022
A sketch:
Sketch for "The Balcony", 1870 #whistler #americanart https://t.co/kiGHAuW0U1 pic.twitter.com/BJ70l3m3YO

— James Whistler (@artist_whistler) December 18, 2022
One might imagine a similar sketch for this final version:
Hero, 1898 #lawrencealmatadema #romanticism https://t.co/EoajK3NhXJ pic.twitter.com/sWgW4mLzzg

— Lawrence Alma-Tadema (@AlmaTademaArt) December 14, 2022
(I should have been able to find matching color schemes and composition, but even Twitter won't let me do that. Nonetheless, the concept of Whistler painting like (the extremely odd) Alma-Tadema is pretty amusing….
The 420
"Can you bring marijuana on a plane through a TSA checkpoint?" [The Hill]. "There are numerous items you can pack while preparing for holiday travel but marijuana isn't exactly one of them. There are, of course, exceptions. Marijuana itself remains illegal on the federal level, TSA reminded last week. That includes certain cannabis-infused products as well, like CBD oil. However, cannabis products containing no more than 0.3 percent THC on a dry weight basis or those approved by the FDA are the exceptions. These items are permitted in both carry-on bags and checked bags, according to TSA. These rules apply regardless of where you're flying from or into."
Zeitgeist Watch
"Things could be better" [psyRxiv]. "Eight studies document what may be a fundamental and universal bias in human imagination: people think things could be better. When we ask people how things could be different, they imagine how things could be better (Study 1). The bias doesn't depend on the wording of the question (Studies 2 and 3). It arises in people's everyday thoughts (Study 4). It is unrelated to people's anxiety, depression, and neuroticism (Study 5). A sample of Polish people responding in English show the same bias (Study 6), as do a sample of Chinese people responding in Mandarin (Study 7). People imagine how things could be better even though it's easier to come up with ways things could be worse (Study 8). Overall, it seems, human imagination has a bias: when people imagine how things could be, they imagine how things could be better." • Making NC a very special place!
"The Fetishization Of Mr. Rogers's 'Look For The Helpers'" [The Atlantic]. From 2018. I think this is the most "The Atlantic" article ever published. "We must stop fetishizing Rogers's advice to 'look for the helpers' as if it had ever been meant for us, the people in charge—even in moments when so many of us feel powerless. As an adult, it feels good to remember how Mr. Rogers made you feel good as a child. But celebrating that feeling as adults takes away the wrong lesson. A selfish one. We were entrusted with these insights to make children's lives better, not to comfort ourselves for having failed to fashion the adult world in which they must live." • The question-begging is in "celebrating that feeling." Who's celebrating? I think it's simple pragmatism. For example, people who mask are helpers, by definition. And it makes sense to "look for" them to avoid being infected by a potentially deadly disease, for example. Further, voluntary masking is a pretty good proxy for the percentage of "helpers" in a society (itself a good proxy for the viability of a society)). That has a lot to do with fashioning the adult world.
Class Warfare
Who among us:
i need to get really good at picking the power ball number asap

— wint (@dril) December 18, 2022
"Rail union bureaucracy allows opposition candidate to take office, while demanding sweeping attacks on freedom of speech" [WSWS]. "Hall, a local officer from Arizona, won the union's presidential election in a stunning upset that indicates the huge rank-and-file anger over the BLET's role in ramming through the White House-brokered contract. The union was able to secure a narrow ratification by the engineers, but the rejection of the deal by workers in four other unions prompted Congress to intervene to unilaterally impose it earlier this month. Hall had an open complaint against him, filed by a member of Pierce's BLET United slate, that he had accepted 'outside assistance' from a 'nonmember employer' by sharing an article from the World Socialist Web Site. That article reported on the fact that 25 of the 26 national leadership positions, with the sole exception of the presidency where Hall was the one opposition candidate, were 'elected by acclamation' at the BLET convention. On that basis, the WSWS characterized the vote as a 'sham election' of the type conducted by dictatorships."
"In a local first, workers at Intelligentsia Coffee ratify union contract" [Chicago Sun-Times]. "With union organizing drives brewing at area coffee chains, workers at Intelligentsia Coffee in Chicago are the first to taste a collective bargaining agreement. The workers have ratified a two-year contract that delivers wage increases and job protections, Local 1220 of the International Brotherhood of Electrical Workers announced Friday. The contract covers 31 employees at Intelligentsia's five 'coffeebars' in Chicago. The baristas and shift leads will get pay increases of about 14% over the term of the contract, said Brett Lyons, business representative for Local 1220. It's the IBEW's first agreement with a coffee chain. Citing key improvements, Lyons said workers will for the first-time be paid for mandated 30-minute meal breaks and will earn double time for holidays, compared with the prior time-and-a-half. He said baristas' starting pay will be almost $18 an hour, with shift leads at about $19. 'Most of the workers are in their 20s and, for a lot of people, this is their first union job,' said Jordan Parshall, a shift lead at the 53 W. Jackson Boulevard branch. He said employees are happy with how the union performed." • Starbucks?
News of the Wired
Dad.
A parrot walks into a bar
A parrot walks into a bar, slaps a small fish on top of the barstool, then stands on the fish and orders a drink. "What's with the fish?" the bartender asks. The parrot replies, "This is my perch."

— Chris White. (@ChrisWh53353405) December 16, 2022
* * *
Contact information for plants: Readers, feel free to contact me at lambert [UNDERSCORE] strether [DOT] corrente [AT] yahoo [DOT] com, to (a) find out how to send me a check if you are allergic to PayPal and (b) to find out how to send me images of plants. Vegetables are fine! Fungi and coral are deemed to be honorary plants! If you want your handle to appear as a credit, please place it at the start of your mail in parentheses: (thus). Otherwise, I will anonymize by using your initials. See the previous Water Cooler (with plant) here. From R.W.: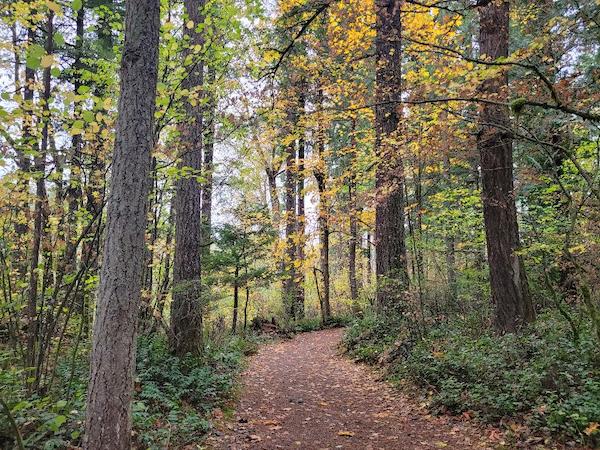 R.W. writes: "Nolte State Park, Washington."
* * *
Readers: Water Cooler is a standalone entity not covered by the annual NC fundraiser. So if you see a link you especially like, or an item you wouldn't see anywhere else, please do not hesitate to express your appreciation in tangible form. Remember, a tip jar is for tipping! Regular positive feedback both makes me feel good and lets me know I'm on the right track with coverage. When I get no donations for five or ten days I get worried. More tangibly, a constant trickle of donations helps me with expenses, and I factor in that trickle when setting fundraising goals:
Here is the screen that will appear, which I have helpfully annotated: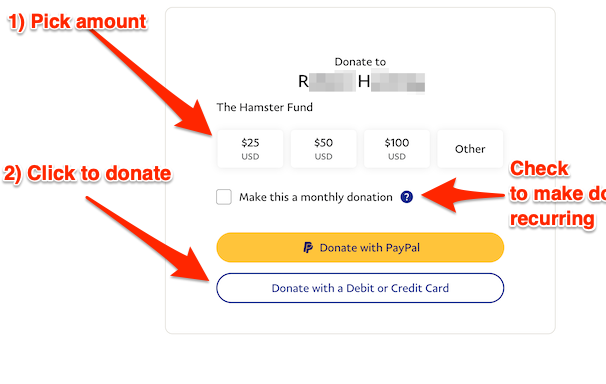 If you hate PayPal, you can email me at lambert [UNDERSCORE] strether [DOT] corrente [AT] yahoo [DOT] com, and I will give you directions on how to send a check. Thank you!