By Lambert Strether of Corrente.
Bird Song of the Day
Corn Bunting, Essonne, Île-de-France, France. "A male singing."
* * *
Politics
"But what is government itself, but the greatest of all reflections on human nature?" –James Madison, Federalist 51
"Here's food for thought, had Ahab time to think; but Ahab never thinks; he only feels, feels, feels" –Herman Melville, Moby Dick
"So many of the social reactions that strike us as psychological are in fact a rational management of symbolic capital." –Pierre Bourdieu, Classification Struggles
Capitol Seizure
"Did the January 6 Committee Finish Trump?" [Ed Kilgore, New York Magazine]. "Depending on what does indeed happen to the accused, the legacy of the committee, and its skillful leadership by Bennie Thompson and Liz Cheney, may well be found in the political if not legal consequences of its findings. In combination with the unsatisfying midterm elections for Republicans and Trump's partial responsibility for them, the accumulated "Trump fatigue," and the shadow of the jailhouse that now looms over the 45th president, it's increasingly possible his accumulated problems will convince his party to look elsewhere for a 2024 presidential nominee." • Wait. You're telling me the entire reason for this exercise was to lock Trump out of 2024? Say it's not so! (And say it's not so for those two eminently forgettabke impeachments, too, mkay?)
Biden Administration
Biden loves railroads:

The Biden Express is up and running. pic.twitter.com/Xni8LwdnyF

— President Biden (@POTUS) December 17, 2022

But he hates railroad workers.
2024
"The 5 'known unknowns' that will define 2024" [Ronald Brownstein, CNN]. "1. How does the Republican nomination fight play out?… 2. How do voters assess the economy? … 3. Do voters consider Biden still up to the job? … 4. Can either party reverse the electoral trends benefiting the other? … 5. Does the Republican-majority House do more damage to Biden – or to the GOP?" • An utterly classic example of horse-race journalism. And nothing on the after-effects of the enormous Covid debacle, or possible war with a nuclear power. "I don't want to discuss it" seems to0 be

"Trump Still Acting Like Imperious President In Mar-A-Lago 'Barbie Dream House': Report" [HuffPo]. "Donald Trump has refused to come to terms with private life and insists on continuing to behave like an imperious president in his "Barbie Dream House" at Mar-a-Lago, The Washington Post reported Sunday." If "reporting" is the word I want. More: "'We had to explain to him that he didn't have a group standing around waiting for him anymore,' a former aide told the Post. 'The networks don't carry his rallies. He doesn't get interviews anymore. He can't stand under the wing of Air Force One and gaggle [with reporters] for an hour.' Now he has to rely on fawning members of his clubs at Mar-a-Lago and Bedminster, N.J., where he spends most of his time. They applaud him when he emerges to dine in the restaurants — and when he leaves." • Sad. Trump needs something to do!
Republican Funhouse
"Leonard Leo has reshaped the Supreme Court. Is he reshaping Catholic University too?" [National Catholic Reporter]. "Leonard Leo, the chief adviser to Donald Trump on Supreme Court nominations, listened as one of those picks he helped secure on the bench, Amy Coney Barrett, delivered remarks praising Garvey, her longtime mentor and former law professor at the University of Notre Dame. Leo and Barrett's presence together that night reflects the rising influence of conservative Catholics on the law at a time when the Supreme Court's rightward transformation is reconfiguring American jurisprudence on issues of abortion, voting rights and religious liberty…. The co-chairman of the Federalist Society — an influential conservative legal network that celebrated its 40th anniversary in November — Leo has also emerged as a major player at Catholic University, the nation's only Vatican-chartered university. In the last few years, he has helped raise more than $20 million for the school, primarily through anonymous donations…. Leo's ability to wield influence at Catholic University is not limited to his fundraising prowess. He also chairs the academic affairs committee of the board of trustees. According to the board's bylaws, Leo's committee is responsible for providing oversight of faculty and academic programs, along with recommending tenure for approval by the board of trustees. The confluence of Leo's fundraising and his key position on the board, along with the flood of Koch money at the university in recent years, has raised concerns among some current and former faculty and board members." • Getting a "No Popery" vibe about all this….

"GOP governor challenges DeSantis on vaccines: 'We shouldn't undermine science'" [AOL]. "Arkansas Gov. Asa Hutchinson (R) on Sunday challenged a call from Florida's GOP Gov. Ron DeSantis to investigate COVID-19 vaccines, arguing Republicans should not 'undermine science' and medical experts. Hutchinson told NBC's 'Meet the Press' moderator Chuck Todd that he was "for the education and the science" behind the COVID-19 vaccines and protecting Americans from the novel coronavirus. 'We shouldn't undermine science. We shouldn't undermine the medical community that's very important to our public health,' he said. 'We are not good as a society, it's not the right direction, if we diminish the facts, we diminish all the best information that we have from science at the time.' DeSantis last week called for a grand jury in Florida's Supreme Court to probe if pharmaceutical companies criminally misled Floridians about the side effects of vaccines and the efficacy of the COVID-19 shots."
Democrats en Déshabillé
Patient readers, it seems that people are actually reading the back-dated post! But I have not updated it, and there are many updates. So I will have to do that. –lambert

I have moved my standing remarks on the Democrat Party ("the Democrat Party is a rotting corpse that can't bury itself") to a separate, back-dated post, to which I will periodically add material, summarizing the addition here in a "live" Water Cooler. (Hopefully, some Bourdieu.) It turns out that defining the Democrat Party is, in fact, a hard problem. I do think the paragraph that follows is on point all the way back to 2016, if not before:

The Democrat Party is the political expression of the class power of PMC, their base (lucidly explained by Thomas Frank in Listen, Liberal!). ; if the Democrat Party did not exist, the PMC would have to invent it. . ("PMC" modulo "class expatriates," of course.) Second, all the working parts of the Party reinforce each other. Leave aside characterizing the relationships between elements of the Party (ka-ching, but not entirely) those elements comprise a network — a Flex Net? An iron octagon? — of funders, vendors, apparatchiks, electeds, NGOs, and miscellaneous mercenaries, with assets in the press and the intelligence community.

Note, of course, that the class power of the PMC both expresses and is limited by other classes; oligarchs and American gentry (see 'industrial model' of Ferguson, Jorgensen, and Jie) and the working class spring to mind. Suck up, kick down.

* * *
Our Famously Free Press
I guess the organs of state security had better double down on the censorship:

The mainstream media's blackout of the Twitter Files is appalling, but word is getting out anyway. A new Harvard-Harris poll finds that 76% of voters think former FBI official James Baker acted out of politics in censoring the Hunter Biden laptop story while at Twitter pic.twitter.com/Ic8fXXodR4

— Michael Shellenberger (@ShellenbergerMD) December 20, 2022

"In the Southeast, power company money flows to news sites that attack their critics" [NPR]. "Terry Dunn couldn't fathom why Alabama's residents — among the poorest in the U.S. — pay some of the nation's most expensive electricity bills. So in 2010, Dunn ran for a seat on the state commission that sets energy prices. He promised to hold a formal rate hearing at which Alabama Power executives would have to open their financial books and answer questions, under oath and in public. That hadn't happened for nearly three decades. After winning, Dunn says, a top lobbyist for the utility took him aside and promised he could hold his roughly $100,000-a-year position on the commission for years — as long as he remained a team player. (Alabama Power declined to make the executive available to address the accusation; the utility and its corporate parent, Southern Company, declined all comment for this story.) 'They didn't take me serious,' Dunn says now. , plowed ahead. And soon enough, he found himself the target of a political pressure campaign, replete with character assassinations and online smears. Attacks began in online news outlets in 2013. One headline in Yellowhammer News read: 'Democrats Embrace Republican Public Service Commissioner Terry Dunn.' In a June 2014 column, Alabama Political Reporter's editor in chief, Bill Britt, cast Dunn as a pawn of his own aide, a Democrat." And: "In 2014, Dunn lost his reelection bid by 19 percentage points — to a catfish farmer who had previously served as a county commissioner." But that's not the half of it: "Yellowhammer News and Alabama Political Reporter offer clashing ideologies – one hardline conservative, the other centrist – and appear simply to be competitors. Owners of the two sites separately defend their coverage, saying they are independent news outlets. In reality, they are among six news outlets across Alabama and Florida with financial connections to the consulting firm Matrix LLC, a joint investigation by Floodlight and NPR finds. The firm, based in Montgomery, Alabama, has boasted clients including Alabama Power and another major U.S. utility, Florida Power & Light. In addition to Yellowhammer and The Alabama Political reporter, the sites include Alabama Today, The Capitolist, Florida Politics and the now-defunct Sunshine State News. A tally of the five still-functioning sites show they have a collective audience of 1.3 million unique monthly visitors. Many of their consumers are political professionals, business leaders and journalists — people who help set the agenda for lawmakers and talk radio shows in both states. These readers have been unknowingly immersing themselves in an echo chamber of questionable coverage for years." • Nice little racket!
Realignment and Legitimacy
"Introduction: The Aesthetic Politics of Far Right Movements" [Journal of the Association for Political and Legal Anthropology]. A collection: "The first collection in this series presents three perspectives on how aesthetics give force to right-wing politics in spectacular and banal ways that are nonetheless powerful in their allure and capacity to shape action. Joseph Moore examines how, through a complex and unorthodox set of aesthetic rituals and practices, self-described 'sovereign citizens' in the US reject the legitimacy of the US government to exert legal authority over them. William H. Westermeyer discusses how visual art and sartorial choices shape what one might call experiences of 'mutuality' among members of the US-based Tea Party Movement by ordering contemporary right-wing grievances and ideology into shared revisionist narratives of the country's founding (see Hage 2012, Jazeel and Nayanika 2015). Finally, Krisztina Fehérváry investigates how Hungary's right-wing nationalist and religious groups promote their agendas by linking them with the country's decades-old Organicist aesthetic and its attendant positive sentiments—an aesthetic originally developed to replace 'ugly' Soviet architecture." • Interesting… As long as we don't constrain our critique to aesthetics. As for example:

LOLLLLLLLLL pic.twitter.com/zb0IfQ9zSy

— Noah Smith 🐇🇺🇦 (@Noahpinion) December 18, 2022

Cottom's meteoric rise to Op-Ed columnist at the New York Times has not had a good effect on her.

"NC Supreme Court strikes down voter ID constitutional amendment" [The Hill]. "North Carolina's Supreme Court on Friday struck down a state voter ID requirement, finding that it was enacted with a racially discriminatory purpose and violated the state's constitution. Senate Bill 824 — which was passed by the state's Republican-controlled legislature in 2018 over a veto from its Democratic governor — sought to implement a state constitutional amendment requiring photo ID to vote. The court found that while the law appeared neutral on its face, it was enacted 'to target African-American voters who were unlikely to vote for Republican candidates.' 'In doing so, we do not conclude that the General Assembly harbored racial animus; however, we conclude just as the trial court did, that in passing S.B. 824, the Republican majority 'targeted voters who, based on race, were unlikely to vote for the majority party," the court said in its ruling in Holmes v. Moore."
#COVID19
Lambert here: I am but a humble tapewatcher, but unlike Eric Topol, I'm not calling a surge, because the last peak was Biden's Omicron debacle, and after an Everest like that, what's left? Topol's view is the establishment view: Hospital-centric. Mine is infection-centric. I do not see the acceleration or doubling in cases that I would expect to see based on past surges. There is also the TripleDemic aspect, which I don't know enough about.
I am calling a "Something Awful." It's gonna be bad, in some new way, and we don't know how, yet. Wastewater has taken off in New York, Chicago, San Francisco, and Los Angeles, right on time, two weeks after Thanksgiving. Those are not only in themselves large cities, they are all the sites of international airports (reminiscent of the initial surge in spring 2020, which emanated, via air travel, from New York). Wastewater is a leading indicator for cases, which in turn lead hospitalization (and death). In addition, positivity has begun to increase again (Walgreens), and BQ.1* has taken over. Finally, I'm hearing a ton of anecdotes (and do add yours in comments).
Stay safe out there! If you are planning to travel on Xmas, do consider your plans carefully.
* * *
• Maskstravaganza: "Oakland reinstates mask mandate in government buildings amid surging COVID" [San Francisco Chronicle]. "Oakland will require all employees and visitors to wear a face mask when entering city facilities beginning immediately — an attempt to get a handle on the 'tripledemic' hitting the Bay Area of COVID, flu and respiratory syncytial virus, or RSV. The Oakland City Council voted unanimously Tuesday to reinstate masks for everyone age 6 and up that goes into city facilities — less than a month after the city removed an existing mask mandate at libraries, senior centers and other government buildings. The city 'eliminated' its mask mandate on Nov. 28, but it's unclear why. Vice Mayor Rebecca Kaplan, who authored the new mandate, said at the meeting Tuesday that Mayor Libby Schaaf had lifted the prior mandate 'with no discussion.' Kaplan said she introduced the resolution that passed Tuesday because people expressed health concerns."
• Maskstravaganza:
New Poll: Voters support requiring everyone to mask in indoor public spaces in order to combat another #COVID surge 🧵 pic.twitter.com/1baYgqXvHk

— Matthew Cortland, they/them (@mattbc) December 19, 2022
Data for Progress, sadly (although I guess that pragmatically it's not sad a liberal shop is doing the polling).
• Maskstravaganza:
Here's the transcript of @AshishKJha46 saying in a @PhillyInquirer interview that "there is no study in the world that shows that masks work that well."
(h/t @Alexander_Tin https://t.co/6k90hljc7D)

Link to full video: https://t.co/9JqSYRcVcm pic.twitter.com/pLcv8YyI58

— Dr. Lucky Tran (@luckytran) December 20, 2022
I think Jha's unfortunate "not that well" phrasing has turned into a bit of a dogpile, wrongly. I don't love Jha, but in my reading, he's saying masks don't work "that well" compared to ventilation (leaving open the question of why the Administration's ventilation efforts are so pathetically weak, but that's a topic for another day). What I find most concerning is Jha's seeming inability to conceptualize the layered protection ("Swiss Cheese") model. Masks + ventilation work better together than either alone: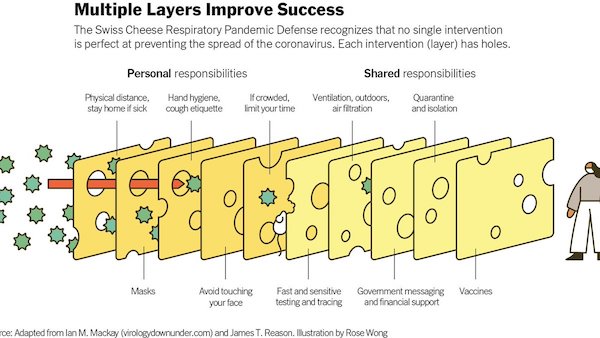 Jha isn't alone; China seems to be failing in the same way.
* * *
• Good:
A CTU teacher told me the Chicago Teachers Union has been "monitoring my activities."

My mom: "Should we be worried!?"

Me: "I so much as cough near these people, and they'll end up teaching remotely for the rest of the month."

— Frank McCormick | Chalkboard Heresy (@CBHeresy) December 21, 2022
"The right to infect others shall not be infringed" is making my back teeth itch.
* * *
"Isolation and Precautions for People with COVID-19" [CDC]. It's like shooting fish in a barrel at this point, but here we go. Paragraph three: "This information is intended for a general audience." Final paragraph, footnote 1: "As noted in the Food and Drug Administration labeling for authorized over-the-counter antigen tests, negative test results do not rule out SARS-CoV-2 infection and should not be used as the sole basis for , including ." If this page is for a general audience, why is this footnote included?
* * *
Transmission
Here is CDC's interactive map by county set to community transmission (the "red map"). (This is the map CDC wants only hospitals to look at, not you.) The map updates Monday-Friday by 8 pm: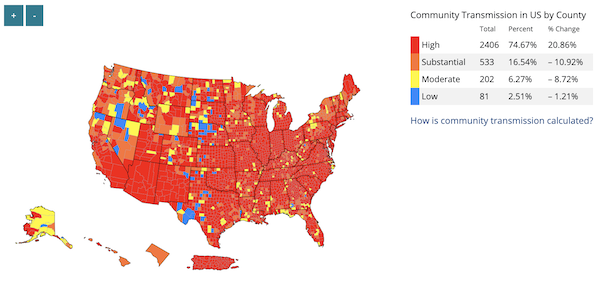 NOTE: I shall most certainly not be using the CDC's new "Community Level" metric. Because CDC has combined a leading indicator (cases) with a lagging one (hospitalization) their new metric is a poor warning sign of a surge, and a poor way to assess personal risk. In addition, Covid is a disease you don't want to get. Even if you are not hospitalized, you can suffer from Long Covid, vascular issues, and neurological issues. That the "green map" (which Topol calls a "capitulation" and a "deception") is still up and being taken seriously verges on the criminal.
Positivity
From the Walgreen's test positivity tracker, published December 20: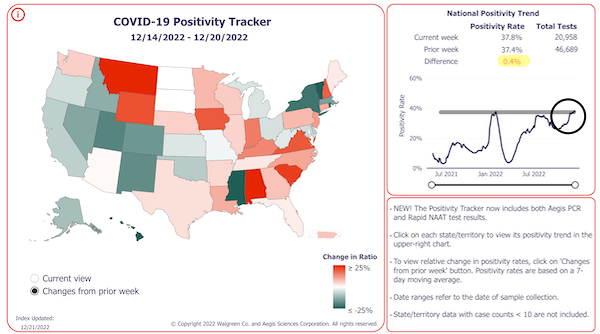 0.4%. Decrease.
Wastewater
Wastewater data (CDC), December 17: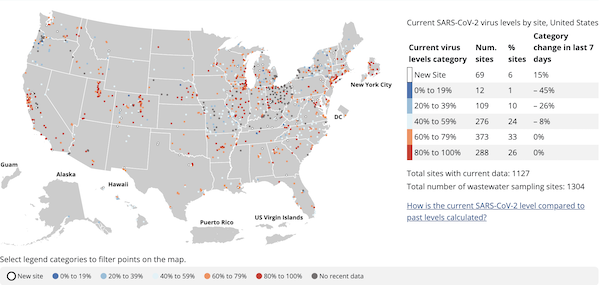 Yikes. Too much red. (Too many grey dots, i.e. no data. Please don't tell me wastewater tracking shuts down during the holidays, just when we need it most.) JFK/LGA (Queens County, NY), ORD (Cook County, IL), SFO (San Francisco, CA), and LAX (Los Angeles) are all red. For grins, here's the red dot for ATL (Cobb County, GA):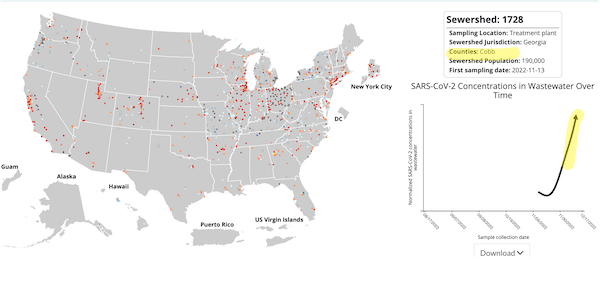 Still waiting on Miami and Orlando; they have not yet turned red (but perhaps are not so much an Xmas destination?
December 16: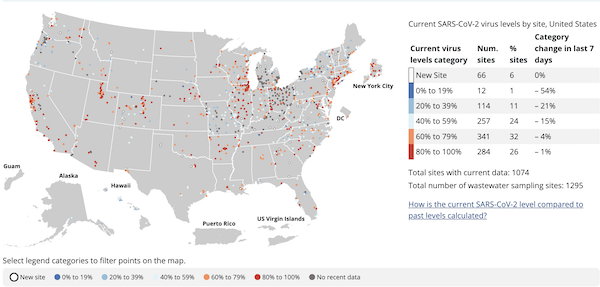 NOT UPDATED. And MWRA data, December 15: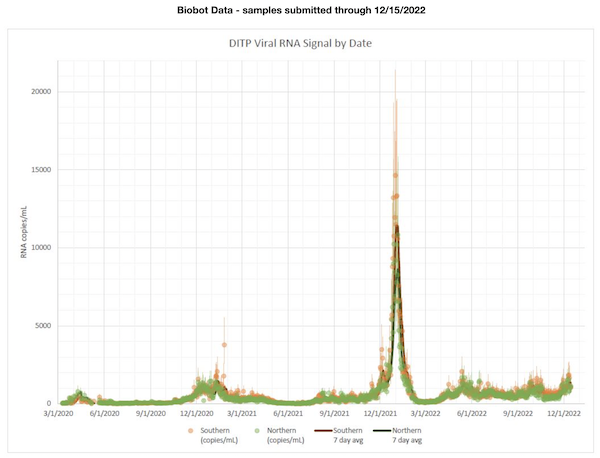 Lambert here: Slight drops North and South, but the trend is still clear. Presumably we'll see a drop when the students leave town.
Variants
Lambert here: It's beyond frustrating how slow the variant data is. Does nobody in the public health establishment get a promotion for tracking variants? Are there no grants? Is there a single lab that does this work, and everybody gets the results from them? [grinds teeth, bangs head on desk]. UPDATE Yes. See NC here on Pango. Every Friday, a stately, academic pace utterly incompatible with protecting yourself against a variant exhibiting doubling behavior.
Variant data, national (Walgreens), December 11: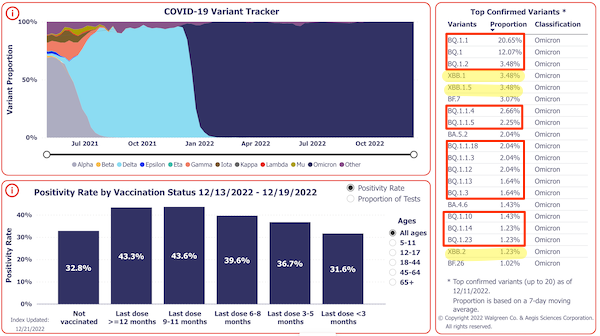 Lambert here: BQ.1* dominates, XBB coming up fast on the outside. Not sure why this data is coming out before CDC's, since in the past they both got it from Pango on Fridays.
NOT UPDATED Variant data, national (CDC), November 26 (Nowcast off):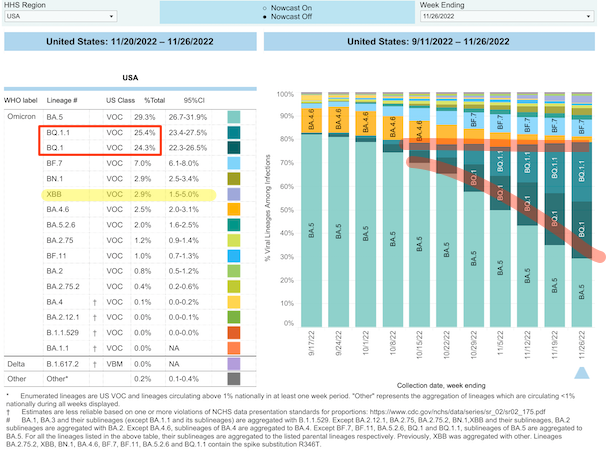 BQ.1* takes first place. Note the appearance of XBB. Here is Region 2, the Northeast, where both BQ.1* and XBB are said to higher, and are: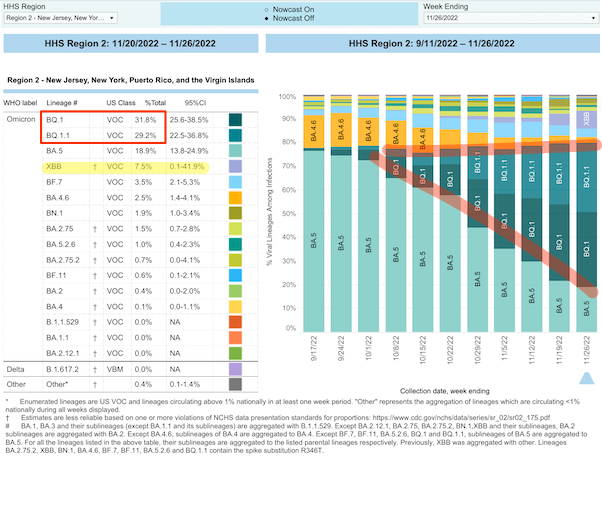 • NOT UPDATED As a check, since New York is a BQ.1* hotbed, New York hospitalization, updated December 20: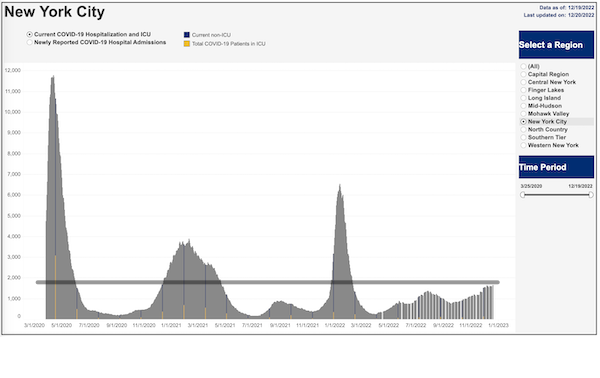 • Hospitalization data for Queens, updated December 18: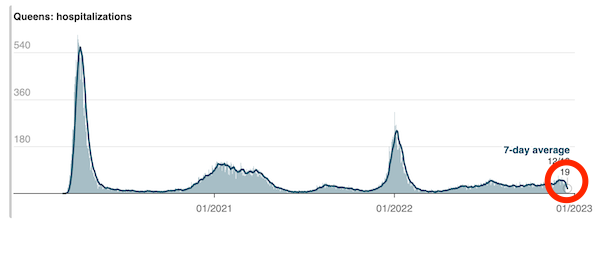 We'll see what is hospitalization is like about two weeks into January, after holiday travel has ended.
Deaths
Death rate (Our World in Data):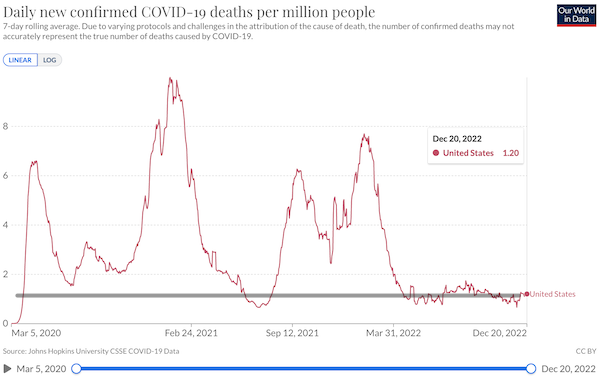 I don't know why this chart has turned red. Perhaps they're holding a masque?
Total: 1,113,808 – 1,113,307 = 501 (501 * 365 = 182,865 deaths per year, today's YouGenicist™ number for "living with" Covid (quite a bit higher than the minimizers would like, though they can talk themselves into anything. If the YouGenicist™ metric keeps chugging along like this, I may just have to decide this is what the powers-that-be consider "mission accomplished" for this particular tranche of death and disease).
It's nice that for deaths I have a simple, daily chart that just keeps chugging along, unlike everything else CDC and the White House are screwing up or letting go dark, good job.
Stats Watch
There are no official statistics of interest today.
* * *
The Bezzle: "IPO Proceeds Tanked in 2022. They Haven't Been This Low Since 1990." [MarketWatch]. • That's a damn shame.
* * *
Today's Fear & Greed Index: 40 Fear (previous close: 38 Fear) [CNN]. One week ago: 56 (Greed). (0 is Extreme Fear; 100 is Extreme Greed). Last updated Dec 21 at 1:50 PM EST.
Xmas Pregame Festivities
AI's challenge, which I hope it fails to meet:
Sempé pic.twitter.com/3Gb2fB9ANB

— Catherine Vollaire (@c_vollaire) December 20, 2022
Class Warfare
"White House Looks at Benefits to Lure Americans Back Into Workforce" [Wall Street Journal]. "Top White House economic officials are considering a renewed push for a suite of policies aimed at luring more Americans back to work, including enhanced child- care and eldercare benefits, as they hammer out priorities for the coming year." • Perhaps the White House could give consideration to the idea that workers don't want to be infected with a deadly pathogen, or bring it home to their children.
"Law firms in RealPage antitrust suits feud over venue" [Reuters]. "Private class actions against Texas-based RealPage and dozens of property management companies filed in recent weeks alleged a conspiracy to artificially inflate rental prices for students and families. The lawsuits claim a revenue management software made by RealPage was central to the conspiracy…. The sprawling litigation has drawn a host of major U.S. law firms representing dozens of property manager defendants."
News of the Wired
"Crochet: a little hook to improve attention?" [medRxiv]. " We demonstrated that crochet positively affects the alerting and the orienting networks even after a brief, single work session and that this behavioral effect has a counterpart in the modification seen in the global functional connectivity of the brain, where an increased speed of the information exchange between different brain areas was demonstrated. Moreover, these effects are dissimilar from those determined by meditation, where an improvement in executive control was demonstrated as the main effect. Our results provide for the first time that crochet promotes an increase in attention and determines modification on the brain circuitries, paving the way for the use of textile-related arts in neurorehabilitation, possibly in combination with meditation, considering the complementary effects of the two practices." • What we like to see in our tricoteuses….
* * *
Contact information for plants: Readers, feel free to contact me at lambert [UNDERSCORE] strether [DOT] corrente [AT] yahoo [DOT] com, to (a) find out how to send me a check if you are allergic to PayPal and (b) to find out how to send me images of plants. Vegetables are fine! Fungi and coral are deemed to be honorary plants! If you want your handle to appear as a credit, please place it at the start of your mail in parentheses: (thus). Otherwise, I will anonymize by using your initials. See the previous Water Cooler (with plant) here. From AM: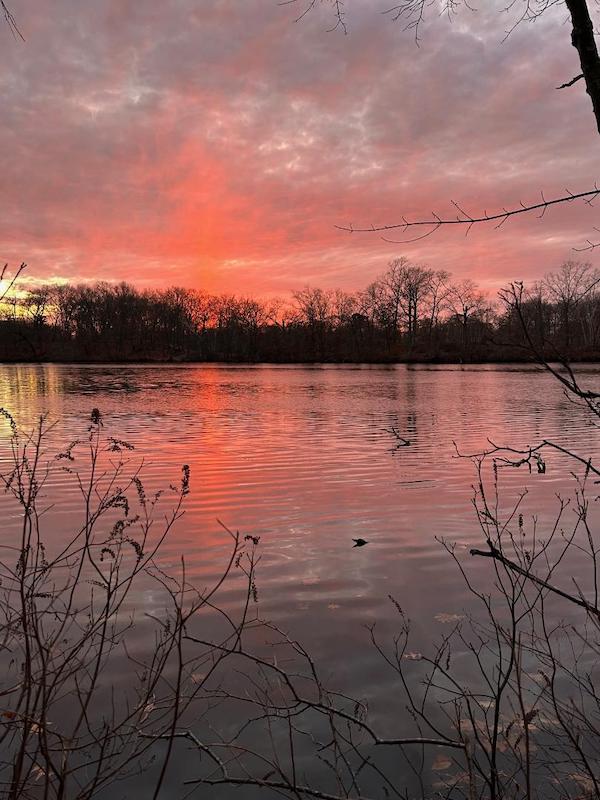 AM writes: "Bare branches on the bushes and trees in Roger Williams Park on December 2nd. I am a sucker for sunsets, I confess."
* * *
Readers: Water Cooler is a standalone entity not covered by the annual NC fundraiser. So if you see a link you especially like, or an item you wouldn't see anywhere else, please do not hesitate to express your appreciation in tangible form. Remember, a tip jar is for tipping! Regular positive feedback both makes me feel good and lets me know I'm on the right track with coverage. When I get no donations for five or ten days I get worried. More tangibly, a constant trickle of donations helps me with expenses, and I factor in that trickle when setting fundraising goals:
Here is the screen that will appear, which I have helpfully annotated: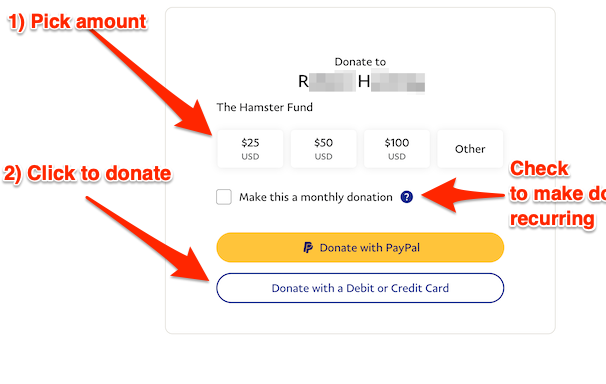 If you hate PayPal, you can email me at lambert [UNDERSCORE] strether [DOT] corrente [AT] yahoo [DOT] com, and I will give you directions on how to send a check. Thank you!