By Lambert Strether of Corrente.
Patient readers, I have been gifted with a terrible head cold that peaked on Xmas Day and is now slowly passing on, leaving in its wake a lot of sneezing and grumbling. (No, it's not Covid. Really.) So I'm feeling a little uninspired. –lambert
Bird Song of the Day
House Bunting, Tata, Morocco. "On hotel roof." With crowing rooster! "House bunting?" "No, I'm just looking to rent."
* * *
Politics
"But what is government itself, but the greatest of all reflections on human nature?" –James Madison, Federalist 51
"Here's food for thought, had Ahab time to think; but Ahab never thinks; he only feels, feels, feels" –Herman Melville, Moby Dick
"So many of the social reactions that strike us as psychological are in fact a rational management of symbolic capital." –Pierre Bourdieu, Classification Struggles
Capitol Seizure
"U.S. House Jan. 6 committee investigated four Texas conservative figures, transcripts reveal" [Texas Tribune]. "The four Texans the panel interviewed were Bianca Gracia, a leader of Latinos for Trump; Alex Jones, the conspiracy theorist; Stewart Rhodes, the militia leader recently convicted of seditious conspiracy; and James P. Waldron, a retired Army colonel and information warfare specialist. Most of those interviewed refused to answer questions." This, however, is the buried lead: "Rhodes' testimony shed new light on the membership of the Oath Keepers: At its peak a few years ago, Rhodes told the committee, the Oath Keepers had roughly 40,000 dues-paying members — roughly 20% of whom he said worked in law enforcement." • 20% is a lot. So much LE, so many spooks, so many informers. But they were all taken completely by surprise!

"Jan. 6 report sidesteps federal intelligence failures before deadly Capitol riot" [Yahoo News]. "While detailing multiple warnings of violence collected by U.S. law enforcement and intelligence officials about protests planned for Jan. 6, the House select committee's report largely avoids the issue of how federal agencies handled the information or why they failed to share the full extent of the threats with U.S. Capitol Police officers tasked with protecting Congress from the violent mob that stormed the Capitol building. The select committee's mission, as defined in its authorizing resolution, was in part to investigate "the preparedness and response of the United States Capitol Police and other Federal, State, and local law enforcement agencies" to the events of Jan. 6, 2021." • My goodness! One can only wonder why…..
Biden Administration
Giving the gift of Covid:

"For all you parents, be strong. We spend a lot of time at Children's Hospital, with patients too. It's going to be okay."

President Biden shares a message with a group of patients during a visit to Children's National Hospital in Washington, D.C. pic.twitter.com/qoUCdQ6dmS

— The Hill (@thehill) December 24, 2022

(The issue is not that Biden isn't modeling masking behavior, but that Biden believes his behavior is correct and should be normalized. As does "Dr." Biden, on the left.)
Democrats en Déshabillé
Patient readers, it seems that people are actually reading the back-dated post! But I have not updated it, and there are many updates. So I will have to do that. –lambert

I have moved my standing remarks on the Democrat Party ("the Democrat Party is a rotting corpse that can't bury itself") to a separate, back-dated post, to which I will periodically add material, summarizing the addition here in a "live" Water Cooler. (Hopefully, some Bourdieu.) It turns out that defining the Democrat Party is, in fact, a hard problem. I do think the paragraph that follows is on point all the way back to 2016, if not before:

The Democrat Party is the political expression of the class power of PMC, their base (lucidly explained by Thomas Frank in Listen, Liberal!). ; if the Democrat Party did not exist, the PMC would have to invent it. . ("PMC" modulo "class expatriates," of course.) Second, all the working parts of the Party reinforce each other. Leave aside characterizing the relationships between elements of the Party (ka-ching, but not entirely) those elements comprise a network — a Flex Net? An iron octagon? — of funders, vendors, apparatchiks, electeds, NGOs, and miscellaneous mercenaries, with assets in the press and the intelligence community.

Note, of course, that the class power of the PMC both expresses and is limited by other classes; oligarchs and American gentry (see 'industrial model' of Ferguson, Jorgensen, and Jie) and the working class spring to mind. Suck up, kick down.

* * *

"George Santos admits to lying about his resume in a series of interviews" [City and State]. "Congress Member-Elect George Santos admitted to lying about key parts of his resume in a series of media interviews published Monday evening, but left a handful of important questions unanswered, as his explanations conflicted with reports over the past week." • More from the dogpile. I hold no brief for Santos, but he was elected fair and square. The conventional wisdom. is that Democrats didn't do their oppo properly (see the Times here). But hold on. Can anybody think of another political figure who was elected, and who the Democrats attempted to depose with, well, post-election oppo? (Since that's what the Steele dossier was.) I would speculate that Democrats want removal of elected Republican officials for various scandals normalized. And that's why they sandbagged Santos with oppo after the election. (Oh, and Santos is gay. Surely at least one NGO should be vociferously defending him?)
Our Famously Free Press
C'mon, Matty:

I just want to be clear that the reason I said Taibbi needs therapy is that he described himself as struggling psychologically due to his relationship with social media apps. https://t.co/AkvkeCA9pI pic.twitter.com/layEAjCdFm

— Matthew Yglesias (@mattyglesias) December 27, 2022
#COVID19
Lambert here: I am but a humble tapewatcher, but unlike Eric Topol, I'm not calling a surge, because the last peak was Biden's Omicron debacle, and after an Everest like that, what's left? Topol's view is the establishment view: Hospital-centric. Mine is infection-centric. I do not see the acceleration or doubling in cases that I would expect to see based on past surges. There is also the TripleDemic aspect, which I don't know enough about.
I am calling a "Something Awful." It's gonna be bad, in some new way, and we don't know how, yet. Wastewater has taken off in New York, Chicago, San Francisco, and Los Angeles, right on time, two weeks after Thanksgiving. Those are not only in themselves large cities, they are all the sites of international airports (reminiscent of the initial surge in spring 2020, which emanated, via air travel, from New York). Wastewater is a leading indicator for cases, which in turn lead hospitalization (and death). In addition, positivity has begun to increase again (Walgreens), and BQ.1* has taken over. Finally, I'm hearing a ton of anecdotes (and please add yours in comments).
Stay safe out there! If you are planning to travel on New Year's, do consider your plans carefully.
* * *
• I can't keep giving this dude Sociopath of the Day Awards; it would be unseemly. As part of Wachter's latest homework assignment, a 25-tweet protocol for "personal risk assessment," we see the version he uses of the famous "Swiss Cheese" diagram of layered protection:
… using a version of the Swiss cheese model (Figure), which posits that no one type of protection is perfect (except for total isolation, which seems unsatisfying), and safety can best be achieved by laying different types of imperfect protection on top of one another. (10/25) pic.twitter.com/uh6ygsp8fA

— Bob Wachter (@Bob_Wachter) December 25, 2022
(I love that "To make it easy to remember" part.) Here is James Reason's version (from the NC archives). Reason is an "error management" scholar, and the developer of the model: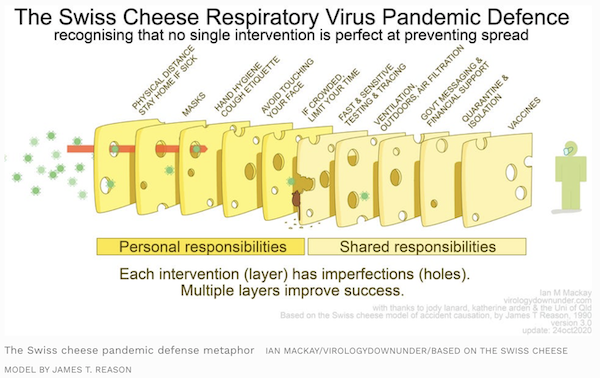 Notice any difference? That's right. Like the good libertarian sociopath he is, Wachter has reduced the model to "personal responsibilities" only, and erased "shared responsibilities" entirely. This matters, even to the individual, because look at his ventilation advice: "Meeting outdoors is safest, improve ventilation indoors by opening windows and using portable air cleaners." Because Wachter erased institutional settings entirely, he cannot recommend (for example) C02 monitoring. Nor can he recommend Japan's famous 3C's model; "shared responsibility" is not part of his universe.
* * *
• "The XBB.1.5 variant is on a growth spurt in the United States" [Eric Topol, Ground Truths]. "Now it appears that in New York State, XBB evolved further to XBB.1.5, with new mutations, which was aptly first noted by JP Weiland a couple of weeks ago, coincident with the beginning of a steep rise of hospitalizations there. The key mutation of XBB.1.5 is clearly F486P, which had been identified many months ago by the Bloom lab as one that would be tied to immunity escape and Ryan Hisner wrote about extensively in August. As you can see from Daniel Focosi's convergent variant map of the BA.2 descendants, XBB.1.5 is one to acquire the F486P mutation….. If XBB.1.5 has such rapid growth advantage over BQ.1.1, that isn't a good sign. Last week, David Ho's lab at Columbia University published a paper in Cell entitled 'Alarming antibody evasion properties of rising SARS-CoV-2 BQ and XBB subvariants.'"
* * *
• Maskstravaganza: "Should Everyone Be Masking Again?" [The Atlantic]. Oh, hell no. "David Dowdy, an epidemiologist at the Johns Hopkins Bloomberg School of Public Health, is all for masking season, he told me, but he'd be more hesitant to resort to mandates. 'It's hard to impose mandates without a very strong public-health rationale,' he said, especially in our current, hyperpolarized climate. And although that rationale clearly existed for much of the past two crisis-ridden years, it's less clear now. 'COVID is no longer this public-health emergency, but it's still killing thousands of people every week, hundreds a day … so it becomes a more challenging balancing act,' Dowdy said." • The mind reels. What does Dowdy consider an "emergency"? And the PMC do love them their balancing acts. "Hard choices." "Delicate phases."
* * *
Transmission
Here is CDC's interactive map by county set to community transmission (the "red map"). (This is the map CDC wants only hospitals to look at, not you.) The map updates Monday-Friday by 8 pm: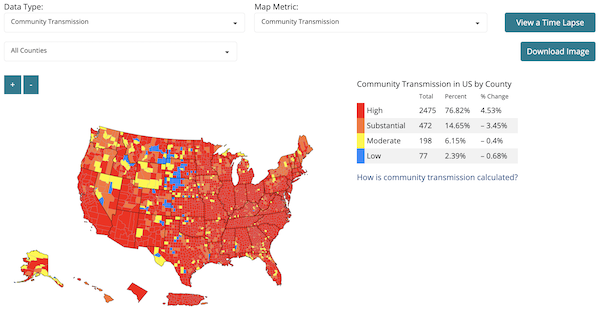 NOTE: I shall most certainly not be using the CDC's new "Community Level" metric. Because CDC has combined a leading indicator (cases) with a lagging one (hospitalization) their new metric is a poor warning sign of a surge, and a poor way to assess personal risk. In addition, Covid is a disease you don't want to get. Even if you are not hospitalized, you can suffer from Long Covid, vascular issues, and neurological issues. That the "green map" (which Topol calls a "capitulation" and a "deception") is still up and being taken seriously verges on the criminal.
Positivity
From the Walgreen's test positivity tracker, published December 26: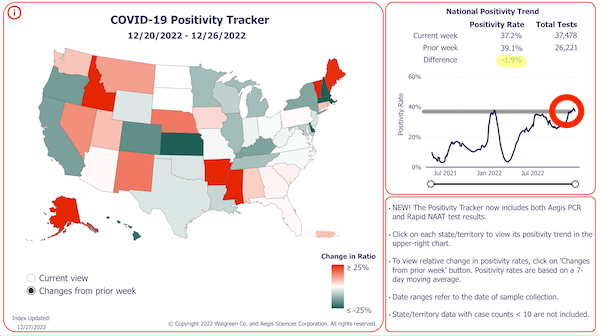 -1.9%. Decrease, but who gets tested on Christmas or Boxing Day? NOTE: Of course, it's an open question how good a proxy Walgreen's self-selected subjects are for the general population, especially because they didn't go the home-testing route, but we go with the data we have.
Wastewater
Wastewater data (CDC), December 20: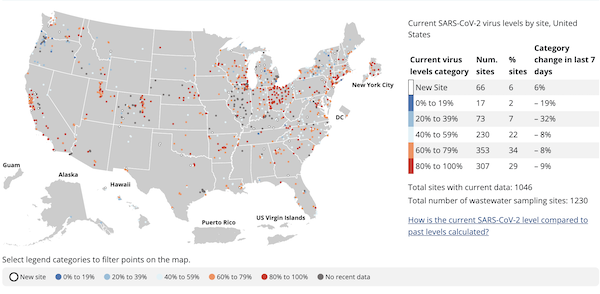 Too much red (especially with Ohio back online). JFK/LGA (Queens County, NY), ORD (Cook County, IL), SFO (San Francisco, CA), LAX (Los Angeles), and ATL (Cobb County, GA) are all red. See also this morning's Links for a map that shows the airports with long delays that are also red dots.
December 19: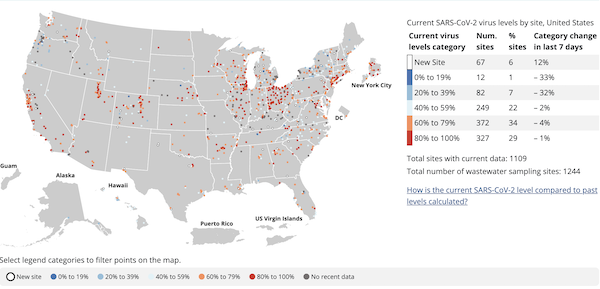 And MWRA data, December 21: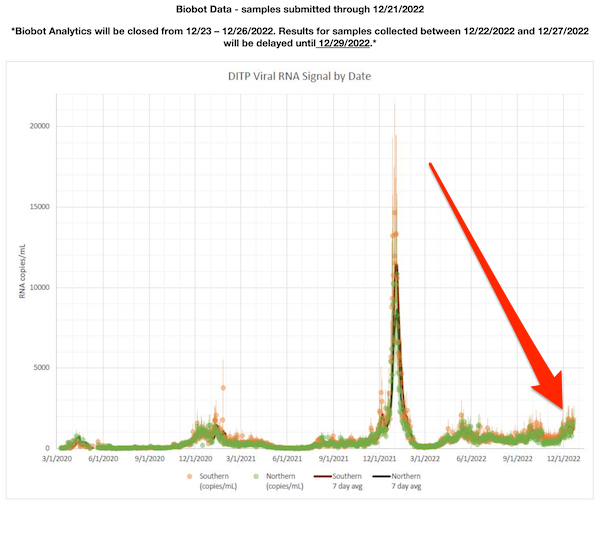 Lambert here: Up in both North and South. Odd? Haven't the students already left town?
Variants
Lambert here: It's beyond frustrating how slow the variant data is. Does nobody in the public health establishment get a promotion for tracking variants? Are there no grants? Is there a single lab that does this work, and everybody gets the results from them? [grinds teeth, bangs head on desk]. UPDATE Yes. See NC here on Pango. Every Friday, a stately, academic pace utterly incompatible with protecting yourself against a variant exhibiting doubling behavior.
NOT UPDATED Variant data, national (Walgreens), December 11: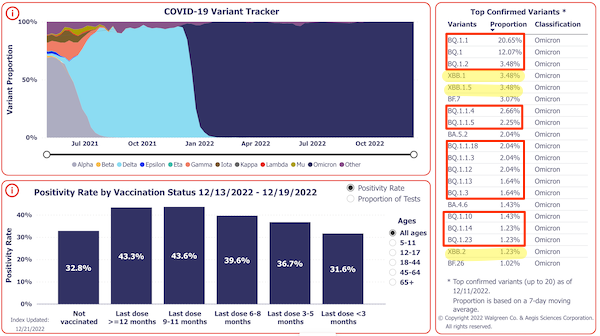 Lambert here: BQ.1* dominates, XBB coming up fast on the outside. Not sure why this data is coming out before CDC's, since in the past they both got it from Pango on Fridays.
NOT UPDATED Variant data, national (CDC), December 3 (Nowcast off):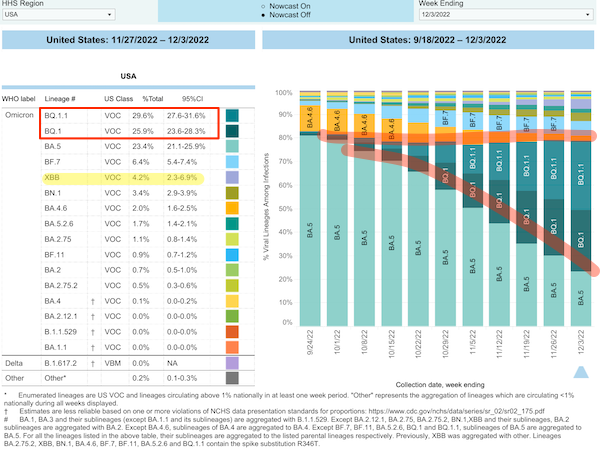 BQ.1* takes first place. Note the appearance of XBB. Here is Region 2, the Northeast, where both BQ.1* and XBB are said to higher, and are: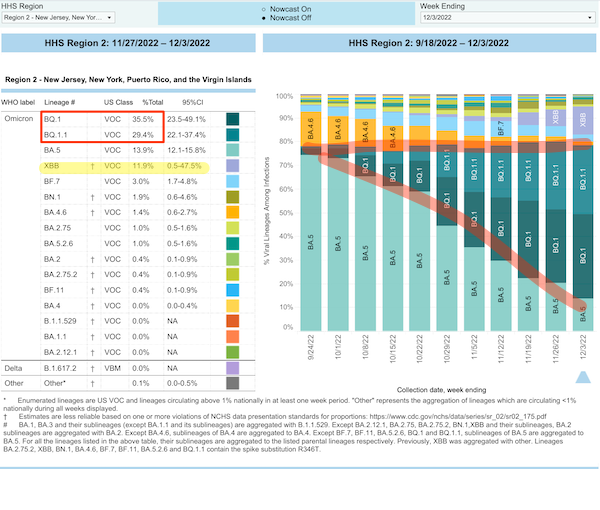 • As a check, since New York is a BQ.1* hotbed, New York hospitalization, updated December 24: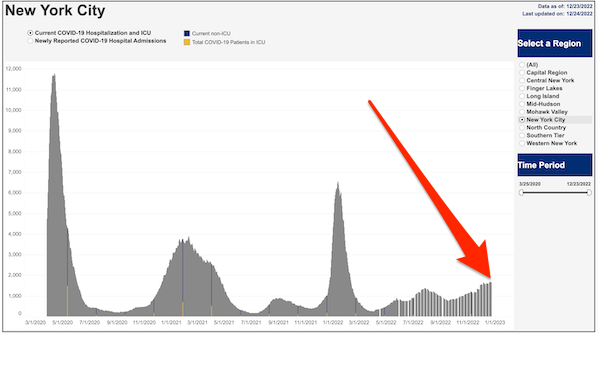 Resuming the upward climb after a short plateau.
• Hospitalization data for Queens, updated December 20: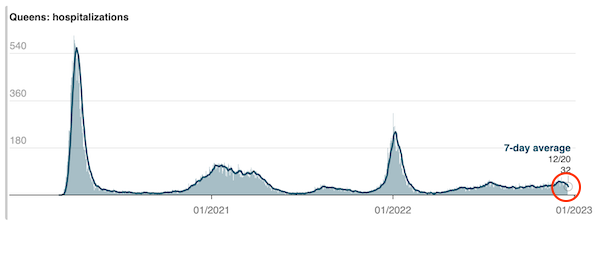 We'll see what is hospitalization is like about two weeks into January, after holiday travel has ended.
Deaths
Death rate (Our World in Data):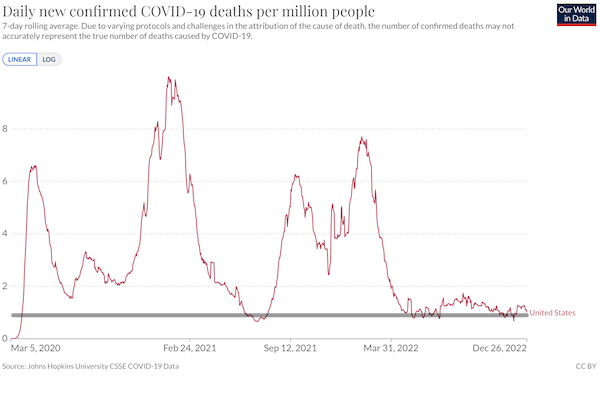 Total: 1,116,095 – 1,115,748 = 347 (347 * 365 = 126,655 deaths per year, today's YouGenicist™ number for "living with" Covid (quite a bit higher than the minimizers would like, though they can talk themselves into anything. If the YouGenicist™ metric keeps chugging along like this, I may just have to decide this is what the powers-that-be consider "mission accomplished" for this particular tranche of death and disease).
It's nice that for deaths I have a simple, daily chart that just keeps chugging along, unlike everything else CDC and the White House are screwing up or letting go dark, good job.
Stats Watch
Manufacturing: "United States Dallas Fed Manufacturing Index" [Trading Economics]. "The Federal Reserve Bank of Dallas' general business activity index for manufacturing in Texas fell to -18.8 in December of 2022 from -14.4 in the prior month, pointing to the eighth contraction in the activity…. Capital expenditures sank sharply."
* * *
Transportation: "Hey guys, SWA pilot with a little information" [r/SouthwestAirlines, Reddit]. "This is entirely managements fault. Gary Kelly, and the new CEO, and corporate barons have completely gutted the philosophy Herb believed in, which was investing in employees. They've known for months that many crews were stretched to the absolute limit. It was only a matter of time before something caused a cascading series of failures that spiraled out of control. The board and CEO knew this, and chose to instead give themselves multi-million dollar bonuses and threaten to fire staff, along with dragging out contract negotiations with the unions in the hopes there will be a recession. This is corporate mismanagement to a level I've never seen in this industry during my 25 years." And: ""I have friends in CS and the hotel assignment side too. There were 2 specific problems, the software for scheduling is woefully antiquated by at least 20 years. No app/internet options, all manual entry and it has settings that you DO NOT CHANGE for fear of crashing it. Those settings create the automated flow as a crewmember is moving about their day, it doesn't know you flew the leg DAL-MCO it just assumes it and moves your piece forward. In the event of a disruption you call scheduling and they manually adjust you. It does work, it just works for an airline 1/3 the size of SWA. So the storm came and it impacted ground ops so bad that many many crews were now 'unaccounted' for and the system in place couldn't keep up. Then it happened for several more days. By Xmas evening the CS department had essentially reached the inability to do anything but simple, one off assignments." • Commentary:
Ah well.

Sounds like Southwest did a lot of the same things that Ontario is now doing to hospitals. Frozen wages, broken union negotiations, underpowered/underperforming technology. https://t.co/W8yZn8Lfxh

— Cheryl White (@LadyScorcher) December 27, 2022
It's like McKinsey sold them all the same three-ring binder.
* * *
Today's Fear & Greed Index: 39 Fear (previous close: 38 Fear) [CNN]. One week ago: 37 (Fear). (0 is Extreme Fear; 100 is Extreme Greed). Last updated Dec 27 at 1:19 PM EST.
Xmas Postgame Analysis
I think we've got a category error here:
Suburban people will say "I just don't understand drag" and then do this to their home: pic.twitter.com/KdQ7rre5DR

— Rohita Kadambi (@RohitaKadambi) December 26, 2022
Though I do see the point.
Zeitgeist Watch
"On sincerity" [Joe Carlsmith].
My hope, in this essay, is to bring what I mean by sincerity into clearer view. But the term has a fairly rich set of associations for me, which I'm not sure will ultimately admit of a cleanly unified analysis. I start by discussing five of these associations. Sincerity seems to me closely related to:

Something like truth-seeking ("scout-mindset"), but for agency as a whole rather than just beliefs
"Not playing pretend"
One's different motivations working in harmony
"Seriousness"
(Less confidently) Some stuff about non-ego/altruism/goodness

I then discuss whether we can unify these five associations under a single principle. I offer two possibilities for doing so. The first is conceptual, and takes scout-mindset-but-for-agency as the core thing. The second is empirical, and takes "not playing pretend" as the core thing. I'm not sure either is adequate.

I also discuss a few of the many failure modes nearby to sincerity: self-deception, extremism, over-confidence, "the-normal-rules-don't-apply-to-me"-ness, sanctimony, over-concern with sincerity itself (both in others, and in yourself), and that most straightforward and fearsome of failures: just plain picking the wrong actions, even if you did the other stuff right.
I take the view that for an artist — we are not all artists — only the work matters. "Sincerity" is completely irrelevant.
The Screening Room
"13 years ago, 'Avatar 2′ was impossible. Inside the groundbreaking plan to pull it off" [Los Angeles Times]. The actors are actually underwater during their scenes (!). "'This is unlike anything ever done before,' said Kirk Krack, the professional free diver and coach who trained actors, stunt performers and crew for months leading up to the 'Avatar' shoot. 'It's the biggest diving movie of all time because it's shot wet for wet — this isn't Aquaman hanging on a wire with a fan in their hair. This isn't some [VFX artist] programming what they think swimming looks like. … There's never been a movie that has done what this underwater unit did to the level we did it, to the realism of the reality we've done.' A chance meeting on a shared flight years earlier had given Krack, a veteran free diver who worked on the 2009 documentary "The Cove," the opportunity to introduce himself to Cameron. 'I walked up and said, 'Nothing ventured, nothing gained," Krack remembered with a smile. 'My name's Kirk. I'm a free diver, and I'm going to hand you my card and say, 'How long can you hold your breath?'… 'He tells me about the project, the different films, how ['Avatar'] 2 is 60% water, 3 is 30%, 4 and 5 will be 15%,' Krack said. 'How the new Na'vi of the ocean are called Metkayina, they're free divers, and the problems they'll have with capture because of the bubbles. They're thinking of rebreathers instead of scuba systems, and do I think free diving could do it? I said, 'Absolutely. And here's how I would do it.' …. But one of Krack's proudest moments was watching [SIgnourney] Weaver, who was 69 years old when she began free diving training, outlast a stunt diver on breath hold while performing a scene as her new Na'vi character Kiri, the teenager Jake and Neytiri have adopted into their family." • This is pretty neat. Although the movie could stil be a dud. Have any readers seen it?
Book Nook
"Did the Mother of Young Adult Literature Identify as a Man?" [New York Times]. • By Betteridge's Law, no.
Our Famously Free Press
"Nobody cares about your blog!" [Medieval Manuscripts Provenance]. • A fascinating story of academic theft, and a salutary reminder that old-school blogs still exist.
Class Warfare
"The Trouble with Expertise: Why You Should Usually Trust Experts (But It's Complicated)" [Philospher's Magazine]. Interesting:
The real trouble with experts is not with expertise itself, but how experts behave. Experts don't always use their expertise in ways that are helpful to non-experts.

· Sometimes they have a conflict of interest or a political motivation.

· Experts sometimes speak outside their field – a phenomenon called "epistemic trespassing."

· They may try to tell you things that are not "tell-able," as when a very successful person tries to give step-by-step advice on how to navigate all the obstacles they handled intuitively.

· Experts may offer advice that doesn't meet your needs.

In addition to these concerns, some issues get tangled up with political or religious perspectives that make it difficult to know when an expert is really acting like an expert (and trying to help you) or when experts are speaking from their personal political allegiances. This is especially concerning when the issue is time-sensitive, as in the case of pandemic diseases like COVID-19.

Further still, sometimes whole fields of expertise give the wrong answer in a terrible way. Consider the field of medicine. Medical researchers have exploited people of colour, obstetricians have ignored medical decisions from women in labour, pharmaceutical corporations have conspired to increase addiction, and trans patients are routinely stigmatised or refused care. There are lots of reasons to be sceptical about experts. But it's important to note that those reasons have nothing to do with expertise. The trouble comes because of the power experts have to put people in compromising positions and to use their positions in ways that harm others.

What is the future for experts?

It should be clear that we can't live without trusting experts. The world is far too complicated. You're relying on thousands of experts right now just to be able to access the words you're reading online. But the more we learn about the human side of expertise, the more reasons we have to be cautious.

A step toward improving expert reliability is to add checks on expert judgment. Rather than having a single physician make medical decisions, these days medicine is often a team-based affair. Nurses, social workers, ethicists, and others are involved to make sure critical aspects of the patient's life, social situation, preferences, and values aren't overlooked. Similarly, for government-funded research, Institutional Review Boards (IRBs) evaluate studies for ethical concerns about how participants are informed and treated.
More checks and balances would be a good idea. Perhaps experts should do pair programming. Paired by sortion?
Calling all Turing Test mavens:
This interaction from an Amazon delivery driver is making the rounds on the r/Antiwork subreddit, whose moderators vet the authenticity of posts.

One of the highest-engagement posts this year on one of the highest-engagement subreddits. pic.twitter.com/4OrexC6eyk

— Brandon Smith (@muckrakery) December 24, 2022
News of the Wired
"How do snowflakes form? Get the science behind snow" [NOAA]. "Q: So, why are no two snowflakes exactly alike? A: Well, that's because individual snowflakes all follow slightly different paths from the sky to the ground —and thus encounter slightly different atmospheric conditions along the way. Therefore, they all tend to look unique, resembling everything from prisms and needles to the familiar lacy pattern." • Neat!
I'm not sure this is such a good idea:
Quebec put up this billboard in a bus stop to raise awareness about jaywalking… pic.twitter.com/uM2vh130rT

— NULL ⣢ (@0xUID) February 13, 2022
* * *
Contact information for plants: Readers, feel free to contact me at lambert [UNDERSCORE] strether [DOT] corrente [AT] yahoo [DOT] com, to (a) find out how to send me a check if you are allergic to PayPal and (b) to find out how to send me images of plants. Vegetables are fine! Fungi and coral are deemed to be honorary plants! If you want your handle to appear as a credit, please place it at the start of your mail in parentheses: (thus). Otherwise, I will anonymize by using your initials. See the previous Water Cooler (with plant) here. From ReSilc: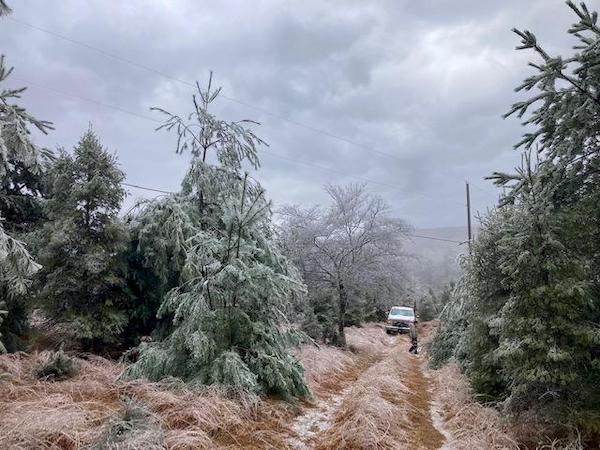 ReSilc writes: "Happy holidays from way off the grid!"
* * *
Readers: Water Cooler is a standalone entity not covered by the annual NC fundraiser. So if you see a link you especially like, or an item you wouldn't see anywhere else, please do not hesitate to express your appreciation in tangible form. Remember, a tip jar is for tipping! Regular positive feedback both makes me feel good and lets me know I'm on the right track with coverage. When I get no donations for five or ten days I get worried. More tangibly, a constant trickle of donations helps me with expenses, and I factor in that trickle when setting fundraising goals:
Here is the screen that will appear, which I have helpfully annotated: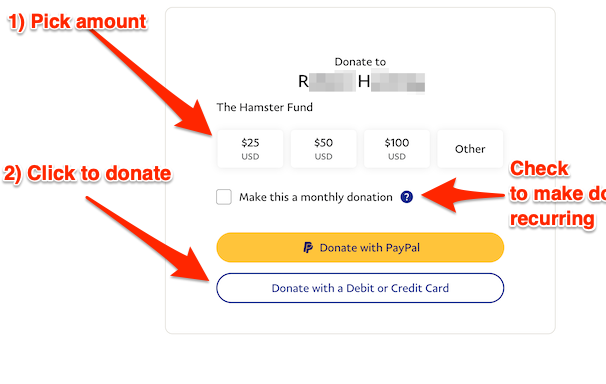 If you hate PayPal, you can email me at lambert [UNDERSCORE] strether [DOT] corrente [AT] yahoo [DOT] com, and I will give you directions on how to send a check. Thank you!