By Lambert Strether of Corrente
Bird Song of the Day
This is Hermit Thrush Week at Naked Capitalism (hat tip Noone from Nowheresville). From the Sierra Nevada Mountains, California.
* * *
Politics
"But what is government itself, but the greatest of all reflections on human nature?" –James Madison, Federalist 51
"They had learned nothing, and forgotten nothing." –Charles Maurice de Talleyrand-Périgord
"When the going gets weird, the weird turn pro." –Hunter Thompson
Biden Adminstration
"4 things to watch at the White House Covid summit" [Politico]. "As the U.S. aims to continue to be seen as a leader of the global response, here are four things we're watching at today's summit: 1. Money. No significant amounts of money are expected from the U.S for the global fight against the virus….. 2. Drugs. Too few drugs to treat Covid are reaching poorer countries…. 3. Pandemic preparedness. The summit is pivotal in establishing a pandemic preparedness fund at the World Bank. … 4. TRIPS. Those advocating for nearly two years for the easing of intellectual property protections for Covid vaccines, treatments and tests would like the Biden administration to use the summit to break the World Trade Organization stalemate on the issue."
2022
* * *

"Are We Overestimating Roe's Impact on Politics?" [Cook Political Report]. "Everyone has their own take on what impact a reversal of Roe v. Wade will have on November's midterm elections. Here's mine: To the extent that overturning the 49-year old decision benefits Democrats at all, it won't be nearly enough to make up for the substantial headwinds they were already facing. In short, it will help out less than they hope and far less than they need. Why would it not have quite the impact that Democrats pray it will have—and many in the media seem convinced it will have? First, public opinion is considerably more nuanced than many seem to think…. Second, consider what a reversal would and would not do. Overturning Roe would not prohibit or even make more restrictive the accessibility of abortion in all states, but instead would kick it back to each of the states to set their own laws. …. Another consideration is timing. The Nov. 8 election is 183 days from now, a very long time in American politics. Finally, this election will not be held in a vacuum. Other issues—the direction of the economy, the situation along the U.S.-Mexico border, the coronavirus pandemic, the Russian invasion of Ukraine, and climate change—will compete for voters' attentions and concerns, to say nothing of any October surprises that may roll down the pike. Bottom line: The political system will have plenty of time to process the developments surrounding Roe, leaving its impact falling short of expectations."

"The Kinds of Seats that Flip in Midterms" [Larry Sabato's Crystal Ball]. "While increasingly salient issues like abortion could change the political environment, Republicans still appear on track for a strong showing in the U.S. House. Recent midterms have hollowed out the presidential party's holdings of districts where the president either did the same or worse than he did nationally — or only a little better. Republicans likely will have trouble winning districts where Joe Biden won more than 55% of the vote, but that still leaves them dozens of Democratic-held targets below that mark as redistricting is finalized."

CA: Not many are saying this:

COVID has been the largest mass casualty event in the history of the United States. We should be dealing with it with the full force of the U.S. government because it is a war that we are losing and it is a war our families and communities need us to win.

— Joaquín Beltrán for Congress (@joaquinlife) May 12, 2022

PA: "GOP panics over 'ultra-MAGA' Pennsylvania Senate wild card" [Axios]. "Influential Republicans in Washington and among the nationwide party elite are having a belated 'oh s–t' moment over the previously unimaginable prospect that Kathy Barnette could win their party's nomination for the open Senate seat in Pennsylvania…. As Oz and McCormick blitzed each other — and as former President Trump endorsed Oz and blasted McCormick — Barnette has glided through the carnage. On Wednesday, one Republican operative aligned with a rival campaign reached out to Axios to flag Barnette's comments regarding systemic racism in the U.S. and the country's complicated history of racial discrimination and slavery. Nonetheless, it's awfully late in the game for Republicans to destroy Barnette." Meanwhile: "One group with a massive bank account and the potential to affect GOP races — the McConnell-allied Senate Leadership Fund — has no plans to engage in the Pennsylvania primary, a source with direct knowledge of the group's plans told Axios on Wednesday."

PA: "John Fetterman will likely be Pa.'s Democratic Senate nominee. So why do so few elected Democrats back him?" [Philadelphia Inquirer]. "[N]ot one Senate member, including the 20 Democrats from his own party, publicly supports his campaign for U.S. Senate. None of the 90 Democrats serving in the state House do either. And across the state, almost no elected officials have endorsed him…. Fetterman and his campaign shrug off endorsements as antiquated, sometimes mired in political quid pro quos, and far less important than what voters think. And polls throughout the campaign have showed Fetterman enjoying healthy and sometimes huge advantages: One poll released this week had him leading Lamb by almost 40 points. And his lack of establishment allies — despite being the state's No. 2 elected official — neatly fits his political pitch as an outsider, one who can attract both progressives and disaffected rural Democrats who feel let down or left behind by the party."
2024
"CNN senior political analyst says Biden shouldn't run for reelection" [The Hill]. "Former White House adviser David Gergen said on Wednesday that he does not believe President Biden should run for president again, noting his age. 'We have an election coming up in 2024, in which is very possible that we will have Donald Trump facing off against Joe Biden. If one of those people wins the presidency, he will be governing while he's in his 80 year … age,' Gergen, a senior political analyst for CNN, said on CNN's 'New Day.' 'We've never seen anything like that before. And frankly, I think it's a real risk. You know, I just turned 80, and I can just tell you John, you lose a step. Your judgment is not quite as clear as it was. There's a variety of other things you can't do much about and to put somebody in that office with those kinds of vulnerabilities and giving them four years, we don't know where things will go.' Gergen said he believed it would be a "mistake" for either Democrats or Republicans to nominate a presidential candidate it to essentially govern in their 80s. Biden is 79 years old; Trump, who is flirting with a bid for the GOP nomination, is 75." • I think I'd prefer Biden v. Trump to (say) Gavin Newsom v. Ron DeSantis.
Democrats en Déshabillé
I have moved my standing remarks on the Democrat Party ("the Democrat Party is a rotting corpse that can't bury itself") to a separate, back-dated post, to which I will periodically add material, summarizing the addition here in a "live" Water Cooler. (Hopefully, some Bourdieu.) It turns out that defining the Democrat Party is, in fact, a hard problem. I do think the paragraph that follows is on point all the way back to 2016, if not before:

The Democrat Party is the political expression of the class power of PMC, their base (lucidly explained by Thomas Frank in Listen, Liberal!). ; if the Democrat Party did not exist, the PMC would have to invent it. . ("PMC" modulo "class expatriates," of course.) Second, all the working parts of the Party reinforce each other. Leave aside characterizing the relationships between elements of the Party (ka-ching, but not entirely) those elements comprise a network — a Flex Net? An iron octagon? — of funders, vendors, apparatchiks, electeds, NGOs, and miscellaneous mercenaries, with assets in the press and the intelligence community.

Note, of course, that the class power of the PMC both expresses and is limited by other classes; oligarchs and American gentry (see 'industrial model' of Ferguson, Jorgensen, and Jie) and the working class spring to mind. Suck up, kick down.

* * *

"Senate Democrats' imaginary majority" [Politico]. "Every day, it seems, brings another reminder of the severe limitations of Democrats' illusory majority in a 50-50 Senate. First Democratic leaders tossed Covid relief from a Ukraine aid bill at the behest of Republicans who were threatening a filibuster. Then the party entertained giving the GOP a politically volatile vote on reversing the Biden administration's border policy. And Wednesday showed there isn't even a majority in the Senate for Democrats' preferred abortion rights bill. Not to mention that the party's signature climate and tax reform bill hasn't moved an inch in months after Sen. Joe Manchin (D-W.Va.) tanked the last iteration — still-rising inflation isn't helping its revival. And though there's a flurry of bipartisan discussions on issues from immigration to energy to electoral vote certification, none are showing signs of imminent breakthroughs. 'It's a majority that comes and goes. Sort of like the tide,' said Sen. Sheldon Whitehouse (D-R.I.). 'I don't know exactly what I expected, but I certainly expected a little bit more clarity.'" • This is the party Schumer and Pelosi built (along with the DCCC, DSCC, and DNC.
#COVID19
Congratulations to Dr. Bob Wachter MR SUBLIMINAL Not now Leana!: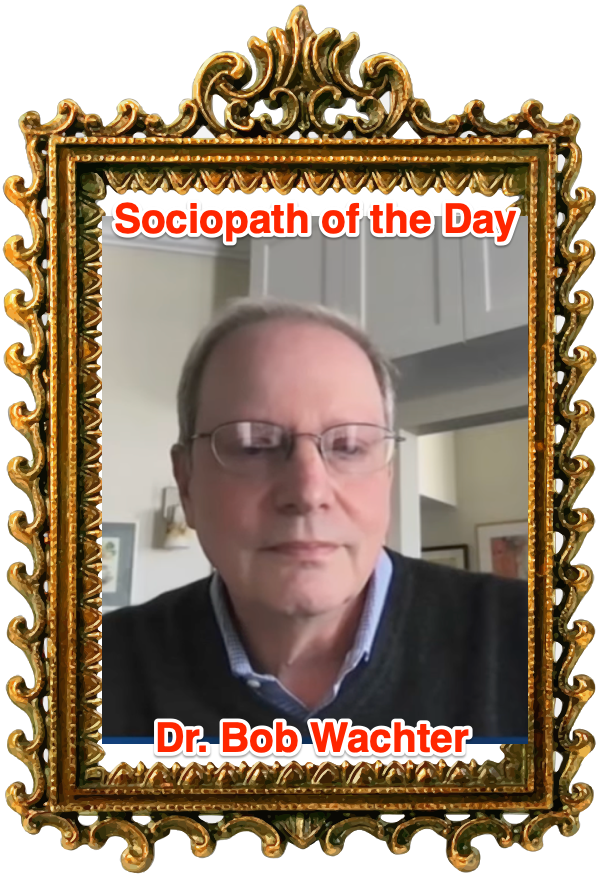 On Monday in Links, we featured a thread on the personal risk calcuations of Dr. Bob Wachter and his wife, Katie Hafner, when she caught Covid at a writer's conference she attended.
Well, it turns out that the writer's conference was yet another PMC superspreader event!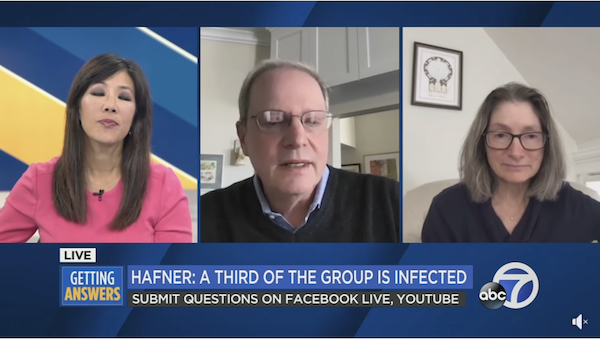 Not only that, but (a) avuncular advice-giver and opinion-haver Wachter encouraged Hafner to go, knowing (b) that testing was not a requirement for attendance. If you want to follow along at home, here is their joint interview on the teebee, from ABC7:
Note the extreme deference the interview exhibits toward Wachter/Hafner. Media royalty!
Really committed to the bit:
Our kiddo was invited to a bday party this weekend. When I reached out to the parents to RSVP she said "great! But just FYI, I tested + for Covid if that affects your decision"

What are we even doing?

You're Covid+ and you're still going to host a kids bday party?

— Eric (@Babineer) May 11, 2022
* * *
Lambert here: I am but a humble tape-watcher, but if some trusting, non-realist soul tells you that "Covid is over," you can tell them that cases are up, transmission is up, test positivity is up, hospitalization is up, rapid riser counties are up, and wastewater is up, too. And this is all from data designed to support the narrative that "Covid is over," and gamed within an inch of its life. So, if signals like that are flashing red, consider what the real signal must be like. (Note also this is all with BA.2 only, and with what the establishment considers an "immune wall" made from vaccination and prior infection. Since semper aliquid novi Africam adferre, and we've let 'er rip at the airports…. Well, I just hope we get lucky with BA.4 and BA.5. "God has a special providence for fools, drunkards, and the United States of America." –Otto von Bismarck.
• "What the current spike in Covid-19 cases could say about the coronavirus' future" [STAT]. "s the Omicron wave subsided in the United States earlier this year, many experts anticipated a sort of reprieve. We certainly weren't done with Covid, but perhaps we would get a well-deserved rest. That break seems to be over." As NC readers have known for some time. More: " said Jacob Lemieux, an infectious diseases physician at Massachusetts General Hospital, who's been tracking variants. Is it that the novel variants are that different, or is it that immunity is that transient? , but it's raising a lot of really important scientific questions,' Lemieux said." • Well, that's reassuring!
* * *
If you missed it, here's a post on my queasiness with CDC numbers, especially case count, which I (still) consider most important, despite what Walensky's psychos at CDC who invented "community levels" think. But these are the numbers we have.
* * *
Case count by United States regions: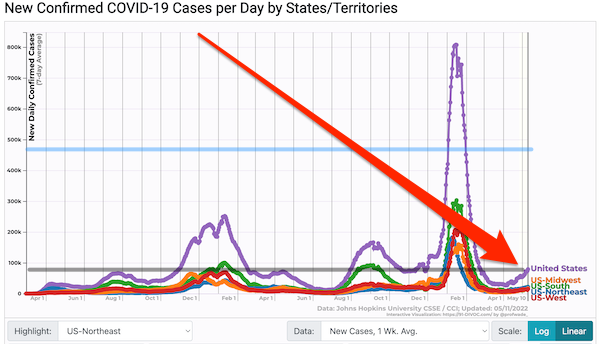 The train is really rolling, now. Remember these data points are weekly averages, so daily fluctuations are smoothed out. Also remember, it's 100% certain the cases numbers are significantly understated. They've always been gamed, but it's worse than before. One source said they though cases might be undercounted by a factor of six. Gottlieb thinks we only pick up one in seven or eight. The black "Fauci Line" is a counter to triumphalism, since it compares current levels to past crises. The blue "Biden Line" shows what the case count would be if it were 79,000 * 6 = 474,000, i.e. not gamed.
Here are cases for the last four weeks: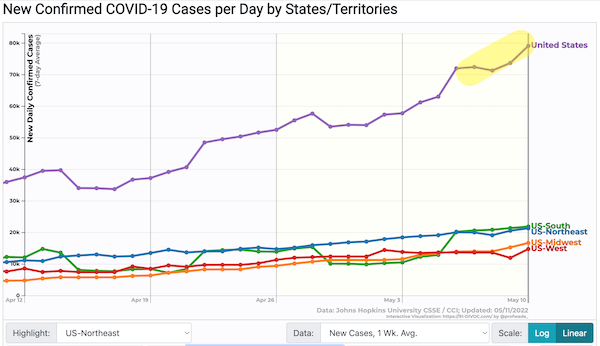 Worth noting that cases have doubled in four weeks.
NOTE I shall most certainly not be using the CDC's new "Community Level" metric. Because CDC has combined a leading indicator (cases) with a lagging one (hospitalization) their new metric is a poor warning sign of a surge, and a poor way to assess personal risk. In addition, Covid is a disease you don't want to get. Even if you are not hospitalized, you can suffer from Long Covid, vascular issues, and neurological issues. For these reasons, case counts — known to be underestimated, due to home test kits — deserve to stand alone as a number to be tracked, no matter how much the political operatives in CDC leadership would like to obfuscate it.
From the Walgreen's test positivity tracker: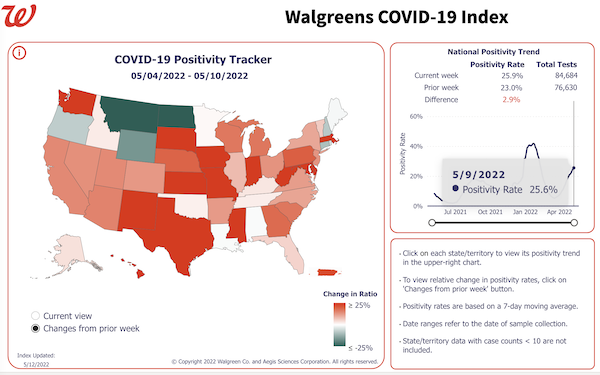 I'm leaving the corporate logo on as a slap to the goons at CDC.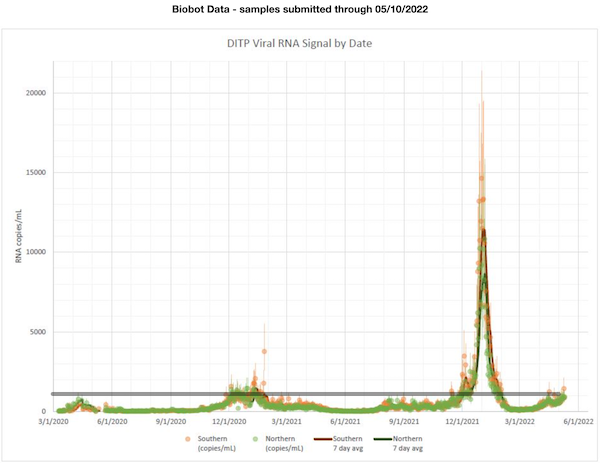 The Massachusetts Water Resources Authority (MWRA) service area includes 43 municipalities in and around Boston, including not only multiple school systems but several large universities. Since Boston is so very education-heavy, then, I think it could be a good leading indicator for Covid spread in schools generally.
From Biobot Analytics: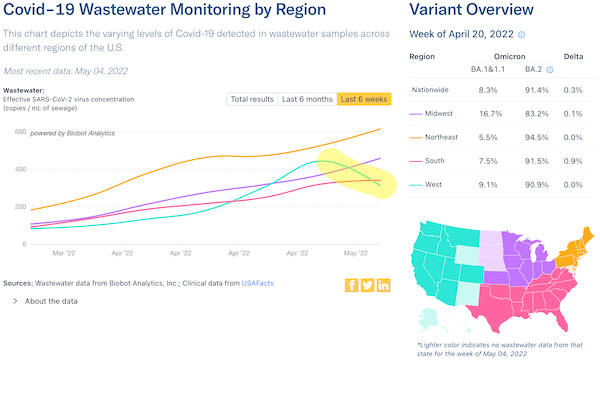 Northeast unflattened, and — hat tip to readers for pointing to this — it looks like past aggregation was adjusted up. But that drop in the West looks like an adjustment, too. Do we have any readers who track non-biobot wastewater in the West?
Cases lag wastewater data.
From CDC Community Profile Reports (PDFs), "Rapid Riser" counties: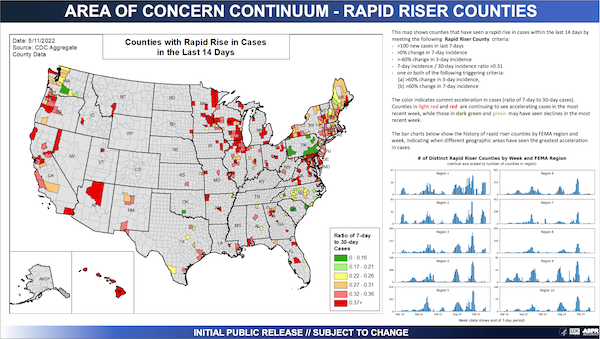 Northeast much better.
The previous release: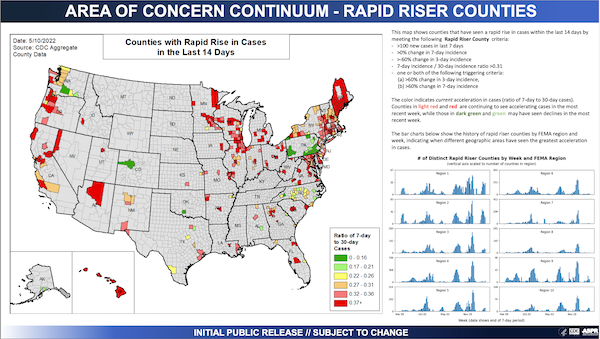 Here is CDC's interactive map by county set to community transmission. This is the map CDC wants only hospitals to look at, not you: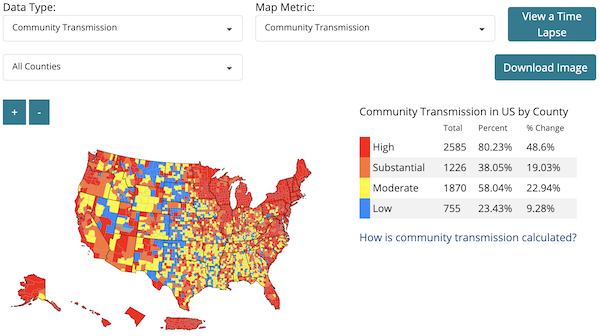 The Northeast remains stubbornly and solidly red. Now California is red as well. The Upper Midwest is moving that way, too. (The Unorganized Territories in Maine are back to red, good job.)
Hospitalization (CDC Community Profile):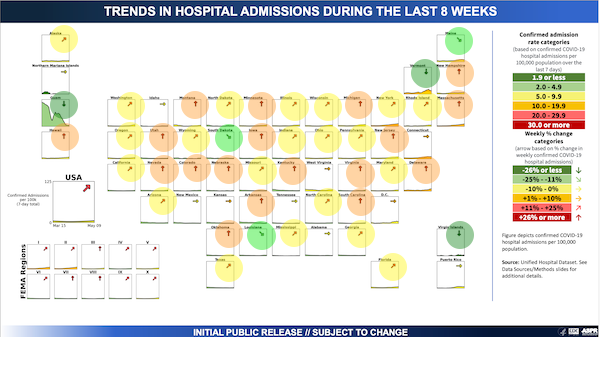 This map is very dynamic! Now the orangization back to the Northeast. (Note trend, whether up or down, is marked by the arrow, at top. Admissions are presented in the graph, at the bottom. So it's possible to have an upward trend, but from a very low baseline.)
Death rate (Our World in Data):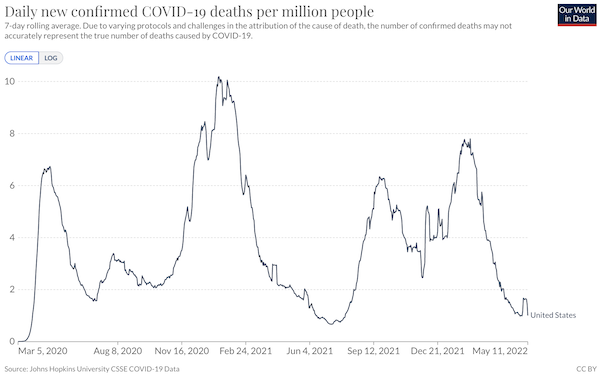 Total: 1,025,764 1,025,104. Looks like the CDC did discover a bunch of death certificates stuffed in a drawer. Look at the drop. I have added an anti-triumphalist Fauci Line.
• "Statement from President Joe Biden Marking One Million American Lives Lost to COVID-⁠19" [Whitehouse.gov]. "As a nation, we must not grow numb to such sorrow. To heal, we must remember. We must remain vigilant against this pandemic and do everything we can to save as many lives as possible, as we have with more testing, vaccines, and treatments than ever before. It's critical that Congress sustain these resources in the coming months." • Not a word about non-pharmaceutical interventions. I'm afraid the nominations for Sociopath of the Day are stacking up.
Covid cases in top us travel destinations (Statista):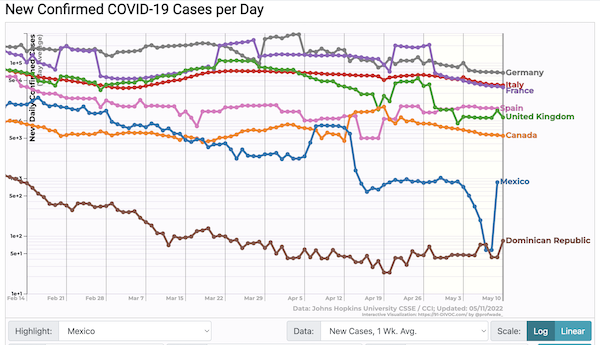 Broadly down. (Note the quality of these numbers varies wildly. For example, the UK is cutting back on testing data.
Stats Watch
Inflation: "United States Producer Price Inflation MoM" [Trading Economics]. "Producer prices in the US increased 0.5% mom in April of 2022, less than an upwardly revised 1.6% rise in March and mostly in line with market expectations. The wholesale cost of goods surged 1.3% last month, reflecting increases in autos, chicken, eggs, electricity, and natural gas."
* * *
Shipping: "U.S. importers turn to prayer and the President as West Coast port labor talks begin" [Hellenic Shipping News]. "The International Longshore and Warehouse Union (ILWU) and the Pacific Maritime Association (PMA) employer group met for the first time on Tuesday. Talks are scheduled to continue daily in San Francisco until an agreement is reached. Any deadlock could delay or halt shipments at the No. 1 U.S. seaport in Los Angeles/Long Beach and other Pacific coast gateways that handle 58.1% of goods from the Far East. That would 'hurt the already fragile U.S. economy even more,' said Larian, who is among the importers calling on the White House to intercede – as it has in the past. The talks come at a critical time for suppliers and retailers because seasonal Christmas merchandise will start hitting U.S. ports in June."
The Bezzle:
Terra's Luna cryptocoin, used as the blockchain for many NFTs, was $87 a week ago, Today it's 8 cents, a drop of more than 99.9% pic.twitter.com/8wx8HSYsGg

— Arieh Kovler (@ariehkovler) May 12, 2022
I just hope the insiders got out in time.
The Bezzle:
What the crypto industry did to people – lying them into Ponzi schemes, telling them they could get rich in an instant – is evil. Nothing created, nothing built, just money redistributed upwards and people scammed. This is what passes for "innovation."

— Gravel Institute (@GravelInstitute) May 11, 2022
Tech: "Content moderator in Kenya sues Meta over working conditions" [Channel News Asia]. "The Kenyan lawsuit was filed on behalf of Daniel Motaung, recruited in 2019 from South Africa to work for Sama in Nairobi. Motaung says he was not given details about the nature of the work reviewing Facebook posts before his arrival. The first video Motaung remembers moderating was a beheading. The disturbing content piled up, but Motaung says his pay and mental health support were inadequate. 'I have been diagnosed with severe PTSD (post-traumatic stress disorder),' Motaung told Reuters. 'I am living …a horror movie.' Motaung's lawyers said that Meta and Sama created a dangerous and degrading environment where workers were not given the same protections as employees in other countries. 'If in Dublin, people can't look at harmful content for two hours, that should be the rule everywhere,' Motaung's lawyer Mercy Mutemi said. 'If they need to have a psychologist on call that should apply everywhere.' Shortly after joining Sama, Motaung tried to form a union to advocate for the company's roughly 200 workers in Nairobi."
Tech: "Appeals court rules Texas social media law can proceed" [Protocol]. "Despite no prior history of courts and lawmakers treating social media as "common carriers" the way phone companies are, and the clear Supreme Court precedent arguing against government interference with internet content, some conservatives have increasingly argued for treating platforms that host user-generated content similarly."
Tech: "Google adopts an Apple-like approach for its Pixel products" [Associated Press]. "Google on Wednesday took a big step toward pushing its Pixel product line-up down a road already paved by Apple and its array of trendsetting devices. The latest additions to its six-year-old Pixel brand will include Google's first smartwatch that draws upon the features and expertise it has gained from last year's $2.1 billion acquisition of fitness gadget maker Fitbit. The new watch, targeted for an autumn release, marks Google's first major attempt to make its mark in wearable technology, a market that has been growing steadily since Apple introduced its smartwatch in 2014. Until now, Google's presence in the smartwatch market had been limited to making a version of its mobile Android operating system for watches made by other companies. Google also used its annual I/O developers conference to tease a Pixel tablet that it is scheduled for release next year to compete against Apple's market-leading iPad."
* * *
Today's Fear & Greed Index: 8 Extreme Fear (previous close: 17 Extreme Fear) [CNN]. One week ago: 43 (Fear). (0 is Extreme Fear; 100 is Extreme Greed). Last updated May 12 at 1:26 PM EDT. Mr. Bitcoin has a sad.
Zeitgeist Watch
"The Indignity of Automobile Dependence" [The AP (Alex Pareene) Newsletter]. "Right before Easter this year, I rented a car and drove up from New York to see friends in Boston. We hit traffic before we were even off the Manhattan grid, and we stayed mired in traffic for most of the next five hours. As I was creeping across Connecticut on Route 15 in the pouring rain, in bumper-to-bumper traffic in the gathering dark, I finally fully articulated the obvious revelation I've been moving toward for all these years: This is horrible. Driving a car is a horrible thing to have to do. Being caught in a traffic jam isn't a frustrating and unfortunate exception to the real driving experience, it is the driving experience. Life with the automobile means you are guaranteeing yourself—sooner or later but probably sooner—complete and total misery, again and again, if you're lucky enough to avoid outright carnage. Hell is other people's cars, and your car does not exist without other people's cars, and there we all are." • Eastern European perspective:
Slovakian sees a video about American suburbs and posts questions to Reddit. The level of bafflement is hilarious and appropriate. pic.twitter.com/f6X5CzeYuE

— Tristan Cleveland (@LUrbaniste) May 11, 2022
Class Warfare
"Starbucks Is Playing With Fire" [Slate]. "Last Friday, the National Labor Relations Board issued an unusually wide-ranging complaint against Starbucks, accusing it of more than 200 violations of the nation's labor laws as part of its anti-union efforts in Buffalo, including firing six pro-union workers, disciplining and surveilling others, and closing stores. Stating that Starbucks' "egregious" anti-union conduct could cripple the organizing drives in various cities, the labor board has also taken the unusual step of going to federal court, where it has accused the company of illegally firing pro-union baristas in Memphis and Phoenix and asked that they be immediately reinstated…. With more than 60 Starbucks unionized, and workers at dozens more likely to vote to unionize soon, a big question now is whether Starbucks will negotiate in good faith or stonewall for months and years to drag out reaching a first contract. When it comes to the union, Schultz evidently thinks his company is an immovable object. But the Starbucks union drive increasingly seems like an unstoppable force. If Starbucks does stonewall the contract talks, I've also started to wonder if it could end up facing a widespread customer boycott—something on the scale of the United Farm Workers' famous grape boycott of the 1960s…. But Starbucks, with its activist workforce and many progressive customers, might be different—especially since there are plenty of other places to get coffee." • Interesting question on boycotts!
"Starbucks Baristas Are Unionizing, and Even Howard Schultz Can't Make Them Stop" [Bloomberg]. "As with Smalls at Amazon, . 'It's the ultimate group project,' says Michelle Eisen, a Starbucks barista in Buffalo who's coached baristas at other stores from Kentucky to Hawaii. 'Everybody has to pull their weight.'"
News of the Wired
"A New Dimension to a Meaningful Life" [Scientific American]. "When we think about lives filled with meaning, we often focus on people whose grand contributions benefited humanity. Abraham Lincoln, Martin Luther King, Jr., and Nelson Mandela surely felt they had a worthwhile life. But how about us ordinary people, toiling away in a typical existence? Many scholars agree that a subjectively meaningful existence often boils down to three factors: the feeling that one's life is coherent and 'makes sense,' the possession of clear and satisfying long-term goals and the belief that one's life matters in the grand scheme of things. Psychologists call these three things coherence, purpose and existential mattering. But we believe there is another element to consider. Think about the first butterfly you stop to admire after a long winter or imagine the scenery atop a hill after a fresh hike. Sometimes existence delivers us small moments of beauty. When people are open to appreciating such experiences, these moments may enhance how they view their life. We call this element . The phenomenon reflects the feeling of a deep connection to events as they transpire and the ability to extract value from that link. It represents the detection of and admiration for life's inherent beauty." • Today, I will not forget to post the plant!
You will pry the cliché from my cold dead hands. AC writes:
Believe it or not, I've eaten at a place called Mom's, and it was all right. Regular cafe food, white bread, pies, salad bar. In Salida Utah, far from almost everywhere. Picture attached! All best! PS Mom's is so old-fashioned they even has a website – https://momscafe.org/
Photo: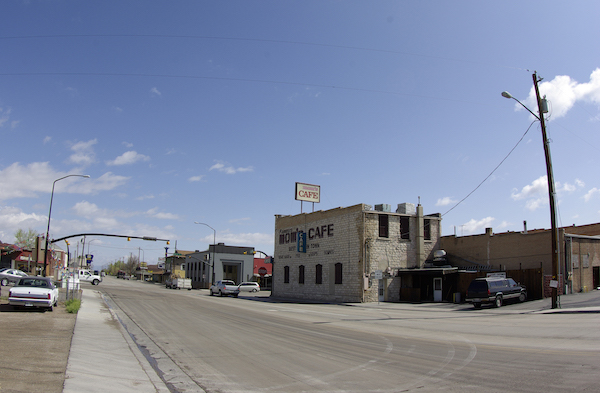 * * *
Contact information for plants: Readers, feel free to contact me at lambert [UNDERSCORE] strether [DOT] corrente [AT] yahoo [DOT] com, to (a) find out how to send me a check if you are allergic to PayPal and (b) to find out how to send me images of plants. Vegetables are fine! Fungi and coral are deemed to be honorary plants! If you want your handle to appear as a credit, please place it at the start of your mail in parentheses: (thus). Otherwise, I will anonymize by using your initials. See the previous Water Cooler (with plant) here. From TH: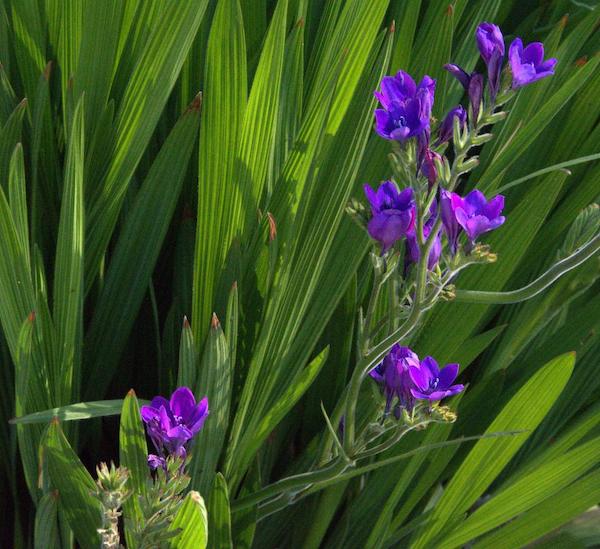 TH writes: "I believe this is 'Babiana angustifolia Sweet' (or so says Plantnet.org) as seen on January 30th, 2022 at the Huntington Library in San Marino, California."
* * *
NOTE ON PAYPAL: As some readers may know, PayPal whacked Consortium News's account, for no justification that I can see. It's to be hoped that Consortium News has its account completely restored, and that NC doesn't come under the same ban hammer. In the meantime, until I/we can come up with an alternative, I must continue to rely on PayPal (and rely I do). I will be cleaning out the account daily, and PayPal does give a heads-up, so your risk is minimal. Please carry on as before, or, if you feel you must, write me and I will send you directions for sending a check. Please put "PayPal" in the subject line. Thank you for your support! It is much appreciated, and helps me with responsibilities. –lambert
Readers: Water Cooler is a standalone entity not covered by the recently concluded and — thank you! — successful annual NC fundraiser. So if you see a link you especially like, or an item you wouldn't see anywhere else, please do not hesitate to express your appreciation in tangible form. Remember, a tip jar is for tipping! Regular positive feedback both makes me feel good and lets me know I'm on the right track with coverage. When I get no donations for five or ten days I get worried. More tangibly, a constant trickle of donations helps me with expenses, and I factor in that trickle when setting fundraising goals:
Here is the screen that will appear, which I have helpfully annotated: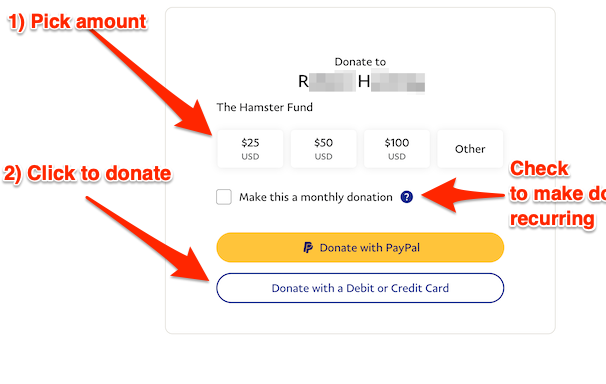 If you hate PayPal, you can email me at lambert [UNDERSCORE] strether [DOT] corrente [AT] yahoo [DOT] com, and I will give you directions on how to send a check. Thank you!