By Lambert Strether of Corrente.
Patient readers, thanks for your thoughts and prayers [snort]. I'm almost recovered, except for some lingering irritability and minor neurological damage. Kidding! Onward. –lambert
Bird Song of the Day
Reed Bunting, Rutland Water–Lagoon 4, Rutland, England, United Kingdom. Named for the great Adolph Reed, for those who don't know.
* * *
Politics
"But what is government itself, but the greatest of all reflections on human nature?" –James Madison, Federalist 51
"Here's food for thought, had Ahab time to think; but Ahab never thinks; he only feels, feels, feels" –Herman Melville, Moby Dick
"So many of the social reactions that strike us as psychological are in fact a rational management of symbolic capital." –Pierre Bourdieu, Classification Struggles
Capitol Seizure
"Judge: Jan. 6 committee evidence suggests Trump asked rally crowd to break the law" [Politico]. "The Jan. 6 select committee's finding that Donald Trump lured followers to storm the Capitol does not absolve them of legal responsibility for their actions, a federal judge ruled Wednesday, the first opinion to cite the congressional panel's criminal referrals of the former president. U.S. District Court Judge John Bates cited the select committee's report and criminal referrals to swat down a Jan. 6 defendant's claim that he believed Trump had authorized him and other rioters to enter the Capitol when he urged the crowd to march down Pennsylvania Avenue. Bates, an appointee of President George W. Bush, ruled that defendant Alexander Sheppard should be prohibited from making the 'public authority' defense because there's simply no evidence Trump told his followers that entering the restricted grounds of the Capitol on Jan. 6, 2021, was legal. In fact, his incendiary rhetoric — especially telling his supporters to 'fight like hell' — may suggest Trump was asking them to break the law, Bates said. His words 'could signal to protesters that entering the Capitol and stopping the certification would be unlawful,' Bates found." • From "fight like hell"? Really?
Biden Administration
"The Federal Program to Rebuild After Hurricane Katrina Shortchanged the Poor. New Data Proves It." [Government Executive]. "The complaints started as soon as Louisiana launched its massive program to help homeowners rebuild after hurricanes Katrina and Rita in 2005. Community leaders said the largest rebuilding program in U.S. history would be unfair to the state's poorest residents. Activists and real estate experts spoke out at meetings of the Louisiana Recovery Authority, which designed and ran the Road Home program. An attorney representing poor homeowners testified before Congress. A fair housing group sued the state and federal governments. State officials made tweaks and settled the lawsuit, but they never changed a core part of the formula that determined how much homeowners received. Now a groundbreaking analysis of nearly 92,000 rebuilding grants statewide shows critics were right all along: Road Home shortchanged people in poor neighborhoods while giving those in wealthy neighborhoods more of what they needed. People in the most impoverished areas in New Orleans — those with a median income of $15,000 or less — had to cover 30% of their rebuilding costs after Road Home grants, Federal Emergency Management Agency aid and insurance. In areas where the median income was more than $75,000, the shortfall was 20%, according to the analysis by ProPublica, The Times-Picayune | The Advocate and WWL-TV."
2024
Honestly, it's not easy to make Kamala Harris look good:

Pete had literally everything going for him: a cabinet agency tailor fit to his personal brand, mountains of new cash to spend via the infrastructure law, the ability to remain aloof from partisan politics. And he still managed to screw it up.

— Patrick Giamario (@PatGiamario) December 28, 2022

Maybe a listening tour?

"The Presidential Race Is Entering a New Phase. Here's Who's Best Positioned" [Politico]. "The 2024 race for president began a long time ago. In fact, we already have candidates who have lost; Andrew Cuomo's unspoken bid died in 2021 when he resigned the New York governorship over sexual misconduct allegations. This year, Republican Sens. Tom Cotton , Josh Hawley and Rick Scott, despite their past preening, indicated they would forgo a presidential campaign. And the Democratic governor of California, Gavin Newsom , announced he would not run, regardless of President Joe Biden's plans. Now, with Donald Trump's Mar-a-Lago stemwinder of an announcement coming just one week after the 2022 midterms, the playing-it-coy phase is winding down. So, with the race about to begin in earnest, who had the best year of jockeying for position? In my previous 2019 , 2020 and 2021 year-end assessments of the 2024 candidates, I did not christen singular winners in each party. But 2022 is different. We have undisputed victors: Joe Biden and Ron DeSantis." • Seems a bit early.
2022
"22 Things We Learned in 2022: National Overview (1-5)" [Amy Walter, Cook Political Report]. "According to the National Conference of State Legislatures, "state control is more unified in either the blue or the red column than ever, and the number of divided state governments is lower than ever." Democrats now have full control of state government in 17 states, while Republicans hold trifectas in 23 states. That leaves just ten states with divided government, the fewest since 1952, when eight states had divided state control. Between 2000 and 2010, there were always 20 or more divided states."
Democrats en Déshabillé
Patient readers, it seems that people are actually reading the back-dated post! But I have not updated it, and there are many updates. So I will have to do that. –lambert

I have moved my standing remarks on the Democrat Party ("the Democrat Party is a rotting corpse that can't bury itself") to a separate, back-dated post, to which I will periodically add material, summarizing the addition here in a "live" Water Cooler. (Hopefully, some Bourdieu.) It turns out that defining the Democrat Party is, in fact, a hard problem. I do think the paragraph that follows is on point all the way back to 2016, if not before:

The Democrat Party is the political expression of the class power of PMC, their base (lucidly explained by Thomas Frank in Listen, Liberal!). ; if the Democrat Party did not exist, the PMC would have to invent it. . ("PMC" modulo "class expatriates," of course.) Second, all the working parts of the Party reinforce each other. Leave aside characterizing the relationships between elements of the Party (ka-ching, but not entirely) those elements comprise a network — a Flex Net? An iron octagon? — of funders, vendors, apparatchiks, electeds, NGOs, and miscellaneous mercenaries, with assets in the press and the intelligence community.

Note, of course, that the class power of the PMC both expresses and is limited by other classes; oligarchs and American gentry (see 'industrial model' of Ferguson, Jorgensen, and Jie) and the working class spring to mind. Suck up, kick down.

* * *

"Larger squad? How the Hill's newest progressives plan to wield power" [Politico]. "An optimistic crop of liberal first-year lawmakers is confident they can pry back the majority from Republicans in two years. In the meantime, add another five members, aligned with the liberal Working Families Party, to the ever-expanding list of those vowing to push President Joe Biden's administration to the left on priorities like workers' rights, climate change and immigration. And they're already tuned in to a cliché critical to commanding Congress: There's power in numbers. While several soon-to-be members had already come together on the campaign trail and grew closer as they descended on Washington, they've also forged alliances with other incoming lawmakers they met for the first time at orientation. 'I think that as legislators, our job is to agenda-set. It's to govern, it's to create policy, but it's also to put forth that best case, and bring people over to us," said Rep.-elect Summer Lee (D-Pa.), one of two Justice Democrat-backed candidates to win a general election. 'That's what progressives have to do, whether we're in the majority or the minority. … That's going to be where a lot of power is: in expanding the realm of what's possible.' They're all set to join a Democratic Caucus that's becoming younger, more diverse and more liberal." "More liberal is not a good thing. More: "It's potentially more hospitable terrain than what the 'squad' faced four years ago, when the original group of four progressive lawmakers became a favored target for Republicans — and even some moderate Democrats." Yeah, I remember Pelosi pistol-whipping AOC on that Israel vote; seems to have worked! More: "Lee and other lawmakers are looking to the group of six as ." • Oh, yeah. I remember the Working Families Party very well. They knifed Sanders in 2020 by endorsing that snake Elizabeth Warren.
#COVID19
Lambert here: I am but a humble tapewatcher, but unlike Eric Topol, I'm not calling a surge, because the last peak was Biden's Omicron debacle, and after an Everest like that, what's left? Topol's view is the establishment view: Hospital-centric. Mine is infection-centric. I do not see the acceleration or doubling in cases that I would expect to see based on past surges. There is also the TripleDemic aspect, which I don't know enough about.
I am calling a "Something Awful." It's gonna be bad, in some new way, and we don't know how, yet. Wastewater has taken off in New York, Chicago, San Francisco, and Los Angeles, right on time, two weeks after Thanksgiving. Those are not only in themselves large cities, they are all the sites of international airports (reminiscent of the initial surge in spring 2020, which emanated, via air travel, from New York). Wastewater is a leading indicator for cases, which in turn lead hospitalization (and death). In addition, positivity has begun to increase again (Walgreens), and BQ.1* has taken over. Finally, I'm hearing a ton of anecdotes (and please add yours in comments).
Stay safe out there! If you are planning to travel on New Year's, do consider your plans carefully.
* * *
• Speaking of the New Yorker's Emma Green (that Emma Green):
funny story, emma is actually the head of the in-person committee at my synagogue. she recently decided to repeal the policy that tied masking requirements to the CDC community levels, so now thanks to her we can all sing maskless together even though the CDC recommends masking. https://t.co/Pi3AQUTXqJ

— avi g (@mumblerant) December 29, 2022
The bleakly hilarious part is that one of the first epidemiological studies to show that #CovidIsAirborne was a superspreading event at a church chorus in Skagit Valley, WA. NOTE Green is now a staff writer at the New Yorker. Previously she was a staff writer (and managing editor) at The Atlantic, which shows you how incestuous and stifling the tiny little world of liberal journals is. From her bio, she has never covered a science beat, a healthcare beat, an epidemiological beat, the Covid beat, or the regulatory (CDC) beat. One can only wonder why she was chosen to write "The Case for Wearing Masks Forever." Perhaps it was her ability to achieve…. a certain tone.
• More on Emma Green:
I spoke to @emmaogreen for this piece and now wish I didn't. It turned out to be a hit piece and an encomium for the status quo. 1/ https://t.co/W0zz48DcGf

— Gregg Gonsalves (@gregggonsalves) December 28, 2022
And:
This story could have been about a better future for all of us, but your stories suggest we've been doing too much for too long on this pandemic, you caricature criticism of the status quo with a gusto of someone who has the luxury of ignoring its current impact. 10/

— Gregg Gonsalves (@gregggonsalves) December 28, 2022
* * *
• Maskstravaganza: Innovation? Or humor?
China devolops the latest mask to wear, eat and breathe during the Covid-19 outbreak. pic.twitter.com/OheK2CZykG

— Tarek Fatah (@TarekFatah) December 24, 2022
Refreshing an old design?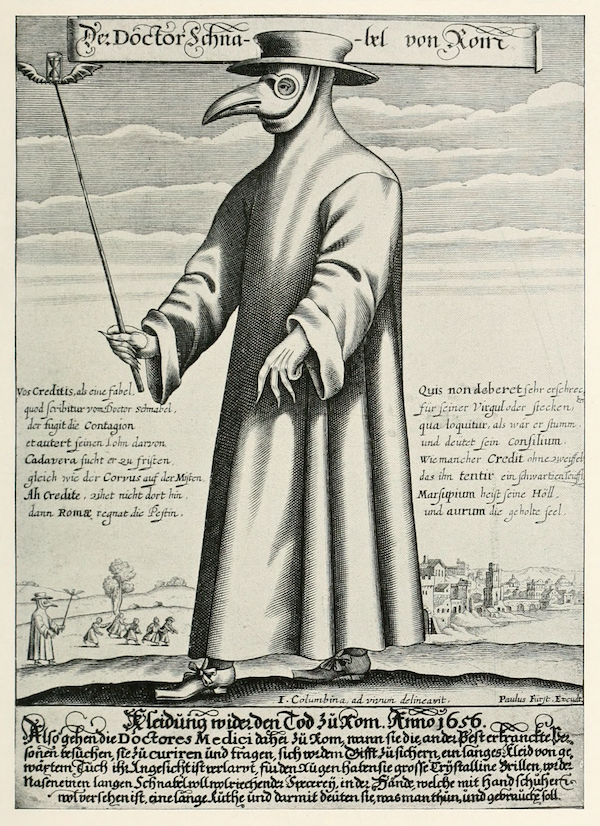 Actually, the mask was developed to protect against airborne infection, then conceived of as the result of miasma and identified with bad smells. It might actually have been of some benefit. The glass eyepieces protected against infection via the surface of the eye, the beak provided at least some protection, being stuffed with herbs, and the herbs might have stimulated the flow of mucus. Just as sane as droplet dogma!
* * *
• "CDC calls out China for 'lack of adequate and transparent' COVID data" [MarketWatch]. • Not The Onion!
* * *
Transmission
Here is CDC's interactive map by county set to community transmission (the "red map"). (This is the map CDC wants only hospitals to look at, not you.) The map is said to update Monday-Friday by 8 pm: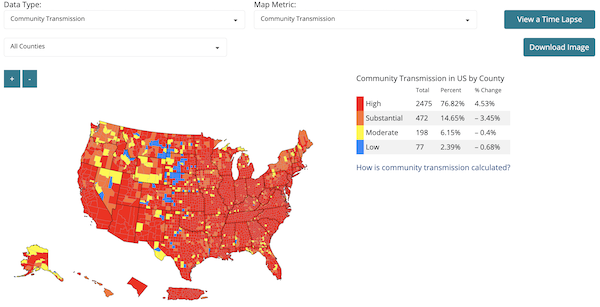 NOTE: I shall most certainly not be using the CDC's new "Community Level" metric. Because CDC has combined a leading indicator (cases) with a lagging one (hospitalization) their new metric is a poor warning sign of a surge, and a poor way to assess personal risk. In addition, Covid is a disease you don't want to get. Even if you are not hospitalized, you can suffer from Long Covid, vascular issues, and neurological issues. That the "green map" (which Topol calls a "capitulation" and a "deception") is still up and being taken seriously verges on the criminal.
Positivity
From the Walgreen's test positivity tracker, published December 29: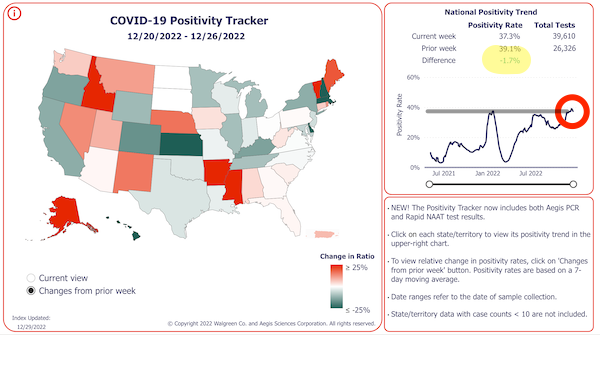 -1.7%. Decrease, but who gets tested on Christmas or Boxing Day? NOTE: Of course, it's an open question how good a proxy Walgreen's self-selected subjects are for the general population, especially because they didn't go the home-testing route, but we go with the data we have.
Wastewater
Wastewater data (CDC), December 25: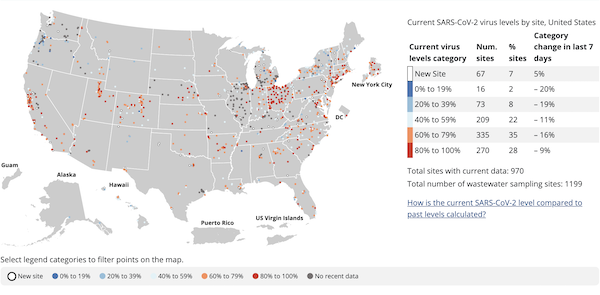 Too much red (even with Illinois offline). JFK/LGA (Queens County, NY), ORD (Cook County, IL), SFO (San Francisco, CA), LAX (Los Angeles), and ATL (Cobb County, GA) are all red.
Lambert here: A rare hat tip from Lambert to the CDC for getting the data out on Christmas Day.
December 24: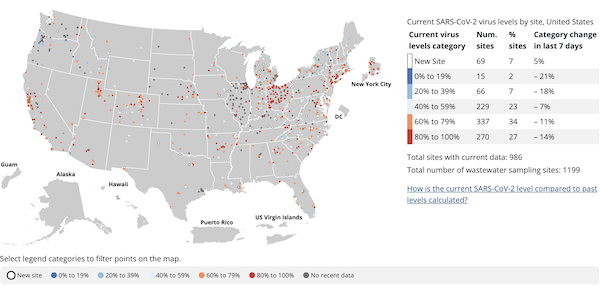 NOT UPDATED And MWRA data, December 21: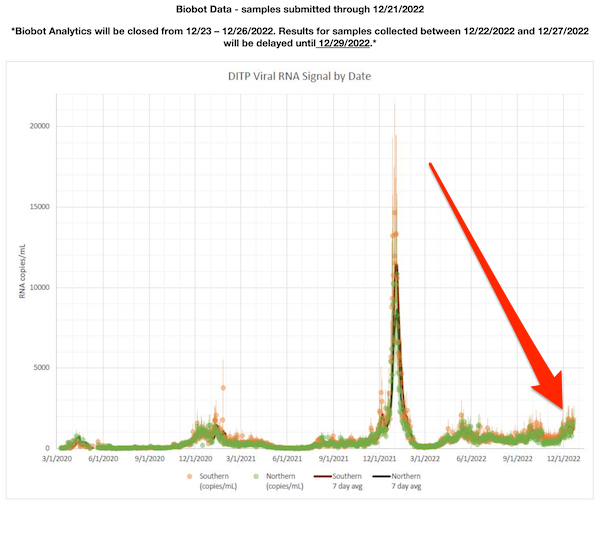 Lambert here: Up in both North and South. Odd? Haven't the students already left town?
Variants
Lambert here: It's beyond frustrating how slow the variant data is. Does nobody in the public health establishment get a promotion for tracking variants? Are there no grants? Is there a single lab that does this work, and everybody gets the results from them? [grinds teeth, bangs head on desk]. UPDATE Yes. See NC here on Pango. Every Friday, a stately, academic pace utterly incompatible with protecting yourself against a variant exhibiting doubling behavior.
Variant data, national (Walgreens), December 13: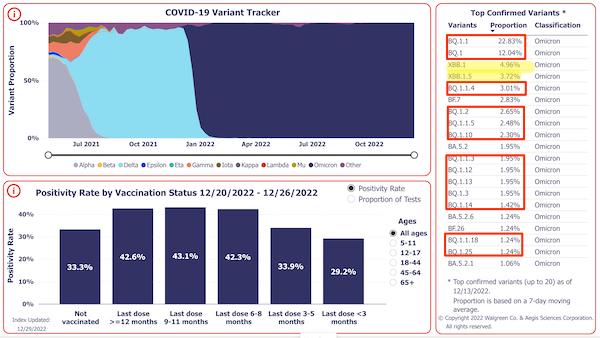 Lambert here: BQ.1* dominates, XBB moving up fast. This data is updated, even though the last batch was December 11 (i.e., only two days of additional data). Not sure why this data is coming out before CDC's, and on a Thursday, since in the past they both got it from Pango on Fridays.
NOT UPDATED Variant data, national (CDC), December 3 (Nowcast off):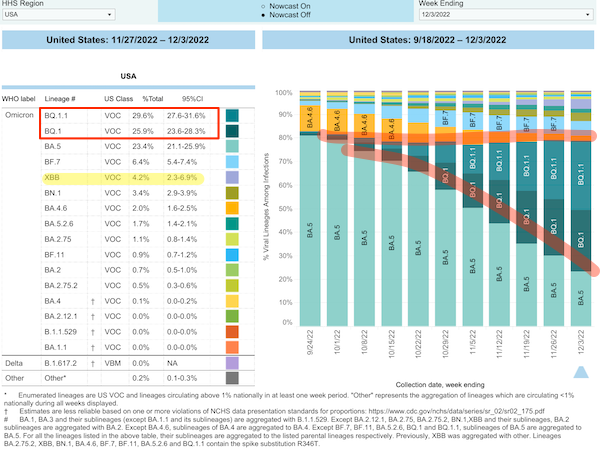 BQ.1* takes first place. Note the appearance of XBB. Here is Region 2, the Northeast, where both BQ.1* and XBB are said to higher, and are: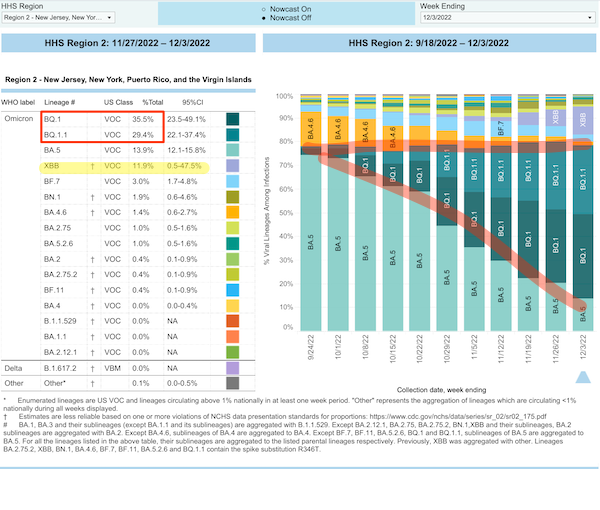 As a check, since New York is a BQ.1* hotbed, New York hospitalization, updated December 29: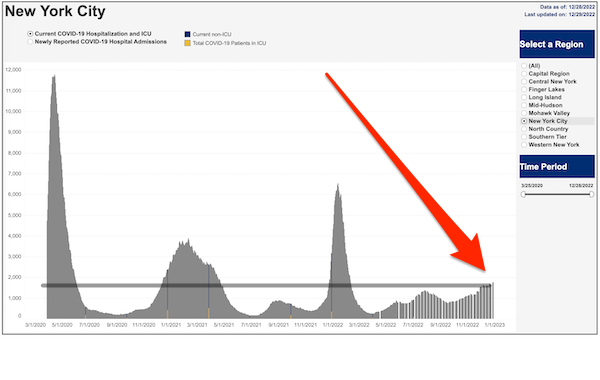 Resuming the steady upward climb after a short plateau.
• Hospitalization data for Queens, updated December 24: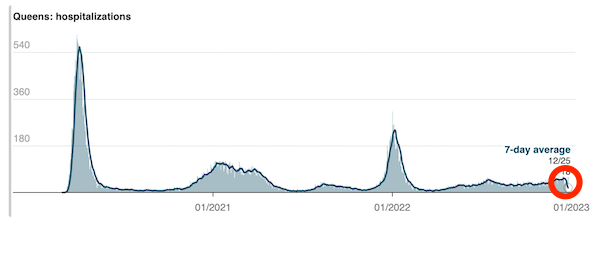 We'll see what is hospitalization is like about two weeks into January, after holiday travel has ended.
Deaths
Death rate (Our World in Data):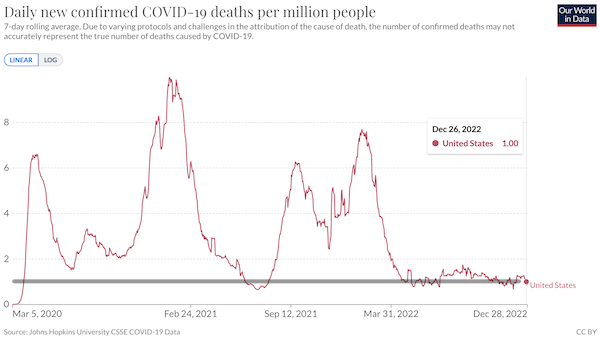 Total: 1,117,194 – 1,116,095 = 1099 (1099 * 365 = 401,135 deaths per year, today's YouGenicist™ number for "living with" Covid (quite a bit higher than the minimizers would like, though they can talk themselves into anything. If the YouGenicist™ metric keeps chugging along like this, I may just have to decide this is what the powers-that-be consider "mission accomplished" for this particular tranche of death and disease).
It's nice that for deaths I have a simple, daily chart that just keeps chugging along, unlike everything else CDC and the White House are screwing up or letting go dark, good job.
Stats Watch
Employment Situation: "United States Initial Jobless Claims" [Trading Economics]. "The number of Americans filing new claims for unemployment benefits rose by 9K to 225K in the week ending December 24th, in line market expectations of 225K. The 4-week moving average which removes week-to-week volatility was little changed at 221K, still pointing to a tight labour market."
* * *
Finance: "Why So Many Accountants Are Quitting" [Wall Street Journal]. "More than 300,000 U.S. accountants and auditors have left their jobs in the past two years, a 17% decline, and the dwindling number of college students coming into the field can't fill the gap. The exodus is driven by deeper workplace shifts than baby-boomer retirements. Young professionals in the 25- to 34-year-old range and midcareer professionals between the ages of 45 and 54 also departed in high numbers starting in 2019, according to the Bureau of Labor Statistics. Recruiters who have been luring experienced accountants into new roles say they are often moving into jobs in finance and technology…. Students want to make more money up front than many accounting firms are paying—and they are finding it in other industries, according to professors. The expanded opportunities have come during a decadelong economic boom that has created new roles in sectors from banking to tech. Top students straight out of college can make significantly more going to work for consulting outfits and banks, rival fields that are drawing quantitatively minded students, according to recruiters." • Well, maybe we can get ChatGPT to do it.
* * *
Today's Fear & Greed Index: 36 Fear (previous close: 31 Fear) [CNN]. One week ago: 35 (Fear). (0 is Extreme Fear; 100 is Extreme Greed). Last updated Dec 29 at 1:38 PM EST.
Under the Influence
"Black creators say they 'have to be perfect' to get promotional products from brands. They want that to change" [NBC]. "As influencers who were new to New York City, Antoni Bumba and her former roommate spent time last year trying to strengthen their relationships with brands. The creators, who had already built sizable followings on their platforms, knew that one of the best ways to grow their careers was to ask brands for 'PR packages,' or gifts, to create promotional content and foster brand relationships. One day, Bumba said, the two of them decided to send emails to the same company. Bumba's friend, who is white and had fewer followers, was sent gifts from the brand shortly after. Bumba, who is Black, did not receive anything at the time. Instead, she said, she was told the brand was at capacity for "gifting." It was one of several instances in which, Bumba said, she has tried to get on a brand's public relations list with little to no success. 'As far as it goes for those free ops, you gotta know people, and you gotta know [white] people,' said Bumba, a lifestyle creator with 938,000 TikTok followers. Black creators, like Bumba, have been vocal about how the lack of gifting to creators of color demonstrates the inequity in influencer marketing. The problem, which is not new, has become the subject of many TikTok videos in recent months, with Black TikTok creators sharing their experiences, or lack thereof, with PR lists and gifting. Many of them have called on brands to do better. Black creators said that without access to gifting, they have to spend their own money if they want to use certain products, which takes away from their take-home income. That can contribute to widening the existing pay gap between Black and white influencers, which is 35%, according to a 2021 study from MSL, a global public relations firm that offers influencer marketing services. Black creators say they still feel they have to work twice as hard as their white counterparts." • I agree. Payola should be race-neutral!
Guillotine Watch
"U.S. Virgin Islands Sues JPMorgan Over Epstein Sex-Trafficking Scheme" [New York Times]. "Mr. Epstein was a client of JPMorgan's high-end banking services for 15 years, a relationship that continued well after his 2008 conviction even though the bank's employees raised alarms about the legal and reputational risks. The bank ejected him as a client in 2013. Tuesday's lawsuit, parts of which were redacted from public view, said the bank's failure to cut ties with Mr. Epstein after his 2008 conviction, as well as its failure to scrutinize his activities when new sexual abuse allegations against him became public, amounted to helping Mr. Epstein carry out his schemes." • Hmm.
Class Warfare
"Are U.S. Healthcare Workers Better Off Unionized?" [MedPage Today]. "Labor unionization among U.S. healthcare workers was low in recent years, even though union membership or coverage was tied to higher weekly earnings and better non-cash benefits, researchers reported. Out of 14,298 healthcare workers surveyed, 13.2% reported union membership or coverage, with no significant trend from 2009 through 2021, according to Xiaojuan Li, PhD, of Harvard Medical School and Harvard Pilgrim Health Care Institute, both in Boston, and colleagues. Unionized healthcare workers had significantly higher reported mean weekly earnings than non-union workers at $1,165 versus $1,042 (P<0.001), the researchers reported in JAMA. And unionized workers were more likely to report having a pension or other retirement benefits at work than non-unionized workers at 57.9% versus 43.4% (risk ratio 1.33, 95% CI 1.26-1.41, P<0.001), the authors found. They also were more likely to report having a higher level of health insurance coverage and higher annual employer contributions to those health plans. Unionized healthcare workers reported more weekly hours than non-unionized workers at 37.4 versus 36.3 hours (P<0.001), but Li's group pointed that the mean differences of 1.11 hours did not indicate "much change in working hours." The study comes as labor unionization efforts have experienced a resurgence in the U.S., with the National Labor Relations Board receiving a 57% increase in union election petitions in the first half of 2022, according to Li and colleagues." • Maybe Emma Green can do a hit piece on labor unions next. What say? "America's shrinking population is here to stay" [Financial Times]. "The size of America's working age population has been stagnant for over a decade. If fertility continues to decline or stabilises at a low level, then without a substantial increase in immigration, the working-age population will soon begin to shrink. This means fewer workers, which means lower economic output overall. But it also could mean less economic output per person and lower standards of living." • Lower standards of living for whom? Oddly, the recent declines in life expectancy seem to be correlated with even greater concentration of wealth.
News of the Wired
"Discover The Fascinating World Of Plant Root Systems With Erwin Lichtenegger And Lore Kutschera's Collaborative Project" [Design You Trust]. "As someone who has always been fascinated by the hidden world of plant roots, I am thrilled to share with you the incredible collaborative project of the late botanists Erwin Lichtenegger and Lore Kutschera. Through their detailed drawings, we are able to celebrate the power and beauty of these vital systems that often go unseen. The archive, which has been digitized by the Wageningen University & Research, is the result of 40 years of research in Austria. This research involved cultivating and carefully retrieving developed plant life from the soil for study, and the result is a collection of over 1,000 renderings of the winding, spindly roots of agricultural crops, shrubs, trees, and weeds." • Gorgeous! For example: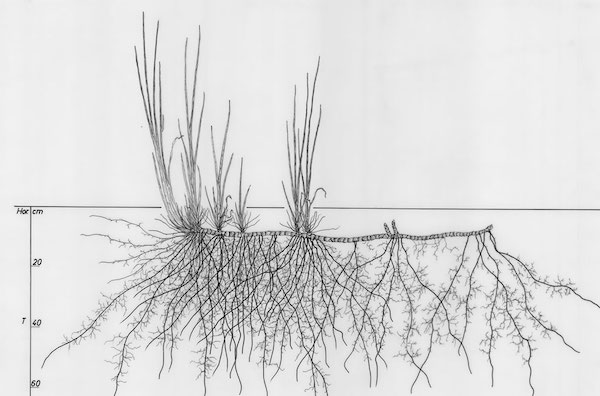 Finally, hoisted from comments Skippy writes:
@Lambert ….

Hay mate as you asked for more personal covid experiences I've got one for you.

SO …. 92 old mother after a neflix tragicomedy ends just outside Austin, TX after a move form AZ with psychologically impaired younger brother and some dogs. Oops all rentals are gone post him going up to AZ two years before too ***look out for mom*** in her burgeoning dementia state – I have no life so I must consume one. No rentals due to IT snapping them up as worker candy and buff balance sheets w/a side of price setter action. So after about of a month of shenanigans at the 4K a month hotel, moms a dementia wander, escaped to another room after housekeeping left door ajar, brother came back from gig driving and a gray alert went out. She was soon found in room, but after that the state was informed, as such the process began.

Anywho she was admitted as a temporary stay in a hospice which then transferred her to a nursing home across the road. So just about 3 days ago she contracted covid in the home, reports are she kept wandering into the infected area of the home, don't need to spell this out to NC people. She died two days ago and there is more to this saga than I've got the patience to deal with.

As the disheveled one of the 7 I only care about when people start thinking about when it their turn and how they would like to deal with it …
And:
All good mate and her eating had taken a dramatic change week prior, agree that she digressed past any notion of individuality. Gasp man some of her last notions expressed was how she was in the discovery process of a new business offering etc.

My one and only grievance is the way she moved in the place of care and got infected – see IM Docs ethics. Its not the people its the model IMO.
I'm very sorry to hear of Skippy's mother's death, but also of her fate. She stumbled into one of the grisly traps constructed by Rule #2, and that was that.
And:
Ugh here I go again … regardless of class. When this starts to break down the societies seem to have a higher fail rate largely based on some new interpretation of past religious norms or some numerical symbology that has the same effect with out the need for vassal of divine with a bush as a cell phone or some worship of Newtonian symbology.
As targets for wealth extraction, especially when helpless. Why do you ask? (And while I whinge about a head-cold, other sentient beings have real problems!)
* * *
Contact information for plants: Readers, feel free to contact me at lambert [UNDERSCORE] strether [DOT] corrente [AT] yahoo [DOT] com, to (a) find out how to send me a check if you are allergic to PayPal and (b) to find out how to send me images of plants. Vegetables are fine! Fungi and coral are deemed to be honorary plants! If you want your handle to appear as a credit, please place it at the start of your mail in parentheses: (thus). Otherwise, I will anonymize by using your initials. See the previous Water Cooler (with plant) here. From CG: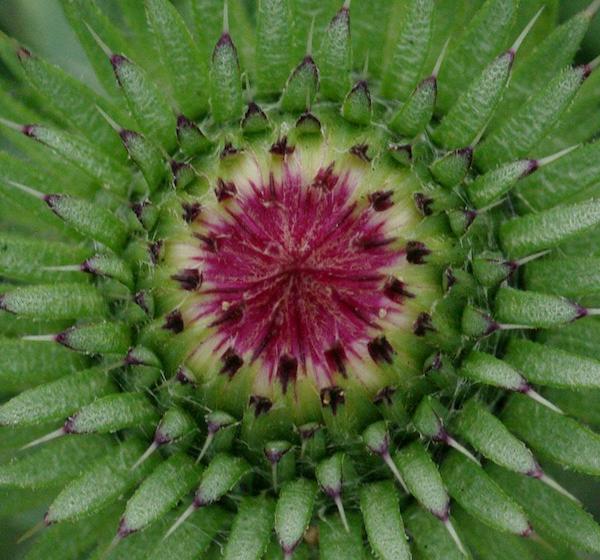 CG writes that this is a mandala, but I'm not sure what plant it is. Readers?
* * *
Readers: Water Cooler is a standalone entity not covered by the annual NC fundraiser. So if you see a link you especially like, or an item you wouldn't see anywhere else, please do not hesitate to express your appreciation in tangible form. Remember, a tip jar is for tipping! Regular positive feedback both makes me feel good and lets me know I'm on the right track with coverage. When I get no donations for five or ten days I get worried. More tangibly, a constant trickle of donations helps me with expenses, and I factor in that trickle when setting fundraising goals:
Here is the screen that will appear, which I have helpfully annotated: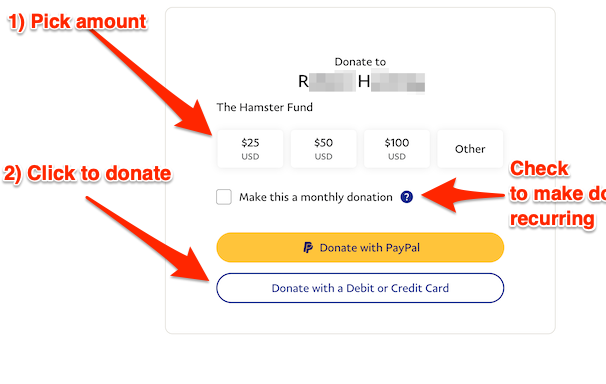 If you hate PayPal, you can email me at lambert [UNDERSCORE] strether [DOT] corrente [AT] yahoo [DOT] com, and I will give you directions on how to send a check. Thank you!