By Lambert Strether of Corrente.
When I blegged for a link to Lance DeHaven-Smith's Conspiracy Theory in America (CTA) I was overwhelmed by reader response, both in comments and in mail. (I will not single out individuals, especially on such a topic; you know who you are!) So I consider myself under an obligation to review it. CTA (University of Texas Press, 2013) is both short and wonderfully lucid, with a full scholarly apparatus; I recommend it highly.
Now I must immediately pause to issue the following warning, which will explains why I was coy about putting the fully spelled out title of CTA in the post title: I didn't want it "CT" to come up easily in search, and if it does, I want only the coyly implicit caveat of asterisks to appear.
* * *
COMMENTS WARNING
This is not a post for you to dilate or expound on your favorite CT, whether in Dallas, in Manhattan, in a Chinese wet market, a laboratory, leaky or otherwise, or where- and whatever. Don't bring them up. And don't tell me you're not sure what I'm talking about. Plus if you're not sure, don't. Our vicious but fair moderators will nail your head to the floor if you do. I am enforcing this policy for three reasons:

1) CT is almost impossible to moderate; the topics seem to exert an irresistible pull, and we end up (to mix and remix metaphors) with a rat's nest of yarn diagrams stuffed down a rabbit-hole;

2) Because CT is stigmatized in "the discourse," discussing it incurs reputational damage for the site. If we're going to risk that, we're going to do it to get some evil-doer fired from CalPERS, or to protect y'all in a pandemic, not on extinct matters of purely historical concern. There are other places to indulge yourself in CT. Go there.

3) DeHaven-Smith's purpose in writing the book is to replace CT with a what he calls a policy science of State Crimes Against Democracy (SCADs):

In contrast to conspiracy theories, which speculate about each suspicious event in isolation, the SCAD construct delineates a general category of criminality and calls for crimes that fit this category to be examined comparatively.

4) And don't game this warning by asking "Gosh, could it be that this [a historical event in Dallas, say] was really a SCAD?" Because our moderators will know. This is not a post for enthusiasts. There are many very contemporary and not yet stigmatized and worked-over events for which the SCAD framework may well be appropriate (and on both sides of the aisle). Do that.
* * *
Lance DeHaven-Smith is a political scientist at Florida State University's Askew School of Public Administration and Policy. He is the author of scholarly articles and books including Atlas of Florida Voting and Public Opinion (1998; I have read, but cannot now track down, that observing Jebbie's election theft in 2000 "radicalized" him, as we say these days). CTA and its central concept of SCADs are the fruit of research beginning at least as early as 2006.
In this review, I will be posting lots of screenshots from a CTA PDF, with highlights in yellow. (I've tried to keep the typesize in each shot sized consistently, but I seem not to have entirely succeeded. First, I will present DeHaven's thesis that "CT," the phrase, was likely propagated by the CIA (!). Then, I will present material that shows that "conspiracy" has an honored place in American political thought, from the Framers of the Constitution onward. Next, I will look at CT as rhetoric. Finally, I will compare CT and SCADs, and look at SCADs as form of corruption. Again, all the screenshots are DeHaven-Smith, bracketed with short remarks from me.
Was "'Conspiracy Theory' Propagated by the CIA?
Just asking questions… DeHaven cautiously puts the CIA material in an Appendix, but being an etymology and meme fan I found it so intriguing that I've moved it up front in this review. Here (CTA, page 197) is CIA Dispatch #1035-960, which introduces the context (Dallas) and introduces the term "conspiracy":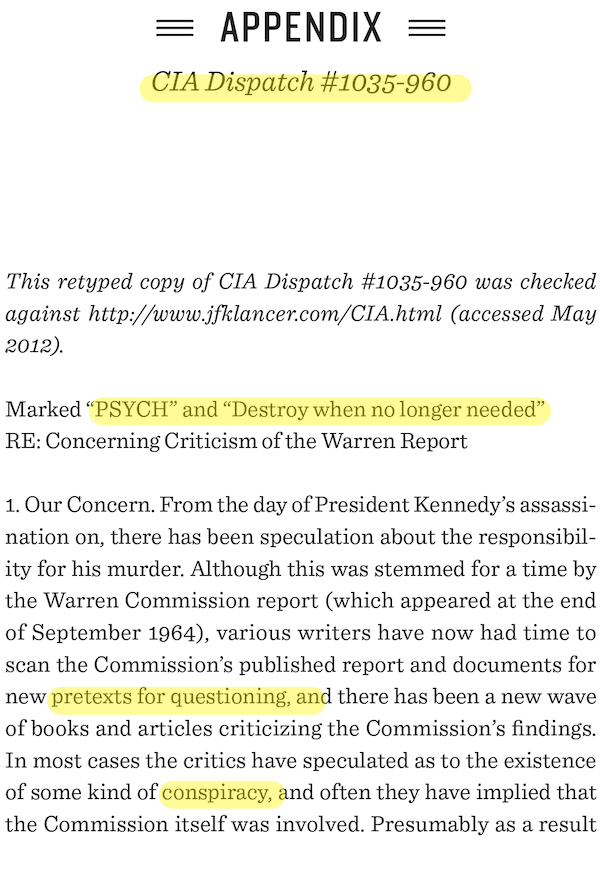 (I love the spin of "pretexts for questioning." That's real Greatest Generation stuff there.) Next, the terms "conspiracy theories" and "conspiracy theorists" are invoked (page 198):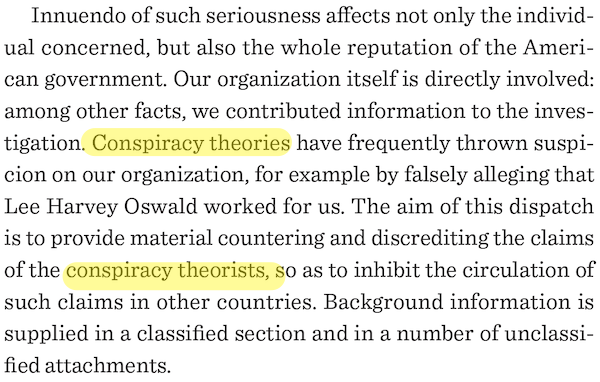 Finally, a domestic propaganda campaign is sketched (199):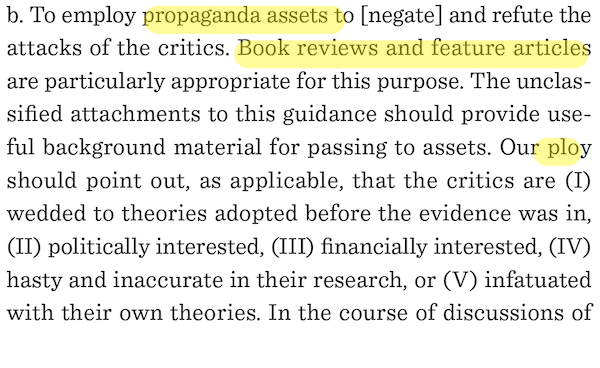 Those of you who noticed the phrase "examined comparatively" may have also noticed the tern "propaganda assets," which seems quite up to date (looking at you, David Ignatius. And not just you). "Ploys" (I) through (V) also seem quite current.
Now, while the provenance of the memo is clear, it's not clear that the CIA invented the term[1], although we do have a suggestive coincidence in dates of propagation[2]. DeHaven-Smith summarizes: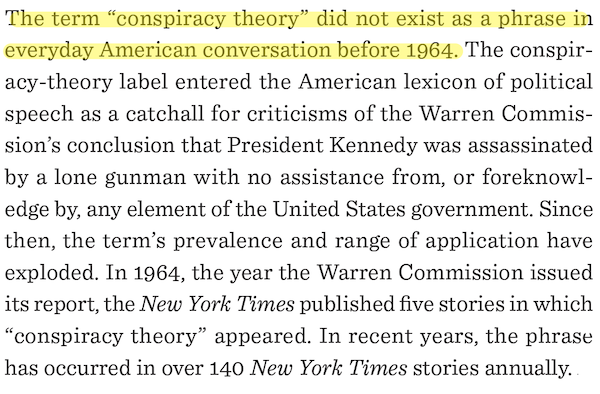 "Conspiracy" Has an Honored Place in American Political Thought
DeHaven-Smith urges that the Declaration of Independence was based on conspiracy (page 7):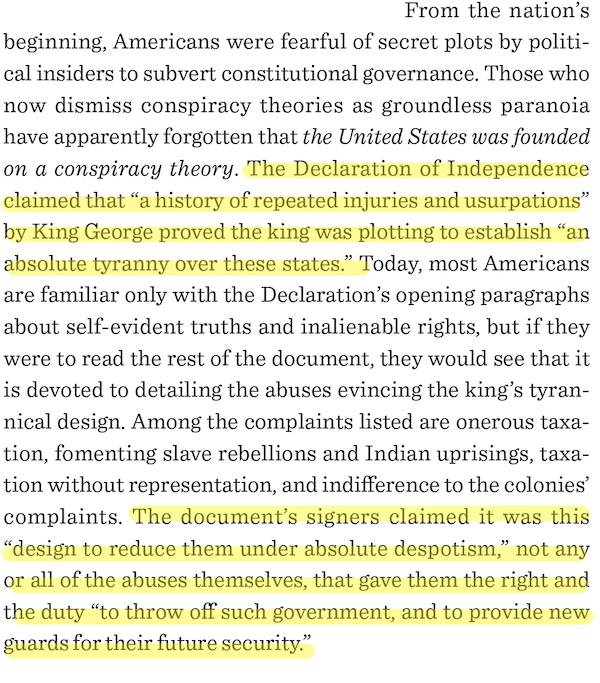 In the Federalist Papers, Madison et. al conceptualized the operation of factions in conspiratorial terms, and designed the separation of powers accordingly (55):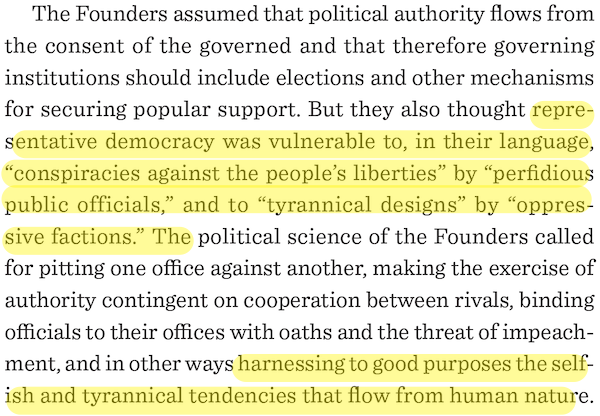 Lincoln's methods for arguing against Polk's Mexican War (75) sound very like the Kreminology of today: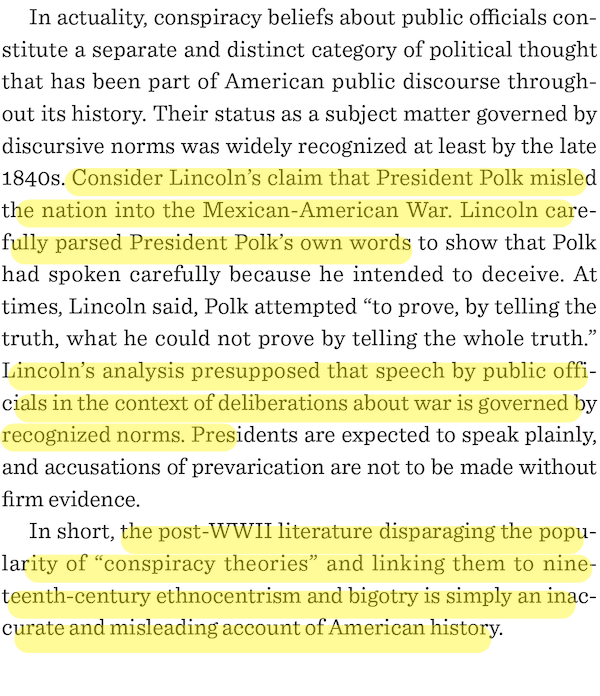 CT as Rhetoric
An accusation of CT is a conversation stopper (one might even say a "national converation" stopper). Page 11: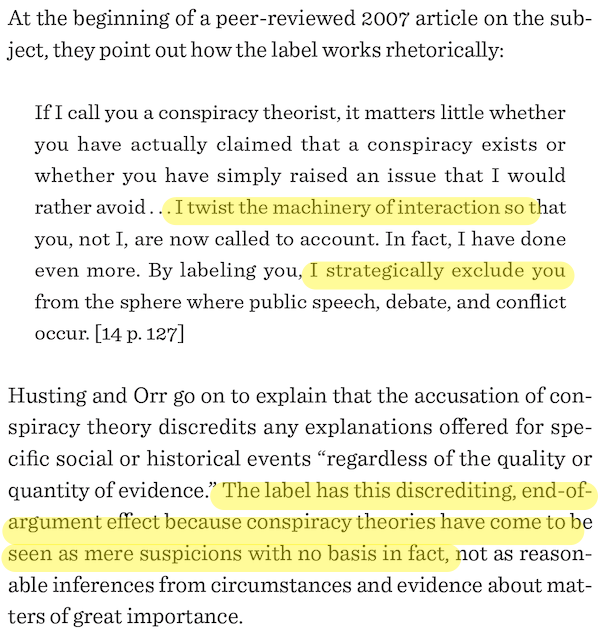 As such, it functions as a "defense mechanism" for political elites (9):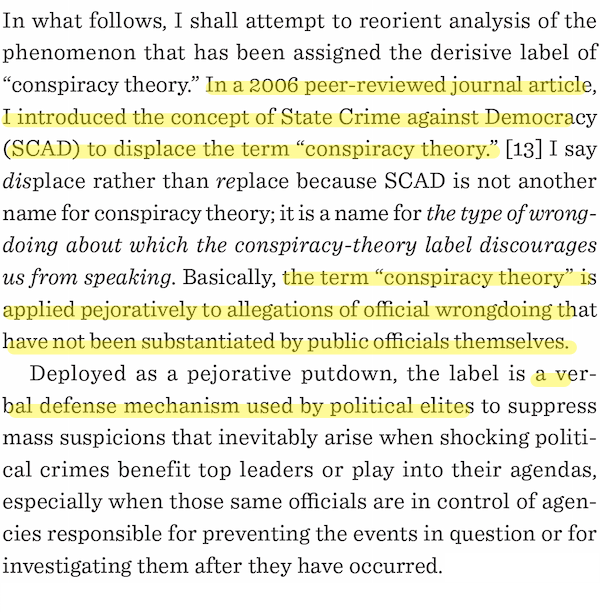 (CT seems to have developed other functions not originally conceptualized by the organs of state security; "yarn diagrams," I call them, which develop a fan base, serve as a breeding ground for brainworms like "lizard people," etc. Heaven knows elites, or some elite factions, may be like lizards. But they are not, actually, lizards, not creatures from a distant star, etc. We can look at such cray cray as an energy-sucking and disempowering form of citizen science, albeit political science. It's as if we were all going out to study aerosol transmission not with CO2 meters, but with crystals, then spending time carefully recording the changing reflections and colors of the facets in notebooks, and then putting the results in GoogleDocs online for others to ponder and comment on. Save the crystals for the lizards.)
The difficulty here is that some sequences of events, categorized as CT, are, well, true (6):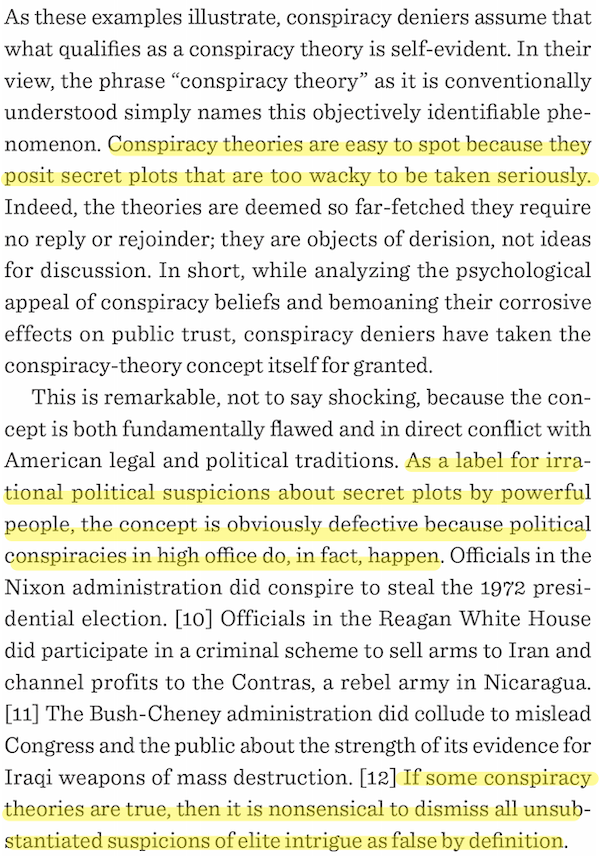 Now we turn to SCADs, which provide a form of citizen political science with a stronger methodology than CT.
CT vs. SCADs
The difficulty with CT, as a methology, is that it focuses on (powerful, bad) individuals, and not on institutions (8):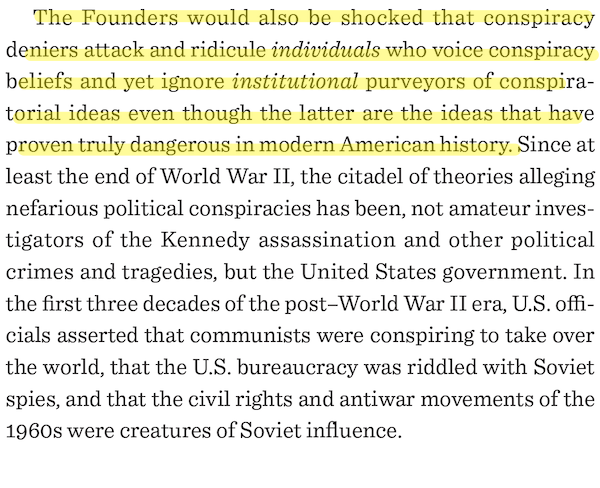 SCAD, by constrast, focuses on groups of individuals acting within institutions (12):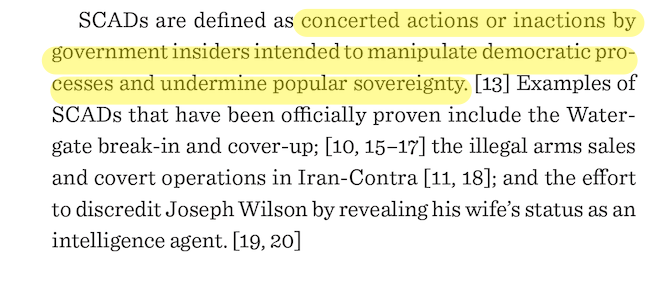 (Thinking about the relationships between individuals and groups also allows us to deploy analytical tools like "Flex Nets" (Wedel) and social capital (Bourdieu)), comparatively.
SCADs can be characterized as crimes within institutions (12):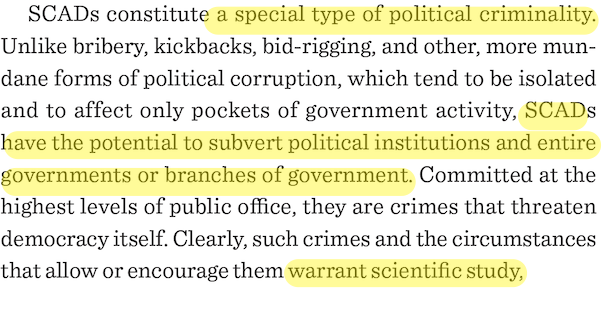 The Framers understood SCADs to be "high crimes" (11):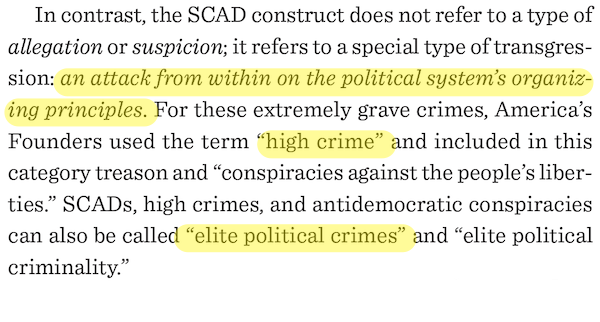 SCADs Are a Form of Corruption
Elections seem to draw SCADs like flies (139):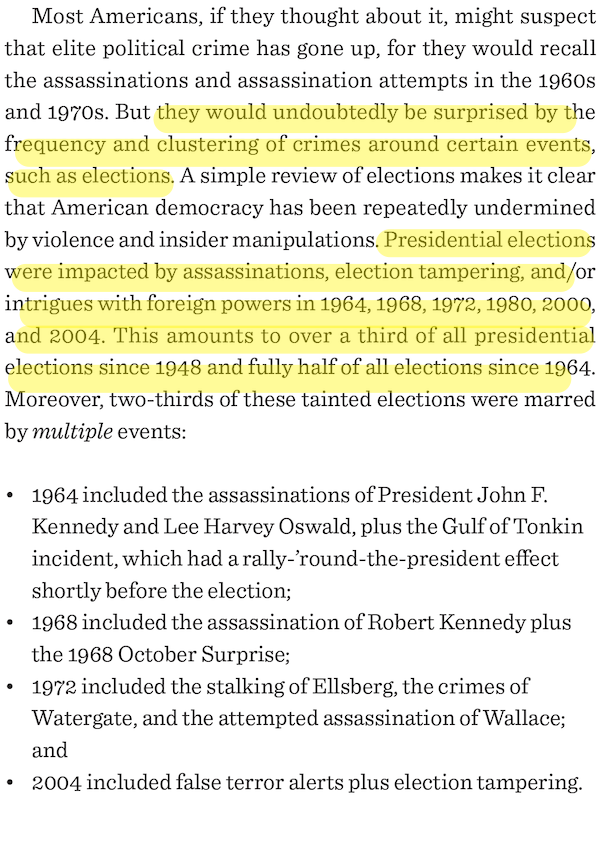 (I like very much framing SCADs as corruption, because that means SCAD analysts can deploy the work of scholars like Zephyr Teachout.)
In fact, the political history of the United States can be periodized according to the types of SCADs involved (204-205). The two screenshots that follow are facing pages, which neither PDF nor I handle at all well: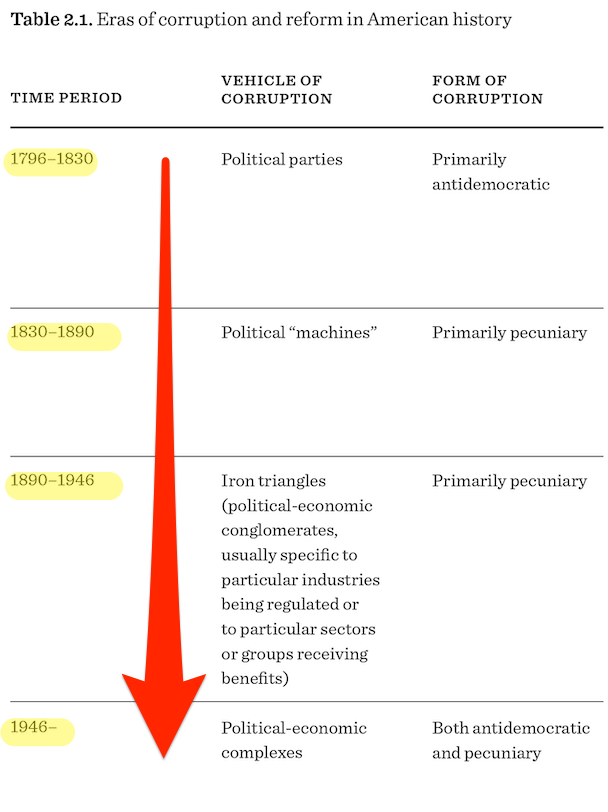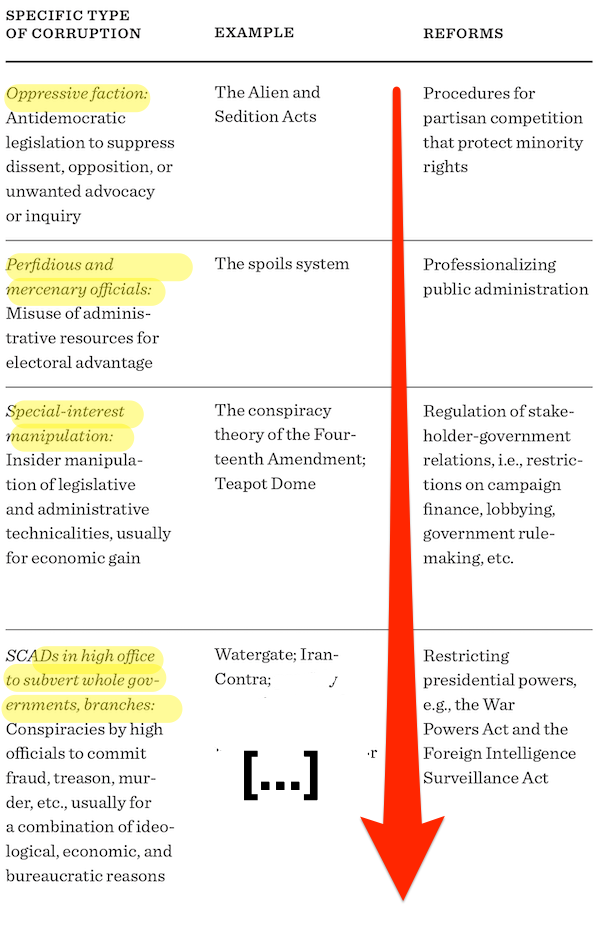 Conclusion
DeHaven-Smith provides the following definition of "the political class" (69), which interests me since while I've encountered the term often in my reading, I've never seen it so carefully defined: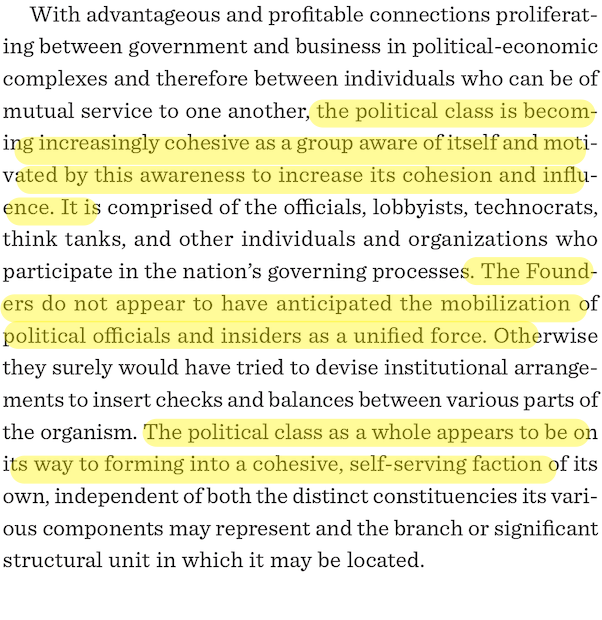 (I would add the press to his "cohesive" "group aware of itself.") Obviously, if the Framers had envisaged the emergence of a "a political class" they would have set up an immune system in the form of checks and balances ("ambition must be made to counteract ambition") for it, as well as the three branches of government. As it is, we have a political class that doesn't even need to evolve immune escape from the, as it were, T-cells of the Constitution. Certainly SCADs emerging from the political class — *** cough *** CDC ***cough*** — have shown their ability to infect the entire body politic rapidly, and with little resistance. Perhaps DeHaven-Smith's work will enable citizen political scientists to do something to disempower the polymorphous perversion of political class without institutional boundaries, by providing better — institutional, relational, comparative — analytical tools.
NOTES
[1] Here is an usage of the term in a dissertation from 1960: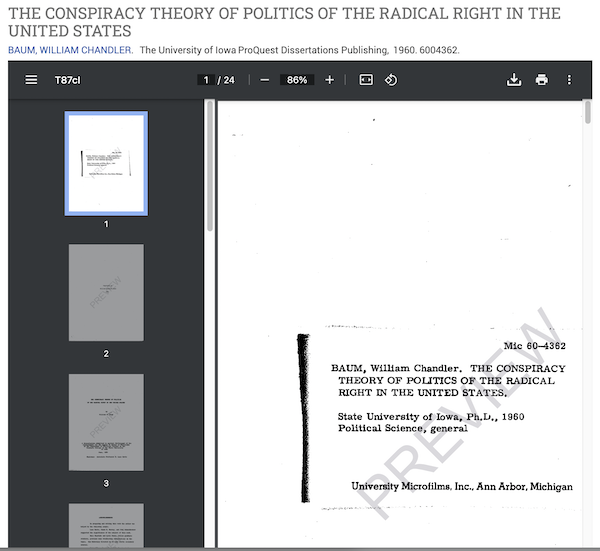 [2] But here is a Google ngram showing the term taking off: