By Lambert Strether of Corrente.
Bird Song of the Day
Varied Thrush, Snohomish, Washington, United States
Media from this location Illustrated Checklist. "Natural vocalization. Song from a male bird perched on the top of a tall leafless deciduous tree. Spacing between notes much closer together than normal song; perhaps this is dawn song (though no such vocalization is described in BNA) or subsong." Subsong?
* * *
Politics
"But what is government itself, but the greatest of all reflections on human nature?" –James Madison, Federalist 51
"Here's food for thought, had Ahab time to think; but Ahab never thinks; he only feels, feels, feels" –Herman Melville, Moby Dick
"So many of the social reactions that strike us as psychological are in fact a rational management of symbolic capital." –Pierre Bourdieu, Classification Struggles
Biden Administration
"Biden Brings in a Consultant" [Franklin Foer, The Atlantic]. "In most press accounts about the impending appointments, Zients's primary bond to Biden is the time he spent as the White House COVID czar—an intense 15 months, during which they masterfully rolled out vaccines and then sometimes sputtered in their quest to vanquish the pandemic. But another experience will inform their relationship—a relationship that arguably will dictate the contours and determine the success of the last two years of Biden's term." "Sometimes sputtered"? When the adults in the room slaughtered more Americans than Trump? More: "Where Klain rarely hesitates to steer into an argument, Zients cuts a more genteel presence. He loves to invoke managerial maxims. (He tells staff that they should "run over the hill," by which he means they should err on the side of overreacting and overplanning.) Guided by acute emotional intelligence, he cultivates an aura of humility. He styles himself a mere facilitator, a problem solver who prefers to keep things simple by relentlessly focusing on the few things that matter." • Damn. What's that slurping sound? Commentary:

The answer to this should be that Zients is a supreme bullshit artist with no respect for human life who has a demonstrated ability to implement policies with catastrophic horrific outcomes and somehow receive essentially zero criticism from anyone with any kind of power pic.twitter.com/f0pEdRi39R

— wsbgnl (@wsbgnl) January 23, 2023

"Biden's Next Chief of Staff Is a Disaster in the Making" [Jeet Heer, The Nation]. The scum also rises: "On Sunday, multiple news outlets announced that Zients was about to be tapped to be the new White House chief of staff, replacing Ron Klain, who has announced that he is stepping down…. In a note to me, Hauser summed up the case against Zients: 'Biden at his best has picked battles with corporate America, from the tax plan funding the IRA to appointing regulators like Rohit Chopra, Gary Gensler, and Lina Khan to take on predatory behavior. With limited legislative possibilities over the next 24 months, Biden can only attain populist bona fides against populist wannabes Ron DeSantis and Donald Trump by unleashing the executive branch against corporate miscreants. Unfortunately, many of the most promising targets for Executive Branch scrutiny are industries Zients has gotten rich from, including private equity, health care, and Big Tech. Will Zients turn on people like himself, or will he acknowledge implicitly that his riches came at society's expense and unleash the Executive Branch to enforce existing limits on corporate greed stringently?' If appointed, Jeffrey Zients will be the White House chief of staff as Biden gears up for reelection in 2024. The strongest case against Zients is a simple political one. How will Biden be able to present himself as the champion of working Americans when his chief of staff is a plutocrat whose companies have a reputation for preying on Americans in moments of medical emergency? Zients would offer an irresistible target for Republicans. His elevation to the post of chief of staff is an unforced error." • Holy moley, Zeints might want to bust the railroad unions!
Democrats en Déshabillé
Patient readers, it seems that people are actually reading the back-dated post! But I have not updated it, and there are many updates. So I will have to do that. –lambert

I have moved my standing remarks on the Democrat Party ("the Democrat Party is a rotting corpse that can't bury itself") to a separate, back-dated post, to which I will periodically add material, summarizing the addition here in a "live" Water Cooler. (Hopefully, some Bourdieu.) It turns out that defining the Democrat Party is, in fact, a hard problem. I do think the paragraph that follows is on point all the way back to 2016, if not before:

The Democrat Party is the political expression of the class power of PMC, their base (lucidly explained by Thomas Frank in Listen, Liberal!). ; if the Democrat Party did not exist, the PMC would have to invent it. . ("PMC" modulo "class expatriates," of course.) Second, all the working parts of the Party reinforce each other. Leave aside characterizing the relationships between elements of the Party (ka-ching, but not entirely) those elements comprise a network — a Flex Net? An iron octagon? — of funders, vendors, apparatchiks, electeds, NGOs, and miscellaneous mercenaries, with assets in the press and the intelligence community.

Note, of course, that the class power of the PMC both expresses and is limited by other classes; oligarchs and American gentry (see 'industrial model' of Ferguson, Jorgensen, and Jie) and the working class spring to mind. Suck up, kick down.

* * *

*** crickets ***

Gonna go ahead and say there's a pretty major issue w the US left when life expectancy looks like this and many major left orgs, media outlets, politicians and activists not only have nothing to say about it but are now defending Biden over vulnerable ppl , pls be serious pic.twitter.com/EuNCdAam9p

— Julia Marie (@julia_doubleday) January 23, 2023

"Rebranding rift guts Blue Dog Dem ranks" [Politico]. "Congress' influential Blue Dog Coalition is getting chopped nearly in half after an internal blow-up over whether to rebrand the centrist Democratic group. Seven of the 15 members expected to join the Blue Dogs this year, including Reps. Abigail Spanberger (D-Va.) and Mikie Sherrill (D-N.J.), are departing after a heated disagreement over a potential name change for the moderate bloc. For now that's left the Blue Dogs with seven, all male members — their smallest roster in nearly three decades of existence. One freshman member remains undecided. At the core of some of the breakaway Blue Dogs' demands was a rechristening as the Common Sense Coalition that, they argued, would have helped shed the group's reputation as a socially moderate, Southern "boys' club." Blue Dogs have long stood for fiscal responsibility and national security, issues with broad Democratic appeal, but some members felt the name had a negative connotation that kept their colleagues from joining. A majority of other members disagreed, saying they saw no reason to toss out a longstanding legacy." • It's the circle of life. These guys never last; Rahm Emmanuel's crop failed, too. They get in, obstruct, and lose because they suck. Hilarously, .
RussiaGate
"Charles McGonigal, indicted ex-FBI head, helped trigger 'Russiagate' probe" [New York Post]. "The former FBI official busted Monday for allegedly taking illegal foreign payments played a key role in the bureau's controversial 'Russiagate' probe of former President Donald Trump — and a 'defensive briefing' of ex-rival Hillary Clinton's lawyers. Charles 'Charlie' McGonigal, 54, was among the first FBI officials to learn that Trump campaign adviser George Papadopoulos told an Australian diplomat that Russia had 'political dirt' on Clinton. FBI Deputy Assistant Director Jonathan Moffa told Senate Judiciary Committee staffers in 2020 that he got a July 2016 email from McGonigal which 'contained essentially that reporting, which then served as the basis for the opening of the case.' The FBI investigation, dubbed 'Crossfire Hurricane,' led to the appointment of special counsel Robert Mueller and a 22-month, $32 million probe of Russian meddling in the 2016 election and potential ties to associates of Trump, now 76. Shortly before Mueller was appointed, McGonigal also sent a message to an FBI colleague that discussed how agents were interviewing another Trump campaign adviser, Carter Page." • McGonigal seems to have been a busy guy:

2/ McGonical, a former NY FBI agent allegedly worked for Oleg Deripaska after Deripaska was sanctioned in 2018, which calls into question his ethics in 2016 as well. https://t.co/K2AdRkDOvY

— jennycohn@toad.social ✍🏻 📢 (@jennycohn1) January 23, 2023
Realignment and Legitimacy
"The Changing Face of Ignorance" [Emily C.R. Tilton, New Work in Philosophy]. "Today's feminists are well aware of these risks and are striving to make feminism more inclusive; they are rightly fearful of repeating past mistakes. However, a popular strategy adopted in light of this fear is frustrating feminist goals, rather than facilitating them. This strategy involves invoking what I call the strong epistemic disadvantage thesis (SEDT) to justify opting out of discussing intersectional forms of oppression (Tilton forthcoming). The SEDT holds that dominant social positions place strong, substantive limits on what the socially dominant can know about oppression that they do not personally experience—first-personal experience of oppression is to be taken to be necessary for understanding it. With the SEDT in hand, privileged feminists are equipped with an excuse for silence: if they tried to discuss forms of oppression that they don't experience, they would inevitably mess it up. Since they don't want to repeat past mistakes, it seems best that they leave that work to someone else…. So, the importance of intersectional work is acknowledged, but then shunted off to overburdened and underrepresented members of multiply-marginalized groups. This offers the illusion that contemporary feminists are taking intersectionality seriously, while in fact feminist philosophy proceeds as usual."

"Skepticism and human reason" [Crooked Timber]. "[W]e don't need strong assumptions about individual rationality to think that social reasoning processes can, under the right circumstances, work quite well…. On this account, we advance reasons, not because we are logically trying to puzzle out the world, but because we want to justify ourselves. That means, among other things, that our reasons are often illogical and at odds with the evidence, in ways that we are ourselves incapable of seeing and understanding. Our reasons are biased. So far, so skeptical. But where it gets interesting is when we start looking not just at how humans give reasons, but how they evaluate reasons that have been given by others. And here, Mercier and Sperber argue that we are pretty good. We may have 'myside bias' – i.e. we are not sharp-sighted about the flaws in our own arguments – but the experimental evidence suggests that we are readily able to see the flaws in the arguments of those whom we disagree with. That in turn means that even if individual reasoning is basically flawed, collective reasoning, under the right circumstances, can work very well. With the right kinds of group structures, and a bare minimum of goodwill or mutual endurance, we can correct each other's errors, each, through frank and forthright criticism, obliging each to recognize the weaknesses in their own arguments, and improve them. …. What this implies (as we argue in the forthcoming piece) is a kind of qualified optimism about democracy. If you can construct group institutions that oblige this kind of debate, while making it harder for people to cluster around their shared misconceptions, you can construct relatively unbiased collective reasoning on the foundation of highly biased individual reasoners. Of course, figuring out how to build such institutions is a challenging research agenda in itself. " • Hmm. I would imagine the people who fund research agendas would have something to say about this? (It occurs to me that a genuine left — not an NGO left — might well have a research agenda of its own. One thing the blogosphere taught or should have taught us — and our fight against the landfill in Maine taught me — is that dull normals can get pretty sharp at research.
#COVID19
Lambert here: I am but a humble tapewatcher, but unlike Eric Topol, I'm not calling a surge, because the last peak was Biden's Omicron debacle, and after an Everest like that, what's left? Topol's view is the establishment view: Hospital-centric. Mine is infection-centric. I do not see the universal acceleration or doubling in cases that I would expect to see based on past surges.
I am calling a "Something Awful." It's gonna be bad, in some new way, and we don't know how, yet (but see here for immune system dysregulation, which is looking pretty awful).
Stay safe out there!
• It seems a lot of good-thinking symbol manipulators are panicking about the word "kraken," and so are dog-piling T. Ryan Gregory, who coined the word:
I'm keeping a list of bad takes that misrepresent the point of variant nicknames, perpetuate the myth of panic, and likely contribute to the plummeting support for genomic surveillance. Let me know what I missed.
🧵

— T. Ryan Gregory (@TRyanGregory) January 24, 2023
Personally, I like "XBB.1.5"; it sounds like the name of a K-Pop band. But if institutions like WHO thinks human-readable names are good, but have decided that "Omicron is Omicron" — demonstrably not true, since the variants have different properties — and so is failing to live up to its responsibilities, then what's so wrong about others stepping in? Here is the best bad take I saw: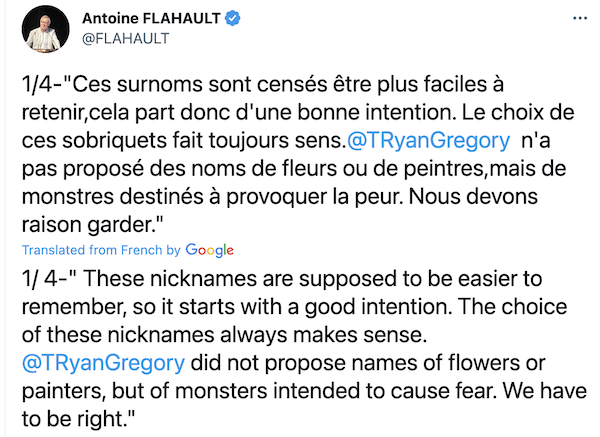 Perhaps there's a level of French irony I missed here, but naming variants of a lethal pathogen after painters and flowers, just to keep things light, seems…. misguided.
• "Why no Pi? Variants are still stuck on Omicron even as coronavirus continues to mutate" [CNN]. "WHO quietly stopped designating Variants of Concern or Variants of Interest categories that call for new Greek names. Instead, it created a new category, Omicron Subvariants under Monitoring, to signal to public health officials which of these spinoffs should be watched – which might sound a lot like the reason to designate variants of interest and variants of concern in the first place. The organization left the door open to designate new names if it deems a variant to be sufficiently different, but it hasn't seen the need to do that for more than a year. Yet the coronavirus has continued to evolve, becoming more transmissible and more immune-evasive over time. These changes have been consequential, too. As Omicron has mutated, for example, immunocompromised patients have lost key therapies like the long-acting antibodies in the preventive Evusheld. All of the monoclonal antibodies developed to help people with severe Covid-19 infections have lost their punch against the latest subvariants. The mRNA vaccines have also been updated in an effort to better protect people from the currently circulating viruses that cause Covid-19. Still, WHO says it doesn't see a need to distinguish between them. 'But the WHO has stopped naming them at this point, so [people] get a false sense of security,' [Bette Korber, a laboratory fellow and variant specialist at Los Alamos National Laboratory] said. Continuing to use the Omicron name makes it sound like the virus isn't changing anymore, 'but in fact, it's changing hugely.' Korber said she's been in public lectures where 'very good doctors' have said, 'Well, now it's not evolving anymore. It's just been Omicron for over a year, so you don't have to worry about that anymore.'"
* * *
• And the fourth — or the class from which the fourth is drawn — drives the first three:
Individual: "Public health doesn't say that I *have* to mask. Therefore it must not be important."

Population: Sick with #COVID19 and #LongCovid

Trolls: "Fear monger, child abuser, show us proof. You should be tortured."#WorldEconomicForum: Masks, HEPA, ventilation, testing.

— Nili Kaplan-Myrth MD PhD (@nilikm) January 24, 2023
* * *
• Air circulation in closed spaces (which is this account's mission in life to explain). Thread:
2. Good air movement to exhaust the air from the breathing zone.

Just like you want to supply clean air to the room and exhaust dirty air from the room, you want to supply clean air to the breathing zone and exhaust the dirty air from the breathing zone.
4/6

— Joey Fox (@joeyfox85) January 23, 2023
• "Adams House Installed — Then Removed — an $8,900 Covid-19 Air Disinfection System" [The Crimson]. "In July, as the new semester loomed, administrators in Adams House installed a set of air disinfection devices that appeared to be a part of the solution to preventing the spread of the virus in the house. The price tag was just shy of $9,000 — a reduced rate. But the devices — which were installed in the house's dining hall and lower common room — lasted just a few weeks. Less than a month into the the semester, Harvard shut them off, following a recommendation from the University's Coronavirus Advisory Group. By the end of December, they were removed entirely. The devices, which resemble fluorescent lamps, use germicidal ultraviolet light to disinfect the air. Once airborne pathogens are exposed to a certain level of UV radiation, they can become inactivated and no longer contagious. But according to Adams House Faculty Dean Salmaan Keshavjee, the University's Covid advisory group determined that the installation of the new devices was unnecessary on top of existing ventilation systems. Thirteen UVGI units were installed in July by AeroMed Technologies, which manufactures the devices. UVGI has been researched and used to "eliminate airborne pathogens" for over 70 years, according to the CDC. Adams Faculty Dean Salmaan Keshavjee wrote in an email that the decision to install the technology came from a "collaboration" with one of the outgoing faculty deans at the time, John G. 'Sean' Palfrey '67. Keshavjee, a global health professor, wrote that studies demonstrating that a certain type of UV light can inactivate viruses like Covid-19 helped inform the decision. He added that the fixtures were in spaces where people would be eating without masks: the dining hall and lower common room." • (The devices are also installed at the Cambridge Friends School, so Cambridge — and I know this will surprise you — is just like Newton.) Commentary:
This creates quite a problem for infrastructure installs of any mitigation measure. Any upgrades indicate a need for and an understanding of the effectiveness of that measure, so all properties owned by an entity have to be upgraded simultaneously.

— Naomi Wu 机械妖姬 (@RealSexyCyborg) January 24, 2023
Makes sense to me. (I don't stan for UV because I haven't had the time to study up. But nobody is suggesting this installation was hazardous in any way.(
* * *
• I genuinely don't understand why the concept of layered protection is so hard to grasp. Yet such seems to be the case:
I have now assessed all mitigations and none of them alone can stop a wave completely, so we must abandon them all.

— Jonathan Mesiano-Crookston 🌬️🔅#COVIDisAirborne (@jmcrookston) January 24, 2023
* * *
A long thread of references:
IMMUNE DAMAGE PERSISTS POST-COVID.

A Thread 🧵

Here is a collection of papers indicating the persistence of immuno-dysfunction post-Covid.

Let's heretoafter refer to them as the 'Munro Files'.
No reason.#MunroFiles

— Raffy Flynn (@RaffyFlynnArt) January 23, 2023
• "Potential long-term effects of SARS-CoV-2 infection on the pulmonary vasculature: Multilayered cross-talks in the setting of coinfections and comorbidities" [PLOS Pathogens]. "One component of the prolonged pathology following acute SARS-CoV-2 infection may be a persistently injured pulmonary vasculature."
• "Major alterations to monocyte and dendritic cell subsets lasting more than 6 months after hospitalization for COVID-19" [Frontiers in Immunology]. From the Abstract: "[W]e show here that alterations in the immune landscape remain more than 6 months after severe COVID-19, which could be indicative of ongoing healing and/or persistence of viral antigens."
* * *
Case Data
BioBot wastewater data from January 23: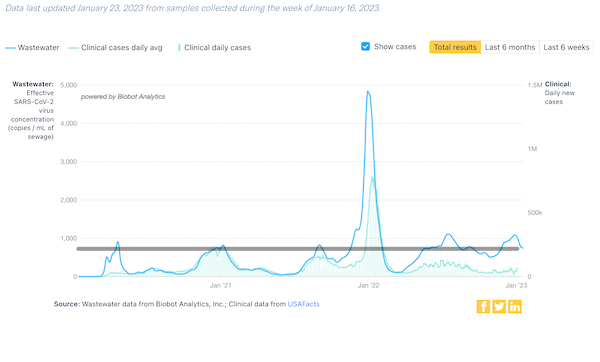 Lambert here: For now, I'm going to use this wastewater data as the best proxy for case data (ignoring the clinical case data portion of this chart, which in my view "goes bad" after March 2022, for reasons as yet unexplained). At least we can spot trends, and compare current levels to equivalent past levels.
Transmission
Here is CDC's interactive map by county set to community transmission (the "red map," which is the map CDC wants only hospitals to look at, not you.) The map is said to update Monday-Friday by 8 pm: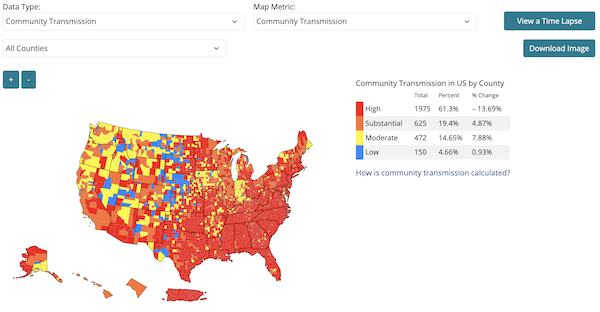 The previous map: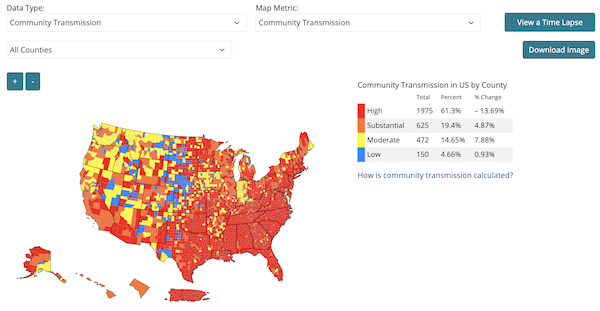 NOTE: I shall most certainly not be using the CDC's new "Community Level" metric. Because CDC has combined a leading indicator (cases) with a lagging one (hospitalization) their new metric is a poor warning sign of a surge, and a poor way to assess personal risk. In addition, Covid is a disease you don't want to get. Even if you are not hospitalized, you can suffer from Long Covid, vascular issues, and neurological issues. That the "green map" (which Topol calls a "capitulation" and a "deception") is still up and being taken seriously verges on the criminal.
Positivity
From the Walgreen's test positivity tracker, published January 24: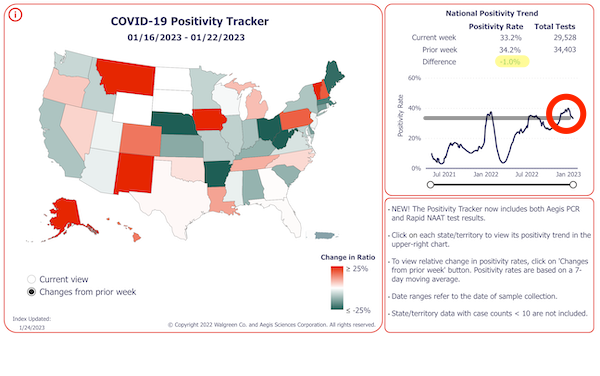 -1.0.%.
Wastewater
Wastewater data (CDC), January 20: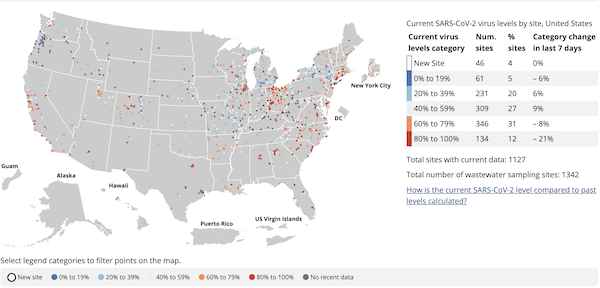 Easing off, though you do have to wonder what's the point of a national system where half the country has gone dark.
January 17: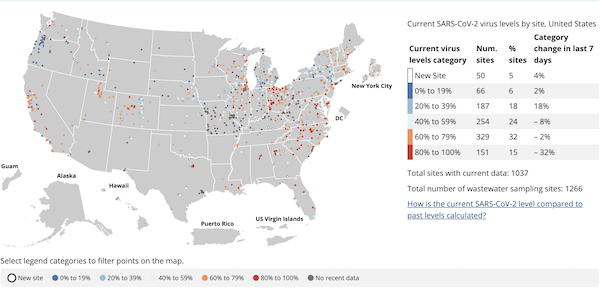 NIOT UPDATED And MWRA data, January 19: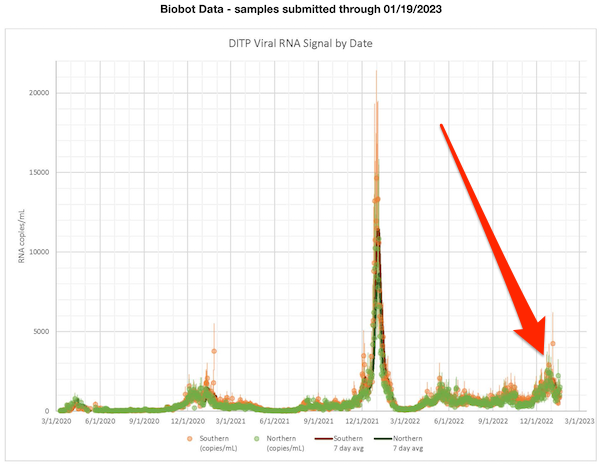 Lambert here: Still uptick in the north. However, only some the students are back; BU classes begin January 19; Harvard's January 22.
Variants
Lambert here: It's beyond frustrating how slow the variant data is. Does nobody in the public health establishment get a promotion for tracking variants? Are there no grants? Is there a single lab that does this work, and everybody gets the results from them? [grinds teeth, bangs head on desk]. UPDATE Yes. See NC here on Pango. Every Friday, a stately, academic pace utterly incompatible with protecting yourself against a variant exhibiting doubling behavior.
NOT UPDATED Variant data, national (Walgreens), January 9: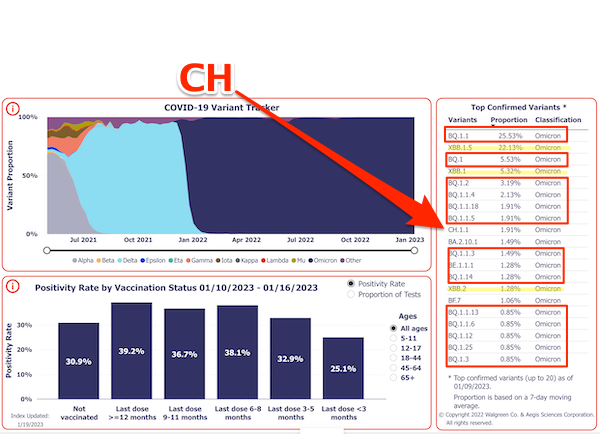 Lambert here: BQ.1* and XBB still dominate. However, CH.1.91 appears for the first time at 1.9%. That's a little unsettling, because a Tweet in Links, January 11 from GM drew attention to it ("displays such a high relative growth advantage") and in Water Cooler, January 18, from Nature: "CH.1.1 and CA.3.1 variants were highly resistant to both monovalent and bivalent mRNA vaccinations." Now here is CH.1.1 in the Walgreens variant data. Let's see what CDC does with it tomorrow. The Covid variant train always leaves on time, and there's always another train coming!
Lambert here: Wierdly, the screen shot about has been replaced today by data from "10/7/2022." (It's clearly not current data; BQ.1* and XBB do not dominate.
NOT UPDATED Variant data, national (CDC), December 31 (Nowcast off):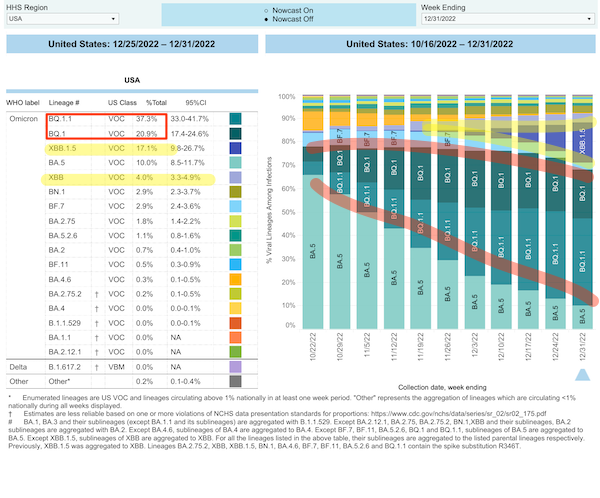 BQ.1* takes first place. XBB coming up fast. CH.1, unlike the Walgreens chart, does not appear. (For BQ.1/XBB and vaccine escape, see here.) Here is Region 2, the Northeast, where both BQ.1* and XBB are said to be higher, and are: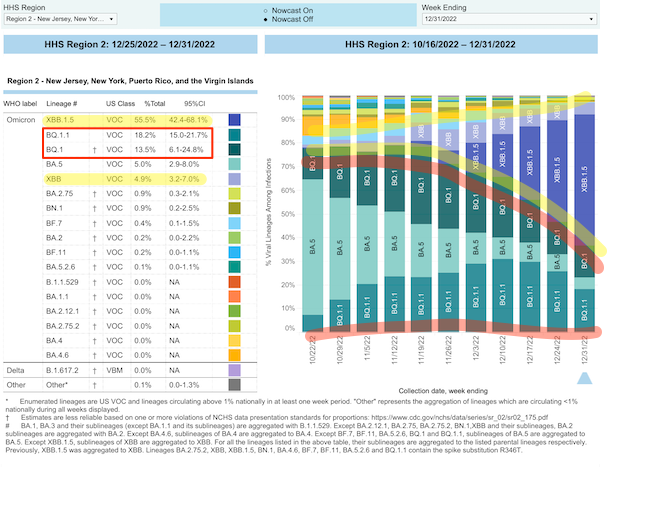 Makes clear that Region 2 (New England) varies greatly from the national average. Wouldn't it be interesting if we ended up with different variants dominating different parts of the country.
• As a check, since New York is a BQ.1* hotbed, New York hospitalization, updated January 19: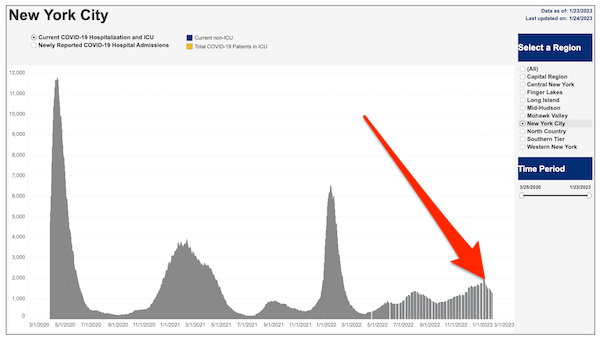 • Hospitalization data for Queens, updated January 20: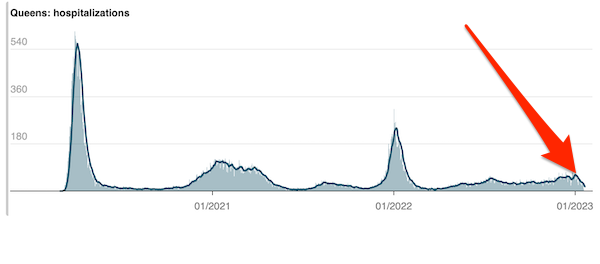 Deaths
Death rate (Our World in Data):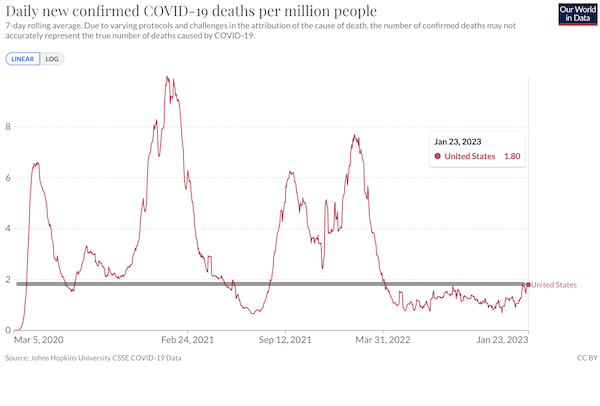 Total: 1,129,1451 – 1,128,807 = 338 (338 * 365 = 123,370 deaths per year, today's YouGenicist™ number for "living with" Covid (quite a bit higher than the minimizers would like, though they can talk themselves into anything. If the YouGenicist™ metric keeps chugging along like this, I may just have to decide this is what the powers-that-be consider "mission accomplished" for this particular tranche of death and disease).
Lambert here: Deaths lag, and now we have some confirmation that whatever we just went through is decreasing.
It's nice that for deaths I have a simple, daily chart that just keeps chugging along, unlike everything else CDC and the White House are screwing up or letting go dark, good job.
Stats Watch
Manufacturing: "United States Richmond Fed Manufacturing Index" [Trading Economics]. "The Manufacturing Activity Index in the Richmond area decreased to -11 in January of 2023 from 1 in December, the lowest since May 2020 and below market expectations of -5."
* * *
The Bezzle: "The Crypto Industry's Favorite Bank Is in Deep Trouble" [New York Magazine]. "The good news about the collapse of Sam Bankman-Fried's cryptocurrency empire is that its failure did not send shock waves through the entire financial system and create a contagion. A key reason is that most banks have refused to deal with crypto. Recently, U.S. banking regulators even discouraged them from doing so. But one small California bank apparently decided it was better to risk having to beg for forgiveness than wait for permission. In recent years, La Jolla–based Silvergate went all in on crypto, forging relationships with more than 1,600 players in the industry, from hedge funds to exchanges to token projects…. Intelligencer has obtained documents showing that, in addition to FTX, Silvergate has been the go-to bank for more than a dozen crypto companies that ended up under investigation, shut down, fined, or in bankruptcy." • So, to be clear, the regulators protected the banks, and not the poor shlubs (disproportionately Black and lower income) who got scammed.
Tech: "Lab-grown meat moves closer to American dinner plates" [Reuters]. • "I'll have that with a side of insects!"
Labor Market; "Companies Cut Temp Workers in Warning Sign for Labor Market" [Wall Street Journal]. "Employers are shedding temporary workers at a fast rate, a sign that broader job losses could be on the horizon. In the last five months of 2022, employers cut 110,800 temp workers, including 35,000 in December, the largest monthly drop since early 2021. Many economists view the sector as an early indicator of future labor-market shifts. Temporary employment declined before some recent recessions and during economic slowdowns. Temporary workers, typically employed through staffing agencies, are easy for companies to bring on board—and let go. 'For me, it's a real warning sign,' said James Knightley, chief international economist at ING. '.'" • So the narrative drives the market, not the market the narrative? Big if true.
* * *
Today's Fear & Greed Index: 63 Greed (previous close: 64 Greed) [CNN]. One week ago: 64 (Greed). (0 is Extreme Fear; 100 is Extreme Greed). Last updated Jan 24 at 1:53 PM EST.
The Gallery
Edward Hopper?!?!?!?!?
Edward Hopper (USA, 1882-1967)
Seated men at a Café's table (1906) pic.twitter.com/DG0ihDKgX2

— Olga Tuleninova 🦋 (@olgatuleninova) January 22, 2023
This looks like commercial art; there's space for text at left. And indeed "from about 1906 to 1925, Hopper found little support for his personal work, and earned his living by creating cover and story illustrations for American periodicals." Rather like that other famous American realist, Andy Warhol.
Zeitgeist Watch
The problem with SUVs is that they're not lethal, in addition to being bloated:
Misfiring the unlock button at after school pickup and pepper spraying my kids from the side mirrors as they're zapped by the electrified door handles I left armed pic.twitter.com/gawaYO6HcQ

— Eoin Higgins (@EoinHiggins_) January 23, 2023
I love that they're selling to "Moms." Remember "soccer moms"?
News of the Wired
"Proper Pastry-Eating Etiquette, According to a Royal Butler" [Fresno Bee]. "'Ladies and gentlemen, please remember that while having a pastry in the morning, you only take one,' he says in the video." • What. This being my day's contribution to "Feel Good Fresno Week." Readers?
1492 pitch deck:
Go to the original, Columbus' Pitch Deck. Same principles as the modern ones, all the exploitation built right in! https://t.co/EePfWLcrM1

— ◾️ frontier (@frontier_anon) January 24, 2023
* * *
Contact information for plants: Readers, feel free to contact me at lambert [UNDERSCORE] strether [DOT] corrente [AT] yahoo [DOT] com, to (a) find out how to send me a check if you are allergic to PayPal and (b) to find out how to send me images of plants. Vegetables are fine! Fungi and coral are deemed to be honorary plants! If you want your handle to appear as a credit, please place it at the start of your mail in parentheses: (thus). Otherwise, I will anonymize by using your initials. See the previous Water Cooler (with plant) here. From Copeland: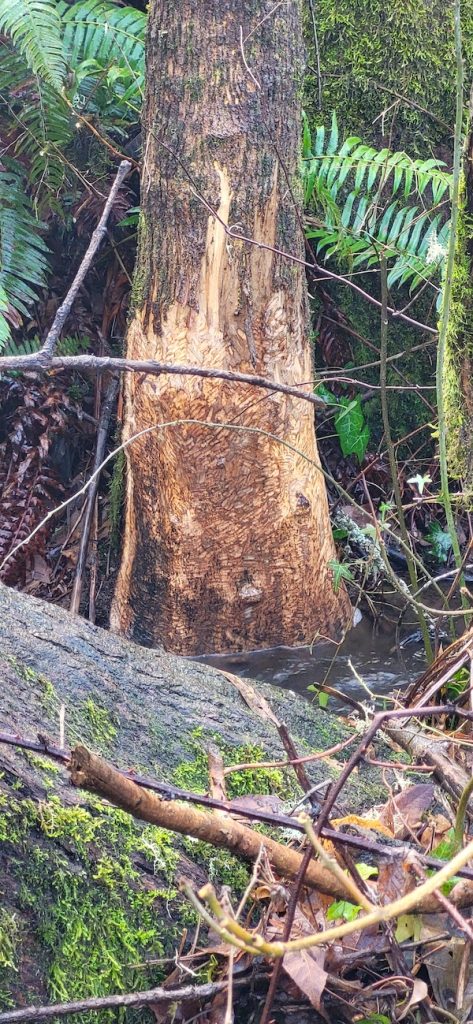 Copeland writes: "Recent beaver activity on what I think is Fraxinus latifolia (Oregon Ash) with Polystichum munitum (Western Sword Fern)."
* * *
Readers: Water Cooler is a standalone entity not covered by the annual NC fundraiser. So if you see a link you especially like, or an item you wouldn't see anywhere else, please do not hesitate to express your appreciation in tangible form. Remember, a tip jar is for tipping! Regular positive feedback both makes me feel good and lets me know I'm on the right track with coverage. When I get no donations for five or ten days I get worried. More tangibly, a constant trickle of donations helps me with expenses, and I factor in that trickle when setting fundraising goals:
Here is the screen that will appear, which I have helpfully annotated: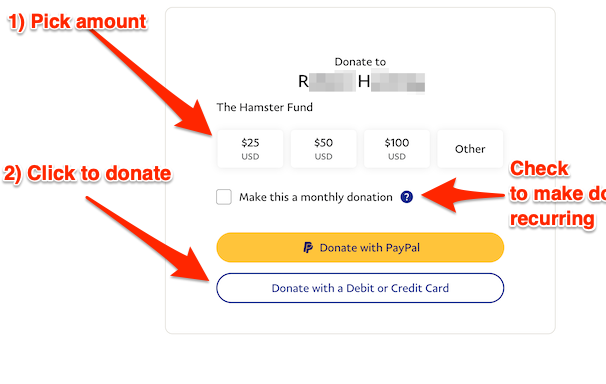 If you hate PayPal, you can email me at lambert [UNDERSCORE] strether [DOT] corrente [AT] yahoo [DOT] com, and I will give you directions on how to send a check. Thank you!