By Lambert Strether of Corrente.
Bird Song of the Day
Clamorous Reed Warbler, Srinagar, Jammu and Kashmir, India.
* * *
Politics
"But what is government itself, but the greatest of all reflections on human nature?" –James Madison, Federalist 51
"Here's food for thought, had Ahab time to think; but Ahab never thinks; he only feels, feels, feels" –Herman Melville, Moby Dick
"So many of the social reactions that strike us as psychological are in fact a rational management of symbolic capital." –Pierre Bourdieu, Classification Struggles
Biden Administration
"WH won't say if Biden will return 2020 donations from Sam Bankman-Fried" [New York Post]. "Bankman-Fried, 30, was one of the Democratic Party's biggest donors and even met with Biden's White House advisers before his FTX currency exchange collapsed in one of the largest alleged frauds in American business history…. 'The president received campaign donations [from Bankman-Fried]. Will the president return that donation? Does he call on all politicians … to return those funds?' asked Associated Press reporter Zeke Miller. 'So look, I'm covered here by the Hatch Act — [I'm] limited on what I can say and anything that's connected to political contributions from here, I would have to refer you to the DNC,' Jean-Pierre said, citing the federal law that prohibits certain officials from advocating for candidates. 'I'm asking the president's opinion, though,' Miller pressed. 'You asked me two questions: You asked me about will he return donations and then you asked me about his opinion. I'm answering the first part, which is I'm covered by the Hatch Act from here. I'm limited on what I can say. And I just can't talk to political contributions or anything related to that — I cannot speak to that from here,' Jean-Pierre claimed. When asked for her answer to the other question, regarding Biden's opinion more generally, Jean-Pierre said, '.'" • Out of her league.
2024
"What Biden's political evolution means for progressives in 2023" [The Hill]. "Jayapal, who was just elected to another term as chairwoman of the House Progressive Caucus, was pleased about the White House's receptiveness to progressives' agenda. When legislation stalled, frequently by moderate Sen. Joe Manchin (D-W.Va.) and now-Independent Sen. Kyrsten Sinema (Ariz.) and a small group of members in the House, she said administration officials were often enthusiastic to work on executive actions as workarounds to the narrow congressional majority. That executive approach is expected to continue and, many hope, even amplify in 2023, with Republicans soon to have a slight advantage in the lower chamber and as Democrats find ways to get more through the Senate. If recent history is a guide, that collaboration — anchored by Biden's desire to be fluid and flexible on issues he resisted in the past — has been successful."

"Trump hints at third-party run in 2024" [RT]. "Trump shared an article this week on his social media platform, Truth Social, that called for him to launch a third-party campaign if Republican leaders don't support his 2024 bid to reclaim the White House. The article [by Dan Gelernter], which was published on Tuesday in a conservative journal called American Greatness, argued that Republican leaders intend to defy the will of voters by blocking Trump from winning the party's presidential nomination…. 'Do I think Trump can win as a third-party candidate? No," Gelernter said. "Would I vote for him as a third-party candidate? Yes, because I'm not interested in propping up this corrupt gravy-train any longer.'" • Hmm.
2022
FL: "3rd case brought by Gov. Ron DeSantis' election police dismissed" [CBS Miami]. "Terry Hubbard, 63, was among 20 people arrested last August on criminal charges of illegal voting in 2020 in what was the first major action taken by the the Republican's controversial new Office of Election Crimes and Security. A judge in Broward County this week tossed out the case on the grounds that the Office of Statewide Prosecution does not have jurisdiction to prosecute since it can only prosecute crimes that occurred in two or more counties. Two other cases were dismissed on similar grounds." • A state office for… 20 people? Anyhow, the Election Police should have arrested Jebbie for stealing election 2000 in Florida by jiggering the voter rolls. Is that what DeSantis really wants?

GA: "The Art of Losing: A Stacey Abrams Story, Part II" [Ettingermentum Newsletter]. "It would have been one thing if Abrams kept on telling Democrats what they wanted to hear purely to raise money. It would have been a lie, and it would have been absolutely commendable. Georgia Democrats had been undeniably neglected by the national party for no good reason for quite a while, and nothing can help heal those wounds like a prodigious fundraiser. The real problem started when Abrams committed the worst sin a politician can do: she started to believe her own hype. …. Where the average Democrat in 2018 did better than Clinton in 2016 by about 7 points, Abrams only improved on her margin by just 3.5 points. It was a striking and very meaningful underperformance, and not one that can be easily explained away by attempted voter suppression…. Even one of the more credible specific claims of voter suppression in Georgia—that Kemp "cancelled" the registrations of 53,000 voters—isn't entirely true. These registrations weren't removed from the rolls, as Abrams and her allies have implied, but put on hold, meaning that it still would have been entirely possible for those voters to still vote in the 2018 election. According to Charles S. Bullock, chair of political science at the University of Georgia, all that would have been required for those voters to cast a ballot would have been to show up with a photo ID at the polling station. An unnecessary hurdle? Yes. Highly suspicious for Kemp to do in the context of his role as overseer of his own election? Absolutely. But a credible explanation for Abrams' first-round loss and massive underperformance relative to all other Democrats? Not really. So, looking at the results themselves, where did it go wrong for Abrams? Practically everywhere. Black turnout had increased compared to 2016—as should be expected in a midterm where Democrats were more energized than Republicans—but the potential gains from that were muted by her performance among Black voters themselves being relatively weak overall. Georgia Democrats also had some of their all-time worst showings in white rural areas, even poorer than Hillary Clinton's 2016 numbers that are still seen as the absolute floor. The one place where Abrams managed to make notable gains was in the Atlanta suburbs. Higher numbers there, as well as some of the state's urban areas, are why she came closer to winning the state than Clinton did. But even those swings paled in comparison to what was occurring in similar areas across the country. All in all, she lost by roughly 50,000 votes: painfully close to taking Kemp to a runoff election under Georgia's arcane election laws, but a loss at the end of the day. In the process, she ended up losing two Black Belt counties won by Hillary Clinton in 2016. Hardly a promising first try for a strategy that was supposed to define the future of politics itself." • Oops. Turns out Stacy Abrams was just another Amy McGrath; a money magnet for out-of-state goodthinkers; a loser when the votes were counted. I wonder if Neera will bring her into the White House?

NY: "George Santos' Democratic opponent calls for congressional probe as party plots district comeback" [Politico]. " George Santos' general election opponent called for a House investigation into the GOP member-elect over biographical fabrications he told on the campaign trail — as Democrats plotted how to take back the district. 'We call upon Congress and demand Congress conduct a House ethics investigation into George Santos,' Robert Zimmerman, a Democrat who lost to his opponent by a 54 to 46 percent margin in November, said Thursday." • Wouldn't it have been simpler to win the race?

NY: "Santos should consider resigning, veteran GOP lawmaker says" [Associated Press]. "Texas Rep. Kevin Brady, a former House Ways and Means chairman who has served in Congress for 25 years, told 'Fox News Sunday' that Santos would have 'to take some huge steps' to regain trust and respect in his district. Santos is set to be sworn in Tuesday when the new Congress begins. 'This is troubling in so many ways. Certainly, he's lied repeatedly,' said Brady, who is retiring from the House. 'He certainly is going to have to consider resigning.' Brady said a decision about whether Santos steps down is one 'to be made between he and the voters who elected him.'" • So….
Republican Funhouse
"'I earned this job': Republicans explode in meeting before speaker vote" [Politico]. "House GOP Leader Kevin McCarthy and his top supporters erupted at the dozen-plus conservative hardliners vowing to block his speakership bid in a closed-door meeting Tuesday, just hours before the vote. In a fiery speech to his conference, McCarthy underscored the extensive concessions he has made to those who have vowed to oppose him, largely those in the House Freedom Caucus, according to multiple members in the room…. After weeks of intense, down-to-the-wire negotiations, McCarthy is out of time to lock down the needed 218 votes. With his yearslong effort to claim the speakership trapped in limbo, the conference meeting Tuesday morning is a sign of the chaos still to come in during votes on the House floor. And after having his speakership aspirations ripped away from him in 2015, his allies say this time he's prepared to fight until the potentially bitter end." • Commentary:

Whatever you think of it, this group of GOP House Members who are refusing to give their vote to Kevin McCarthy without major concessions is the way they have to use leverage and power to get what they want — precisely what the Squad, subservient to Dems/Pelosi, would never do: https://t.co/fFQL7awD2R

— Glenn Greenwald (@ggreenwald) January 2, 2023

Yep.

"McCarthy Falls Short in First Vote Amid G.O.P. Revolt" [New York Times]. "Representative Kevin McCarthy of California lost his first vote for speaker on Tuesday and was in a pitched battle for the top job in the House, amid a rebellion among hard-right lawmakers that left the post up for grabs and prompted a historic struggle on the floor at the dawn of the new Republican majority. The Republican mutiny, waged by ultra conservative lawmakers who for weeks have held fast to their vow to oppose Mr. McCarthy, dealt a serious blow to the G.O.P. leader and laid bare deep divisions that threaten to make the party's majority ungovernable. But it did not end the California Republican's bid for speaker, which he has vowed to continue, forcing multiple votes if necessary until he wins the top post." • The Speaker of the House, a Constitutional office, is elected by all House members. It would be amusing if Democrats put McCarthy over the top. (An unspoken aspect of this battle is that the Speaker is second in the line of Presidential succession, after the Vice President. If Biden slips a cog….)

"GOP sounds alarm over struggles with Gen Z voters" [The Hill]. "An analysis by Tufts University's Center for Information & Research on Civic Learning and Engagement (CIRCLE) using day-after estimates suggests that voter turnout among 18- to 29-year-olds in 2022 was at the second highest of the last 30 years for a midterm election. In House races alone, the demographic favored Democratic candidates to Republicans 63 percent to 35 percent, remaining mostly consistent since 2020 but a slight drop from 2018, when the margin was 67 percent to 32 percent. Overall, more than a quarter of voters between the ages of 18 and 29 are estimated to have cast a ballot during the November midterms, according to an analysis of Edison Research's National Election Poll Survey by CIRCLE, often playing a critical role in battleground races. David Morgan, a senior at Pennsylvania State University and the political director of the Penn State College Republicans, believes the GOP is facing challenges with young voters because they're not speaking to social policies and issues. 'Better health care, LGBTQ rights, reproductive rights, stuff like that … climate change, those issues are huge for Gen Z. And because the party kind of is a little bit slow on the uptake initially with kind of some of these issues … I think it kind of automatically slanted our generation to go more towards Democrat,' he noted." • Hey, and how about appealing to all those old farts who work at Starbucks and Amazon? They need a union!

Not such a bad theory:

"Don't blame me" pic.twitter.com/1ilb1w8Ko3

— PatriotTakes 🇺🇸 (@patriottakes) January 1, 2023

But what the heck were you thinking when you put those votes on the Court?
Democrats en Déshabillé
Patient readers, it seems that people are actually reading the back-dated post! But I have not updated it, and there are many updates. So I will have to do that. –lambert

I have moved my standing remarks on the Democrat Party ("the Democrat Party is a rotting corpse that can't bury itself") to a separate, back-dated post, to which I will periodically add material, summarizing the addition here in a "live" Water Cooler. (Hopefully, some Bourdieu.) It turns out that defining the Democrat Party is, in fact, a hard problem. I do think the paragraph that follows is on point all the way back to 2016, if not before:

The Democrat Party is the political expression of the class power of PMC, their base (lucidly explained by Thomas Frank in Listen, Liberal!). ; if the Democrat Party did not exist, the PMC would have to invent it. . ("PMC" modulo "class expatriates," of course.) Second, all the working parts of the Party reinforce each other. Leave aside characterizing the relationships between elements of the Party (ka-ching, but not entirely) those elements comprise a network — a Flex Net? An iron octagon? — of funders, vendors, apparatchiks, electeds, NGOs, and miscellaneous mercenaries, with assets in the press and the intelligence community.

Note, of course, that the class power of the PMC both expresses and is limited by other classes; oligarchs and American gentry (see 'industrial model' of Ferguson, Jorgensen, and Jie) and the working class spring to mind. Suck up, kick down.

* * *

"Corruption" [Eschaton]. "Corruption is a systemic thing. Individuals can be corrupt, of course, but that doesn't matter all that much. It's the corruption that is so widespread that no one can talk about it without implicating their friends and colleagues (or themselves), where speaking up will only result in you being squashed. Everybody went very silent on Sean McElwee, a man who had a puff pieces written about him every other month and was for a couple of years The Official Voice Of The Left (because he was, while On The Left, a Very Serious Person who was Very Pragmatic unlike the rest of the smelly lefties). Don't wait for any public reflection from those who promoted him. One possibly very corrupt guy, but he has lots of friends!"

"How to end gridlock and ensure Democratic power — with a bold progressive agenda" [Salon]. "Through the haze of conflicting post-election narratives, the possibility for a long-term progressive realignment can be seen, combining the government activism of Joe Biden's major legislation (the American Rescue Plan, the Infrastructure Investment and Jobs Act, the Inflation Reduction Act, the CHIPS and Science Act) with the growing power of diverse social movements advancing racial, gender and climate justice, gun safety and more. As the younger voters who overwhelmingly support Democrats grow in strength, there's a path out of current gridlock and polarization based on a progressive agenda. But conventional wisdom can't even see it." • Isn't it pretty to think so. Flogging the youth horse won't work any better than flogging the "coalition of the ascendant" did. People grow out of stuff….
Realignment and Legitimacy
#COVID19
Lambert here: I am but a humble tapewatcher, but unlike Eric Topol, I'm not calling a surge, because the last peak was Biden's Omicron debacle, and after an Everest like that, what's left? Topol's view is the establishment view: Hospital-centric. Mine is infection-centric. I do not see the universal acceleration or doubling in cases that I would expect to see based on past surges.
I am calling a "Something Awful." It's gonna be bad, in some new way, and we don't know how, yet (but see here for immune system dysregulation, which is looking pretty awful). Wastewater has taken off in New York, Chicago, San Francisco, and Los Angeles, right on time, two weeks after Thanksgiving. Those are not only in themselves large cities, they are all the sites of international airports (reminiscent of the initial surge in spring 2020, which emanated, via air travel, from New York). Wastewater is a leading indicator for cases, which in turn lead hospitalization (and death). In addition, positivity has reached its highest level ever, at least at Walgreens, and BQ.1* has taken over, closely followed by XBB, and both are immunue escape variants. UPDATE Walgreen's positivity, Boston MWRA data going vertical, and the rapid rise of XBB in the Northeast are all very concerning. The effects of all our holiday travel should be playing out in the next two weeks. Readers, please feel free to add holiday anecdotes.
Stay safe out there!
* * *
This post from yesterday mentions immune dysregulation involving monocytes (not T cells), based on this article from Nature: "Transcriptional reprogramming from innate immune functions to a pro-thrombotic signature by monocytes in COVID-19." Here are two TikToks (sigh) that give a good explantion of the article in layperson's terms:
Part 2 of 2
A study which supports the theory of COVID causing Immune DisRegulation.
Dr Zacharey Rubin is a paediatric allergist and immunologist. He is on TikTok as @ rubin_allergy. pic.twitter.com/bjMhQCBpUF

— SharonBC,Canada (@SharonBurnabyBC) January 2, 2023
These two TikToks show me that I missed a key passage in the Nature paper, underlined here:
Transcriptionally, COVID-19 monocytes are characterized by enrichment of pathways involved in hemostasis, immunothrombosis, platelet aggregation and other accessory pathways to platelet activation and . These results identify a potential mechanism by which monocyte dysfunction may contribute to COVID-19 pathology.
"Clot formation." Not just "a cold I can't shake," or even sepsis, but blood clots; all that vascular damage we keep hearing about. I got the "pathology," missed the blood clots. Fifty lashes with a wet noodle for lambert.
* * *
• I don't know what happened to the Infectious Disease community, but whatever it was, it was bad:
just so we're clear… the president of the infectious diseases society of america believes that hospitals shouldn't screen asymptomatic patients for covid and likes vinay prasad's substack post mocking people for… trying to avoid covid pic.twitter.com/7n9E5WdQzg

— Chloe Reichel (@chloereichel) December 23, 2022
• Handwashing for the win:
Everyone was handed one of these on my @UnitedAirlines_ flight, but most people are unmasked and lots of folks are noticeably ill. Is this their way of saying "It's ok to spread a deadly disease on our planes as long as your hands are clean?" #XBB15 pic.twitter.com/IJuSs9jLza

— Jamie Ludwig (@unlistenmusic) December 30, 2022
Cases
For grins, I thought I'd look in at the 91-DIVOC data for the last year: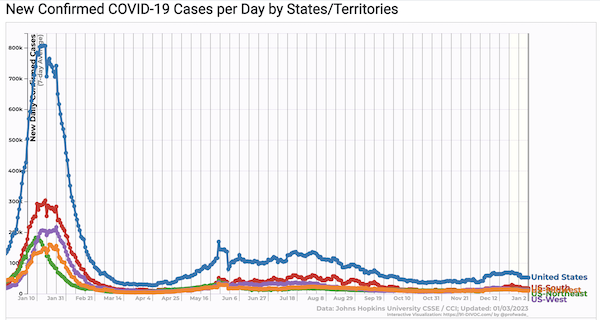 I flat out don't believe this, even if Johns Hopkins is the source. It doesn't match up with anything else. See comment below on Biobot data.
Here by contrast is Biobot data for the pandemic: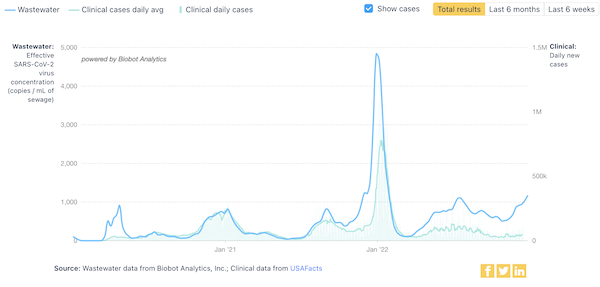 We know that wastewater is a reasonable proxy for covid infection. So I'd argue that biobot data provides a more reasonable picture than whatever it is Johns Hopkins is doing. (The Biobot chart shows a divergence between Covid RNA in wastewater and clinical cases starting in March 2022, where previously the correlation had been quite close. I believe this is a result of Administration messaging starting at that time that Covid was "mild," "just a cold," didn't require masking, "vaxed and done," etc. I believe that CDC introduced its infamous "Community Levels" metric (the "green map") at that time, as well. And of course, the American health care system is in itself a disincentive to turn one's case into a clinical case. NOTE: I don't use BioBot data on a daily basis, because I got tired of retroactive adjustments being made with no explanation. But I think the yearly data should be OK.
Transmission
Here is CDC's interactive map by county set to community transmission (the "red map"). (This is the map CDC wants only hospitals to look at, not you.) The map is said to update Monday-Friday by 8 pm: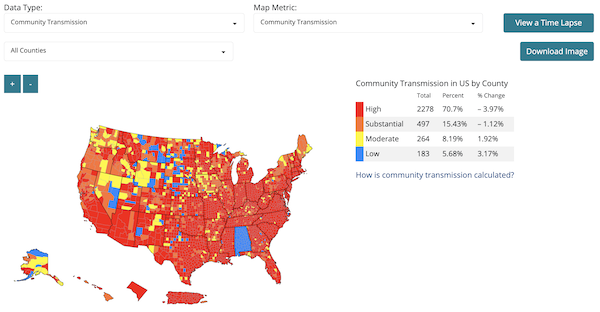 The previous map: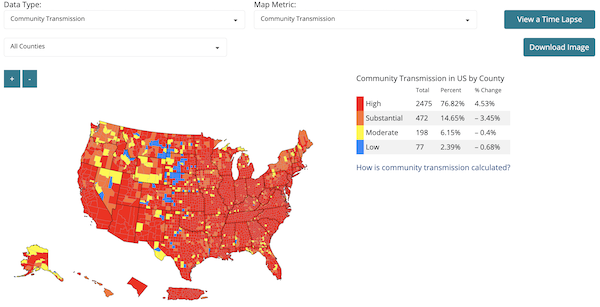 NOTE: I shall most certainly not be using the CDC's new "Community Level" metric. Because CDC has combined a leading indicator (cases) with a lagging one (hospitalization) their new metric is a poor warning sign of a surge, and a poor way to assess personal risk. In addition, Covid is a disease you don't want to get. Even if you are not hospitalized, you can suffer from Long Covid, vascular issues, and neurological issues. That the "green map" (which Topol calls a "capitulation" and a "deception") is still up and being taken seriously verges on the criminal.
Positivity
From the Walgreen's test positivity tracker, published January 3: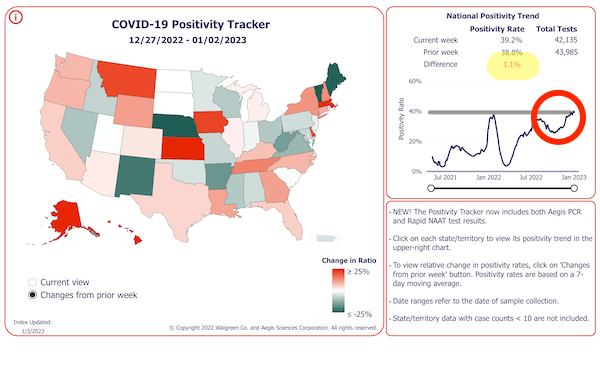 1.1%. Yikes. The highest ever. NOTE: Of course, it's an open question how good a proxy Walgreen's self-selected subjects are for the general population, especially because they didn't go the home-testing route, but we go with the data we have.
Wastewater
Wastewater data (CDC), December 27: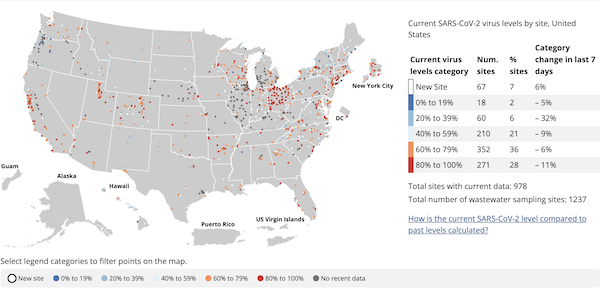 Too much red (even with Illinois offline). JFK/LGA (Queens County, NY), SFO (San Francisco, CA), LAX (Los Angeles) are all red.
December 25: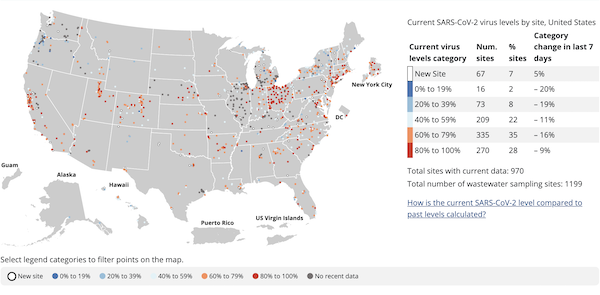 And MWRA data, December 27: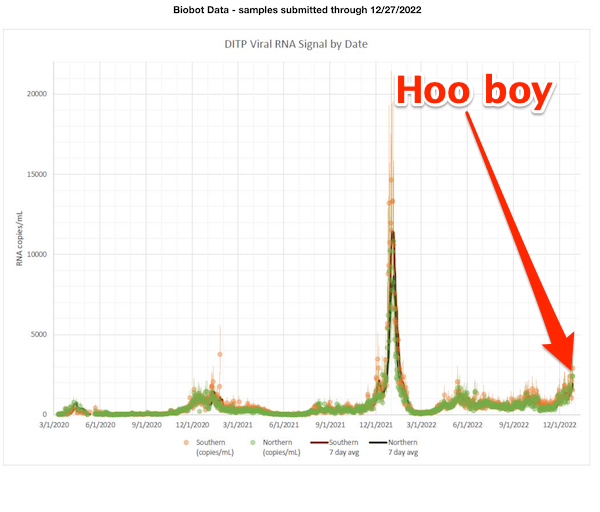 Lambert here: Yikes. Big jumps North and South. And certainly not all the students are back; BU classes begin January 19; Harvard's January 22.
Variants
Lambert here: It's beyond frustrating how slow the variant data is. Does nobody in the public health establishment get a promotion for tracking variants? Are there no grants? Is there a single lab that does this work, and everybody gets the results from them? [grinds teeth, bangs head on desk]. UPDATE Yes. See NC here on Pango. Every Friday, a stately, academic pace utterly incompatible with protecting yourself against a variant exhibiting doubling behavior.
NOT UPDATED Variant data, national (Walgreens), December 13: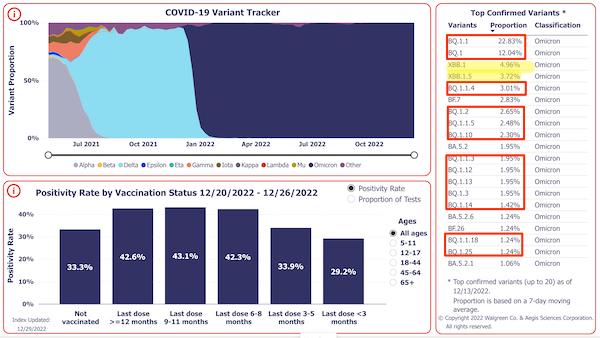 Lambert here: BQ.1* dominates, XBB moving up fast. This data is updated, even though the last batch was December 11 (i.e., only two days of additional data). Not sure why this data is coming out before CDC's, and on a Thursday, since in the past they both got it from Pango on Fridays.
Variant data, national (CDC), December 10 (Nowcast off):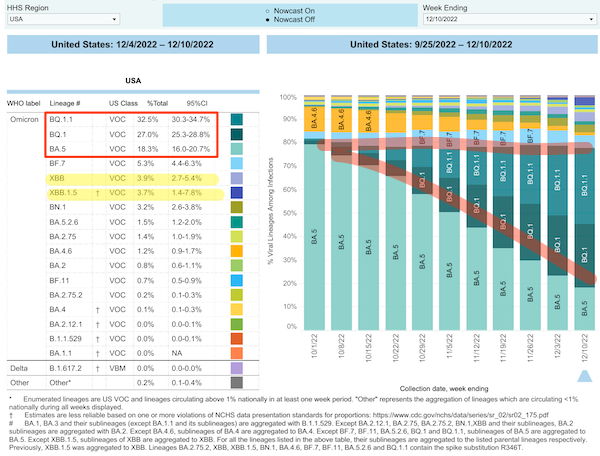 BQ.1* takes first place. XBB coming up fast. (For BQ.1/XBB and vaccine escape, see here.) Here is Region 2, the Northeast, where both BQ.1* and XBB are said to be higher, and are: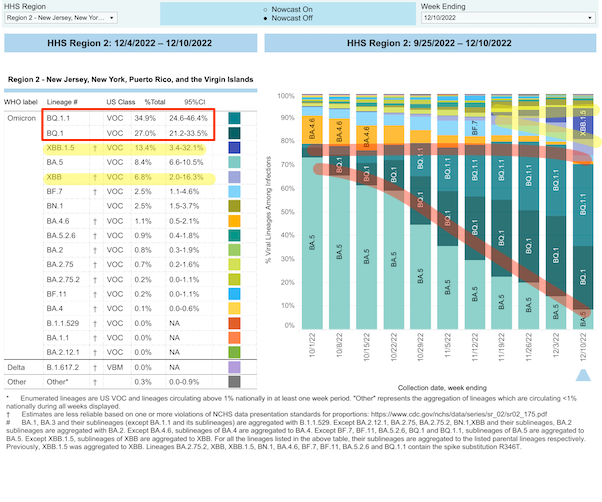 • This is extremely annoying:
25) 📍CONFIRMED—at last, @CDCgov has posted the new bad #XBB15 variant numbers — and it seems they did it a day earlier than planned (their website says Dec 31st)—maybe it was under public pressure? ➡️The new data now confirms the wide spread of #XBB15 nationwide—Look at the map! pic.twitter.com/R4TtxV53s9

— Eric Feigl-Ding (@DrEricDing) December 30, 2022
Feigl-Ding has used CDC's NowCast projections. CDC has in no sense posted "numbers," and the "new" so-called "data" "confirms" nothing unless you accept the model! (Having been burned by the CDC "ensemble" model in the past, I don't see a reason to trust this one.) Feigl-Ding should use the right words to describe the thing.
• As a check, since New York is a BQ.1* hotbed, New York hospitalization, updated December 29: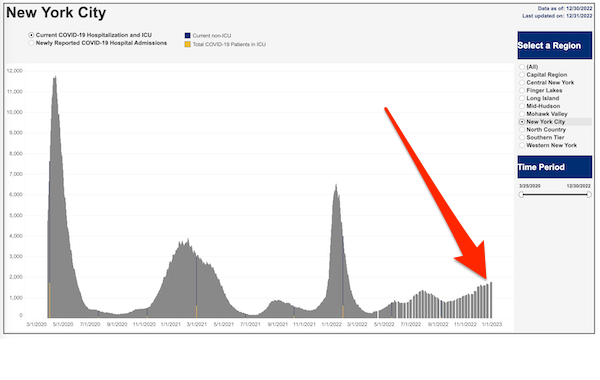 Resuming the steady upward climb after a short plateau.
• Hospitalization data for Queens, updated December 24:

We'll see what is hospitalization is like about two weeks into January, after holiday travel has ended.
Deaths
Death rate (Our World in Data):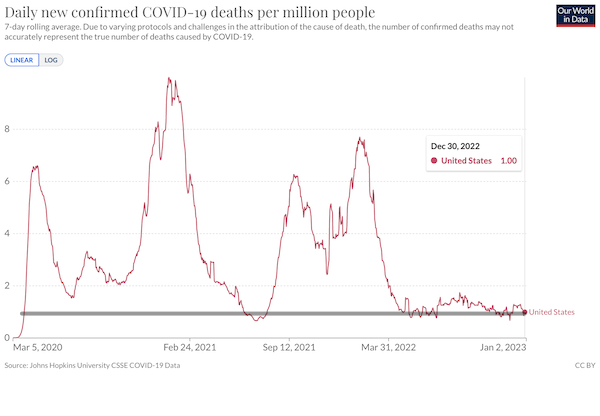 Total: 1,118,478 – 1,117,194 = 1284 (1284 * 365 = 468,660 deaths per year, today's YouGenicist™ number for "living with" Covid (quite a bit higher than the minimizers would like, though they can talk themselves into anything. If the YouGenicist™ metric keeps chugging along like this, I may just have to decide this is what the powers-that-be consider "mission accomplished" for this particular tranche of death and disease).
It's nice that for deaths I have a simple, daily chart that just keeps chugging along, unlike everything else CDC and the White House are screwing up or letting go dark, good job.
Stats Watch
There are no offical statistics of interest today.
* * *
Real Estate: "Remote Work Is Poised to Devastate America's Cities" [Eric Levitz, New York Magazine]. "The nation's office buildings aren't as empty as they were before COVID vaccines became widely available in spring 2021. But they're still far less populated than they were in 2019. A recent analysis of Census Bureau data from the financial site Lending Tree found that 29 percent of Americans were working from home in October 2022. In New York City, financial firms reported that only 56 percent of their employees were in the office on a typical day in September. Full-time remote work has grown less prevalent since the worst days of the pandemic. But flexible work arrangements — in which employees report to the office a couple times a week — are proving stickier. A recent paper from the National Bureau of Economic Research estimated that 30 percent of all full-time workdays would be performed remotely by the end of 2022. As Insider's Emil Skandul illustrates in an excellent piece, these surveys and projections are buttressed by mobile phone data showing that, in virtually all major U.S. cities, foot traffic in central business districts is down substantially from 2019."
The Bezzle:
Hotels are back pic.twitter.com/pUjRi6TiiY

— Finance L's (@TerribleFinance) December 31, 2022
Good.
* * *
Today's Fear & Greed Index: 36 Fear (previous close: 37 Fear) [CNN]. One week ago: 36 (Fear). (0 is Extreme Fear; 100 is Extreme Greed). Last updated Jan 3 at 1:44 PM EST.
Rapture Index: Closes up one on Wild Weather. "The Northern US suffered under a massive blizzard" [Rapture Ready]. Record High, October 10, 2016: 189. Current: 187. (Remember that bringing on the Rapture is good.)
New Year's Post-Game Analysis
Obligatory New Year's Day post pic.twitter.com/4tXHmwd2aB

— Classical Studies Memes for Hellenistic Teens (@CSMFHT) January 1, 2023
Department of Feline Felicity
Good kitty!
bad news pic.twitter.com/1r6sukDxPY

— Dont Show Your Cat (@DontShowYourCat) December 29, 2022
Book Nook
"Comfort Food (Rex Stout, Nero Wolfe, Archie Goodwin)" [DO THE M@TH].
"Rex Stout: Logomachizing" [David Bordwell's website on cinema]. I'm not sure why I was looking for material on Rex Stout's detective, Nero Wolfe, but when I did, I ran into this: "How to fill out a novel's full expanse? Especially one in a genre with rigid structural conventions? The classic puzzle plot, ideal for a short story, had to stretch itself to book length by means of subsidiary mysteries, more deaths, false solutions, some love interest, and the genius's disquisitions. Hard-boiled authors might interweave crimes perpetuated by different malefactors (Hammett), pad out descriptions and atmosphere (Chandler), multiply parallels and kinship ties (Macdonald), and sprinkle interrogations across acres of white space (Gardner). Stout had recourse to some of these strategies as well. But coming from "straight" literature, he knew other ways to flesh out the mystery format while still respecting the core conventions. Stout's solution to the problem of scale fulfilled a precept Wolfe passed along to Archie: "There is no moment in any man's life too empty to be dramatized." Spoken like a true Jamesian ("Dramatize, dramatize!") and Joycean (Stout thought the Bloomsday chronicle the best novel of modern times). His aim, I think, was to compose a thoroughly conventional detective novel that also provided a character study, created a unique world, spun a yarn in a comic register, and invited us into an adventure in language…. The explosion of book and magazine publishing at the turn of the twentieth century encouraged writers to pursue what today we've come to call world-building. Treasure Island (1883) and other adventure tales, children's stories like Alice in Wonderland (1865), and science fiction like The Time Machine (1895) introduced readers to richly furnished imaginary lands…. Before Stout, no major writer of detective fiction had tried for such thickly populated milieus." • Anyhow, I'm a big Rex Stout fan, and might even go so far as to characterize him as the American Wodehouse (speaking of worldbuilding). Here's another review that lists all Stout's novels.
The Gallery
"Tea on Fur, Wet Fur on Lips" [Art in America]. "Meret Oppenheim's furred sculpture Object is widely considered the Surrealist object par excellence… Object could not feature in the retrospective in Bern or Houston because it's too fragile to travel from MoMA's collection. Quite possibly, Oppenheim, who resented becoming something of a one-hit wonder, would have liked it this way. The exhibition surveys instead the rest of her wide-ranging output—her paintings, assemblages, and design work in a variety of forms from furniture to accessories. Throughout her life, Oppenheim wanted to keep her art and design practices separate…. Oppenheim spent the bulk of her career rebelling against the success of Object, not wanting to become, as she once put it, 'the artist who lines things.'… Oppenheim always seemed to wield logic against itself in a manner that proves its limits and its absurdity, showing how easy it is to bend, twist, and extrapolate." • Object:
The 420
"Marijuana's black market is undercutting legal businesses" [CNBC]. "Thriving, unregulated marijuana businesses across the United States are undercutting legal markets awaiting banking and tax reform. While it's an issue in states like Colorado, Michigan and Washington, it's a much bigger problem in New York. Unlicensed businesses are "taking a pretty hefty percent of the potential market share," according to Amanda Reiman, a researcher at cannabis intelligence company New Frontier Data. None of the 36 newly licensed dispensaries in New York have even started operating yet. The licensing program in New York is years behind the state's sophisticated black market. New York doled out its first set of dispensary licenses last month, but recreational marijuana has been legal in the state for nearly two years. 'These shops are masquerading as safe, legal entities,' said Trivette Knowles, a press officer at the New York State Office of Cannabis Management, 'but there are currently no licensed sales happening right now in the state of New York.' The problem is particularly cumbersome in New York City, Knowles said. . His office has sent out cease-and-desist letters to some of the unlicensed operators in the state, but some trade groups say there are likely tens of thousands of illegal businesses in the city alone." • Sounds great! What's the issue?
Our Famously Free Press
"Fact Check-Image purporting to show New York Times opinion piece calling for teachers to 'tolerate bullying towards unvaccinated children' is digitally altered" [Reuters]. "An image purporting to show a screenshot of an opinion piece published by the New York Times calling for teachers to "tolerate bullying towards unvaccinated children" is digitally altered. No such headline or article was published by the outlet." Easy to tell if you look at the formatting: "The word 'opinion' is written in red font, fully capitalized and in bold on the New York Times website, as opposed to black font and only the first letter capitalized as seen in the falsified image (here) (click through to articles)." • Ironically, of course, writers from both the Times and the New Yorker have stigmatized maskwearers, which unexpectedly has not brought calls of "This is violence!" from social justice types. Meanwhile, watch out for memes from the right. They're very good at them — almost as good as the Ukrainians! — and it's easy to get sucked in.
Guillotine Watch
Harsh but fair:
— Anil (@AnilGanti) January 3, 2023
Class Warfare
Men make their own history, but they do not make it just as they please:
Please remember: history is a stable element, mined by historians in history mines. There is one established version of it but it is highly flammable and trying to "rewrite" it will lead to a meltdown of all remaining history on the planet leaving us *without* history whatsoever.

— Mateusz Fafinski (@Calthalas) January 1, 2023
News of the Wired
"Neil Sperry: Build your North Texas landscape and garden plans around around these facts" [Fort Worth Star-Telegram]. "More than 90% of the Metroplex has been built on what is known as the Blackland Prairie. That's an elongated strip of alkaline black clay soil that runs along and either side of Interstate 35 from just south of the Red River all the way to Austin and San Antonio. Farmers call it "gumbo" (when their preachers are listening), and we all know it to be sticky when it's wet and rock-hard when it's dry. It takes powerful equipment to cultivate it, yet it can turn out some great crops when we manage it properly. Your best odds will come when you limit the times you choose plants that prefer acidic soils. That list would include azaleas, gardenias, loropetalums, wisterias, dogwoods, sweet gums, water oaks, American hollies and their offspring and slash and loblolly pines. These plants will all develop iron deficiency problems 3-5 years after planting in the black soils. While you can amend soils for smaller types of plants such as flowers, vegetables and groundcovers, tall plants need much more extensive bed preparation than most budgets will allow. To repeat a lecture I've given in this classroom before, for standard plantings, you can improve any soil by adding organic matter." • But advocates peat moss. No!
* * *
Contact information for plants: Readers, feel free to contact me at lambert [UNDERSCORE] strether [DOT] corrente [AT] yahoo [DOT] com, to (a) find out how to send me a check if you are allergic to PayPal and (b) to find out how to send me images of plants. Vegetables are fine! Fungi and coral are deemed to be honorary plants! If you want your handle to appear as a credit, please place it at the start of your mail in parentheses: (thus). Otherwise, I will anonymize by using your initials. See the previous Water Cooler (with plant) here. From JU: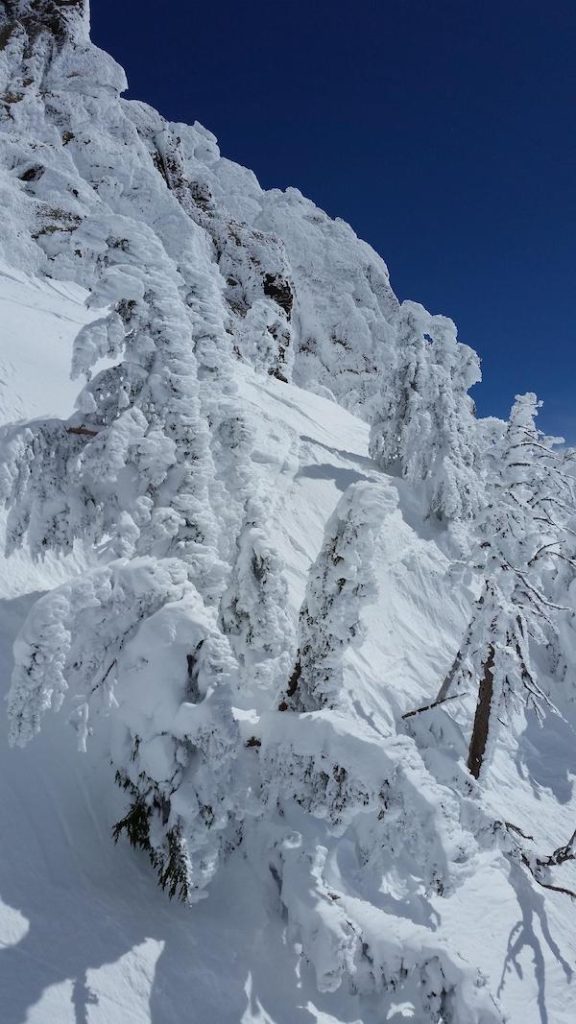 JU writes: "Flocked forest @ Mammoth ski resort."
* * *
Readers: Water Cooler is a standalone entity not covered by the annual NC fundraiser. So if you see a link you especially like, or an item you wouldn't see anywhere else, please do not hesitate to express your appreciation in tangible form. Remember, a tip jar is for tipping! Regular positive feedback both makes me feel good and lets me know I'm on the right track with coverage. When I get no donations for five or ten days I get worried. More tangibly, a constant trickle of donations helps me with expenses, and I factor in that trickle when setting fundraising goals:
Here is the screen that will appear, which I have helpfully annotated: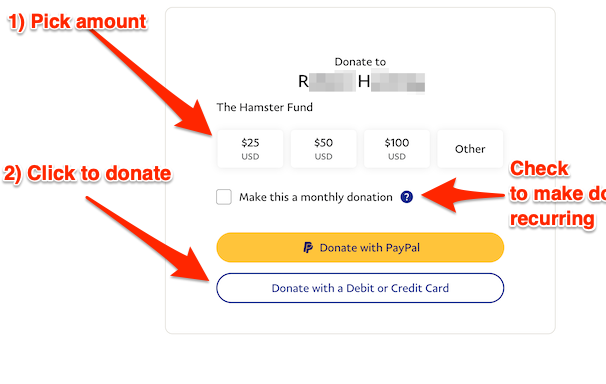 If you hate PayPal, you can email me at lambert [UNDERSCORE] strether [DOT] corrente [AT] yahoo [DOT] com, and I will give you directions on how to send a check. Thank you!