#ReceptioGate and the (absolute) state of academia The Critic (Anthony L)
What's dangerous about the idea of 'beauty' in architecture? openDemocracy. I am sorry, I don't get upset by Second Empire architecture even if it is often de trop.
Researchers Discover Why Roman Concrete Was So Durable MIT News
Sudden cardiac arrest is leading cause of death in young athletes CBS (Kevin W)
FDA approves Alzheimer's drug shown to moderately slow cognitive decline in early stages of the disease STAT. KLG:
This quote [from the Financial Times version of the story] does not engender confidence:

"This treatment option is the latest therapy to target and affect the underlying disease process of Alzheimer's, instead of only treating the symptoms of the disease," Billy Dunn, director of the FDA's Office of Neuroscience, said in a statement."

Whether amyloid plaques (what about tau tangles?) are cause, consequence, or correlation is still an unanswered question. A monoclonal antibody that "dissolves" amyloid plaques in one of the mouse models does that and nothing else. That paper is perhaps 20 years old.
Intermittent fasting can boost your health, but how and when to restrict food consumption is crucial Salon. Hhhm. But probably assumes you go to bed by 11 PM.
Dark chocolate from Trader Joe's, Hershey has 'unsafe levels' of lead and cadmium, lawsuits say USA Today (EM)
#COVID-19
Science/Medicine

Large COVID autopsy study finds SARS-CoV-2 all over the human body New Atlas

"subclinical LV dysfunction may also be a typical characteristic of COVID-19 infection in children"

We know kids get cardiac fibrosis. Now we have anatomic and functional evidence of cardiac probs.
Get ready for an epidemic of heart failure in their 40shttps://t.co/zAGK718G4a

— Dr David Berger, aBsuRdiSTe cROnickLeR (@YouAreLobbyLud) January 5, 2023

Excess mortality remains elevated because we have a new major cause of death.

I do hope the penny has started to drop for policymakers and the public that COVID-19 isn't going to fade into the background, but instead will likely increase annual mortality by 5-10% indefinitely. https://t.co/HWeUjF6VFi

— Dr Zoë Hyde (@DrZoeHyde) January 7, 2023

Asia

China reports three COVID deaths for January 6 Reuters

'Severe colds': Celebrity deaths in China raise questions about real COVID toll Sydney Morning Herald (GM)
Climate/Environment
Great Salt Lake will disappear in 5 years without massive 'emergency rescue,' scientists say CNN (ma)

Will the weather eventually provoke radical action on climate? openDemocracy
China?
PLA fully monitors US destroyer's transit through Taiwan Straits, maintains high alert Global Times

Global Supply Chain Pressure Index: The China Factor Liberty Street Economics

Jack Ma gives up control of Ant Group, restructuring China's largest fintech company to put it back on path for IPO South China Morning Post
India
India's got the BRICS blues Indian Punchline (Kevin W)
For Indian techies, is it the end of the great American dream? Economic Times
European Disunion
1 in 2 French people want 'social explosion,' 'new protest movement': Survey Anadolu Agency
Old Blighty
Rishi Sunak proposes talks with UK union leaders in effort to halt strikes Financial Times

UK Train Stoppages Continue as Threat Grows of Broader Strikes Bloomberg

Inside Sweden's collapsing housing market – and how Britain could be next Telegraph
New Not-So-Cold War
Biden administration announces nearly $4B in new military aid for Ukraine The Hill. Actually $3 billion. Package is $3.75 billion with:

…another part of the nearly $4 billion drawdown includes $682 million in Foreign Military Financing to European partner countries and allies "to help incentivize and backfill donations of military equipment to Ukraine."

Western Escalation in Ukraine: Sending in Armor – But is it Too Little Too Late? Brian Berletic

Russia's Active Su-57 Stealth Fighter Fleet Just Grew By 66 Percent: 22 Aircraft Expected in Next 24 Months Military Watch. I though the Russians weren't so keen on stealth, that doctrinally they liked super fast planes better. Readers?

Fighting continues despite Russia's proposed truce DW

❄️🇺🇦🚫💡⚡️📉PM of Ukraine Shmyhal urged to prepare for the resumption of emergency blackouts against the background of the approaching cold snap, which will lead to an increase in the deficit in the country's energy system.

— AZ 🛰🌏🌍🌎 (@AZgeopolitics) January 6, 2023

Arrest of Russian outlet's journalist is blow to press freedom – Moscow RT
Syraqistan
OPEC's Second-Largest Oil Producer Issues Arrest Warrant For Donald Trump OilPrice (BC)

The Chairman's Afghan Problem American Conservative. Important despite unprepossessing title.

Harvard blocks role for former Human Rights Watch head over Israel criticism Guardian (BC)
Warning shots fired as Greek, Turkish patrol boats face off Associated Press (BC)
Imperial Collapse Watch
The West is Weak Where it Matters …Aurelien

The Cure for Overstretch Is Reduced Ambition Daniel Larison
GOP Clown Car
As of 11:30 PM Eastern: House Speaker vote: Drama on House floor as Gaetz vote sinks McCarthy Speakership bid The Hill. But of course: Kevin McCarthy secures Speakership after historic floor battle The Hill

What has Kevin McCarthy given up, and at what price? BBC

Here's a list of items that are stalled until a House speaker is elected CNN. BC: "Interesting that if the Speaker vote is not resolved, it's Congressional Staffers that won't get paid, but Members will be fine. Upside down? Surprised?"

Your tax dollars at work (Chuck L):

One benefit of being speakerless is that C-Span has control of the cameras and the public can see what is occurring outside of the usual narrow camera frame…

— Jonathan Turley (@JonathanTurley) January 6, 2023

…C-Span has hardly been subtle in pointing out that these shots would normally be barred by the House. The service has long chafed at the rigid framing imposed by the House…

— Jonathan Turley (@JonathanTurley) January 6, 2023

McCarthy Warns Not Voting For Him Could Delay More Funds To Ukraine Babylon Bee

Florida Gov. Ron DeSantis activates National Guard to DETER migrants entering Sunshine State by sailing into Florida Keys and blasts 'inept' Biden's 'failure' to stem tide of illegal crossers Daily Mail
Democrats en déshabillé
Democrats worry over potential of retirements in Senate The Hill
Pre-CPI Trading Surge Was 'Extremely Unusual,' Analysis Shows Bloomberg (Li). Bloomberg is alleging front-running by those with access to CPI data pre-publication. Probably not the Dept. of Labor, they are perceived to run a tight shop. Most likely perp is staff at Treasury.
Our No Longer Free Press
Media Silent as Latest Twitter Files Expose Flagrant Misconduct in Govt. & Journalism Glenn Greenwald
Gunz
U.S. appeals court blocks ban on rapid-fire 'bump stocks' Politico

Six-year-old intentionally shot teacher in Virginia school, police say Guardian
ChatGPT banned in NYC schools over learning impact concerns Bleeping Computer. BC:
I thought ChatGPT was only barely beginning beta. Why would it be getting implemented anywhere at this point? The tech is very impressive at seeming to be intelligent, but it also seems to have no basis for assessing the accuracy its own conclusions, which for practical use, makes it useless or dangerous.
College Student Made App That Exposes AI-Written Essays Polygon
Trouble at Tesla: the end of a golden age of growth? Financial Times
Mercedes-Benz Gets Approval To Deploy Level 3 Driving Tech In Nevada The Drive
The Bezzle
Bankruptcy Judge Says Celsius Crypto Investors Don't Own Their Accounts Gizmodo (Kevin W). This has more clear cut language, but as we indicated, the FTX terms were contradictory and amounted to the accounts being comingled funds. We warned that unless crypto exchange customers paid an upcharge for their own wallet, they should assume they were in a unregulated mutual fund.

Sam Bankman-Fried wants to use Robinhood stake to pay lawyers New York Post. BC: "Wowsers! LITERALLY no shame." Moi: A lawyer friend brought this up and said she couldn't believe SBF's lawyers would further run up his presumably never-to-be-paid legal bill on such a patently ridiculous argument.

Mr. Bankman-Fried has not been found criminally or civilly liable for fraud, and it is improper for the FTX Debtors to ask the Court to simply assume that everything Mr. Bankman-Fried ever touched is presumptively fraudulent," the attorneys said in a filing, according to Bloomberg.
US recession alarm bells ringing far and wide Asia Times (Kevin W)
McDonald's CEO warns of possible 2023 layoffs as chain leans into fast service, innovation, and operational efficiencies Business Insider
IBM Staff Grumble Redeployment Orders Are Stealth Layoffs The Register
Class Warfare
Jobs Report Updates: US Labor Market Expected to Slow in December New York Times. BC: "Interesting to write about the report of the 'slight decrease in hiring' without mentioning the latest job cuts from Amazon and Salesforce."

IRS Audits Few Millionaires But Targeted Many Low-Income Families in FY 2022 TracIRS (notabanker)

In a World First, AI Lawyer Will Help Defend a Real Case In the US Interesting Engineering
Antidote du jour. Martha r: "An actual gift a friend of mine received, occupied here by her kitten/young cat."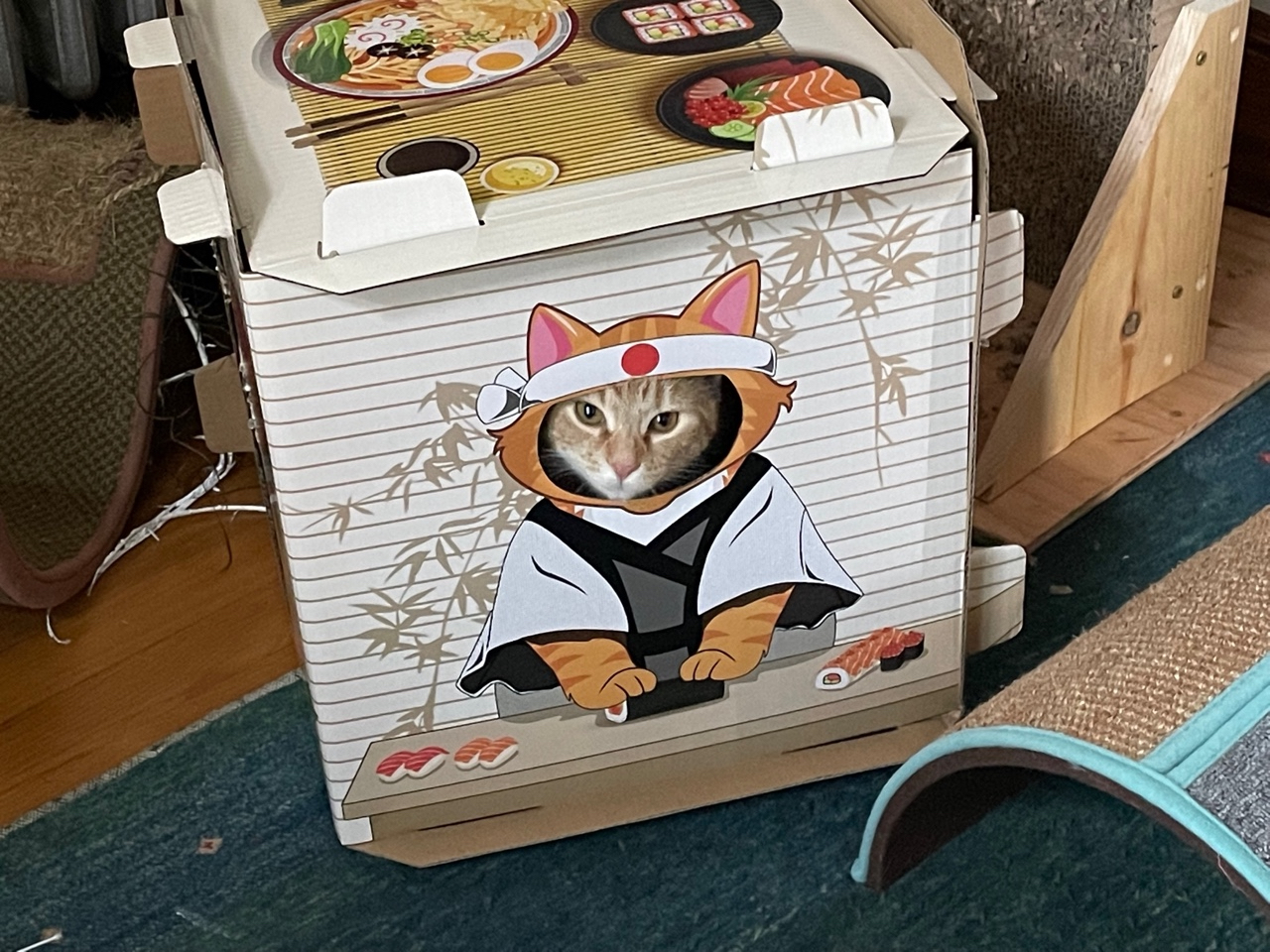 And a bonus:
🔥 A massive brown bear with her cub 🔥 pic.twitter.com/QC6uQijMCP

— Nature Is Lit (@NatureIs_Lit) January 6, 2023
A second bonus:
Smart bird.. 👌 pic.twitter.com/M6GDMvbvtl

— Buitengebieden (@buitengebieden) January 7, 2023
See yesterday's Links and Antidote du Jour here.