Yves here. KLG discusses an important new paper in the BMJ publication, the Journal of Medical Ethics, on Covid-19 vaccine mandates. It comes down against them for a host of reasons, including risk of net expected harm for some populations, questionable net public health benefit based on vaccines not reducing transmission of current variants, and "lack of reciprocity," meaning effective inability of anyone harmed by the vaccines to recover monetary damages. It also highlights that coercion can produce a loss of trust in public institutions and other vaccines.
I hope you will circulate this article widely.
By KLG, who has held research and academic positions in three US medical schools since 1995 and is currently Professor of Biochemistry and Associate Dean. He has performed and directed research on protein structure, function, and evolution; cell adhesion and motility; the mechanism of viral fusion proteins; and assembly of the vertebrate heart. He has served on national review panels of both public and private funding agencies, and his research and that of his students has been funded by the American Heart Association, American Cancer Society, and National Institutes of Health
The story of Edward Jenner and his invention of the smallpox vaccine has been a fascination of mine since I saw an illustration based on the painting above, which represents the first vaccination of a child (James Phipps) against smallpox, in The Golden Book Encyclopedia my parents bought for my siblings and me a long time ago.  Ours was not a house full of books, but these were there, soon to be followed by the 1965 edition of the World Book Encyclopedia.
At about the same time I was obsessively re-visiting the story of Dr. Jenner, I received my smallpox vaccination.  If memory serves, I remember getting this shot from a school nurse in the first or second grade, each class lined up trying to be brave at the sight of those rows of sparkling glass syringes on the table (The TB skin test was even worse, perhaps because it was easier to watch the needle pierce the skin of your forearm!).  My  reaction to the smallpox vaccine produced a large, dark scab and then left a scar on my upper arm that those of us of a certain age remember well.  But we were in no danger of smallpox thereafter.
The same is true for polio, which was still very much a frightening possibility at the time.  My family lined up with the entire local community at my elementary school to receive the Sabin oral polio vaccine, administered as a blue/purple spot on a sugar cube.  I was recently talking to a long-time friend about this.  She remembers the identical experience at her elementary school on the other side of town and told me she wanted to ask for another sugar cube.
Notwithstanding the recent controversy over the completely manufactured link between the MMR vaccine and autism, vaccines have prevented millions of deaths from smallpox and countless cases of polio, diphtheria, pertussis (whooping cough), and tetanus (DPT vaccine), with few associated injuries.  These diseases could be terrifying to my parents' generation and those who came before them.  Newer vaccines against chicken pox and human papilloma virus (HPV) will prevent millions of cases of disease associated with these common viruses.  Like many of my contemporaries, I have had measles, which meant two weeks in a darkened room with no television as a first grader.[1]  I was told I also had the German measles (rubella), but I do not remember that.  I do remember the chicken pox and mumps, however. But I never had to worry about stepping on the proverbial rusty nail and getting tetanus, because when that inevitably happened I got a tetanus shot.  More recently I had a recent bout with an HPV-related illness that was unpleasant but has turned out well.  So far.  All things considered, I would rather have had the vaccines.  They work!
So, when the world was confronted with the news of an epidemic of severe respiratory disease in China in late 2019, a vaccine was the natural response to SARS-CoV-2 and what was later named COVID-19.  Operation Warp Speed was a remarkable effort that led to the availability and widespread use of the Pfizer/BioNTech and Moderna mRNA-based vaccines and the Johnson & Johnson/Janssen adenovirus-based vaccine.
Unlike the vaccines for the former childhood diseases of my youth, these vaccines have been a disappointment.  They prevent neither systemic disease caused by SARS-CoV-2 or transmission of the virus from one infected person to another.  There is evidence they lessen the severity of disease in some COVID patients.
But as the original SARS-CoV-2, sometimes referred to as "wild-type," has evolved through a series of variants, the basic concept of a vaccine against SARS-CoV-2 has become "problematic."  Although virologists, and especially Big Agriculture with its (immoral) CAFOs (Confined Animal Feeding Operations), have known for a long time that lasting immunity to coronaviruses is difficult to attain, either through previous infection or vaccination, this simple fact has not become more widely understood during the current pandemic.
To a first approximation, RNA viruses such as those in Family Coronaviridae evolve rapidly because replication of RNA genomes is more error prone than DNA genomes and these errors provide the raw material for evolution (defined here as random variation followed by selection for variants that replicate faster or in different tissues, for example).
Nevertheless, we have what we have, and most of us have gotten the two "jabs" of one or the other available mRNA vaccines.  Whether what has been primarily an all-vaccine-all-the-time strategy is the correct path to end the pandemic is an outstanding question for another time.
A pressing question for now is whether subsequent "boosters" beyond two shots should be required.  Which brings us to today's subject, provided in an open-access paper published recently in the Journal of Medical Ethics (BMJ) by Kevin Bardosh and colleagues: COVID-19 vaccine boosters for young adults: a risk benefit assessment and ethical analysis of mandate policies at universities (pdf).
Yes, this paper concentrates on booster mandates for young adults who are attending college, but it also illuminates where we are currently in the biomedical and social responses to the COVID-19 pandemic and what we as a society should be thinking about as we move forward through a pandemic that, despite rhetoric to the contrary, is not over.
What follows is a series of highlights from this paper, which I encourage those so inclined to read.  Although the terminology gets thick at times, the data presented are clear and the rationale for the authors' conclusions are straightforward.  The bibliography is also extensive and most of the papers are freely available (at least those I consulted).  I have included several block quotes and a figure that cannot be adequately summarized otherwise, hopefully not in violation of fair use.  It should also be noted that institutional requirements regarding COVID-19 vaccination and boosters remain a work in progress as new information becomes available, but this does not detract from the overall message of the study.
COVID-19 booster shots have been controversial from the beginning of the current vaccination regime for the good and simple reason that a required series of boosters is not within the common experience of a society that by and large has come to appreciate the importance of vaccination to public health, notwithstanding yearly flu shots that are chosen ahead of time to work against the expected variants of influenza virus in the upcoming flu season.
Moreover, regarding COVID-19, as noted above the vaccines have not worked as we have come to expect of vaccines.  They prevent neither disease nor transmission, and while they are said to reduce severity of disease, it is not entirely clear that better patient outcomes are not due to improved clinical management as healthcare providers have learned how to better care for these patients.  The coming COVID wave, if it arrives as feared, may answer some of these questions.
According to this paper, COVID-19 booster mandates for young adults/university students have been controversial primarily because of a lack of clear evidence that:
(1) Boosters provide a meaningful reduction in risk of hospitalization in healthy adolescents and young adults, and

(2)Previous infection confers significant protection against hospitalization due to re-infection (up to 64% of young adults have circulating SARS-CoV-2 antibodies)
It is also true that young people in general are not as likely to experience severe outcomes upon infection with SARS-CoV-2.  This, however, does not rule out sequelae to infection such as systemic organ damage and what has become known as long COVID.  Perhaps the most important aspect of these mandates for a population in which the risk-benefit calculus is not well established is that the social consequences will be the further erosion of trust in governmental and scientific institutions?
According to the authors, four ethical considerations must be met for a mandatory vaccine:
The disease is a grave threat to public health
The vaccine is safe and effective
Mandatory vaccination has a superior risk-benefit profile compared to alternatives
The level of coercion required is proportionate
Taking these in order:
(1) COVID-19 is most definitely a grave threat to public health.  More than 1,000,000 people have died of COVID-19 in the United States, and as of 1 January 2023, according to the World Health Organizationthere have been 651,918,402 cases of COVID-19 and 6,656,601 people have died of COVID-19, with 778,879 new cases in the past 24 hours.  At this rate, there will be 284,290,835 cases in 2023.  At a death rate of ~1% worldwide, that means nearly 3,000,000 people will die in the coming year.  These numbers are ridiculously precise, but their import is obvious.

(2) Whether the COVID-19 vaccines are safe and effective is still a matter of debate.  As I wrote in an unpublished review of mRNA vaccines two years ago, these vaccines are an experiment, albeit a necessary experiment in the face of the pandemic.  The results are equivocal at best, and as will be seen below, even more equivocal for the adolescents and young adults.

(3) My answer to this is the same as for "safe and effective."  As outlined in the paper, the data are inconclusive for adolescents and young adults.

And (4), the level of coercion required is proportionate, which gets deeper into the ethics of COVID-19 booster mandates.
To quote directly from the paper:
Proportionality is a key principle in public health ethics (emphasis added).  To be proportionate, a policy must be expected to produce public health benefits that outweigh relevant harms, including harms related to coercion, undue pressure, loss of employment and education and other forms of liberty restriction… mandates may be justified for older but not younger people, among whom such policies are not proportionate given a lack of clarity that benefits outweigh harms.  Such ethical assessments should rely on empirical data: thorough risk-benefit assessment requires quantification (where possible) of relevant risks and benefits for the group affected by the policy. With respect to poor outcomes due to COVID-19, the most consistent predictors are age and comorbidities such as obesity.  Similarly, age and sex are prominent risk factors for vaccine-associated reactogenicity and serious adverse events (SAE) such as myocarditis, which is more common in young males.  Vaccine requirements should therefore be predicated on an age-stratified and sex-stratified risk-benefit analysis and consider the protective effects of prior infection.
Again, neglecting long-term consequences of COVID-19, a one-size-fits-all approach to COVID-19 vaccination may be problematic.  It is not clear that all of these factors have been considered, and to support this conclusion we can go to the data presented in Figure 1 (resized for readability in this format but unmodified).

Figure 1A shows that, according to the authors' analysis of the available data, for every 1,000,000 young adults receiving the third dose of the Pfizer/BioNTech mRNA vaccine (BNT162B2), 32 hospitalizations will be prevented and that 593.5 serious adverse events (SAE) will occur (1:18.5).  SAE is defined as any of the following: death, life threatening at the time event, inpatient hospitalization or prolongation of existing hospitalization, persistent or significant disability or incapacity, congenital anomaly/birth defect or a medically important event, based on medical judgment.  32 out of 1,000,000 hospitalizations prevented is very low on the risk-benefit scale, while 593.5 SAEs per million could/should be considered significant, depending on the nature of the common SAEs associated with the booster.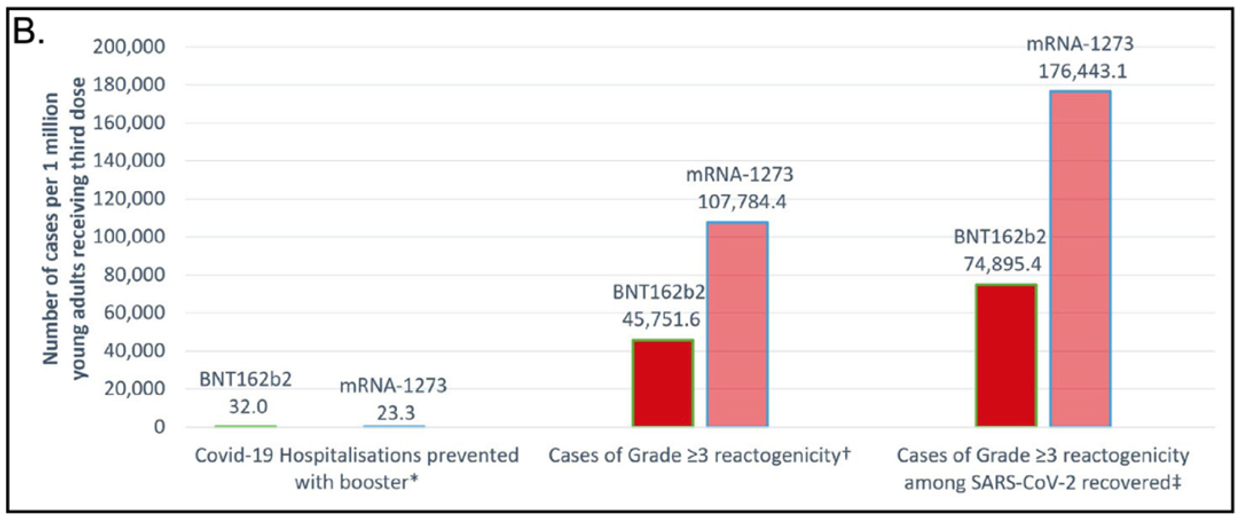 Figure 1B compares the Pfizer/BioNTech booster with the Moderna (mRNA-1273) booster.  The Moderna booster is shown to prevent fewer hospitalizations than the Pfizer booster: 23.3 versus 32.  This is a good example of the difference between relative risk/effectiveness and absolute risk/effectiveness.  One could say that the Pfizer vaccine is about 39% better than Moderna (9/23=0.39), but the absolute improvement is from 0.0023% to 0.0032%, or 0.0009%, which has no practical significance.  The numbers for Grade 3+ reactogenicity are more significant, and Moderna is "worse" than Pfizer: 11% versus 4.6%.  Grade 3+ reactogenicity is defined as local/systemic adverse events that prevent daily routine activity or require the use of a pain reliever or require an emergency room visit or hospitalization.  The values increase to 18% and 7.5% for those who have been previously infected with SARS-CoV-2 (based on reported seroprevalence in young adults).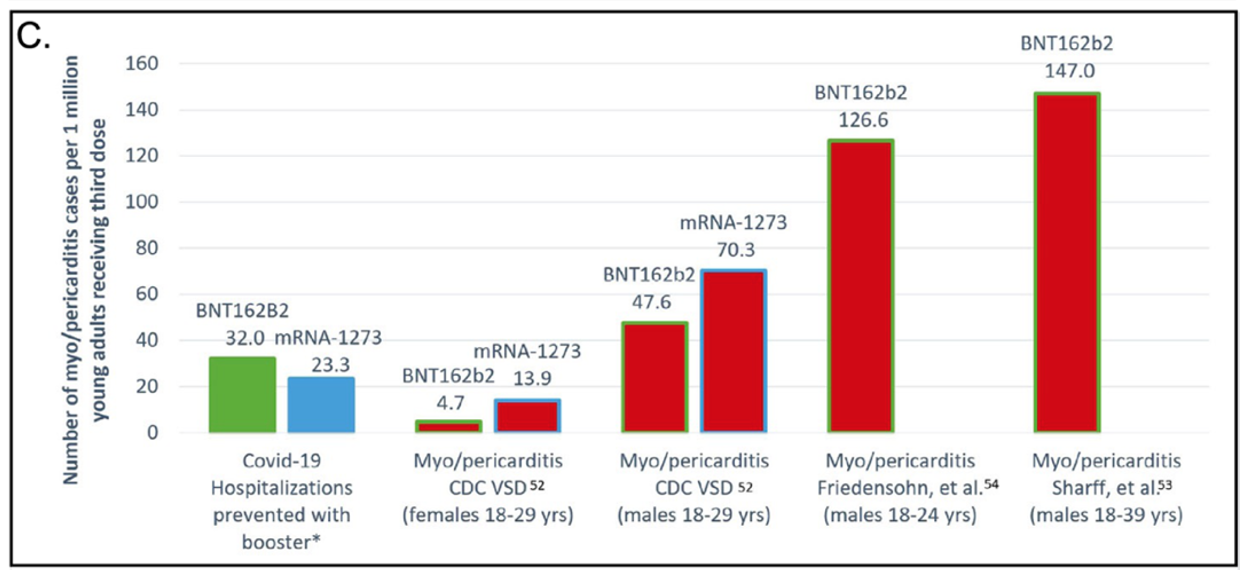 Figure 1C gets into the substance of the controversy surrounding mandates for young adults.  The red bars show that myo/pericarditis (serious inflammation of the heart or the membrane surrounding the heart) increases significantly with both boosters, especially in males compared to females.  From the paper:
For our estimates, and assuming a precautionary stance, we have used active surveillance rates or population-based rates.  For males aged 18-29 years we consider the rate 1 in 7000 to be the most reliable because the method relies on CDC definitions and databases.
Further along:
Per million third doses of mRNA vaccine administered, 23.3 – 32 hospitalizations may be averted while 47.6 – 147.0 cases of myo/pericarditis may be caused among young males aged 18 – 29 years…Thus, to prevent a single hospitalization among males aged 18 – 29 years, we estimate between 1.5 and 4.6 cases of myo/pericarditis…For adolescents aged 16 – 17 years…we expect 6.3 cases of myo/pericarditis among males and 1.4 among females.
And more from published studies:
(V)accine-associated myocarditis has been found to occur in as many as 1 in 2652 males aged 12 – 17 years and in 1 in 1862 males aged 18 – 24 years after the second dose (and as high as 1/1300 after the second dose in a BNT1626b2 – mRNA-1273 combination.  
The severity of these cases is often not trivial, and
69% – 80% of those diagnoses with vaccine-associated myo/pericarditis had findings consistent with cardiac inflammation on MRI testing 3 – 8 months after the second dose.  The potential long-term impact of scar tissue on heart conduction remains unknown.
A study of this kind has obvious limitations and the authors address these, which include reliance on sponsor-reported and CDC summaries of adverse events (AEs), for example. 
Nevertheless, their conclusion that "caution is warranted" seems very sound given the conflicting responses to and recommendations for the management of the pandemic from independent government and international agencies (e.g., CDC, NIH, FDA, WHO) during the past three years.  Thus, it is hard to argue with their conclusion of the likelihood that "real-world severe or serious AEs may be greater than those reported in the RCT data because standard trials are underpowered to detect rare AEs and there may be selection bias" among trial recipients who may have had a bad experience during the primary series of inoculations.  As pointed out in the paper, these data are usually collected after drug approval and use, which means that post-marketing data are critical for determination of the ultimate effectiveness of the vaccine, or any other intervention or drug.
The authors present five ethical arguments against universal booster mandates:
Transparency. Risk-benefit analysis should be stratified by demographic factors and updated in a timely manner.  According to this paper, no such assessment has been published to date:  "(T)here has not been any RCT specific to evaluating boosters in young adults (and) CDC relied on data from an older cohort with a median age of 42.0 – 51.7 and incorrectly assumed that the benefits would also outweigh risks for younger age groups."  This assumption is unlikely to be true.
Potential net expected harm. The reasonable likelihood of a net harm argues for the ethical case against booster mandates in the young.  Updated policies have been developed for other vaccines as post-marketing data has become available, including adult boosters for tetanus and diphtheria; influenza, dengue fever, rotavirus; plus adenovirus-vectored COVID-19 vaccines due to thrombosis, primarily in younger women.  And uncertainties remain for mRNA vaccines regarding menstruation and fertility and shingles.
Lack of proportionate public health benefit. Boosters provide "limited lasting reduction in probability of infection or transmission, hospitalization, and limited expected benefits to young healthy individuals, especially those who have already been infected…(thus the)…coercive mandates themselves are not counterbalanced by a large public health benefit."  The emphasis on vaccines as the primary tool in the anti-COVID-19 toolbox also probably vitiates efforts for alternative and complementary non-pharmaceutical interventions as well as the development of anti-viral medications.  But this is another issue altogether.  Anti-viral compounds in combination (HAART) have made AIDS a manageable chronic condition for most HIV-infected individuals in the absence of a vaccine 40 years after the beginning of the AIDS epidemic.  Yes, HIV is a much different virus causing a much different pathology, but the solution was not a vaccine.
Failure of reciprocity. Vaccines in the US are generally covered by an injury compensation program for those who are harmed by the vaccine.  This is not true of COVID-19 vaccines, which are still administered under an Emergency Use Authorization (EUA).  If the shots are mandatory strong protections are warranted.  So far, very few claims for injury compensation have been approved in the US, and there seems to be an undercurrent of outright denial that these vaccines may cause problems.
Wider social harms. Mandates must be supported by a "compelling" public health justification.  In the absence of such, coercion will lead to "long-term negative consequences on trust in society and institutions and vaccine confidence in general, including vaccine hesitancy for routine pediatric and adult vaccines, a problem which predated the pandemic and is considered one of WHO's top 10 threats to global health.
The conclusion to this analysis of the ethics of mandatory COVID-19 boosters is that:
(1) Mandates should be repealed

(2) Pathways to compensation for those injured should be provided, and

(3) Regulatory agencies should require independent scientific analysis, with open access, to clinical data that provides risk-benefit conclusions in an age- and risk-stratified manner, especially for any new vaccines prior to their approval and use. 
The authors stress:
This is needed to begin what will be a long process of rebuilding trust in public health. 
All research is provisional, and the responses to this article are likely to be interesting.  But I see little to add to their conclusions at this time, although they do diverge from the current institutional and governmental/political consensus.
Except one more thing in closing.  A recent paper in Science Immunology (22 December 2022) on the effects of repeated boosters using COVID-19 vaccines suggests a Class switch towards non-inflammatory, spike-specific IgG4 antibodies after repeated SARS-CoV-2 mRNA vaccination.  A complete description of the functions of antibody classes can be found here. 
Although it is a simplification to say these results indicate that repeated mRNA vaccine injections lead to the development of "immune tolerance" of the spike protein analogous to tolerance of allergens, this is an interesting result that may be relevant to the issue of COVID-19 boosters, scientific and otherwise.  As one might imagine, this paper has elicited responses in the 11 days since publication.  
Many of these, from several sides of the resulting argument, can be found on Twitter using "IgG4" as the search term.  Caveat emptor!  I am not nor have I ever claimed to be an immunologist, but this seems to be something to watch from the Slough of Despond that is the COVID scientific literature, which now includes 321,974 references in PubMed using "COVID" as the query on 2 January 2023.
_____
[1] Confirmed after the death of my mother when I found my first-grade report card in a box of photographs.  Three things in that document stood out: 12 consecutive absences due to the measles, the calligraphic handwriting in blue fountain pen ink of my first -grade teacher, and the year-end comment in which she diagnosed me at age 5-6 as someone who "could use his time more wisely."  Teachers, they are indeed wise and exceptional people!