I managed to open a post by the Substacker Big Serge from last August. I mistakenly assumed it was more recent because the high level take seemed current. I therefore read his comment that "I believe Russia has absolutely no interest in ending the war this year" as applying to 2023, not 2022 as written. I thought it was a bold and interesting call.
But even though Big Serge actually made no such forecast, upon reflection, this scenario is worth considering.
Mind you, this post is not intended to be a prediction but what consultants call a forcing device.
From the outset, your humble blogger maintained that Russia could win the war but lose the peace. That problem has become even more apparent as the war has progressed and more facts have come forward, such as:
The animosity of the West toward Russians

The bad faith dealing of Western leaders, as confirmed by their duplicity in using the Minsk accords as a vehicle to better prepare for war with Russia. There's an old saying among commercial lawyers that a contract is only as good as the parties that sign it. US and European officials have made clear they see no obligation to honor agreements with Russia.

The use of Ukraine as a US/NATO proxy. Suspecting that is one thing, having it confirmed is another.

The prevalence of magical thinking among Western elites. For instance, the EU plans a tenth round of sanctions. Giving Ukraine longer-range missiles to shoot at Crimea will cause so much foment in Russia that Putin will have to sue for peace to prevent his ouster. And the never-ending projection, like the Russians suffering horrific casualties.
One concern that many Russia experts say influences its strategy is avoiding NATO escalation. Even though the alliance is revealing itself to be more resource constrained and on top of that, not well equipped for this war, that does not mean it could not work itself up to a much higher level of operation in say 24 months if it felt threatened. And the Balts and Poles keep the dial at 11, so there's a lot of crazy angry background messaging.
And we have this overarching problem, the map that Big Serge presented: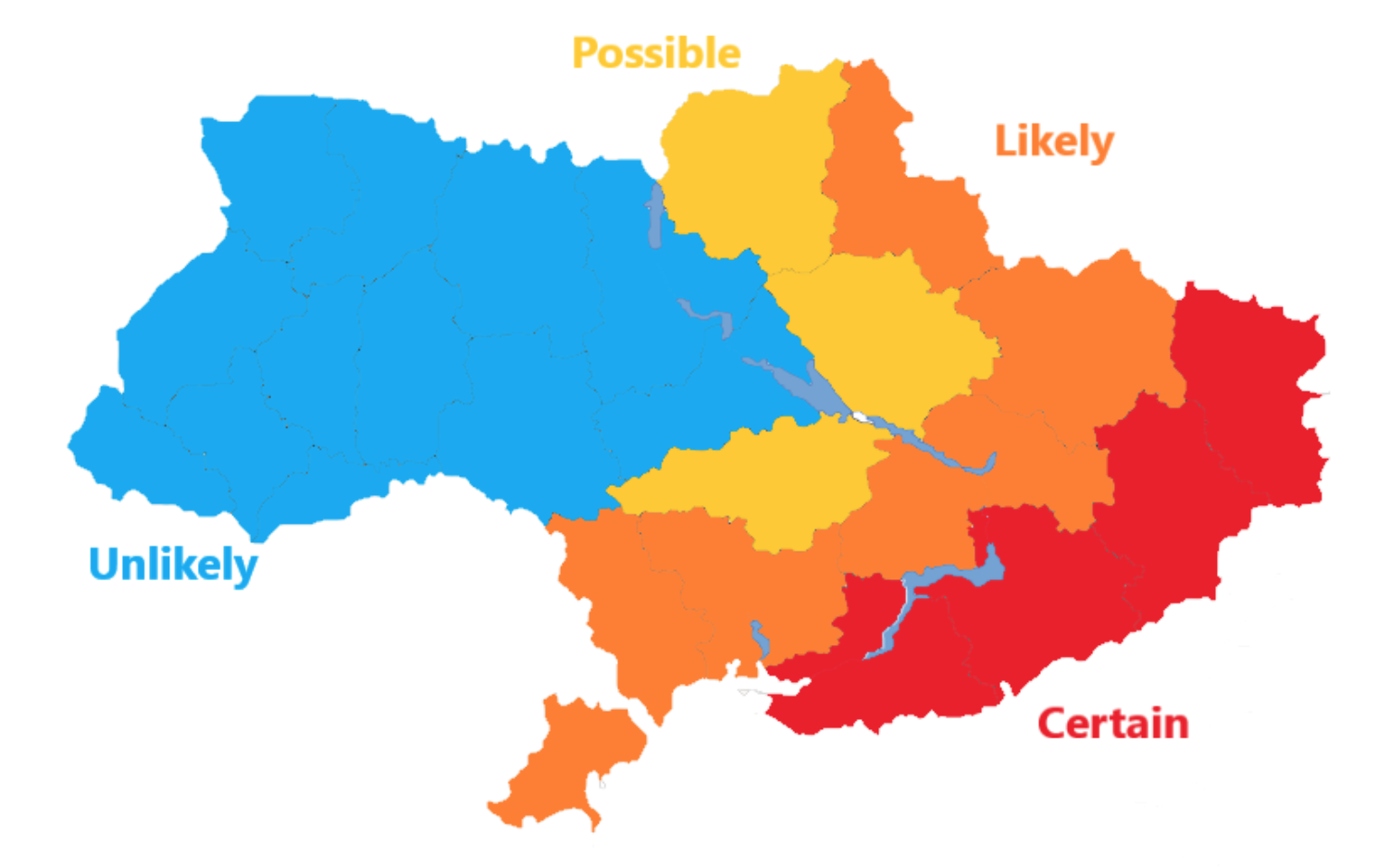 I haven't seen anyone come up with a viable plan for what to do about that big blue area of Western Ukraine.1 Medvedev's map (which shows a rump Ukraine that amounts to Greater Kiev, with Poland, Romania, and Hungary gobbling up other bits) would be a great outcome for Russia. But I don't see how that comes about, and Russia being seen as trying to engineer that would make that outcome even less likely.
In the meantime, as Alex Christaforu pointed out yesterday, just like the father figure in My Big Fat Greek Wedding, who used Windex as a remedy for all ills, so to is the Collective West's answer to every Ukraine problem more weapons. But as the press is reporting today, in the runup to a monthly NATO "what do we do now" session today, the US and Germany are having a spat over tanks. Ukraine is begging for more and recent Russia MoD "clobber lists" confirm why. Russia is reporting very few tank kills, and those are considerably outnumbered by pickup trucks and passenger cars, the sort of thing you should not see used on a battlefield.
As Brian Berletic has explained long form over many videos, the armored vehicles that the US and France have offered to send are part of a tank entourage and not a substitute for a tank. The US Abrams is too heavy, too much of a fuel hog, requires way way too much maintenance and a ton of training. The Germany Leopard 2 can only be called less unsuitable. It's too heavy, presupposed maintenance facilities nearby, and did not perform well in Syria against mere insurgents.
The Germans are sensibly resisting giving up a tank devised for national defense to be thrown away in Ukraine. Expect them to relent and send a token number. Which leads to another favorite issue of Berletic's: the West sending a hodge podge of equipment will create a logistical, training and staffing nightmare for Ukraine and could even make matters worse.
By contrast, a fresh and long news conference by Foreign Minister Sergei Lavrov gives an inkling of current official Russian thinking. Virtually at the start, Lavrov called out the conflict as a NATO war:
What is happening now in Ukraine is the result of many years of preparation by the United States and its satellites for the start of a global hybrid war against the Russian Federation. No one hides it. If you read unbiased Western figures, including political scientists, scientists, and politicians, you can see this for yourself. Just the other day there was an article by Professor of Columbia University J. Bremmer. He texted: "We are not in a state of cold war with Russia. We are in a "hot war" with Russia. NATO is not fighting it directly. We are fighting through Ukraine." Quite a frank confession. This conclusion lies on the surface. It is strange that they are trying to refute it in some way. Recently, the President of Croatia Z.Milanovic said that this is a NATO war. Frankly, honestly. A few weeks ago, H. Kissinger (before his last article called for Ukraine's admission to NATO) clearly wrote that what is happening in Ukraine is a clash, a competition between two nuclear powers for control over this territory. It's pretty clear what we're talking about.

Our Western partners are deceitful when they deny it and " foam at the mouth "prove that they are not at war with Russia, but only help Ukraine cope with" aggression " and restore its territorial integrity. The volume of support clearly indicates that the West has put a lot of money on its war against Russia. This is understandable..

Returning to the declaration of NATO and the European Union. Interesting document. The two structures have been declared the " union of democracies against autocracies in the context of global competition." A deliberately confrontational agenda has been proclaimed to the whole world. At the same time, Europe lost its independence. The Joint Declaration explicitly puts the Europeans in a subordinate position in relation to the North Atlantic Alliance. Contains their commitment to serve American interests in the geopolitical deterrence of Russia and China. The goal was announced (it was known to everyone, but now it is once again documented) – to achieve the global superiority of the alliance led by the Americans.

NATO is not limited to organizing the life of the European continent. Since the Madrid summit in June 2022, the global responsibility of the military bloc has been proclaimed, especially in relation to the Asia-Pacific region, which NATO calls the Indo-Pacific.
In response to the first question, which was about negotiations, security arrangements, and if the "power phase," which I take to mean kinetic war, would end this year, Lavrov stayed close to the formula that the SMO goals would need to be achieved, and added:
In Ukraine, as in any other territory bordering the territory of the Russian Federation, there should be no military infrastructure that poses a direct threat to our country, discrimination, or persecution against our compatriots. They are citizens of the Ukrainian state by the will of fate, but they want to preserve their language, culture and traditions, and bring up their children in these traditions in full compliance with the Constitution of Ukraine, which guarantees the free use and protection of Russian and other languages of national minorities. The Russian language is specifically highlighted there. This Constitution remains in force.
That implies a big blue rump Ukraine would need to be a radically different beast, and that charitably assumes citizens will prefer to get back to a semblance of their old lives rather than invest in vendettas.2
Big Serge's latest observations on Twitter:
The west sending armored vehicles and more standoff weapons to Ukraine is not a "game changer" in the sense that it means Ukrainian victory is likely, but it does prolong the war by sustaining Ukrainian fighting power and in that sense it shouldn't be dismissed.

— Big Serge ☦️🇺🇸🇷🇺 (@witte_sergei) January 19, 2023
NATO is going all in. These counties are draining their stocks. https://t.co/Sua3sJi6VK

— Big Serge ☦️🇺🇸🇷🇺 (@witte_sergei) January 19, 2023
Big Serge did point out that the NATO members with the biggest forces ex the US, and hence the most independence, Turkey and France, were holding back.
So where does this high-level ramble leave us? As Douglas Macgregor said, Russia had already burned through two Ukraine armed forces, the one it started out with and then the one NATO reconstituted. The West is putting together a third force, which Macgregor notes will be smaller, and he anticipates Russia will dispatch that one too.
If the West tries more stunts, as in non-strategic destruction, like shelling Crimea, expect an acceleration of Russian strategic responses, like taking out the electrical grid faster.
But how does Russia get a measure of security? Even attriting NATO militarily won't achieve that, unless NATO does the most epically stupid thing it could, which is oust Turkey.
Here I think Big Serge was on to the end game, but it is not coming as fast as he anticipated:
Russia's energy weapon remains the bomb in the heart of the EU. With all the "winter is coming" memes floating around, it can be easy to write this off as simply a figment of the internet. Far from it – small businesses around the EU are already closing in the face of crushing energy bills, energy intensive industrial sectors like smelting are shutting plants entirely. Europe is facing a perfect economic storm, as the Federal Reserve hikes rates, leading to a general tightening of financial conditions, energy prices explode into the stratosphere, and export markets dry up amid a global economic slowdown.

All of this is likely to tip over into a cataclysm over the winter. I would not be surprised to see a financial collapse and unemployment in the EU in excess of 30%. Given the fact that the EU is notoriously bad at solving problems of any kind, there's a non-negligible chance more countries try to leave the EU.
The EU is getting through this winter due to luck in the form of warm weather, weak demand out of China, aggressive stockpiling of Russian gas, and cutting into muscle, in the form of capacity reductions at energy intensive European, particularly German, companies. And EU leader, largely correctly, think the green energy subsidies in the Inflation Reduction Act are predatory as far as European businesses are concerned. EU leaders at Davos discussed an US-European trade war as a real risk.
The EU is reported to be considering sanctioning Russian nuclear fuel, which would result in yet more blowback since there's no ready replacement.
Note that Lavrov refused to address the question of whether the fighting might end this year. The big reason is no one knows and Russia seems to be revising its plans in light of events. But the difficulty of ending a conflict with a completely feckless opponent, one that can't be trusted to respect any treaty, suggests that Russia needs to attrit the West top to bottom, economically as well as militarily. A continued grind would be a way to get there.
______
1 Your truly has suggested fully de-electrifying it, since Russia is the only place that can provide the needed parts (putting in a new Western-standards systems is an impossible task). John Helmer has pumped for a massive DMZ, but that would require agreement from an agreement-incapable counterparty.
2 Colonel Macgregor has argued that Ukraine is not geographically suited to an insurgent war, but you could see IRA-type campaigns in cities in the newly "liberated "oblasts.