By Lambert Strether of Corrente.
Patient readers, this Water Cooler is a bit light. I actually was able to go to a doctor today and get a physical. Everything is A-OK, and in fact I've lost weight, good for the heart, the blood, everything. Tomorrow I will be back on form. –lambert
Bird Song of the Day
I thought of jackdaws because of Konrad Lorenz's wonderful King Solomon's Ring, which I read when I was quite young (and unaware of Lorenz's views on "social decline").
Eurasian Jackdaw, Eindhoven–Brederolaan, Noord-Brabant, Netherlands. "Flock." Indeed, with many other birds, including, I think, an owl.
* * *
Politics
"But what is government itself, but the greatest of all reflections on human nature?" –James Madison, Federalist 51
"Here's food for thought, had Ahab time to think; but Ahab never thinks; he only feels, feels, feels." –Herman Melville, Moby Dick
"So many of the social reactions that strike us as psychological are in fact a rational management of symbolic capital." –Pierre Bourdieu, Classification Struggles
Biden Administration
What does "you will not outlast us" even mean:

As Ukraine continues to defend itself against Russia's onslaught, there will be hard, bitter days. The defense of freedom isn't the work of a day – or a year.

But Ukraine is steeled for the fight ahead – and America and our Allies have its back. pic.twitter.com/FIqfOyinhc

— President Biden (@POTUS) February 21, 2023

Biden's getting into a war of attrition with Russia? With what manufacturing base? With what troops?

* * *

"FTC won't challenge Amazon's One Medical deal" [Politico]. "The Federal Trade Commission has decided it won't challenge Amazon's $3.9 billion deal for primary care provider One Medical, according to a person with direct knowledge of the matter…. One Medical is the second Amazon acquisition to go unchallenged at the FTC since Lina Khan, a fierce critic of the company, took over the agency in 2021. Amazon's purchase of MGM Studios also closed without opposition, though the commission at the time was deadlocked 2-2 along partisan lines, preventing a lawsuit." • Sounds like Amazon is turning into a conglomerate. Time for some shareholder activism, if Lina Khan isn't all that "fierce"?

Biden's Surgeon General shills for a private company, and that's OK with liberals. But:

IDk who needs to hear this, but replying to me with some version of, "you're right, but you worked for Trump so I refuse to acknowledge anything you say as valid," says more about you- and what's wrong with our society, than it does about me…

— Jerome Adams (@JeromeAdamsMD) February 22, 2023

So who's on the side of the angels, here?

So you are 96% likely to walk/sit by/ breathe the air of someone infected while flying. You can choose to rely only on air filtration (which helps on a running plane- NOT in TSA, boarding, etc), but this ends debate on utility of N95 use during air travel. https://t.co/lQZef2RQJf

— Jerome Adams (@JeromeAdamsMD) January 7, 2023
The Supremes
"Partisan priorities and institutional legitimacy in the flawed challenges to student-debt relief" [SCOTUSblog]. "A brief submitted on behalf of legal scholars, including me, focused on whether the secretary of education had authority to embark on debt cancellation. This is a matter of statutory interpretation. The HEROES Act of 2003 grants the secretary the authority to 'waive or modify any statutory or regulatory provision applicable to the student financial assistance programs under' Title IV of the Higher Education Act of 1965, which created the framework for federal student aid. The idea is, the secretary should act to ensure that borrowers are not in a worse situation because of the emergency. We argue that this language unequivocally permits the cancellation contemplated by the Biden administration's plan. And Congress specifically foresaw that this language contemplating waiving and modifying could encompass changes to loan programs en masse rather than on an individual borrower basis. In their attack on the statutory text, the plaintiffs argue that cancellation constitutes a 'breathtaking assertion of power and a matter of great economic and political significance' sufficient to demand a clearer expression of congressional intent than that in the statute. The brief calls on the court to invoke the 'major questions doctrine' to conclude that Congress did not speak clearly enough." • The Congressional Research Service in 2022: "Congress frequently delegates authority to agencies in general or broad terms to promulgate regulations that advance the goals Congress has identified. In a number of decisions, however, the Supreme Court has declared that if an agency seeks to decide an issue of major national significance, a general delegation of authority may not be enough; instead, the agency's action must be supported by clear statutory authorization. Courts, commentators, and individual Supreme Court Justices have referred to this doctrine as the major questions doctrine (or major rules doctrine), although the Supreme Court has never used that term in a majority opinion. The Supreme Court has recently signaled an increased interest in applying the major questions doctrine as a principle of statutory interpretation in challenges to significant agency actions." And in 2023: "On June 30, the Supreme Court issued a consequential decision in West Virginia v. Environmental Protection Agency, 2022 WL 2347278 (U.S. June 30, 2022) (W. Va. v. EPA). The decision, based on the 'major question doctrine,' struck down the EPA's authority to require power plants to move away from the use of coal. The major question doctrine applies where a novel federal agency rule will have an expansive effect and significantly impact the nation's economy. In such a case, the Court goes beyond statutory language authorizing such agency rulemaking and looks at other factors to determine whether Congress intended to delegate such authority to the agency."

"Supreme Court rejects Ohio man's bid to sue police over arrest for Facebook parody" [NBC]. " The Supreme Court on Tuesday turned away an Ohio man's claim that his constitutional rights were violated when he was arrested and prosecuted for making satirical posts about his local police department on Facebook….. In March 2016, Novak set up a Facebook page that purported to be that of the Parma Police Department. He published six satirical posts in 12 hours, one of which claimed there was a job opening to which minorities were encouraged not to apply and another that warned people not to give food, money or shelter to homeless people. The police department, claiming the posts had disrupted its operations, launched an investigation and ultimately searched Novak's apartment, arrested him and jailed him for four days. Novak was charged under a state law that criminalizes disruption of police operations but acquitted at trial…. The police officers, Kevin Riley and Thomas Connor, say they had probable cause to arrest Novak because they genuinely believed his conduct was disrupting their operations." Oh. More: "After lengthy litigation, a federal judge dismissed Novak's claims. The Cincinnati-based 6th U.S. Circuit Court of Appeals agreed in a ruling in April that 'the officers reasonably believed they were acting within the law' even if his Facebook page was obviously a parody. That's because , the court said." There's no precedent because nothing so grotesquely absurd had ever been done! More: "Among those backing Novak's appeal was the satirical news site The Onion, which filed a lighthearted brief saying its writers 'have a self-serving interest in preventing political authorities from imprisoning humorists.'" • Light-hearted? Dead serious! So now any thin-skinned cop can arrest you and you in jail out of "reasonable belief." That's "our democracy"!
2024
"Inside the Trump grand jury that probed election meddling" [Associated Press]. "The case has emerged as one of Trump's most glaring legal vulnerabilities as he mounts a third presidential campaign, in part because he was recorded asking state election officials to 'find 11,780 votes' for him. For the next eight months, [grand juror Emily] Kohrs and her fellow jurors would hear testimony from 75 witnesses, ranging from some of Trump's most prominent allies to local election workers. Portions of the panel's final report released last Thursday said jurors believed that 'one or more witnesses' committed perjury and urged local prosecutors to bring charges. The report's recommendations for charges on other issues, including potential attempts to influence the election, remain secret for now." More: "Kohrs was fascinated by an explainer on Georgia's voting machines offered by a former Dominion Voting Systems executive." Oh. And: "Trump's attorneys have said he was never asked to testify. Kohrs said the grand jury wanted to hear from the former president but didn't have any real expectation that he would offer meaningful testimony. 'Trump was not a battle we picked to fight,' she said." • And… Oh.
2023
"Data center opponent Weir projected to win seat on Prince William Co. Board of Supervisors" [WJLA]. "Bob Weir is projected to defeat Kerensa Sumers for the Gainesville supervisor position. As of 11 p.m., Weir had received 4,195 votes to Sumers' 2,735 with 16 of 17 precincts reporting. Weir is a noted opponent of the development of data centers in the county." • Data centers are as noxious as pipelines, I would say. It's right to oppose them where found.
Democrats en Déshabillé
Patient readers, it seems that people are actually reading the back-dated post! But I have not updated it, and there are many updates. So I will have to do that. –lambert

I have moved my standing remarks on the Democrat Party ("the Democrat Party is a rotting corpse that can't bury itself") to a separate, back-dated post, to which I will periodically add material, summarizing the addition here in a "live" Water Cooler. (Hopefully, some Bourdieu.) It turns out that defining the Democrat Party is, in fact, a hard problem. I do think the paragraph that follows is on point all the way back to 2016, if not before:

The Democrat Party is the political expression of the class power of PMC, their base (lucidly explained by Thomas Frank in Listen, Liberal!). ; if the Democrat Party did not exist, the PMC would have to invent it. . ("PMC" modulo "class expatriates," of course.) Second, all the working parts of the Party reinforce each other. Leave aside characterizing the relationships between elements of the Party (ka-ching, but not entirely) those elements comprise a network — a Flex Net? An iron octagon? — of funders, vendors, apparatchiks, electeds, NGOs, and miscellaneous mercenaries, with assets in the press and the intelligence community.

Note, of course, that the class power of the PMC both expresses and is limited by other classes; oligarchs and American gentry (see 'industrial model' of Ferguson, Jorgensen, and Jie) and the working class spring to mind. Suck up, kick down.

* * *
Realignment and Legitimacy
"How Georgia Became Democrats' Test Site For Their 2024 Private Takeover Of Election Offices" [The Federalist]. "Earlier this month, DeKalb County, one of the state's most populous localities and a Democrat stronghold, announced it had been selected to join the U.S. Alliance for Election Excellence and that the county's commissioners had accepted a $2 million grant from the Center for Tech and Civic Life (CTCL). Launched last year, the Alliance is an $80 million venture by left-wing nonprofits to 'systematically influence every aspect of election administration' and advance Democrat-backed voting policies in local election offices. Despite Georgia law (SB 202) prohibiting election superintendents or boards of registrars from directly accepting 'funding, grants, or gifts' from private entities, DeKalb County election officials have found a way to skirt such provisions to acquire the Alliance's funding. In her remarks to Decaturish.com, a local Georgia news outlet, DeKalb Board of Registration and Elections Chair Dele Lowman Smith, a Democrat, admitted the application process for the Alliance grant was spearheaded by DeKalb's finance department instead of the board of elections. According to Lowman Smith, this was done 'since election offices are not allowed to receive grants directly.'" • I don't normally link to the Federalist, but this looks well-sourced. Do any Georgia readers have thoughts?

"'I Was So F*cking Freaked Out': Ex-NYT Staffer Describes 'Crying' and 'Bloodthirsty' Colleagues Seeking Vengeance for Cotton Op-Ed" [Mediaite]. "Mediaite obtained excerpts of Steve Krakauer's new book, Uncovered: How the Media Got Cozy with Power, Abandoned Its Principles, and Lost the People…. The internal clash at the Times was no secret. The publication of an op-ed by Senator Tom Cotton (R-AR), headlined "Send in the Troops" and arguing for the National Guard to respond to the 2020 riots, sparked outrage at the paper…. At the latter, McCreesh said that Charlie Warzel, a White tech writer, started to cry because 'none of his friends wanted to talk to him anymore because he worked for this horrible evil newspaper that would print this op-ed.' 'It was just so bizarre what was happening,' said McCreesh. 'It was like a Maoist struggle session.'"
#COVID19
Looks like "leveling off to a high plateau" across the board. (I still think "Something Awful" is coming, however. I mean, besides what we already know about.) Stay safe out there!
• Readers, since the national data systems in the United States are being vandalized, let's start collecting links to state data, too. If readers would send me links (see Plant below) to their favorite State and local dashboards/wastewater sites, that would be great. Canadians, too! Or leave a link in Comments.
Resources, United States (National): Transmission (CDC); Wastewater (CDC, Biobot); Variants (CDC; Walgreens); "Iowa COVID-19 Tracker" (in IA, but national data).
Resources, United States (Local): CA (dashboard); CO (wastewater); CT (dashboard); DE (dashboard); IL (wastewater); IN (dashboard); MA (wastewater); MD (dashboard); ME (dashboard); MI (wastewater; wastewater); MT (dashboard); NC (dashboard); NH (wastewater); NY (dashboard); OH (dashboard); SC (dashboard); TX (dashboard); VA (dashboard); VT (dashboard); WA (dashboard; dashboard); WI (wastewater). No longer functional: Utah (dashboard).
Resources, Canada (Provincial): ON (wastewater); QC (les eaux usées); BC, Vancouver (wastewater).
Hat tips to helpful readers: Art_DogCT, CanCyn, ChiGal, Gumbo, hop2it, JB, Joe, John, JM (2), JW, Michael King, LaRuse, mrsyk, otisyves, Petal (5), RK, nRL, RM, Rod, Utah, Bob White. (Readers, I am not putting your handle next to your contribution because I hope and expect the list will be long, and I want it to be easy to scan. (If you leave your link in comments, I use your handle. If you send it to me via email, I use your initials (in the absence of a handle.)
• More like this, please! Total: 1 6 11 18 20 22/50 (44% of US states). Can anyone find RI? Also, we should list states that do not have Covid resources, or have stopped updating their sites, so others do not look fruitlessly. Thank you!
* * *
Look for the Helpers
"Covid Meetups" [COVID MEETUPS (JM)]. "A free service to find individuals, families and local businesses/services who take COVID precautions in your area." • I played around with it some. It seems to be Facebook-driven, sadly, but you can use the Directory without logging in. I get rational hits from the U.S., but not from London, UK, FWIW.
Covid Is Airborne
Yesterday, I presented a tweet from a dull normal who actually bought some UVC technology (expensive, but no doubt it will come down). So more on that technology:

"Evaluation of UVC Excimer Lamp (222 nm) Efficacy for Coronavirus Inactivation in an Animal Model" [Viruses]. Animal model. From the Abstract: "Ultraviolet subtype C (UVC) excimer lamps with 222 nm wavelength have been tested on airborne pathogens on surfaces and the exposure to this wavelength has been considered safer than conventional UVC. To test the efficacy of UVC excimer lamps on coronaviruses, an animal model mimicking the infection dynamics was implemented. An attenuated vaccine based on infectious bronchitis virus (IBV) was nebulized and irradiated by 222 nm UVC rays before the exposure of a group of day-old chicks to evaluate the virus inactivation. A control group of chicks was exposed to the nebulized vaccine produced in the same conditions but not irradiated by the lamps. The animals of both groups were sampled daily and individually by choanal cleft swabs and tested usign [sic] a strain specific real time RT-PCR to evaluate the vaccine replication. Only the birds in the control group were positive, showing an active replication of the vaccine, revealing the efficacy of the lamps in inactivating the vaccine below the infectious dose in the other group." • Hmm. As a UVC noob, it's nice to have a wavelength to look for.

"Far UVC 222nm Light Excimer Lamp" [CureUV.com]. "The 222 nm Far UVC Light Excimer Lamp is a UVC Lamp designed specifically to attack harmful pathogens while being completely safe for the skin. This innovative lamp uses quartz tubes to emit 222nm UVC light that is used in public disinfection programs because of its high effectiveness and safety for humans." • Innovative, then. But then there's this:

In some ways, posting a secondary product that undermines the safety claims of your main product — on the same page! — is charmingly naive. And it could be that consumers buy the glasses out of "an abundance of caution" (vile phrase). On the other hand, filtration technology doesn't require any caution at all. A study on this topic–

"222 nm Far-UVC from filtered Krypton-Chloride excimer lamps does not cause eye irritation when deployed in a simulated office environment" (preprint) [medRxiv]. "Whilst significant research has been undertaken to investigate skin safety of these lamps, less work has been undertaken on eye safety. In particular, there is very limited data on human eye safety or discomfort from the deployment of this germicidal technology. In this pilot study, immediate and delayed eye discomfort were assessed in a simulated office environment with deployment of Krypton-Chloride lamps. The discomfort was assessed immediately post-exposure to the Far-UVC and several days after exposure using the validated, standardized Standard Patient Evaluation Eye Dryness (SPEED) and Ocular Surface Disease Index (OSDI) questionnaires. Our results show that there was no significant eye discomfort or adverse effects from the deployment of Far-UVC in this simulated office environment, even when the lamps were operated continuously. In addition, through collection of bacteria and fungi on agar plates, with this non-optimised lamp arrangement a statistically significant reduction in pathogens of 52% was observed. Far-UVC in this simulated office environment did not cause any clinically significant eye discomfort and was effective at reducing pathogens in the room." • 52% argues for a layered strategy. But you can bet — and this is my greatest fear, or bugaboo, if you will — that people, especially business owners — will screw UV-looking lightbulbs into random sockets and call it good.

* * *

A good thread on how to think about airborne:

"We'd die in 3 mins w/o air- in contrast water is 3 days & food 3 weeks

We breathe ≈ 8 litres/min (about a bucket) so we consume 14kgs of air a day- in contrast, 1.2kgs of food & 2kgs of water

Our lungs have surface area of ½ a tennis court so a lot of exposure, all the time"

— Sue J (@SMpwrgr) February 21, 2023

This is the only other tweet I've seen that makes an analogy between sharing air and sharing water in a public pool. In my experience, the analogy doens't "take." I'm not sure why.

"How scientists are protecting themselves from COVID-19" [The Age]. "[Burnet Institute director Professor Brendan ] Crabb runs a mental 'airborne audit' for most spaces he enters: how many people are here? What's the ventilation like? Are we in a time of high transmission? Some spaces he avoids or wears an N95 mask. Those he judges safer, he attends with his personal air purifier. 'They are the bottom of the chain of controls – we don't even know how effective they are, frankly.' Crabb's workplace has developed its own clean air strategy to monitor and filter office air (it helps to be the boss). At home, he has deployed three or four air purifiers. With the help of open windows, his goal is to completely turn over the air in his house at least six times an hour.' 'I don't want to get COVID. I certainly don't want my family to get it,' he says. 'Even though I almost certainly will, I want to get it as few times as possible. Clean air is at the heart of my own personal strategy.'" • Some totally organic and spontaneous reactions:

These synchronised "anti-clean-air" tweets have to be among the most ludicrous of the entire pandemic. . . and there has been some stiff competition 🤡🤡 pic.twitter.com/gYKtmoi3cu

— Colin Kinner (@ColinKinner) February 22, 2023
Maskstravaganza
"The Mask Mandates Did Nothing. Will Any Lessons Be Learned?" [Bret Stephens, New York Times]. "The most rigorous and comprehensive analysis of scientific studies conducted on the efficacy of masks for reducing the spread of respiratory illnesses — including Covid-19 — was published late last month. Its conclusions, said Tom Jefferson, the Oxford epidemiologist who is its lead author, were unambiguous." • This is the so-called Cochrane study, which has finally slithered out of the muck into the mainstream (and it took long enough, from which I infer that there are real problems with it). I will be dealing with this truly unfortunate excresence over the weekend. In the meantime, comments are welcome on Cochrane studies, RCT fetishism (when you've got a hammer, nothing looks like a bolt), and mask studies generally. Note that masks are apparently fine in industrial settings. I suppose it's only a matter of time before Stephens and allied knuckle-dragging eugenicsts call for abolition in all settings, for any purpose, because Freedom*. Note also that Stephens is confusing mask efficacy with mask mandates, a possibly just-clever-enough rhetorical move. NOTE * "Freedom" is how a libertarian says "F*ck you."

"Strapless N95 (ReadiMask) Review – The Most Innovative N95 Respirator?" (review) [Breathe Safe Air]. "ReadiMask (licensed to Alliant Biotech) has created one of the few truly innovative masks on the market. The mask, a strapless N95 which seals with a skin-friendly adhesive, has made me rethink what masks are. I'm not the only one who thinks this, as, alongside Airgami, ReadiMask recently won BARDA's DRIVe Mask Innovation Challenge…. Overall, I found the respirator fit me well, and I had great success with the seal. This is the best fit I've experienced from the N95 filtering facepiece respirators I've tried. It fits better than my go-to respirators – the 3M Aura and the Honeywell DC365N95. Compared to these two respirators, it's also far more comfortable, and I much prefer to wear it when I know I need to be masked for a long period. That said, it's also relatively pricey, especially when considering how little it can be reused. For this reason, I don't recommend it for everyday wear but rather for high-risk situations where donning it for a long time is essential. If you don't mind the extra price or normally only wear your masks or respirators a couple of times, there's no reason you can't use the Strapless N95 as your everyday mask. However, I believe this isn't a viable approach for most people, so I recommend not relying on these masks daily but rather having them on hand when needed. Other than the reusability, there were a few downsides to the Strapless N95 from ReadiMask and Alliant Biotech. Filter collapse means the respirator isn't great for exercise, but it also isn't designed to be. I also found the adhesive to pull on my skin when I needed to yawn or cough, but this felt like a reasonable price for the great seal. One point of note is to be careful of the bottom of the respirator. It's easy to wear the product so that it feels sealed, but there is a slight leak near the bottom seam. I recommend double-checking this leak-prone area and performing a self-fit check to ensure it isn't leaking." • So, wait for version 2.0, except in the use cases indicated?
Treatment
"Effect of Higher-Dose Ivermectin for 6 Days vs Placebo on Time to Sustained Recovery in Outpatients With COVID-19" [JAMA]. Yes, it's an RCT. I'm not even going to quote the Abstract. It's been a long time since I've tracked Ivermectin studies, but IIRC, the use case that NC readers, at least, settled on was prevention, where the-drug-that-shall-not-be-named was an absolute no-brainer: No risk, low cost, ginormouso upside. This study, as well as — I can't say all, but certainly most — of the other studies were hospital-centric, and focused on treatment, not the prevention use case; to have more fun with dead metaphors, JAMA is not only flogging a dead horse, it's the wrong horse.
Elite Malfeasance
"Synchronization in epidemic growth and the impossibility of selective containment" [Mathematical Medicine and Biology]. From 2021, still germane. From the Abstract: "Containment, aiming to prevent the epidemic stage of community-spreading altogether, and mitigation, aiming to merely 'flatten the curve' of a wide-ranged outbreak, constitute two qualitatively different approaches to combating an epidemic through non-pharmaceutical interventions. Here, we study a simple model of epidemic dynamics separating the population into two groups, namely a low-risk group and a high-risk group, for which different strategies are pursued. Due to synchronization effects, we find that maintaining a slower epidemic growth behaviour for the high-risk group is unstable against any finite coupling between the two groups. More precisely, the density of infected individuals in the two groups qualitatively evolves very similarly, apart from a small time delay and an overall scaling factor quantifying the coupling between the groups. Hence, selective containment of the epidemic in a targeted (high-risk) group is practically impossible whenever the surrounding society implements a mitigated community-spreading. We relate our general findings to the ongoing COVID-19 pandemic." • A model, I grant. But if true, the GBD crowd is full of it, unsurprisingly.

"Want to Fix Public Health? Stop Thinking Like a Doctor" [Eric Reinhart, The Nation]. "Since 1953, every director of the Centers for Disease Control and Prevention (CDC) has had a doctor of medicine, or MD, degree as their primary credential, with secondary degrees serving mostly as résumé decor. Given that medical interventions constitute only 10–20 percent of modifiable factors affecting health, the backgrounds reflected in CDC leadership—and, likewise, at most state and local public health agencies—are notable for their consistent prioritization of narrow biomedical expertise at the expense of other fields that represent the remaining 80–90 percent of pertinent knowledge for making public health policy. Physician and public health scholar Milton Roemer once observed that for the work of public health, "most of medical education is irrelevant." But neither doctors' irrelevant medical knowledge nor relative ignorance of essential fields—labor history, social anthropology, political economy, epidemiology, environmental sciences—is the most troubling aspect of physician control of public health. Rather, it's the lack of epistemic humility, conferring an inability to recognize the limits and hazards of clinical reasoning, with which medical training often imbues them. Clinical reasoning is not only not the population-level logic of public health; it is frequently antithetical to it."
The Jackpot
"Broken Sociality" [Peste]. Very affecting. I'm sure many of us have experienced this. "The pseudo-return in the "new normal" means social life and community appear to be more available, but for many of us, they aren't, really – no more than a meal someone spat on is really available as food. Experiences of community are offered but not actually present, in that they're present only via serious risks which are often un- or under-acknowledged. I think of this facet of broken sociality as social loneliness. This involves more time spent alone — reduced time doing things and seeing people compared to pre-pandemic — because fewer places are doing anything (let alone enough) to mitigate covid exposure… Social loneliness blurs into another facet of broken sociality, what I think of as political loneliness. This is the sense of a gulf in values or in understanding of some very important aspects of the world. Knowing that the return to normal means even more dying and life-altering suffering is terrible. Knowing that many people seem not to realize this, that people in officially respected positions seem to find this acceptable, that fellow travelers on the left don't treat this as a priority, that all feels isolating to a degree I find hard to overstate. What's happening, I think, is that there's no consensus on the reality we're living in: ideologically, the pandemic continues for some of us and is over for others, while, of course, it hasn't *actually* ended; it feels like living in a different world from other people, but still interacting. In some cases, this means old relationships feel different, and not for the better. What I've called political and social loneliness overlap and are related significantly. Political loneliness is less place dependent. It isn't so much a matter where I am and who I'm around (it's possible to feel it, as I often do, even when I'm literally alone, as I often am), but rather comes from a sense of differing from other people on the values, assessments, and explanations through which we understand the pandemic and the management of the pandemic by institutions. This comes up sometimes in casual phone calls with far-flung friends and family as we chat about our lives. I try to suppress any urge to be judgmental about individual choices and to focus my anger at those with the most institutional power, but I do notice differences on this stuff. Those differences increase the sense of isolation. This is heavily reinforced by various explicit and implicit messages from public officials and other high-status actors. Another element of all of this is a disconnect over the status of the tradeoffs, so to speak. We need community. Those of us who can't be in a space due to the covid risks are forced out of those spaces. Those of us who choose to weigh the costs and benefits are forced to do the weighing, and when the balance comes out that it's not worth it, we're also forced out of those spaces." • It never occurred to me to frame "personal risk assessment" as a tax on time, but that is — among other things — exactly what it is. On the bright side, I'd point out that in market terms, at least, there is a critical mass of people who still mask, who want UV, and of course want to build Corsi-Rosenthal boxes, for which there are now kits. We're out there….
* * *
Case Data
NOT UPDATED BioBot wastewater data from February 21: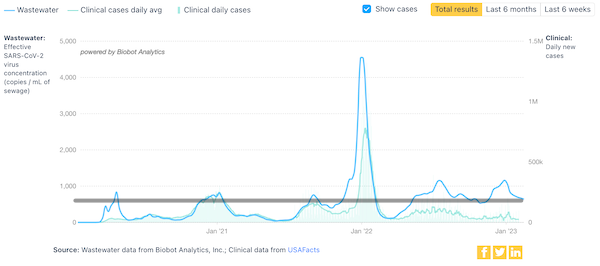 For now, I'm going to use this national wastewater data as the best proxy for case data (ignoring the clinical case data portion of this chart, which in my view "goes bad" after March 2022, for reasons as yet unexplained). At least we can spot trends, and compare current levels to equivalent past levels.
Positivity
From the Walgreen's test positivity tracker, published February 21: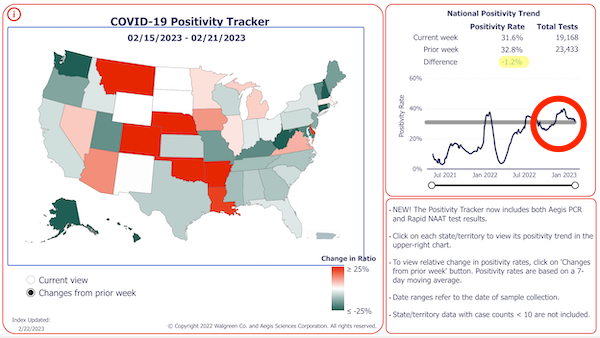 -1.2%. Still on the high plateau, equal to previous peaks.
Deaths
Death rate (Our World in Data):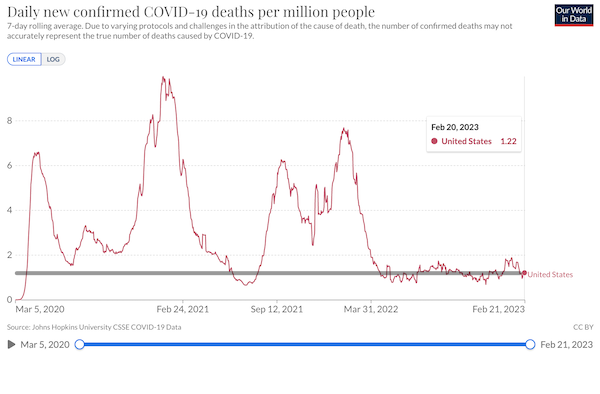 Total: 1,142,981 – 1,142,704 = 277 (277 * 365 = 101,105 deaths per year, today's YouGenicist™ number for "living with" Covid (quite a bit higher than the minimizers would like, though they can talk themselves into anything. If the YouGenicist™ metric keeps chugging along like this, I may just have to decide this is what the powers-that-be consider "mission accomplished" for this particular tranche of death and disease). Well, the total wasn't 192 again. Not that I feel better about it.
It's nice that for deaths I have a simple, daily chart that just keeps chugging along, unlike everything else CDC and the White House are screwing up or letting go dark, good job. (Though CDC may be jiggering the numbers soon. Lower, naturally.)
Lambert here: Lowest level in awhile. Although we've seen this before.
Stats Watch
There are no official statistics of interest today.
* * *
Tech: Silicon Valley is training us for master-slave relationships. Which is what the oligarchs want, of course:
The secret to chatGPT is to not ask politely, but command. https://t.co/O8z9F3xUoD pic.twitter.com/rjmjbp1zKd

— Programmer Humor (@PR0GRAMMERHUM0R) February 22, 2023
The Bezzle: "There Are No (Absolute) Red Flags in Venture Capital" [Aaron's Essays]. Remember: Red flags are very rarely outright fraud, and when they are, it's often obvious only in hindsight. Different investors have different levels of risk tolerance and generally only agree with each other when someone else makes a catastrophically bad and public mistake. Especially in a later stage company, there are so many places for a malicious actor to hide their dirty dealings that it would be incapacitating for any investor to do all the diligence required to definitively eliminate fraud. Such a thing simply isn't possible. Look at Enron! Look at Madoff! And finally, on the other side of any red flag is one critical, inescapable question: If the product is selling and the company is making money, how big a problem could it be?" • These are the people whose social function is capital allocation.
Labor Market:
US economy appears to shifting back to the pre-pandemic Phillips curve. i.e. we are seeing a dramatic deceleration in wage growth despite extremely tight labour markets. Was not supposed to be possible … right?!https://t.co/Hpwhoc6uYw pic.twitter.com/okHcRzKGo4

— Adam Tooze (@adam_tooze) February 22, 2023
* * *
Today's Fear & Greed Index: 64 Greed (previous close: 63 Greed) [CNN]. One week ago: 72 (Greed). (0 is Extreme Fear; 100 is Extreme Greed). Last updated Feb 22 at 1:58 PM ET.
Photo Book
"Gaslighting" [Socially Engaged Art Salon]. • Not a big fan of this genre, but there's some powerful stuff here.
Healthcare
"Our health is the price of industrial capitalism" [Nate Bear, ¡Do Not Panic!] "The mass media has been so firmly captured by the progress narrative it can be difficult to find out the true state of our civilisation. We're all living longer and getting healthier, right?… This avoidance of reality in favour of the progress narrative means many stories that should be at the front of our consciousness just aren't. For example, the astonishing, frightening rise in cancer among young people. In recent years study after study after study has confirmed the same thing: we are in the early stages of a youth cancer epidemic. The big headline stat is this: every generation since the mid-80s has a higher cancer incidence than the generation before. This was the conclusion of one of the largest studies of its kind published in October last year which found that the incidence of early-onset cancer (cancers diagnosed in adults under 50 years of age) of the breast, colorectum, endometrium, oesophagus, extrahepatic bile duct, gallbladder, head and neck, kidney, liver, bone marrow, pancreas, prostate, stomach, blood plasma and thyroid has increased in multiple countries around the world on the same time frame. The researchers say that early screening cannot be the only cause, and that 'a genuine increase in the incidence of early-onset forms of several cancer types also seems to have emerged.' Rates among young people in many countries studied, from Ecuador, to Indonesia to Italy, are increasing 2-5% per year. The trend in the US is stark: a study of adolescents and young adults found a shocking thirty percent increase in cancer diagnoses among individuals aged between fifteen to thirty-nine years old between 1973 and 2015."
Groves of Academe
"Vanderbilt University apologizes after using ChatGPT to console students" [ABC News]. "Last Thursday, administrators at Vanderbilt's Peabody College of Education and Human Development sent an email to students and staff that noted, in small print at the bottom, that the message was a 'paraphrase from OpenAI's ChatGPT AI language model, personal communication.' The email stressed the importance of 'a safe and inclusive environment for all' and encouraged members of the college to 'come together as a community,' and was written in clear, understandable prose. However, unlike a statement the day prior by the university's vice provost, which seemed to use more personal language than the Peabody message, the Peabody email lacked a list of campus resources students could access to help them process their emotions." • Stupidest timeline, stupidest administrators. And you know they won't stop. After all, they were probably able to cream off more bonuses by firing some poor adjunct making a few bucks crafting press releases. So it goes.
Our Famously Free Press
Ding ding ding ding ding:
.@mtaibbi bullseye pic.twitter.com/04RnbeDxWM

— Paul D. Thacker (@thackerpd) February 22, 2023
Journamalists, I'll tellin ya….
"Does Being Balanced at the New York Times Mean Giving the Right Space to Lie?" [Dean Baker, CEPR]. He has to ask? "Guess so since it gave Brian Riedl, a senior fellow at the Manhattan Institute, plenty of space to say things that are extremely deceptive, if not outright lies. The gist of Riedl's piece is that it will not be possible to sustain Social Security and Medicare without tax increases on the middle class…. Unlike Social Security, Medicare is not designed as a system where a dedicated tax is supposed to fully fund the program. Traditional Medicare has three parts: Part A is the hospital insurance portion of the program, which is supposed to be paid from the dedicated Medicare tax. Part B covers doctors' payments. This is only designed to be partially funded by premiums paid by beneficiaries. Part D is for drug coverage, which is also designed to be only partially funded by beneficiary premiums. (There is also Part C, Medicare Advantage, which is intended as a way to funnel money to insurance companies.) Since much of the Medicare program is not even designed to be covered by payments directly to the program, it makes no sense to include these portions of the program in complaints about Medicare's deficit. When Riedl tells us that Medicare is projected to run a $48 trillion shortfall over the next three decades, the overwhelming majority of this projected shortfall is due to a portion of the program that is not covered by Medicare-specific taxes by design. It is comparable to telling us that the Defense Department is running an $890 billion deficit this year (3.4 percent of GDP), because that is the extent to which its spending will exceed its designated taxes. I assume that the NYT would not allow the piece complaining about the huge Defense Department deficit on its opinion page because it makes no sense. Why is this complaint about the Medicare deficit allowed?"
Class Warfare
"WTF Happened In 1971?" [WTF Happened In 1971?] • A masterful collection of charts. I noticed the same phenomenon perhaps a decade ago (though I placed my tickmark around 1975). However, this collection is far more comprehensive than anything I ever did. As readers know, I am not a believer in theories of elite class warfare that require a Bond villain-like command structure. However, there do seem to be times when elites move in the same direction at the same time, like a school of fish. The "neoliberal turn" (if we may so label "WTF Happened In 1971") is one such, a sort of saltation… Well, what do we call it? We have a word for when an ancien regime cracks up and is destroyed: Revolution. But is there a word for when an ancien regime displays adaptability and reinvents and renews itself? If so, what is it? The recomposition of capital?
"Inside the Teamsters' Preparations for a UPS Strike" [Jacobin]. "here are now around 350,000 Teamsters at UPS, a mix of drivers and warehouse employees who work inside the buildings where packages are loaded and unloaded. The national master contract expires on July 31; negotiations for the new contract are set to begin on April 16. That makes for a shortened negotiation window compared to prior years, in which bargaining began well in advance of the contract's expiration. Current Teamsters general president Sean O'Brien has vowed that if the union doesn't have a tentative agreement by the end of July, workers will strike. The union has several sticking points. Foremost are "22.4s," named after the 2018 contract provision that created a tier of lower-paid full-time workers. That process was led by then IBT president James P. Hoffa, son of the man whose name is synonymous with the union. While the average annual pay for a UPS driver is $95,000 — making it the rare job that offers livable pay, a pension, and benefits without requiring a college degree — newer drivers who are slotted into the 22.4 category do the same work as more senior drivers, but while the latter's pay tops out at $41 an hour, 22.4s' ceiling is $6 per hour less. Importantly, these newer drivers also lack comparable control over their schedules. Such a situation creates higher turnover among 22.4s, another benefit to the company given the greater compensation that seniority brings. O'Brien has also pledged to lead his members out on strike if the company refuses to eliminate the tier. Fewer than half of the Teamsters at UPS are drivers; the rest work inside UPS distribution facilities, and many of them are part-time. Some part-timers are paid as little as $15.50 — meager enough that in some parts of the country, the local minimum wage is higher. The Teamsters want to raise the starting wage above twenty dollars an hour." • Excellent. Two-tier is an abomination. 100% anti-solidarity.
So do we pro-rate the reparations:
"Do you know what you're looking at? That is a list of the passengers on the Mayflower."

Our researchers discovered #AngelaDavis's ancestors traveled to the US on the Mayflower and here is her reaction. #FindingYourRoots pic.twitter.com/G2HhA9BSrT

— Henry Louis Gates Jr (@HenryLouisGates) February 22, 2023
News of the Wired
"Poisoning Web-Scale Training Datasets is Practical" [arXiv]. "Deep learning models are often trained on distributed, webscale datasets crawled from the internet. In this paper, we introduce two new dataset poisoning attacks that intentionally introduce malicious examples to a model's performance. Our attacks are immediately practical and could, today, poison 10 popular datasets. Our first attack, split-view poisoning, exploits the mutable nature of internet content to ensure a dataset annotator's initial view of the dataset differs from the view downloaded by subsequent clients. By exploiting specific invalid trust assumptions, we show how we could have poisoned 0.01% of the LAION-400M or COYO-700M datasets for just $60 USD. Our second attack, frontrunning poisoning, targets web-scale datasets that periodically snapshot crowd-sourced content — such as Wikipedia — where an attacker only needs a time-limited window to inject malicious examples. In light of both attacks, we notify the maintainers of each affected dataset and recommended several low-overhead defenses." • Hoo boy. Sixty bucks?
"The Cure for Hiccups Exists" [The Atlantic]. "Luc Morris is a surgeon at the Memorial Sloan Kettering Cancer Center, specializing in tumors of the head and neck. Almost 20 years ago, when he was a medical student at NYU, he wrote a letter to the editor of a specialist medical journal in which he laid out a potential treatment for 'idiopathic persistent singultus,' a.k.a. the hiccups. The name he gave to the new technique was 'supra-supramaximal inspiration.' SSMI, as the medical profession's predilection for abbreviations has it, boils down to a simple breathing exercise. First, exhale completely, then inhale a deep breath. Wait 10 seconds, then—without exhaling—inhale a little more. Wait another five seconds, then top up the breath again. Finally, exhale. Generally, you will find that your singultus is gone." • Supra-supramaximal inspiration is something I could totally use.
* * *
Contact information for plants: Readers, feel free to contact me at lambert [UNDERSCORE] strether [DOT] corrente [AT] yahoo [DOT] com, to (a) find out how to send me a check if you are allergic to PayPal and (b) to find out how to send me images of plants. Vegetables are fine! Fungi and coral are deemed to be honorary plants! If you want your handle to appear as a credit, please place it at the start of your mail in parentheses: (thus). Otherwise, I will anonymize by using your initials. See the previous Water Cooler (with plant) here. From WB: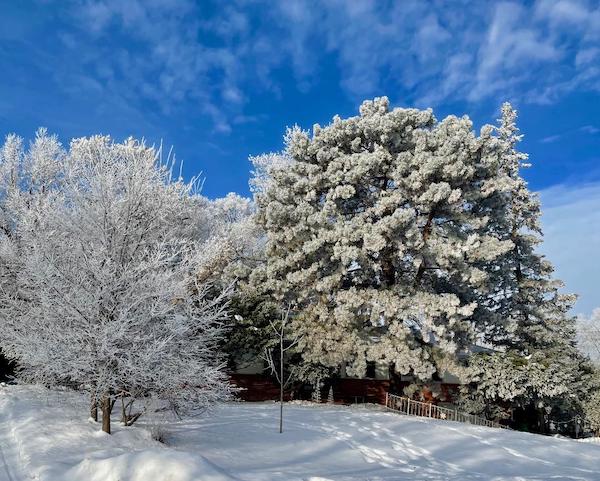 WB writes: "Frosty Minnesota!"
* * *
Readers: Water Cooler is a standalone entity not covered by the annual NC fundraiser. So if you see a link you especially like, or an item you wouldn't see anywhere else, please do not hesitate to express your appreciation in tangible form. Remember, a tip jar is for tipping! Regular positive feedback both makes me feel good and lets me know I'm on the right track with coverage. When I get no donations for five or ten days I get worried. More tangibly, a constant trickle of donations helps me with expenses, and I factor in that trickle when setting fundraising goals:
Here is the screen that will appear, which I have helpfully annotated: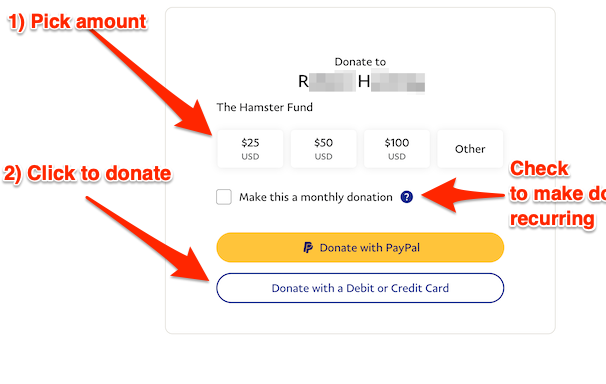 If you hate PayPal, you can email me at lambert [UNDERSCORE] strether [DOT] corrente [AT] yahoo [DOT] com, and I will give you directions on how to send a check. Thank you!