Jupiter now has the most moons in the solar system, beating Saturn thanks to 12 newfound satellites Space.com
Creatures That Don't Conform Emergence Magazine
A bipolar currency regime will replace the dollar's exorbitant privilege Nouriel Roubini, FT
Climate
Phaseout Pathways for Fossil Fuel Production within Paris-compliant carbon budgets (PDF) The Tyndall Centre for Climate Change Research. From the Conclusion: "It will be especially difficult for the poorest, oil-dependent countries to phase out production by the 2040s or 2050, yet this is exactly what is required of them for a 50% or better chance of 1.5°C. Therefore the provision of international financial support will be crucial, in addition to the differentiation of end dates for production developed in this report."
Water
Pumping Mississippi water to the West still being considered to address droughts MinnPost
#COVID19
Protective Effect of Vitamin D Supplementation on COVID-19-Related Intensive Care Hospitalization and Mortality: Definitive Evidence from Meta-Analysis and Trial Sequential Analysis Pharmaceuticals. I think "definitive" is too strong for any meta-study. Imagine what a meta-study for Semelweis would have looked like! From the Abstract: " The [trial sequential analysis (TSA)] of the protective role of vitamin D and ICU admission showed that, since the pooling of the studies reached a definite sample size, the positive association is conclusive. The TSA of the protective role of vitamin D in mortality risk showed that the z-curve was inside the alpha boundaries, indicating that the positive results need . The results of the meta-analyses and respective TSAs ." So, (a) hospitalization, not infection, is the metric, and (b) more studies needed. Hardly definitive. That said, Vitamin D is low risk, potentially high reward, and now is an especially good time to take extra walks in the sunlight (at least in the Northern hemisphere).

* * *

Yes, masks reduce the risk of spreading COVID, despite a review saying they don't The Conversation. I will be taking a look at this putative review in the near future.

Following The CDC's Relaxed Mask Guidelines — Cold, Cough, and Allergy Medicines See Triple-Digit Sales Growth Catalina. Yeah, but where's the RCT?

* * *

Evolutionary rate of SARS-CoV-2 increases during zoonotic infection of farmed mink Virus Evolution. From the Abstract: "In 2020, the first detected anthropozoonotic spillover event of SARS-CoV-2 occurred in mink farms throughout Europe and North America. Both spill-back of mink-associated lineages into the human population and the spread into the surrounding wildlife were reported, highlighting the potential formation of a zoonotic reservoir…. We suggest that SARS-CoV-2 undergoes a brief, but considerable, increase in evolutionary rate in response to greater selective pressures during species jumps, which may lead to the occurrence of mink-specific mutations."

Exclusive survey reveals 'worryingly high' levels of long Covid among nurses Nursing Times. Not to worry. We've got telemedicine, AI, robots, and of course concierge medicine for the deserving.

* * *

Children's immune systems do not develop 'adaptive' memory to protect against second time SARS-CoV-2 infection News Medical Life Sciences. Original.

California drops plan for school vaccine requirement CalMatters
China?
China's mega-rich move their wealth, and partying, to Singapore Channel News Asia

In China's Covid Fog, Deaths of Scholars Offer a Clue NYT. Breathtakingly rapid pivot by the press from yammering that Zero Covid was a disaster to yammering that ending Zero Covid was a disaster. (I cannot find the comment, but IIRC GM proposed an identical methodology some months ago, although based on Wikipedia entries, not obituaries from the Chinese Academy of Engineering and the Chinese Academy of Sciences.)

China's Political Discourse December 2022: A Slap in the Face on Covid Policy Sinocism. Granted, my view is limited — we have a "?" after the "China" category for a reason — but it's very hard for me to see how, given that Xi has adopted the West's policy of mass infection without mitigation, the CCP is "Communist" in anything but name, or even socialist. Others may disagree….

President Xi's Dilemma: Visit Moscow Soon Or Hope That Blinken Still Comes To Beijing First? Andrew Korybko's Newsletter. Food for thought, but I'm not sure how nutritious.
India
U-turn! Adani group stocks rally up to 20% to hit upper circuits. Here's why The Economic Times

Control, Complexity and Politics: Deconstructing the Adani Affair! Musings on Markets. From a long thread by this account:

If u look at their profitability, they have reported pretty low profit margins, return on capital, so on and so forth. Did they commit fraud? Don't know, but they are pretty transparent they are not fat on margins, got lots of debt, and richly valued & not a lot of shares floated

— Trinh (@Trinhnomics) February 6, 2023

Why can India be hardly understood as a "civilizational state"? (interview) Vijay Prashad, MR Online
European Disunion
Nationwide warning strikes at Deutsche Post on Monday and Tuesday Market Screener

Regional transport strike starts, garbage collectors' strike to spread Dutch News
Violent shaking after shallow M7.8 earthquake hits Turkey – Syria border region — more than 500 fatalities, thousands injured The Watchers
Dear Old Blighty
Britain Is Much Worse Off Than It Understands Foreign Policy. The deck: "Things weren't nearly this bad in the 1970s—but the country's leaders haven't grasped that yet."

British workers stage largest strike in history of health service Reuters. Handy calendar:

As well as out own diaries, in February 2023 in the UK we also have to check the"strike calendar" to see which public sector workers are on strike today.

Sort it out, @RishiSunak and @SteveBarclay

Surely you've got the message by now#NHS #nhsstrikes pic.twitter.com/nNplbOnNFn

— Neil Stone (@DrNeilStone) February 6, 2023

Lot of blanks to fill in, actually.

As the UK's NHS goes on strike, the country's whole health model is being questioned Le Monde. Yes, privatization is very bad.

Royal Mail just shamed itself twice on the same day the CWU announced a postal strike The Canary
New Not-So-Cold War
Russia Builds Pressure on Ukraine Along Front Line WSJ. Stalingrad, it's not. Nevertheless:

Options for Ukrainian forces in Bakhmut at this point are pretty simple:

1) Attempt a withdrawal across open ground and rural roads to the west.
2) Counterattack to unblock the highways.
3) Sit in the pocket and fight a reenactment of Cannae.

— Big Serge ☦️🇺🇸🇷🇺 (@witte_sergei) February 6, 2023

* * *

Ukrainians are united in rejection of any compromise with the Kremlin The Atlantic Council. Real Blobs go to Moscow.

Bandera mythologies and their traps for Ukraine Open Democracy. From 2016, still germane. They don't even try to hide it:

Nothing to see here, just a high-ranking German Green Party politician hugging and schmoozing with a Ukrainian neo-Nazi war criminal. https://t.co/VV9mcIFWjN

— 38Parrots (@Parrots38) February 5, 2023

Marchenko is a former (?) commander of the Right Sector-adjacent Aidar Battalion. Not nice people at all. And what the heck happened to the German Greens? Were they always like this?

Over 8,000 people submit applications to join the Offensive Guard Ukrainska Pravda. A little over 1% of the 700,000-man force Ukraine started with, but who's counting?

* * *

US sends long-range missiles to Ukraine WSWS (GF) but Ukraine says it will not strike Russian territory with new missiles Reuters. Oh.

Ammo supply chain crisis: Ukraine war tests Europe in race to re-arm FT

* * *

Russia in Africa: how Moscow bought a new sphere of influence on the cheap FT
UN chief says world is heading towards 'wider war,' issuing warnings for 2023 Andalou Agency
Biden Administration
Musk, Tesla win securities fraud battle over that 'funding secured' tweet The Register. The splendid deck: "'Wisdom of the people has prevailed' SpaceX supremo beams."
Supply Chain
Tanker shipping consolidation saga watched 'like it's Netflix' Hellenic Shipping News
The Bezzle
* * *
Sports Desk
Here's Who Will Be Talking About Jesus On Super Bowl Sunday The Lever
Healthcare
J&J's pharma group quietly works through global overhaul, with layoffs expected to reach multiple countries Fierce Pharma
Zeitgeist Watch
Ohio crews release toxic chemicals from derailed train Axios Cleveland. "Controlled release." Quite the visual:

Aerials show the smoldering remains of a hazardous train derailment in East Palestine, Ohio.

Officials have made an urgent call for evacuations as they plan to burn off the chemicals to avoid a major explosion. https://t.co/EmEk7t3zWs pic.twitter.com/ROYrHPjRQa

— ABC News (@ABC) February 6, 2023

Foreshadowing:

Pantone, which has been anointing a Color of the Year for two decades, just revealed its de rigueur shade for 2023: Viva Magenta 18-750.

What do you think about Pantone's Color of the Year 2023? #Pantone #Coloroftheyear pic.twitter.com/3HRnL0vqKv

— wearemediaculture (@askmediaculture) December 9, 2022
Imperial Collapse Watch
Competitive Nation-Building Noema. The deck: "The geopolitical economy of deglobalization."

We're #1! We're #1!

The perfect punchline doesn't exi… pic.twitter.com/HIK4MRbJQV

— 38Parrots (@Parrots38) February 5, 2023
Realignment and Legitimacy
Government By Panic (excerpt) Matt Taibbi, TK News. This passage caught my eye:

Now take a hypothetical. Say you're a member of the American political establishment after the 2016 election of Donald Trump. You're staring at four years as part of a government-in-exile and need a new message to solve your belief problem. What's your answer?

My hypothesis is such people never bothered to find one. Instead, they declared a state of emergency.

What emergency? Doesn't matter. Russian interference was a good startup disaster, but you can keep changing them. The important thing is the pattern. One, declare a crisis. Two, spread panic. Three, take emergency measures. If you do this over and over, you end up with permanent crisis, permanent panic, permanent emergency rule. So long as new crises keep evoking unconscious fear and anxiety, the legitimacy of the political establishment is continuously justified.

As usual, Taibbi simplifies brilliantly (especially on the three-stage "pattern" driving all this). However, I think that (1) "American political establishment" is vague; I would say the Democrat Party and allied factions, expressing the class power of the PMC, which came to class consciousness after the shock of Clinton's 2016 defeat; and I don't think (2) "state of emergency" is correct framing; rather "state of exception" (or, in Schmitt's original German, Ausnahmezustand). The merger of the intelligence community, the Democrat Party, and the platforms into a single network is one example of such a state.
Class Warfare
How My Co-Workers Got Me Reinstated at Amazon's San Bernardino Air Hub Labor Notes
Neanderthals lived in groups big enough to eat giant elephants Science
Returning to millet, crop of ancestors, to improve food security Andalou Agency
Antidote du jour (via):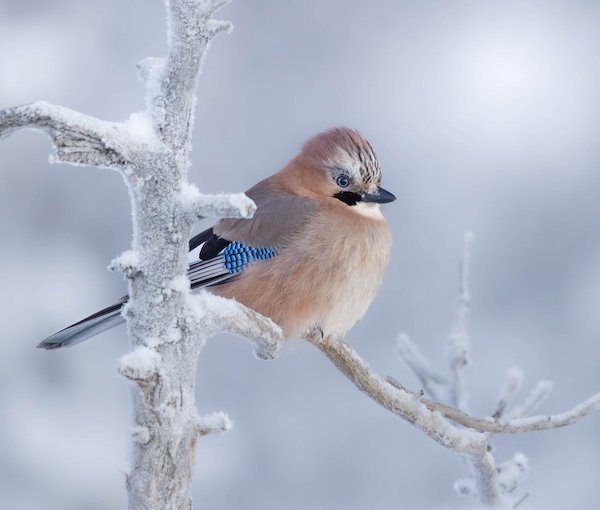 See yesterday's Links and Antidote du Jour here.