By Lambert Strether of Corrente.
Bird Song of the Day
Golden Grosbeak. Caracas; Chuao Distrito Capital, Venezuela.
* * *
Politics
"But what is government itself, but the greatest of all reflections on human nature?" –James Madison, Federalist 51
"Here's food for thought, had Ahab time to think; but Ahab never thinks; he only feels, feels, feels." –Herman Melville, Moby Dick
"So many of the social reactions that strike us as psychological are in fact a rational management of symbolic capital." –Pierre Bourdieu, Classification Struggles
Biden Administration
"What to Watch: New political vibes this State of the Union" [Associated Press]. • A stirring spectacle indeed! I wonder if Big Z will pop in? Commentary:

Interesting bit from one of the White House fact sheets on State of the Union. Going after social-media platforms. (He has said similar things in the past.) pic.twitter.com/aRlIe7X6ha

— Olivier Knox (@OKnox) February 7, 2023

We need to protect adults from the platforms just as much as children. Biden could begin by breaking them up.

"Playbook: Inside Biden's high-road SOTU" [Politico]. "Biden told aides to take out the acronyms and craft a speech that 'explains in very plain terms to Americans watching at home exactly what we have gotten done,' according to one person familiar with the prep." • That plays to Biden's strengths, and if you didn't know the guy (he owes me six hundred bucks) you'd believe him. If they juice Biden up properly, he should do well.

"What Biden promised in last year's State of the Union: Report card" [ABC]. On Covid: "More than 267,000 people died of COVID last year, according to data from Johns Hopkins University, with the disease continuing to be a leading cause of death in the U.S., despite Americans moving away from mitigation measures. This year's address comes as the Biden administration has confirmed it will end both the COVID-19 national emergency and public health emergency on May 11. The current public health emergency is in place through April, while the national emergency is in place until March. 'I know some are talking about 'living with COVID-19.' Tonight, I say that we will never just accept living with COVID-19,' Biden said last year." The lie direct. More: "Lawmakers were required last year to have a negative COVID test to enter the chamber. Several Republicans boycotted the speech by refusing to test — and in a sign the virus was still virulent at least four positive cases turned up afterward." • This year, of course, we won't know.

* * *

"Millions of New Yorkers will feel health care change as COVID emergency ends. Here's how" [Gothamist]. "[M]illions of New Yorkers who were allowed to remain on Medicaid without scrutiny during the pandemic will be re-evaluated for eligibility starting in April. This move will restore a cycle of disenrollment and reenrollment that's known to generate interruptions in health care among low-income communities. In New York state, some of the nearly 8 million enrollees will be kicked off of the public health insurance program by July, although state officials said many will likely qualify for other types of subsidized health coverage. Free COVID-19 tests could also soon be harder to come by as insurance coverage requirements expire." • Lots and lots of detail here. NY residents should read..
2024
"For the good of the country, Biden and Harris should bow out of the 2024 election" [George Will, WaPo]. The genre where Republicans offer well-meant advice to Democrats is an old one. But perhaps the situation is so desperate that Will, remarkably, is writing in good faith. Skipping over Biden to Harris: "Transcripts of her verbal meanderings cannot convey their eerie strangeness. Videos of them should be watched. Meanwhile, here are her Proustian thoughts about broadband in Louisiana: 'The governor and I and we were all doing a tour of the library here and talking about the significance of the passage of time. Right? The significance of the passage of time. So, when you think about it, there is great significance to the passage of time in terms of what we need to do to lay these wires, what we need to do to create these jobs. And there is such great significance to the passage of time when we think about a day in the life of our children … .' What most excited her about the Inflation Reduction Act? 'I have a particular fondness, I must tell you, for electric school buses. I love electric school buses. I really do . . . I've been on these electric school buses . . . 25 million children in our country, every day, go to school on those diesel-fueled school buses. And hundreds, thousands of school bus drivers are driving those buses. Which are then, these people—these children, these adults—are inhaling what is toxic air.' Harris at an international conference: 'We will work together, and continue to work together, to address these issues, to tackle these challenges, and to work together as we continue to work operating from the new norms, rules and agreements, that we will convene to work together.' She added: 'We will work together.'… Harris on space: 'Space — it affects us all, and it connects us all.' On whether Democrats 'failed' by not codifying abortion rights in federal law: 'I think that, to be very honest with you, I do believe that we should have rightly believed, but we certainly believe that certain issues are just settled.' On equity: 'Equitable treatment means we all end up in the same place.' … Enough. She sounds, as a critic has said, like someone giving a book report on a book she has not read." • "Things are more like they are now than they've ever been before." —Apocryphal, attributed to Dwight D. Eisenhower. To be fair, I didn't verify Will's quotes.

"Joe Biden's Classified-Documents Scandal Will Save Trump from His" [Andrew McCarthy, National Review]. "n January 8, 2023, one thing seemed dead certain: Donald Trump was going to be indicted for his grossly negligent mishandling of national-defense secrets — in the main, classified documents he illegally retained at his Mar-a-Lago resort in Palm Beach. It was no longer a question of if, but when. Now that prospect is unlikely, at best. For that, the former president can thank his nemeses, Hillary Clinton and Joe Biden. The Obama Justice Department's failure to charge Clinton in her email scandal, despite her years-long mishandling of intelligence (to say nothing of her BleachBit destruction of tens of thousands of government records), left Biden's DOJ little daylight to rationalize that Trump's offenses were so beyond the pale that prosecution was warranted. Despite this challenge, prosecutors mobilized through the latter months of 2022, seemingly convinced that they could justify charging the former president. That sliver of daylight was closed on January 9, however, when CBS News reported the first of a humiliating series of revelations that President Biden has for years been illegally retaining classified information in multiple unauthorized locations — not only from his days in the Obama administration but also from his decades in the Senate, which ended 14 years ago. At the time of that stunning disclosure, prosecutors were meticulously building a criminal case against Trump." • And, oddly, to this day we don't know who was behind the "stunning disclosure." Now, given the authoritarian and heirarchical nature of the Democrat Party, it seems most likely that Obama's hand held the dagger (the same hand that gifted Biden the nomination in 2020). But if that's true, that would imply either that (a) Obama believes that the Republicans will not nominate Trump, the beneficiary of his backstabbing, or (b) that the 2024 nominee will beat Trump. The Democrat track record on (a) is bad, despite the universal chorus of approval for short-bodied vulgarian DeSantis. And Democrat prospects for (b) are bad, because who do they run? Harris [smothered laughter]? Mayo Pete? Who? Say what you will about Trump, he looms as a giant above these pigmies. (Sadly, I was rather looking forward to giving consideration to voting for Trump if he ran, like Eugene Debs, from his jail cell. I mean, some crooks put another crook in jail. Why get excited?)

"Biden 2024? Most Democrats say no thank you: AP-NORC poll" [Associated Press]. "[A] new poll from The Associated Press-NORC Center for Public Affairs Research…. shows just 37% of Democrats say they want him to seek a second term, down from 52% in the weeks before last year's midterm elections. While Biden has trumpeted his legislative victories and ability to govern, the poll suggests relatively few U.S. adults give him high marks on either. Follow-up interviews with poll respondents suggest that many believe the 80-year-old's age is a liability, with people focused on his coughing, his gait, his gaffes and the possibility that the world's most stressful job would be better suited for someone younger." • Hmm.

"Joe Biden starts making his case for a second term" [Financial Times]. "'Biden has weathered a lot of storms: it's pretty clear the pandemic is coming to an end, we have best job growth in decades, inflation may be creeping down, and his control of the situation in Ukraine has been no less than masterful,' says Elaine Kamarck [bio], a senior fellow at the Brookings Institution, the Washington think-tank, and a former Clinton administration official. 'Does he go bounding up the stage? No! But who the hell cares?'"
Democrats en Déshabillé
Patient readers, it seems that people are actually reading the back-dated post! But I have not updated it, and there are many updates. So I will have to do that. –lambert

I have moved my standing remarks on the Democrat Party ("the Democrat Party is a rotting corpse that can't bury itself") to a separate, back-dated post, to which I will periodically add material, summarizing the addition here in a "live" Water Cooler. (Hopefully, some Bourdieu.) It turns out that defining the Democrat Party is, in fact, a hard problem. I do think the paragraph that follows is on point all the way back to 2016, if not before:

The Democrat Party is the political expression of the class power of PMC, their base (lucidly explained by Thomas Frank in Listen, Liberal!). ; if the Democrat Party did not exist, the PMC would have to invent it. . ("PMC" modulo "class expatriates," of course.) Second, all the working parts of the Party reinforce each other. Leave aside characterizing the relationships between elements of the Party (ka-ching, but not entirely) those elements comprise a network — a Flex Net? An iron octagon? — of funders, vendors, apparatchiks, electeds, NGOs, and miscellaneous mercenaries, with assets in the press and the intelligence community.

Note, of course, that the class power of the PMC both expresses and is limited by other classes; oligarchs and American gentry (see 'industrial model' of Ferguson, Jorgensen, and Jie) and the working class spring to mind. Suck up, kick down.

* * *

"40% of Americans believe that socialism is good":

I have seen this in communism where parliaments would vote against a poem or a writer. But voting against a theory is well, really a novelty. https://t.co/Y0o5xHu0qY

— Branko Milanovic (@BrankoMilan) February 5, 2023

I will certainly be looking to Democrats to leverage this vote. Especially the "progressive" ones….

This seems like a recent development:

Has the fact that LA has a leftist accountant city controller who's auditing the LAPD's giant helicopter air force become common knowledge nationwide yet?

The Kenneth Mejia story: worth following! https://t.co/3cFozsdC8m

— Sam Dean 🦅 (@SamAugustDean) February 6, 2023

Los Angeles readers?
Realignment and Legitimacy
"A Beautiful Portrait of My Enemy: A Review of the True Believer (Part 1)" [From the New World]. "The myth which Hoffer first executes is the myth of oppressor and oppressed, at least in the context of mass movements. The oppressed are simply not who join mass movements. This seems in line with the Brahmin Left and Merchant Right divide of the present day…. The second is the myth of self-interest, once again in the context of mass movements. Hoffer draws a distinction between a practical organization and a mass movement. A practical organization is one in which the main incentive is "self-advancement", which Hoffer describes as an incremental change in oneself. In order to believe in self-advancement, one has to believe in oneself to begin with. A person who does not believe in himself will be utterly unmotivated by this type of organization. A mass movement is different. It promises rebirth." • Hmm.
#COVID19
Lambert here: I am but a humble tapewatcher, but unlike Eric Topol, I'm not calling a surge, because the last peak was Biden's Omicron debacle, and after an Everest like that, what's left? Topol's view is the establishment view: Hospital-centric. Mine is infection-centric. I do not see the universal acceleration or doubling in cases that I would expect to see based on past surges.
I am calling a "Something Awful." It's gonna be bad, in some new way, and we don't know how, yet (but see here for immune system dysregulation, which is looking pretty awful).
Lambert here: Looks like "leveling off to a high plateau" across the board. Stay safe out there!
* * *
"Covid was devastating – why are we pretending it didn't happen?" [Guardian]. "My friend, who suffers badly from long Covid, struggles to understand the refusal of many people to think or talk about the pandemic; their reluctance to understand what it has taken from her and from so many others. She's baffled by the apparent desire to pretend it never happened, or that it wasn't a big deal…. Then there's the absence of formal memorialising… I suppose the lack of a definitive end point makes that harder. There's no armistice; we're living through a fizzle (at best: there's always the fear it could get worse again). It's hard to tell ourselves a clear story about Covid when we don't know how it ends. This happened with Spanish flu, too: Laura Spinney's book on the 1918 pandemic describes the 'collective forgetting' and the absence of official memorials. It was, Spinney says, remembered 'personally, not collectively … as millions of discrete, private tragedies.' But surely that's no longer possible now, when digital life means we're all enmeshed in one another's experiences to an unprecedented degree. I certainly can't forget the private tragedies I saw and read about. But I discovered something else in Spinney's book: the word nallunguarluku – 'pretend it didn't happen.' It's what elders in one Alaska community devastated by successive epidemics apparently advised people to do. Have we all just decided to nallunguarluku?" • Word of the day: nallunguarluku. Also, I'm not big on slapping the word "colonized" on everything. OTOH, there's no little irony in the fact that the Alaskan (and post-1492) pandemics were caused by colonizers. What goes around comes around…
* * *
• "Intro to Far-UV" [Joey Fox]. The introduction: "Wouldn't it be nice if there was a lightbulb that you could install, it wouldn't have any bad effects on people and still be able to kill airborne pathogens, like viruses?" The conclusion: "While far-UV can be used effectively and within recommended threshold limit values (TLVs), this is still a relatively new technology. Technologies like upper room UV and HEPA filters have been around for over 80 years. We've been using ventilation for centuries, but far-UV has only been used in the past couple of decades. It has great potential, but as discussed, there is still a lot we don't know. It currently is also pretty expensive, for example many of the 15 W fixtures by Ushio (the most well known company) are around $2000-$3000 and would likely require replacement every year or two. Because of the unknowns and the fact that we have a safe and effective alternative with upper room UV, the Ontario Society of Professional Engineers Indoor Air Quality Advisory group does not recommend against far-UV, but recommends that there should be more data about its use before widespread implementation. The CDC also recommends the use of upper room UV in occupied spaces, but advises caution with the use of far-UV (see FAQ #7)." • In between we have a fair-minded summary of the technology and the science. My concern is that we live on the stupidest timeline; hence the message of the introduction will dominate, and all the caveats and qualifications in the conclusion will be ignored. After all, if you can point to a blue-ish lightbulb and say "no worries," why invest in ventilation? Unfair, I know.
* * *
No, they have not:
Has any reporter ever pressed @CDCDirector on her complete 180? pic.twitter.com/9acZTOFrUE

— Matt Karolian (@mkarolian) February 7, 2023
OTOH, the account is a reporter from the Boston Globe…
* * *
• Maskstravaganza: Masks for those who serve the "talent." Just not for you:
The staff at the Grammys wore masks backstage.

Don't let them fool you. Covid is real. The rich and famous know. The elites know. pic.twitter.com/gbsxqYN7hw

— Guglar (@Guglar9) February 7, 2023
• Maskstravaganza: A "Green Book" for maskers once more:
Post it here. Post on @covidmeetupscom or https://t.co/uaMpEDHeVk. There are other sites too. I don't have the URLs in front of me.

Just… please… share the info.

— Covid Safe Network (@covidsafenetwrk) February 2, 2023
Surely there's a central site where such material can be pulled together?
* * *
• Hospital Infection Control goons are at it again:
This is pretty outrageous- HCW's in BC are being told to NOT test themselves for COVID-19 and therefore do not need to isolate for 5 days.

In a memo to staff, Island Health's Dr. Réka Gustafson says the majority of HCW's should not be tested and discourages them from doing so. pic.twitter.com/DiH5bphw6m

— GOLDEN SAINT (@GoldenSaint) February 3, 2023
You can't control infection if there isn't any. Think, people!
* * *
Questions for WHO:
There are so many questions for @WHO. How do they get away with not answering them? Come on, @mvankerkhove, the world has a right to an answer. https://t.co/nhDu77zfov

— Dr David Berger, aBsuRdiSTe cROnickLeR (@YouAreLobbyLud) February 3, 2023
Something to watch for as we track bird flu, perhaps
* * *
Case Data
BioBot wastewater data from February 6: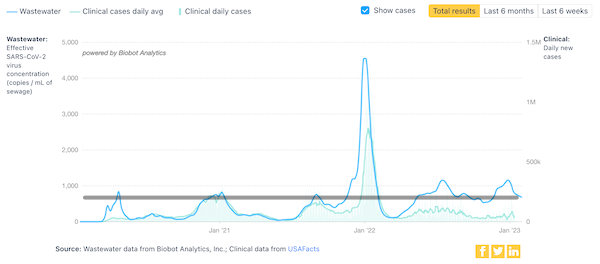 For now, I'm going to use this national wastewater data as the best proxy for case data (ignoring the clinical case data portion of this chart, which in my view "goes bad" after March 2022, for reasons as yet unexplained). At least we can spot trends, and compare current levels to equivalent past levels.
Transmission
Here is CDC's interactive map by county set to community transmission (the "red map," which is the map CDC wants only hospitals to look at, not you.) The map is said to update Monday-Friday by 8 pm: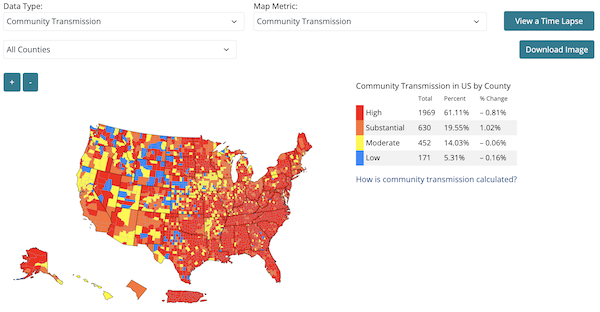 The previous map: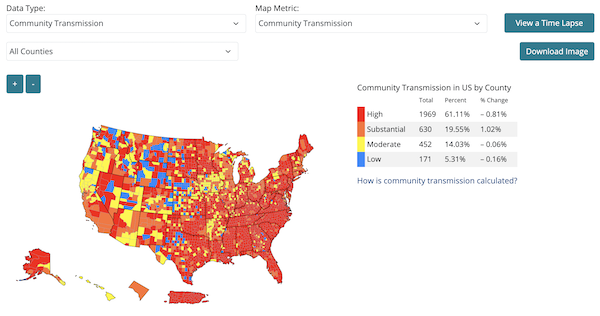 NOTE: I shall most certainly not be using the CDC's new "Community Level" metric. Because CDC has combined a leading indicator (cases) with a lagging one (hospitalization) their new metric is a poor warning sign of a surge, and a poor way to assess personal risk. In addition, Covid is a disease you don't want to get. Even if you are not hospitalized, you can suffer from Long Covid, vascular issues, and neurological issues. That the "green map" (which Topol calls a "capitulation" and a "deception") is still up and being taken seriously verges on the criminal.
Positivity
From the Walgreen's test positivity tracker, published February 7: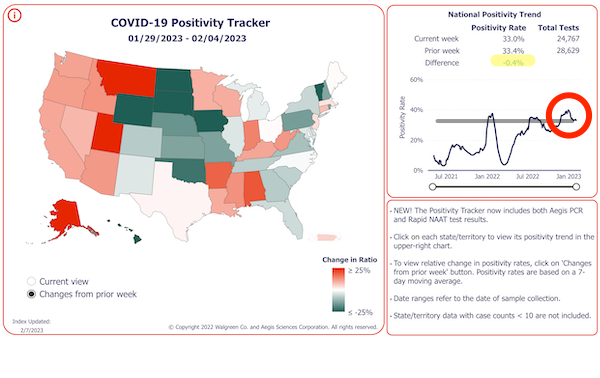 -0.4%. Fiddling and diddling at a high plateau, equal to previous peaks.
• "Almost 1,000 people wait up to 13 hours for COVID-19 testing in Maryvale" [Arizona Central]. • Over, totally over.
Wastewater
Wastewater data (CDC), February 3: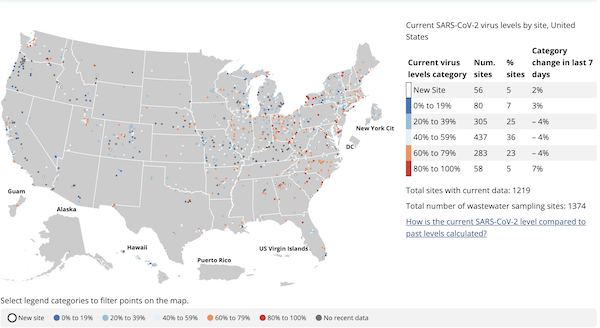 Less grey, a lot less red.
January 30: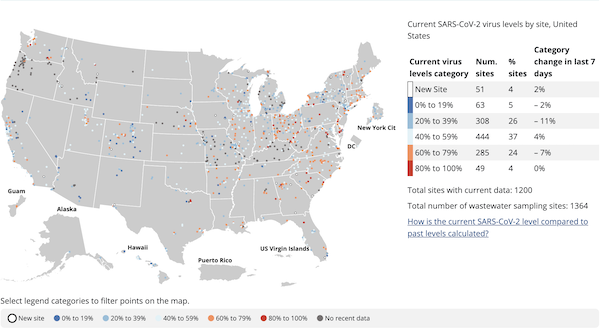 NOT UPDATED And MWRA data, February 2: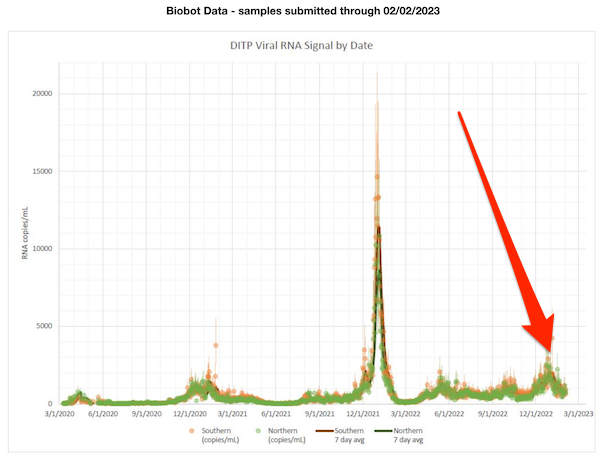 Looks to me like New England's regional surge is winding down. No bump from the students returning.
Variants
Lambert here: It's beyond frustrating how slow the variant data is. Does nobody in the public health establishment get a promotion for tracking variants? Are there no grants? Is there a single lab that does this work, and everybody gets the results from them? [grinds teeth, bangs head on desk]. UPDATE Yes. See NC here on Pango. Every Friday, a stately, academic pace utterly incompatible with protecting yourself against a variant exhibiting doubling behavior.
NOT UPDATED Variant data, national (Walgreens), January 23: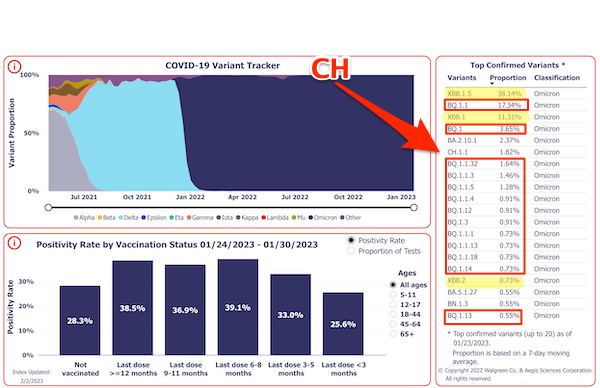 Lambert here: XBB overtakes BQ. CH not moving too fast, reassuring, because a Tweet in Links, January 11 from GM drew attention to it ("displays such a high relative growth advantage") and in Water Cooler, January 18, from Nature: "CH.1.1 and CA.3.1 variants were highly resistant to both monovalent and bivalent mRNA vaccinations."
Lambert here: Wierdly, the screen shot about has been replaced today by data from "10/7/2022." (It's clearly not current data; BQ.1* and XBB do not dominate.
NOT UPDATED Variant data, national (CDC), January 14 (Weighted Estimates Only*):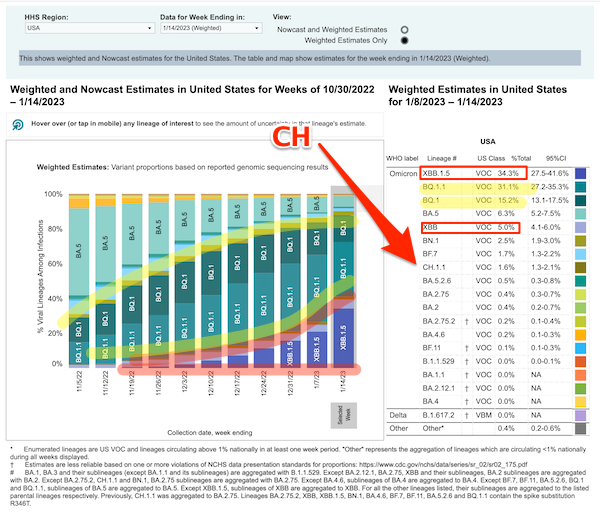 BQ.1* takes first place. XBB coming up fast. (For BQ.1/XBB and vaccine escape, see here.) CH.* now appears, a week after Walgreens. Here is Region 2, the Northeast: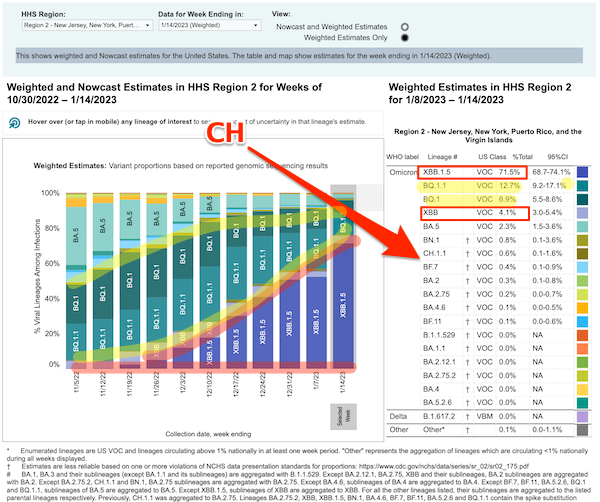 CH.1* appears, but slightly below the national average. XBB utterly dominates, making clear that Region 2 (New England) varies greatly from the national average.
Here are all the regions, in a series of uncaptioned, legend-free and confusing pie charts: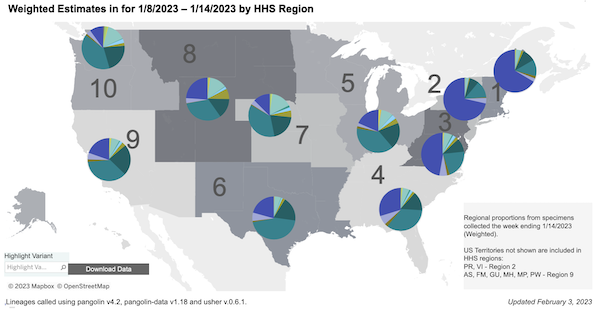 It almost looks like, with respect to variants at least, there several pandemics, not one. The Northeast, where XBB (blue) dominates, and the other regions, with different proportions of other variants, but XBB not dominating. Odd. (Yes, I know the colors are the same as on the bar chart above. However, there are two charts, one bar, one pie, and on a laptop one cannot see both at same time. Just another example of CDC blithering at the level of the smallest detail.)
NOTE * CDC used to have a "Nowcast Off" radio button, which I used because of my bad experience with CDC models like Nowcast. CDC explains (I think) the change in the following note:
Weighted estimates (provided for all weeks except the most recent three weeks) are variant proportions that are based on empirical (observed) genomic sequencing data. These estimates are not available for the most recent weeks because of the time it takes to generate the unweighted data, including sample collection, specimen treatment, shipping, analysis, and upload into public databases.

Sublineages with weighted estimates less than 1% of all circulating variants are combined with their parent lineage. When the weighted estimate of a sublineage crosses the 1% threshold and has substitutions in the spike protein that could affect vaccine efficacy, transmission, or severity, it may be separated from its parent lineage and displayed on its own in the variant proportions data.

Nowcast estimates (provided for the most recent three weeks when the "Nowcast on" option is selected below) are model-based projections of variant proportions for the most recent weeks to enable timely public health action. CDC uses the Nowcast to forecast variant proportions before the weighted estimates are available for a given week.
Someone who can interpret The Great Runes can look at this; but I don't have time today.
As a check, since New York is a BQ.1* hotbed, New York hospitalization, updated February 7: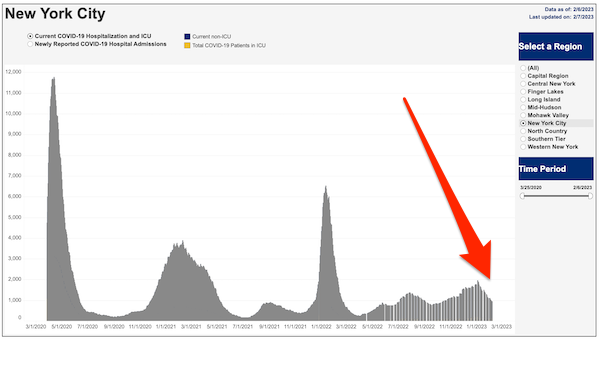 Hospitalization data for Queens, updated February 4:

Deaths
Death rate (Our World in Data):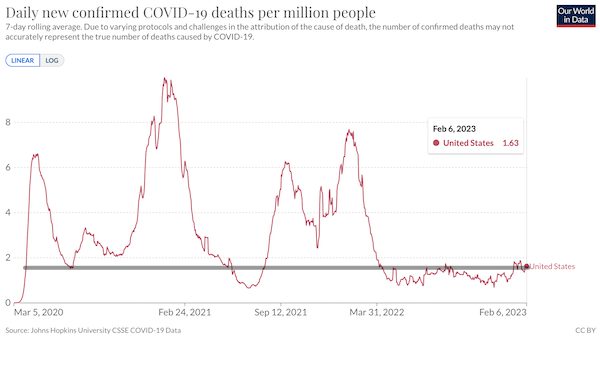 Total: 1,136,448 – 1,136,313 = 135 (135 * 365 = 49,275 deaths per year, today's YouGenicist™ number for "living with" Covid (quite a bit higher than the minimizers would like, though they can talk themselves into anything. If the YouGenicist™ metric keeps chugging along like this, I may just have to decide this is what the powers-that-be consider "mission accomplished" for this particular tranche of death and disease).
It's nice that for deaths I have a simple, daily chart that just keeps chugging along, unlike everything else CDC and the White House are screwing up or letting go dark, good job. (Though CDC may be jiggering the numbers soon. Lower, naturally.)
Stats Watch
Supply Chain: "United States LMI Logistics Managers Index Current" [Trading Economics]. "The Logistics Manager's Index in the US increased for a second month to 57.6 in January of 2023, the highest level since September, and compared to 54.6 in December, mainly driven by warehousing metrics. Warehousing capacity declined for the 30th consecutive month…."
* * *
The Bezzle: "Google announces ChatGPT rival Bard, with wider availability in 'coming weeks'" [The Verge]. • So awesome. Maybe Google can fix Search with it.
The Bezzle: "Getty Images sues AI art generator Stable Diffusion in the US for copyright infringement" [The Verge]. "Getty Images has filed a lawsuit in the US against Stability AI, creators of open-source AI art generator Stable Diffusion, escalating its legal battle against the firm. The stock photography company is accusing Stability AI of 'brazen infringement of Getty Images' intellectual property on a staggering scale.' It claims that Stability AI copied more than 12 million images from its database 'without permission … or compensation … as part of its efforts to build a competing business,' and that the startup has infringed on both the company's copyright and trademark protections. The lawsuit is the latest volley in the ongoing legal struggle between the creators of AI art generators and rights-holders. AI art tools require illustrations, artwork, and photographs to use as training data, and often scrape it from the web without the creator's consent." • "Scrape it from the web without the creator's consent." Or, in the vulgate, "steal." What The Bearded One calls "primitive accumulation."
Tech: "The Mastodon Bump Is Now a Slump" [Wired]. "Mastodon's active monthly user count dropped to 1.4 million by late January. It now has nearly half a million fewer total registered users than at the start of the year. Many newcomers have complained that Mastodon is hard to use. Some have returned to the devilish bird they knew: Twitter." • IMNSHO, a universal address space is to be preferred to the Fediverse. There, Twitter, for all its faults, will always have the advantage.
* * *
Today's Fear & Greed Index: 77 Extreme Greed (previous close: 74 Greed) [CNN]. One week ago: 69 (Greed). (0 is Extreme Fear; 100 is Extreme Greed). Last updated Feb 7 at 1:18 PM EST.
The Conservatory
On segues and Lou Reed's "Sweet Jane," ChiGal comments:
>possibly the best segue in live rock and roll

nothing against Lou Reed, but no.

Skull & Roses, Not Fade Away/Goin' Down the Road Feeling Bad, that first lick glinting like a thread of gold woven into a tapestry of rhythm… "like ringing a bell"
So herewith:
I am or at least was a DeadHead, so I have to say that NFA > GDTRFB did, er, cross my mind. I would say that the segue in "Sweet Jane" is unique both for its surprise, and for the tightness of the band; truly a one-of-a-kind moment and experience. For the Dead — let me just throw out the claim that they were a dance band, and the best ever — improvised segues were their essence as a band; the exact nature of a segue varied on any given night, but the audience knew one was coming. The nature of the surprise is different.
The Gallery
"On or about December 1910 human character changed." –Virginia Woolf, of 1910's Post-Impressionist Ball:
Luxembourg Gardens, 1910 #peploe #samuelpeploe https://t.co/0io0bqXpUz pic.twitter.com/UjbXaCHum6

— Samuel Peploe (@SamuelPeploe) February 1, 2023
Strange combination of Cloisonnism (?) and finger-painting….
Class Warfare
"We Can't Ignore Class Dealignment" [Matt Karp, Jacobin]. "Yes, a thin majority of lower-income voters is still Democratic; and of course, many higher earners are still Republicans. But invoking these groups is a way of talking past the point. Dealignment has nothing to do with the minor auto-parts barons who voted for Trump, as they did for Gerald Ford, or the unionized health care workers who voted for Biden, as they did for Jimmy Carter. Dealignment, like most historical phenomena, is not an absolute; it is a process. Or, more prosaically, a trend: and it focuses attention on the voters who are in motion across the party system, in both directions. Not those who stay, but those who leave. It is of course important to understand more precisely who these voters are. But after wading through all the sociological complexities, it turns out that the two key groups are relatively easy to describe, as Maisano acknowledges: lower-education, lower-income voters moving Right; higher-education, higher-income voters moving Left." Whatever direction higher-income voters are moving in, it's not "left" and cannot be. Karp is very, very smart. Why adopt this frame? IMNSHO, Karp is letting the analysis of symbolic capital ("In This House") drive class analysis, the reverse of what should be. More: "[T]he social base for progressive socialist politics is a different group: sociocultural professionals, mostly, with less active support from some groups of service workers." First, this statement is a nonsense: Is there, for example, the slightest motion of the PMC toward single payer? That project is flatlined — during a pandemic, I might add — thanks to a combination of the Sanders implosion and Biden's successful co-option of Democrat electeds across the board. More importantly, socialism "or" progressivism is like saying chalk "or" cheese. Are we really to believe that the (hegemonic) PMC are in favor of control by the working class of the means of production? Their very existence as a class is predicated on preventing that! Here, I think that Karp is conflating the self-presentation of the PMC ("In This House" once more) with the material realities that make the PMC what it is. See my review of Karp's Vast Southern Empire, which is clear-eyed and excellent about the Slave Power in the run-up to the Civil War. Would that Karp could apply the same clarity of thinking, the same scholarship, to the present day.
"Seven Theses on American Politics" [New Left Review]. Linked to 12/24, but relevant to the above: "Beginning in the 1990s, and definitively since 2000, Republican and Democrat rule alternates on the narrowest of margins. Winning an election no longer involves appealing to a vast shifting centre but hinges on turnout and mobilization of a deeply but closely divided electorate. This new electoral structure is related to the rise of a new regime of accumulation: let us call it political capitalism. Under political capitalism, raw political power, rather than productive investment, is the key determinant of the rate of return. This new form of accumulation is associated with a series of novel mechanisms of 'politically constituted rip-off'. These include an escalating series of tax breaks, the privatization of public assets at bargain-basement prices, quantitative easing plus ultra-low interest rates, to promote stock-market speculation—and, crucially, massive state spending aimed directly at private industry, with trickledown effects for the broader population: Bush's Prescription Drug legislation, Obama's Affordable Care Act, Trump's cares Act, Biden's American Rescue Plan, the Infrastructure and chips Acts and the Inflation Reduction Act. All these mechanisms of surplus extraction are openly and obviously political. They allow for returns, not on the basis of investment in plant, equipment, labour and inputs to produce use values, but rather on the basis of investments in politics…. The rise of political capitalism has profoundly reconfigured politics. At the elite level, it is associated with vertiginous levels of campaign expenditure and open corruption on a vast scale. At the mass level, it is associated with the unravelling of the previous hegemonic order, for in a persistently low- or no-growth environment––'secular stagnation'—parties can no longer operate on the basis of programmes for growth. They cannot therefore preside over a 'class compromise' in the classic sense. In these conditions, political parties become fundamentally fiscal rather than productivist coalitions." • This is really worth a read, though as usual with NLR, you should settle down in an easy chair with a cup of coffee.
"The lessons of the rail struggle of 2022" [The Railroad Workers Rank-and-File Committee, WSWS]. "Throughout, the union officials worked hand-in-glove with Biden, provided political cover for the PEB, bought Congress time through endless delays and sought to enforce contracts through dubious votes marred by fraud. They lied to us, told us repeatedly that we did not have the right to strike and that nothing could be done if Congress intervened. In the end, SMART-TD President Jeremy Ferguson even claimed that Biden's intervention against us was for "the good of the country!" In reality, it was for the good of the profit interests of American businesses. This is not just a case of a few bad apples at the top. This is a system of labor control which they have worked out over decades. It is institutionalized partly through the RLA and similar laws but extends even beyond that. In the union bureaucracy, corporate America and Washington see a means of enforcing de-facto bans on strikes. Biden is attempting to build on this in other critical industries, including on the docks where workers have been without a contract for more than 6 months."
"Americans turn to credit cards to cope with high inflation: US credit reporting agency" [Andalou Agency]. "Total credit card balances reached $930 billion in the last quarter of 2022, rising from $785 billion in the same period of 2021, TransUnion said in its Q4 2022 Quarterly Credit Industry Insights Report on Wednesday. 'Whether it's shopping for a new car or buying eggs in the grocery store, consumers continue to be impacted in ways big and small by both high inflation and the interest rate hikes implemented by the Federal Reserve, which we anticipate may continue for at least a few more months,' said Michele Raneri, the vice president of US research and consulting at TransUnion, quoted by the agency. 'If more moderated rate hikes continue, it would be a good sign that the increases have been working, and that some relief from high inflation may be on the horizon. Until then, we fully expect consumers to continue to look to credit products such as credit cards, HELOCs and unsecured personal loans to help make ends meet and put themselves in stronger financial standing moving forward,' she added. The number of credit cards reached 518.4 million at the end of 2022, rising from 485.9 million the year before, according to the report. The average debt per borrower rose to $5,805, up from $5,127, during the same period, TransUnion said."
News of the Wired
"How to Stop Ruminating" [New York Times]. "If you find that your thoughts are so excessive and overwhelming that you can't seem to stop them, or if they're so distracting that you're falling behind on responsibilities at work or at home, you're probably experiencing rumination, said Dr. Tracey Marks, a psychiatrist in private practice in Atlanta." One way to stop: "When you're ruminating, it's possible to get stuck in a negative feedback loop where you feel bad about ruminating, which itself can lead to more rumination and deepened feelings of distress. Setting aside 10 to 30 minutes of dedicated "worry or rumination time" periodically can help relieve that pressure." • A worry timer… I don't know about that one. Would I worry I set it wrong?
Feel Good Cleveland Week continues. From @lance_aerial: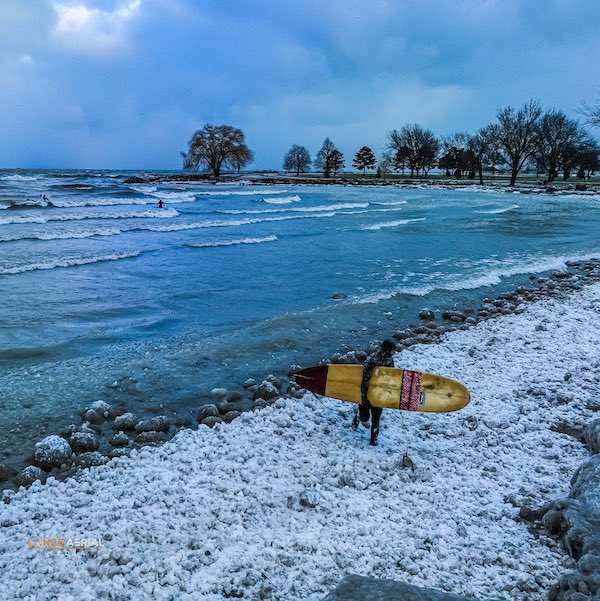 Yikes!
* * *
Contact information for plants: Readers, feel free to contact me at lambert [UNDERSCORE] strether [DOT] corrente [AT] yahoo [DOT] com, to (a) find out how to send me a check if you are allergic to PayPal and (b) to find out how to send me images of plants. Vegetables are fine! Fungi and coral are deemed to be honorary plants! If you want your handle to appear as a credit, please place it at the start of your mail in parentheses: (thus). Otherwise, I will anonymize by using your initials. See the previous Water Cooler (with plant) here. From ChetG: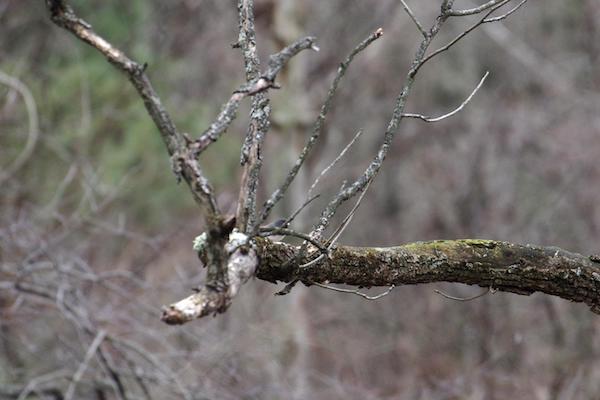 ChetG once more: This is my favorite, or when wood becomes alive in a different way: It's an antlered creature (complete with eyes). My wife had a heart attack on November 26, and the shock of it is still
with us, especially in terms of present and upcoming doctor visits. So my concentration is none too good, and I've only begun going outdoors and taking photos again in January." I think in my commentary yesterday I obscured ChetG's news regarding his wife. I wish them both the best.
* * *
Readers: Water Cooler is a standalone entity not covered by the annual NC fundraiser. So if you see a link you especially like, or an item you wouldn't see anywhere else, please do not hesitate to express your appreciation in tangible form. Remember, a tip jar is for tipping! Regular positive feedback both makes me feel good and lets me know I'm on the right track with coverage. When I get no donations for five or ten days I get worried. More tangibly, a constant trickle of donations helps me with expenses, and I factor in that trickle when setting fundraising goals:
Here is the screen that will appear, which I have helpfully annotated: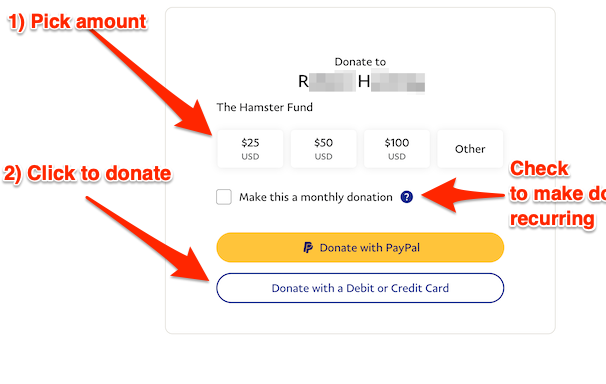 If you hate PayPal, you can email me at lambert [UNDERSCORE] strether [DOT] corrente [AT] yahoo [DOT] com, and I will give you directions on how to send a check. Thank you!