The worst frog disease in recorded history risks wiping them from the face of the Earth ZME Science
Facing Extinction, but Available for Selfies in Japan's Animal Cafes New York Times
The mice with two dads: scientists create eggs from male cells Nature
Climate/Environment
A government program hopes to find critical minerals right beneath our feet Grist 

The EV mining rush could come to Montana's mountains High Country News
Water
As drought persists in the west, justices to consider Navajo Nation's rights to Colorado River SCOTUSblog
#COVID-19
Damage to T cell response after infection found in Cell

"The apparent damage of CD8 T cell response by viral infection is cause for concern"

Attention @marc_veld and @zeynep, you are needed for damage control, post-haste!https://t.co/Zx1ljimwl9 pic.twitter.com/iwR3y8auoh

— Anthony J Leonardi, PhD, MS (@fitterhappierAJ) March 19, 2023
Syraqistan
Italy pushing IMF to help Tunisia and avoid instability, minister says Reuters

S&P Global: Russia's ghost fleet estimated at 434 vessels Offshore Energy. "Russian diesel appears to be finding a new home in North Africa with multiple cargo deliveries to Tunisia in 2023. For the first two months of 2023, Russian refined product cargoes delivered to Tunisia have already exceeded volumes in 2022."

Biden administration budget would slash Tunisia's economic aid Al-Monitor
Old Blighty
Dozens of Tory MPs risk losing seats over sewage dumping 'crime', warns Davey The Irish News
India
Hindenburg fallout: Adani Group suspends work on Rs 34,900 crore petchem project Indian Express
The Koreas
China?
Japan, Germany Coordinate on Economic Security Ahead of G7 Summit The Yomiuri Shimbun

Japan-Germany cooperation 'unable to realize decoupling' from China The Global Times
New Not-So-Cold War
Germans to the Front Wolfgang Streeck, New Left Review

Black Sea drone downing highlights rising risk of 'accidental' war Asia Times
Nazis are being whitewashed these days more than al-Qaida was at the height of the CIA-led proxy war against Syria. https://t.co/5n8bpCopyA

— Asa Winstanley (@AsaWinstanley) March 17, 2023
***
***
On NYT's podcast The Daily, @julianbarnes tells @mikiebarb that he discovered that a "pro-Ukrainian group" — not a government like the US — bombed Nord Stream after he and his colleagues started asking "the right questions." After then, US officials gave them the right answer. pic.twitter.com/KSPueAti7J

— Aaron Maté (@aaronjmate) March 17, 2023
After Türkiye's step the Nordic expansion of the NATO could depend on Hungary Daily News Hungary
Georgian leaders come after "liberal fascists" following foreign agent bill's defeat Eurasianet
Serbia, Kosovo reach pact on implementing peace plan, EU's Borrell says Politico EU
South of the Border
These Republicans Want Drone Strikes on Mexico Daily Beast
This sarcastic headline is typical of gringo press.

What he actually said was that people in the US use opiates because they're hurt, lonely, and isolated, not because fentanyl is foisted on them by Mexican cartels. https://t.co/ghzaFvoiZ9

— Seth Harp (@sethharpesq) March 18, 2023
2024
If Trump is arrested, protests should be peaceful, GOP contenders say Politico
SVB
US government bailout of Silicon Valley and banks is $300B gift to rich oligarchs Geopolitical Economy

For ethical lessons from Silicon Valley Bank, turn to spies The Hill
Rotten Banks
UBS buys Credit Suisse for $3.2 billion as regulators look to shore up the global banking system CNBC
UBS's deal to take over Credit Suisse, $CS, "is a bailout," says Mohamed El-Erian. pic.twitter.com/n26JKiYq1D

— unusual_whales (@unusual_whales) March 19, 2023
SAUDI NATIONAL BANK INVESTED $1.5 BILLION INTO CREDIT SUISSE JUST WEEKS AGO FOR A 10% STAKE

IF CREDIT SUISSE TAKES THE FIRST OFFER MADE BY UBS THEIR STAKE WILL BE WORTH UNDER $100 MILLION DOLLARS

THAT WOULD BE A LOSS OF 93% IN WEEKS $CS $UBS

— GURGAVIN (@gurgavin) March 19, 2023
Coordinated central bank action to enhance the provision of U.S. dollar liquidity Board of Governors of the Federal Reserve System. Sunday press release.
"The events this past week correspond to a 1.5% increase in the Fed funds rate. In other words, over the past week, monetary conditions have tightened to a degree where the risks of a sharper slowdown in the economy have increased."@apolloglobal pic.twitter.com/CNyLPvY64u

— Danielle DiMartino Booth (@DiMartinoBooth) March 18, 2023
Imperial Collapse Watch
Class Warfare
UAW Challenger Fain Purges Top Allies in Favor of Brooklyn Consultants  Payday Report

Shrinking savings and rising debt leave consumers on shaky financial footing NBC News

Arkansas just made child labor easier, and that's a good thing Washington Examiner

Child Labor is Back…with a Vengeance! Counterpunch

New South Dakota law makes it harder to file a complaint or lawsuit against ag operations Nebraska Examiner

PUTTING RURAL COMMUNITIES ON THE (BROADBAND) MAP The Law and Political Economy Project. "What the past and present of the FCC's mapping efforts demonstrate is an obfuscation of responsibility and a subsumption of what should be a public mapping process to the market. Shifting such crucial responsibility from the regulator to industry serves the political economic interests of both CostQuest and private providers, the latter of which will be the beneficiary of billions of dollars of public investment."
The Bezzle
Venezuela's Crypto Regulator, Targeted with $5M Bounty, Removed and Arrested Decrypt
Tech
The 10 Most Bizarre Moments From a Real Wedding in a Taco Bell-Branded Metaverse Gizmodo
Springtime is in the air and so is poetry in translation Dayton Daily News
Antidote du jour (via):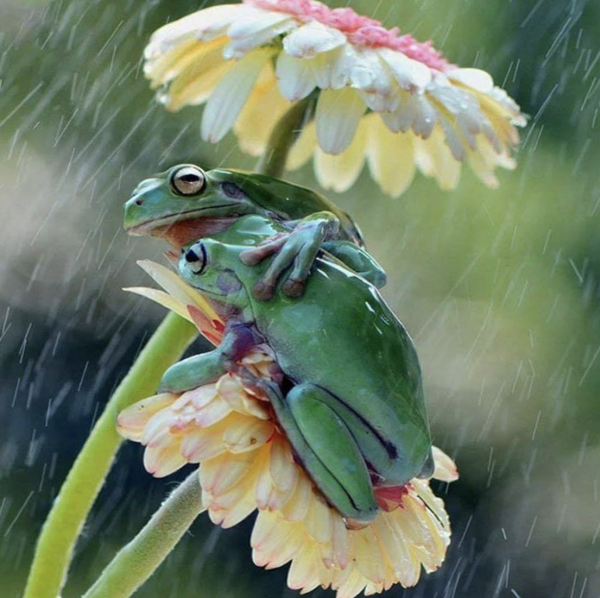 See yesterday's Links and Antidote du Jour here.