"The augmentation of the complexity and intensity of the field of intelligent life." –Ursula LeGuin
By Lambert Strether of Corrente
No, not that kind! And consider yourselves lucky I didn't go with my first choice for a headline: Silence of the Lawns. Because I couldn't figure out what lawns would be talking about in the first place. Anyhow, since we are now officially five days into Spring, I thought I would take a quick, unserious, barefoot romp through American's favorite managed grass space: the lawn (which readers already know I hate; see here, here, and here).
When I was a teenager, I made money by mowing lawns in the neighborhood. The lawnmower was advanced in the sense that it had a grass-catcher, but otherwise hard metal body and hard rubber wheels, nothing safety-oriented at all. I'd fill it up with gasoline and oil if necessary, and drag it over to the customer's property. All I really had to know was not to put my hands or my bare feet near the blades, and clean the electrode of the sparkplug if the mower wouldn't start. That, and how to organize the cutting so I did the absolute minimum of work. (The key, I found, was to mentally organize the lawn into lanes, and never to turn the mower (which would have left unsightly curves to be handled with an extra cut). Instead, having pushed the mower to the end of one lane, I'd flip it into the next, and then drag the mower to the end of the next, repeating for the width of the lawn. (Naturally, I'd overlap the lanes, to avoid "mohawks" of uncut grass, necessitating another round of cutting.) I go into the detail just because I enjoyed the physical labor in the hot sun so much (not to mention the oceanic sound of the mower).
I'll tell you what, it's hard to beat the joy that comes with a freshly mowed lawn. pic.twitter.com/Oei5sNEGB6

— Rural California New Deal Fan 🇺🇸🇺🇳🧦🌹🕊🚜🔰🏔 (@RuralLeftie98) March 17, 2023
But look at those unsightly lanes. "Joy" should come from having done a better job (snarls the WASP in me).
Making money sounds entrepreneurial, except that I was terrible at pricing and undercharged badly. (Granted, I more than made back the cost of the gasoline, so the effort wasn't entirely wasted.) As a result, I had a lot of customers, going up the alley down which I rode to school, then across the street, then up to next street, until it all ended when we moved to another college town.
All of which goes to show that mowing lawns involves social relationships, meaning that I have sympathy for this gentleman's efforts:
Gianni from Norfolk , VA who is taking part in our 50 yard challenge has another lawn under his belt ! He mowed for this sweet lady .great job pic.twitter.com/sJucyrz0A2

— Rodney Smith Jr (@iamrodneysmith) March 20, 2023
(The identity of yard, which is property, with lawn, which is organic matter, is interesting.) Look for the helpers:
This morning I had the pleasure of mowing Ms. Hendersons lawn . She was inside resting . Making a difference one lawn at a time . pic.twitter.com/Ju4RecmDQw

— Rodney Smith Jr (@iamrodneysmith) March 18, 2023
The 50 yard challenge sounds like a really fun and righteous thing for kids to do:
Will your kid be next to accept our 50 yard challenge & complete it ? Mow 50 free lawns for the elderly , disabled , single parents and veterans ! Raking leaves & snow shoveling is included. To sign up , link in bio . They earn new lawn equipment if they complete it . Every 10… pic.twitter.com/HNJpMbG67n

— Rodney Smith Jr (@iamrodneysmith) March 19, 2023
However, 50 yard (lawn) challenge does leave open the question of whether lawns should exist in the first place (at least as anything other than a substrate for helpers). Surely a garden (top) is better than a lawn (bottom)?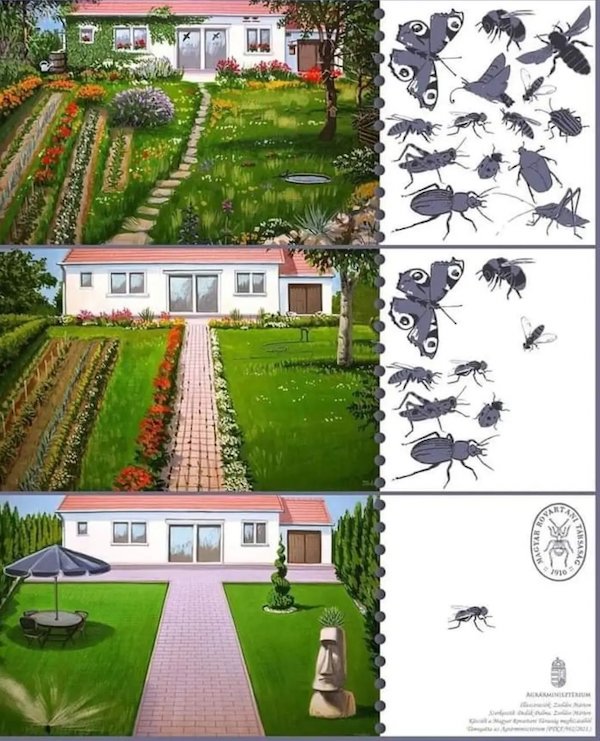 Well, that depends. For example, look at this handy chart, which shows real estate interests, "lawn care" interests, and property interests ("homeowners," as we say) joining forces to create what I can only call the "Lawn Industrial Complex" (LIC):
屋外のリモデルの費用回収率

・一般的な芝生の手入れ (Standard Lawn Care Service): 217%
・植栽メンテナンス (Landscape Maintenance): 104%
景観全体のグレードアップ (Overall Landscape Upgrade): 100%
・アウトドアキッチン: 100%
・新しいパティオ: 95%
・新しい木のデッキ: 89% pic.twitter.com/8Culo3rsjD

— Yuko🇺🇸不動産エージェント (@YukoCalifornia) March 20, 2023
Note that, for the LIC, a lawn is apparently a green colored plane. A lawn may be painted green: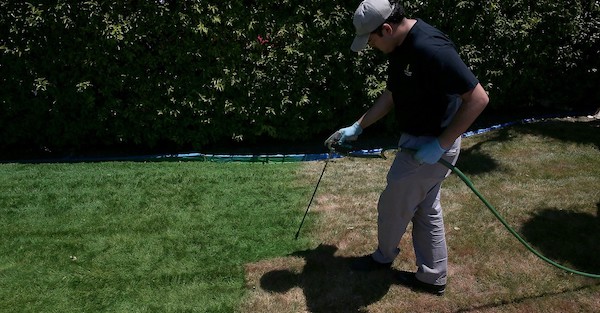 A lawn may also be entirely artificial: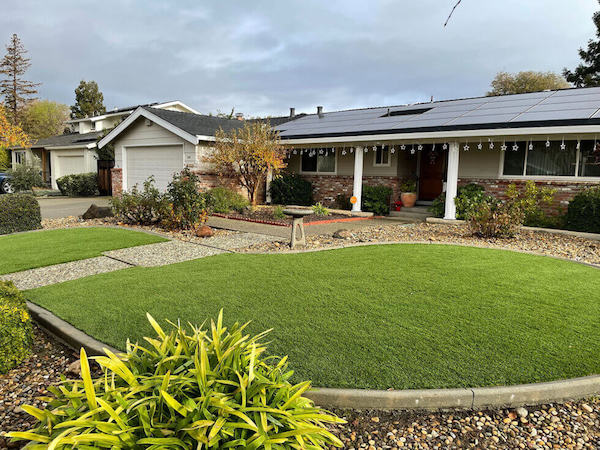 (This lawn looks pretty good until you look at the edges; see bottom left.) The LIC includes firms that provide these services, so clearly the ROI is positive. Of course, the LIC can also operate on a higher plane where real estate values aren't a consideration; a "Square," not a lawn (or yard), before a larger House:
It looks like Parliament Square is getting a new lawn, presumably in time for the coronation in May! pic.twitter.com/QfBtQnlh87

— Living London History | Jack (@livinglondonhis) March 25, 2023
Earth movers flattening the soil, yard men laying out sod rolls, sod rollers flattening… A pre-coronation spectacle whose horror is unseen, because even the LIC knows that sod rollers ruin the soil. Wouldn't a garden have been more beautiful? More fun? A better symbol for what a nation should be?
Much as it pains me to admit it, not everybody wants to escape the LIC. Gardening is work! Some do:
It's high time we move on from the manicured lawn addiction. My lawn is perfectly beautiful being all natural and totally native. We never water or use chemicals. When in drought, let it dry out. Natives always come back. https://t.co/RaEDuuoetT pic.twitter.com/6t31pcCn5x

— Lola Gayle (@LolaGayleC) March 20, 2023
Some do, and form clubs with others that do:
One of our members took out her lawn in the front yard and redid it with native and drought tolerant plants using a landscape feature that simulates a creek bed using rocks, boulders, plants and spill rocks. pic.twitter.com/T9pZpFGmer

— Diana Lovejoy (@CookingMagicKid) March 24, 2023
(Note the "Wildlife Habitat" sign, which indicates some form of institutional, even official, support.)
Some do, on the scale of cities. For example, from Texas Monthly:
Lewisville, at first glance, is a typical Texas suburb. Wedged in the northwest corner of the Dallas metroplex, the 113,000-person city encompasses a little triangle bordered by a six-lane state toll road and an interstate highway…. Until recently, almost every yard in sight was watered and trimmed to maintain a lush appearance. Like so many communities, Lewisville has been an ode to the American lawn: manicured and mowed green grass.

That reputation may be changing soon. In recent months, Lewisville has begun taking steps to transform the city from a sprawling suburb to a wildlife haven. Starting in 2019, city workers began ripping Bermuda grass out of the medians and replacing it with wildflowers. The city's parks department hosts free workshops that help residents transform their lawns into monarch way stations. Last year, voters even approved a change to the city's code that will allow native species to flourish on private lawns. It's all part of a long-term vision to reimagine Lewisville's natural spaces, and potentially the American lawn. A quarter acre at a time.
The whole article is worth a read, and very hopeful and encouraging. One example, a lovely Grandmother's Garden from Cindy Derrick: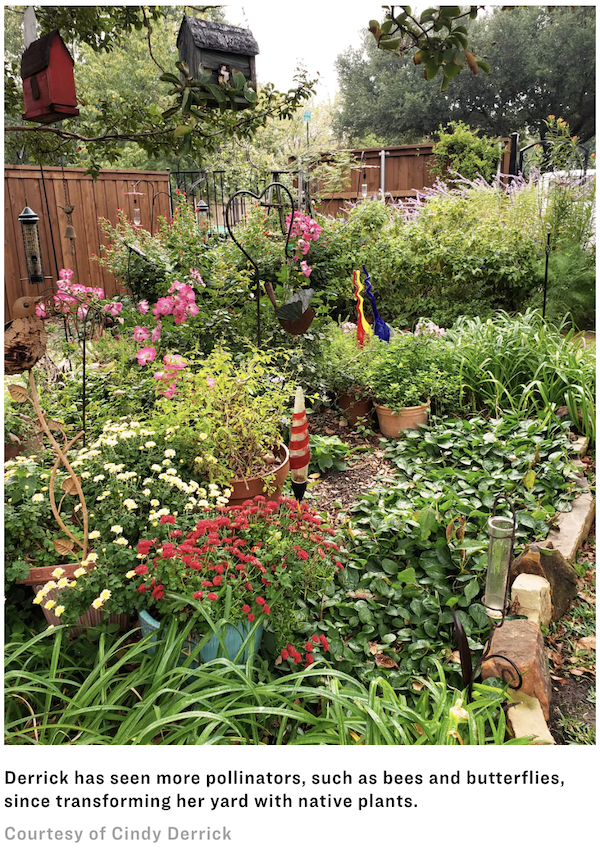 Of course, there's the issue of scaling up. However, Lewisville, with a population of 113,000, isn't a one stoplight town. Lewiston, ME (36,617), New Haven, CT (135,081), Providence, RI (189,692) all most likely have the resources for a similar "reimagination" away from lawns, and toward gardens (or, dare I say it, away from agriculture, and toward horticulture). More from Texas Monthly:
In 2013, the Legislature passed Senate Bill 198, which prevented HOAs from prohibiting drought-resistant landscaping. Neighborhood garden centers have begun stocking native plants in greater abundance. Native Plant Society of Texas memberships have proliferated throughout the state; the nonprofit now has 3,908 members, up from 1,771 in 2012.

Inglis attributes some of the increased enthusiasm around native plants to [A], like 2021's deep freeze, which many nonnative species didn't survive. Education has also played a role.

There's also growing recognition that native plants need not always look wild and unruly, nor do they have to be expensive.

"The more native plants you use, the better it's going to be for habitat," DeLong-Amaya said. "More and more, our culture is less connected with the natural world. Plants are the foundation of that."

In the most eco-utopian vision of the native plant movement, there's an idea that Texas could be rewilded, quarter acre by quarter acre. Studies have shown that urban areas can be an effective habitat for many species—sometimes more effective than rural, agricultural regions, which may have more open space but are filled with monoculture crops, such as cotton and corn, that host fewer species.

Still, it's unlikely that we are going to restore a pristine native prairie ecosystem. For Texans untrained in horticulture or botany, it may not always even be evident what is supposed to be there and what isn't. Pesticide use, habitat destruction, and climate change will continue to contribute to biodiversity loss. There is no magic bullet.

Gardening is on the rise, however, with [B], according to the National Gardening Survey. As more gardeners fill yards and apartment complexes with native plants, it's possible cities could begin to create healthier wildlife corridors. Lewisville, one small change at a time, one yard at a time, may be undergoing that transformation. Derrick's yard will be one piece of the puzzle.
(Interestingly, both climate change, at [A], and the pandemic, at [B] have had positive effects in relation to gardening. Displaying adaptability isn't necessarily about buying weapons and canned goods.)
What would it take for two, three, many Lewisville? I return to the social relations in which the LIC is embedded and which it fosters. Like it or not, property values are important to property owners, and "garden spaces" are "managed" disproportionately by property owners (not renters). For them, the LIC offers a turnkey solution for that provides the green, flat surface that "the market" demands. To scale up, I think we need to remember that gardening is work, and not everyone wants to be a gardener. However, if gardens can be seen to enhance property values, many more people might want to have a garden, as opposed to being a gardener.[1] For them, there would need to be an equivalent turnkey solution for gardens. Because I wish to avoid the concept of a Gardening Industrial Complex — we have that already, in the form of "Home and Garden Shops" — we might call it a Gardener's Extension Service (GES)[2].
The GES would create the infrastructure to hold Rodney Smith's "50 yard challenge" but at the level of the garden. Yes, there would need to be training, presumably nationally accredited (let's give our young people something worthwhile to do that Silicon Valley won't eat). Yes, the training would need to include knowledge of local ecosystems (that's good). Yes, the GES would be more expensive than the LIC (tax breaks). Yes, city code enforcement and HOAs would need to change (as in Lewisville). Yes, clubs would form, plant sales would be held, competitive leagues would form, plaques would be put up, tours would be held — everything that existing gardening clubs know how to do, and do well. Blue sky thinking, I know[3]. But I really think it would work. Readers?
NOTES
[1] No doubt there are sufficiently persuasive studies to show that simply being in a garden has significant psychological, health, or even spiritual benefits.
[2] This being America, I envision the services provided by for-profit firms, with certification and training handled like or by the Agriculture Departments Cooperative Extension Service. Other possible organizaitions include The Grange.
[1] The GES would differ, institutionally and/or culturally, from permaculture, which proceeds by a form of apostolic succession. Brilliant technically and conceptually, permaculture has not scaled well. There is a permaculture center in Lewisville, but in Lewisville, North Carolina.